A Street Rooted in Improvisation, Performance, and Spontaneity
Buenos Aires' Calle La Defensa is a memorable street any day—but especially on Sundays, when crowds gather to walk, shop, dance, eat and have fun interacting with the street performers.
Calle La Defensa in San Telmo is one of the oldest and most emblematic neighborhoods in Argentina, which maintains most of its original architecture and cobbled stone streets. Its historic claim is as a "refuge of friendship and happiness" because it has been home to immigrants from all over, which has made it a gathering place for ex-pats, artists, and the tango scene.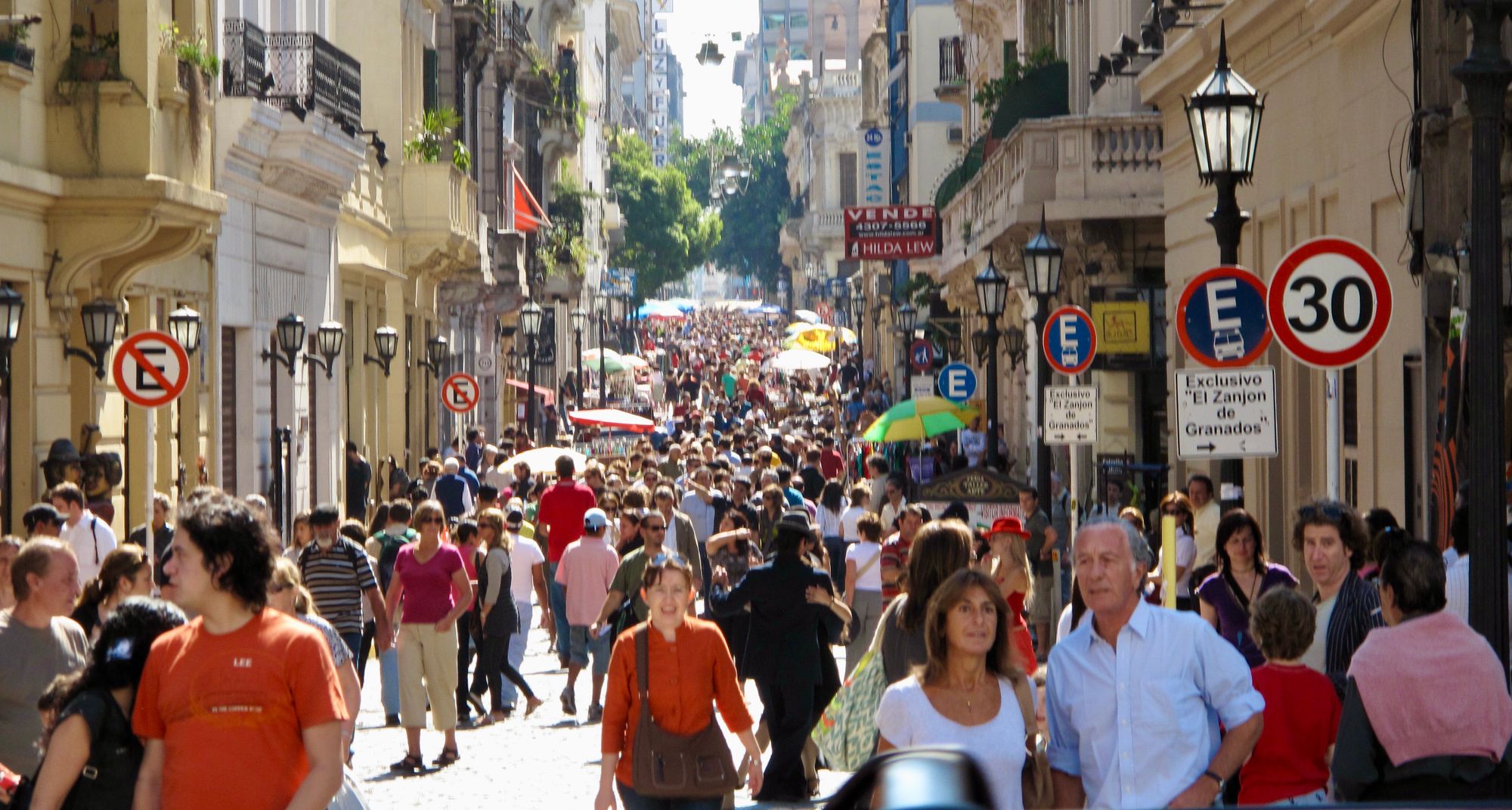 We have made a number of trips to Buenos Aires over the years, always making a point to visit San Telmo and Calle La Defensa: The images in this article were taken between 2009 and 2014. But more recently, we understand that there have been attempts to take parts of the street and put them under government control.  What is important to remember, in times like these, is that the magic of this street lies in the self-organizing nature of its activities. This was obvious to us because of the camaraderie we witnessed all along the street.
As the period of COVID continues to lead to changes in public spaces, it is possible that the future may be quite different for Calle La Defensa. In some cases, COVID has allowed local improvisation to emerge with great success – and we hope that this sort of informal collaboration will continue in Buenos Aires. The key is to support (and not unnecessarily restrict) this improvisation at the hyper-local level. Without that support and freedom to improvise, this article could very well become an archive of a once-great street.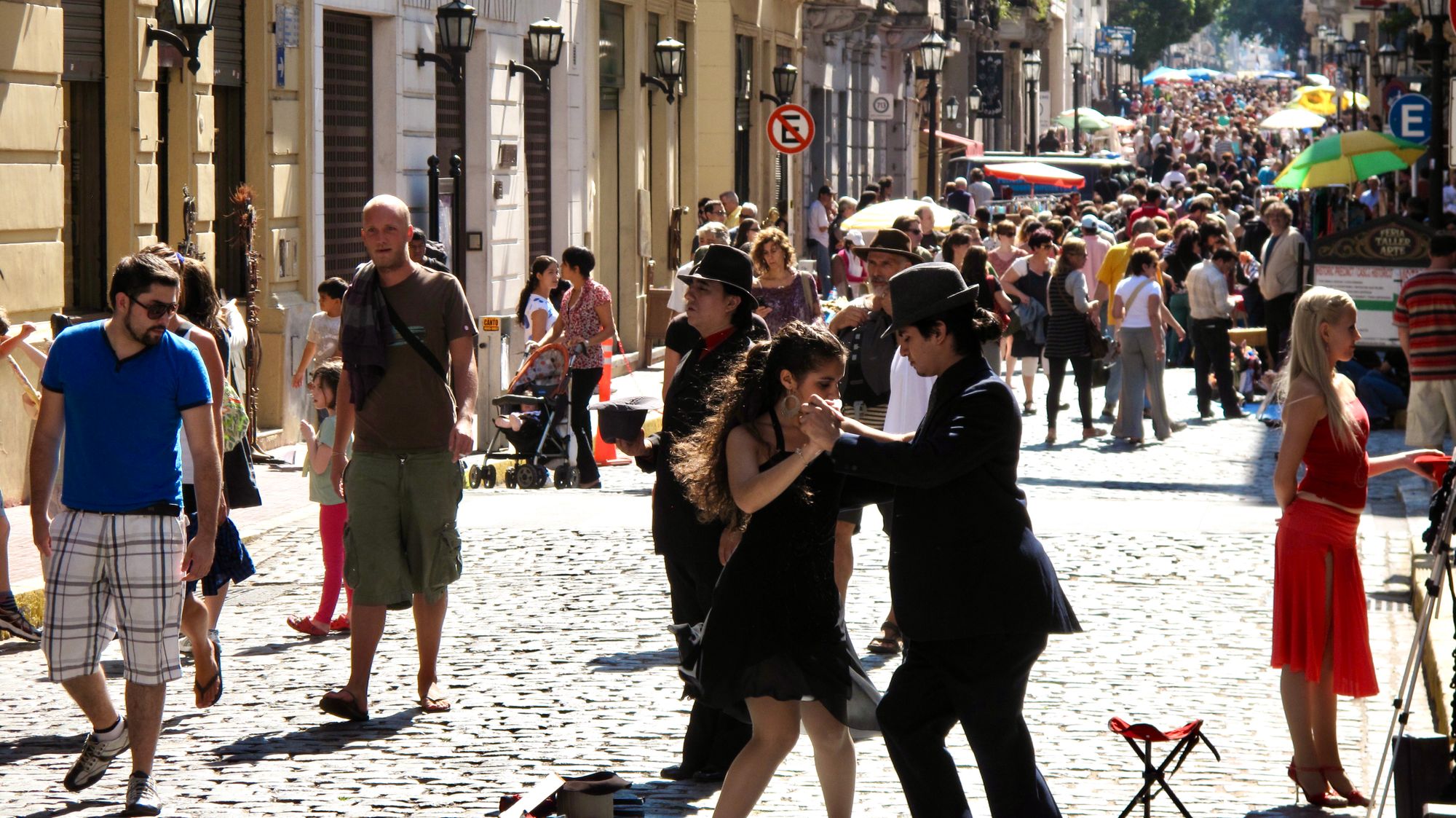 The street is at once lively and relaxed, dotted with vendors, dancers, singers, and curbside conversations: It is clearly a place to which people are drawn, and where they feel comfortable taking time to connect.
A particularly special memory for us was the day our son Josh and Nadine Soubotin got married in the neighborhood, in a Russian Orthodox Church on a street nearby. Nadine's family immigrated from Russia escaping during the Russian Revolution.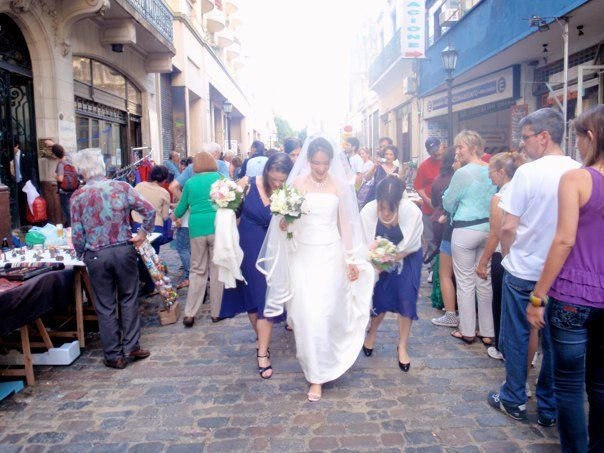 Tango Dancers and Street Performers
The narrow street teems with people, and performers weave themselves into the mix. Tango dancers seem to be everywhere along the route and in nearby plazas, enticing onlookers with bold moves and flashy outfits.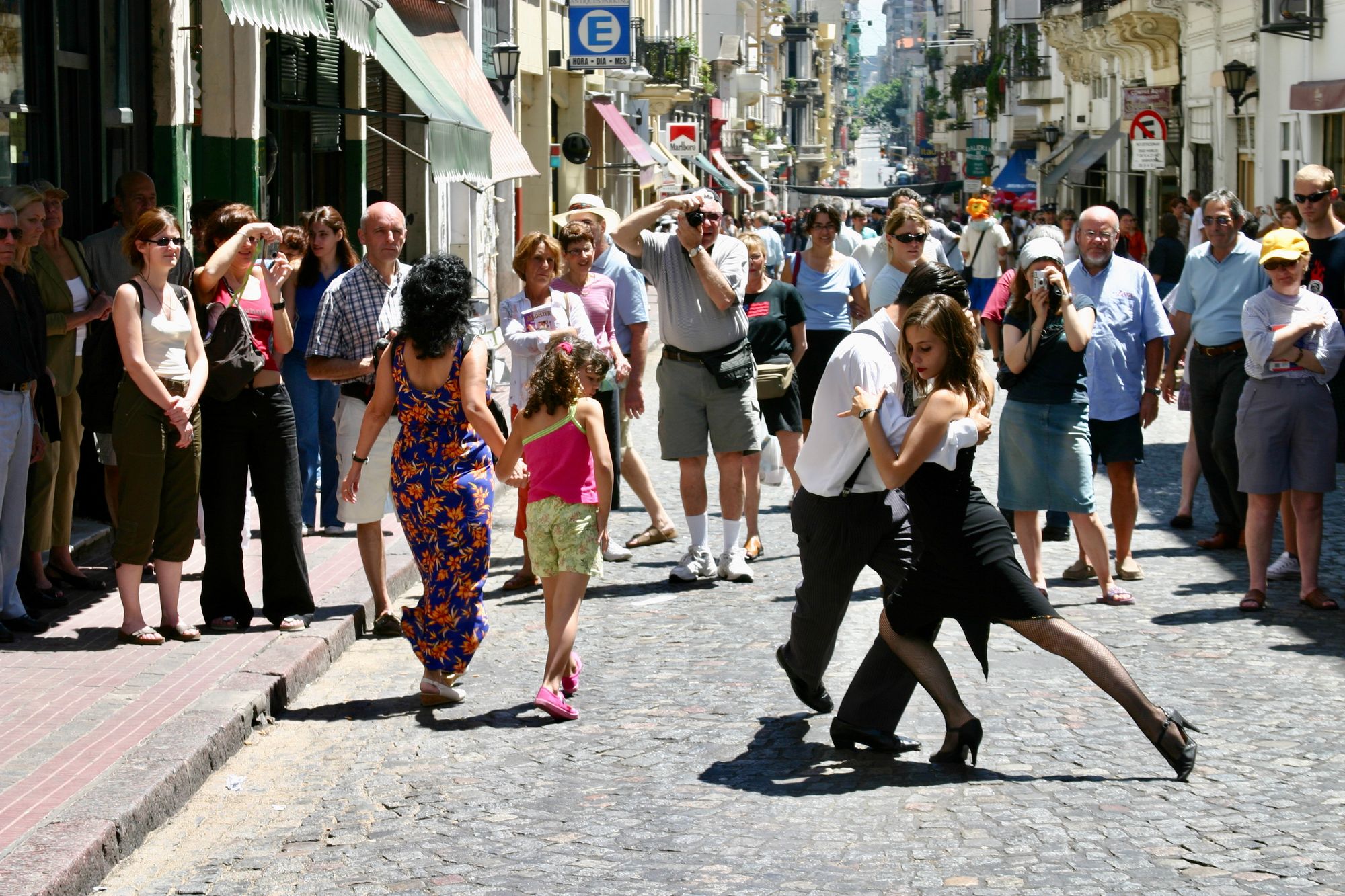 Street performers are part of a "family" of friends; some are local celebrities; others are trying things out to see what kind of crowd they can draw.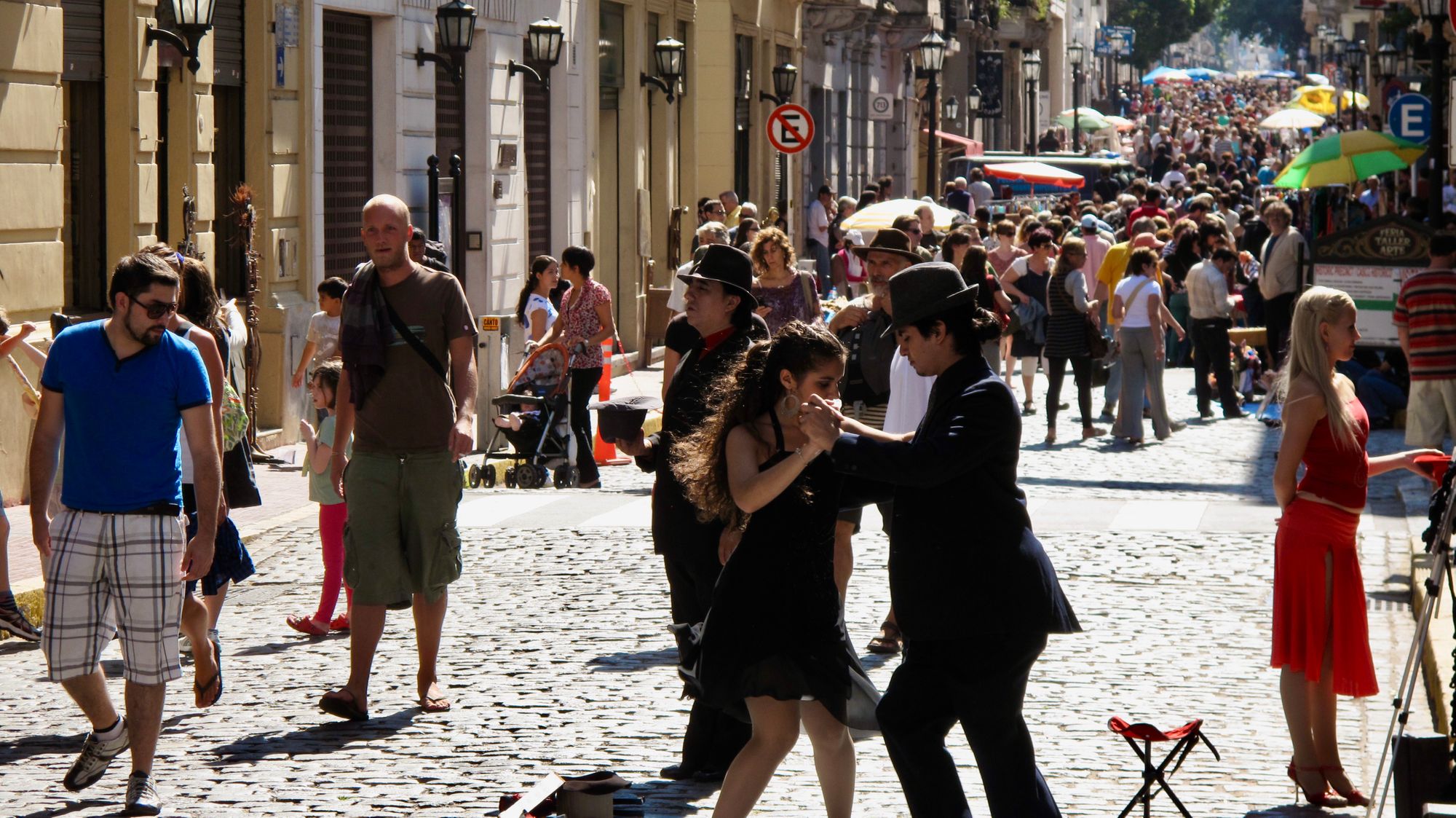 In addition to tango performances, pedestrians often walk among living statues, musicians, puppeteers, and more.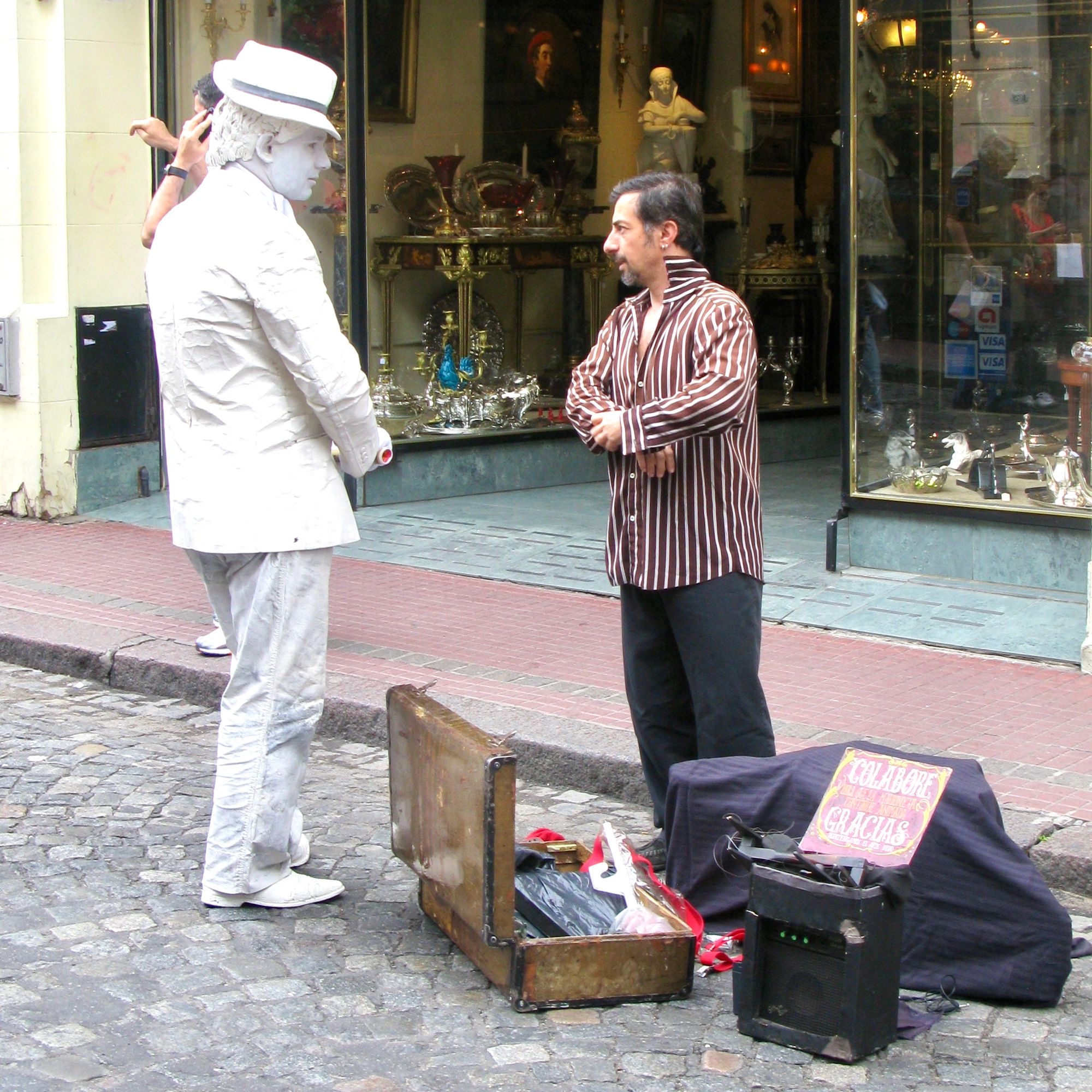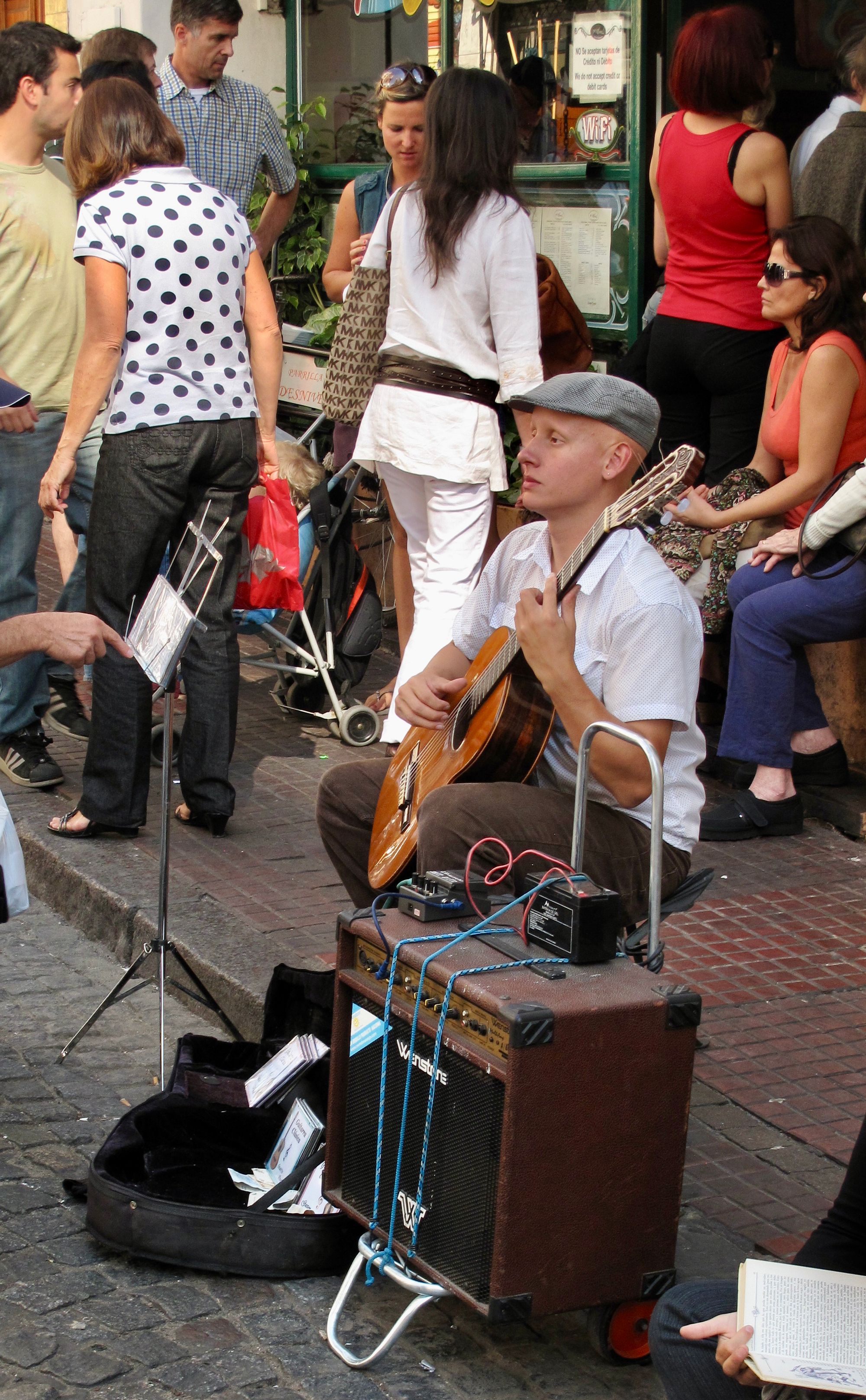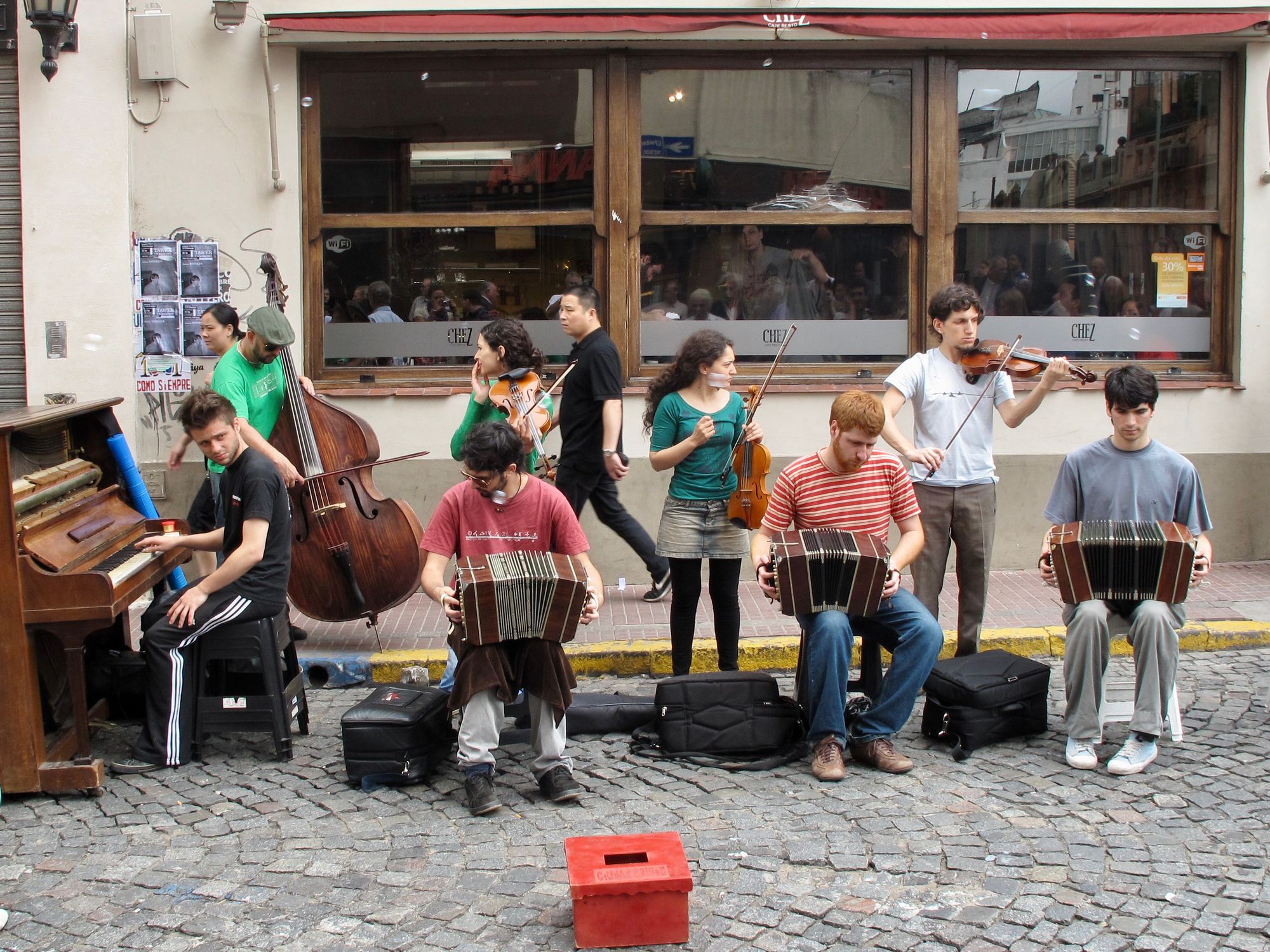 Performers of all ages line the streets in a friendly competition for attention, giving performances ranging from the serious to the humorous.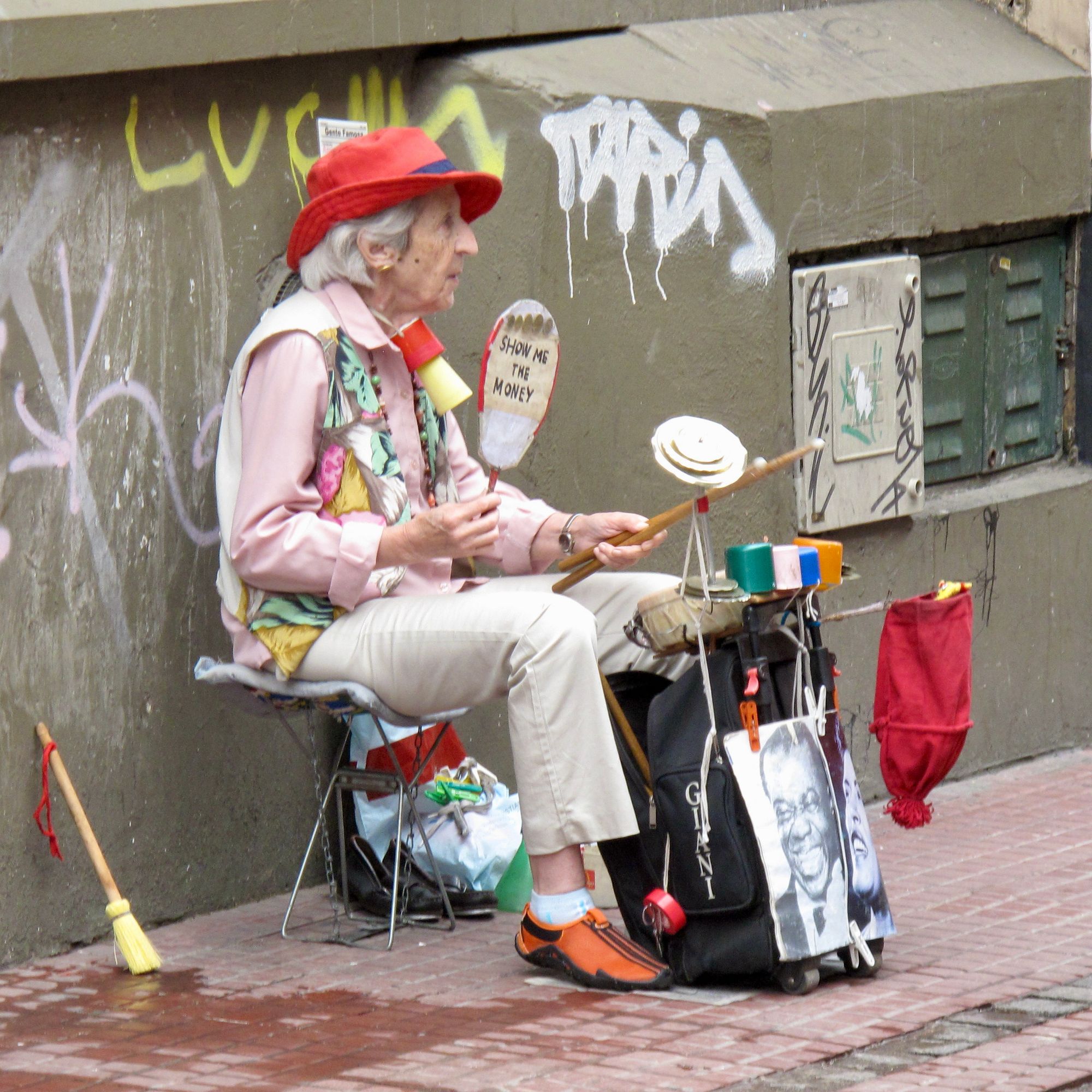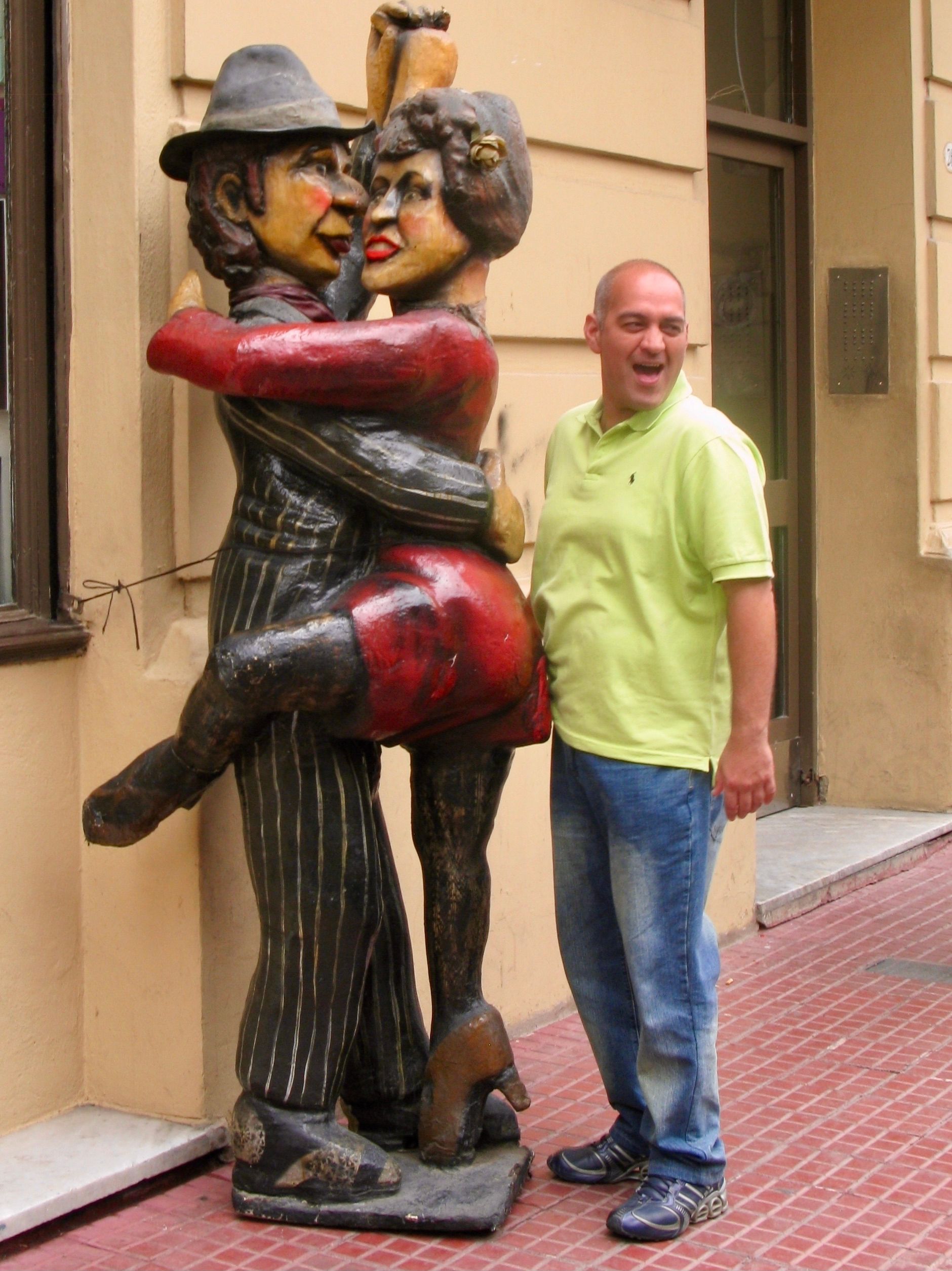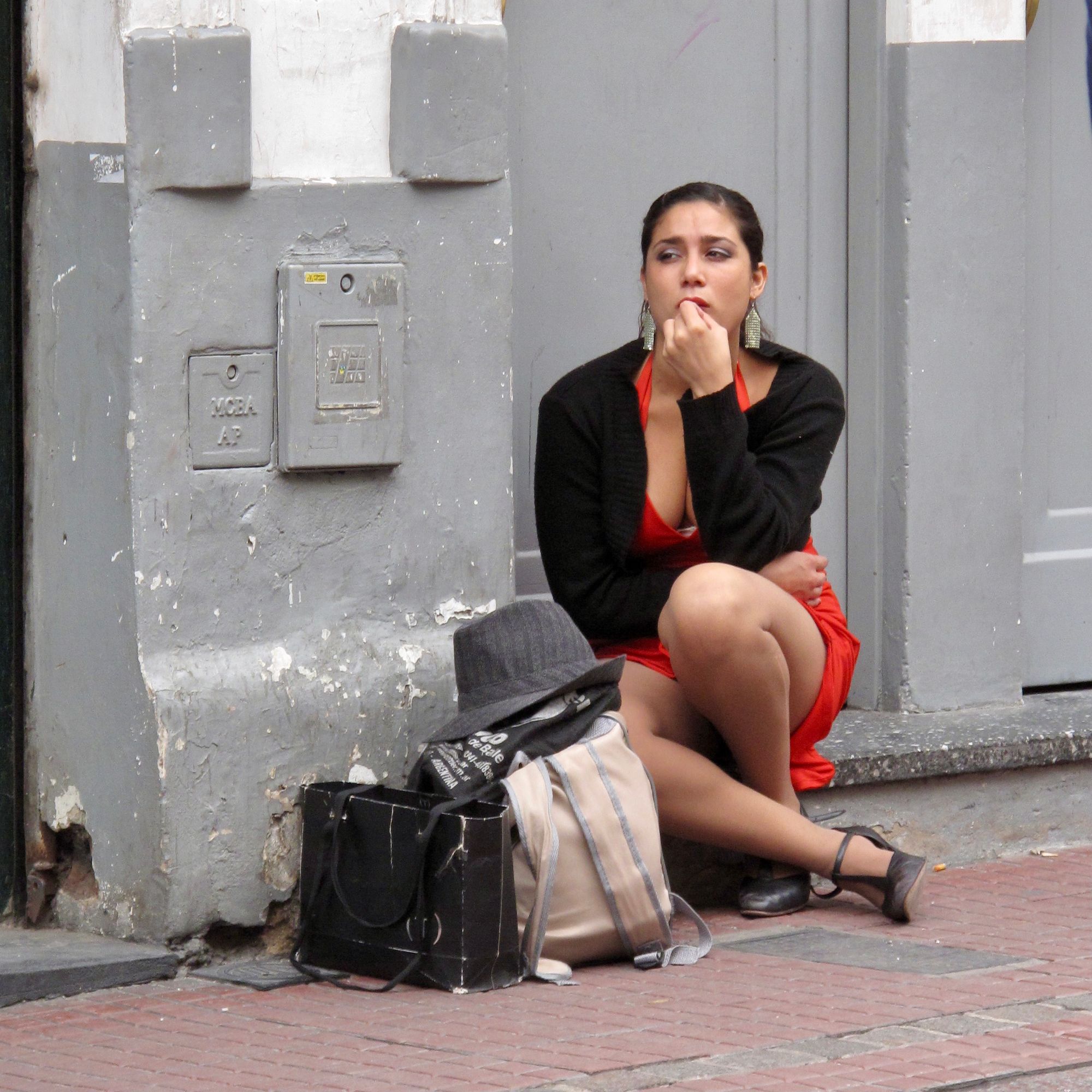 Calle La Defensa's Street Market
Among all of this activity, vendors advertise their wares: The Calle La Defensa Street Market is full of artisans and entrepreneurs proud of their work.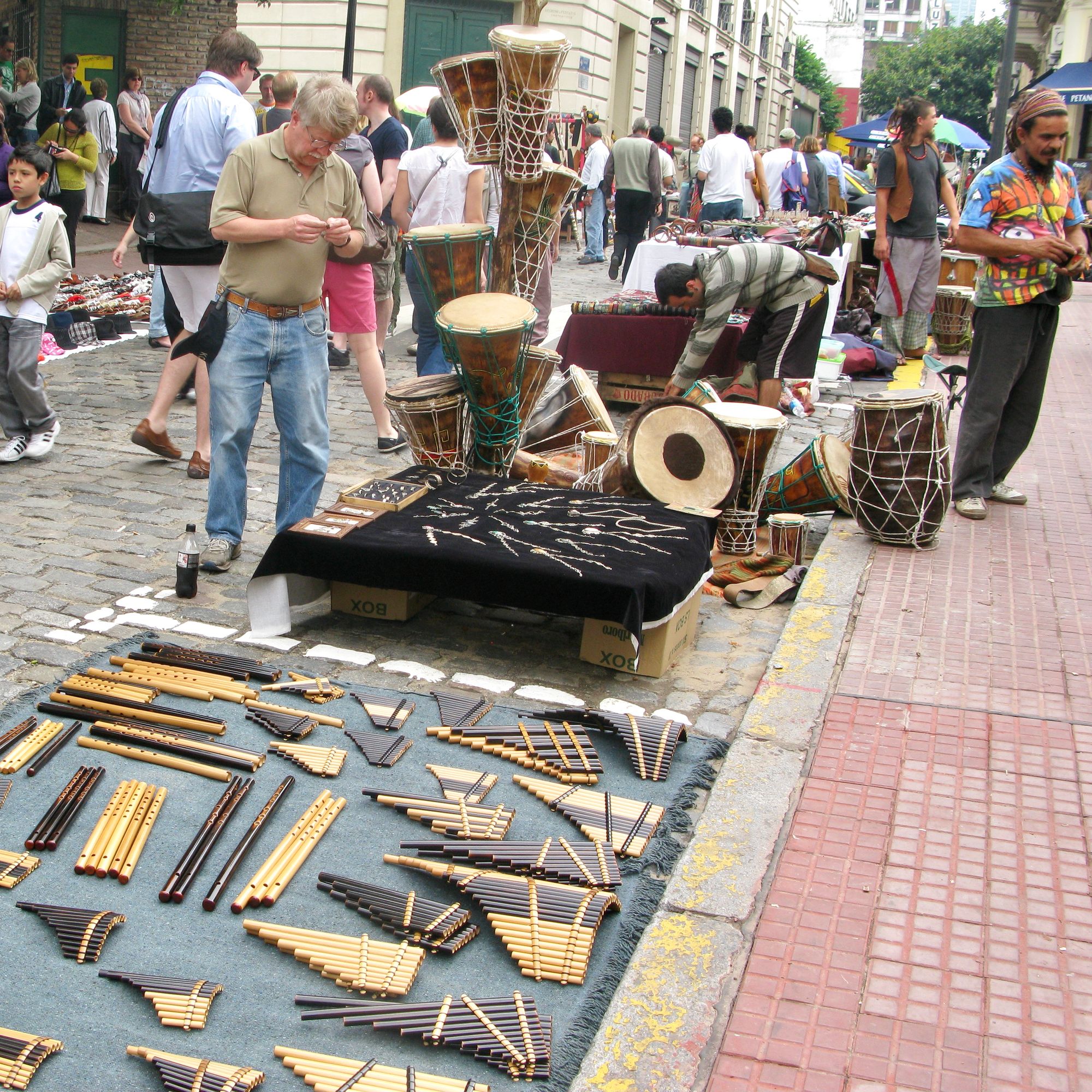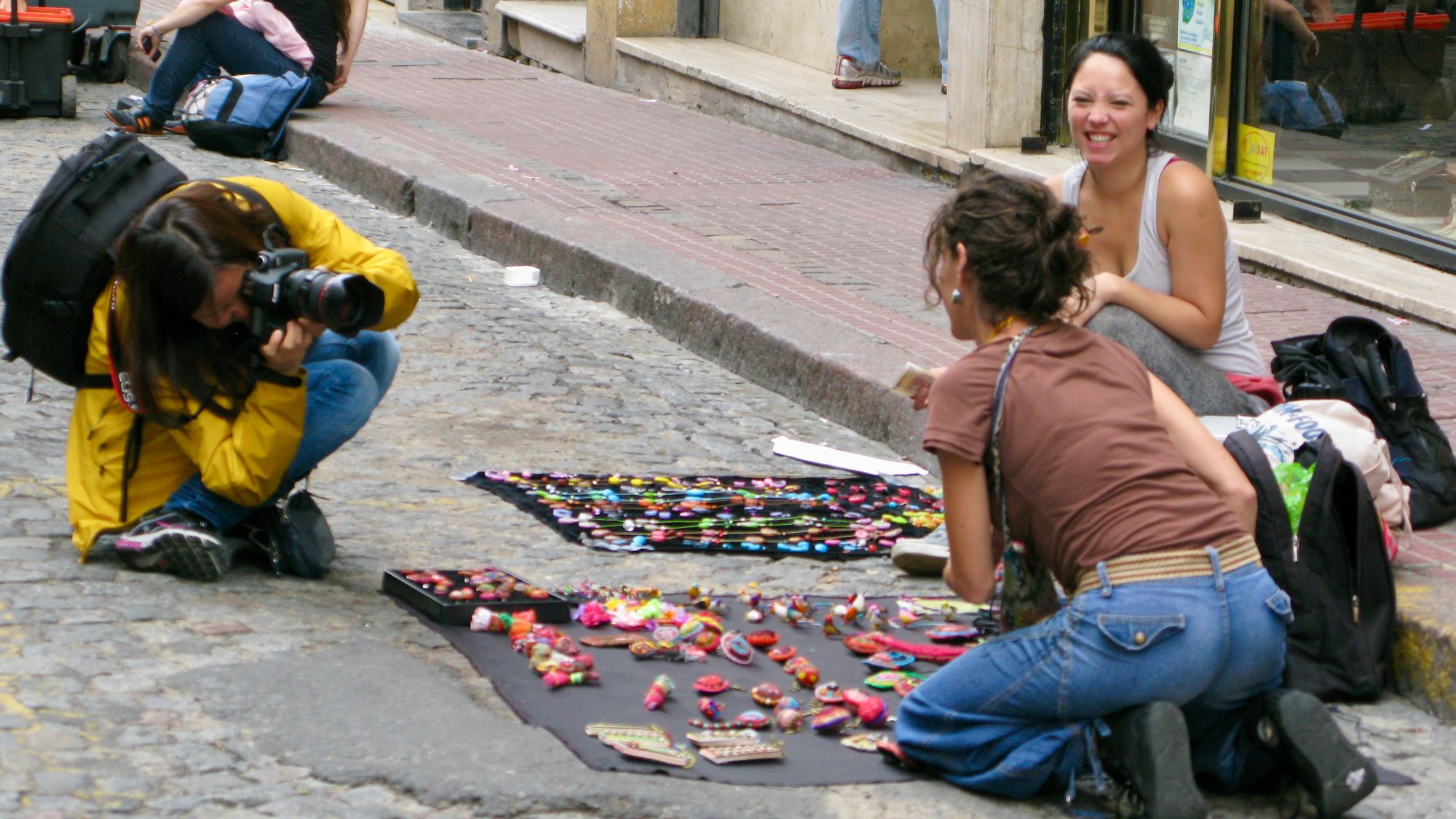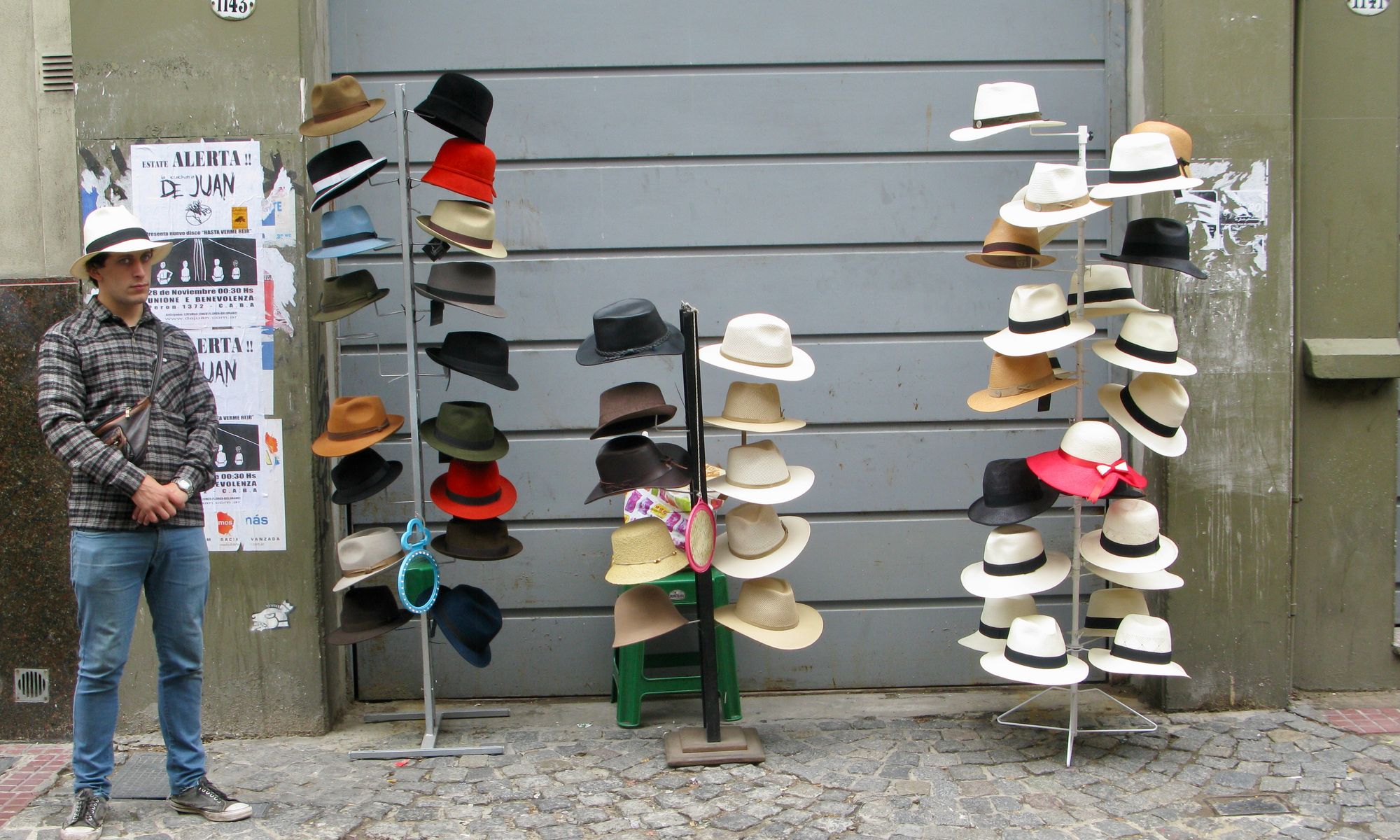 Food is everywhere in the street market. It is on display, or cooked in the open. Meanwhile, corner cafés reach out onto sidewalks and merge with the activity along the street.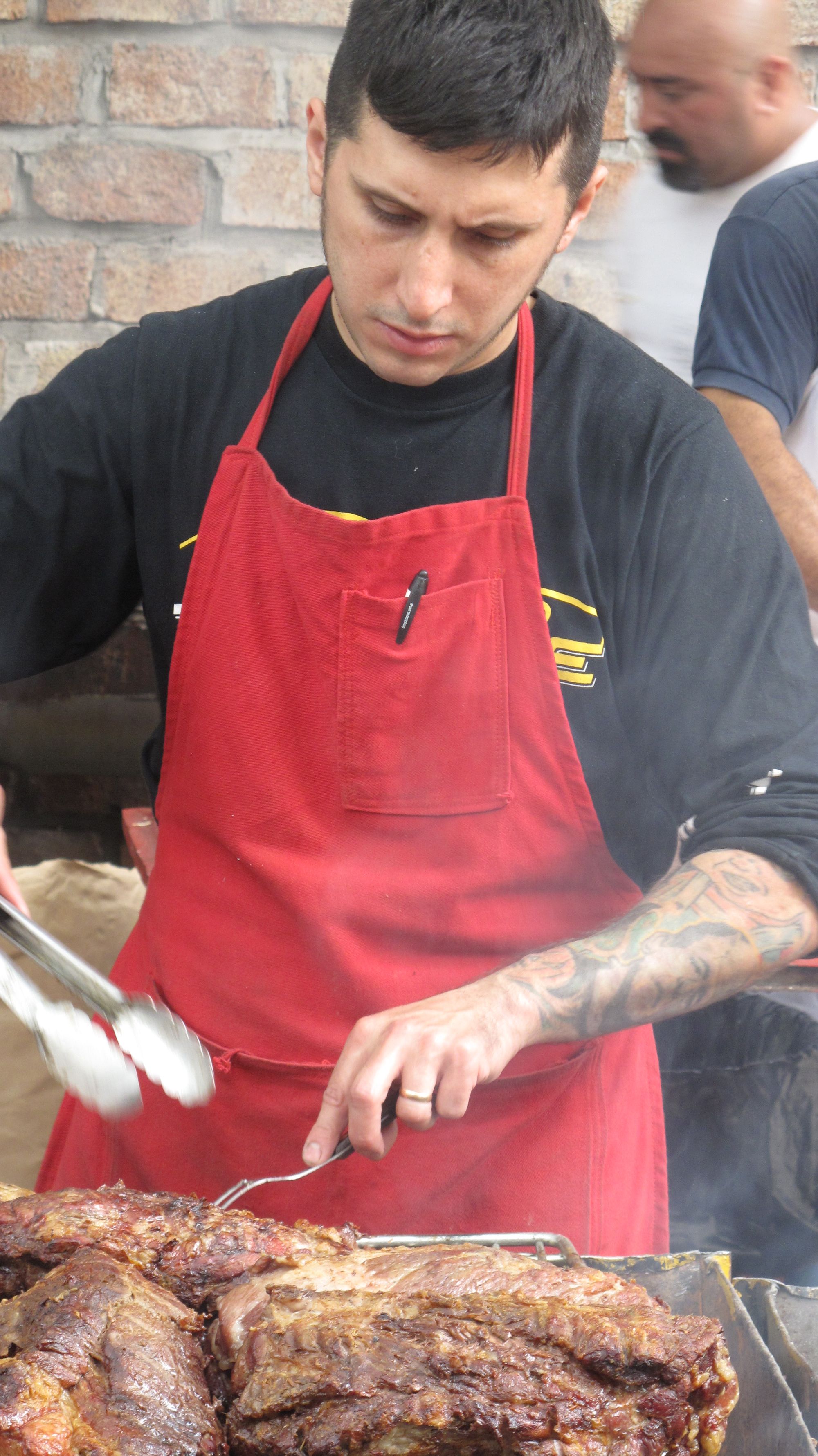 People come to see the show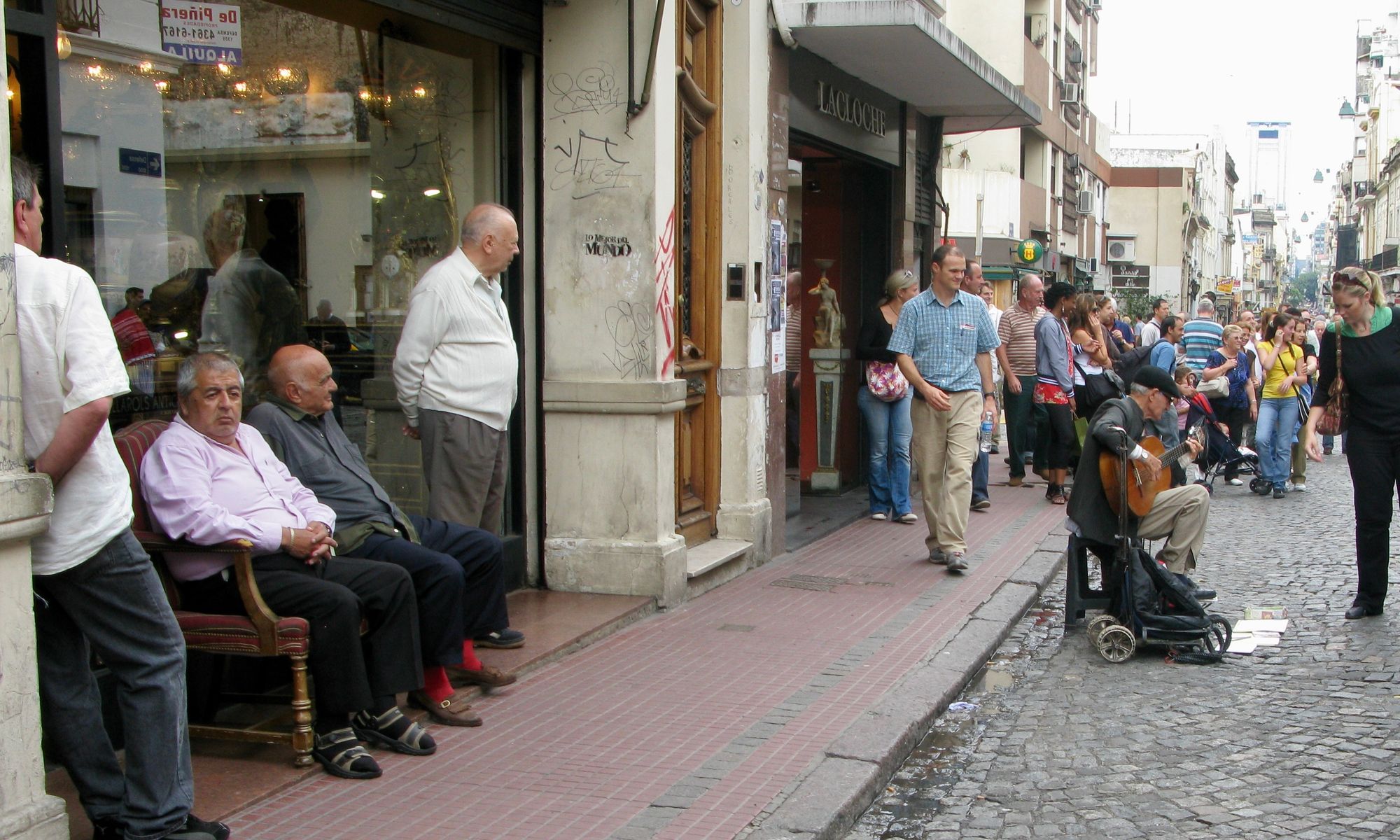 Plaza Dorrego and the Sunday Antique Market
Toward the southern end of the street is Plaza Dorrego, with a famous Sunday market. It is one of the oldest squares in the whole of the city, and its weekly antique market is full of curiosities and local handicrafts. It is a major gathering place just to hang out...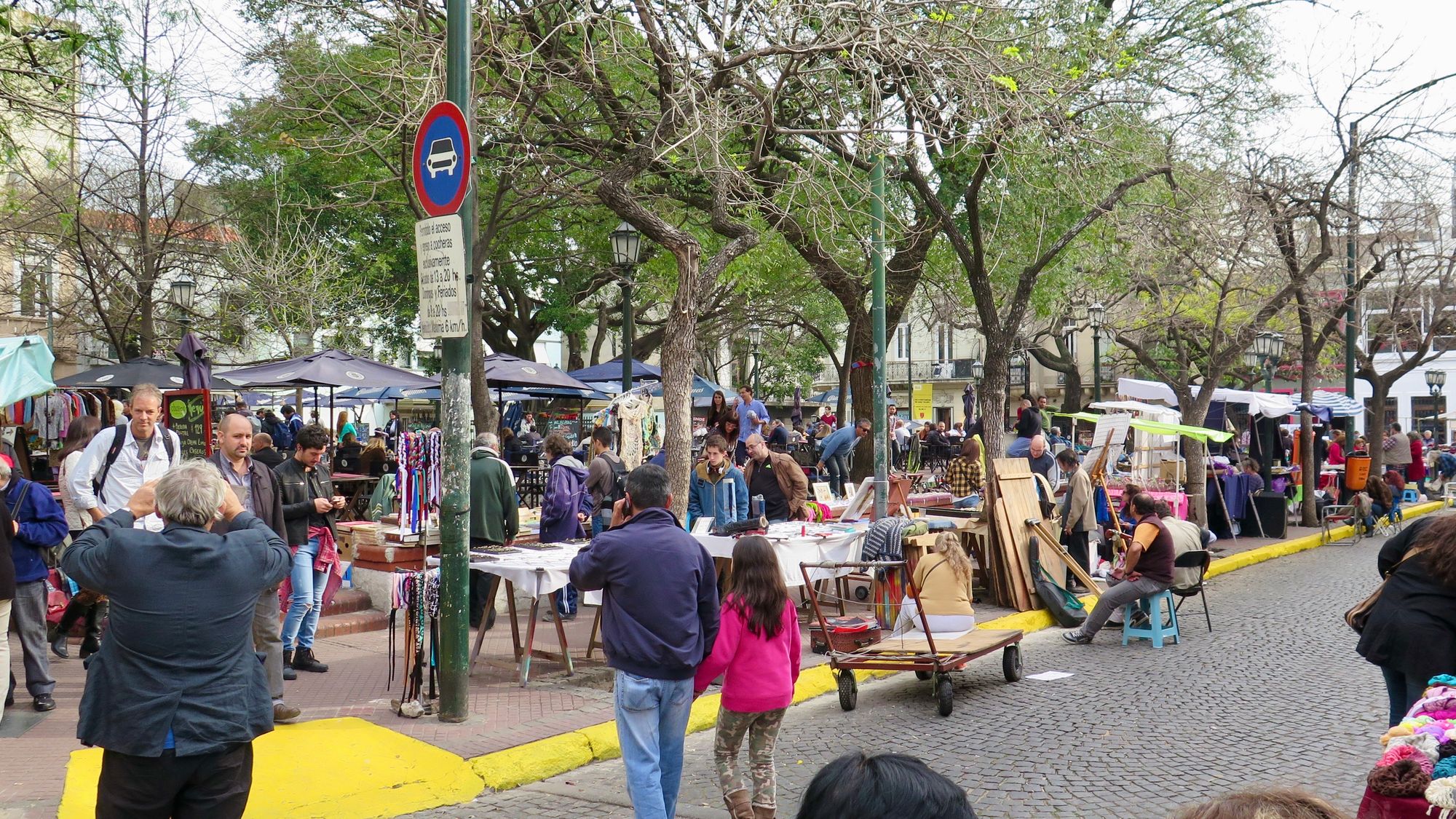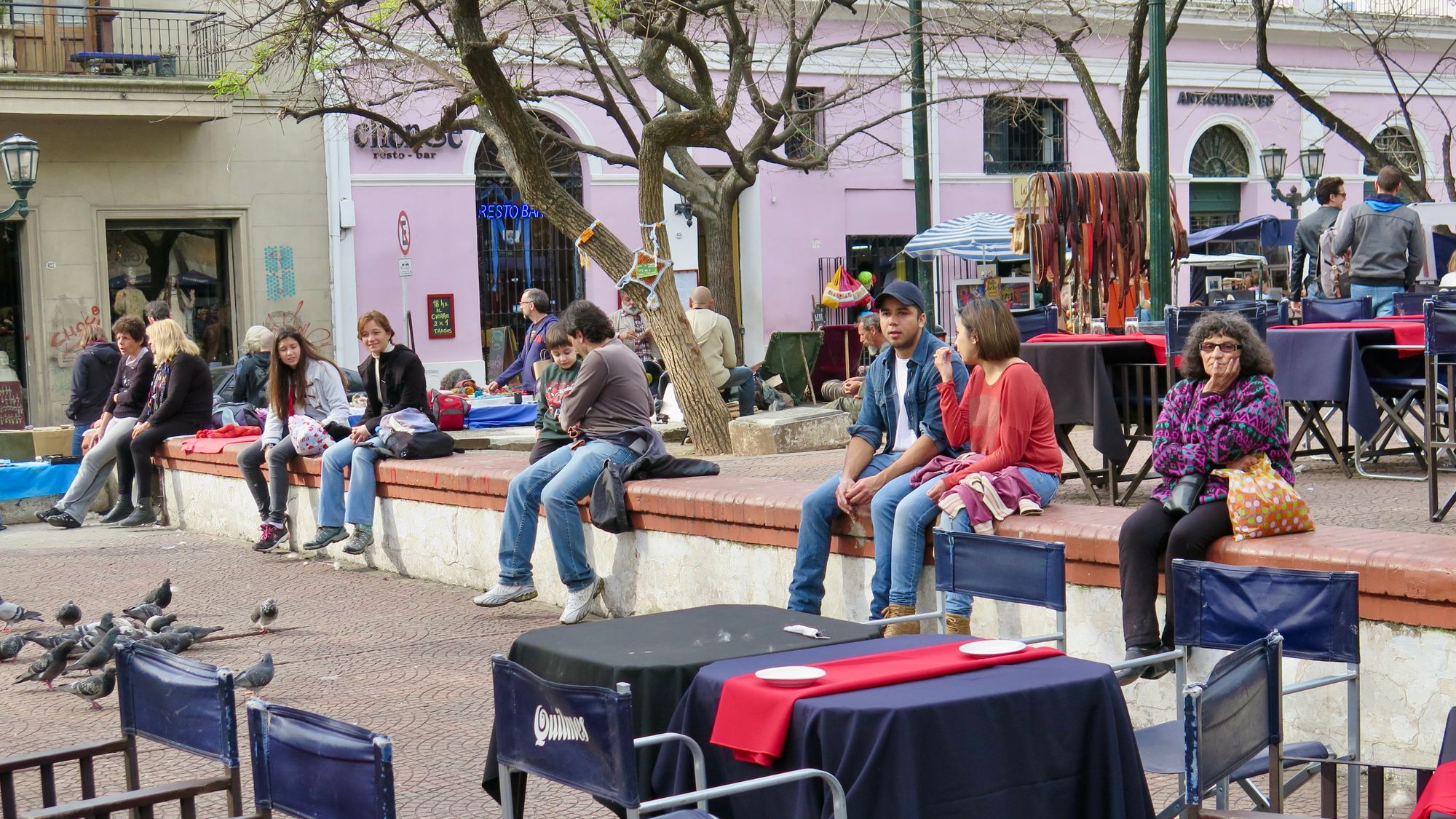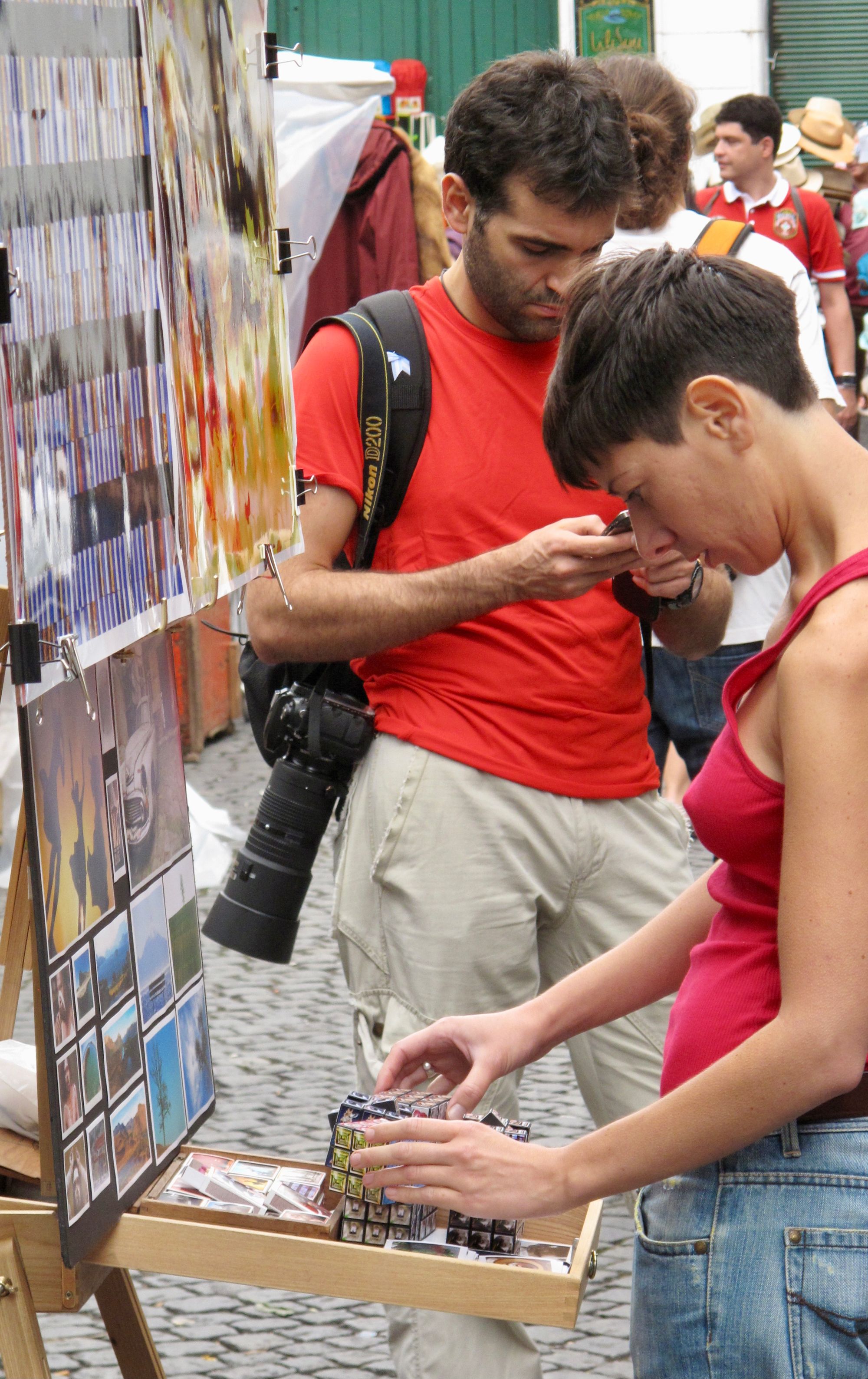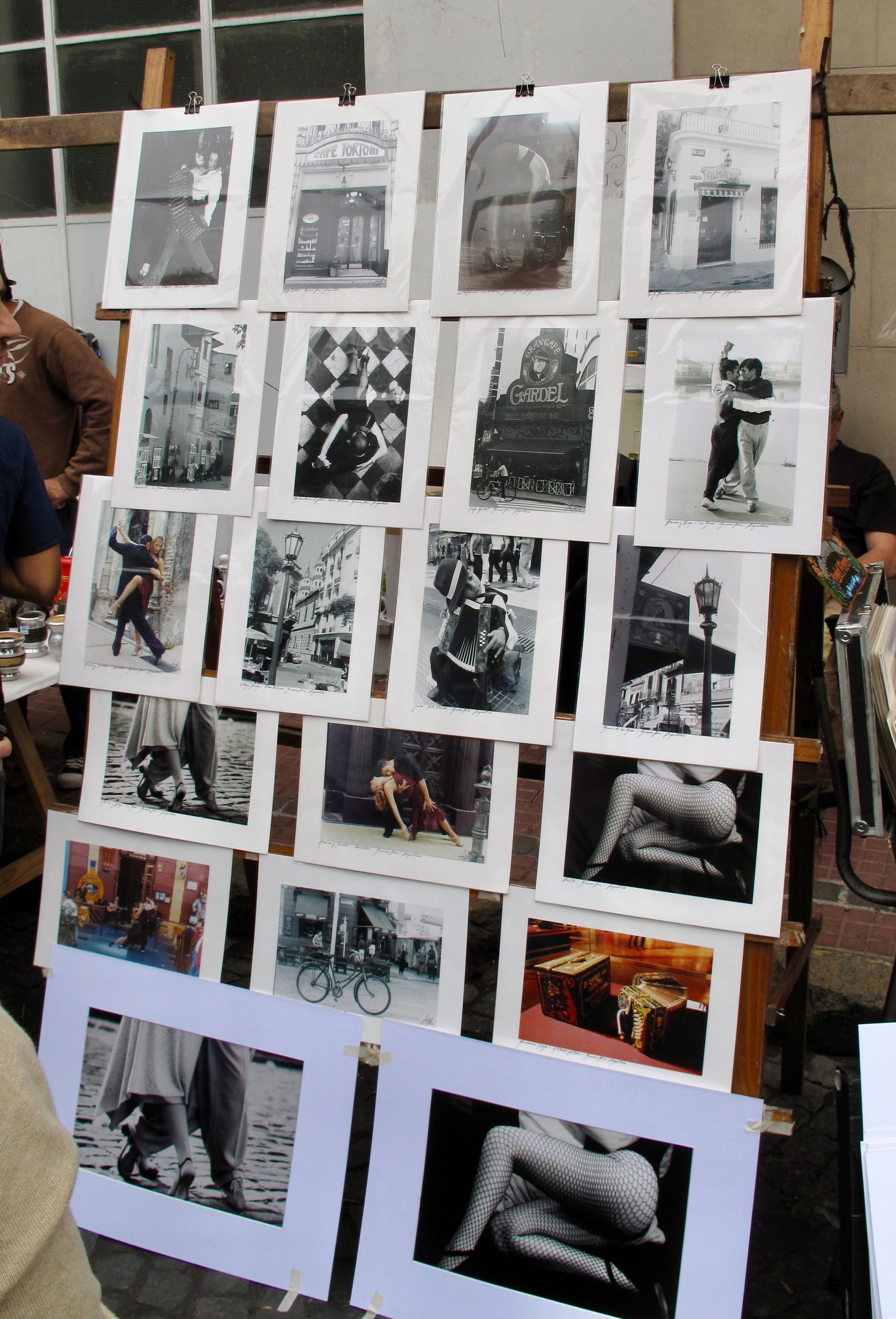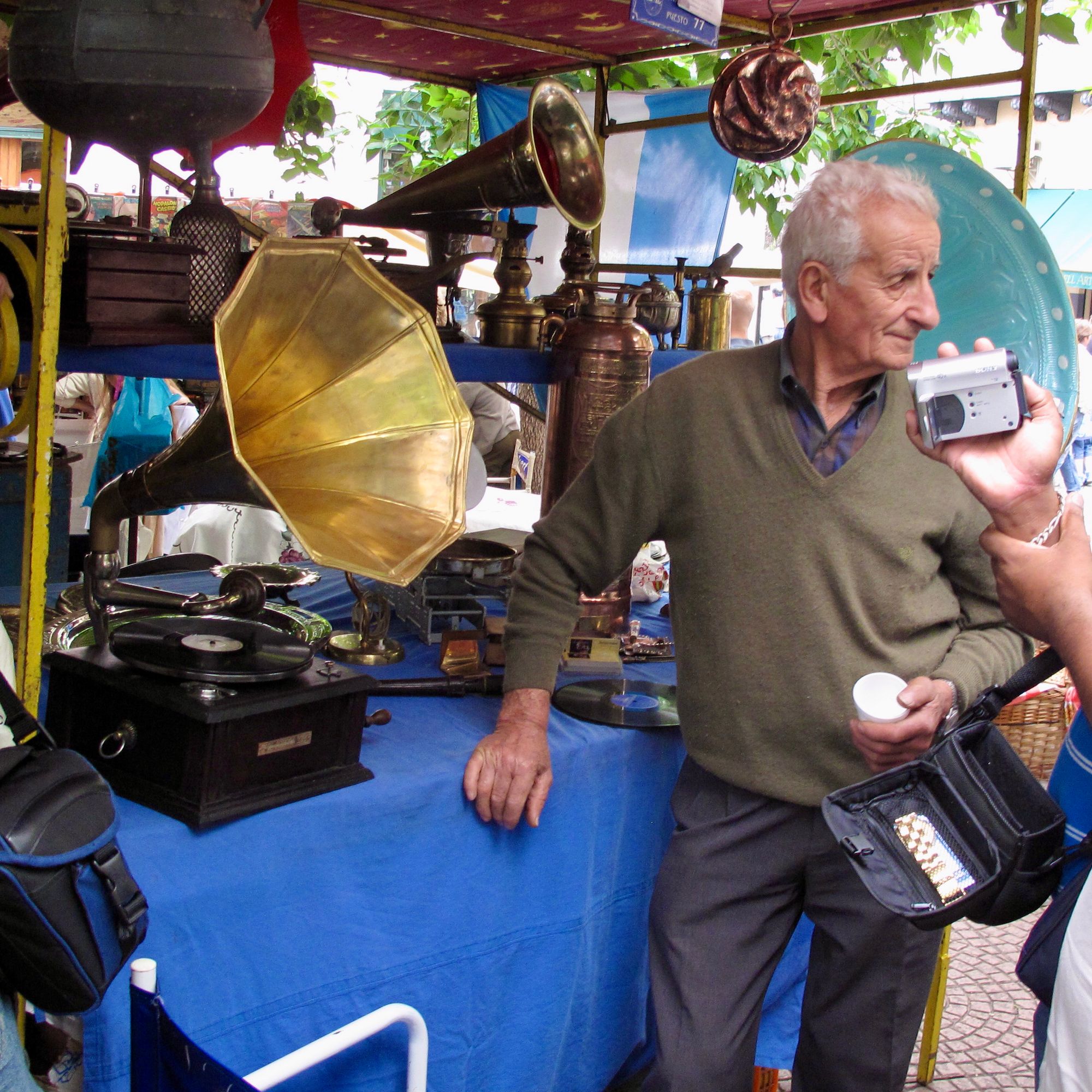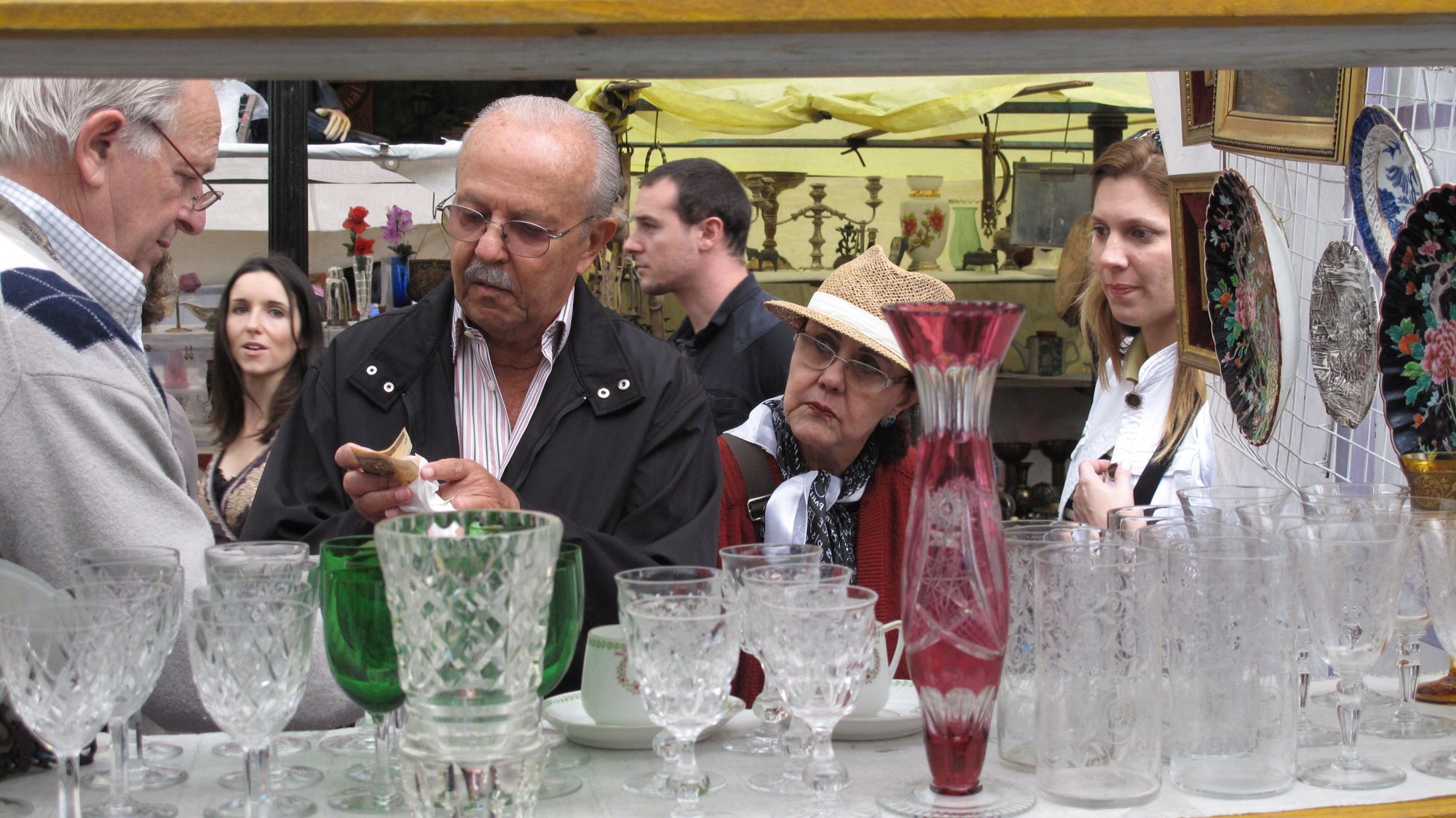 Takeaways
Improvisation and collaboration lay the basic underlying foundation for this great street. It is the backbone of a community of people who know and care for each other: something to which every public space must aspire. At the same time, it is a "performance" street on many levels: People meet one another while sharing the pleasure of particular vendors/performers. Even non-performers are there to see and be seen.
Each section of Calle La Defensa has its own identity. But what is common among its various parts is a shared feeling of spontaneity. Because performers are sprinkled throughout the space, the street becomes one continuous and interactive stage. Because local entrepreneurs use the street, rather than individual stalls, they are woven together into a stream of vendors. All in all, Buenos Aires' Calle La Defensa is an example of all the good that can come from letting improvisation be the defining force.  
Calle La Defensa is full of people from all over, and its mix of vendors and performers lend it a type of excitement not found in many places around the world. It evokes Barcelona's Las Ramblas, a place whose renown is well-deserved due to its sheer volume of activity. This is certainly one of the most dynamic streets anywhere, especially during market hours on Sundays. We will add other "Streets" to this collection. The ones we will share should be represented as a group of UNESCO World  Heritage Sites.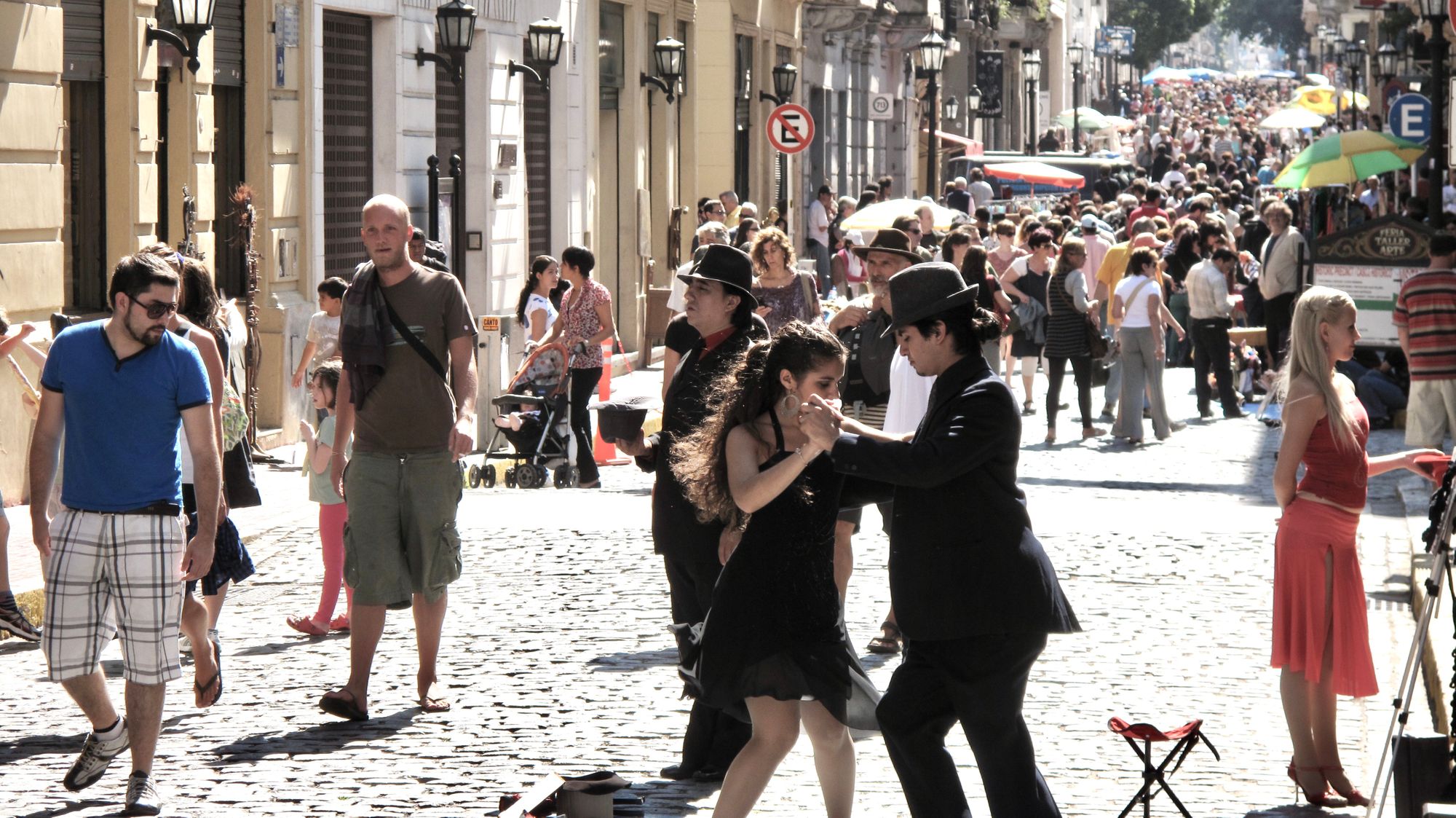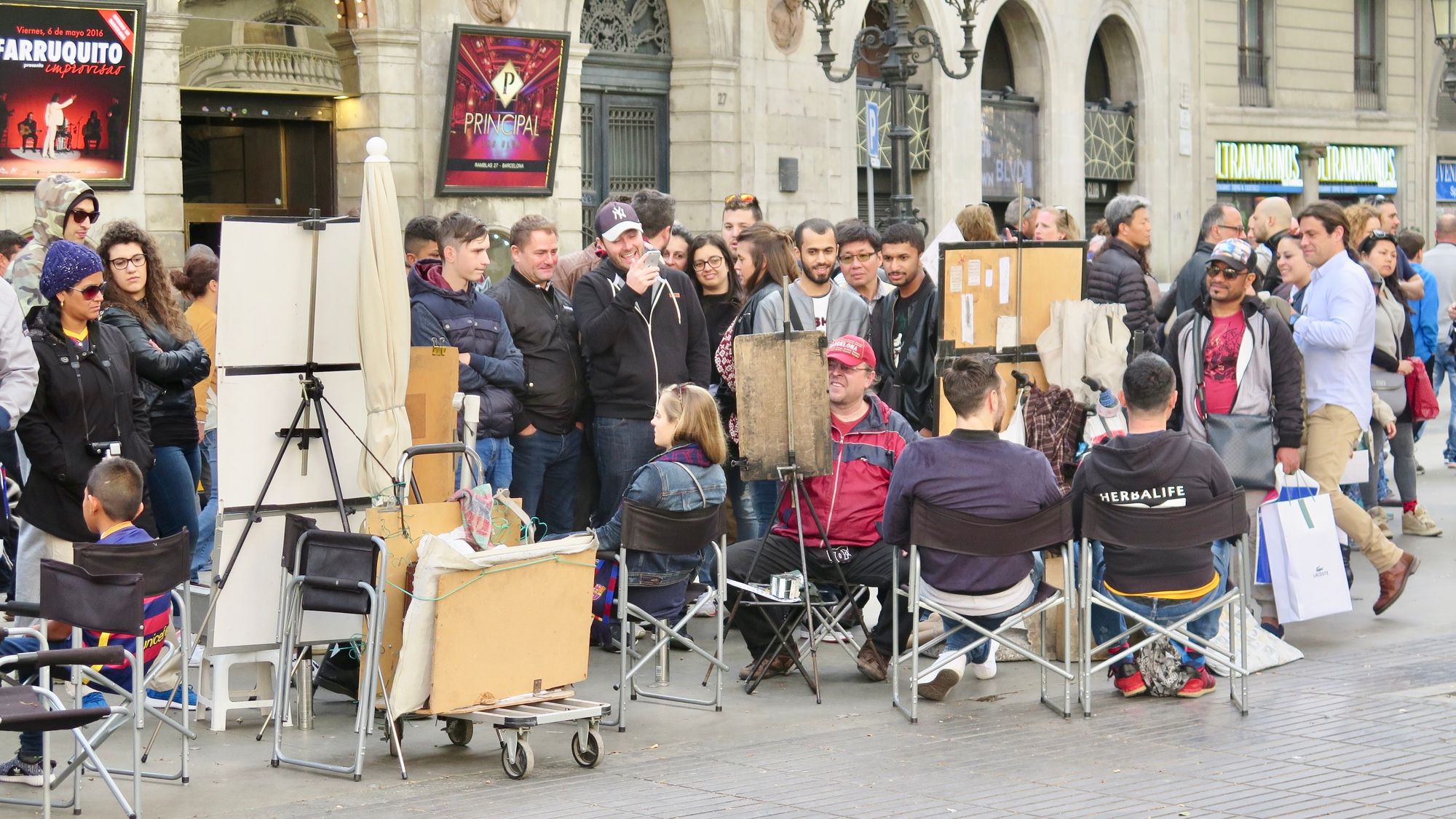 The mission of the
Social Life Project
is to incite a renaissance of community connection in public spaces around the globe. Through our online publication, presentations, campaigns, and catalytic projects, we can create transformative impact on communities everywhere. Our work grows out of more than 50 years devoted to building the global placemaking movement. It is an initiative of the
Placemaking Fund
, along with
PlacemakingX
 — a global network of leaders who together accelerate placemaking as a way to create healthy, inclusive, and beloved communities. We gladly accept
donations
to advance our work.