A story that began in 1980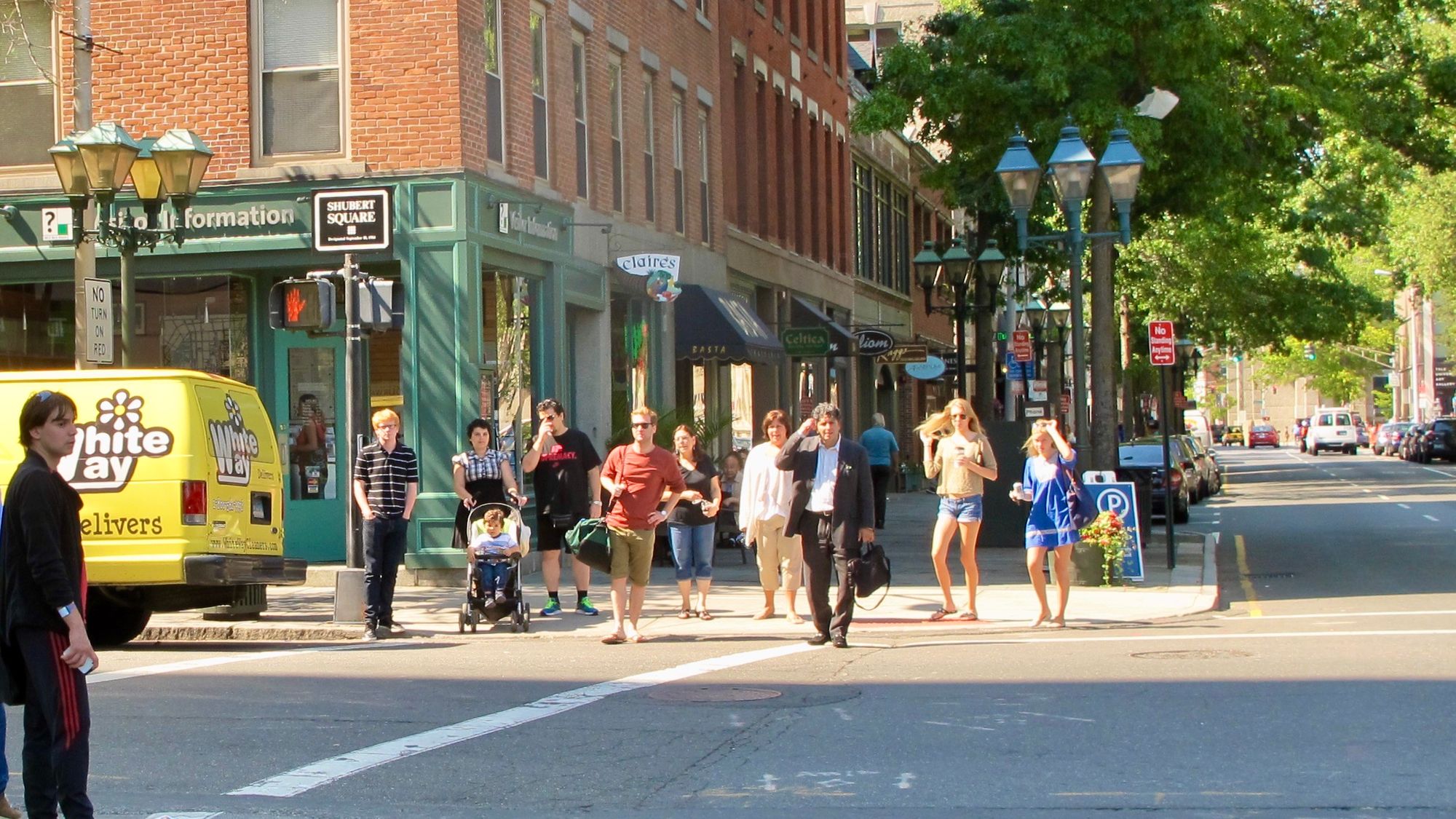 It's time for an update 40 years in the making. The story begins in 1980, when we finished our first high-impact project in New Haven, Connecticut. Our sights were set on activating two key destinations within the Yale University campus area.
So when the areas around Yale  exploded with social life this past summer and fall – coming alive in spite of COVID-19 — we couldn't help but notice and be reminded of our work there, years ago. What we saw were daring responses to the desperate need to connect local retail and restaurants with the larger community. But what we've seen happen in New Haven this year is not just another pandemic intervention. It's the result of a 40 year-old process that began with one of our first high-impact activations; one that has since proven to be a national model.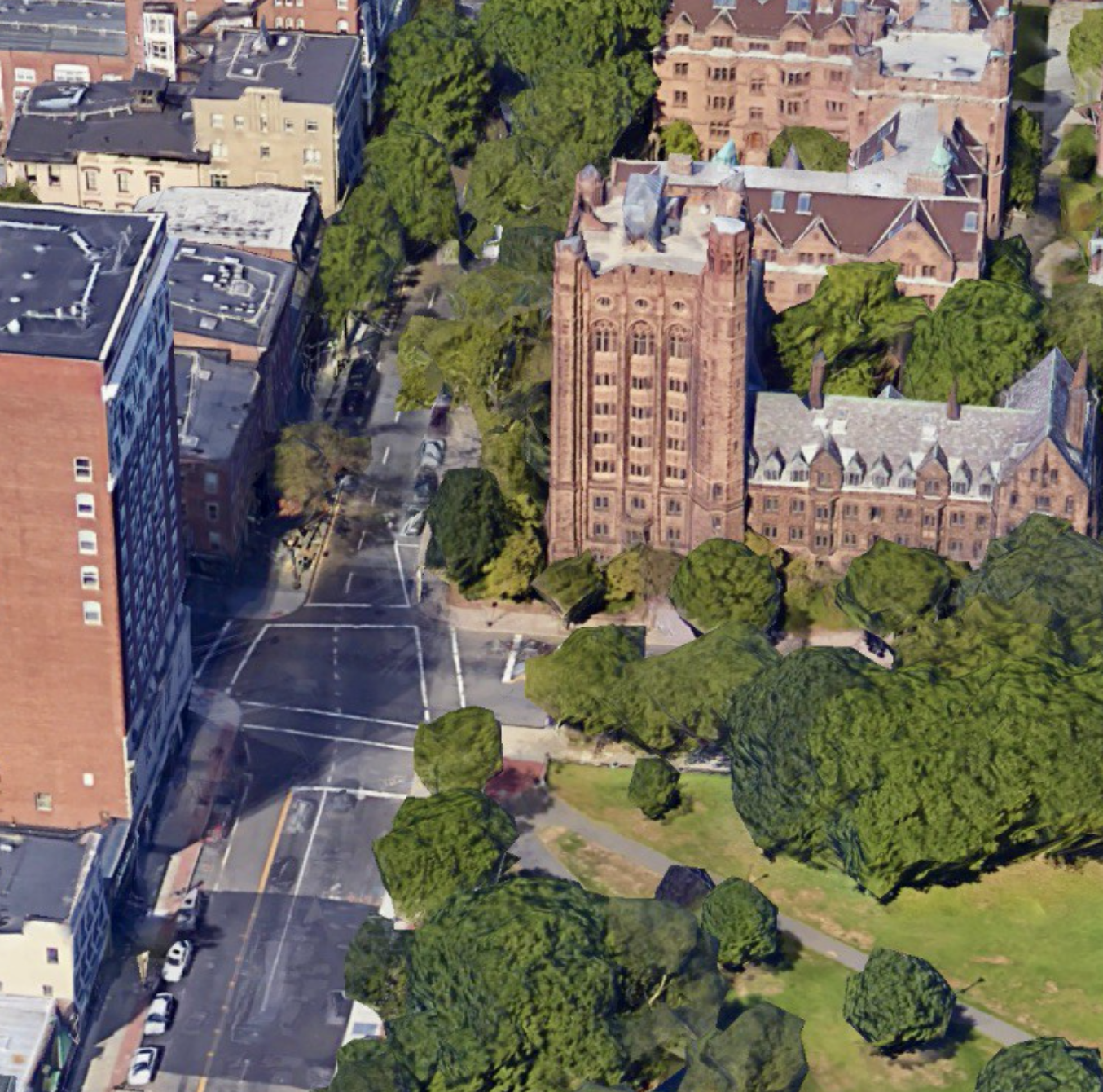 Before we began our work in New Haven, many of its streets lacked destinations for people to gather. That began to change when Joel Schiavone—a banjo-playing businessman and sometime Republican candidate for governor — bought properties on the corner of Church and Chapel Streets adjacent to Yale University. This kicked off a process that reinvigorated an entire block, already full of potential with its theaters and other historic properties, but sadly under-used.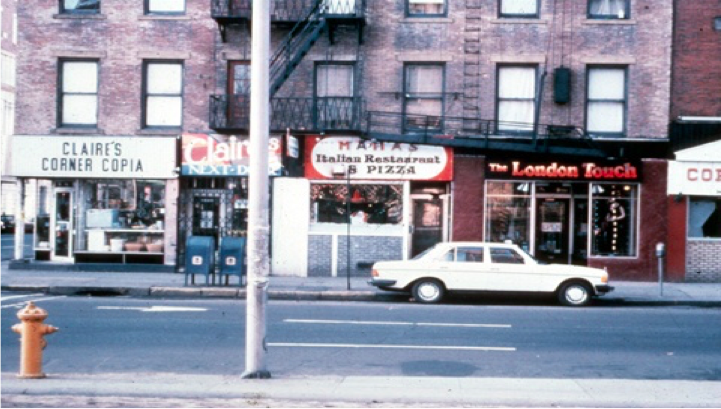 Mr. Schiavone decided, under our guidance, to keep and preserve local stores like Claire's Corner Copia—a strategy that would prove to be a brilliant example of "place-keeping." We also worked together to eliminate parking spots and expand the sidewalk in front of Claire's. By preserving many of the peripheral buildings in the area, and then making improvements to the street, our interventions dramatically changed the perception of Chapel Street and its interface with Yale University. Since these improvements, places like Claire's Corner Copia have become local institutions.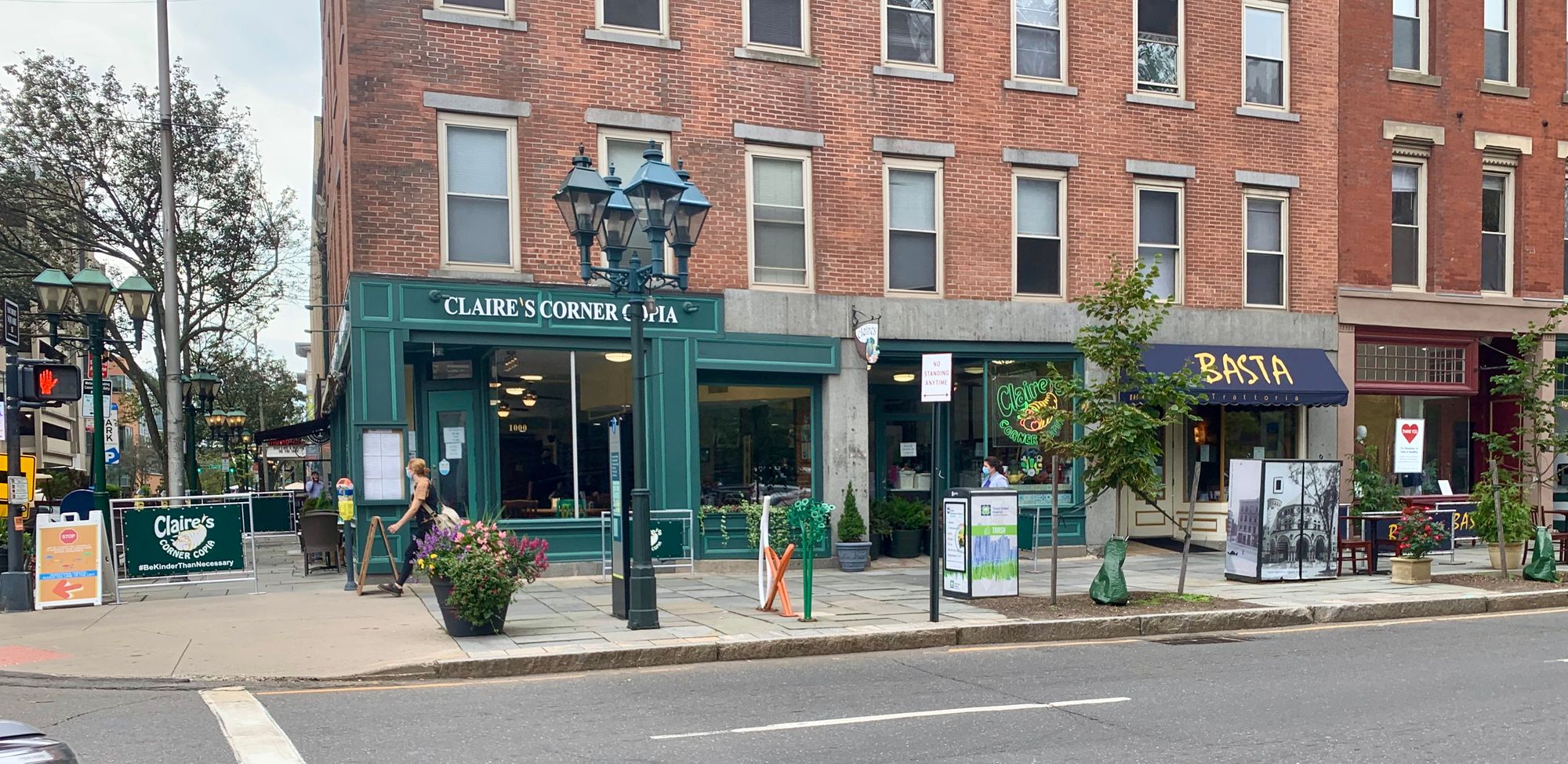 Triumphant Turnaround
By providing flexible space for a variety of activities like outdoor seating, displays and other retail activity, the process of widening sidewalks opened up the street for people. This effect was magnified with the subsequent narrowing of vehicle lanes on the street to 9.5 feet. Though this still accommodated some parking, it significantly slowed down the traffic passing through. In so doing, it also created a destination; one that would soon become a de facto entrance to Yale from the downtown.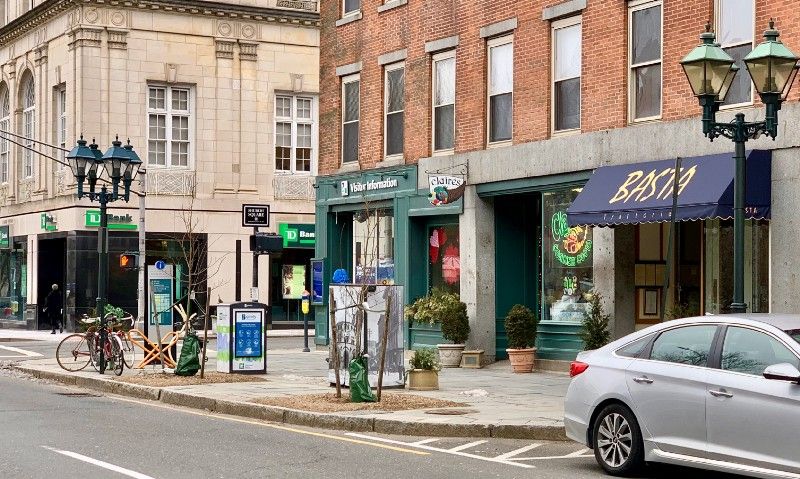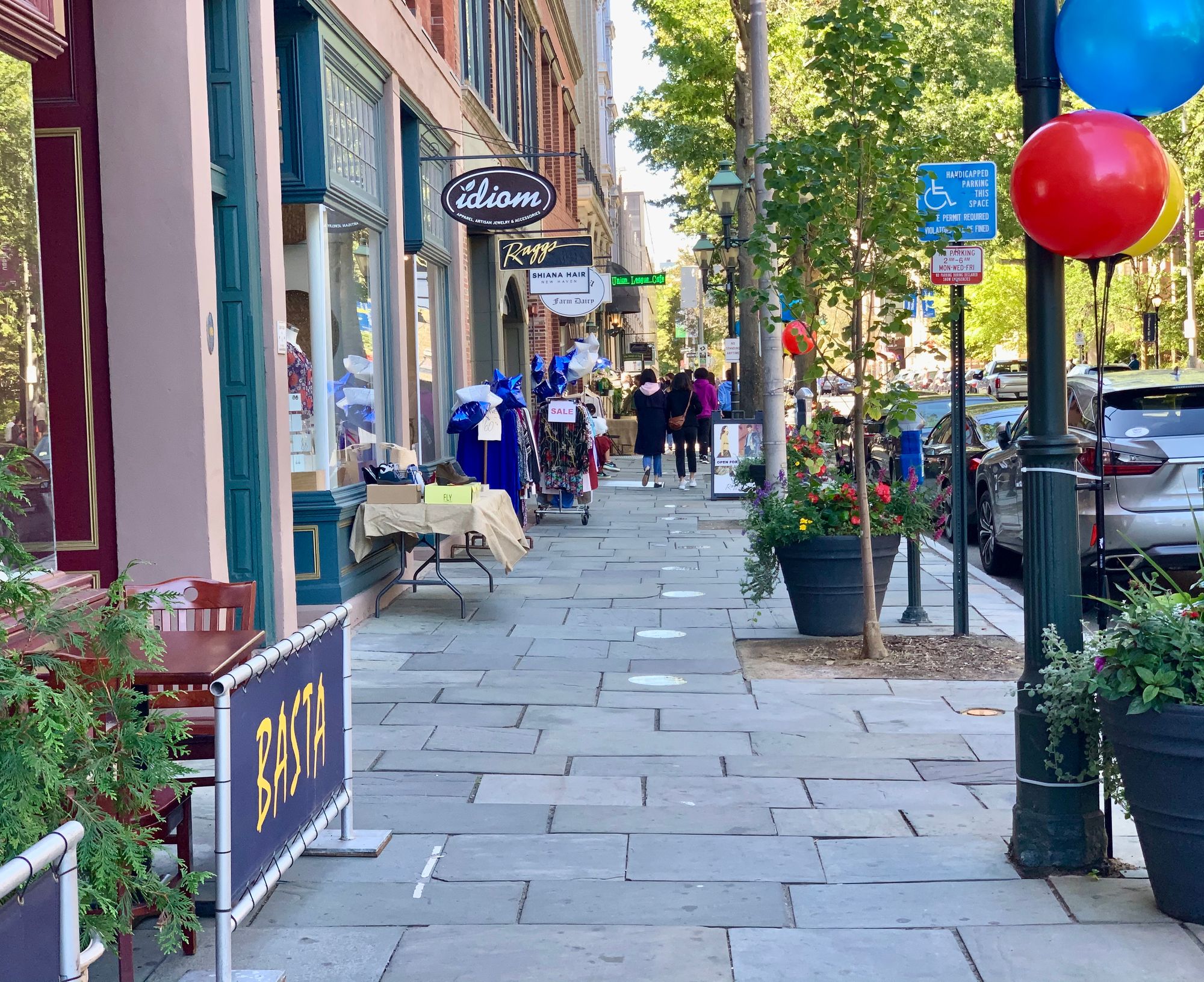 Supporting local businesses
These improvements were the critical factor in the success of the block and immediately reinvigorated locally-owned businesses—even beyond Claire's Corner Copia. In what can be seen as a testament to the new vibrancy of the block, the owners of Claire's then opened the popular Italian restaurant Basta next door, expanding the important culinary and community hub even further.
This corner on Chapel and College Street is now a favorite spot where folks can run into people they know, have a conversation, meet for lunch, or a coffee. These improvements, which started at the corner in 1980, have now continued down both blocks, making this a go-to destination in New Haven. Once riddled with empty storefronts, Chapel Street is now well-loved and cared for by store owners and local residents.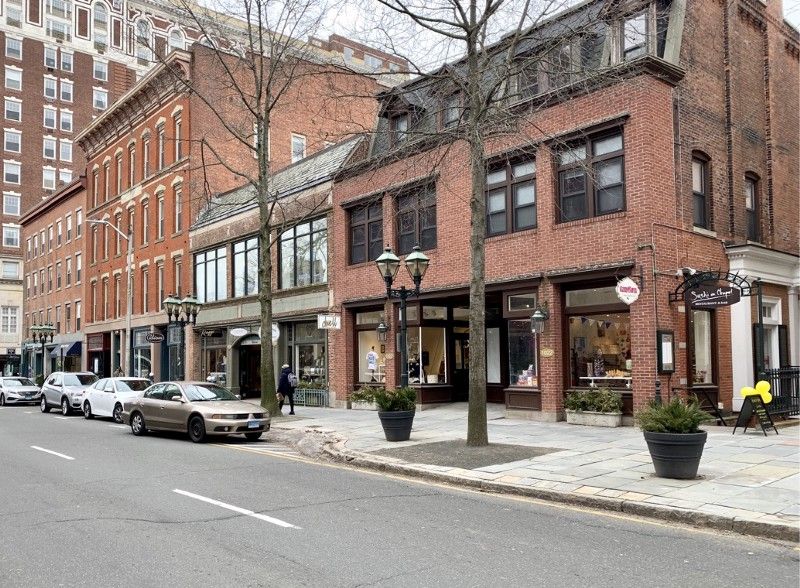 A Bold addition
Now let's jump ahead to September 2020. To address the challenges of COVID-19, Yale University worked with the City to create an instant "Restaurant Row" on College Street.  The City of New Haven relocated the sidewalk into the street, painting it in colorful stripes and replacing what had been a moving lane for traffic.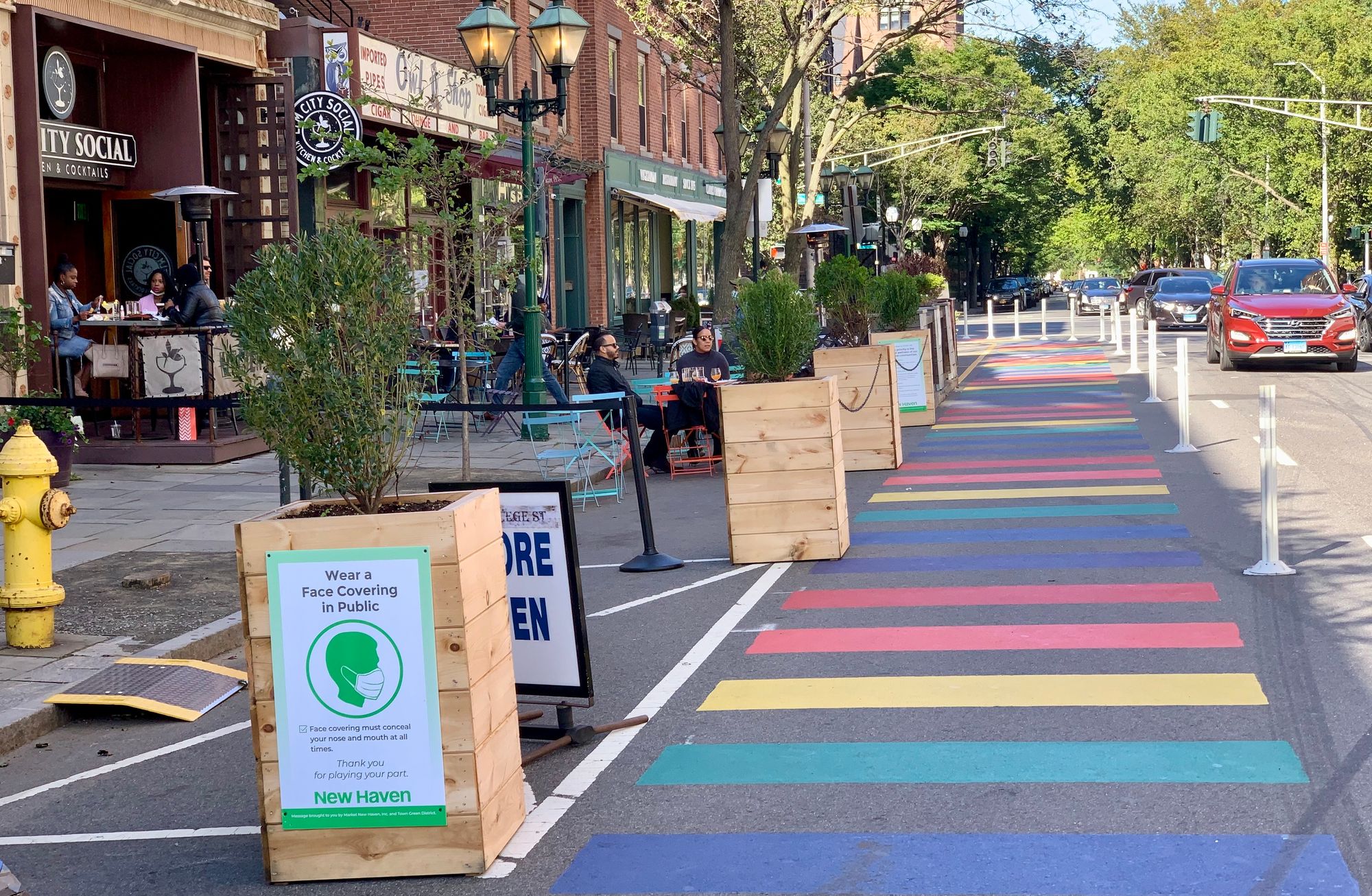 The former parking lane and sidewalk have become a socially distanced series of restaurants and cafés. It is a bold example of how to totally transform a street; taking it from a traffic artery with speeding cars into a traffic-calmed, shared street where pedestrians and social life are welcomed.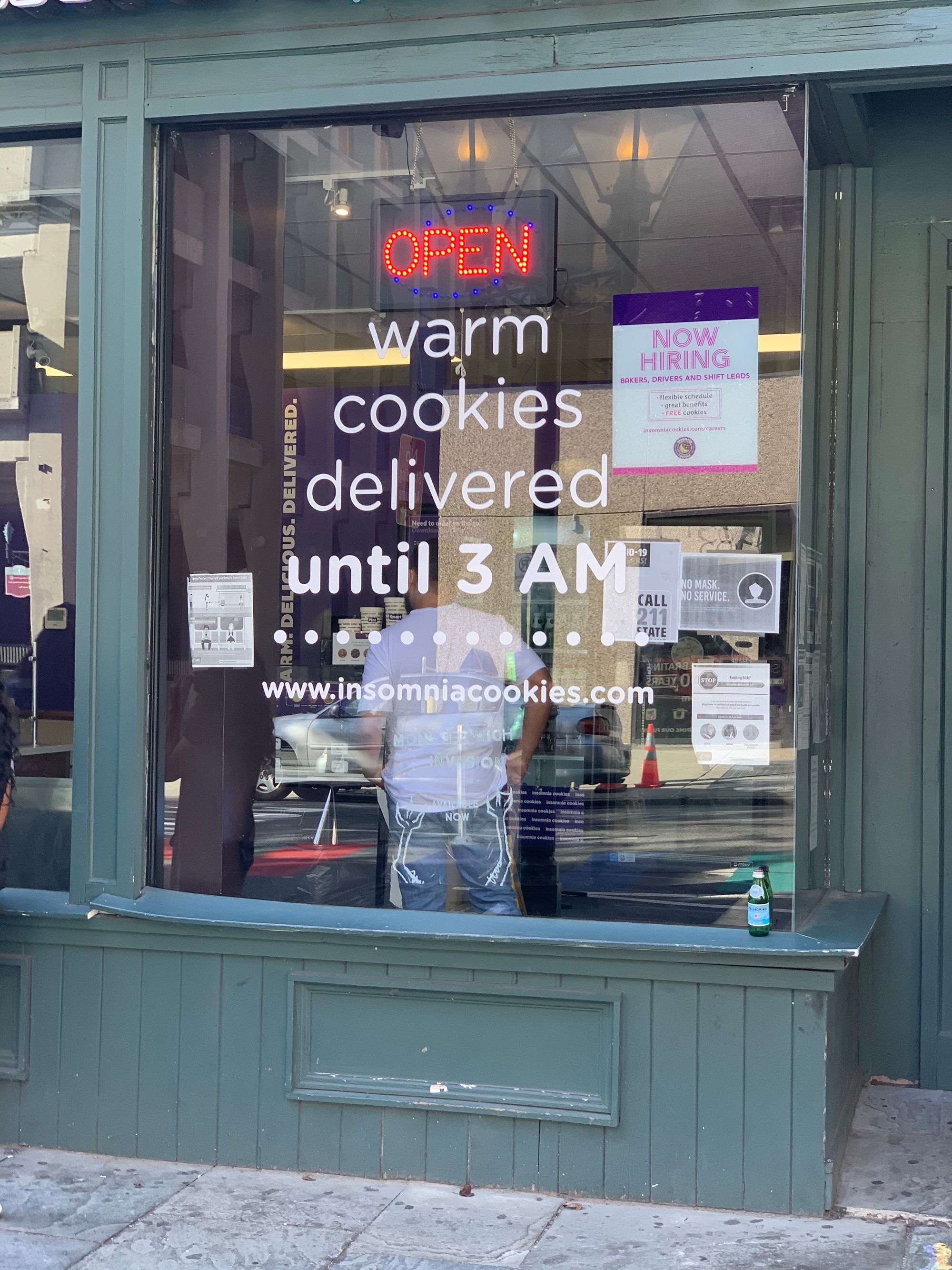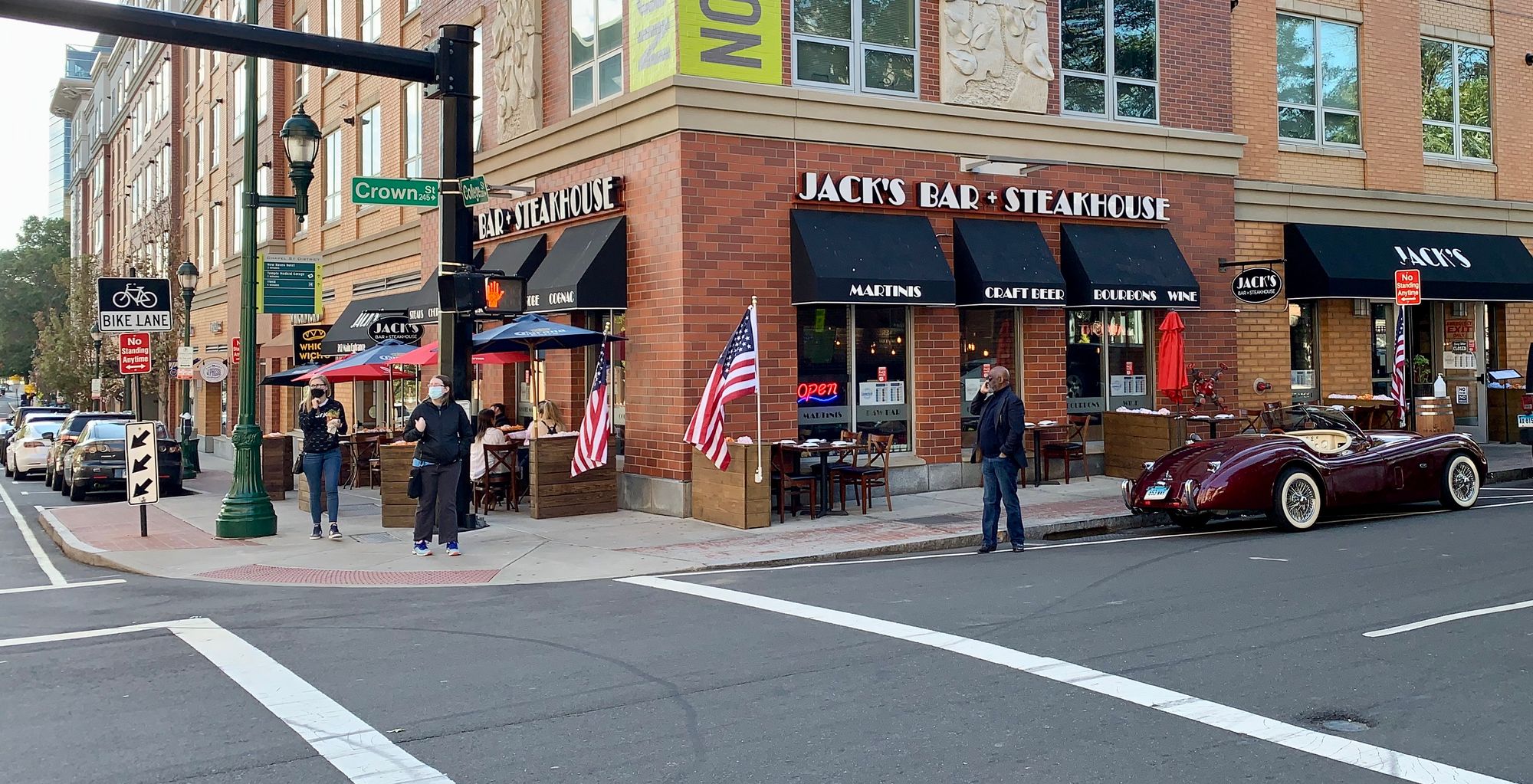 Another recent activation has transformed Broadway, the center of the Yale Campus, into a downtown square with anchor retailers like the Apple store. It, too, has become a major hub for locals and residents.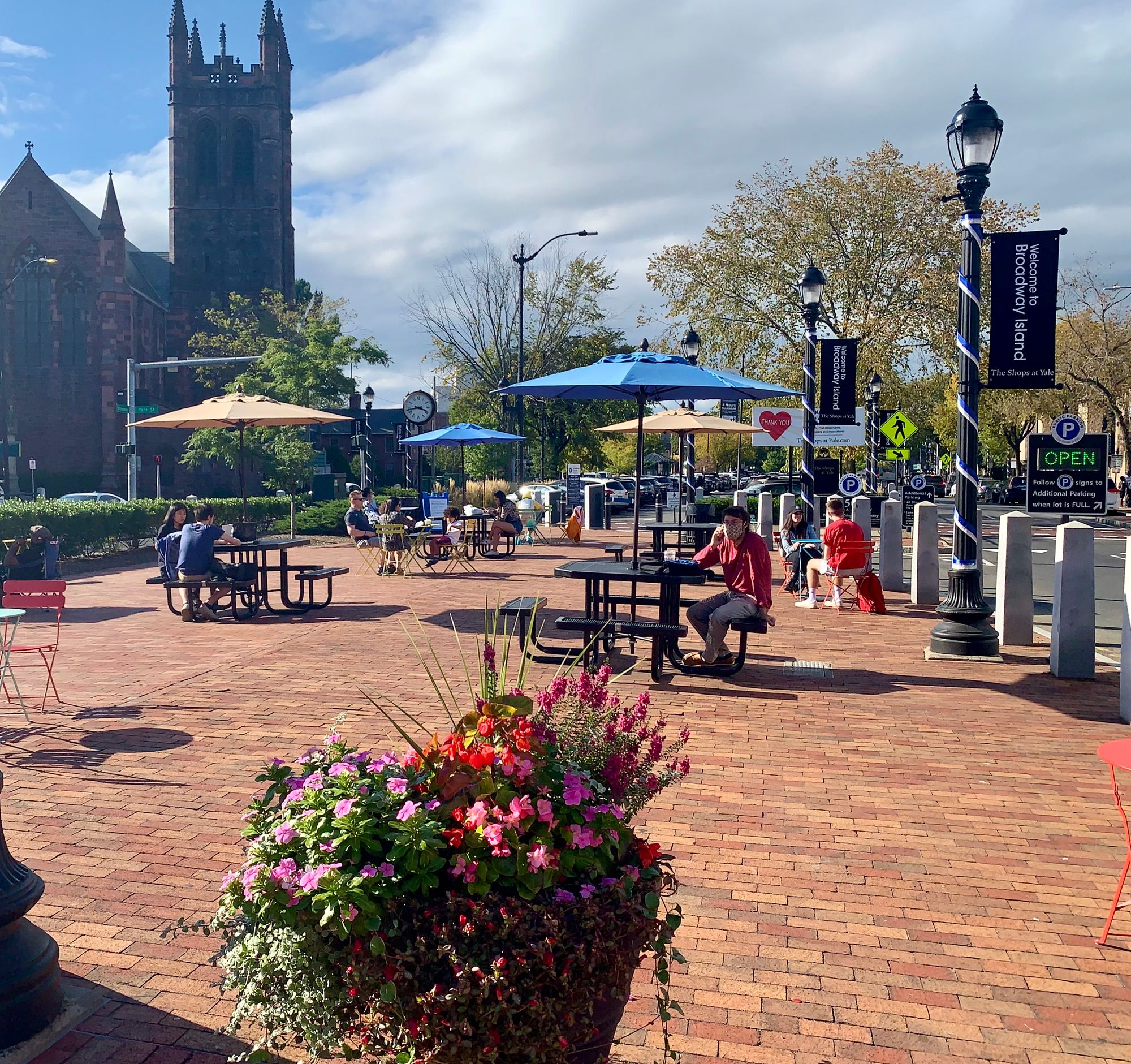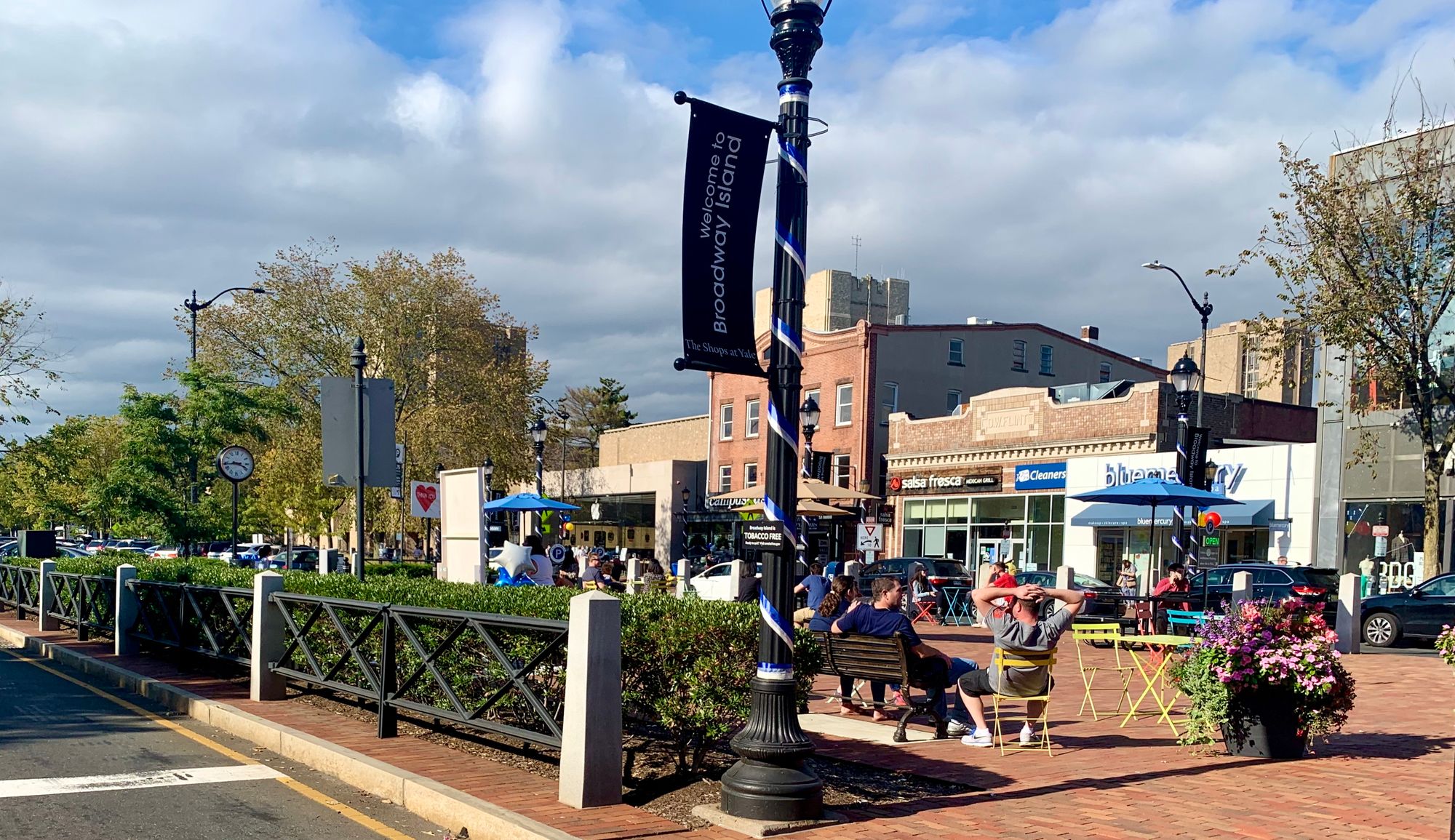 More Opportunities
We see a clear set of next steps for New Haven. Narrowing the width of streets surrounding the New Haven Green—which is now cut off amid a sea of pavement—could restore this 16-acre refuge to its rightful role as the center of town. This would enhance the walkability of the green and draw attention to New Haven as the epitome of a great New England city.
The Power of Making Links
Chapel Street has also become an important social artery, linking downtown New Haven with the Yale University campus. Some sections still need to be improved because there are dead zones that detract from the overall appearance and create unappealing gaps to social activity on some blocks.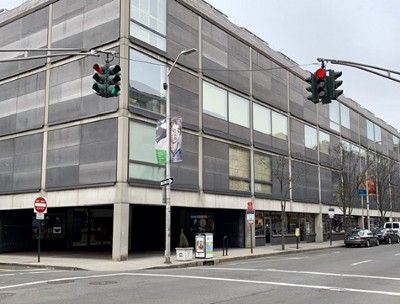 Institutions in Need of Activation
The Yale University Art Gallery and The Yale Center for British Art—both designed by famed 20th Century architect Louis Kahn—along with Paul Rudolph's Yale School of Architecture, do not foster the kind of public activity other buildings along Chapel Street do. They represent a significant opportunity to show how similar street improvements could enliven and extend the social life of this and other parts of New Haven. They could start small: activating surrounding public spaces (including the sidewalks) with temporary exhibits and attractions. But the possibilities truly are endless: Their unique roles as cultural and educational institutions mean they can activate the public realm in a way that builds a creative new dynamic in their respective neighborhoods.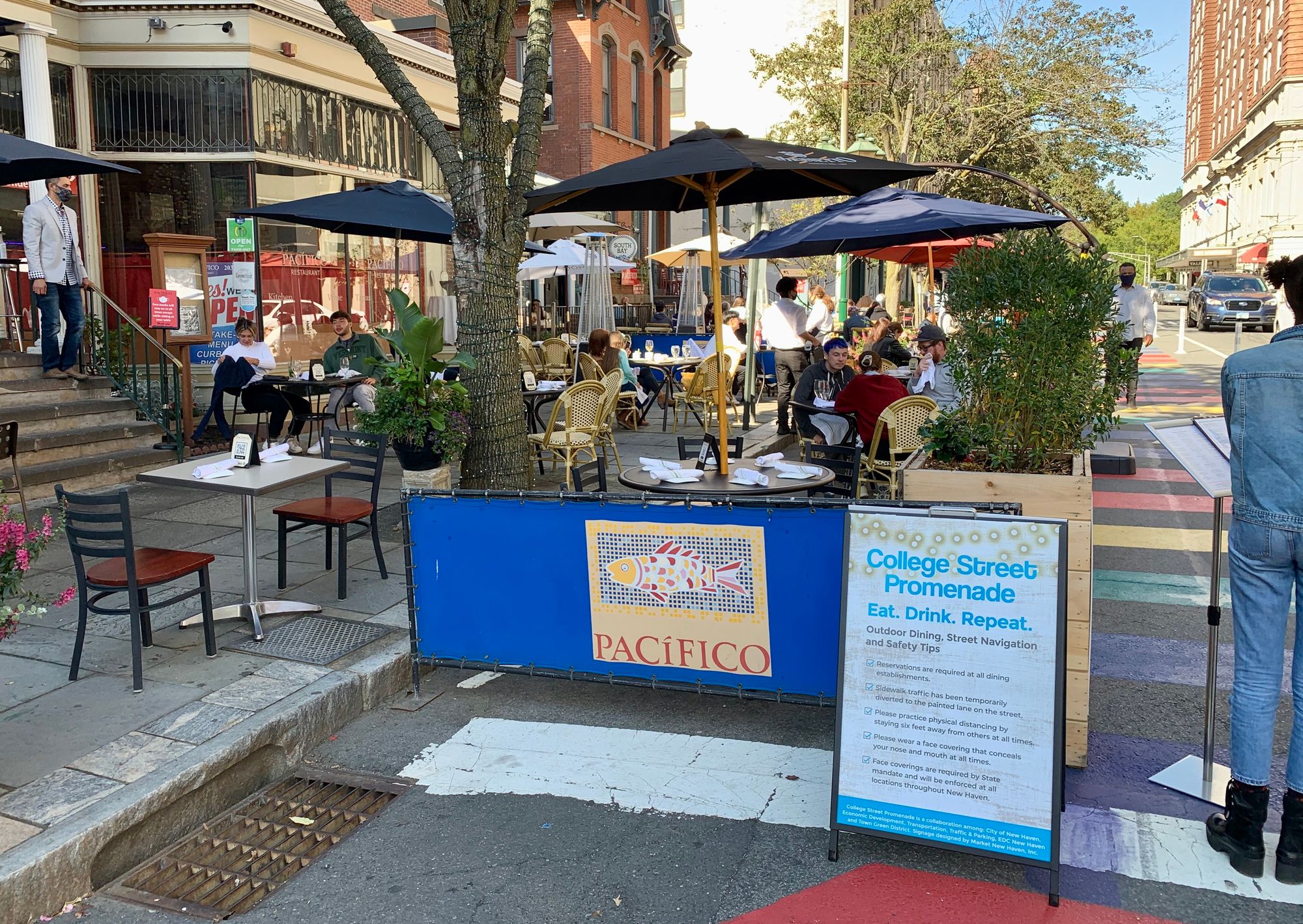 Streets into Places
Cities everywhere are hindered by streets that prioritize vehicles over people, which ends up fragmenting communities. That is certainly the case with New Haven, largely speaking. But the renaissance that sprouted at Chapel and Church Streets, and then went on to expand could happen around the New Haven Green and other places as part of a city-wide strategy. Public space-based progress in reuniting "town and gown"—or students and the wider community—doesn't have to stop.
This transformation of streets into places, with a new focus on sidewalks, is happening all over the world. We've boiled down this concept to the phrase; "It's the Sidewalks, Stupid." Perhaps more than most places, New Haven shows that a few simple, but significant changes make all the difference, and it truly is often as simple as starting with the sidewalk.
---
The Foundation and Future of the Placemaking Movement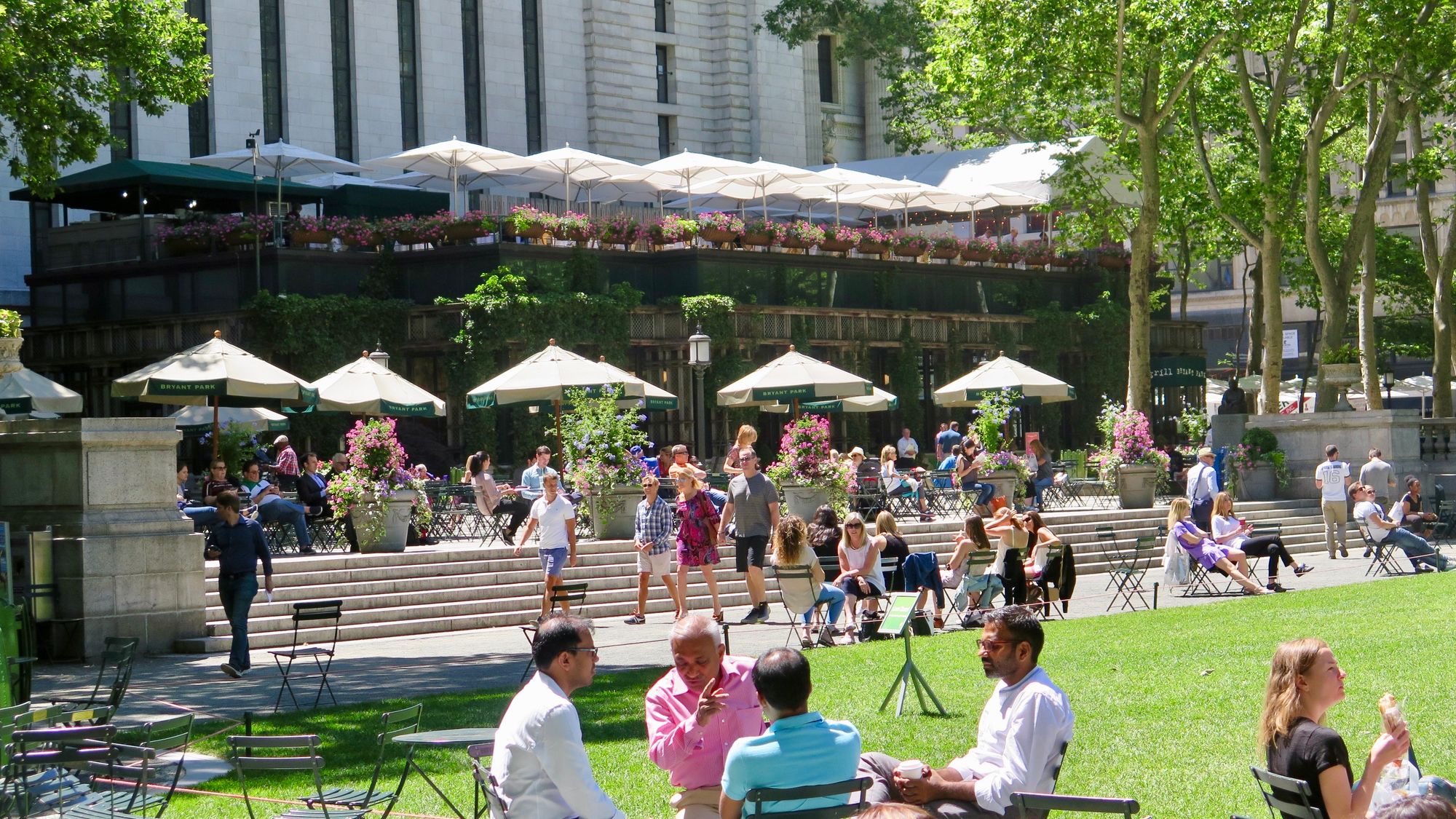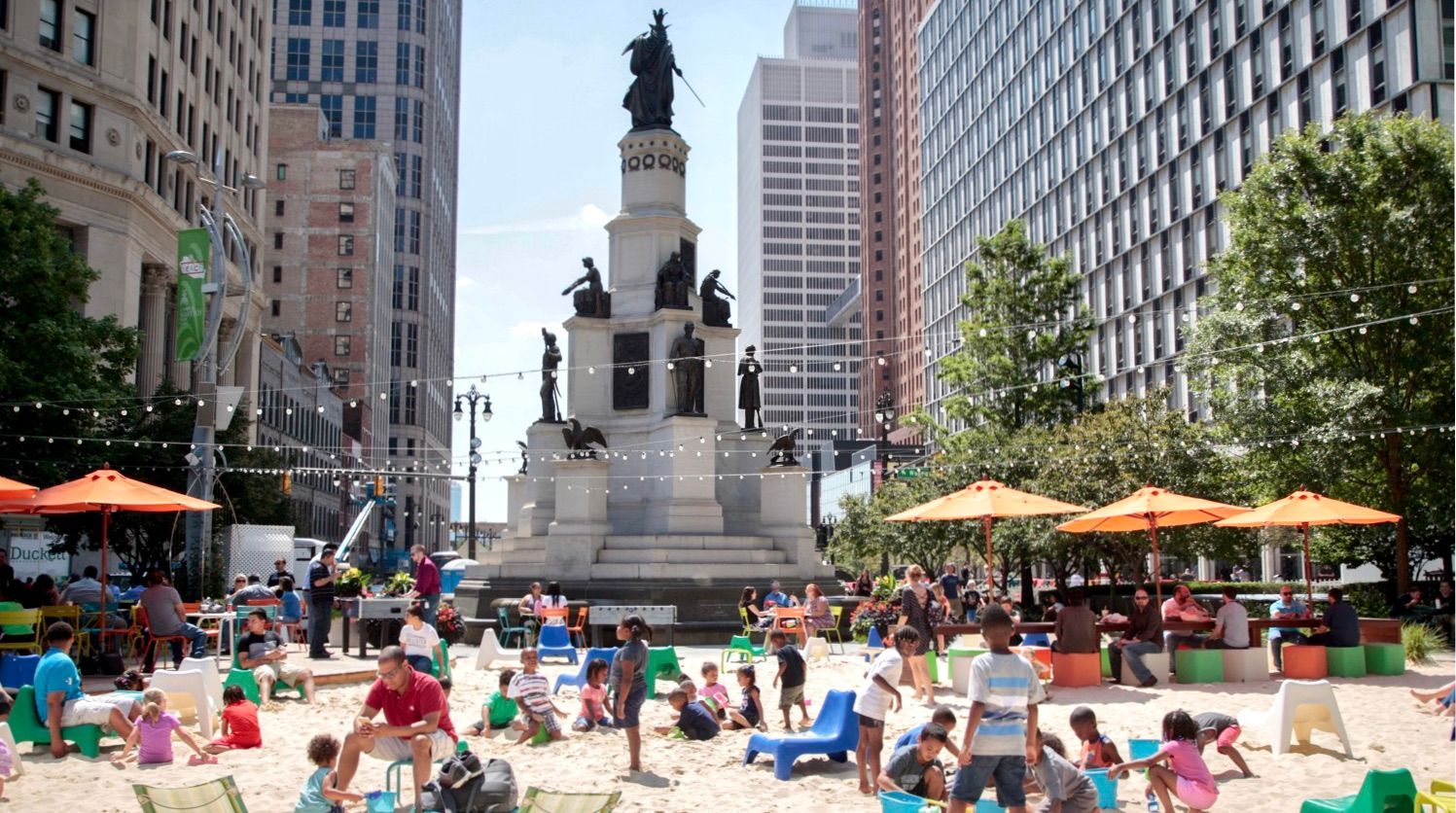 The mission of the
Social Life Project
is to incite a renaissance of community connection in public spaces around the globe. Through our online publication, presentations, campaigns, and catalytic projects, we can create transformative impact on communities everywhere. Our work grows out of more than 50 years devoted to building the global placemaking movement. It is an initiative of the
Placemaking Fund
, along with
PlacemakingX
 — a global network of leaders who together accelerate placemaking as a way to create healthy, inclusive, and beloved communities.
If you are interested in collaborating (articles, presentations, exhibits, projects, and more) or supporting the cause
contact us
.