---
In 2004, Detroit's Campus Martius Park changed the trajectory of the future of downtown. Nearly twenty years later, we see remarkable results practically everywhere.
Just recently, Campus Martius was awarded best public square in the United States by USA Today.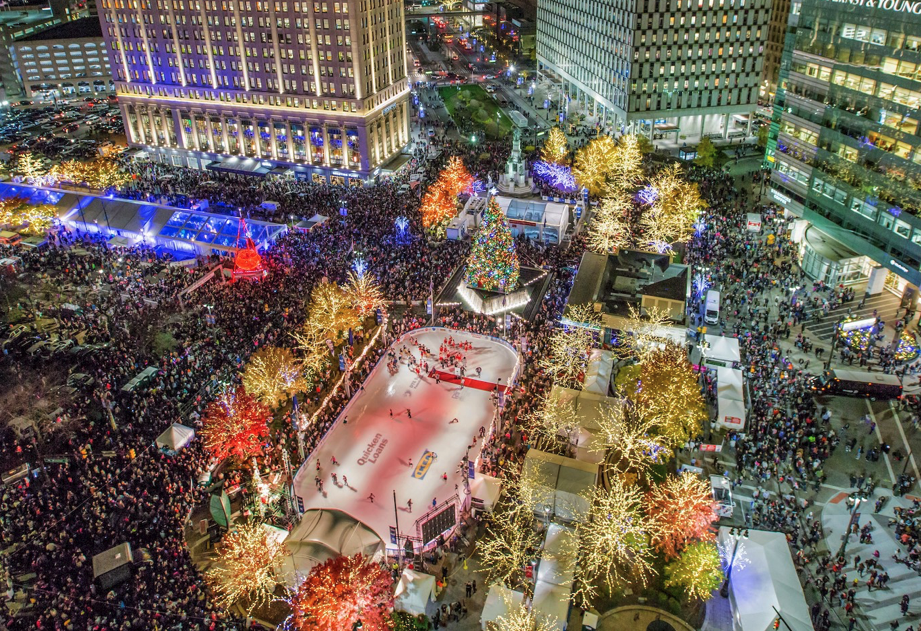 There's a reason we love telling the remarkable story of Campus Martius. In its journey from a traffic-surrounded monument to a genuinely enjoyable space, Campus Martius is living proof of the importance of prioritizing people and social life as the foundation for a "new" Detroit.  We're excited to share some new images from the Detroit Downtown Partnership (DDP) here that demonstrate the intense social energy and interaction that is now an everyday occurrence in the park.
For over 40 years, we have been honored to work with Bob Gregory, Founding President of Campus Martius Park and now Senior Consultant, Strategy and Public Spaces at the DDP, who has been central to the success of Campus Martius and the rest of the downtown.  As he told a reporter recently, "Every day, I can see thousands of people enjoying, using, and interacting in Campus Martius. The transformative success in social and economic development is priceless."
That transformative success has not stopped with Campus Martius but has been replicated in other downtown spaces. The Downtown Detroit Partnership now operates six downtown parks and public spaces. Over the past 20 years and following DDP's lead, private and civic leaders, businesses, foundations, organizations, and just plain folk have collectively latched onto placemaking principles, transformed dozens of existing downtown public spaces, and created a few new ones. These investments in the life and vitality of public spaces have paid back royally with over $4 billion in real estate development, tens of thousands of new jobs, millions of annual visitors from the city and beyond, and the return of retail and restaurants to scores of once vacant spaces.  
Certainly, the largest and most impactful private investments have been made by Rocket Mortgage (formerly Quicken Loans), which, under the leadership of Dan Gilbert, moved downtown almost a decade after the Campus Martius was renovated and opened and now controls almost 100 downtown real estate properties, including the activation of some adjacent alleyways. But other major corporations and foundations have gotten into the act, including Compuware (Campus Martius and Lafayette Greens), DTE Energy (Beacon Park), General Motors and the Kresge Foundation (Detroit Riverfront), and Ford Motor Company (Michigan Central Station.)
All came to understand the value of placemaking and the active and well-managed downtown public spaces that made it a critical part of all their plans. And they set up the right design process and management entity to continue the lessons of Campus Martius.  
Let's take a walk around downtown Detroit and see where Social Life is thriving -- beginning at the beginning, in Campus Martius Park.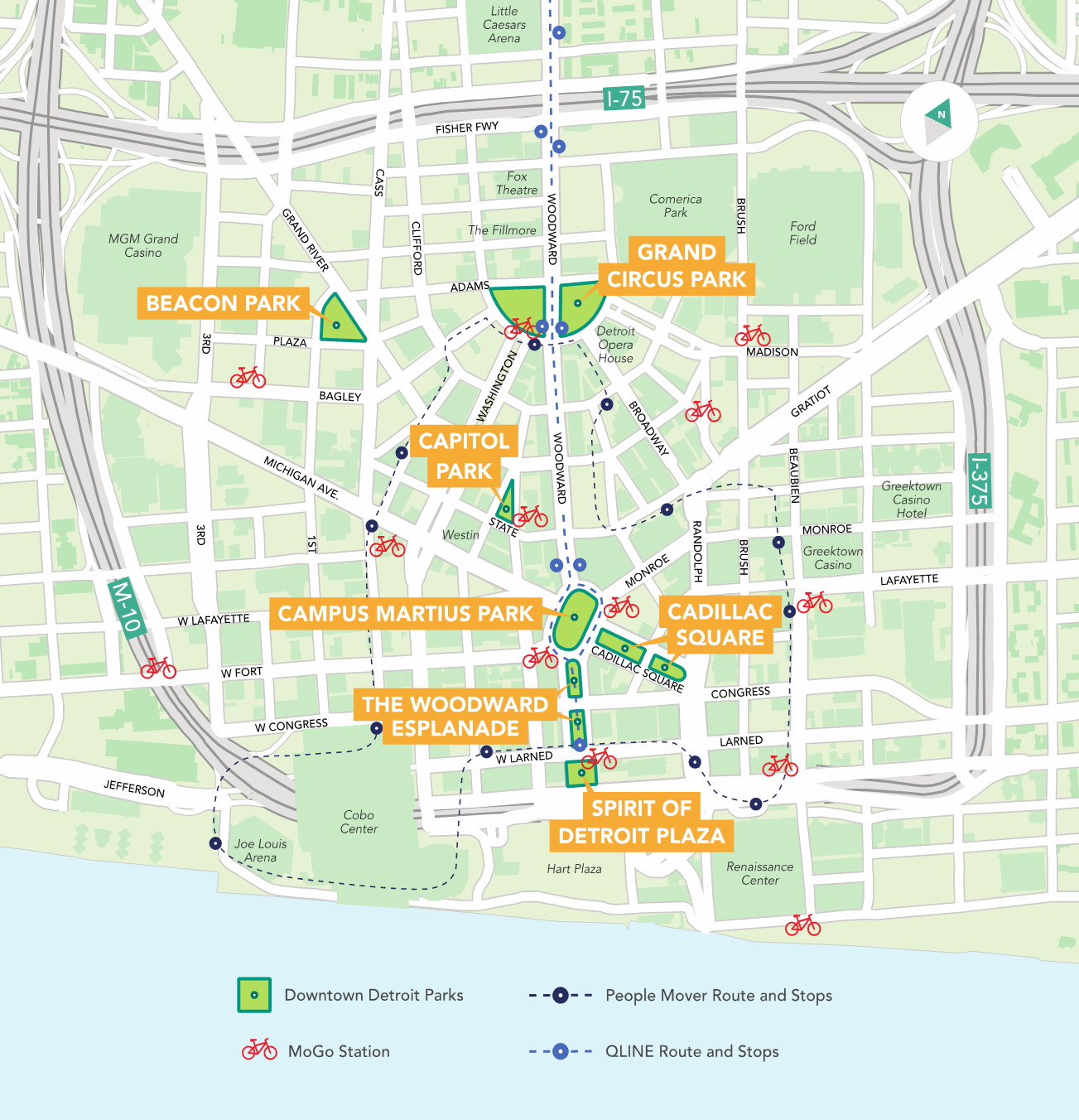 Campus Martius Park
The Initial Transformation: 2004
In 1999, Campus Martius, once the city's vibrant retail and transportation hub, had been completely emptied out and taken over for car traffic, and there wasn't much of that. Five adjacent downtown blocks, including Hudson's, the world's second-largest department store, were leveled to the ground, leaving only the Soldiers and Sailors Monument in the center of the space as the sole reminder of Detroit's former glory. Downtown Detroit had declined to a historic low
with millions of square feet of buildings vacant and blighted and empty storefronts on every major avenue.
‌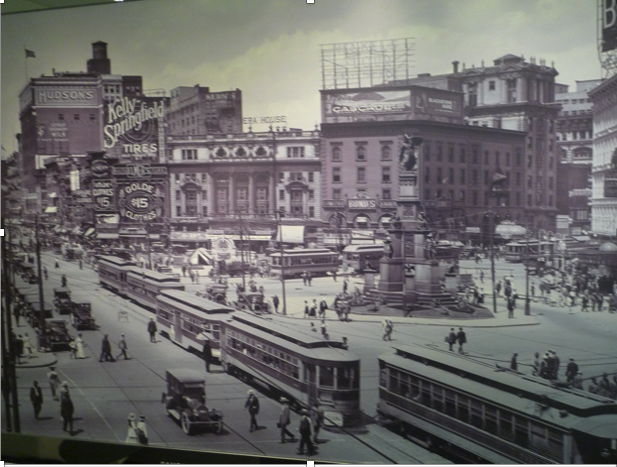 As we have written before, the transformation started with the construction of the square that was undertaken by civic leaders to commemorate the 300th Anniversary of the city in 2001. Mayor Dennis Archer charged leaders to create the "best park in the world." When Campus Martius opened in 2004, people found that the square had an ever-growing list of reasons to visit: among them, a restaurant, holiday and seasonal activities like ice skating, and programmed activities like movie nights, music events, and outdoor yoga and more. From the moment it opened, Campus Martius become the heart of a "New Detroit."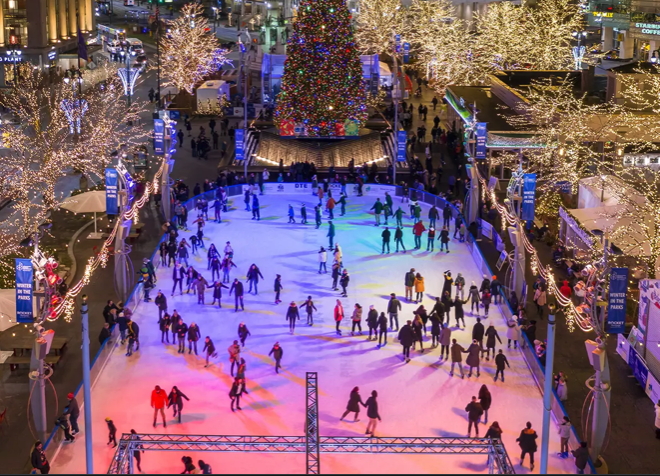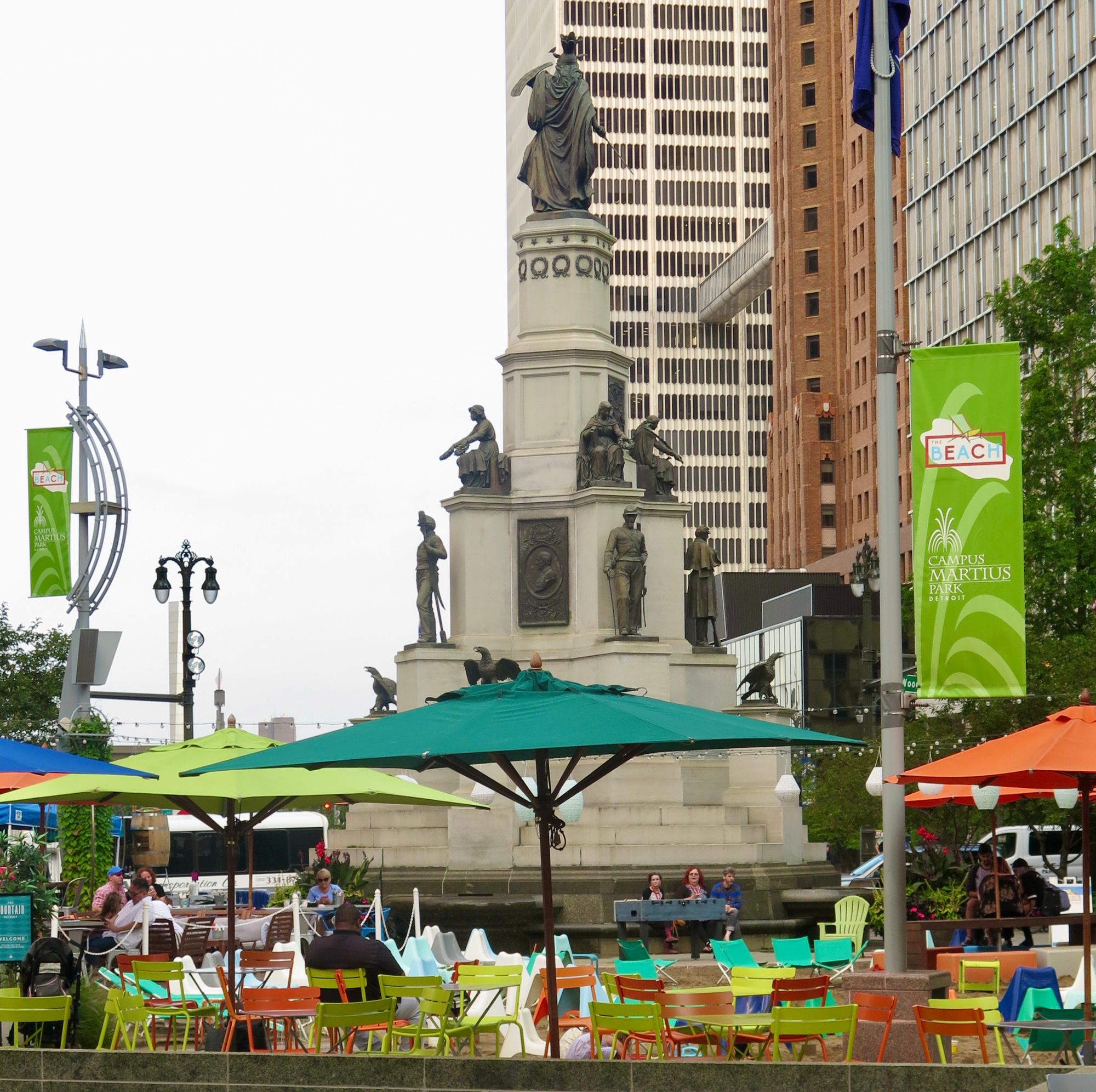 In the following poem, Detroit native and award-winning poet Frankie McIntosh describes beautifully how Campus Martius is the heart of Detroit and how it impacted her life and those of many others.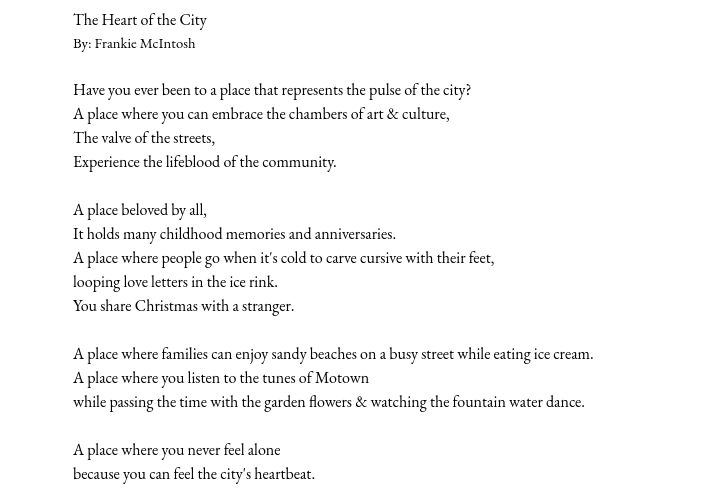 Another Turning Point: 2013
With the transformational success that placemaking had already played in downtown Detroit, Quicken Loans, under the leadership of Dan Gilbert, recognized that for the revitalization of downtown to accelerate and be firmly rooted, a coordinated public/private strategy of placemaking, focused real estate investments, and a significant increase in pedestrian activity was critical.
In 2013, Quicken Loans partnered with the Downtown  Detroit Partnership's public spaces team, led by Bob Gregory, and Project for Public Spaces to develop a new set of "Lighter, Quicker, Cheaper" improvements for Campus Martius and other key public spaces in downtown, By the summer of 2013, there was new vitality at Campus Martius and things going on throughout downtown. The revival of downtown Detroit accelerated from there, and the city hasn't looked back since.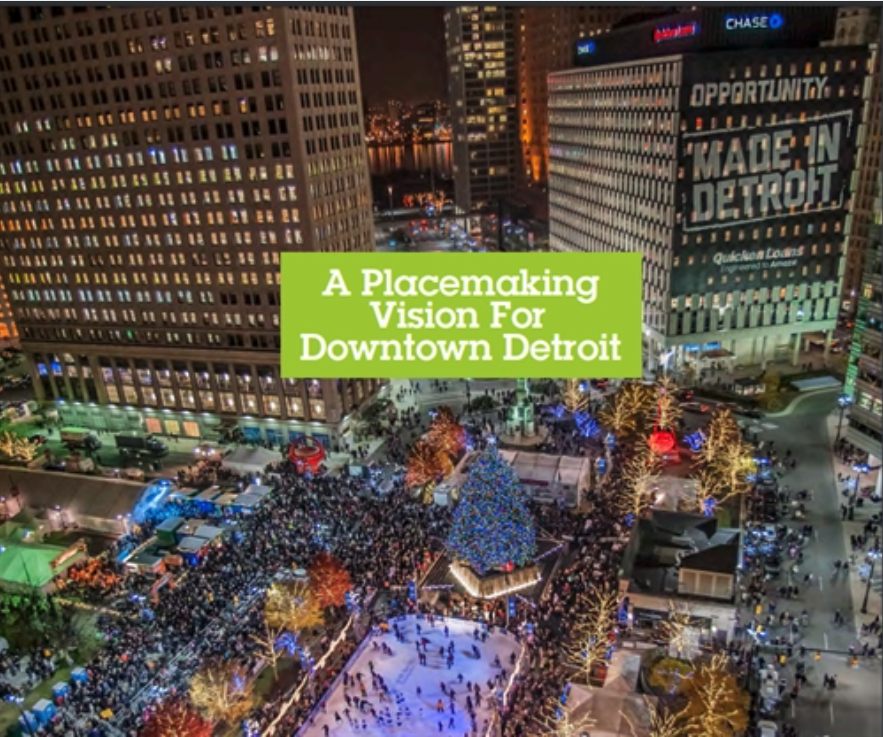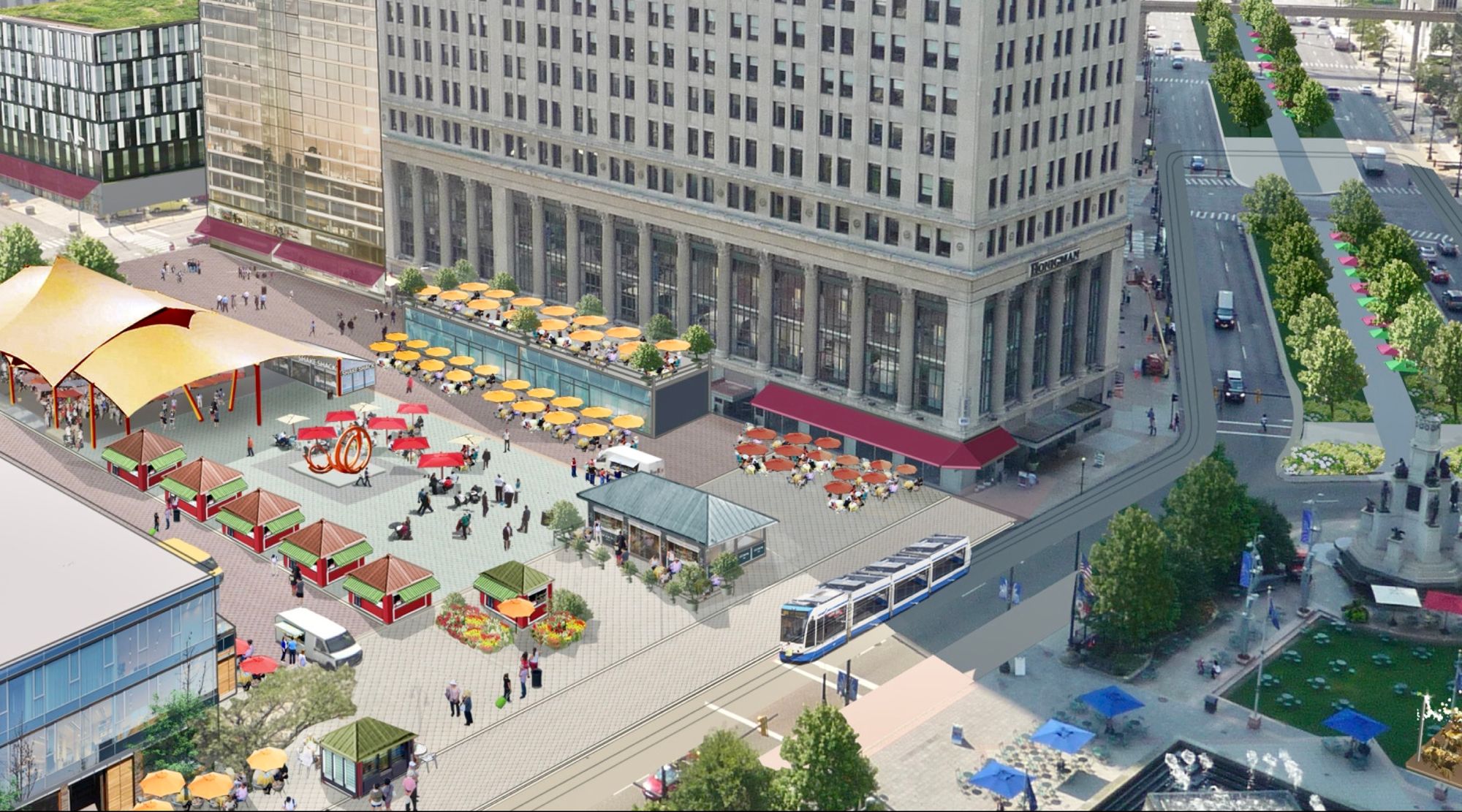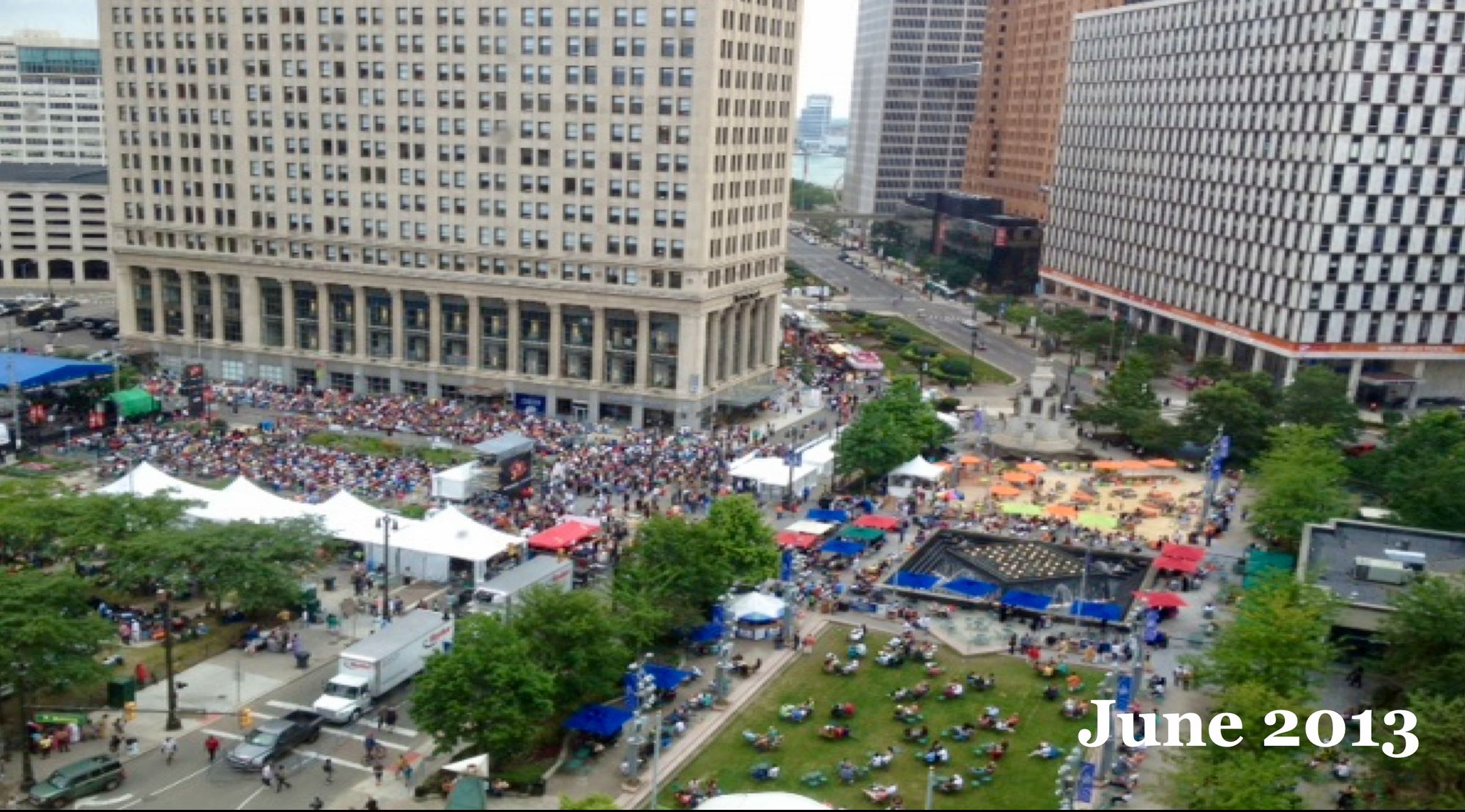 The Beach at Campus Martius
Over the course of its 2013 transformation, one surprise for everyone was a pop up "urban" sandy beach space in Campus Martius. Sponsored by Southwest Airlines, the innovative and unexpected addition solidified a new era for Detroit. Once an experiment, it is now a permanent summer fixture for downtown, making waves throughout the city.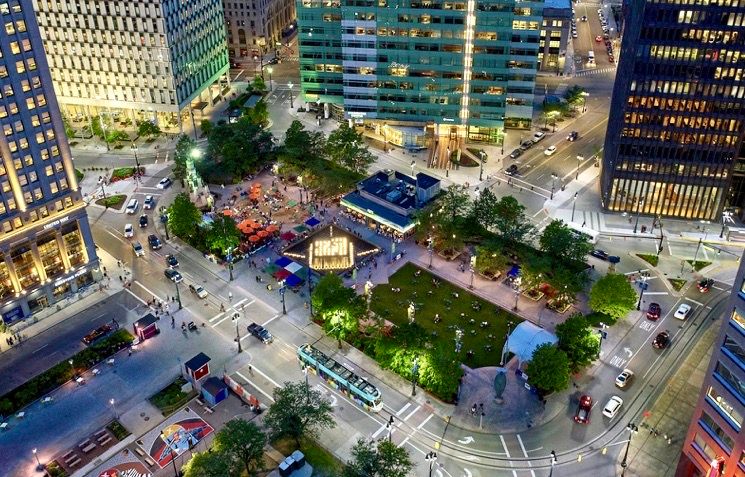 The Beach Bar anchors the beach and creates a stream of revenue that supports the management of Campus Martius, ironically opening the same week that the City of Detroit went into bankruptcy.  Continually re-imagined and upgraded over the years, the seasonal beach remains one of the most popular hangouts in the city.
And More...
Meanwhile, elsewhere in the square, there are activities galore – including hundreds of concerts, ice skating in winter, chess playing, and just opportunities to hang out with friends.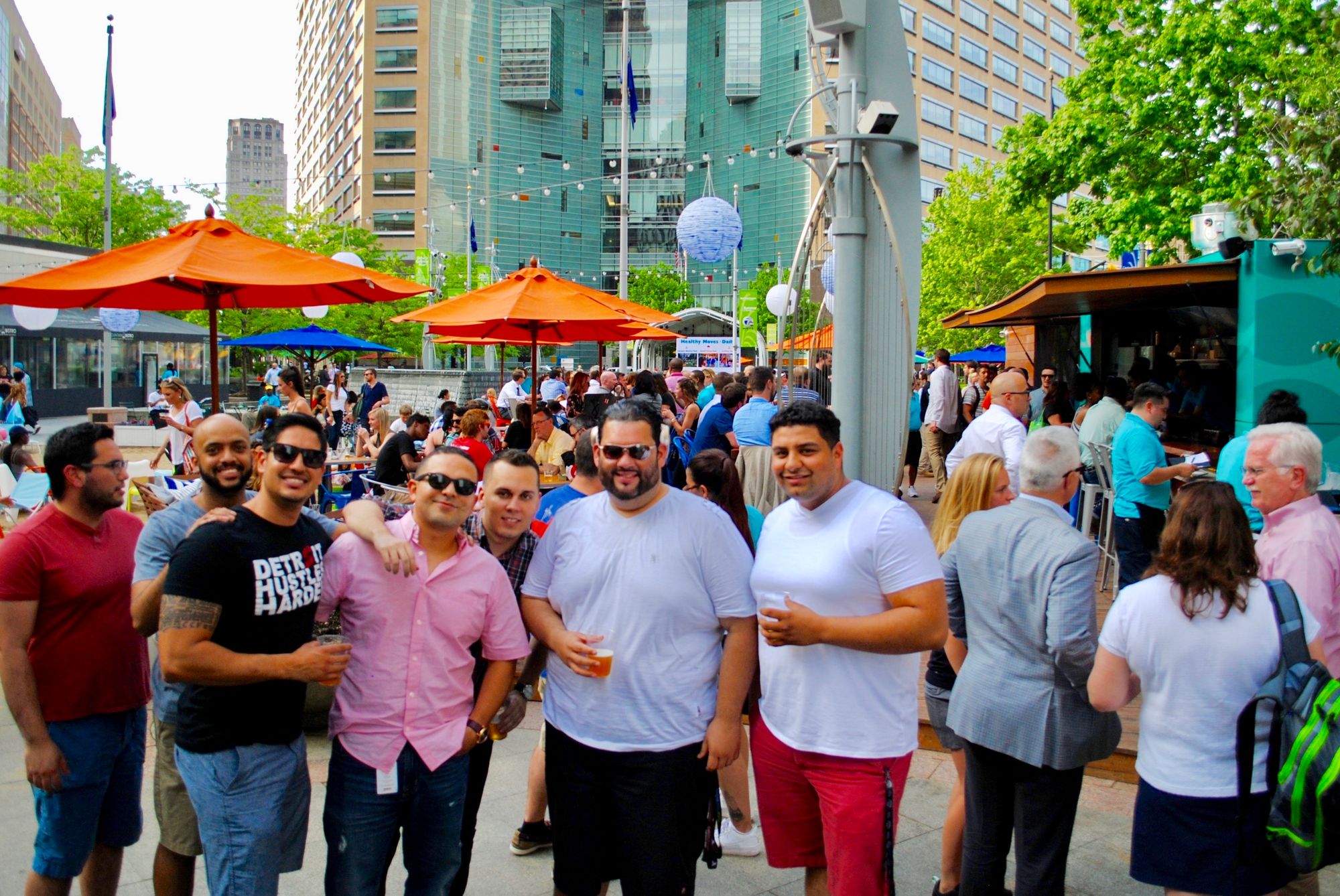 Cadillac Square
Public spaces adjacent to Campus Martius became the first beneficiaries of its increased energy as initially sketched out in the 2013 LQC plan. Cadillac Square was once the site of a historic marketplace but, even when Campus Martius began to thrive in the 2000s, it remained an improved but underutilized space. Over the past decade, much of the success of the space has been the return of its use as a marketplace for food trucks and local vendors in the summer and its role as a major holiday market. Plans to create a new permanent marketplace in the square are underway.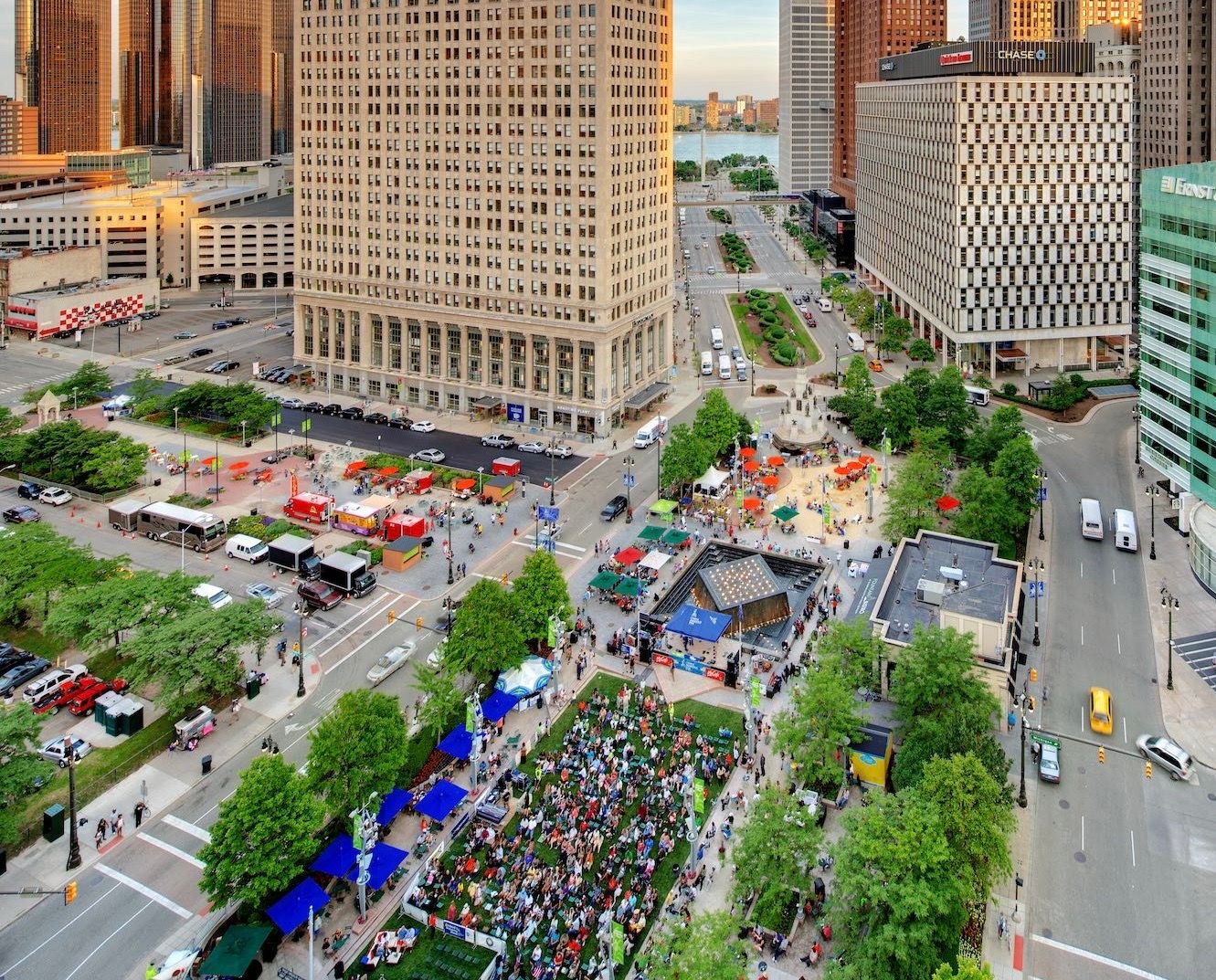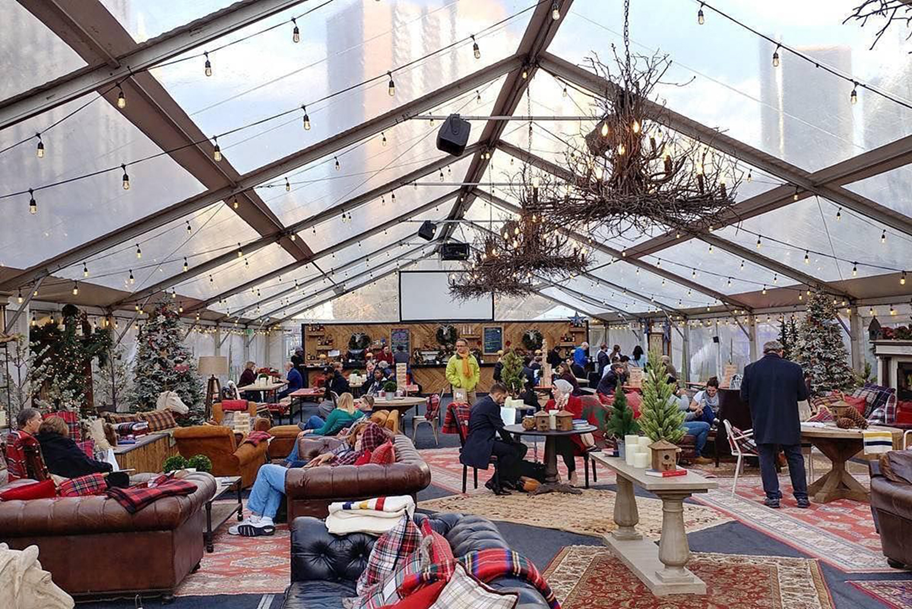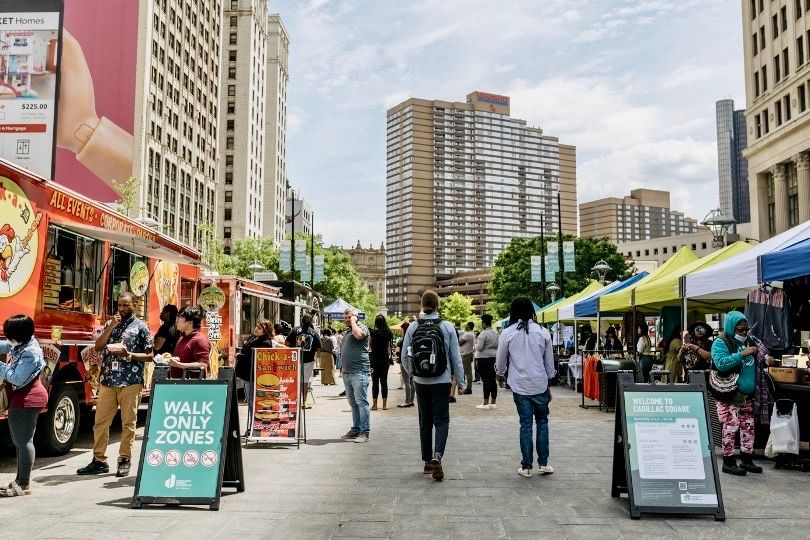 The Woodward Esplanade
Connecting Campus Martius to City Hall and the Detroit River, this new space transformed a landscaped traffic island into a heavily used pedestrian promenade and transit terminal for a new streetcar line. Buildings adjacent to the promenade have also been activated.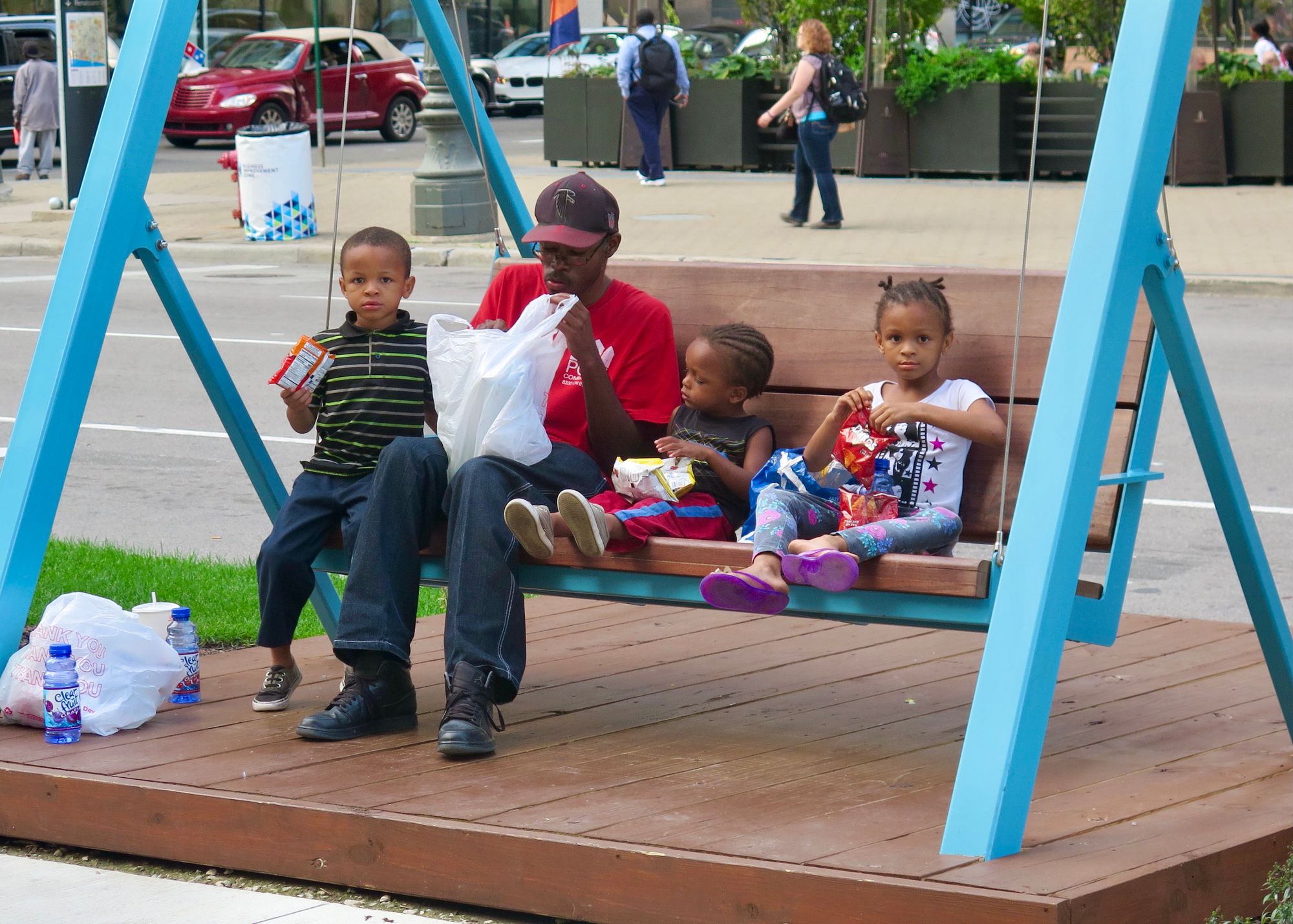 Capitol Park
Capitol Park was the location of the first capitol of Michigan in the 19th Century, but decayed in recent decades. Until 2008, its major use was as a bus turnaround, so it's no wonder that one of the most remarkable clusters of historic office buildings in the United States sat completely empty around this space. In 2013, and following significant community engagement, LQC activities began to be planned to activate the plaza that had been constructed after the buses were removed. Over the past decade, as buildings have been restored and returned to productive use, a new park is evolving with more green space, seating and shade, a dog park, and many other activities. It's also the "neighborhood" gathering place for some 1700 new residential units now surrounding this once empty square.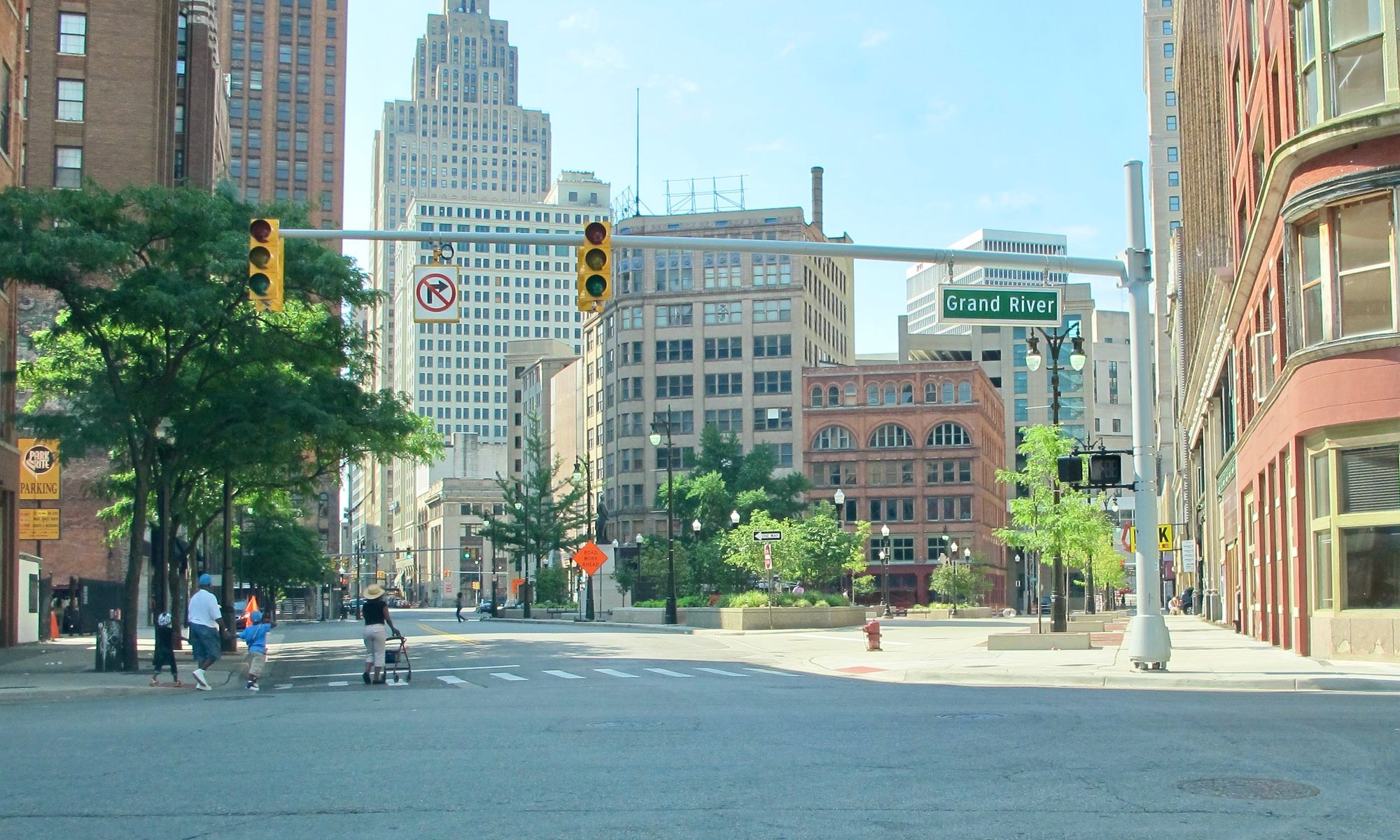 Grand Circus Park
Historic Grand Circus Park is the downtown gateway to some of the city's most popular sports and entertainment attractions, including Comerica Park, The Fox Theatre, Detroit Opera House, Ford Field, Little Caesars Arena, and The Fillmore. In 2013, LQC improvements were launched to attract people into this very underused space where historic fountains did not even work.  Movable seating and tables around the fountains and a popular and very social dog park for the growing residential population are complemented by space for live theater, opera, and musical performances that reflect the neighborhood's cultural institutions. More recently, a plan to permanently improve access and neighborhood connectivity and incorporate these uses into the historic park has been developed.  
Beacon Park
DTE Energy, a Fortune 500 company, created Beacon Park on a vacant triangular piece of property adjacent to its corporate headquarters campus. The park, originally planned to be temporary, has become an anchor for the neighborhood that attracts people from all over the city. Unlike Campus Martius, Beacon Park features more sports activities weekly and a summer night market featuring 25 vendors, food, drink, and entertainment. A major restaurant also anchors this space. Recently, it was announced that the sea of vacant parking lots around the park would be transformed by the University of Michigan, beginning with a $300 million Detroit Center for Innovation.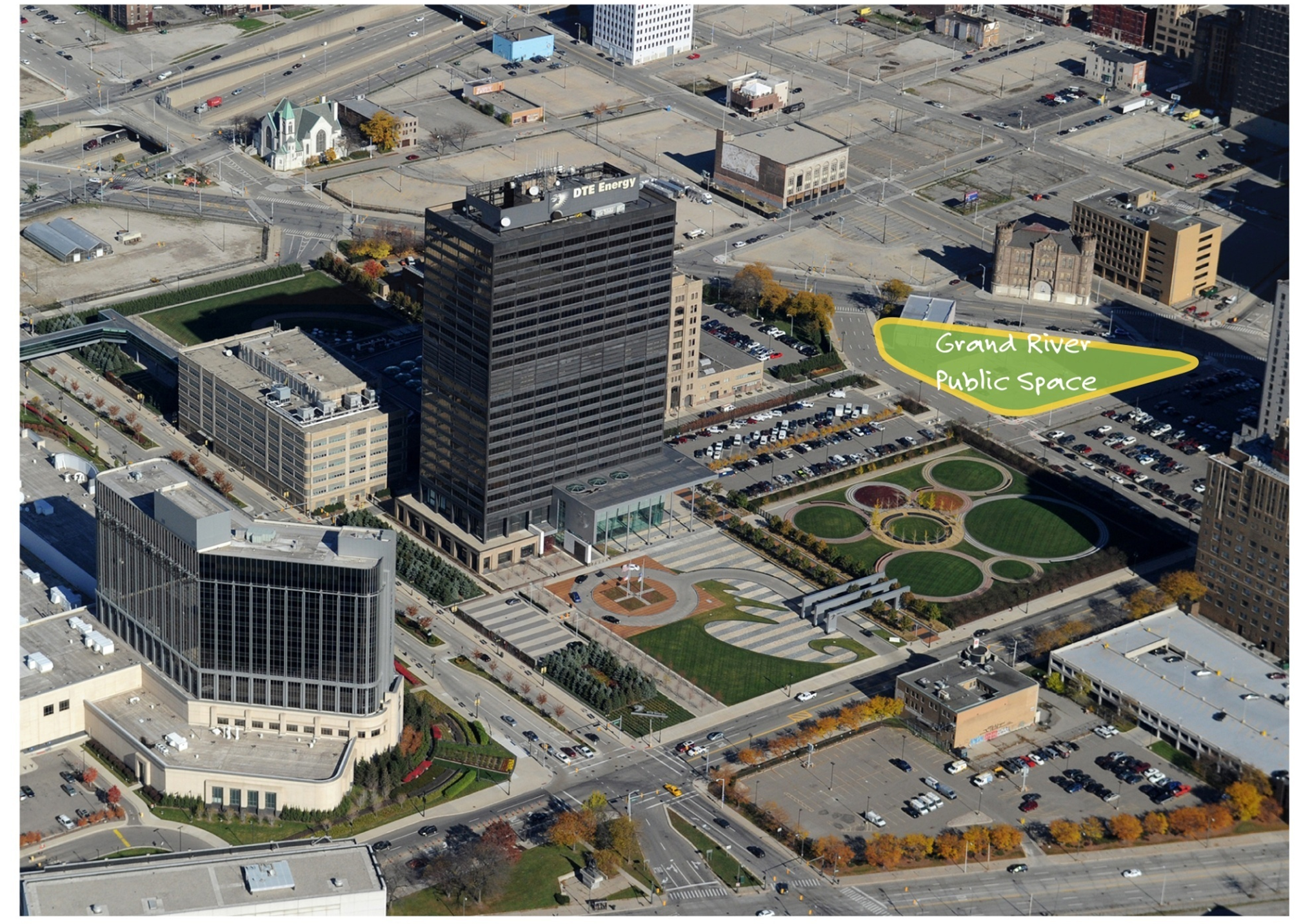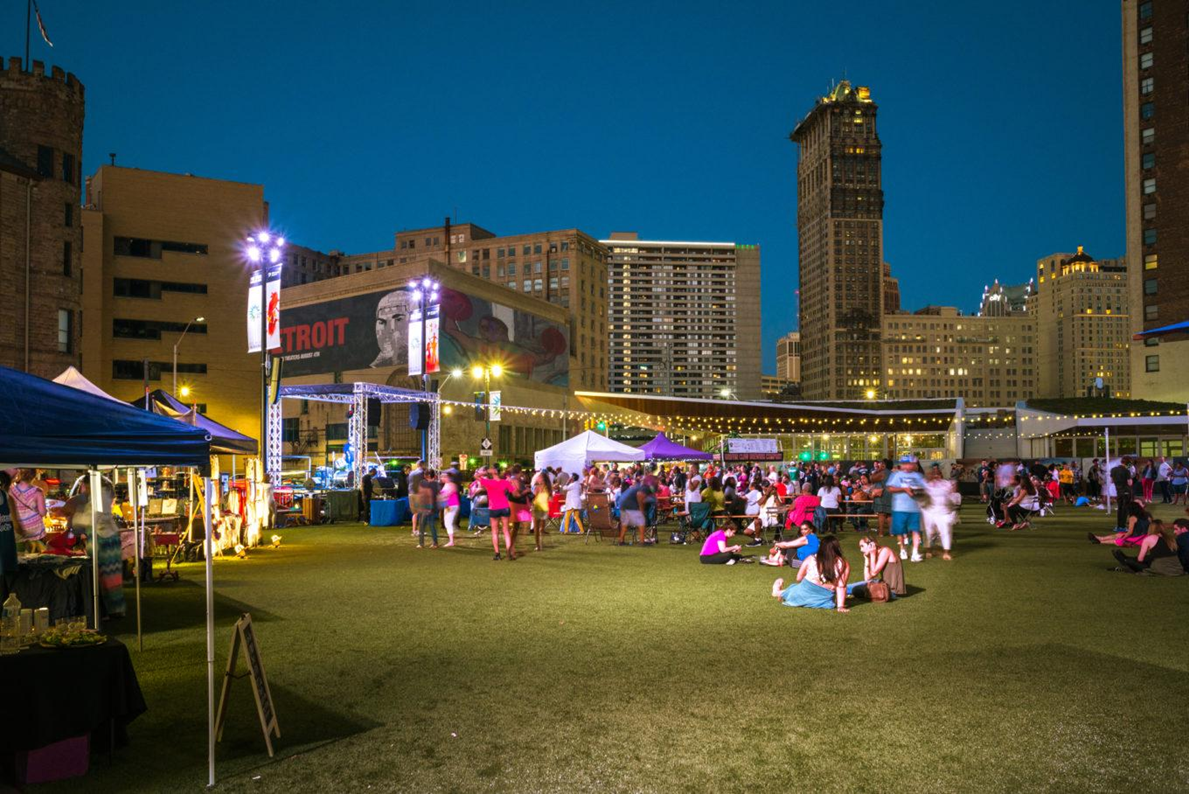 Takeaways
It seems only right that the city's 1800's "Point of Origin" monument, the basis from which Detroit's coordinate system is derived, is a part of Campus Martius. Downtown clearly needed to reclaim its central gathering place and the "Heart of the City" that it once was.  This investment demonstrates the power of the public square.
While the energy from the re-creation of the main square was transformative in itself, it is the improvement of so many other public spaces that has enabled downtown, the city, and even the State of Michigan, to transform itself on a day-to-day basis. Placemaking and a focus on Social Life have entirely changed the downtown of Detroit!
The key to this success has been that local leaders have kept the momentum going after they saw Campus Martius transform and have worked together to create an ever-changing (and ever-improving) city center.  So many people have become involved that it's impossible to begin to name all of them in this short article. There is indeed a culture around the value of public space investments here.
And it keeps going!  
The result: The greatest transformation of any downtown in the US since World War II!
---
Other Benchmarks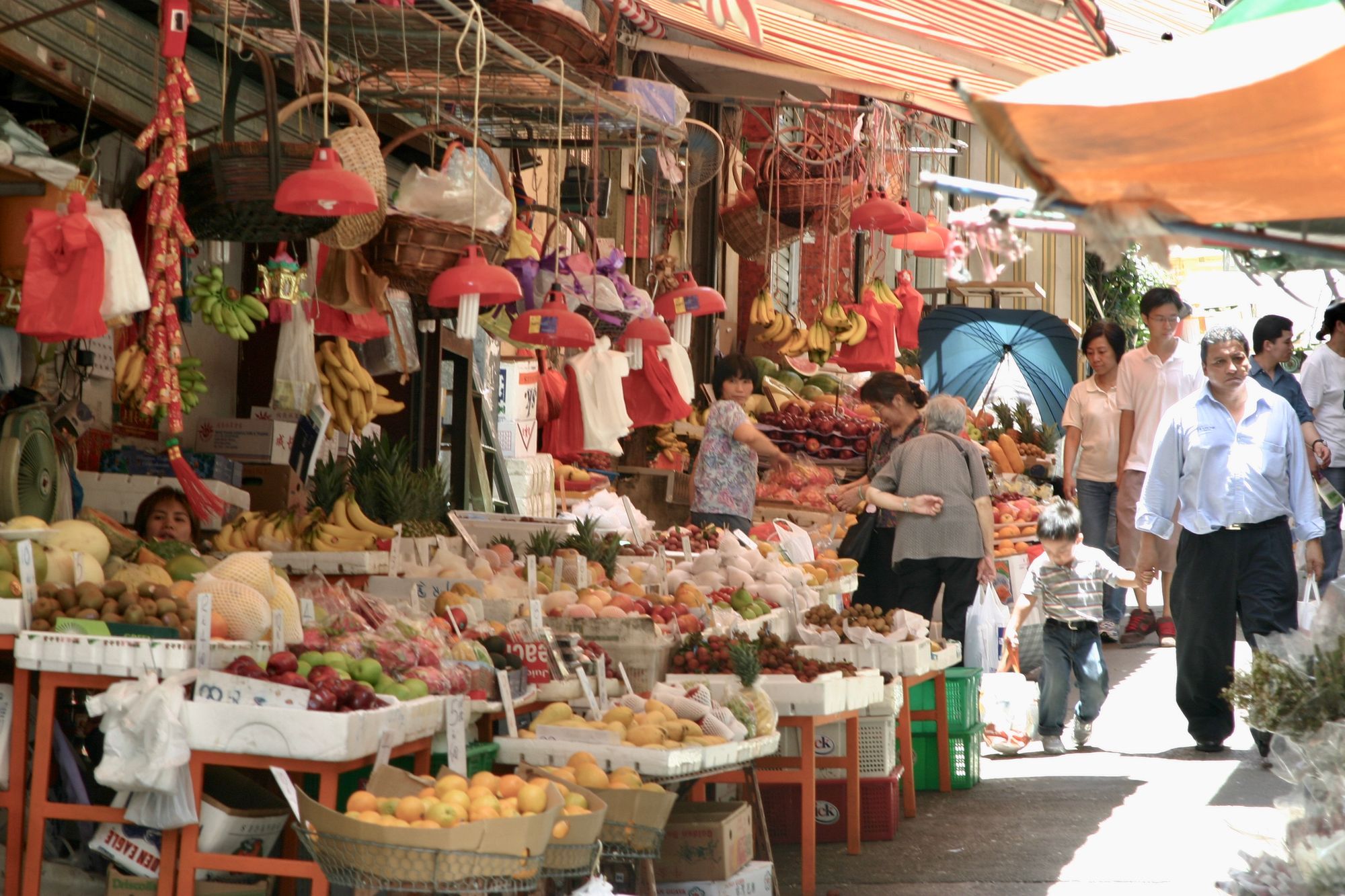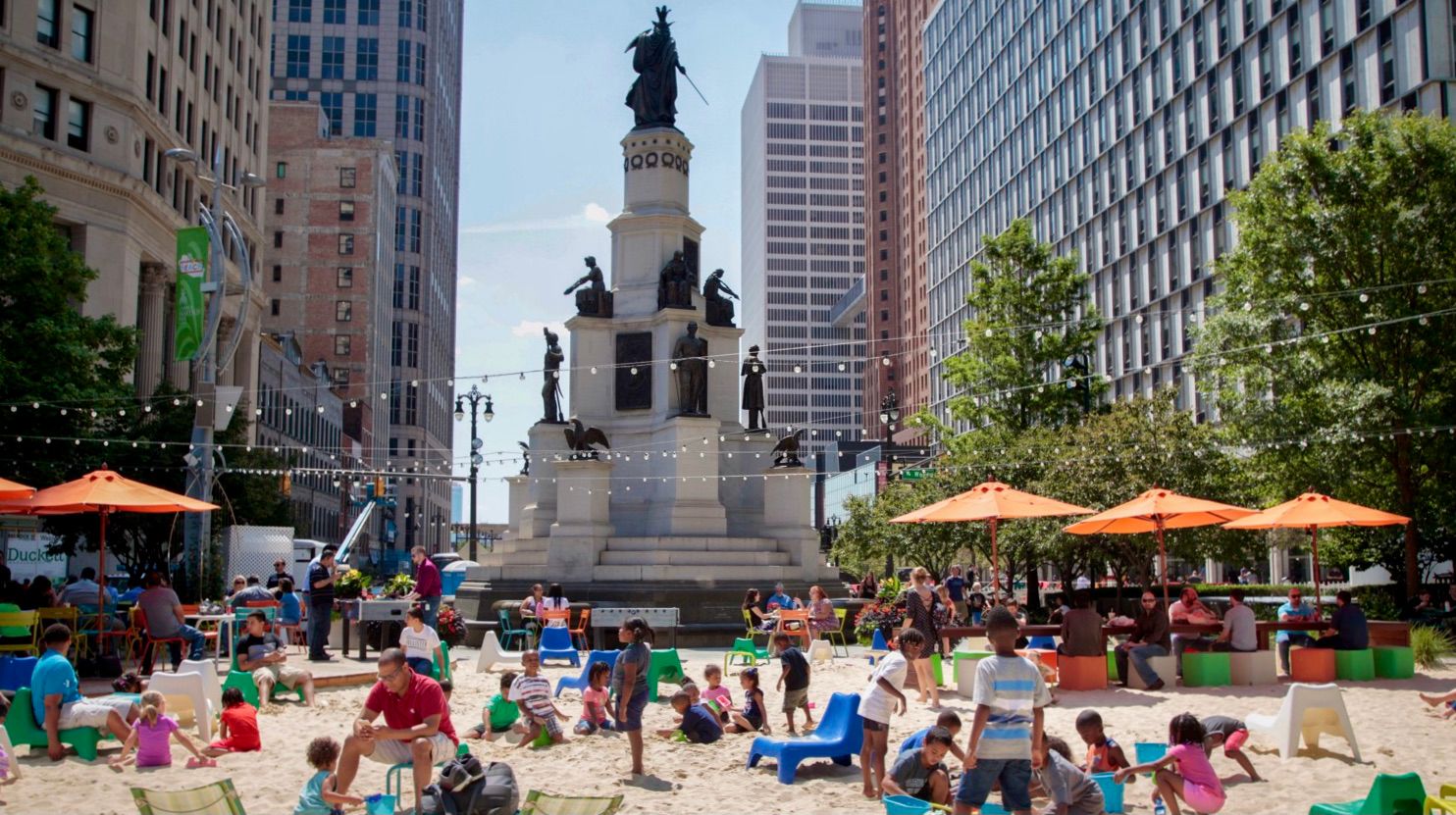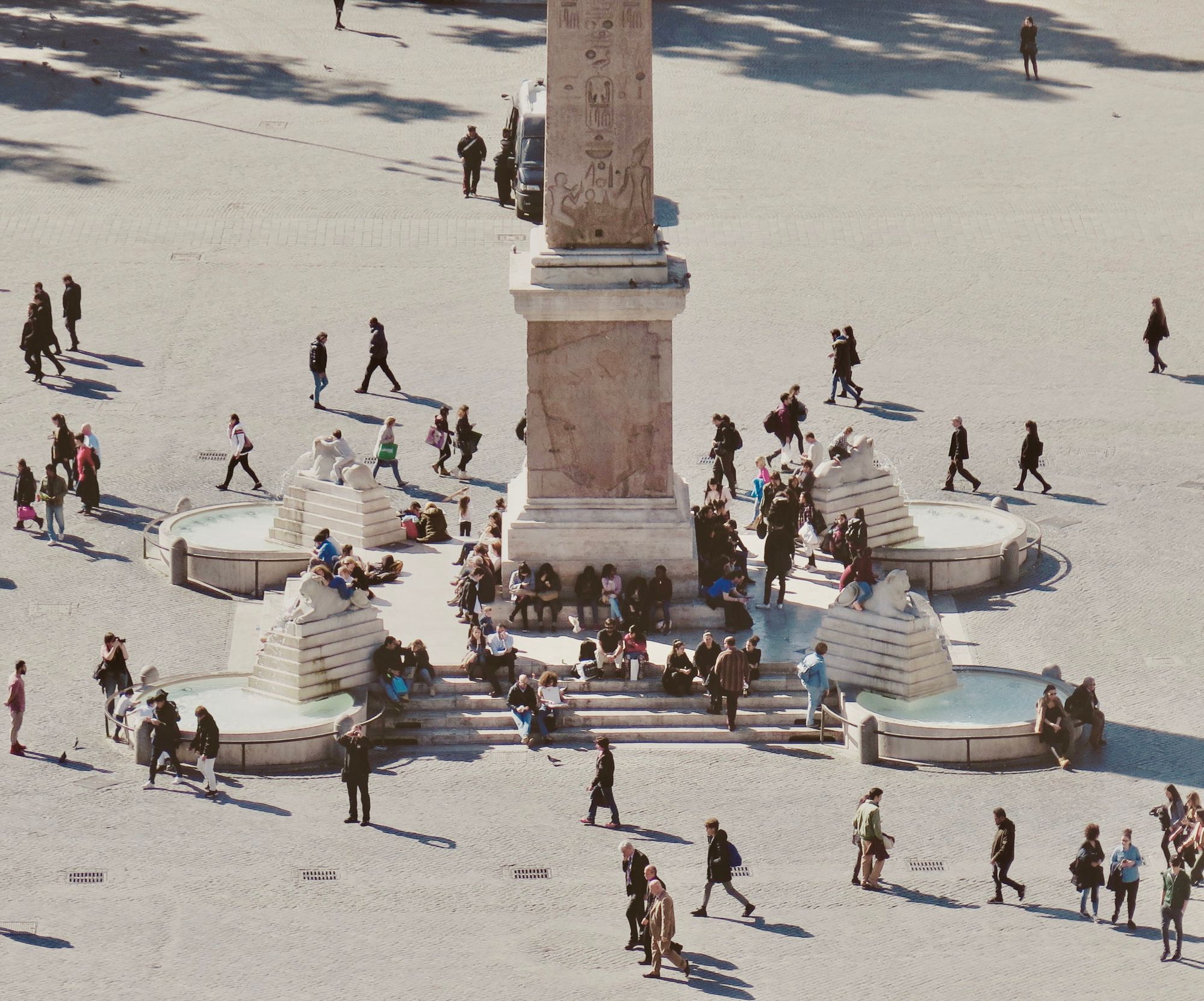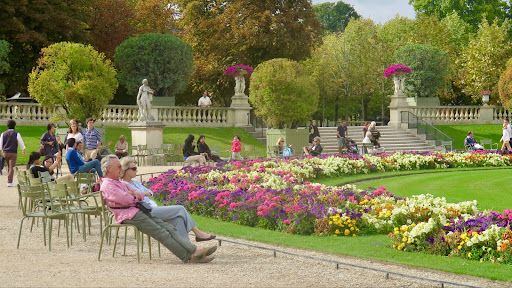 ---
The Foundation of the Placemaking Movement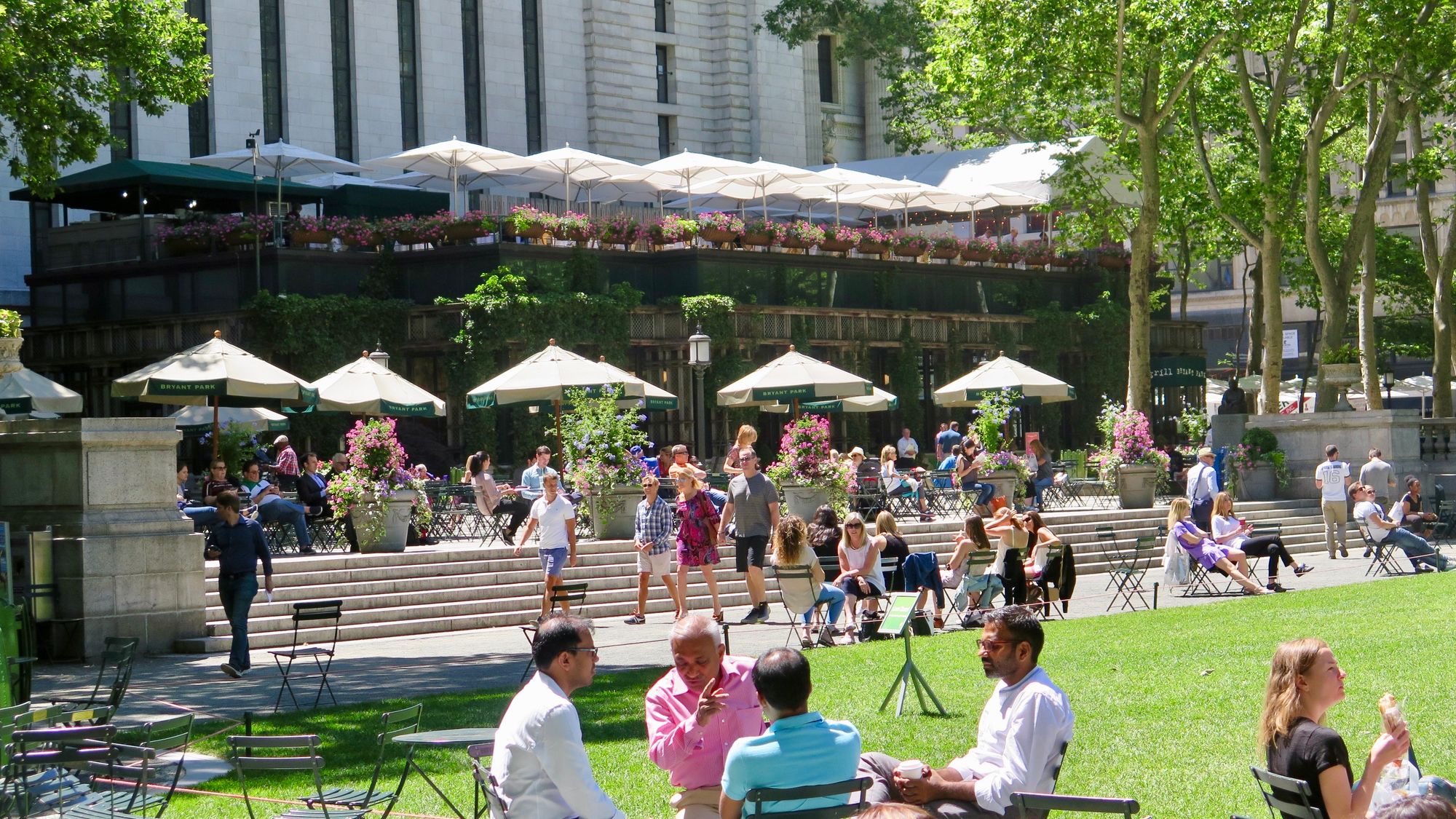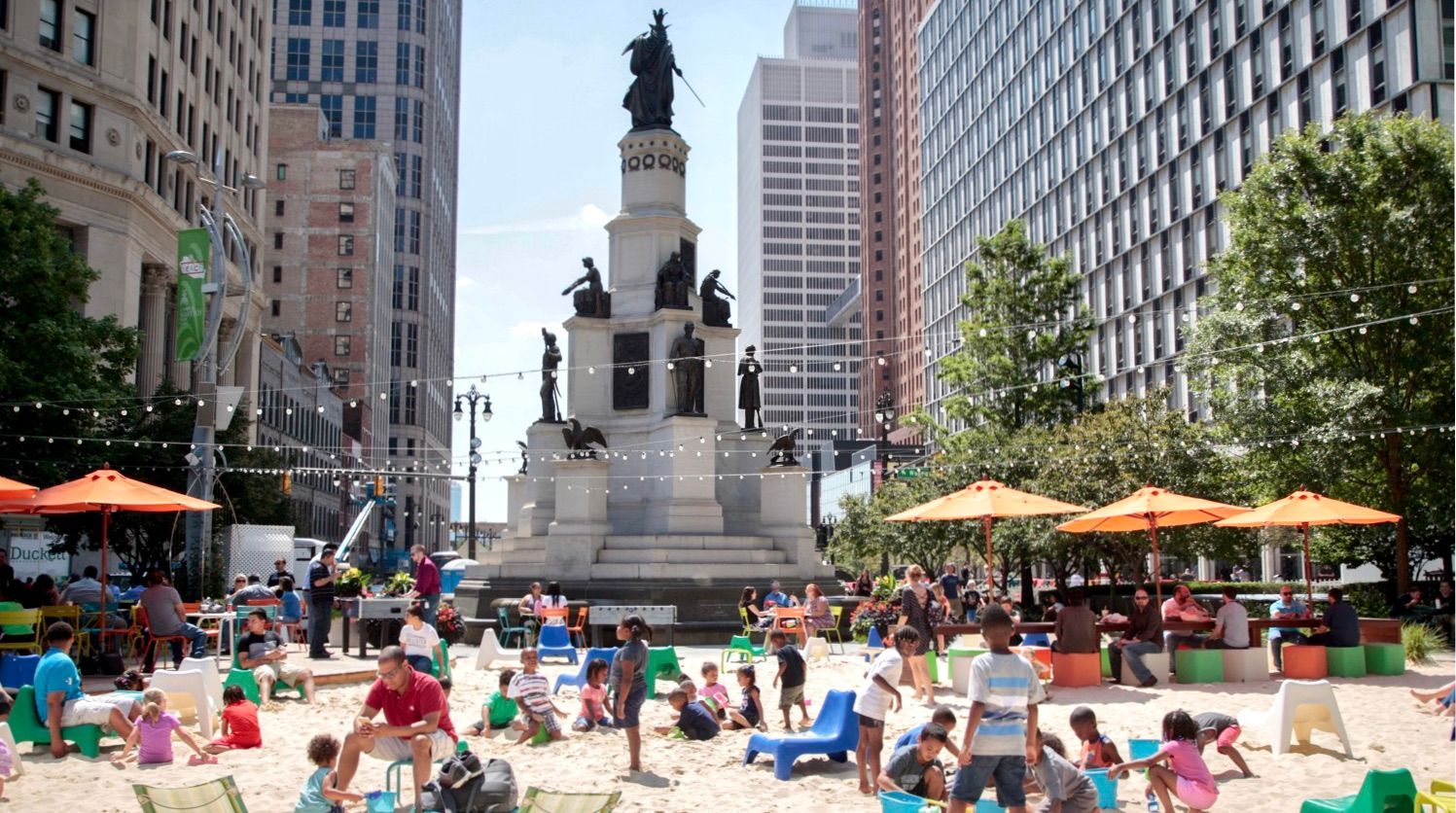 ---
The mission of the
Social Life Project
is to incite a renaissance of community connection in public spaces around the globe. Through our online publication, presentations, campaigns, and catalytic projects, we can create transformative impact on communities everywhere. Our work grows out of more than 50 years devoted to building the global placemaking movement. It is an initiative of the
Placemaking Fund
, along with
PlacemakingX
 — a global network of leaders who together accelerate placemaking as a way to create healthy, inclusive, and beloved communities.
If you are interested in collaborating (articles, presentations, exhibits, projects, and more) or supporting the cause
contact us
.