Check out part one to read about some of the many squares we have played a role in developing: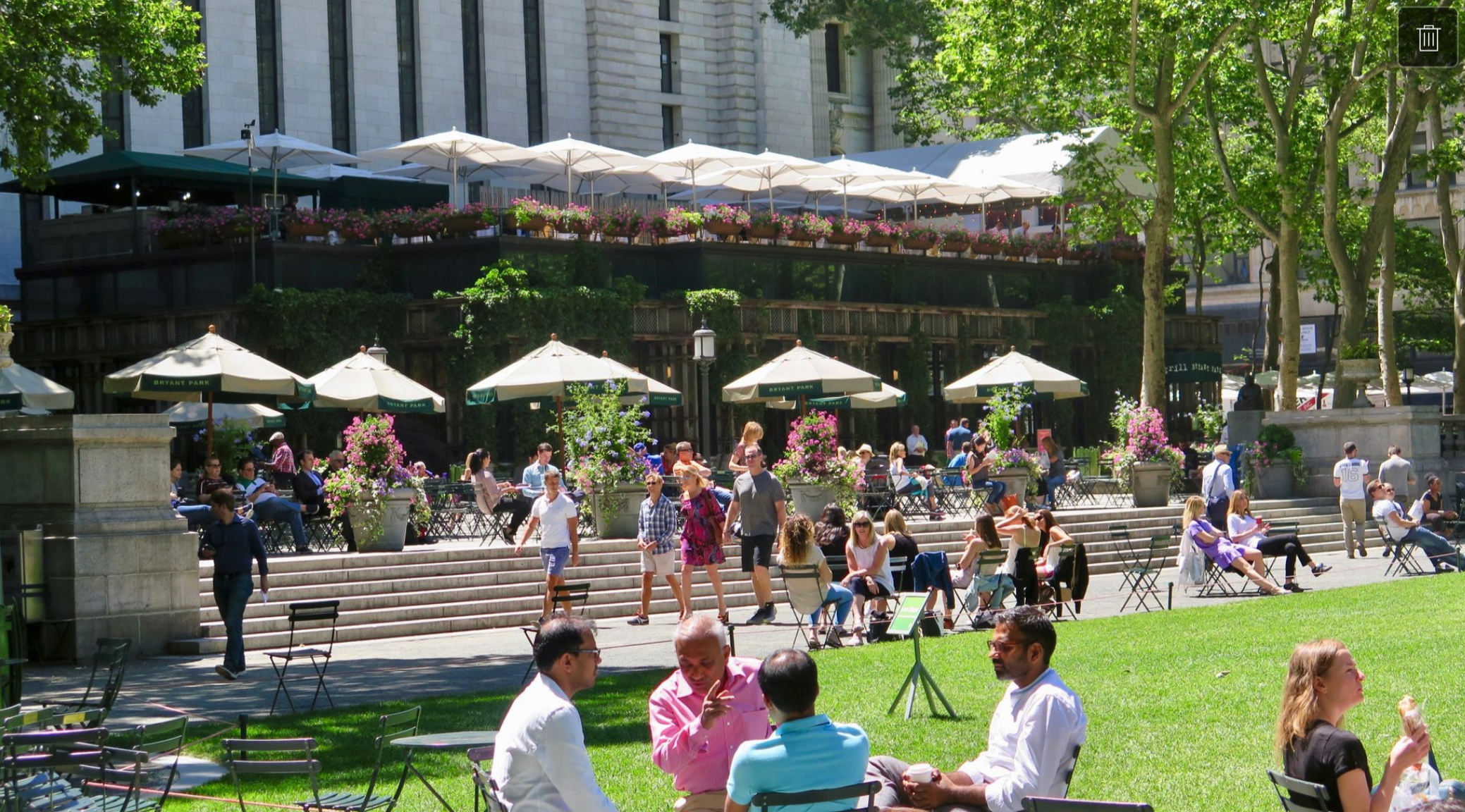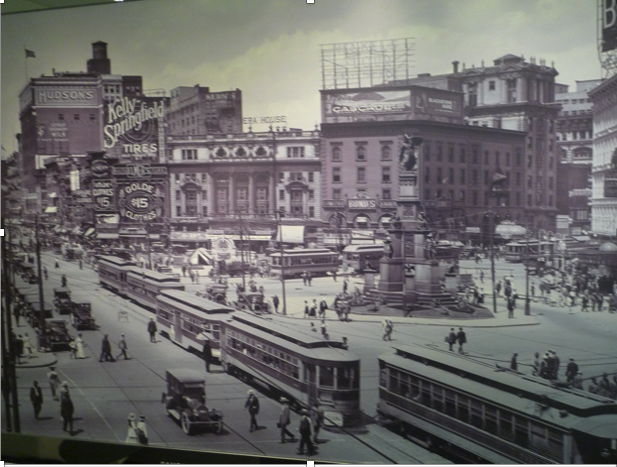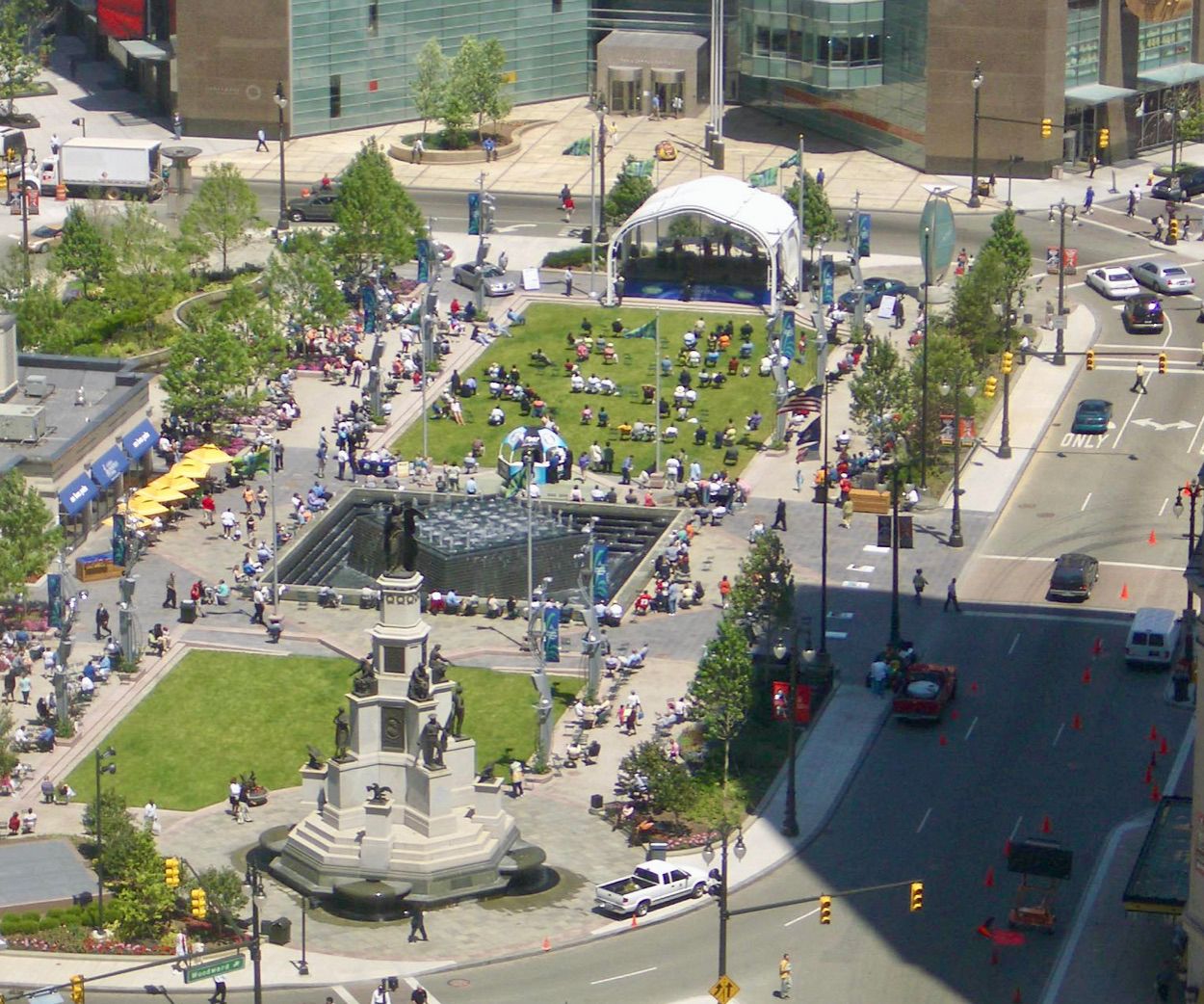 Part II: This post explores squares that we think add a lot to the larger discussion about the importance of squares in defining cities.
Most great cities around the world have a public square as their defining place
Public squares are often some of the most well-loved and recognizable places in our communities and hold particular significance to cities. Part of their charm is that they are not so easily categorized; they take many forms and serve many purposes, enriching communities around the world. They can be hosts to markets, stretch alongside waterfronts, and offer spaces for cultural events. No two are the same, but all can offer valuable lessons.
So, what exactly is a square?
These public spaces go by many names around the world: plaza in Spain, Latin America (and sometimes the U.S.), piazza in Italy, platz in German-speaking countries, and simply "square" in many other places. In many small towns they are referred to as village greens.
Squares are many things, but in essence they are gathering places for people. They often center around a church, government building, or cultural hub (like an opera house), and frequently feature monuments and statues of prominent cultural and historical figures. Some squares double as markets, while others have activated edges with cafes and seating surrounding them.
The best squares focus on people. They provide a mix of spontaneity and programming, and become everyday stages where passersby are actors in a never-ending urban theater.
Lessons from Historic Squares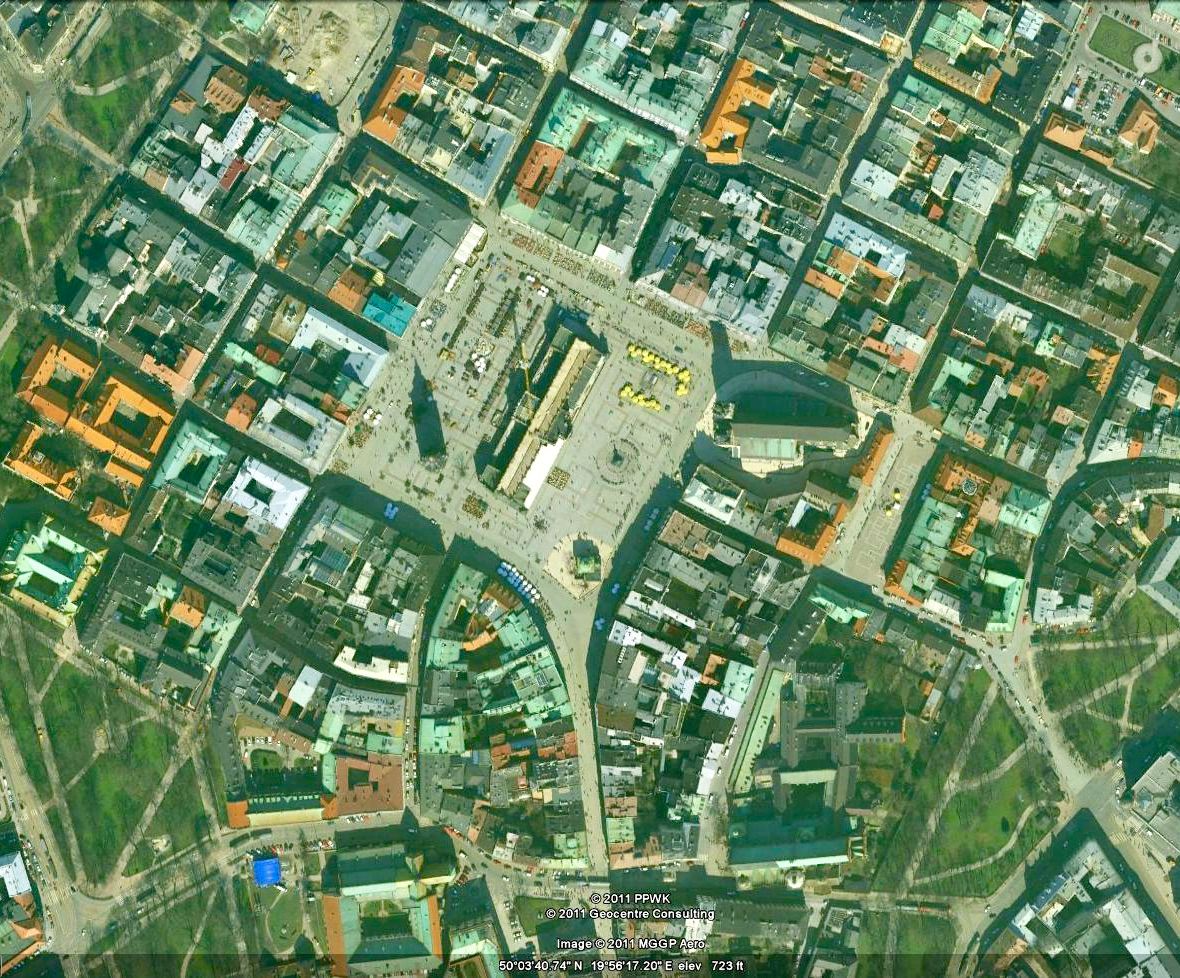 When we work with communities to shape their squares, including the catalytic square projects featured in Part 1 of this series, we use examples from our travels. We draw on other public spaces around the world, including many squares and waterfronts... which just so happen to be our favorite public spaces to research.  
Many of our most-photographed examples are in Europe and at times, when we talk about these examples, people respond that their communities "are not like Europe." This implies that the creation of these types of public squares is not possible in their communities. To this, we usually reply with Holly Whyte's wisdom, that public spaces are built with a set of basics that transcend location. In other words, if you get a few basic elements right, a public square can be great, no matter where in the world it is.
Valencia, Spain
Valencia is a city famed for its cuisine and its Central Market, but perhaps it should also be world-renowned for its public spaces, including its squares! The success of these spaces might come down to the number of public cultural events taking place, along with the opportunities for outdoor dining, spots to sit, and places to cool off by a fountain.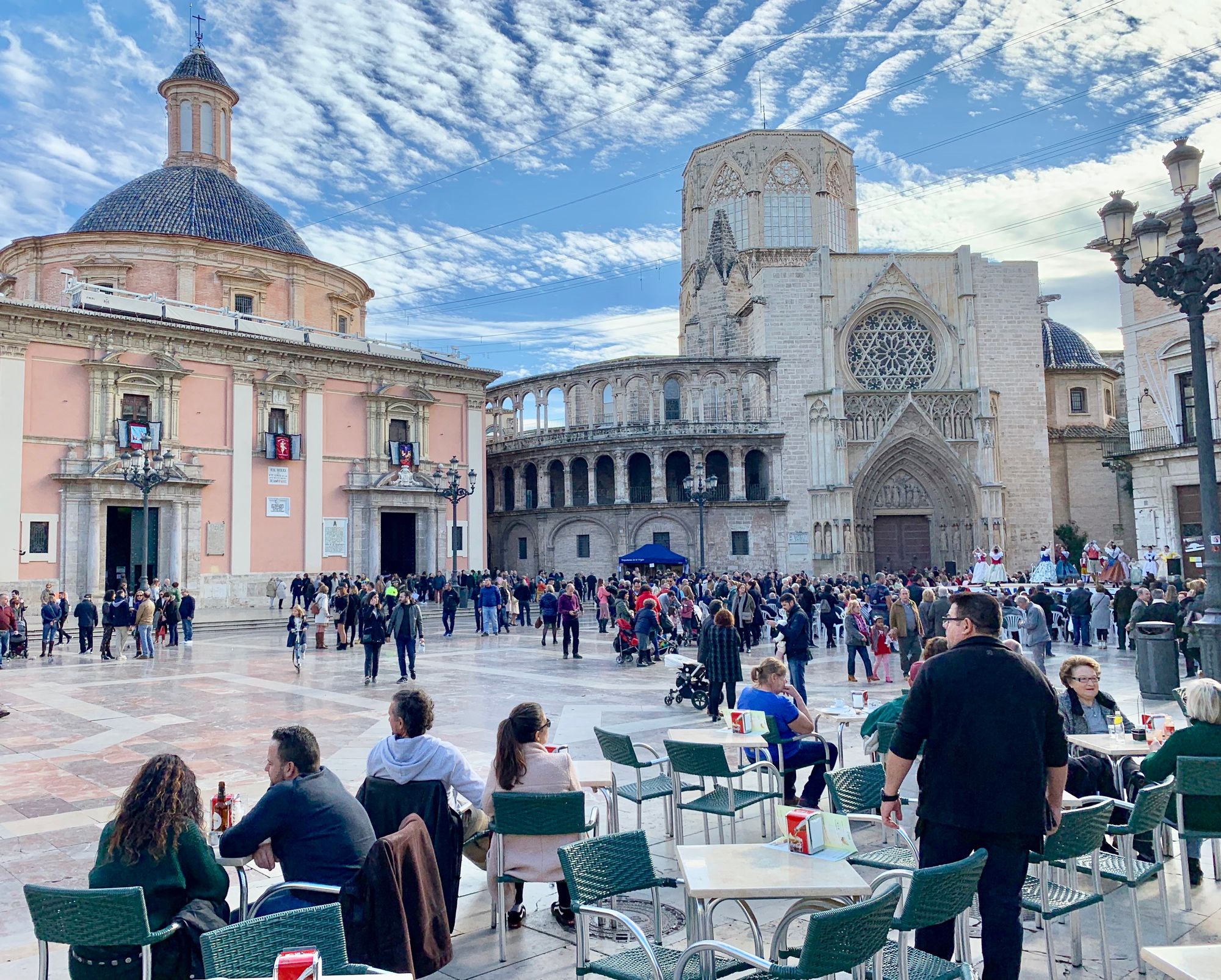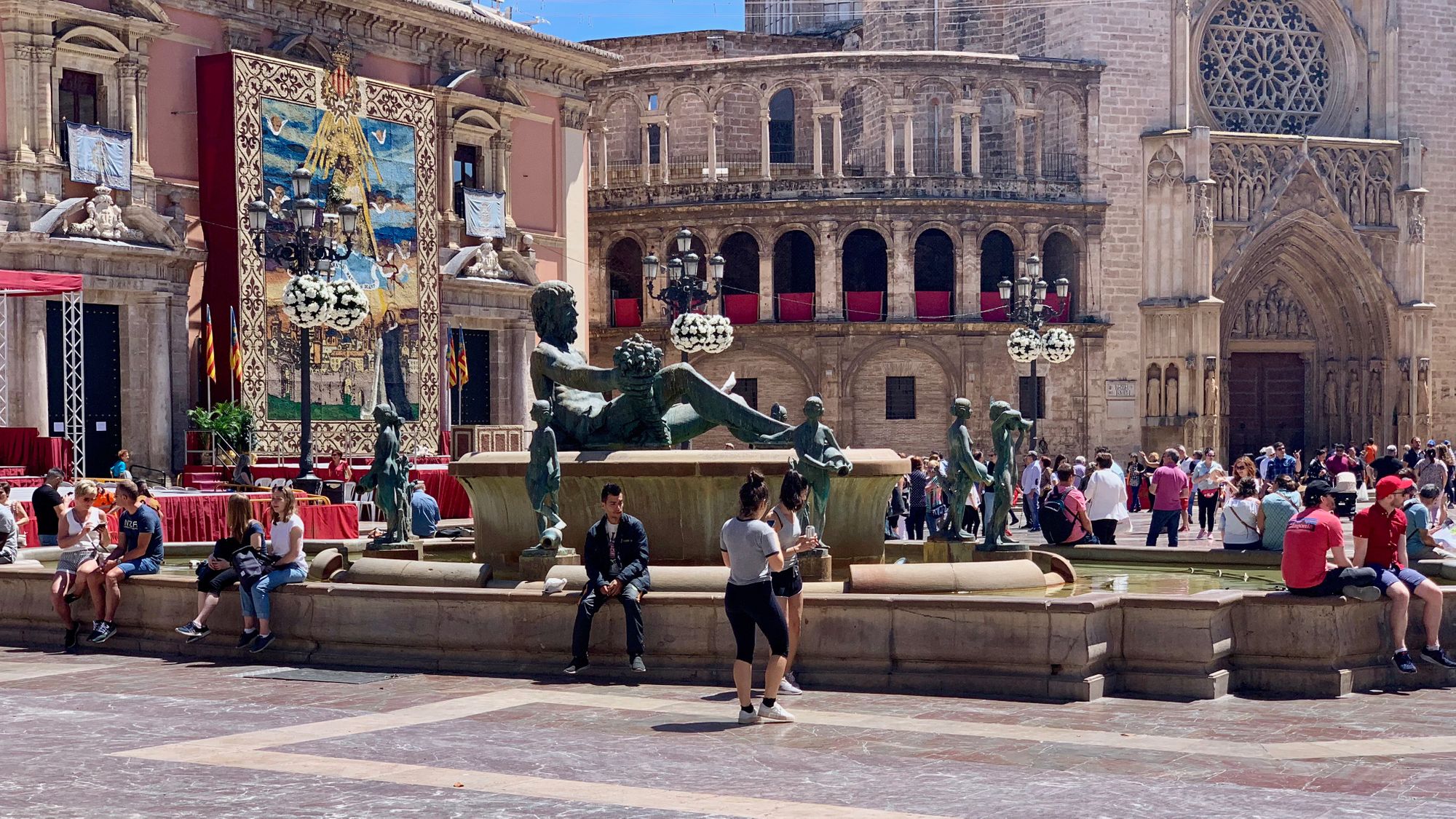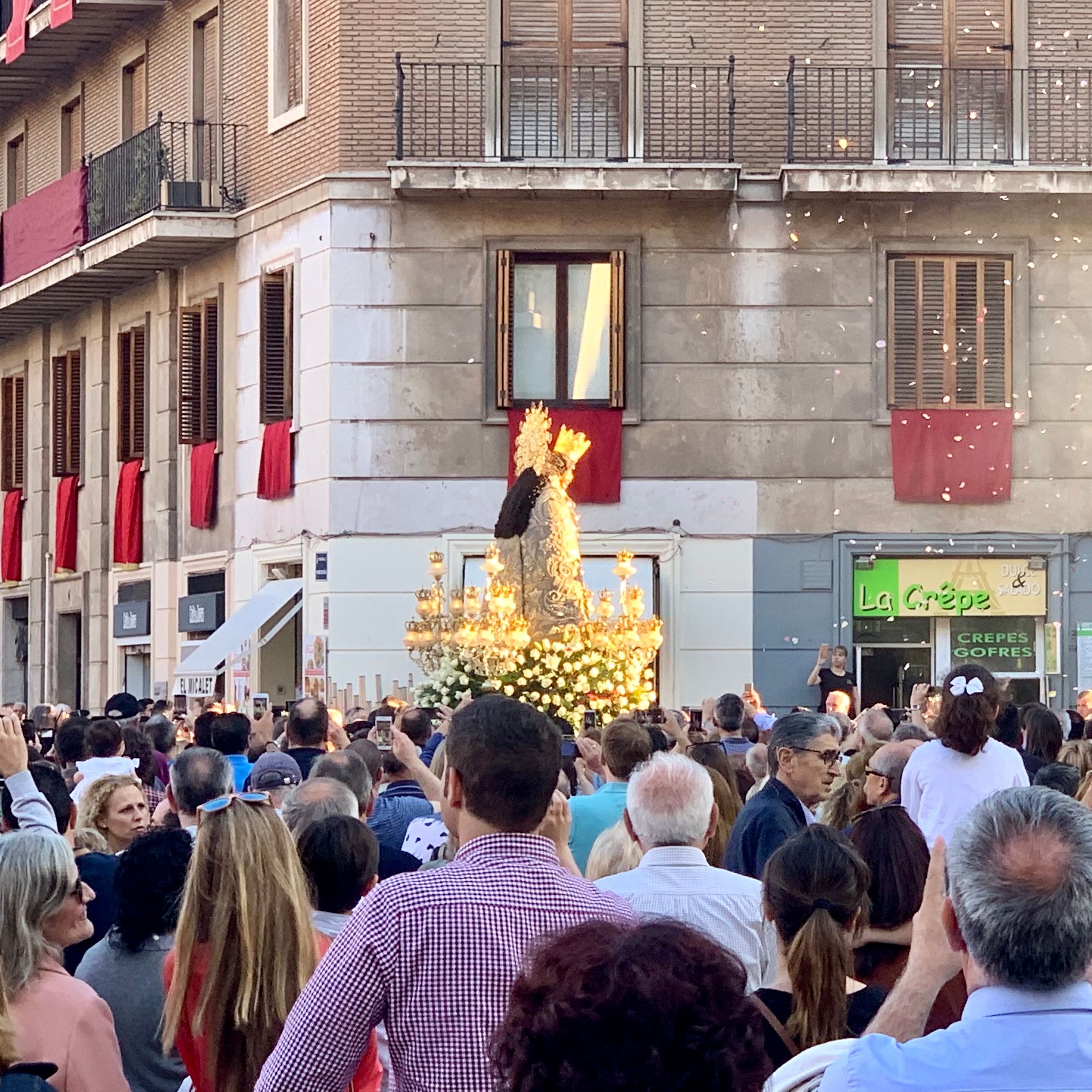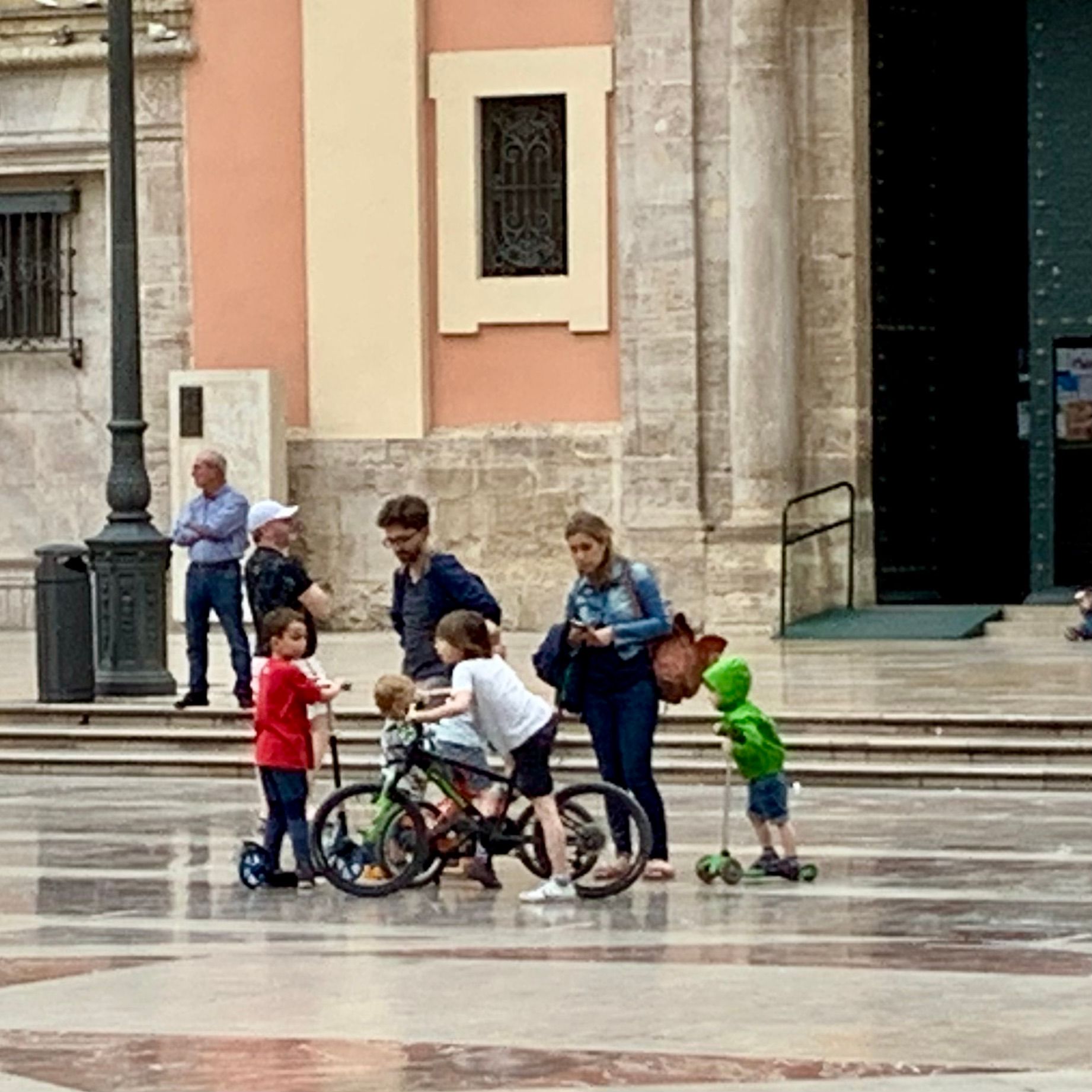 Buenos Aires - Plaza Dorrego in San Telmo
This square in the center of San Telmo is the site of an antique market on weekends. In other moments, it marks the beginning of an active street market (Calle Defensa) which is full of local vendors offering everything from jewelry to street performances, food and entertainment. It sets the scene for people-watching with intense interest. It is street theatre at its best.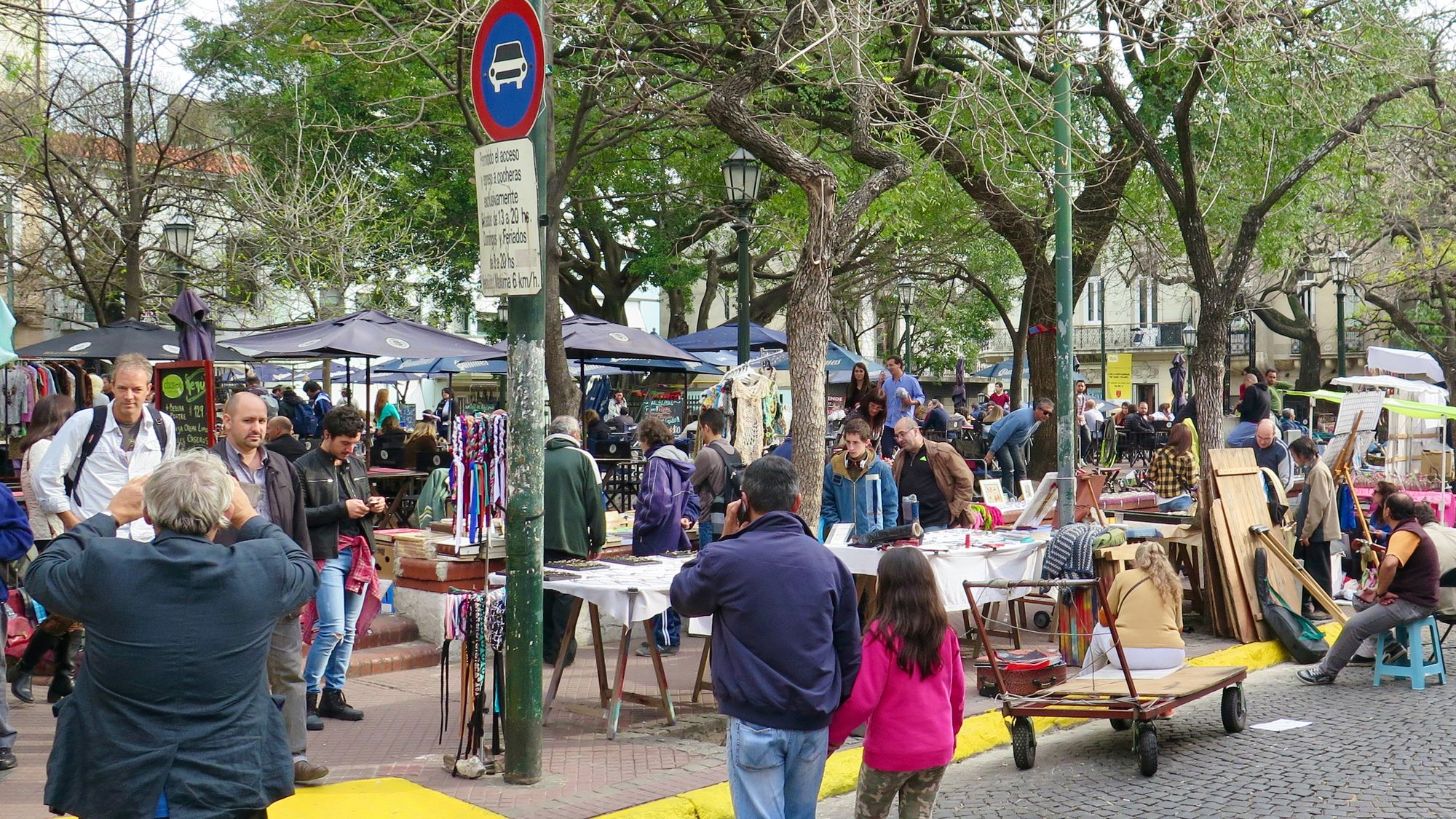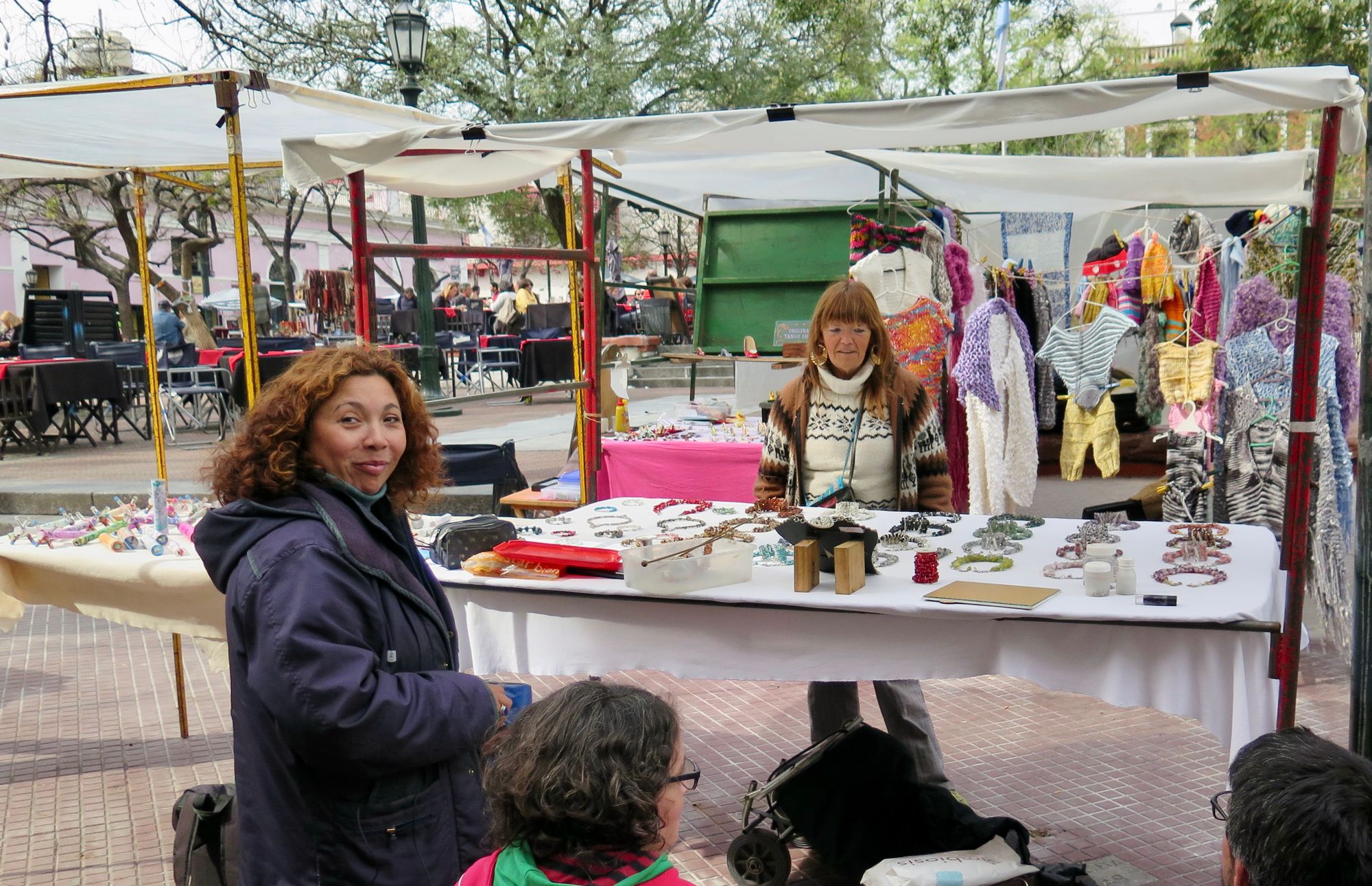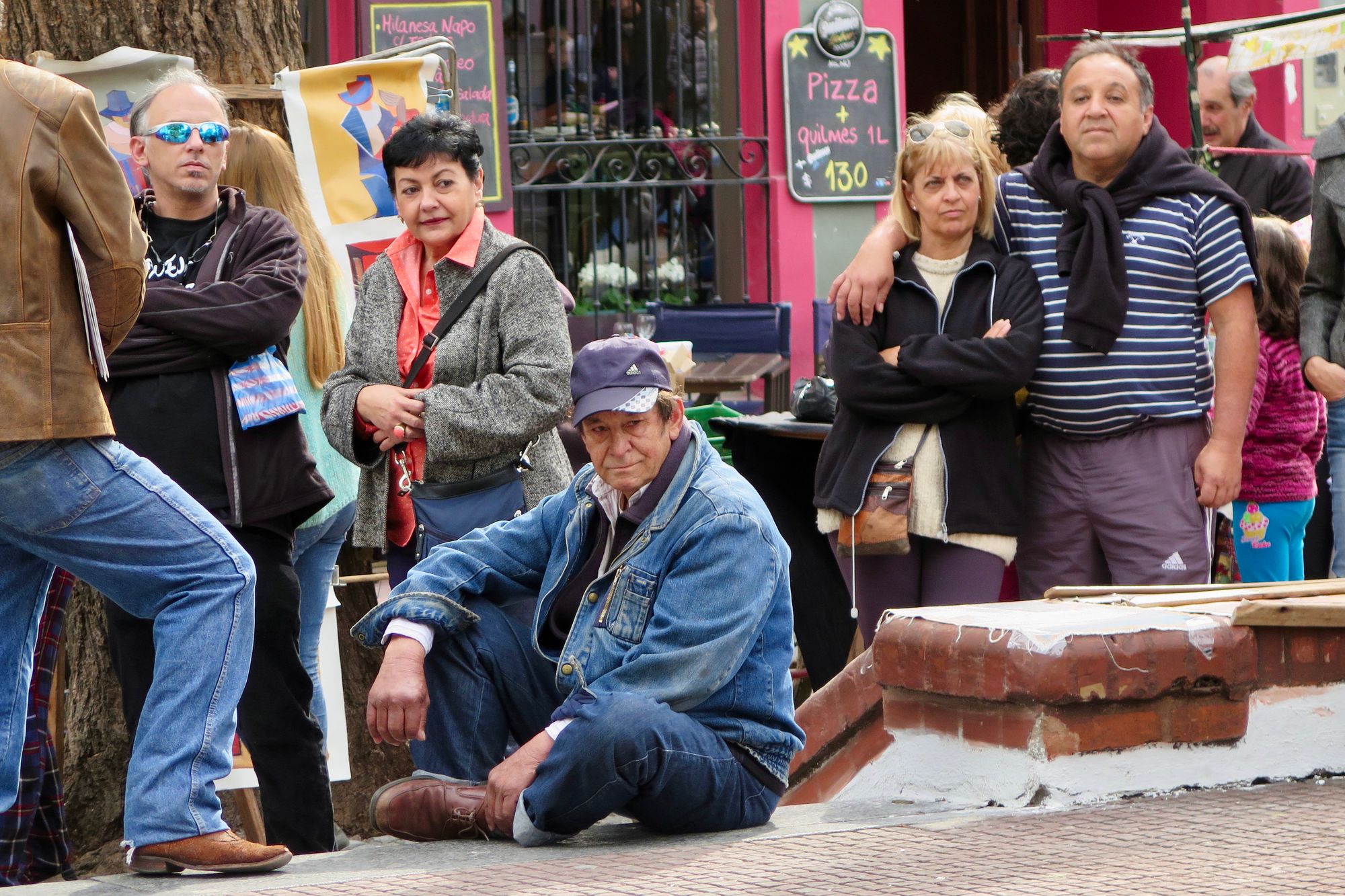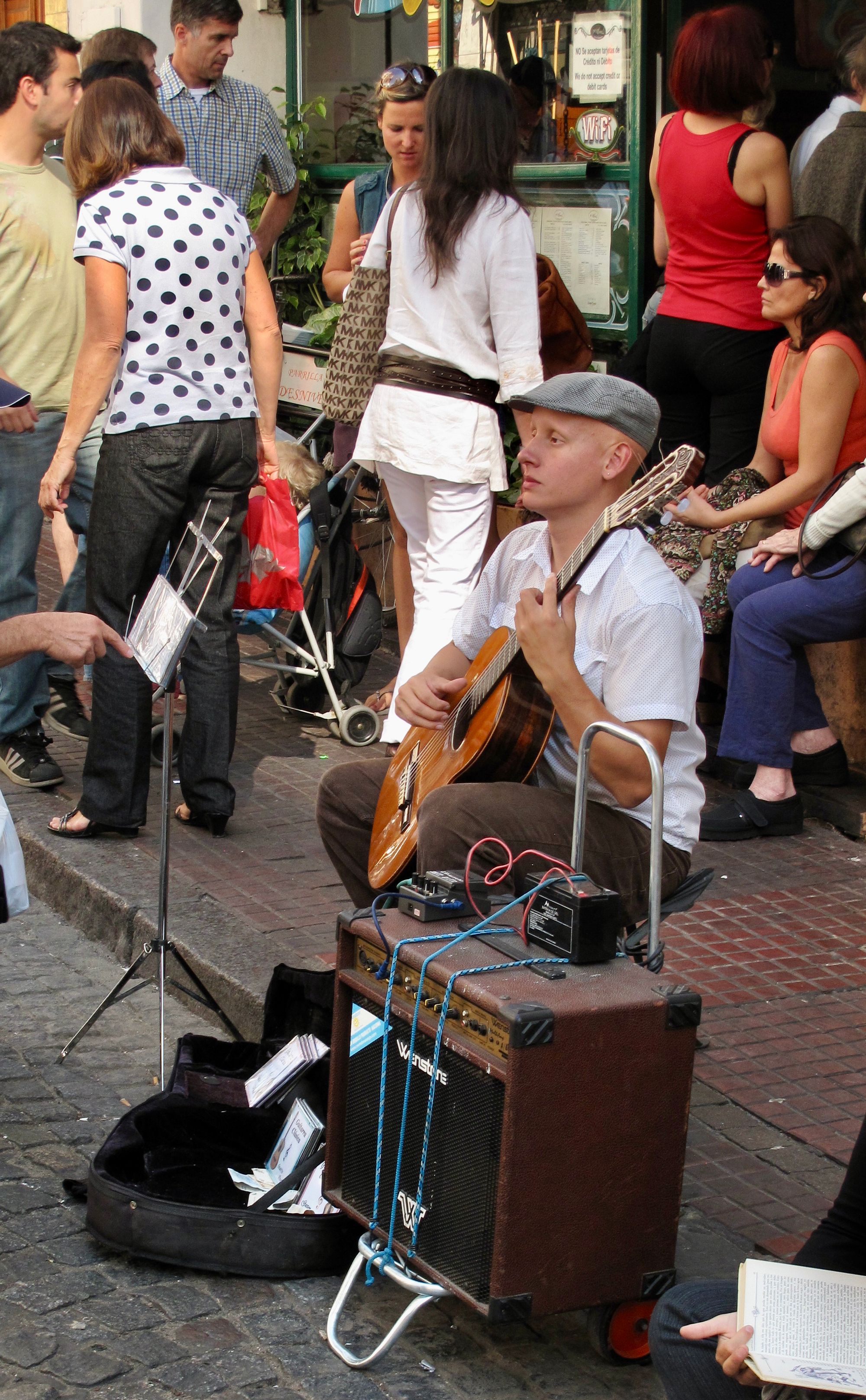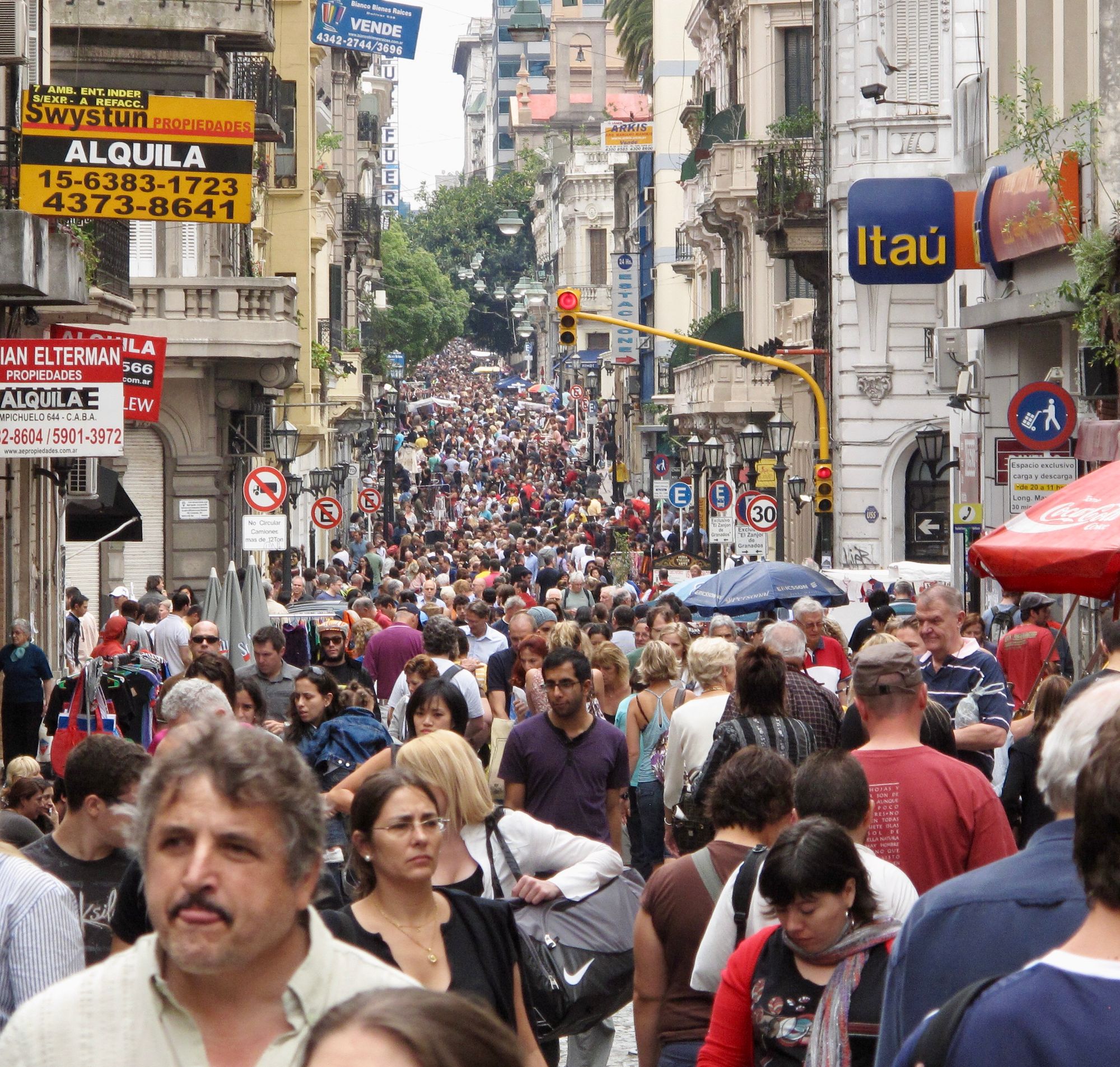 Venice, Italy - Campo Santa Margherita
In a city free of cars, Venice's Campo Santa Margherita is a great place to take a stroll and surround oneself with the city's unique history. The piazza has various kiosks and vendors, as well as active storefronts that reach out into the square. One is guaranteed to witness lots of spontaneous encounters and people just spending time observing the activity. It is some of the best people watching we have seen.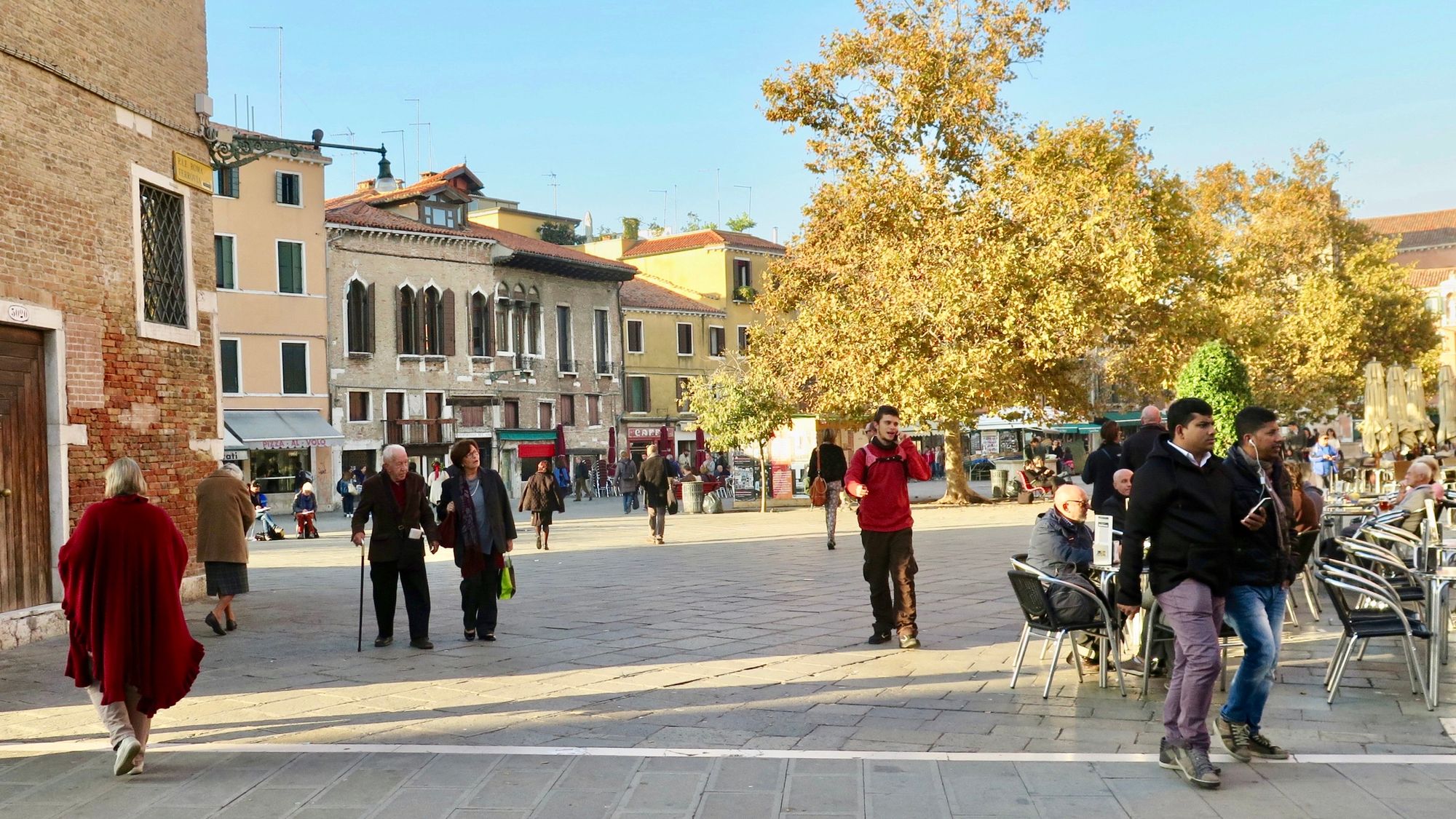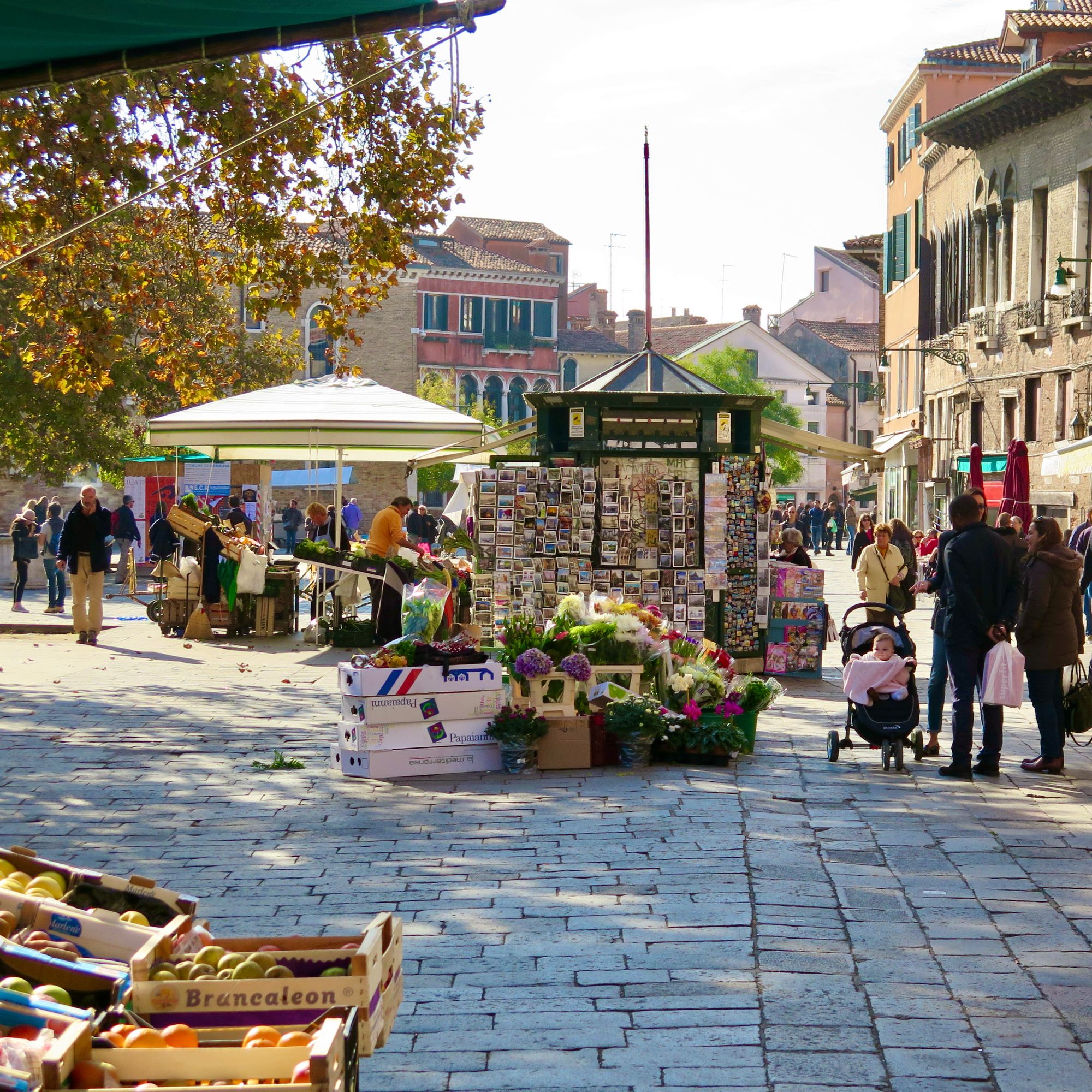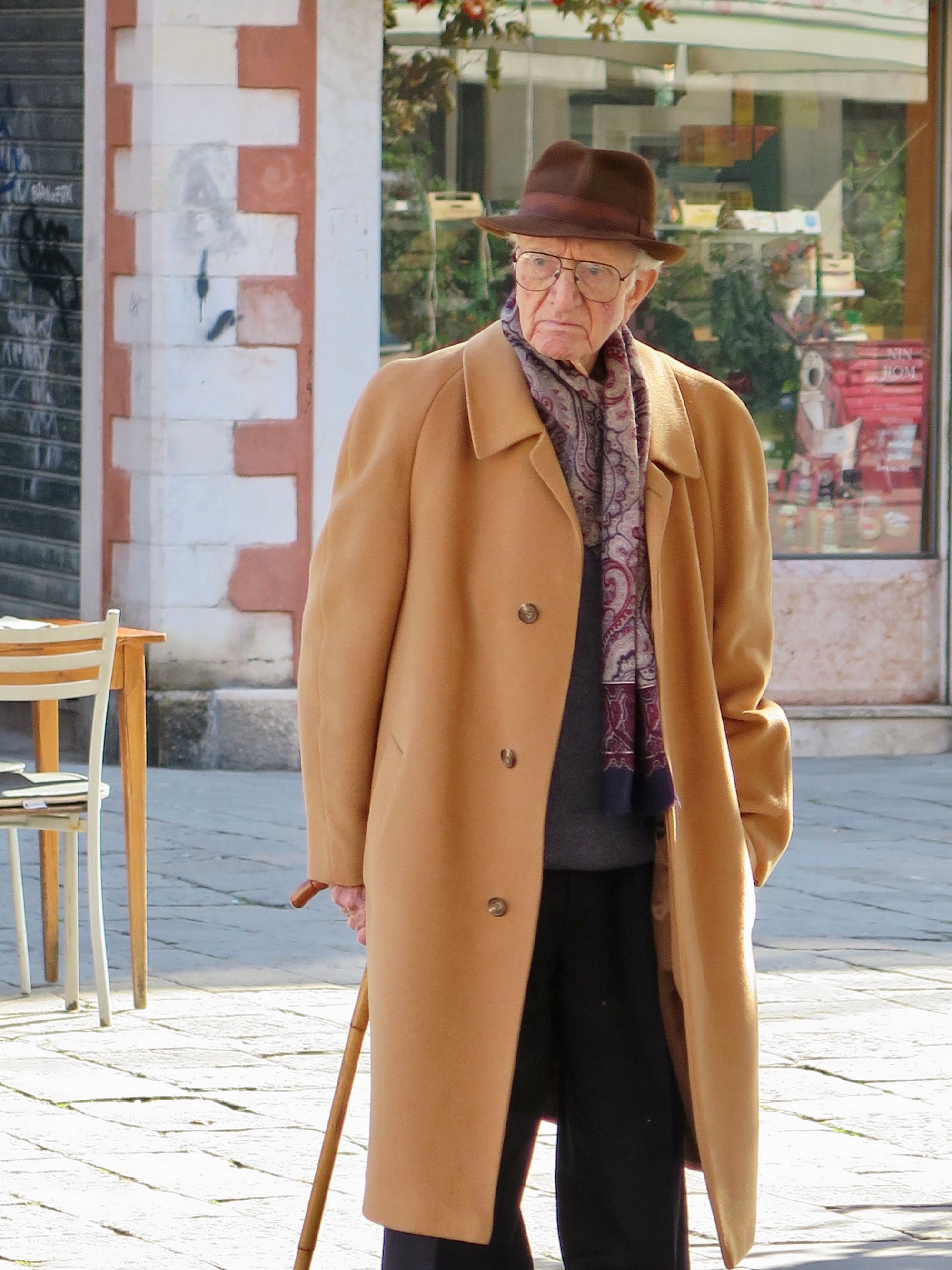 Munich, Germany - Viktualienmarkt
Munich's Viktualienmarkt (Victuals Market) is an anchor destination in Munich, in large part because it is, as we've written in the past "as much a city square as it is a market." What that means is that there are many reasons why one would want to visit — meaning that people from all walks of life and of all ages are there, eating, shopping, having a beer or a coffee, or people-watching.
Its seasonality, connectedness to other destinations like Munich's City Hall, and sheer variety of vendors and entrepreneurs means that it is almost impossible for it to be a boring place — there is simply too much to eat, see, hear, and smell! Plus, the central area is a massive beer garden.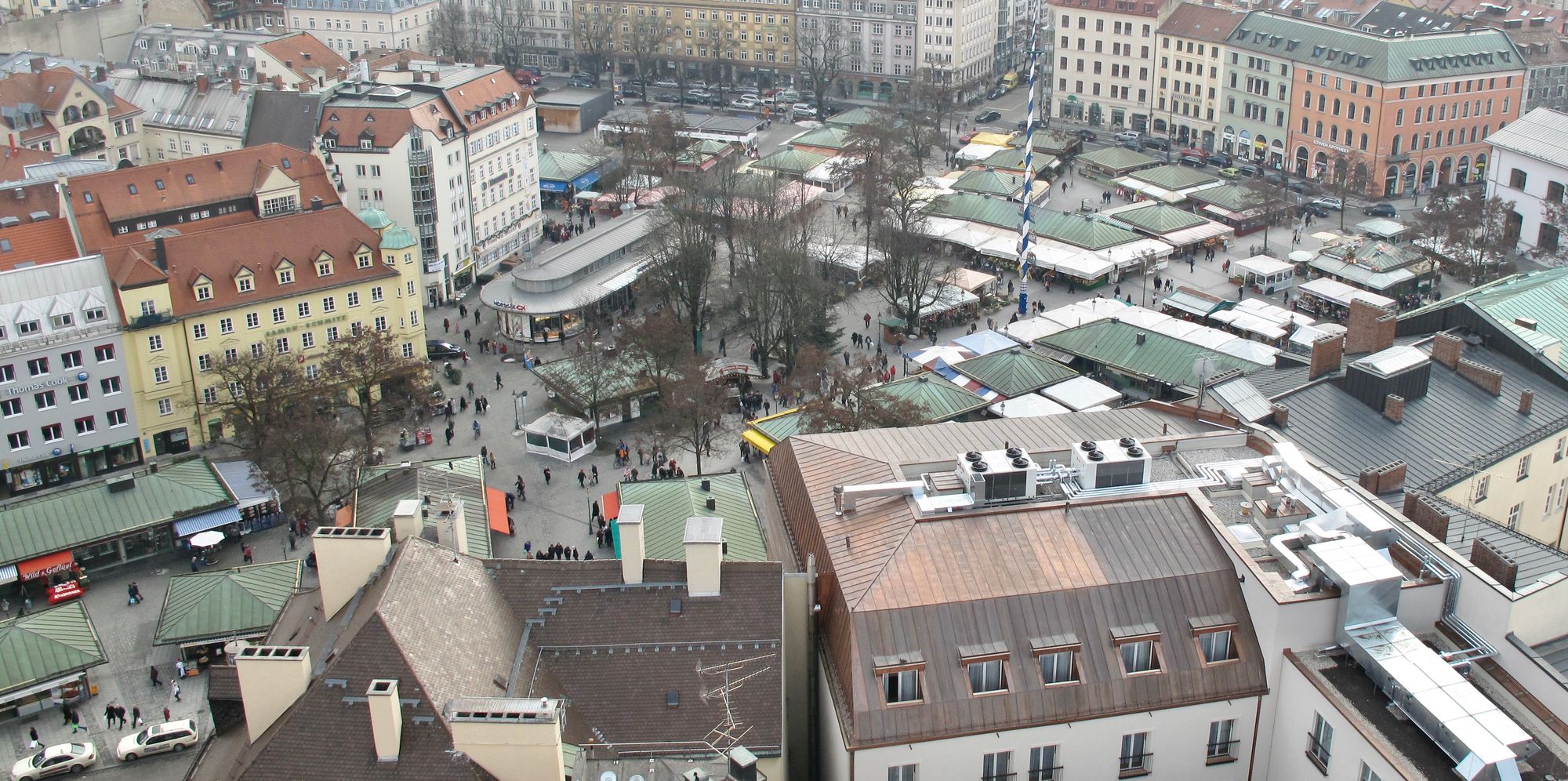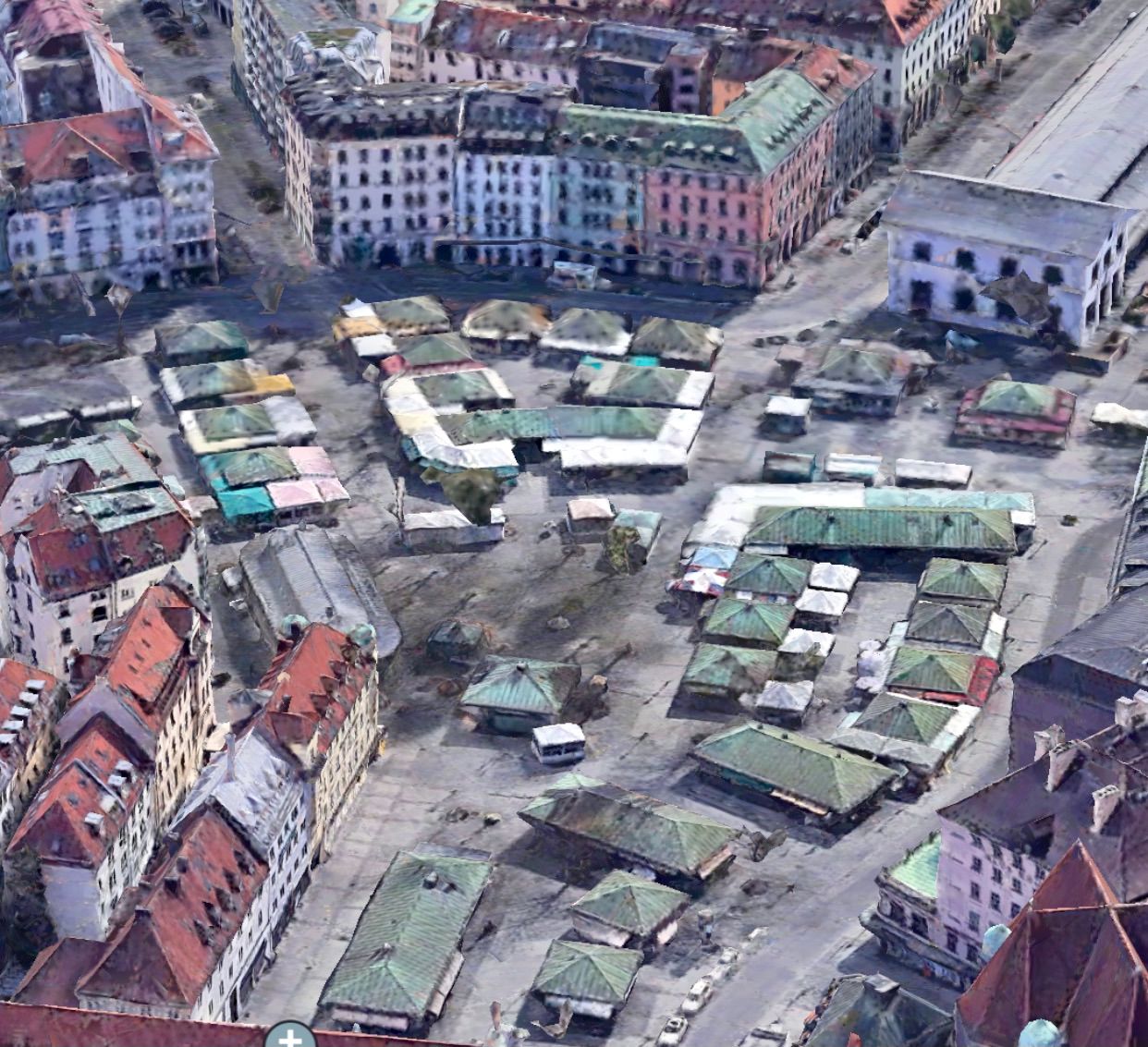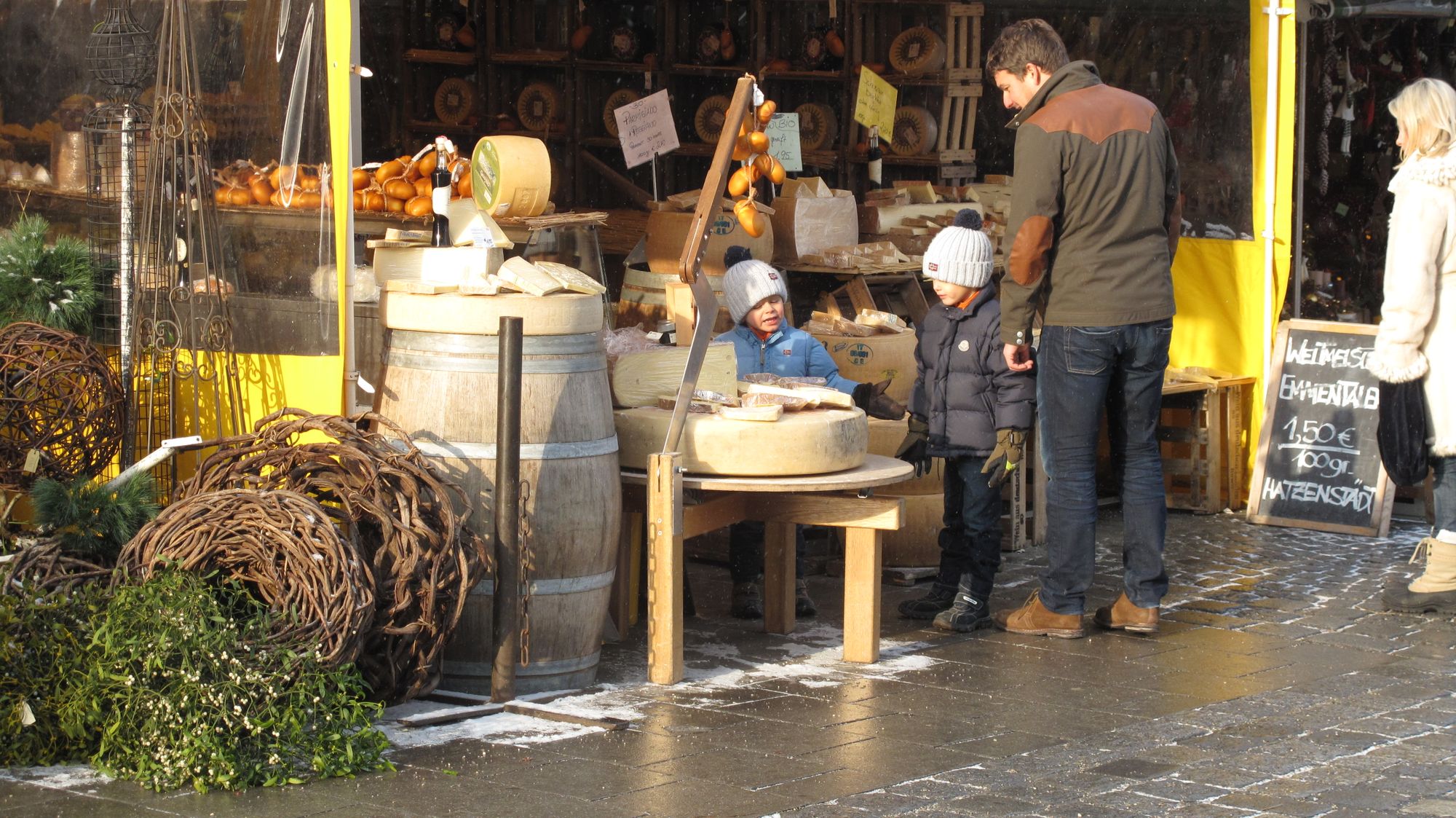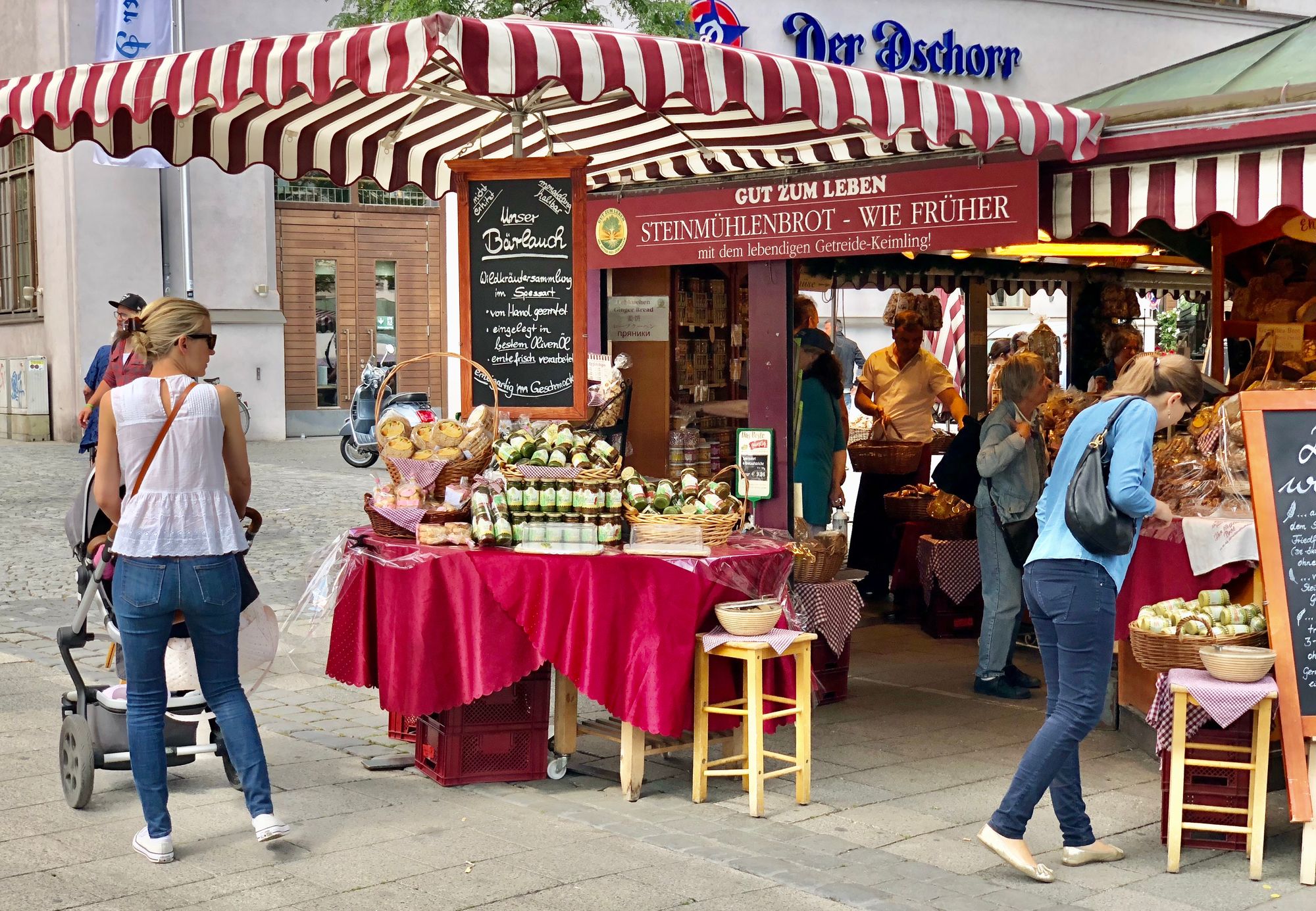 Gabriel's Wharf - London
The story of Gabriel's Wharf, as it exists today, began in 1988. Carried out on an ultra-quick timeline of three months, the Gabriel's Wharf project could now be called London's oldest pop-up. By using a "Lighter, Quicker, Cheaper" approach, developers of the space were able to take a small square on the London's South Bank and turn it into a prominent riverside attraction on the Thames. It's still a favorite stop for off-beat, fun shops, bars, and dining establishments. Many even consider it to be a riverside "town square" of sorts.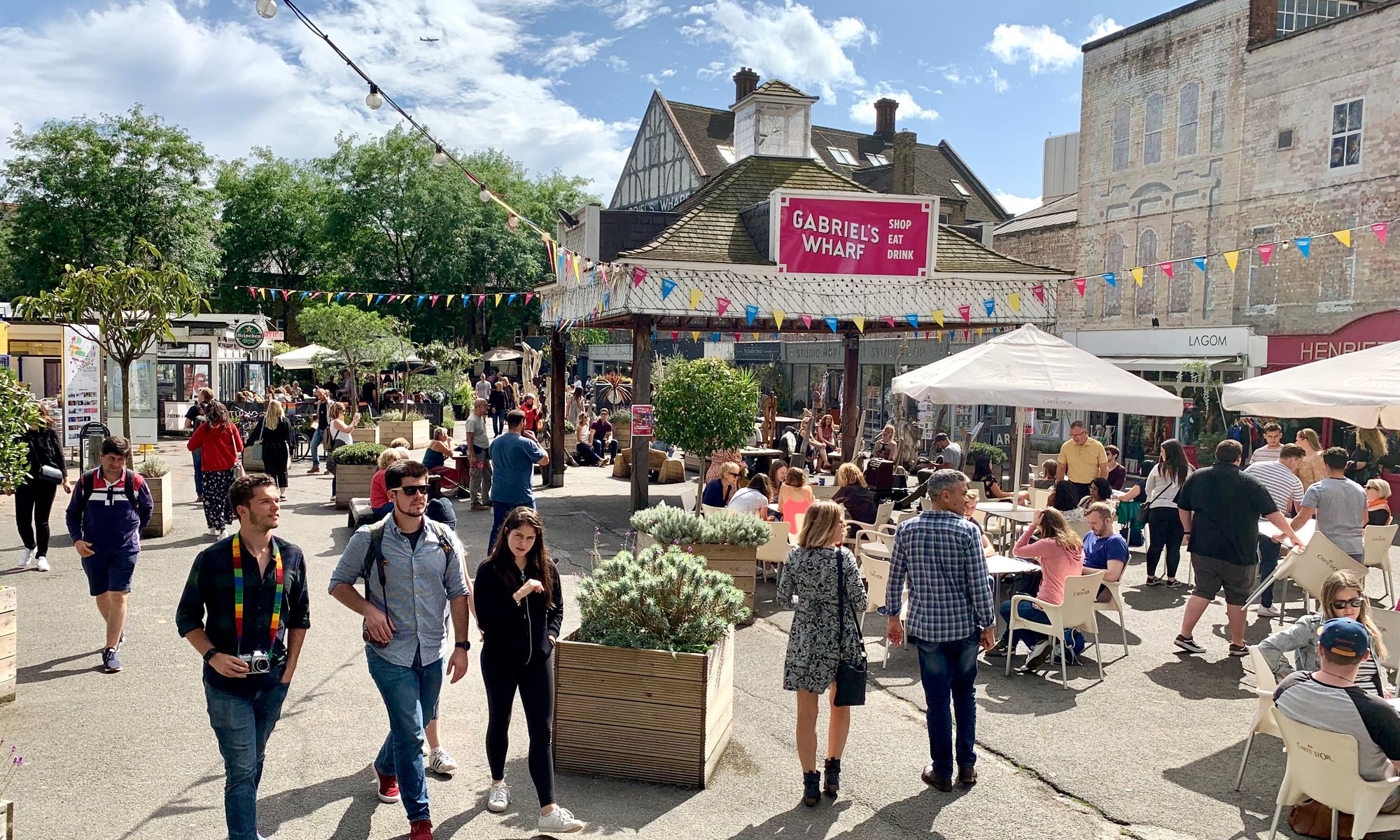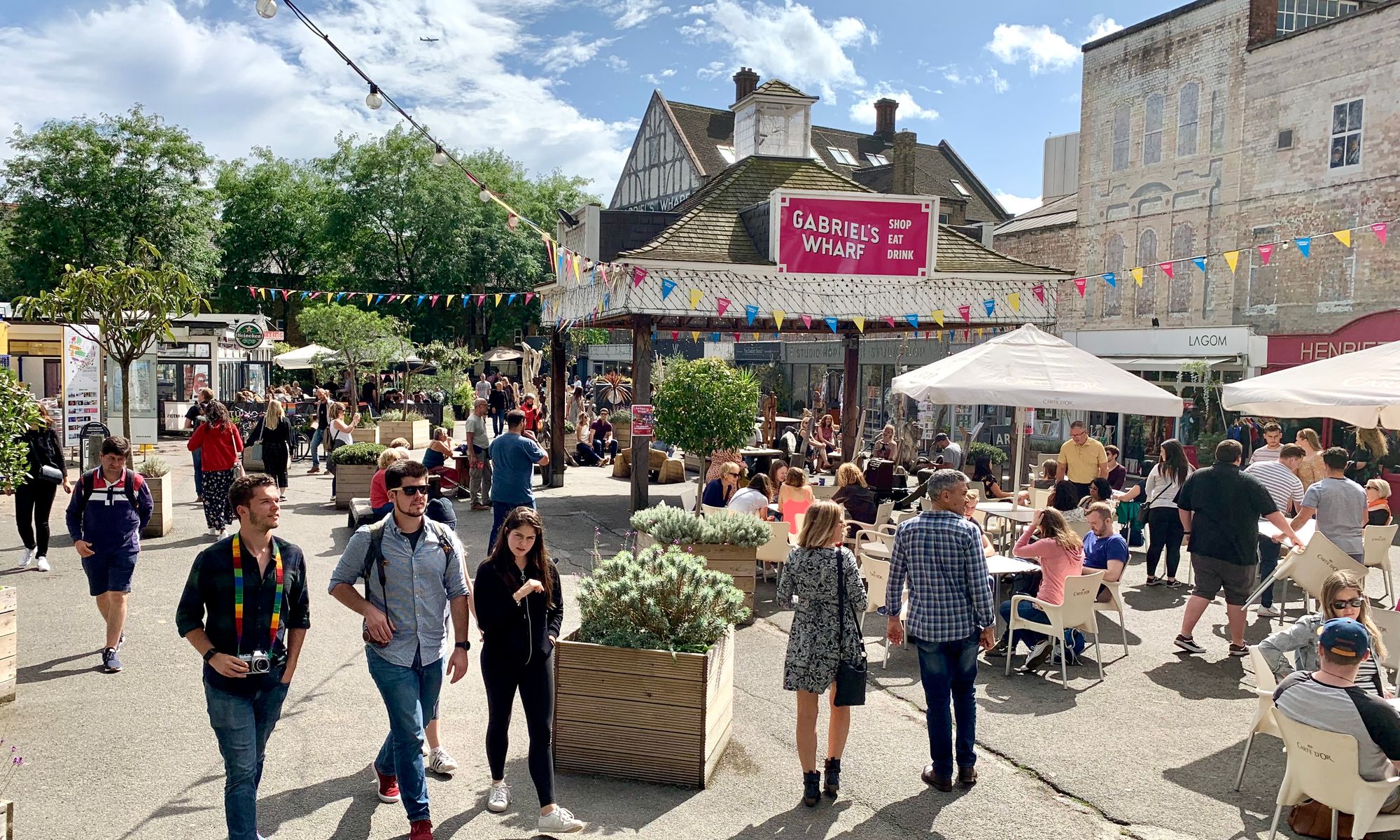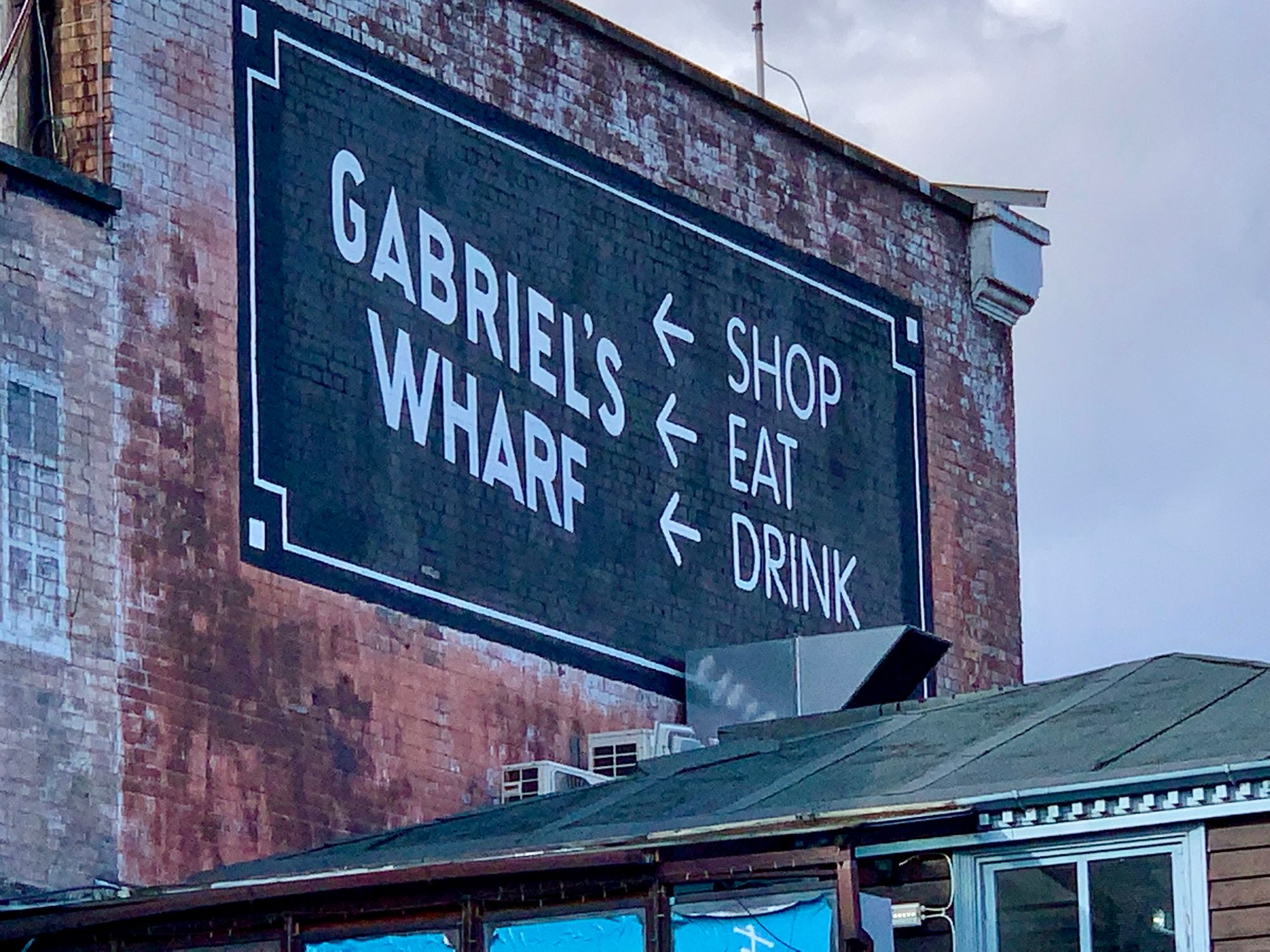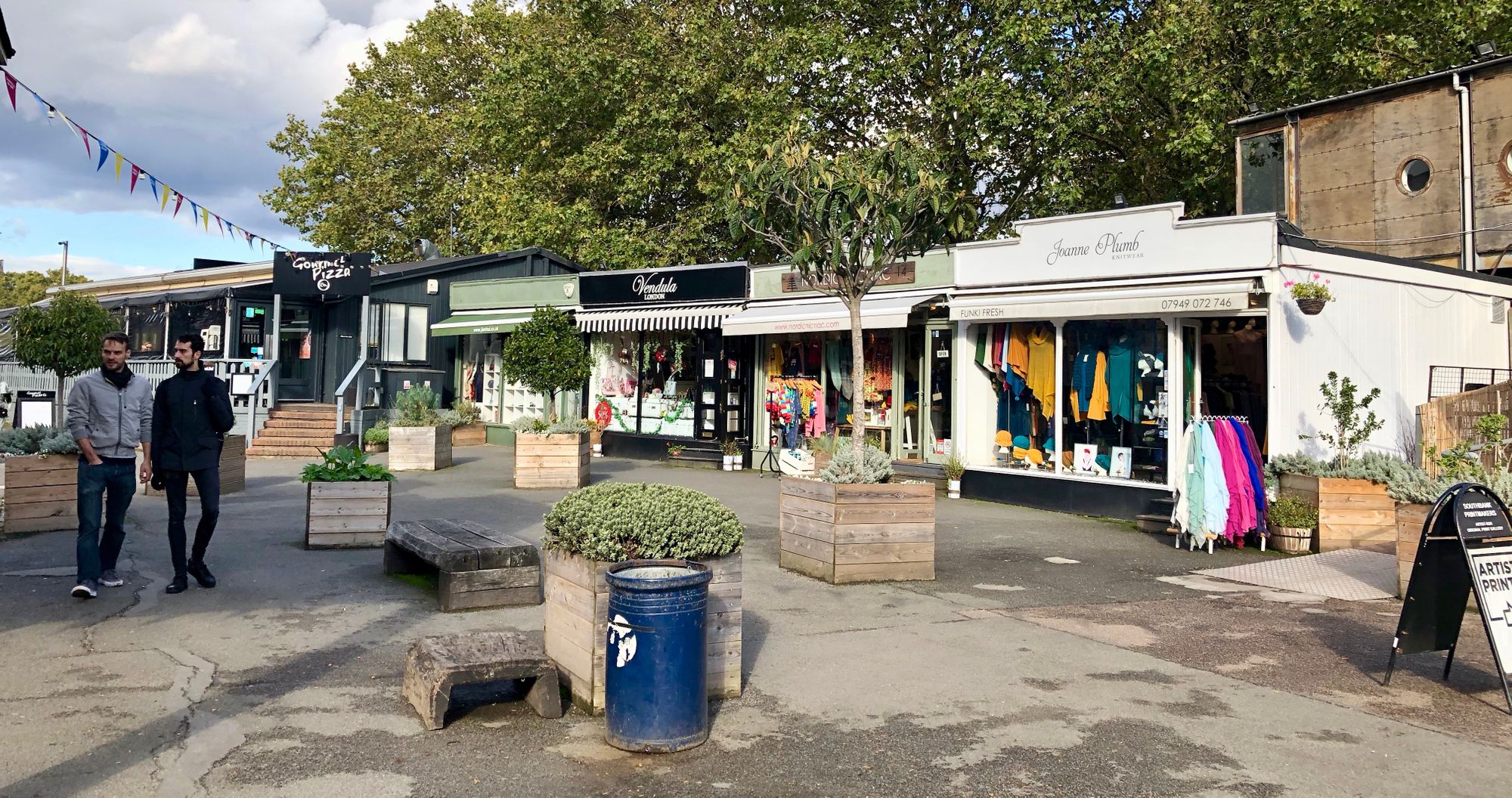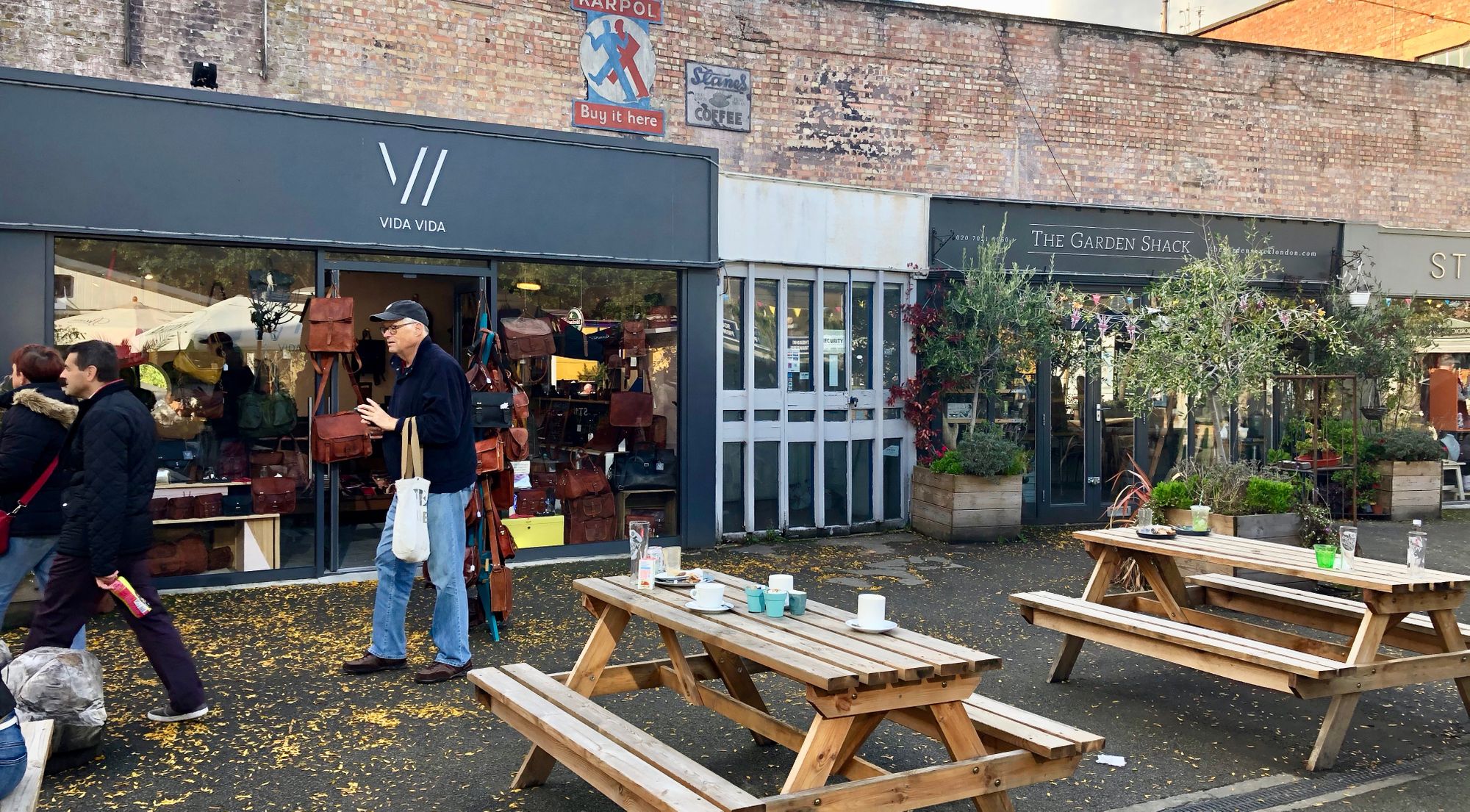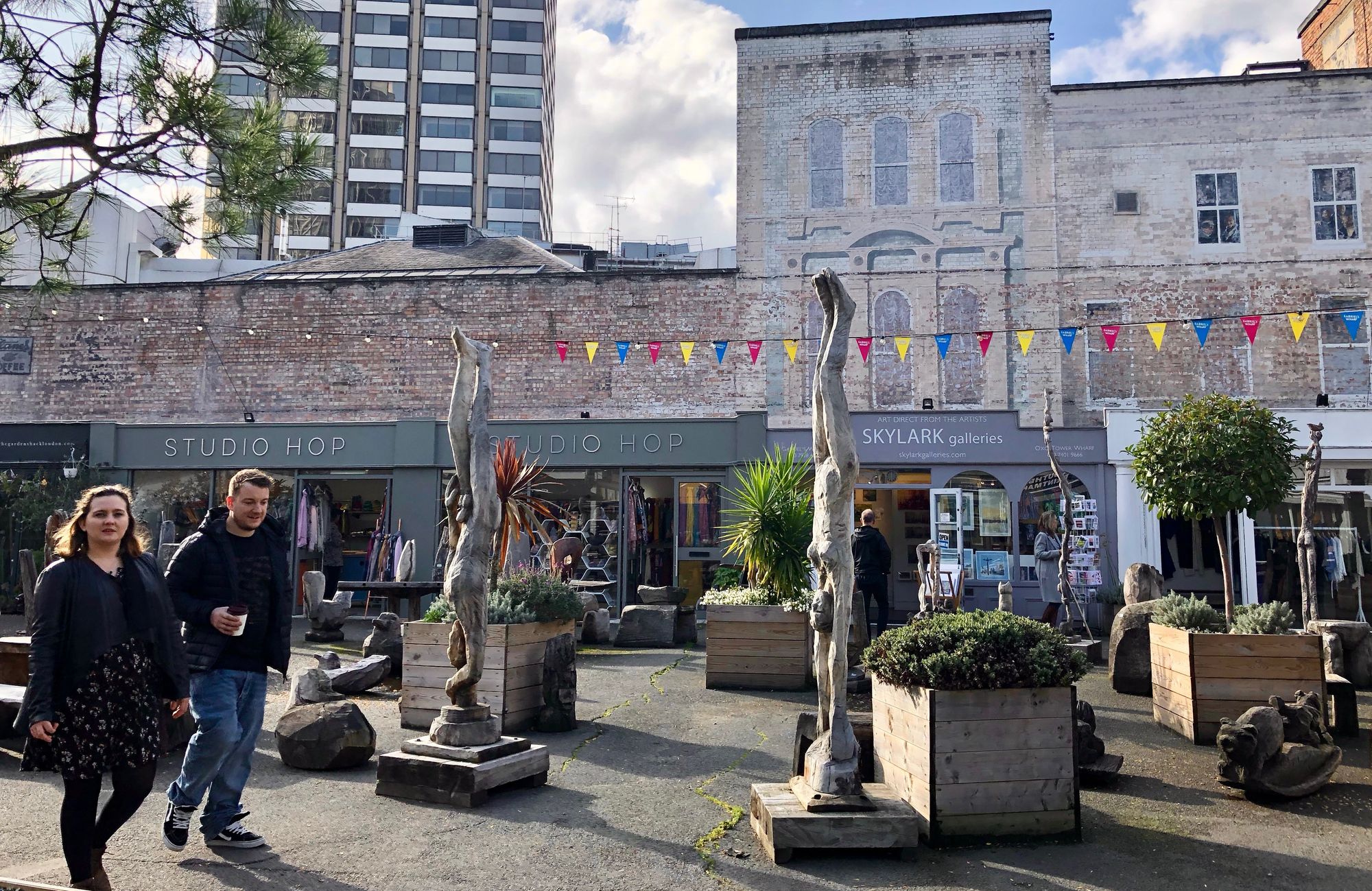 Barcelona - Basilica de Santa Maria del Mar Square
This cathedral in Barcelona is what Gaudí drew on as he created the world-renowned Sagrada Familia. But beyond serving as inspiration for the design of a church, the basilica is the backdrop to a lively and historic square.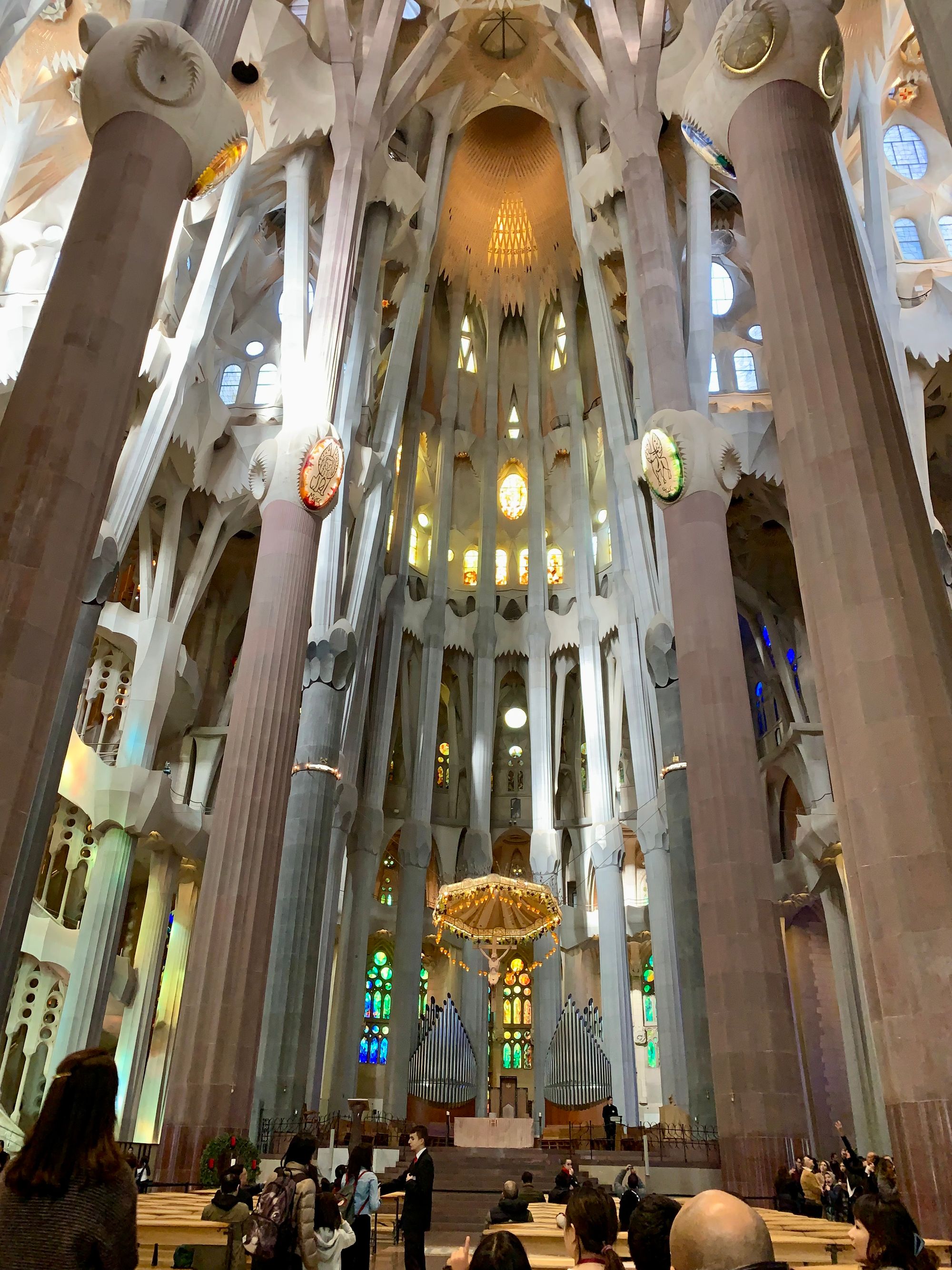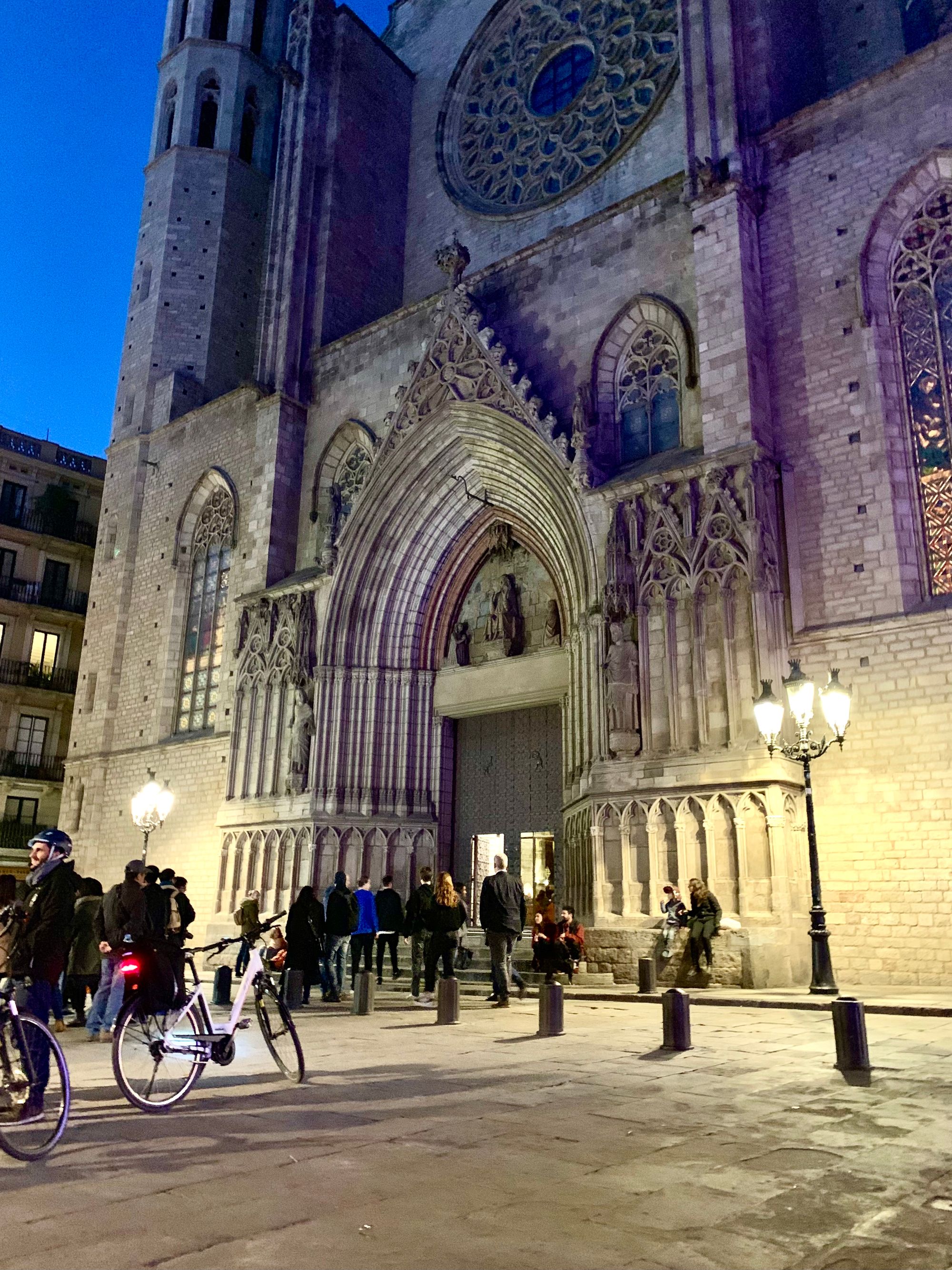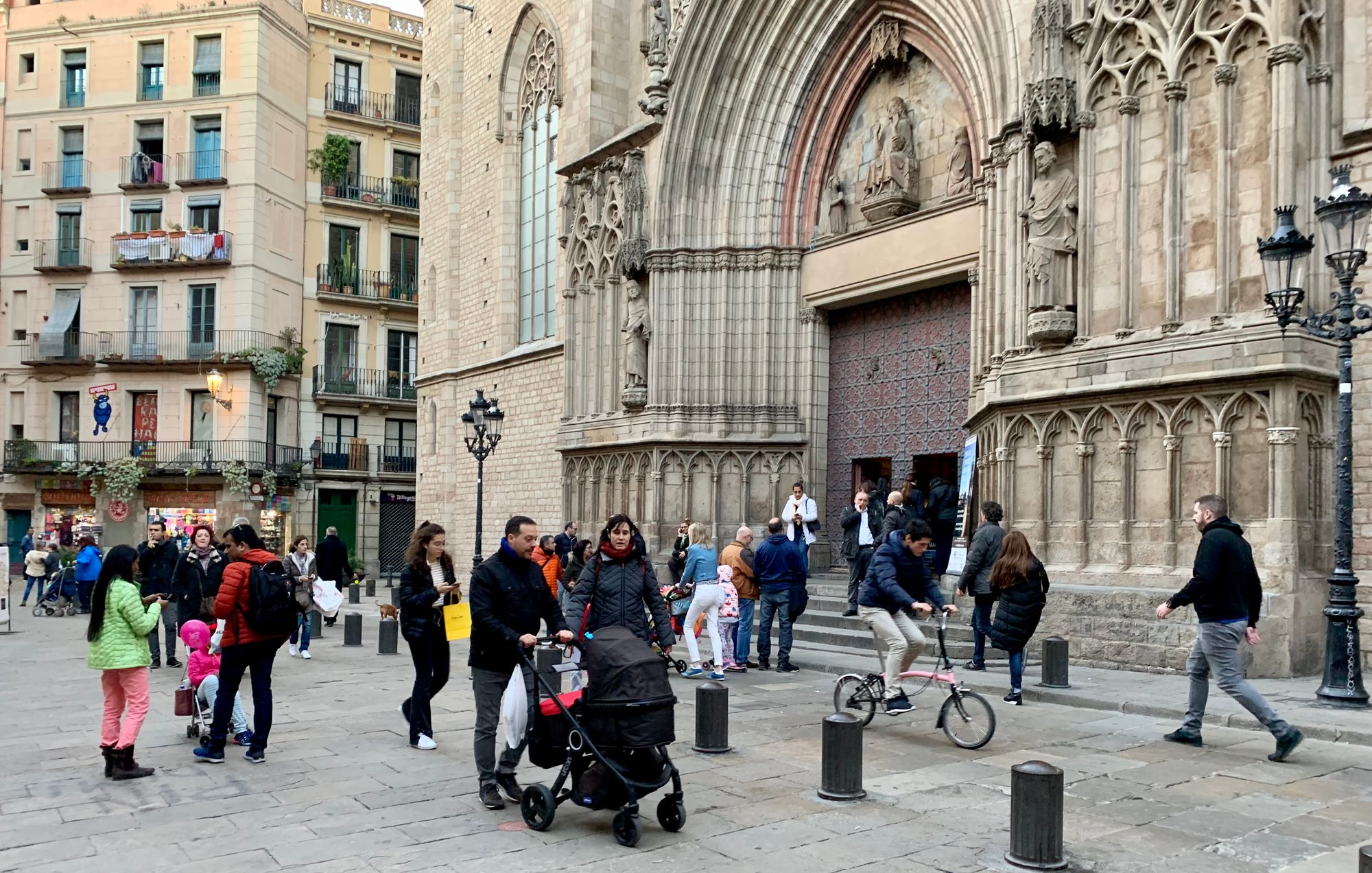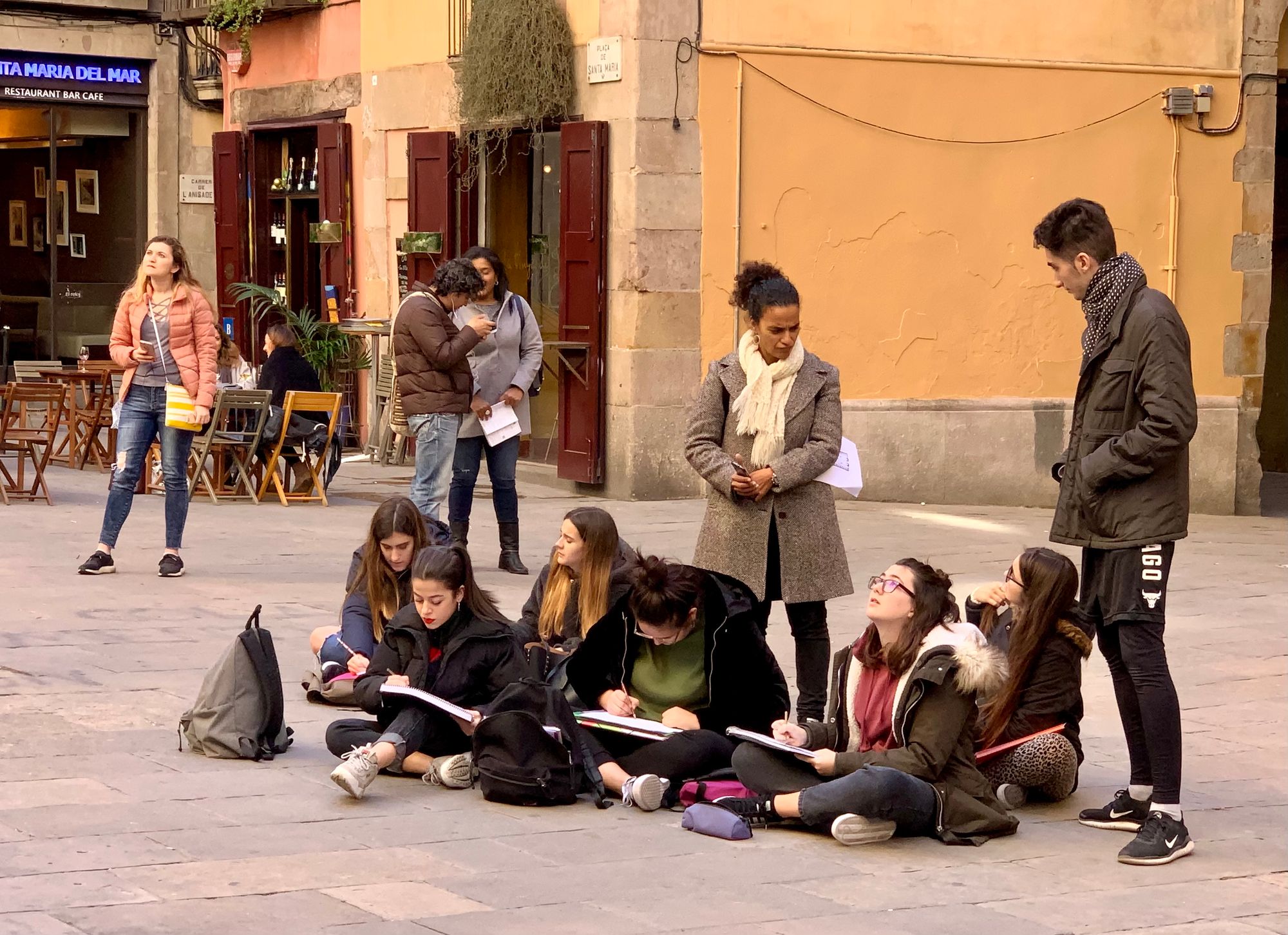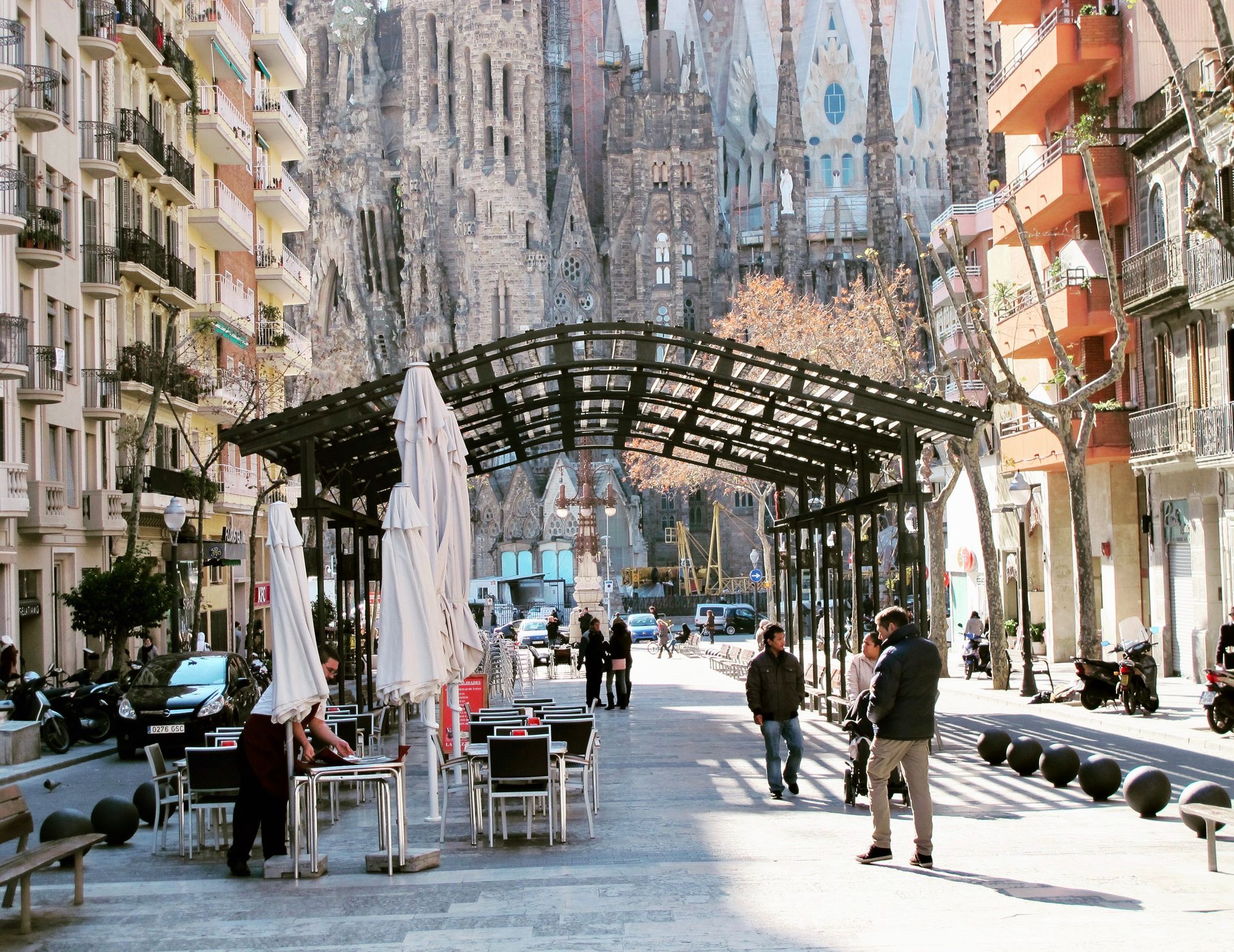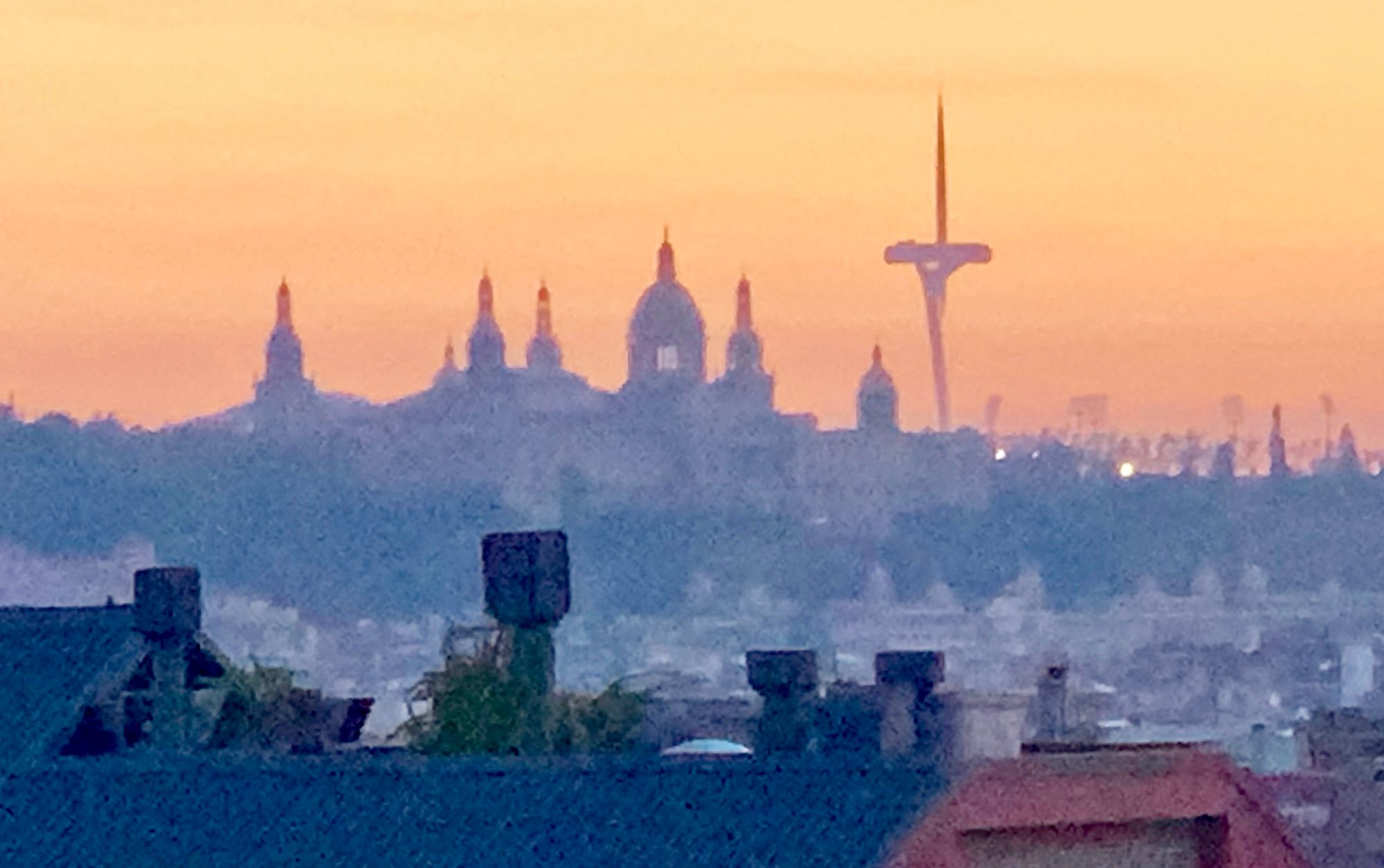 Stockholm - Kungsträdgården Square
Stockholm's Kungsträdgården has everything one could want in a great square. It is designed to have various "rooms," which range from gardens to fountains, and grassy areas, all of which give visitors a wide variety of scenery from which to choose.
It is also connected with other exciting parts of the city. As we have previously written, it features an esplanade leading from the city center to the waterfront, as well as a large water feature that doubles as a major event space. It has a stage and amphitheater seating for events and plays host to a skating rink in the winter. All together, these elements add up to one of the most diverse and important squares in Europe.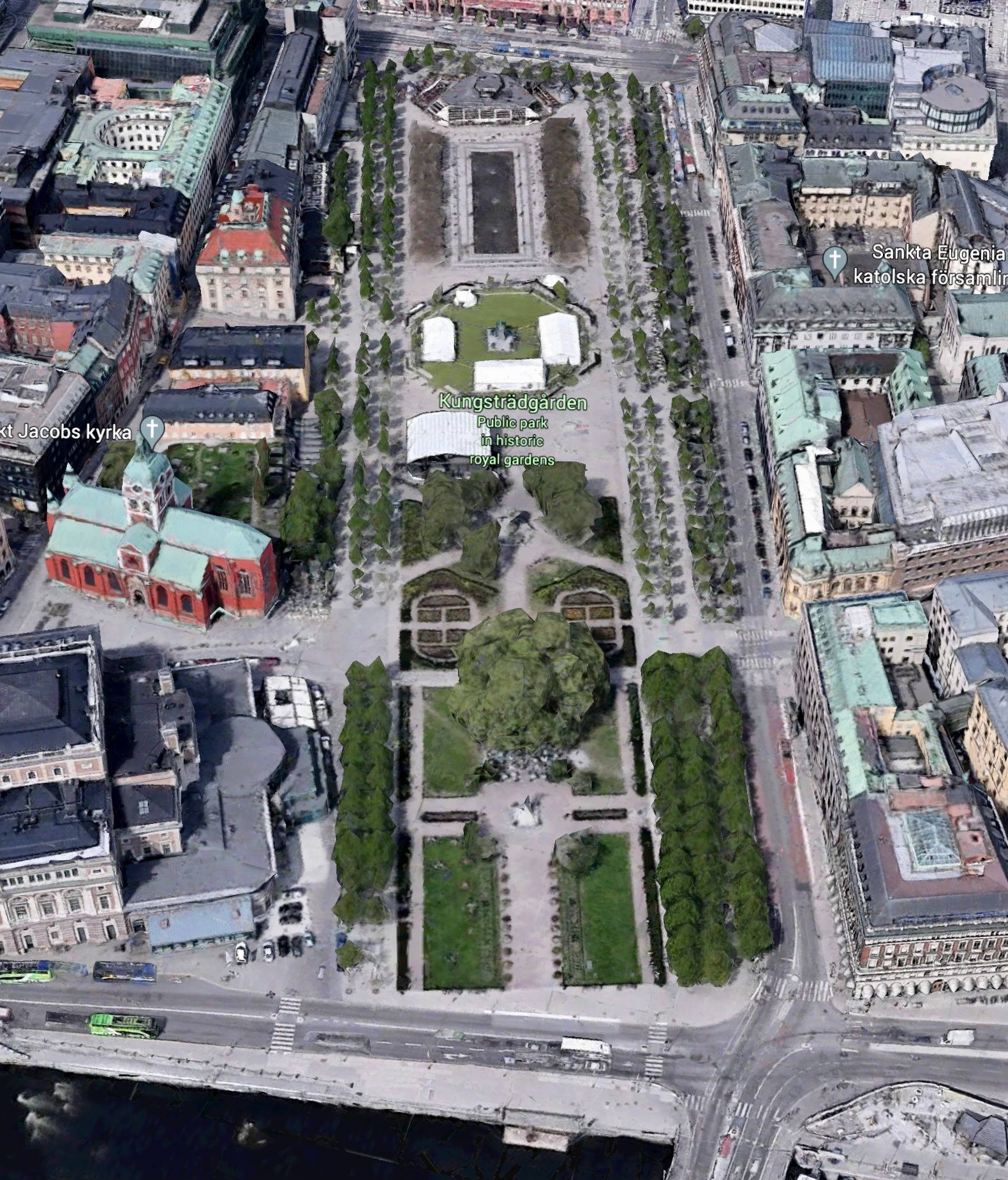 In the upper part of the square, a major water feature offers a memorable place to either cool off or enjoy performances and programming. The space serves many purposes through its design, and the steps that surround it invite lingering and people-watching.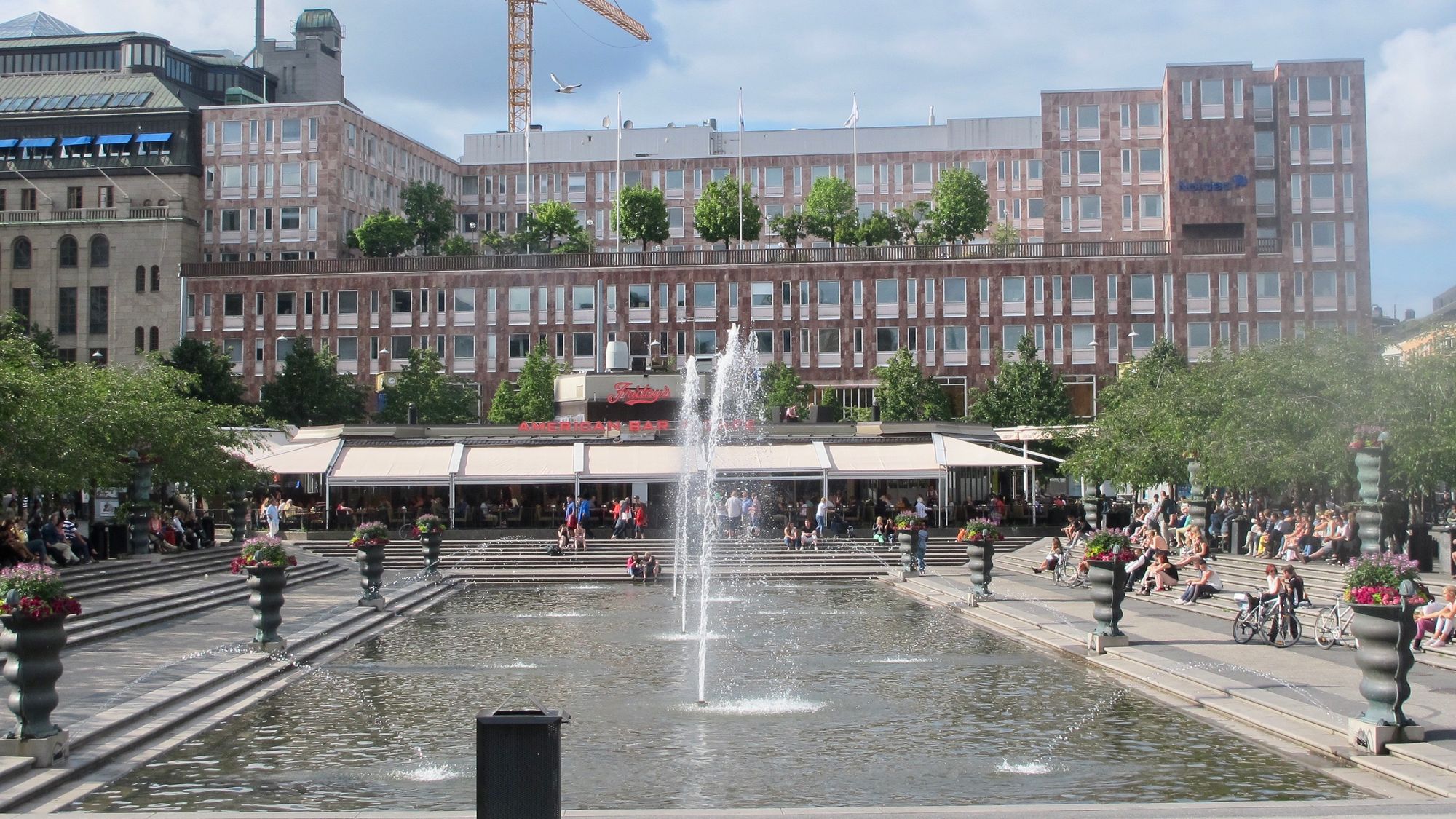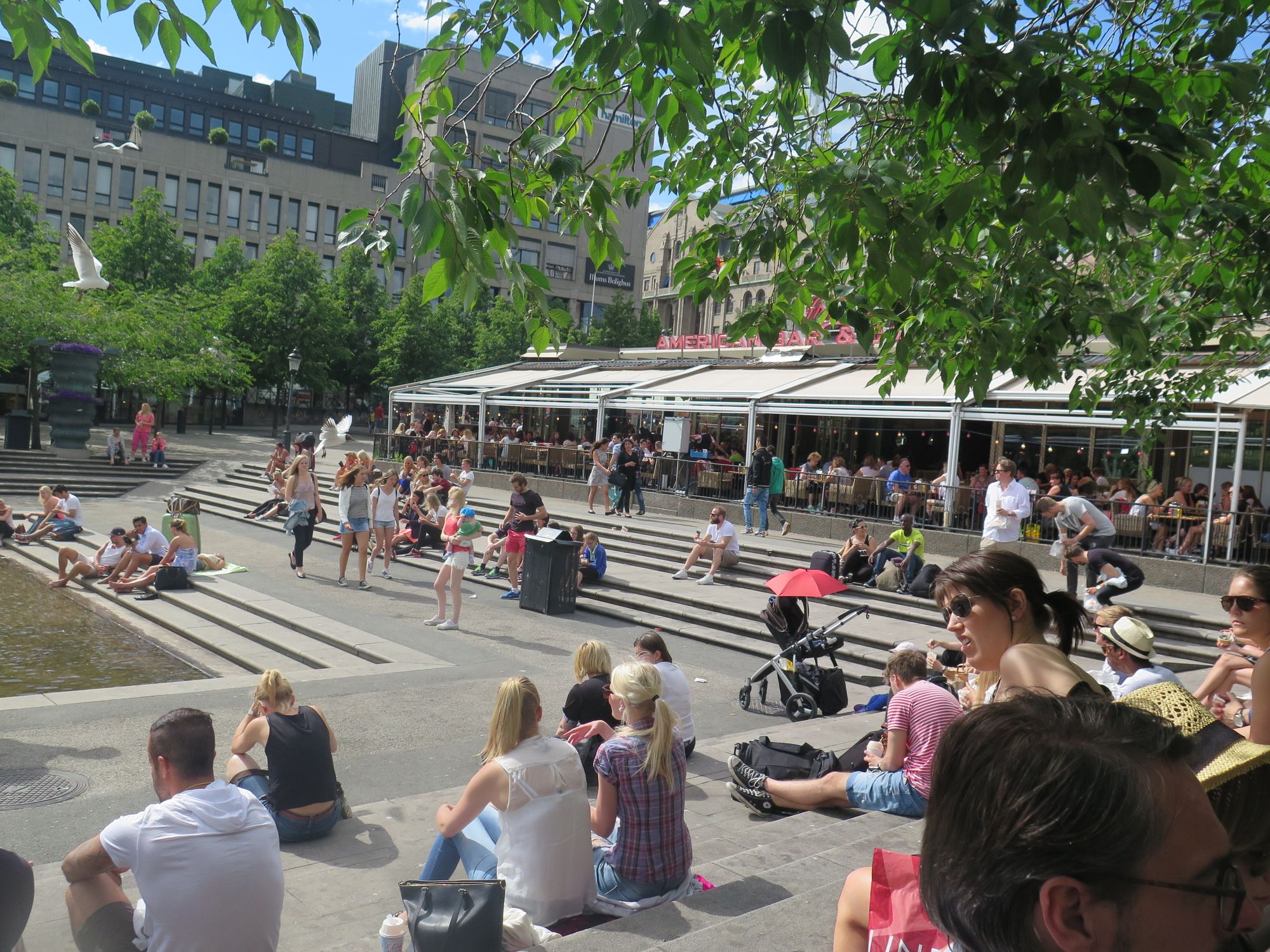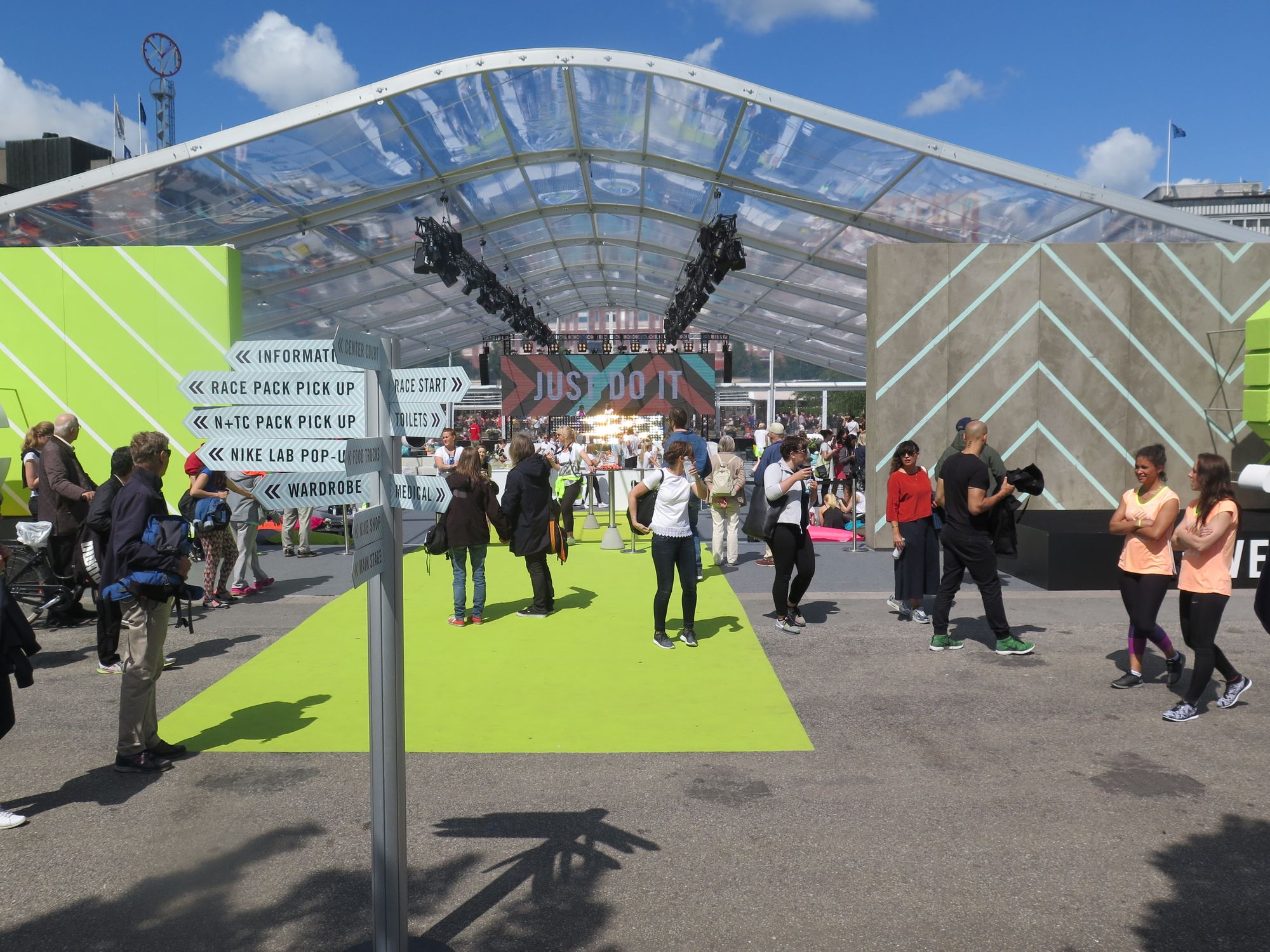 Nearby to the fountain is a stage that is often buzzing with live music. It's flexible, and can be converted into a dance floor or provide space for lines of benches for a seated audience!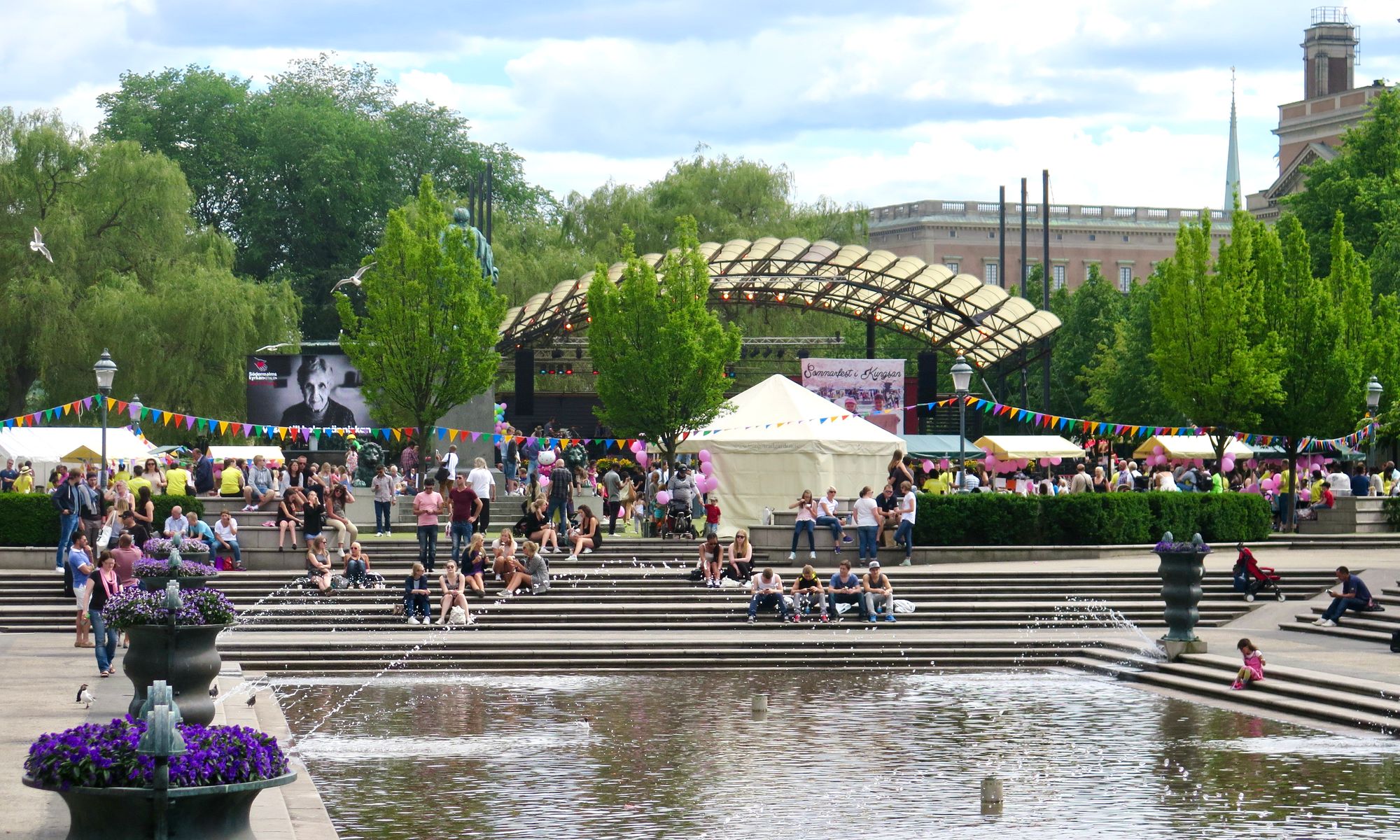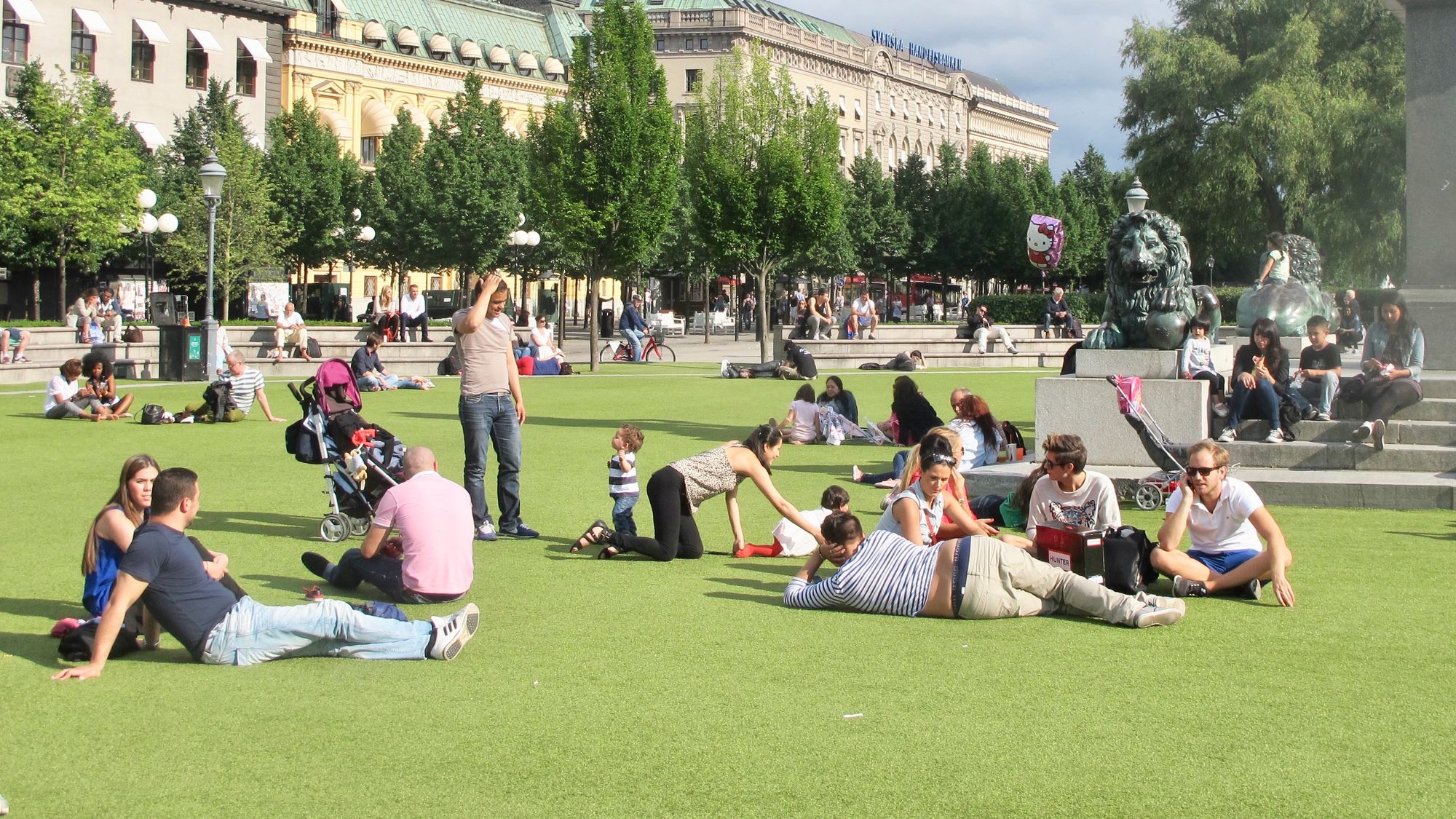 The central plaza of the Kungsträdgården is also a huge draw, with turf giving people a reason to recline or take a seat, and its famed lion statues provide a fun place to play or pose for photos.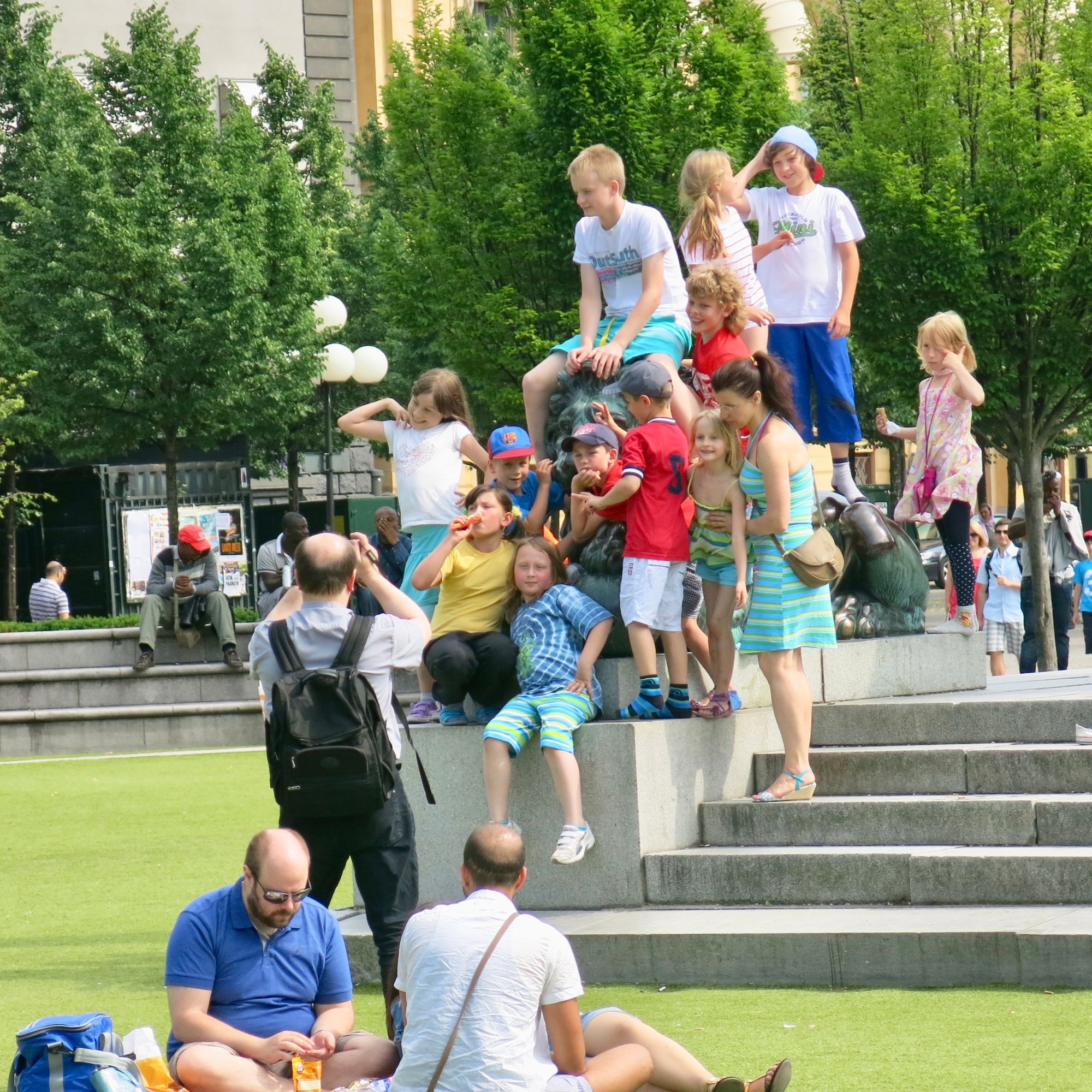 Besides being connected to the Kungsträdgården, Stockholm's esplanade paths down to the waterfront are, in and of themselves, exciting connections and places to stroll. They are also full of chances to enjoy local dining.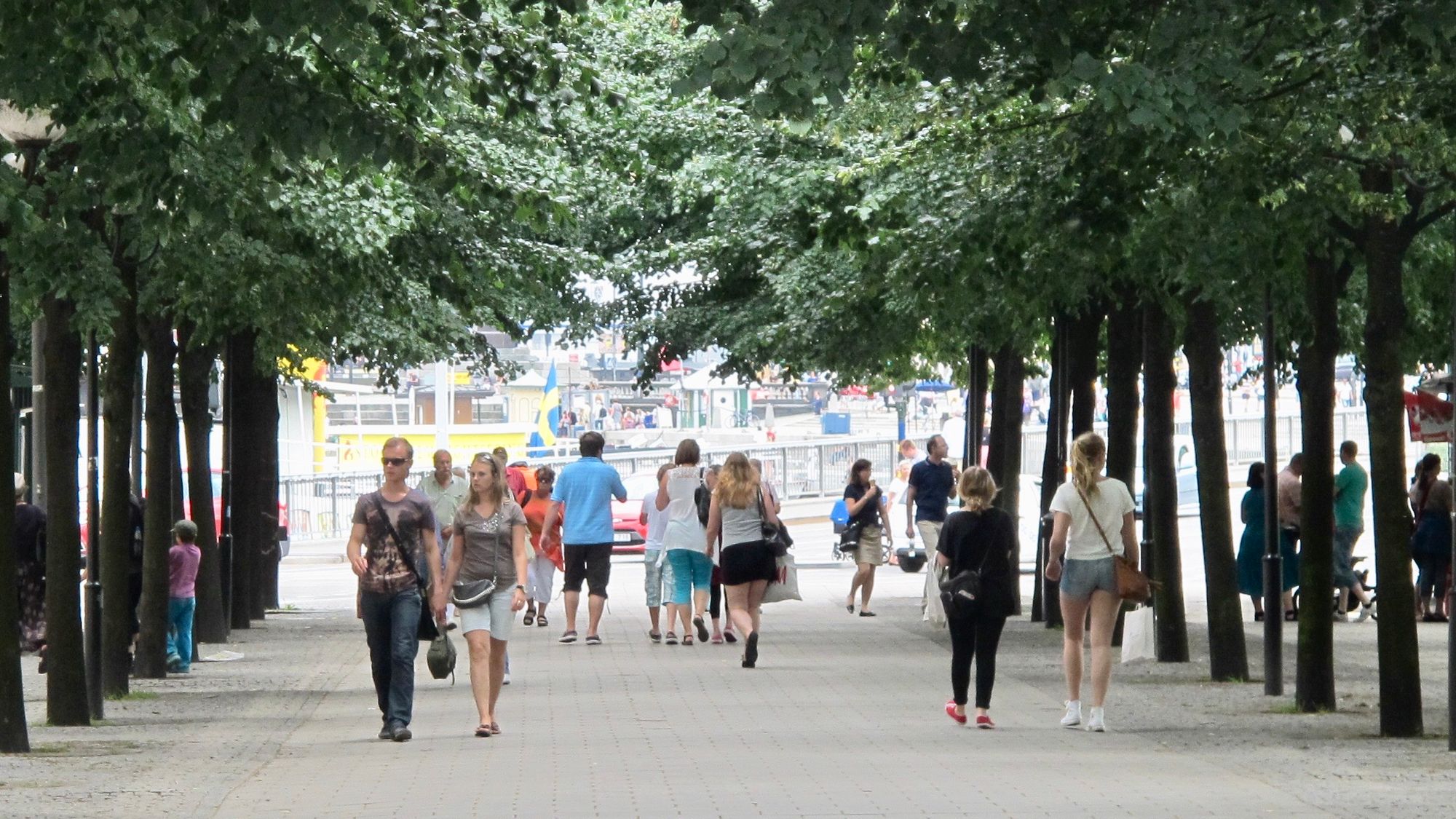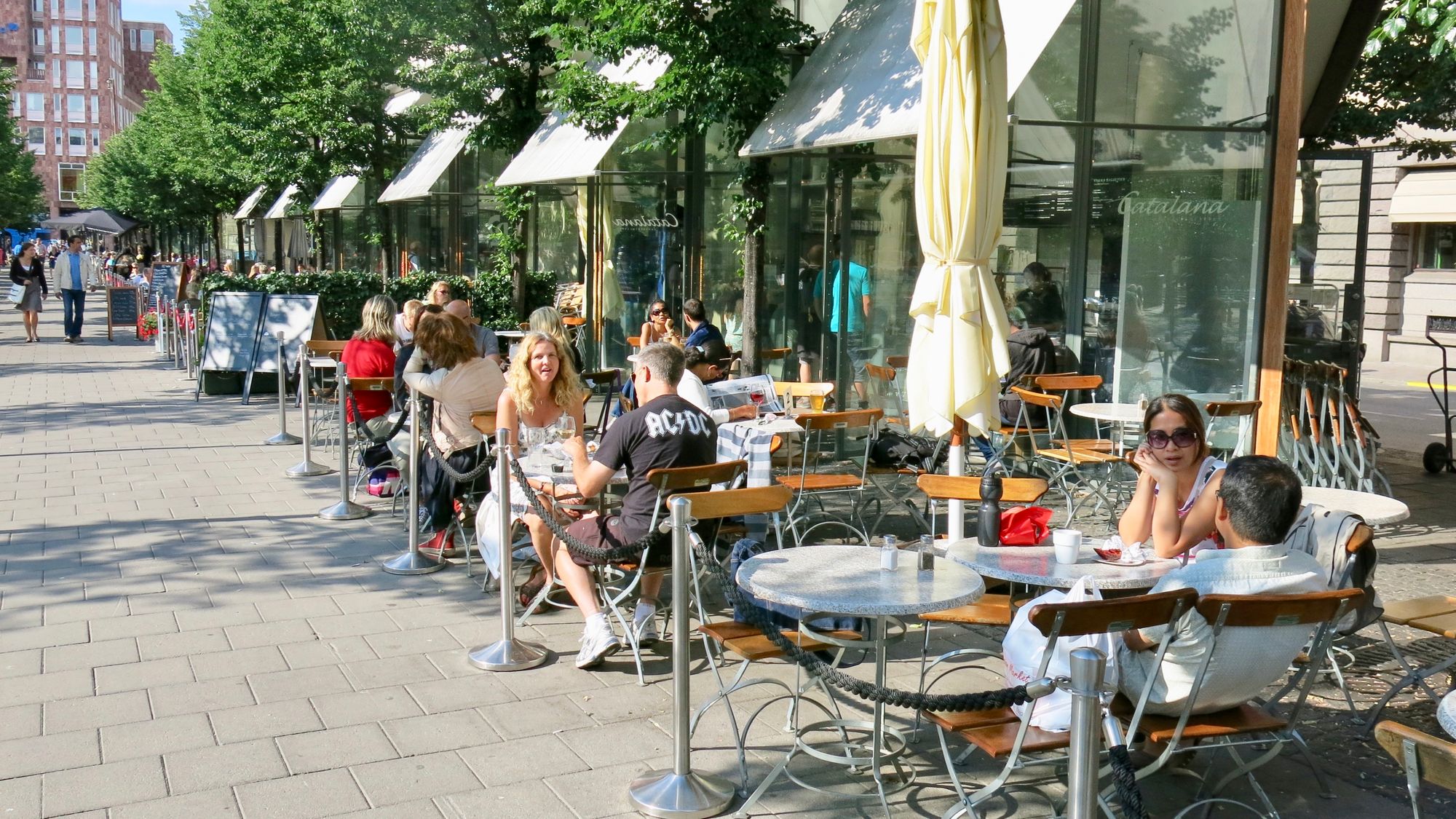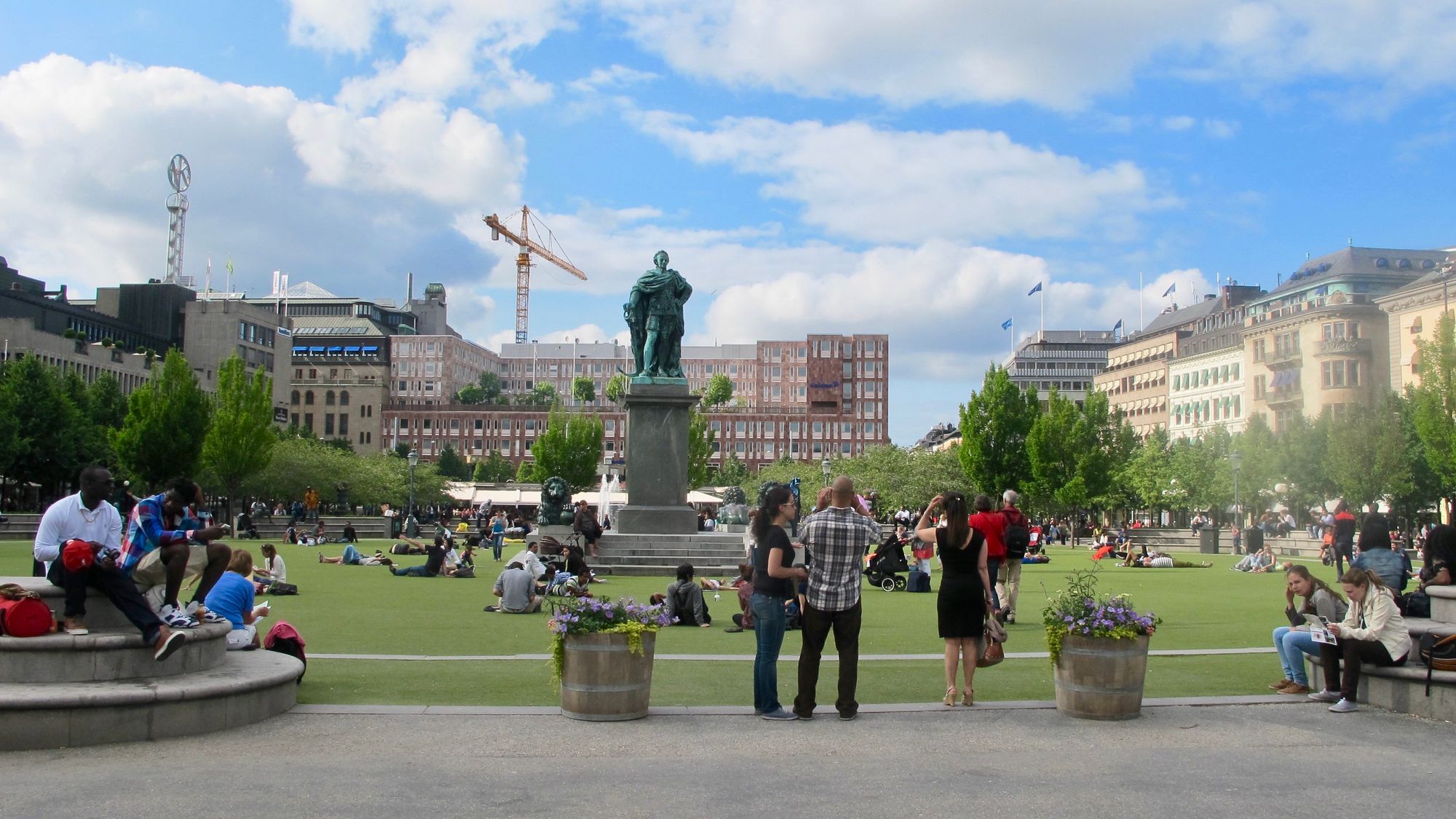 Porto, Portugal - Waterfront Squares
Porto's waterfront spaces cascade down the slope to the water, with human-scaled developments all along the way. The waterfront has direct access from the central part of Porto through three distinct entrances all leading to a large plaza/square, and two levels of a promenade along the water...creating one of the best multilayered destination on any waterfront.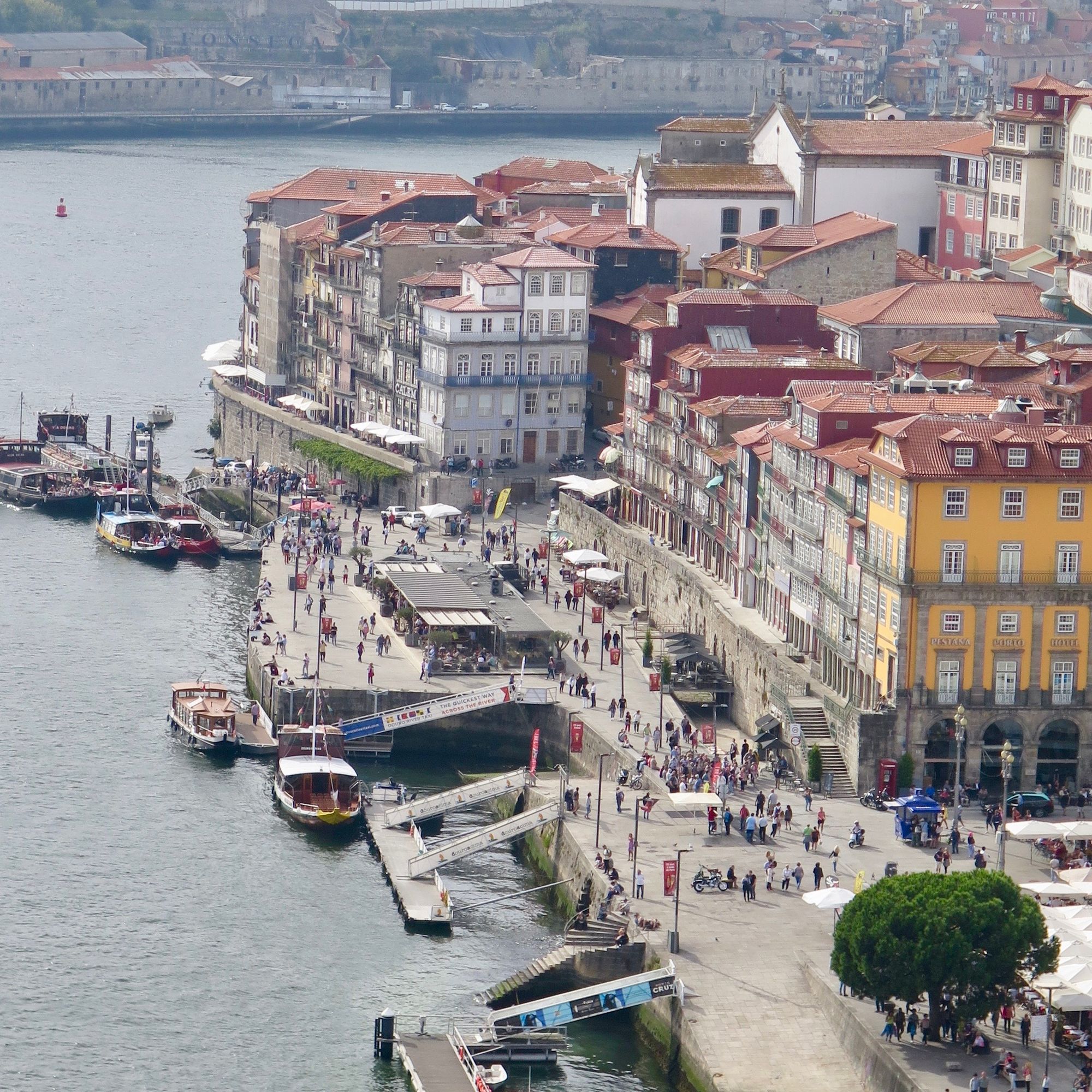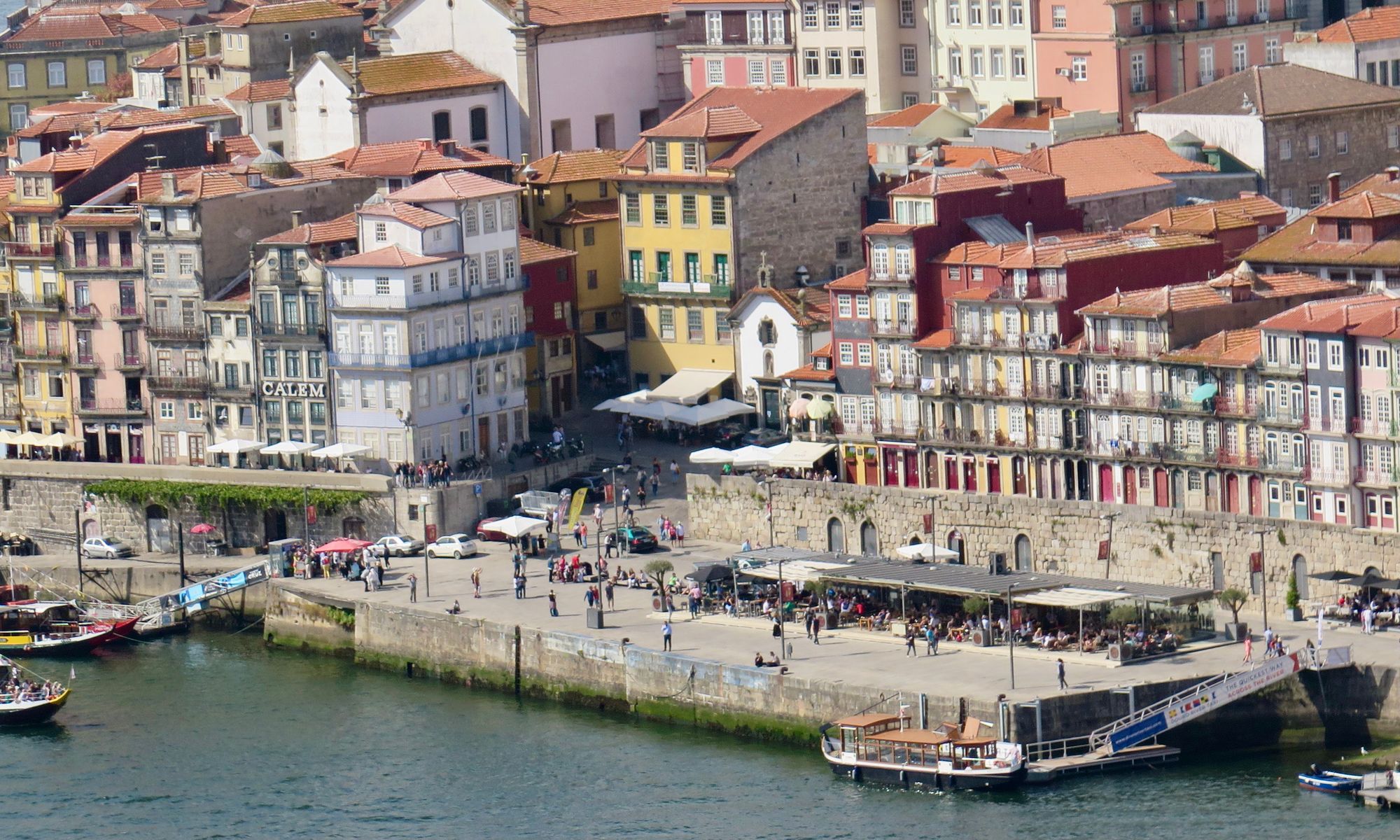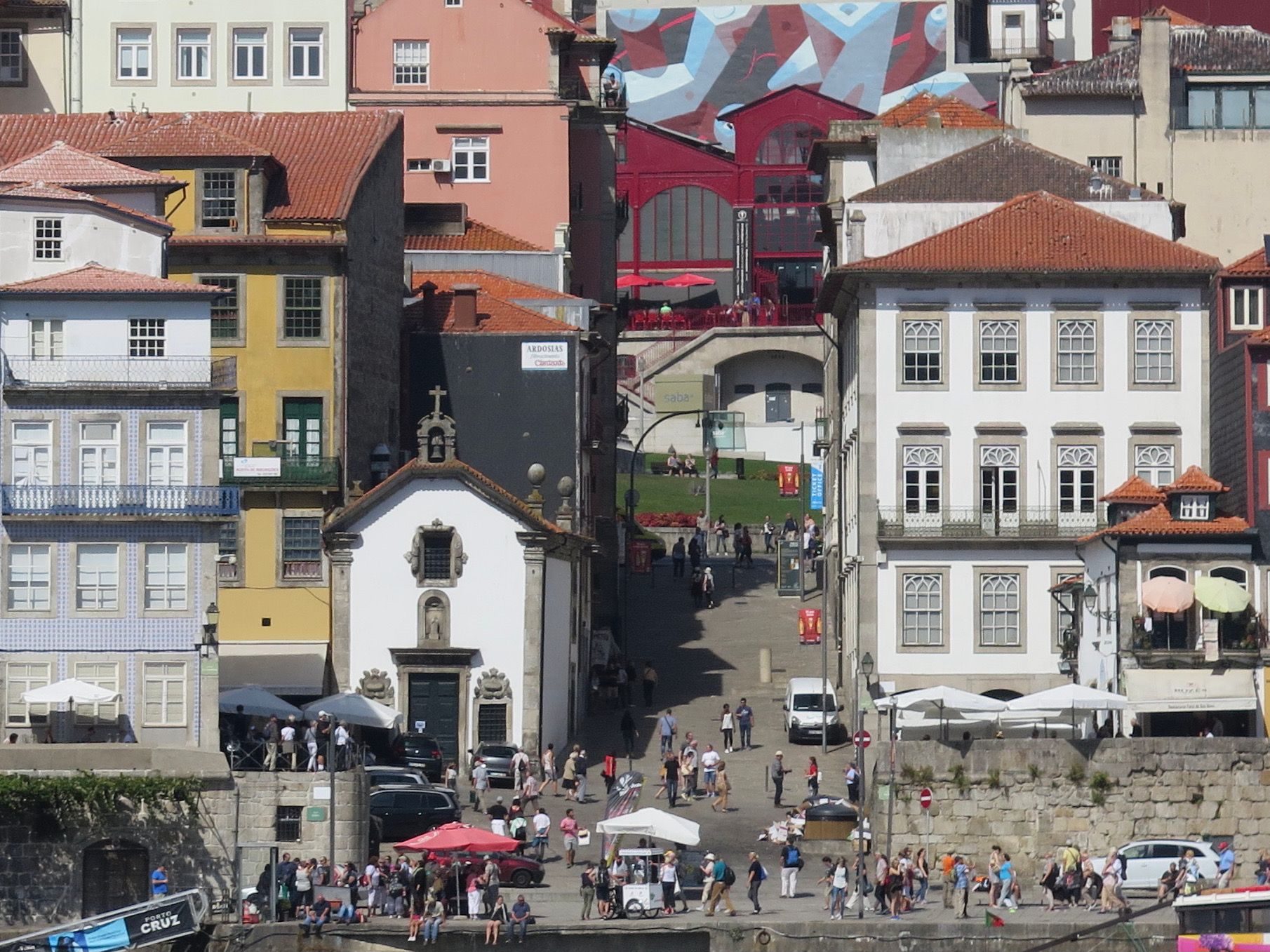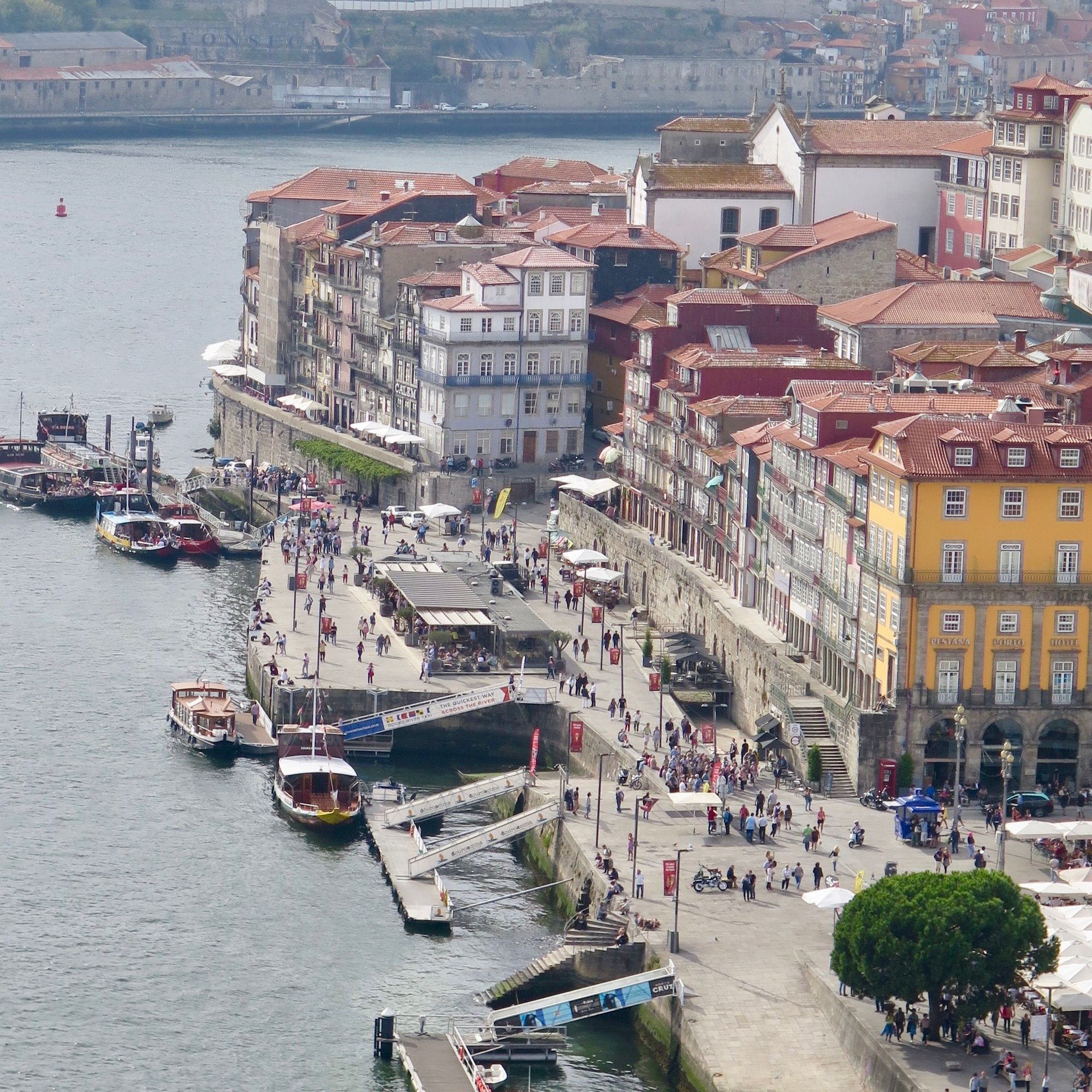 A Square that Isn't A Square: Buenos Aires' Intersections
In Buenos Aires' Palermo neighborhood, intersections have been changed to act as "public squares." These places have been re-designed and intersections raised to make the transition from sidewalk to street more seamless. Meanwhile, buildings that sit at the corners have canted entrances, which make the intersections feel more open to social activity.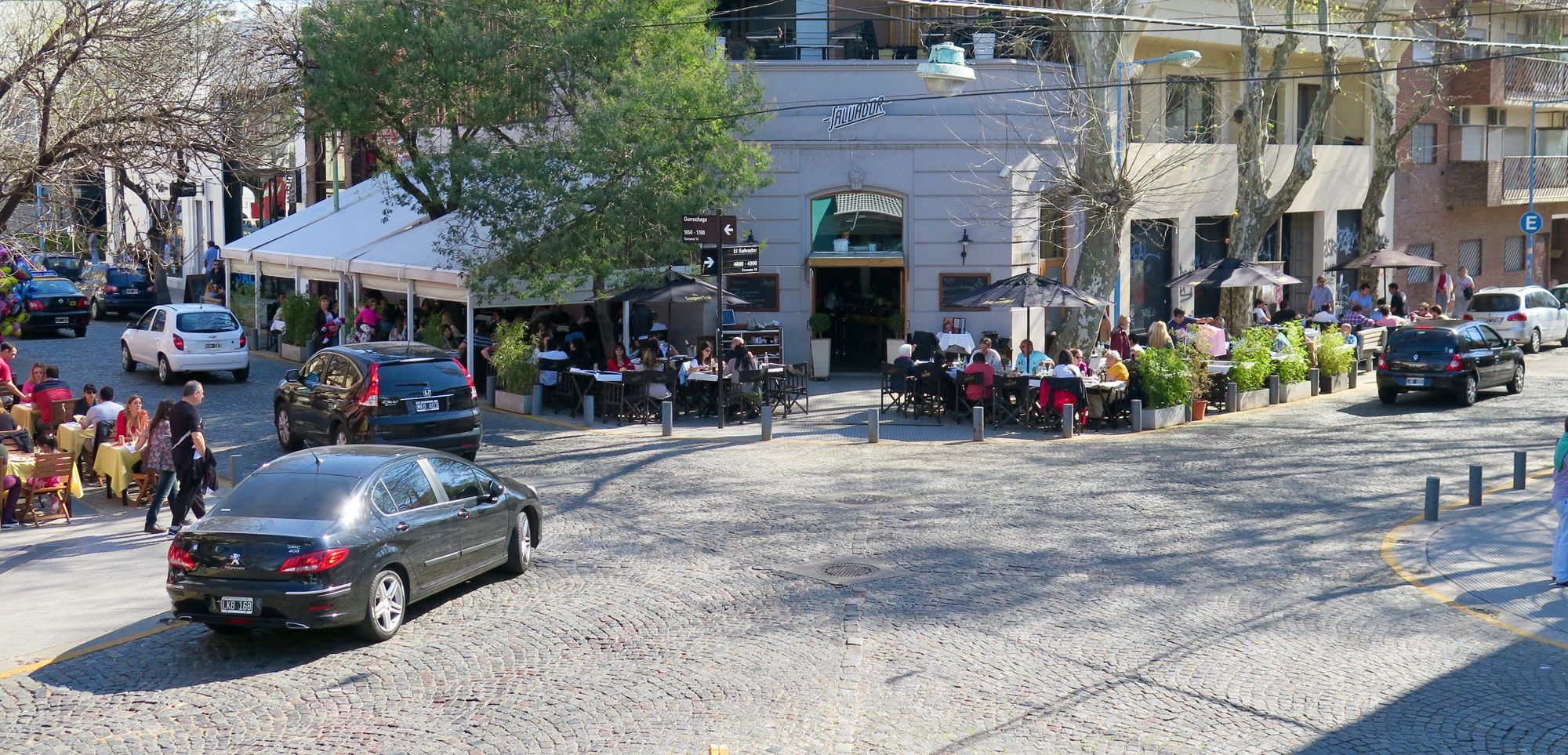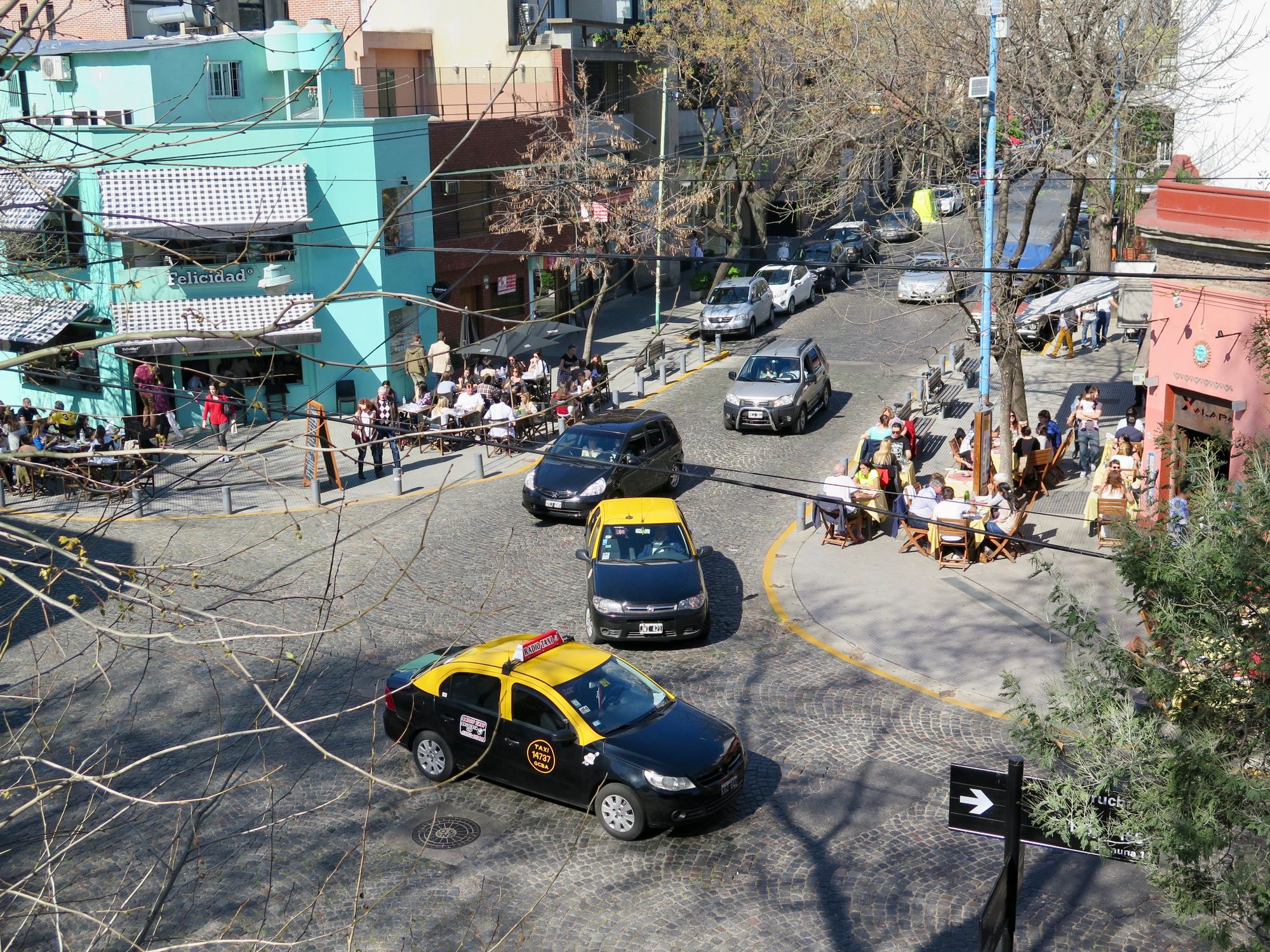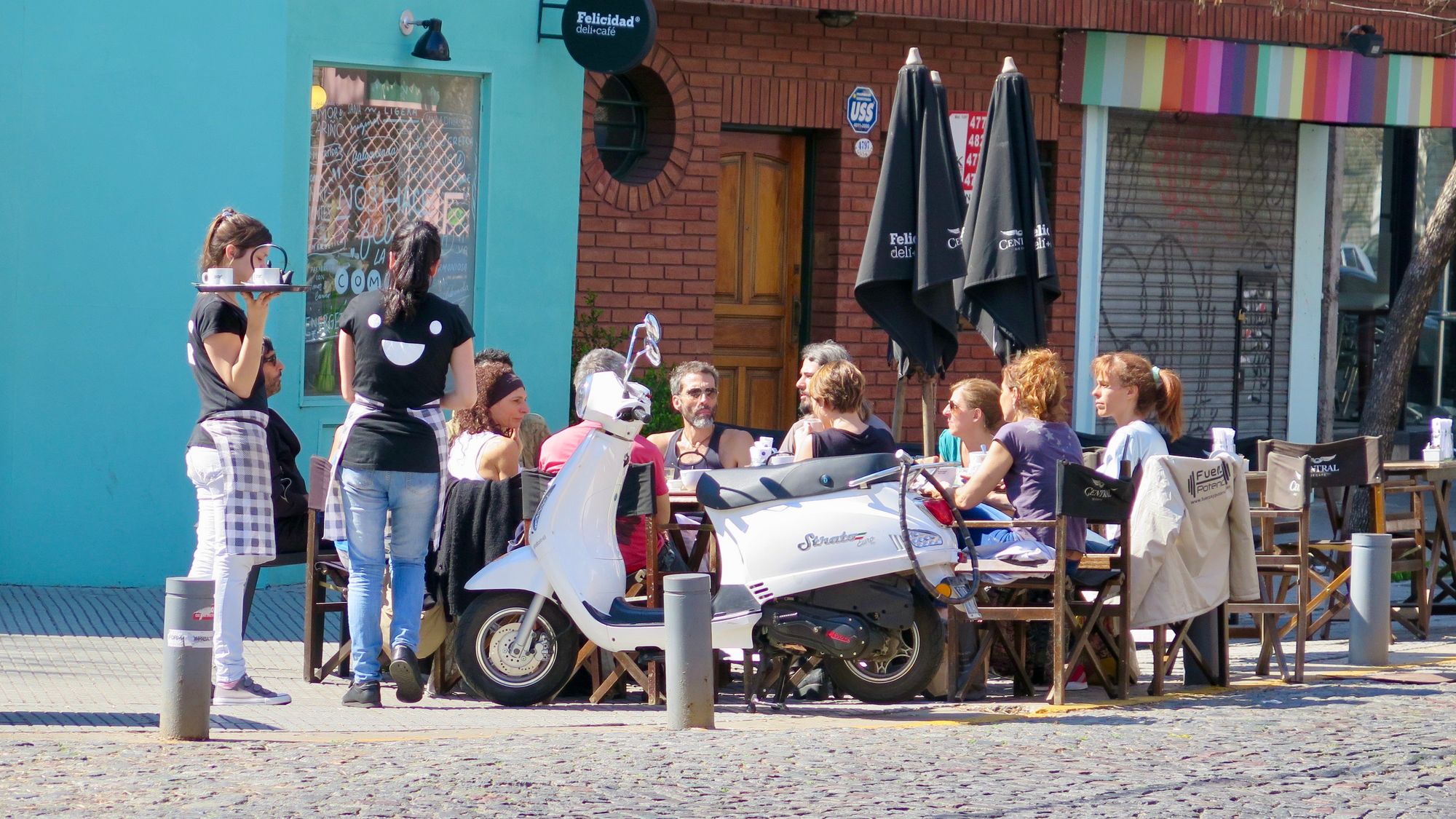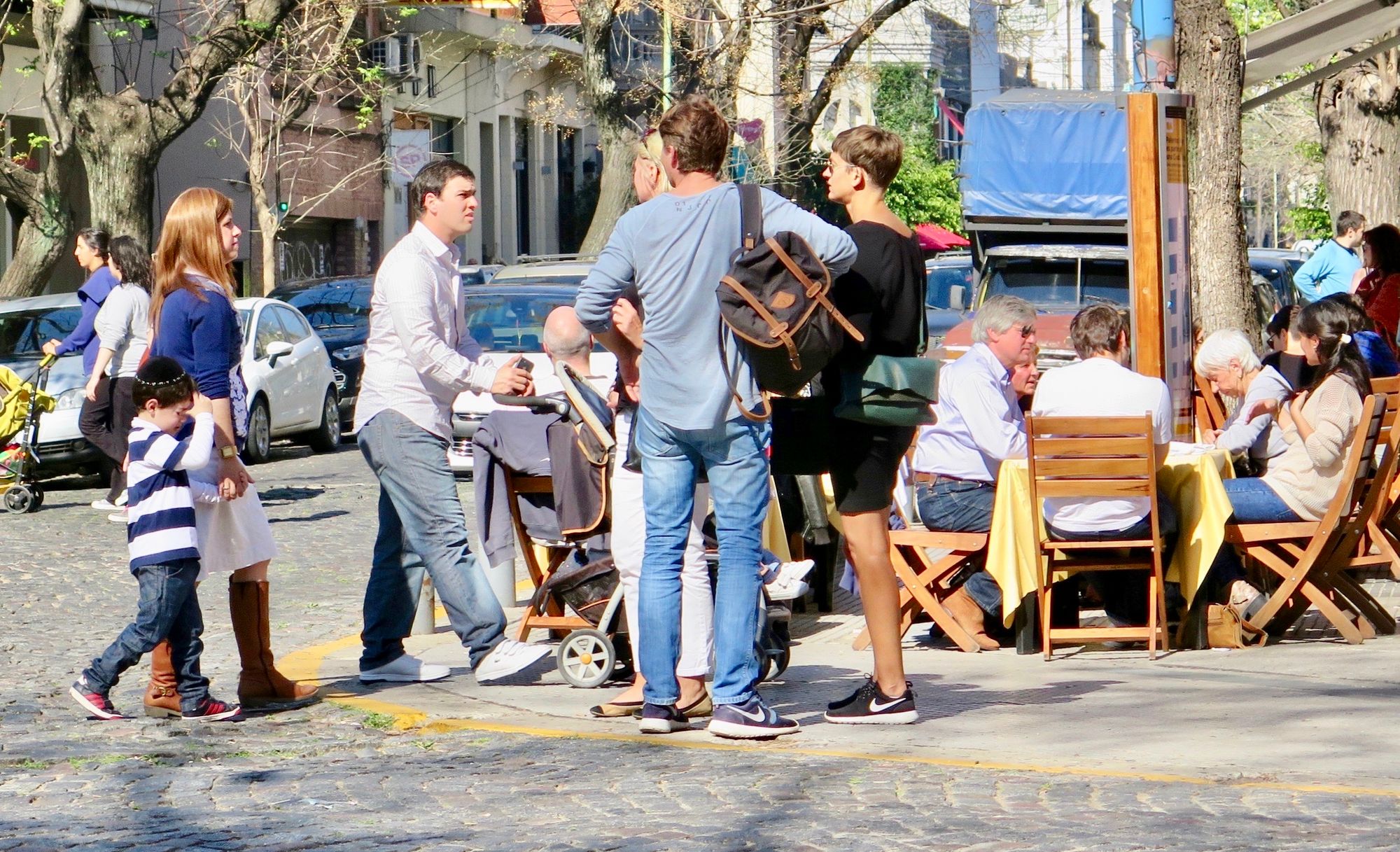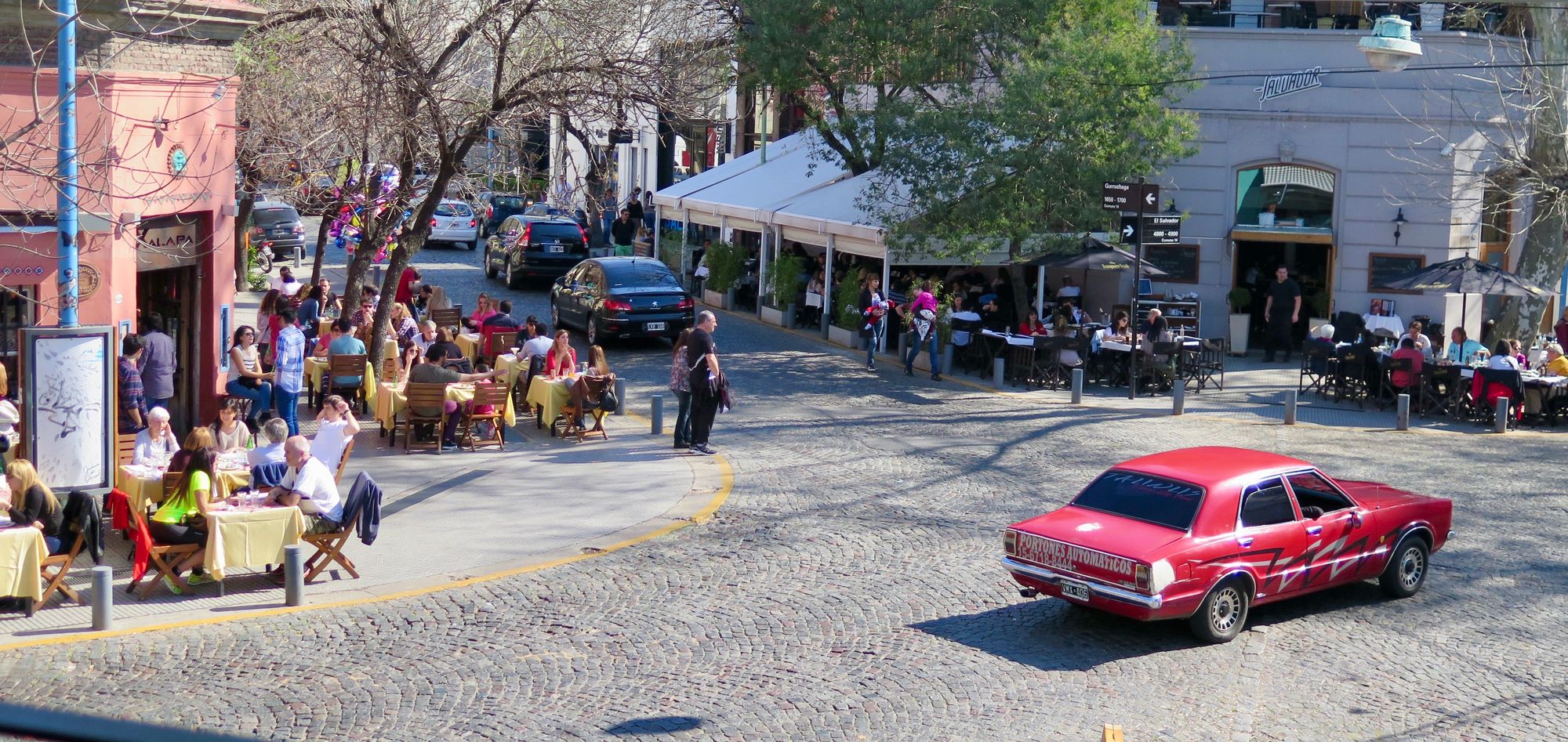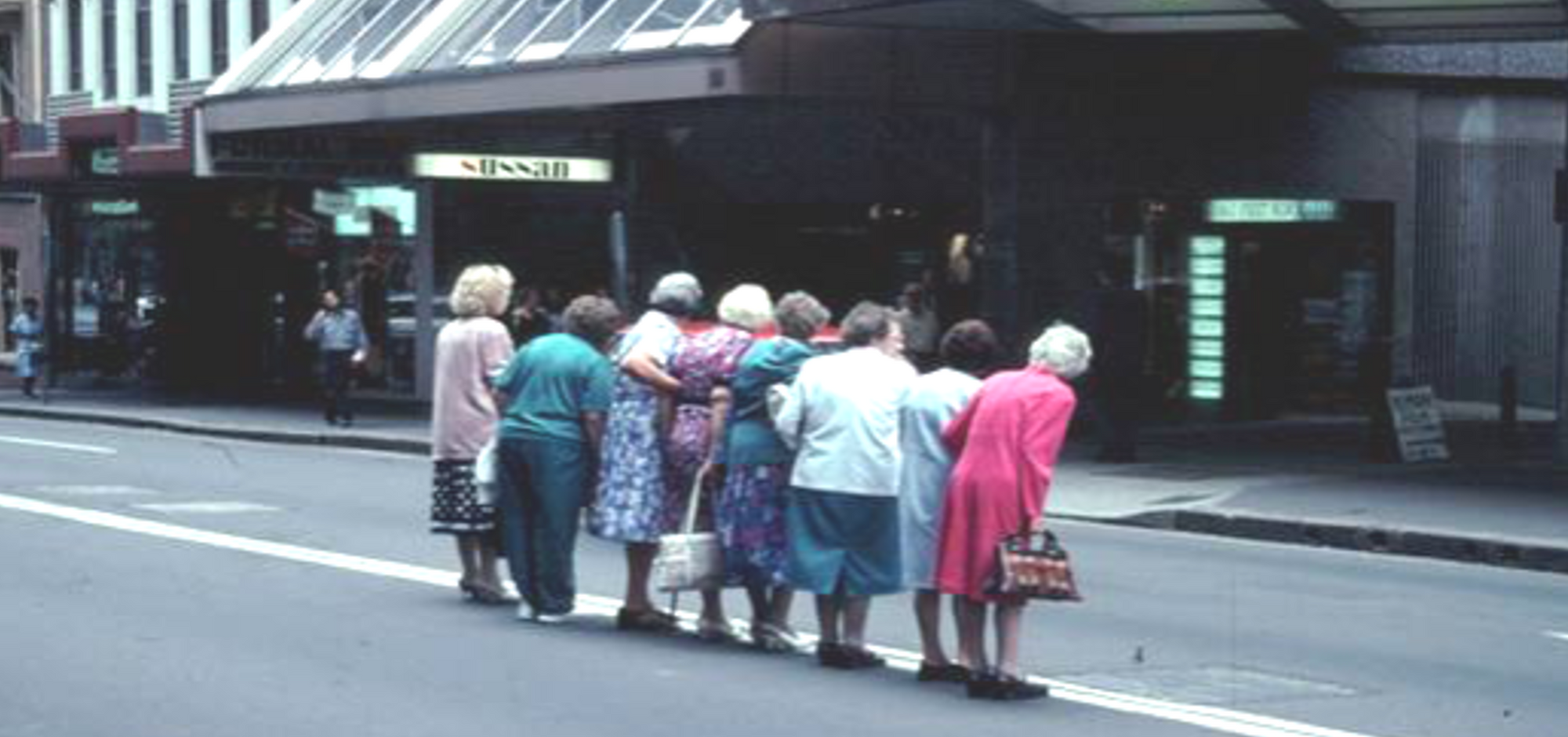 Takeaways
Every square is different and reflects its unique local culture and context. But, there are a set of basics that are the common ingredients for successful social life:
Squares are varied in size and form, but many are centered around churches, statues, or academic institutions, while the activity in others orbits around the presence of a market. They often have a focal point or anchor destination.
Squares achieve many kinds of social and economic impacts, which benefit the whole community.
Squares can be supported by architecture, benefiting from the presence of grand entrances to iconic cathedrals and city halls. These are important destinations in and of themselves, but active ground floor uses of any establishment (shops and restaurants included) often spill into the square and add a sense of life.
Markets, vending, cafes and other small-scale economic enterprises are core elements to squares. Sometimes a market is the main attraction.
Programming of special events and activities is an important part of the life of a square. In the best squares, there is always something worth seeing or doing.  
The variety of people can often speak to the wide-ranging appeal of a square. The presence of people representing different cultures, age groups, and genders is a great sign!
The best squares are constantly changing... You never know what to expect, because surprise and wonder are basic qualities of a good square.
The best squares have lots of places to sit and a wide variety of social seating.
Squares offer lots of flexibility for changing activities and uses, even when there are changes to the numbers of people visiting (e.g. seasonal).
What the best squares do not have, with (very) few exceptions, is cars or traffic. They center social activity, and prioritize safety.
For these reasons and more, public squares are epicenters of social activity in their communities. These elements are just the beginning of what makes them so vital to our daily lives.
---
The mission of the
Social Life Project
is to incite a renaissance of community connection in public spaces around the globe. Through our online publication, presentations, campaigns, and catalytic projects, we can create transformative impact on communities everywhere. Our work grows out of more than 50 years devoted to building the global placemaking movement. It is an initiative of the
Placemaking Fund
, along with
PlacemakingX
 — a global network of leaders who together accelerate placemaking as a way to create healthy, inclusive, and beloved communities. We gladly accept
donations
to advance our work.