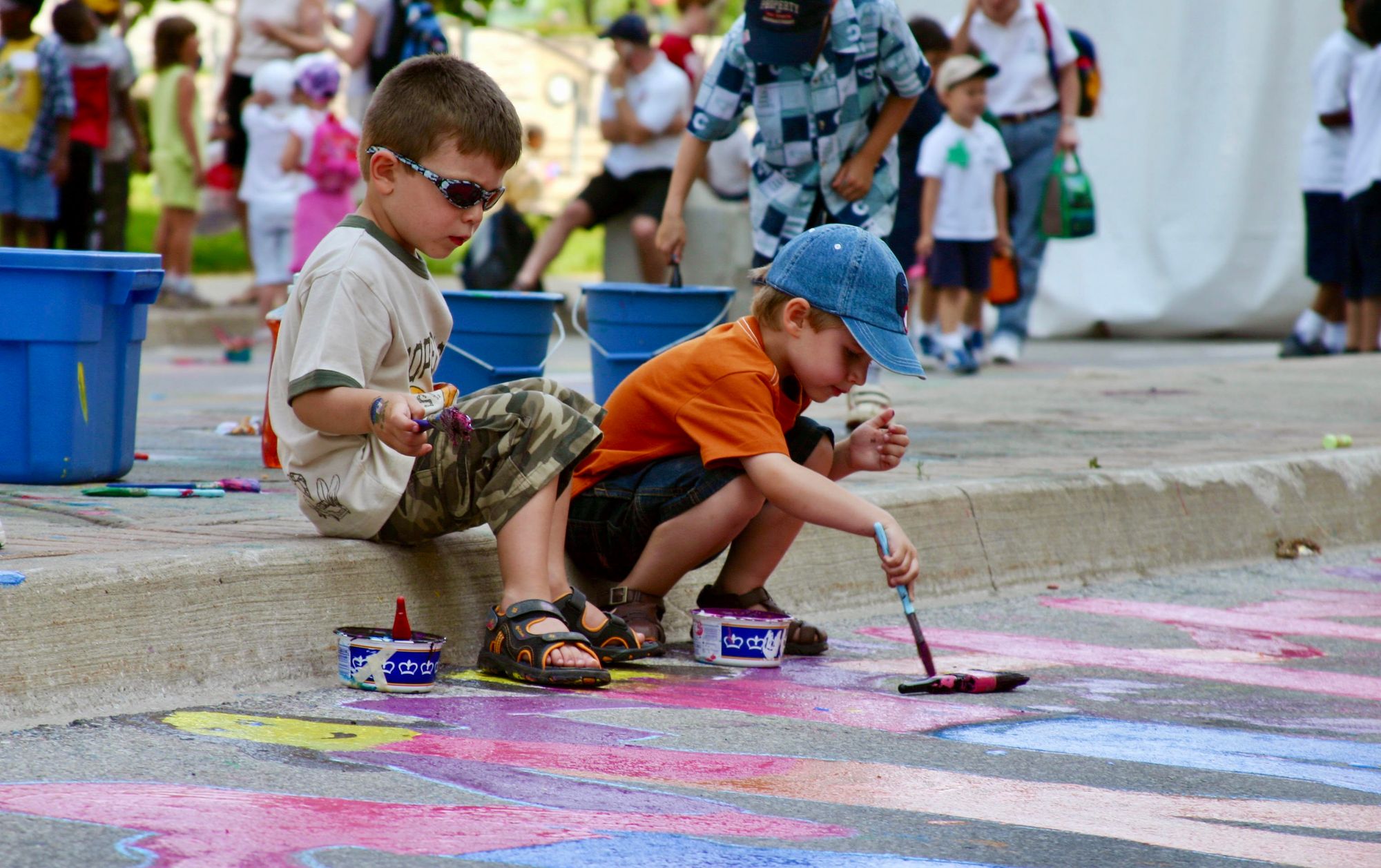 Children are uninhibited and full of curiosity as they explore their surroundings. They bring life to both likely and unlikely places, spreading joy wherever they go.
Kid-Friendly Places Around the World
It takes very little for a child to want to explore – they love to climb, run, dig, swing, hide... and this enthusiasm for life affects everyone in their vicinity. Kids bring soul into public places, and public spaces where kids thrive are great for people of all ages.
The Appeal of Water is Universal  
Proximity to water is a surefire way to make a place more fun for young visitors. Three of the best waterfronts for kids include: Granville Island in Vancouver; South Bank in Brisbane; the water feature in Chicago's Millennium Park; the Paris Plage; Vail, Colorado; Havana, Cuba; Aspen, Colorado; and more.
Granville Island, Vancouver, Canada
The water park in Granville Island in Vancouver is one of the best we have seen. Its many features and different spaces make it dynamic and varied, and provide space for guardians to look on as kids play.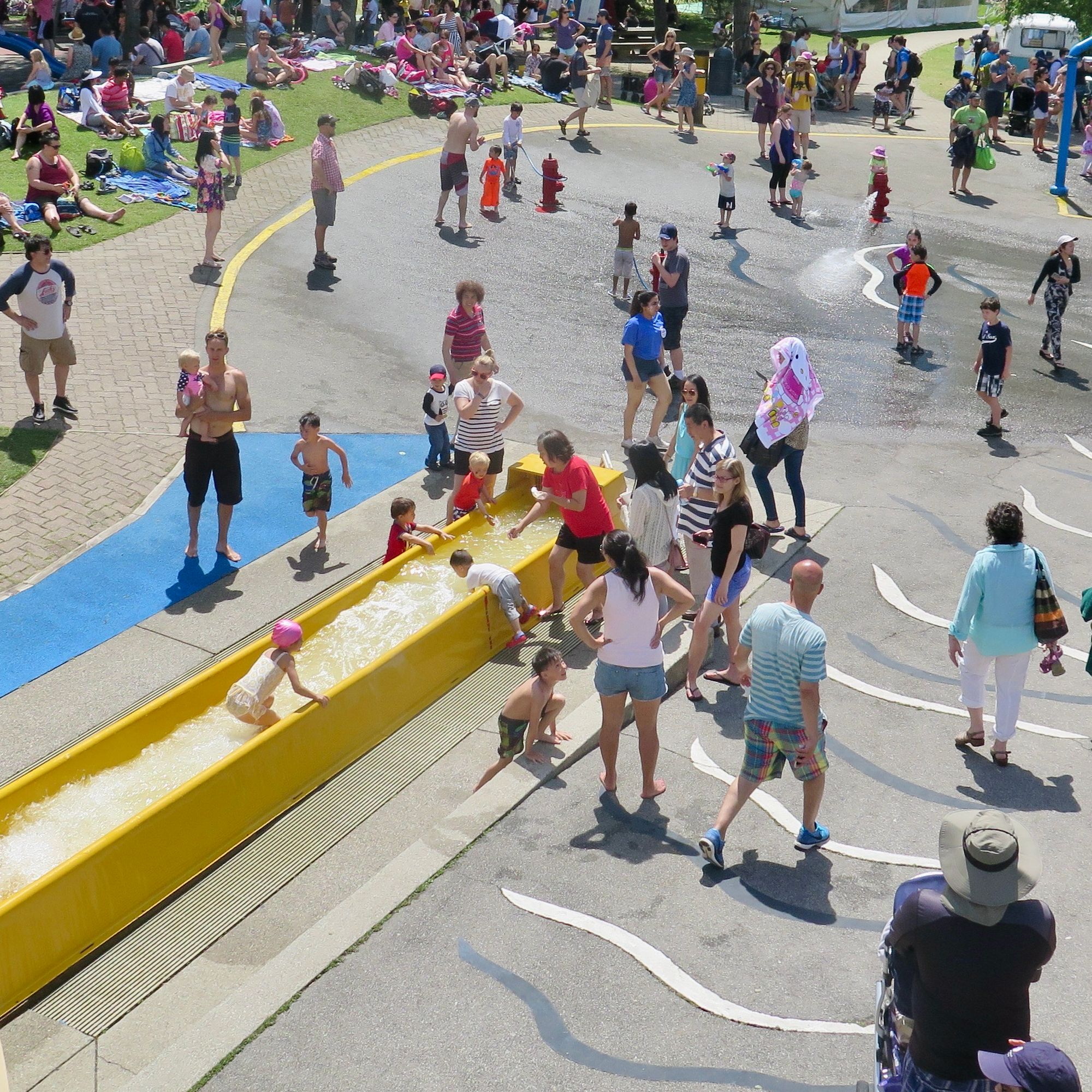 South Bank, Brisbane, Australia
Brisbane mixes together swimming areas, beaches, and splash areas, which ensures that children of many ages have ways to engage. Shade is also plentiful on South Bank, which makes it comfortable for longer stays.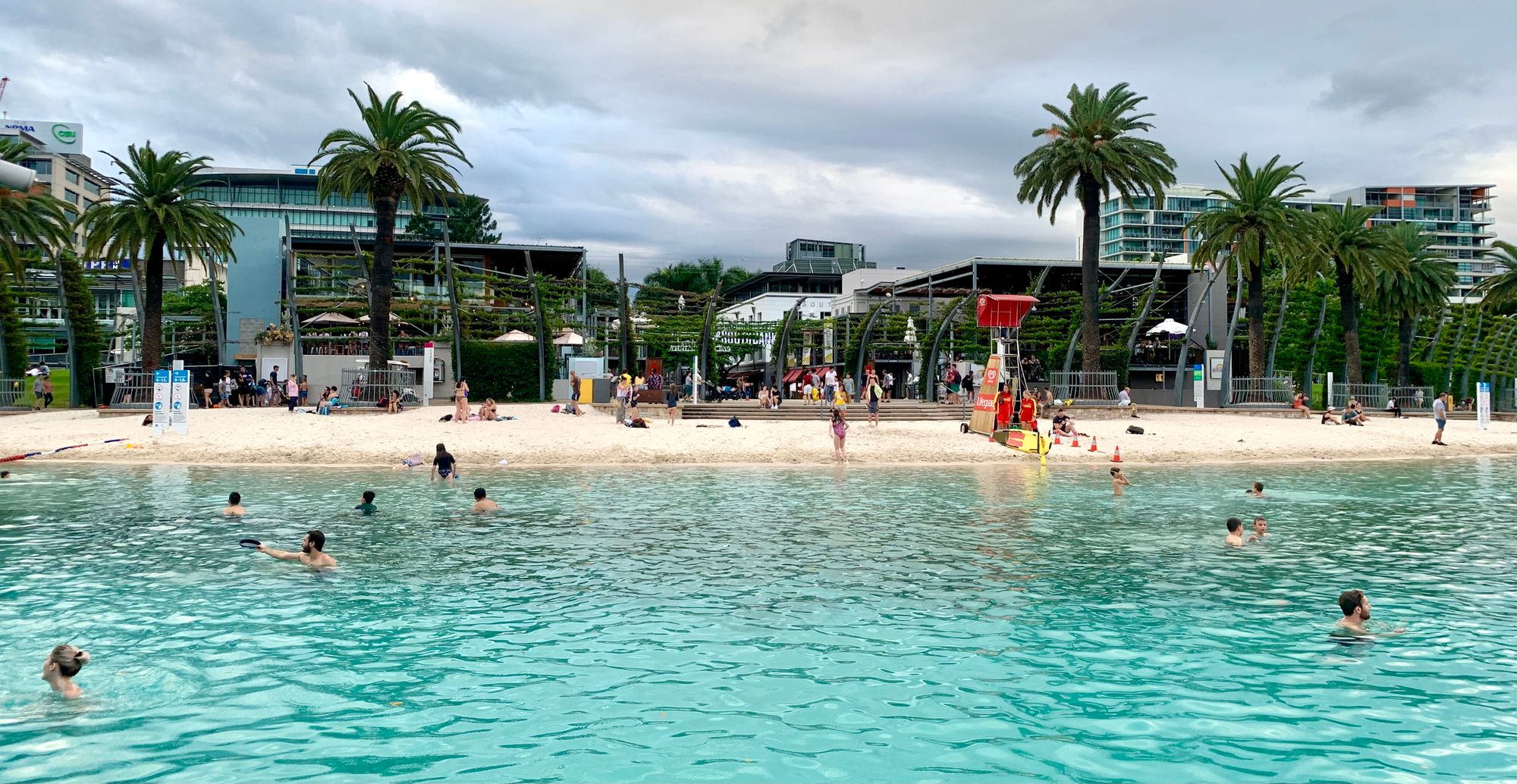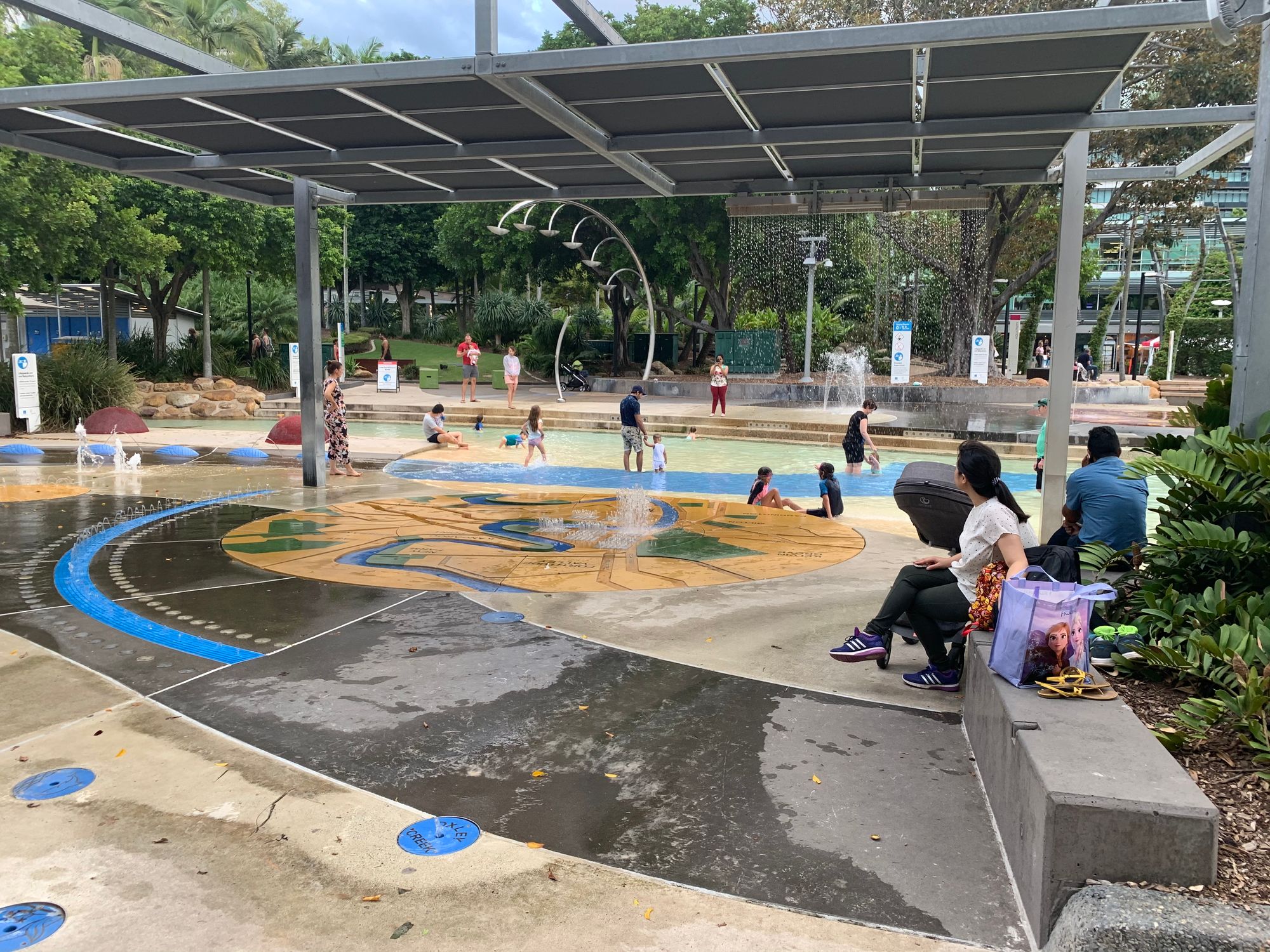 Millenium Park, Chicago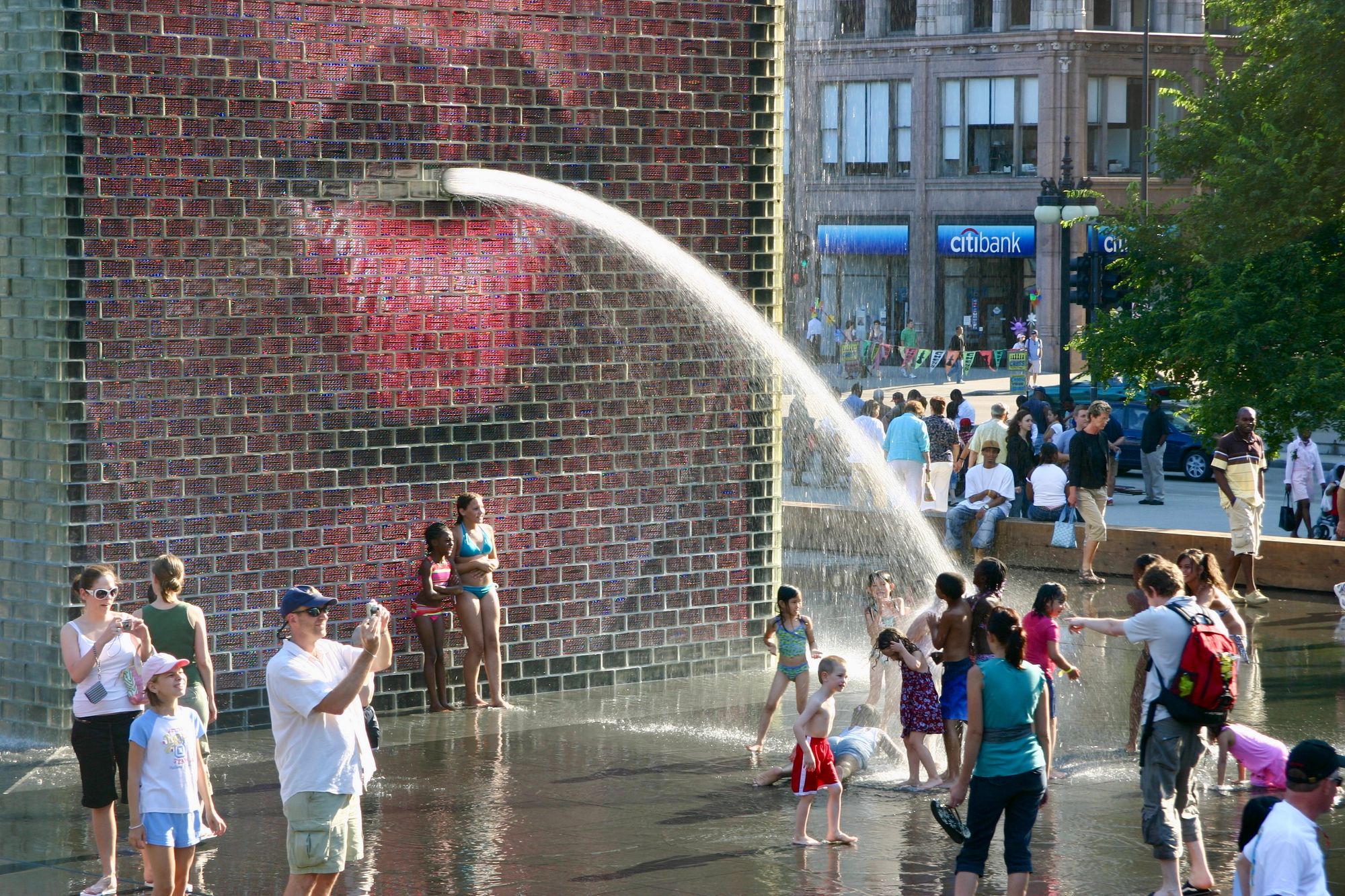 Paris Plage, Paris
Paris is a city full of kid-friendly places. One that we've written about extensively is the Paris Plage, which clusters many destinations together and makes water-based activities plentiful, from misting areas to boats.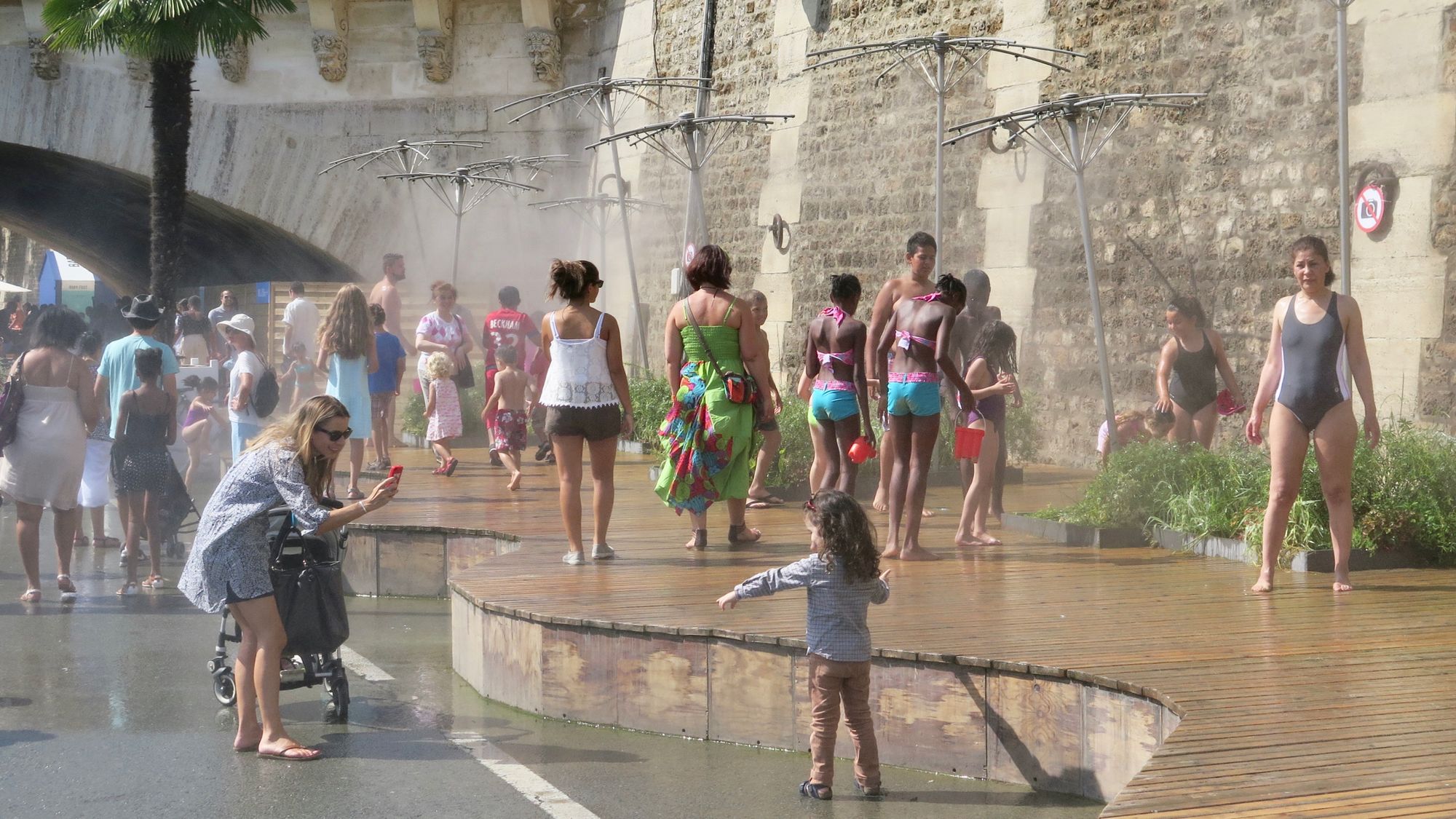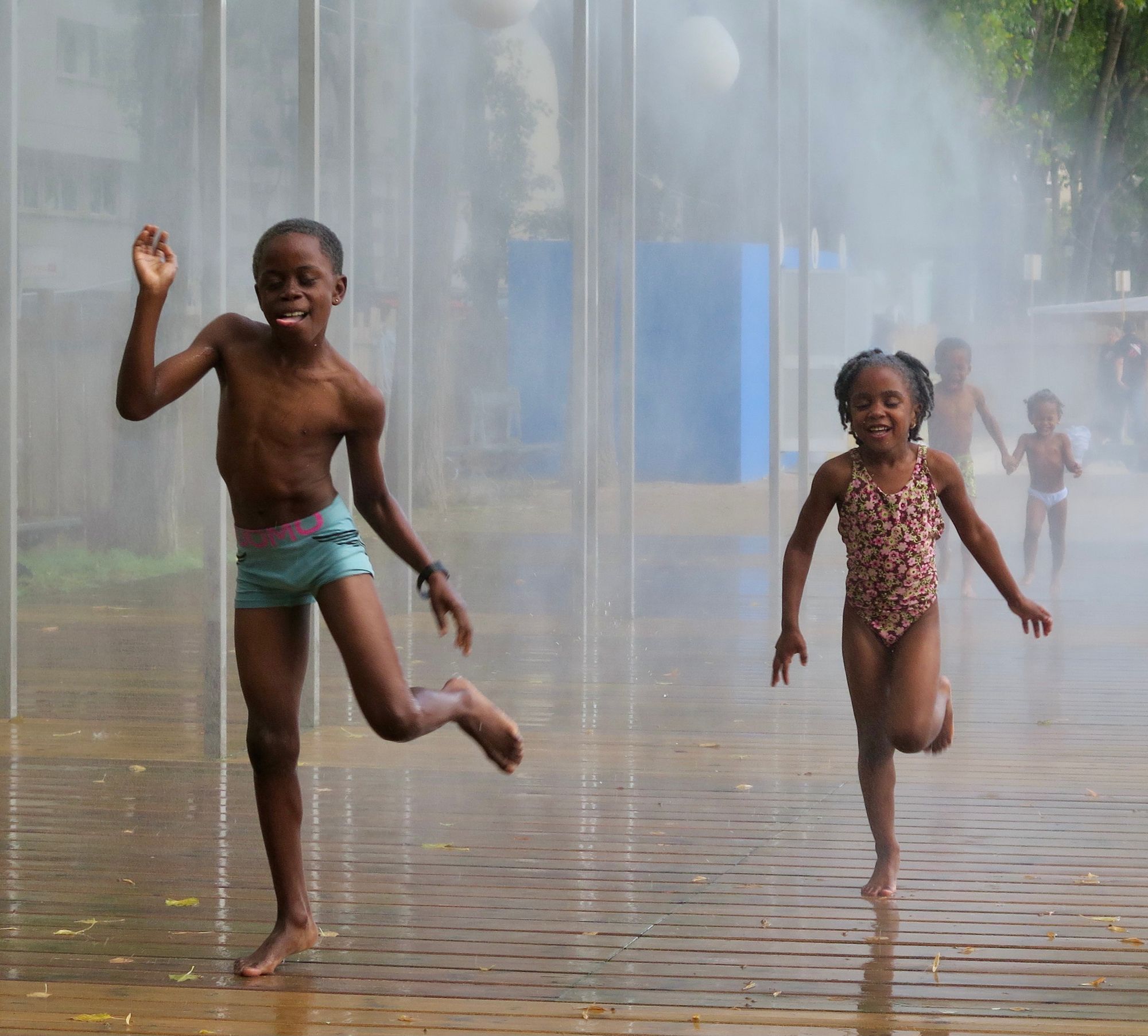 Vail, Colorado  
Vail, Colorado's central water feature and sculpture create perfect places for kids to splash around and climb – right in the center of town.
Beyond these examples, fountains and ponds in public spaces worldwide are also  great water features that kids love.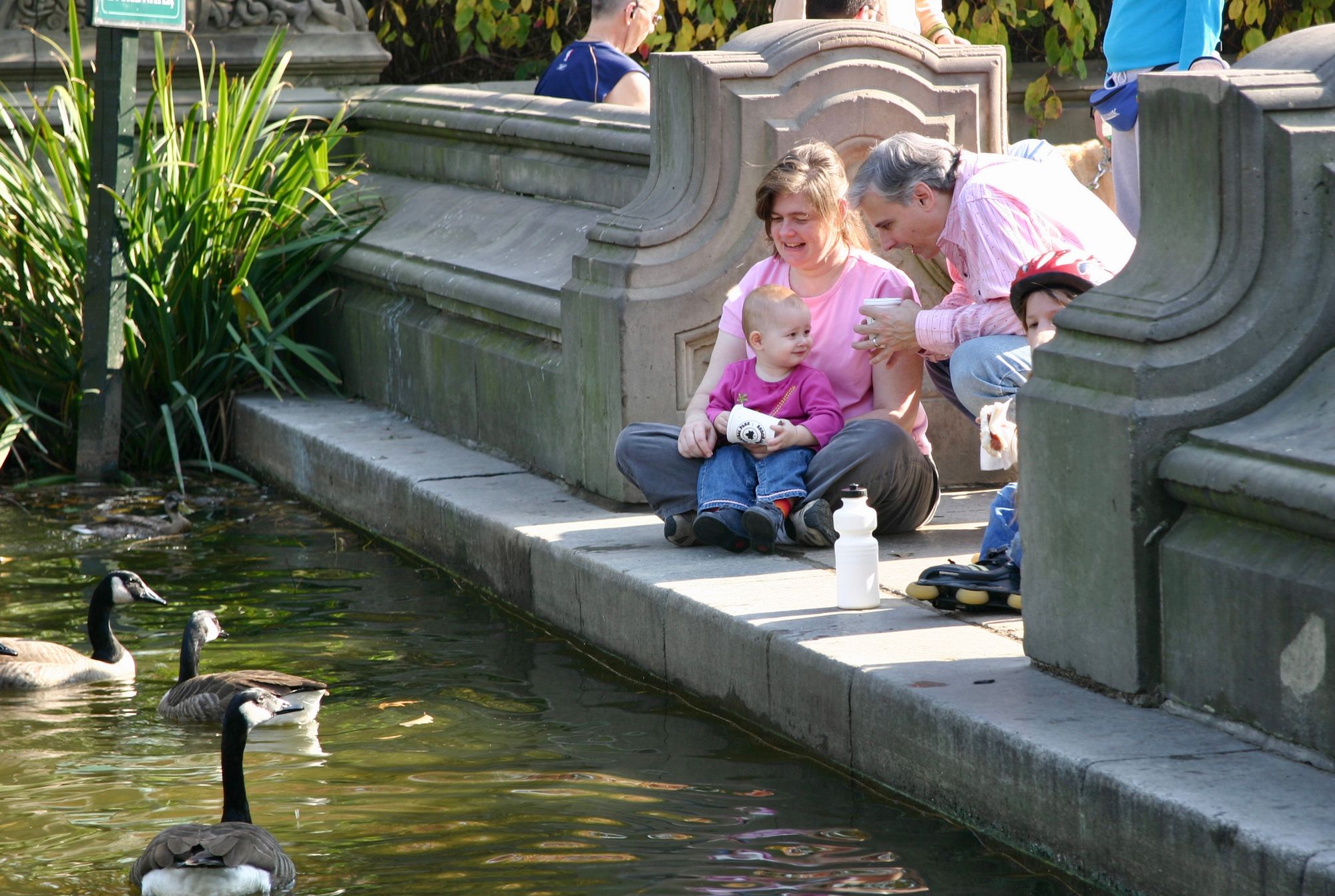 Games
Free activities like games bring people of all ages together for some friendly competition. Paris Plage is a great example of this, with checkers, chess, foosball tables, and a place to sit down and play!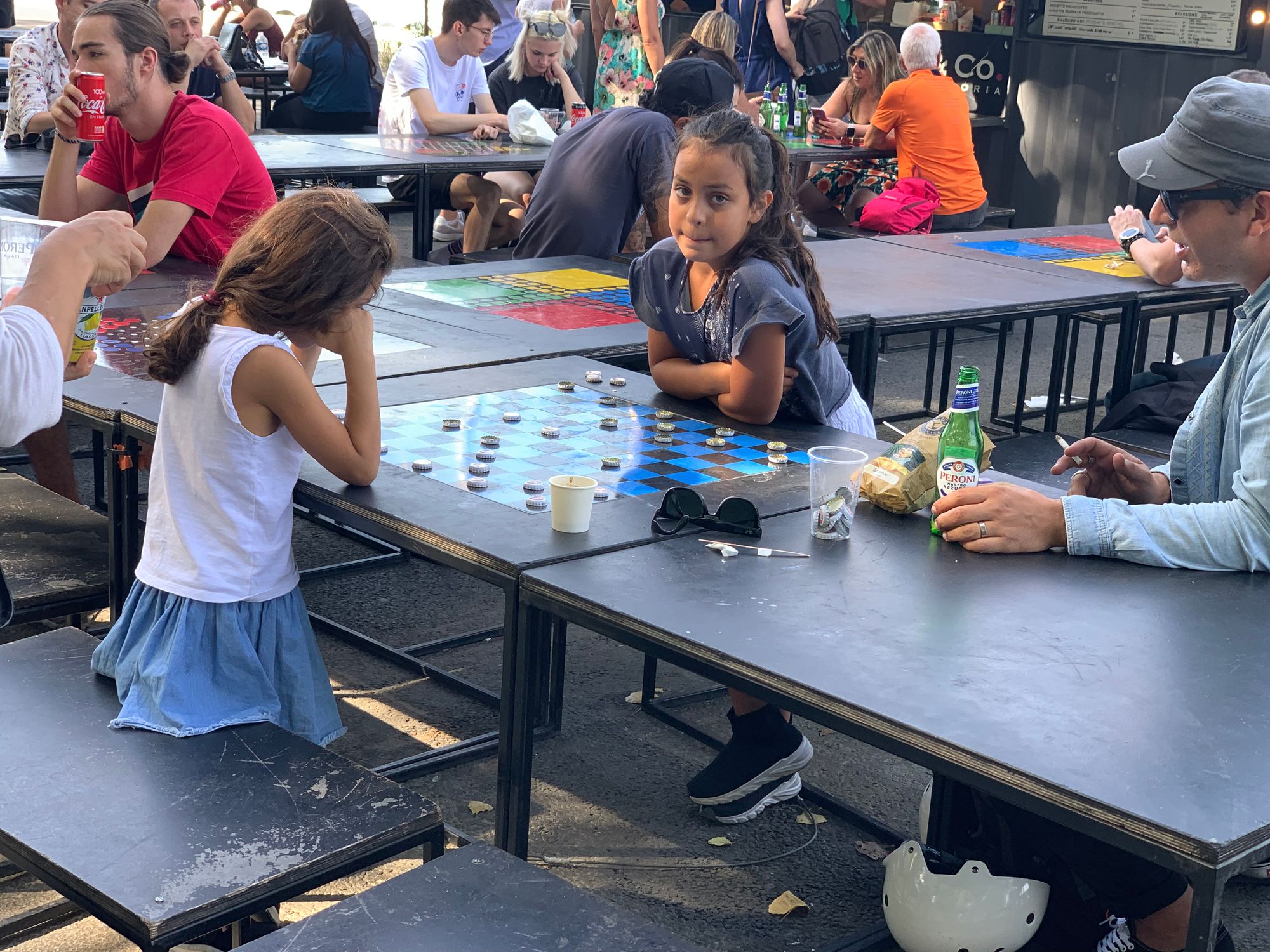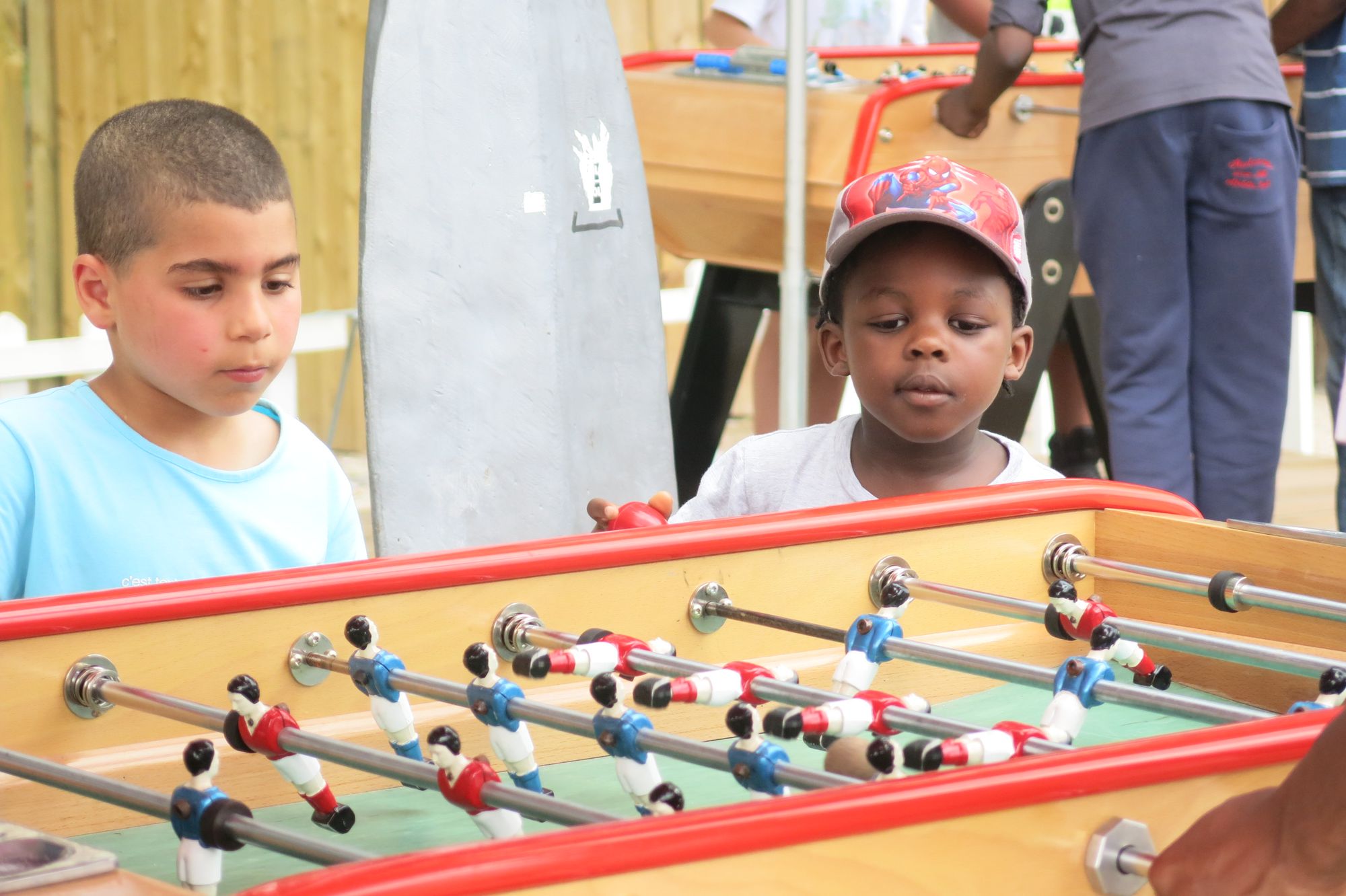 Space to Roam Freely
Though perhaps it seems intuitive, something that kids need is space in which they can move around safely. Without this, the opportunity to explore is severely limited.
One setup that works especially well is what we call a double-loaded sidewalk – one which has things to see and do on both sides – provides a safe haven for small children by protecting them from the street while they play and explore.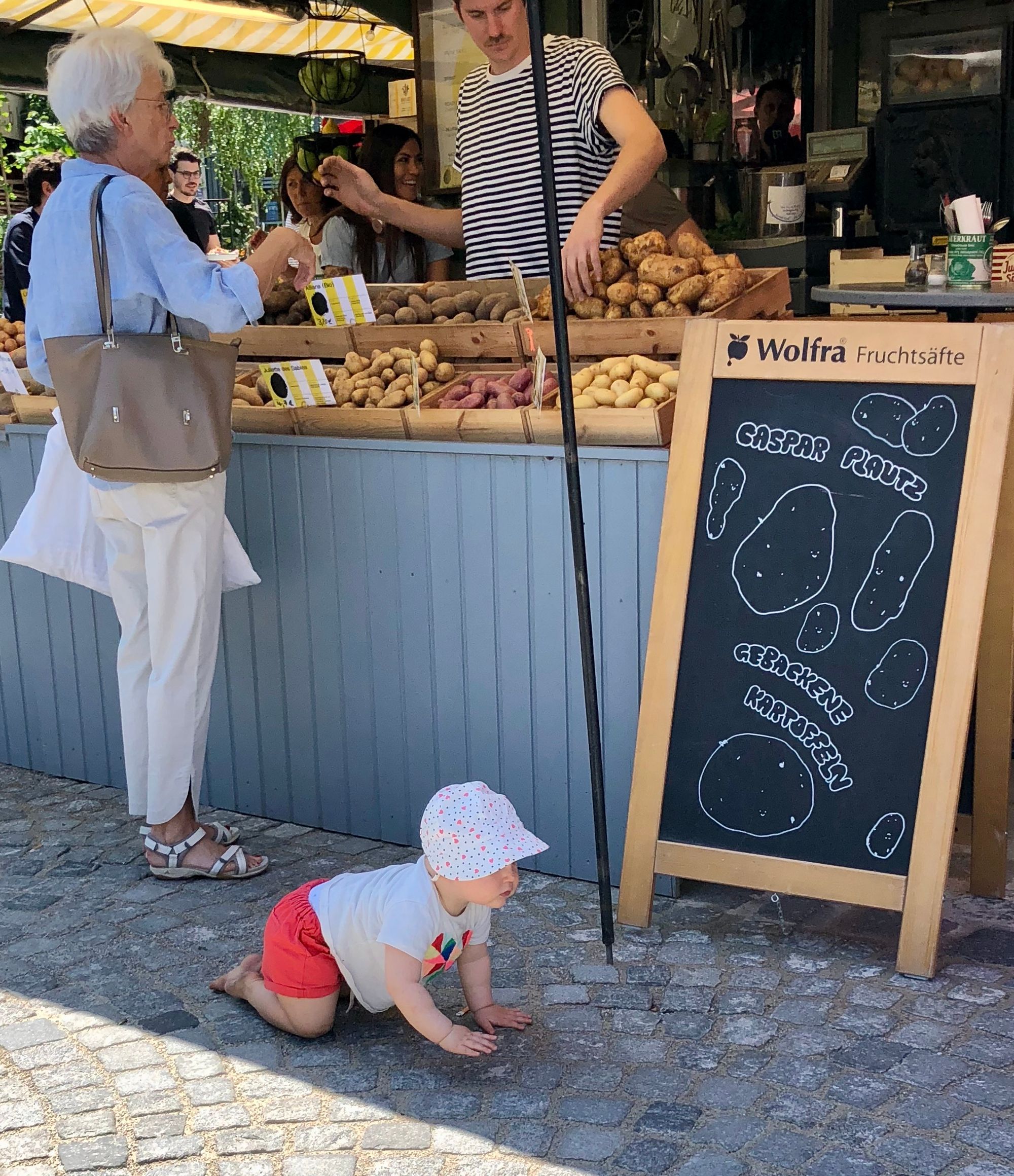 Havana, Cuba
On the streets and sidewalks in Cuba and most cities in developing countries, wonderful examples of children's imagination and creativity can be found because narrow or carless streets provide safe places, often right in front of where they live.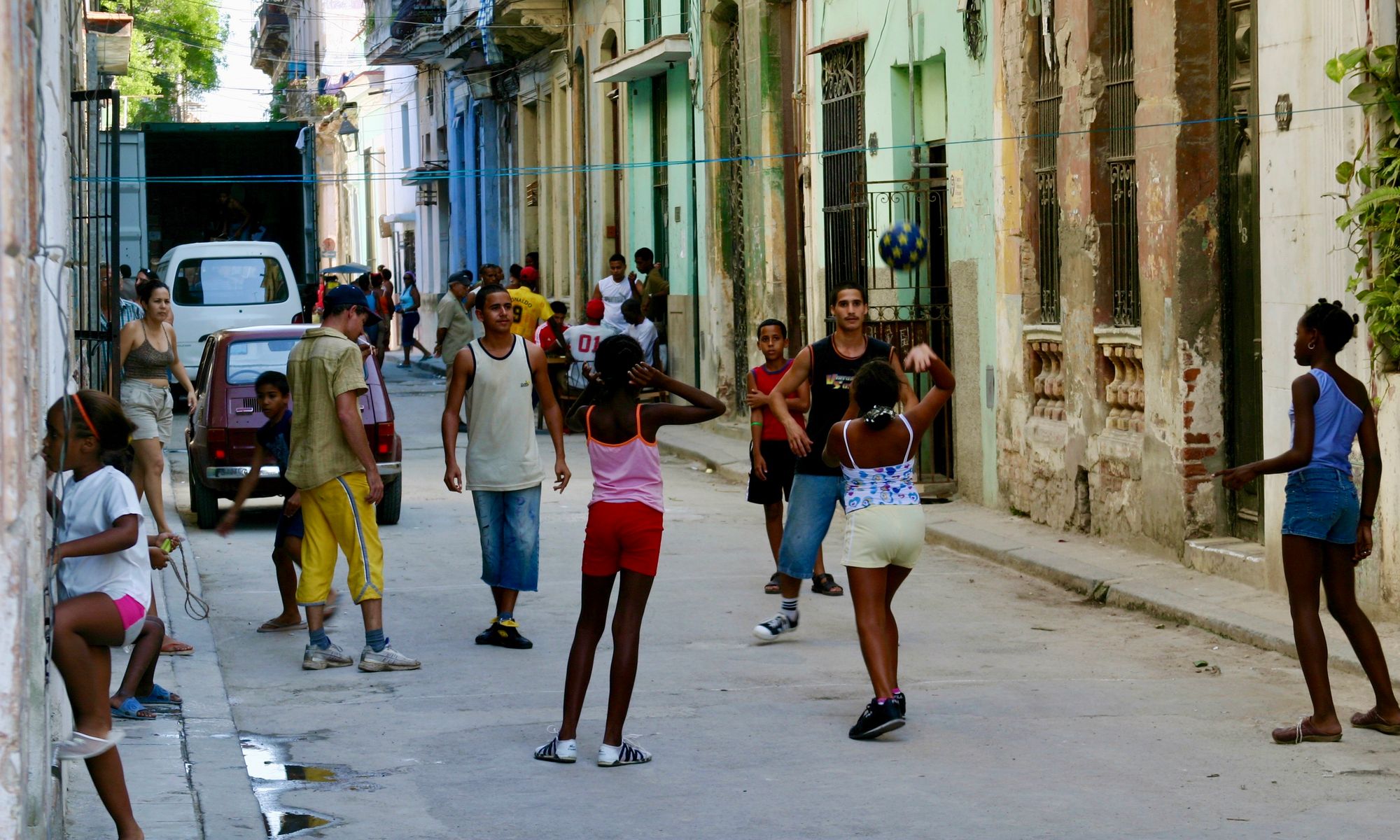 Play Spaces in Aspen, Colorado
Unique play structures like these below help nurture children's adventurous spirit.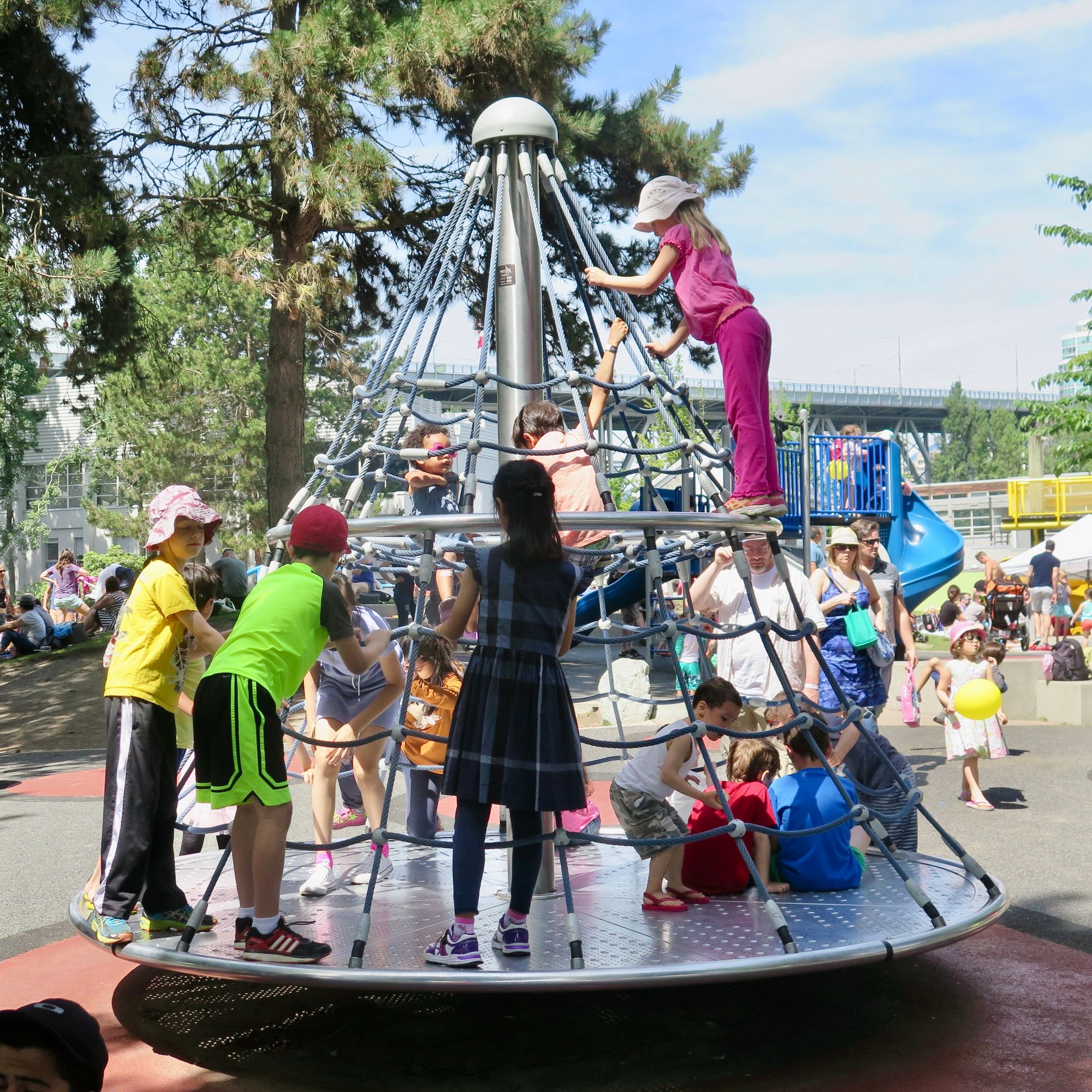 Creative Spaces
These blackboards on the Paris waterfront offer everyone a chance to create their own art and "decorate" their city. Though more passive than the other examples, this also provides a sort of safe space for children to be expressive, work with art materials, and leave a mark on their city.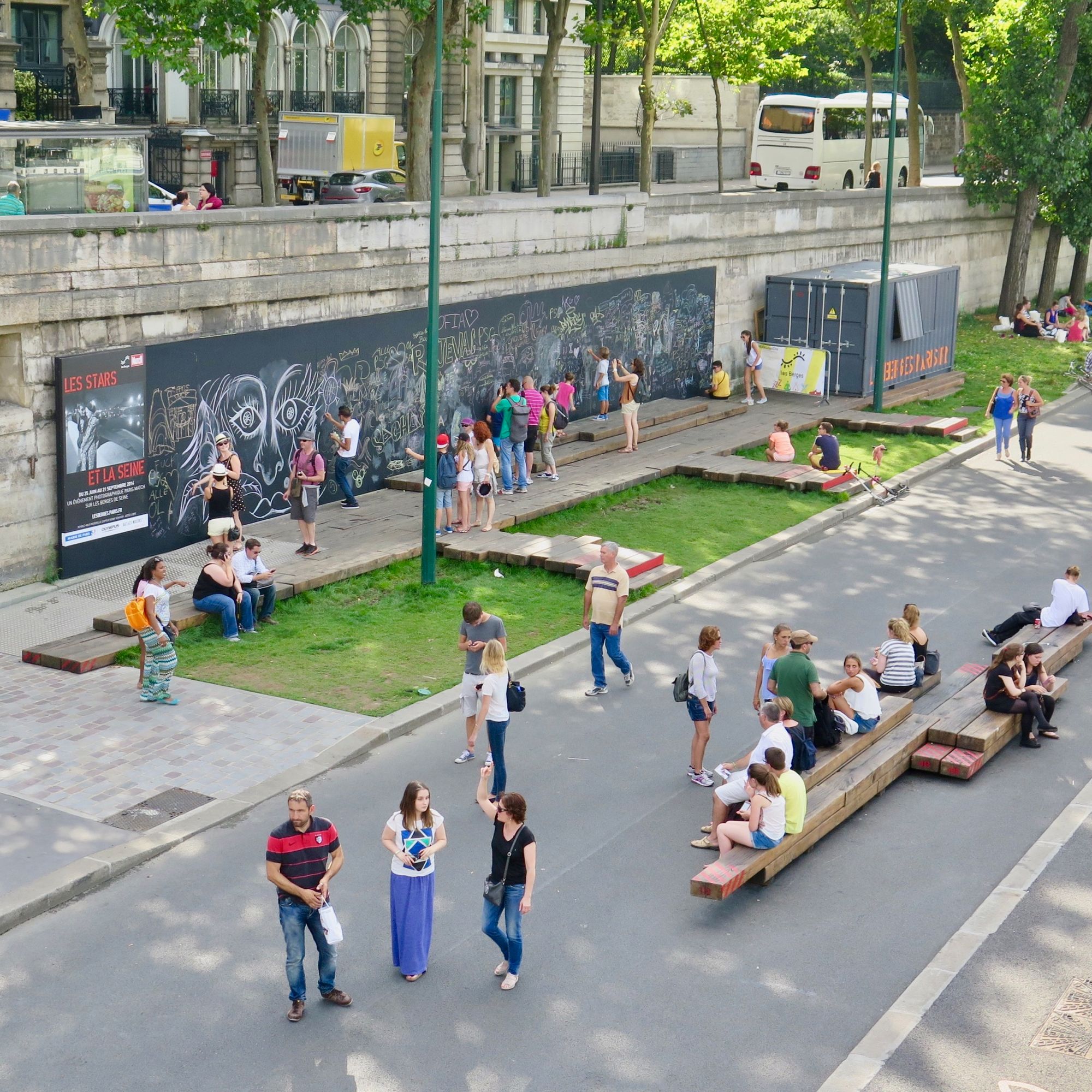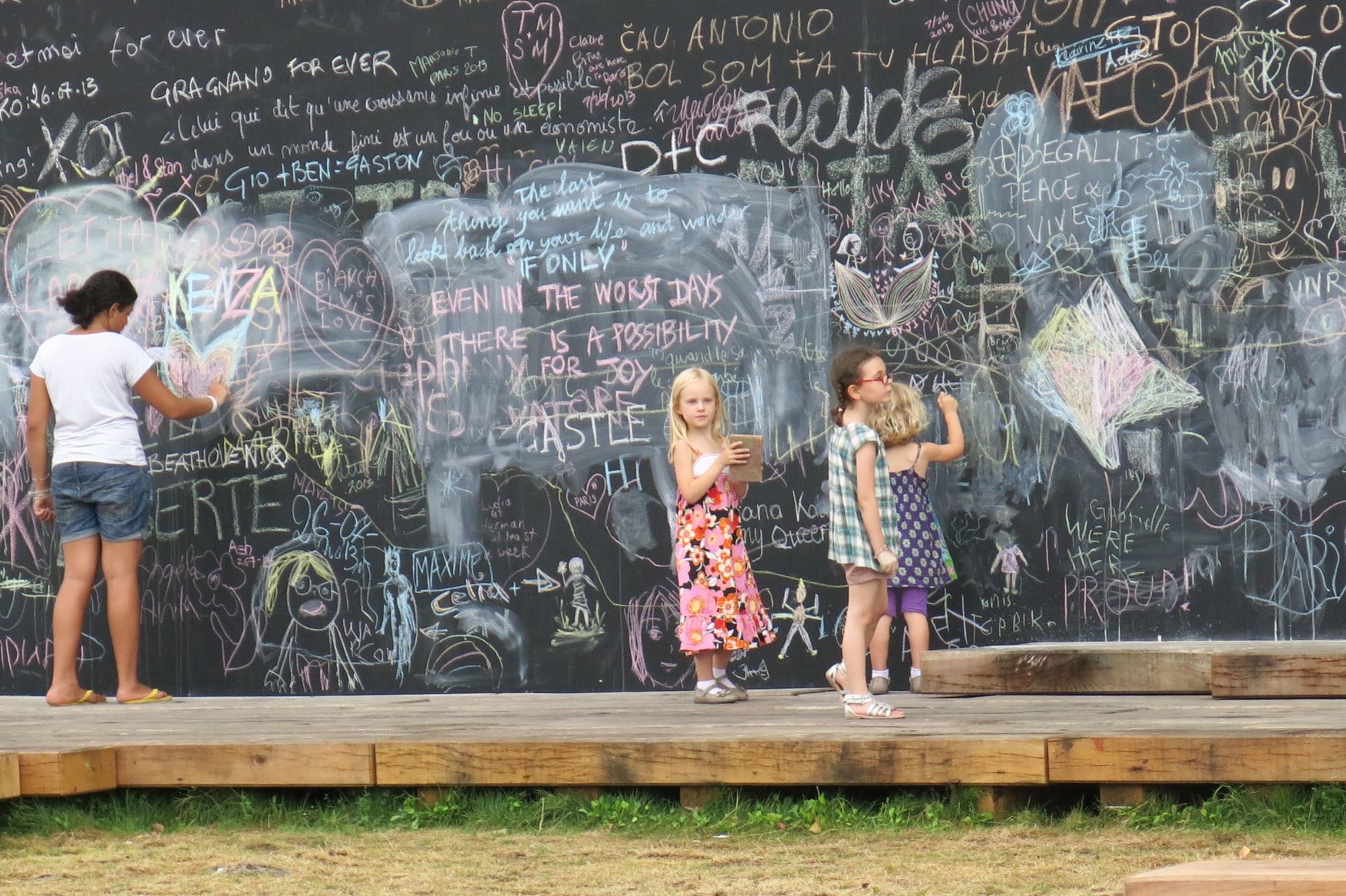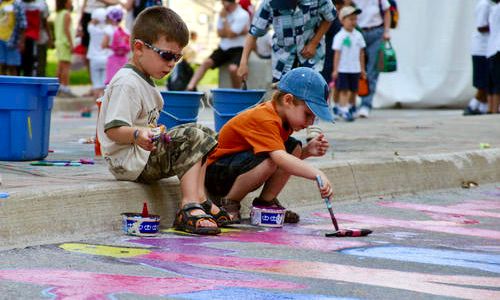 A place for quiet talk or reflection
Places that welcome kids to just sit and chat allow an opportunity to rest between rounds of play.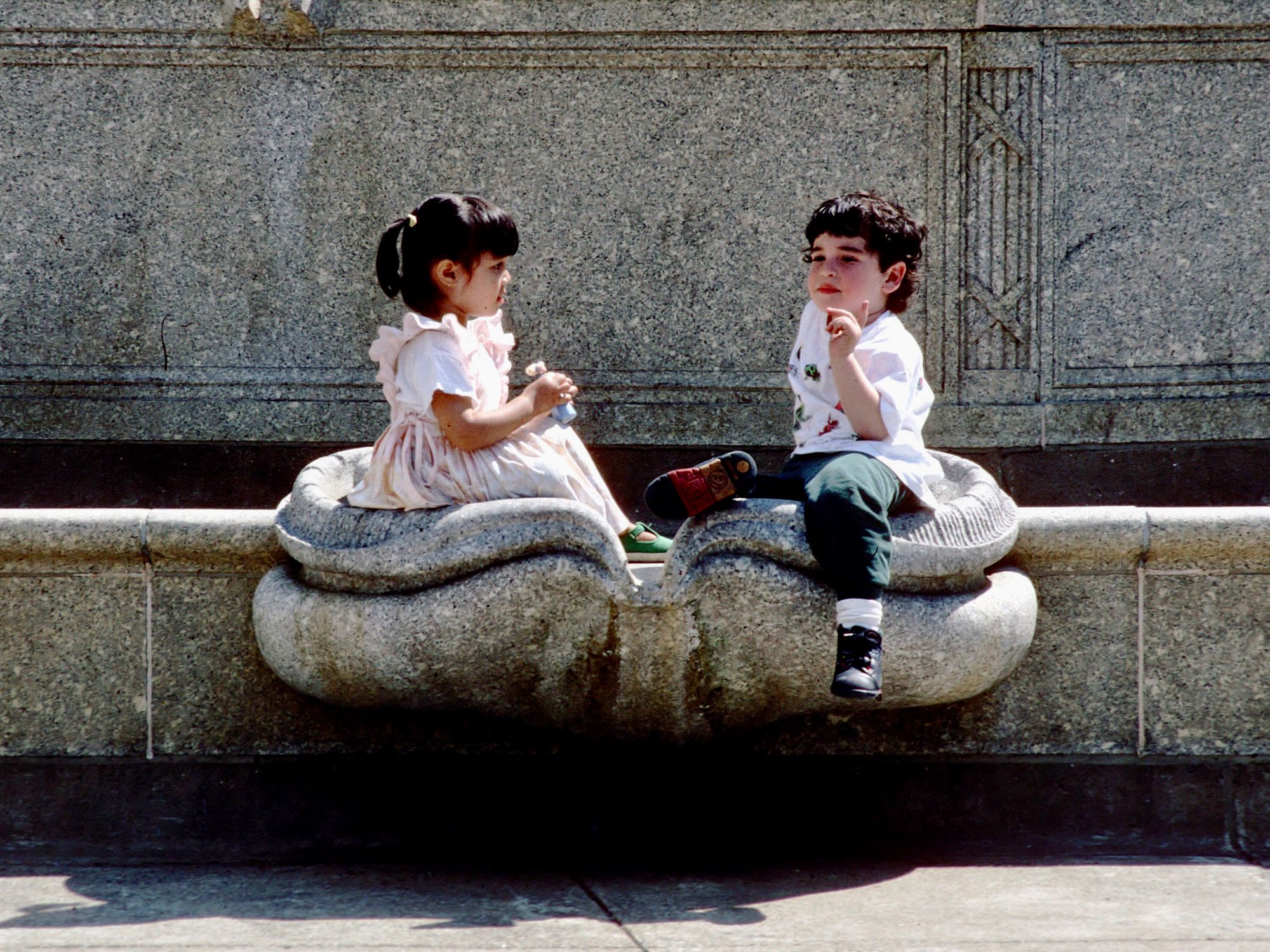 Something Unique, Like a Sandy Beach
Detroit's "beach" in the center of the city is full of wonder and opportunities for fun. For first-time visitors especially, it is an unexpected, playful environment.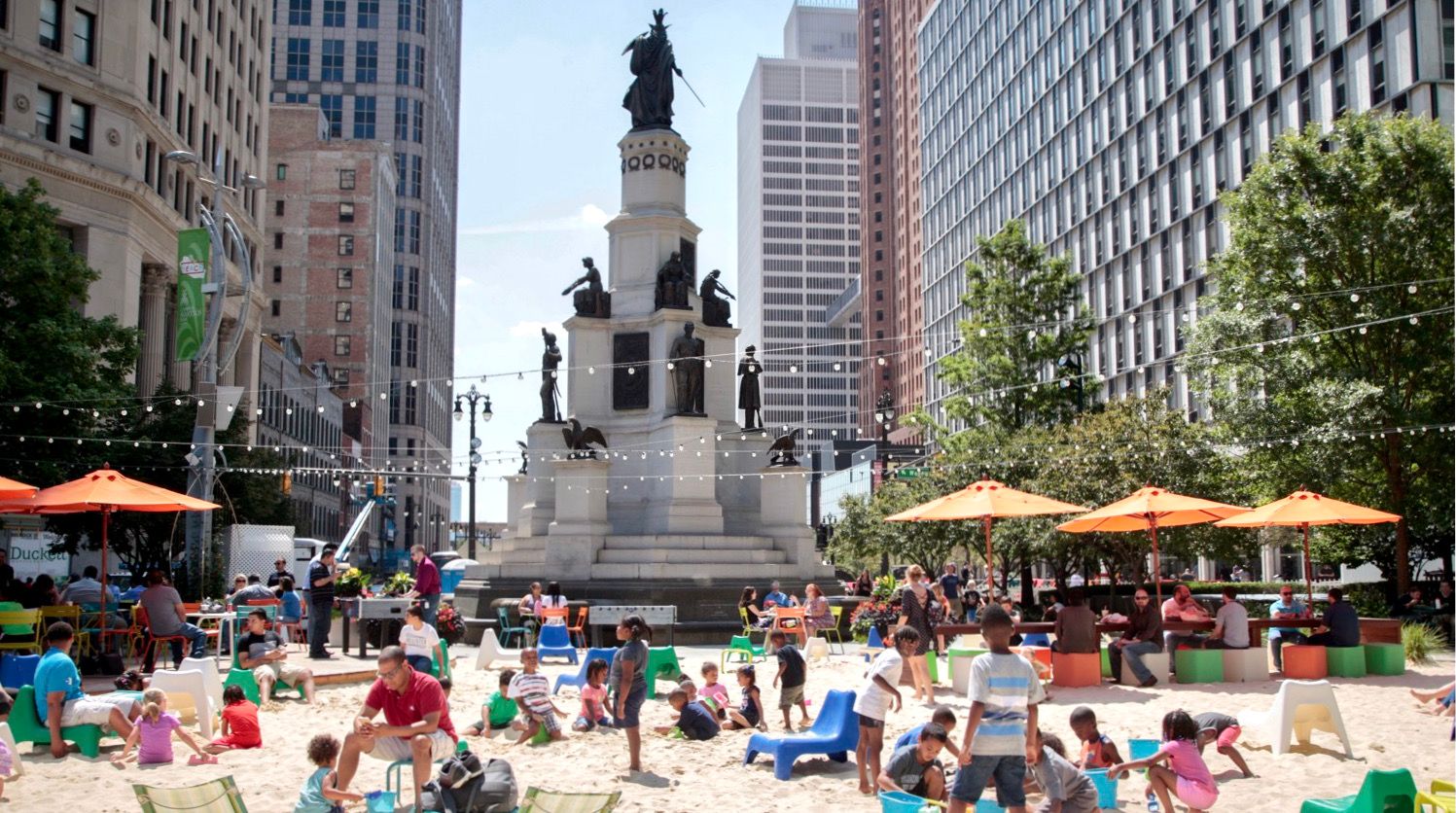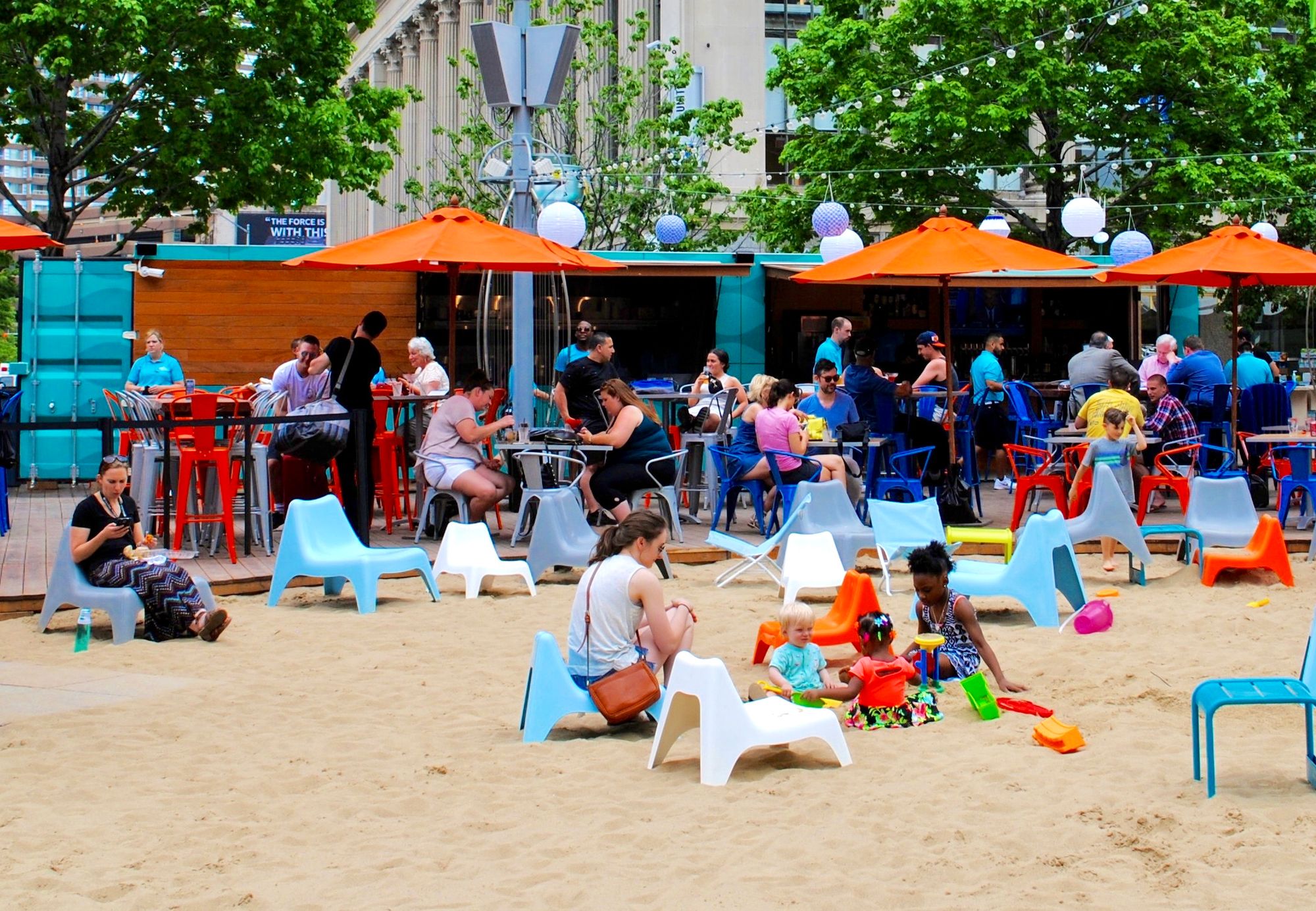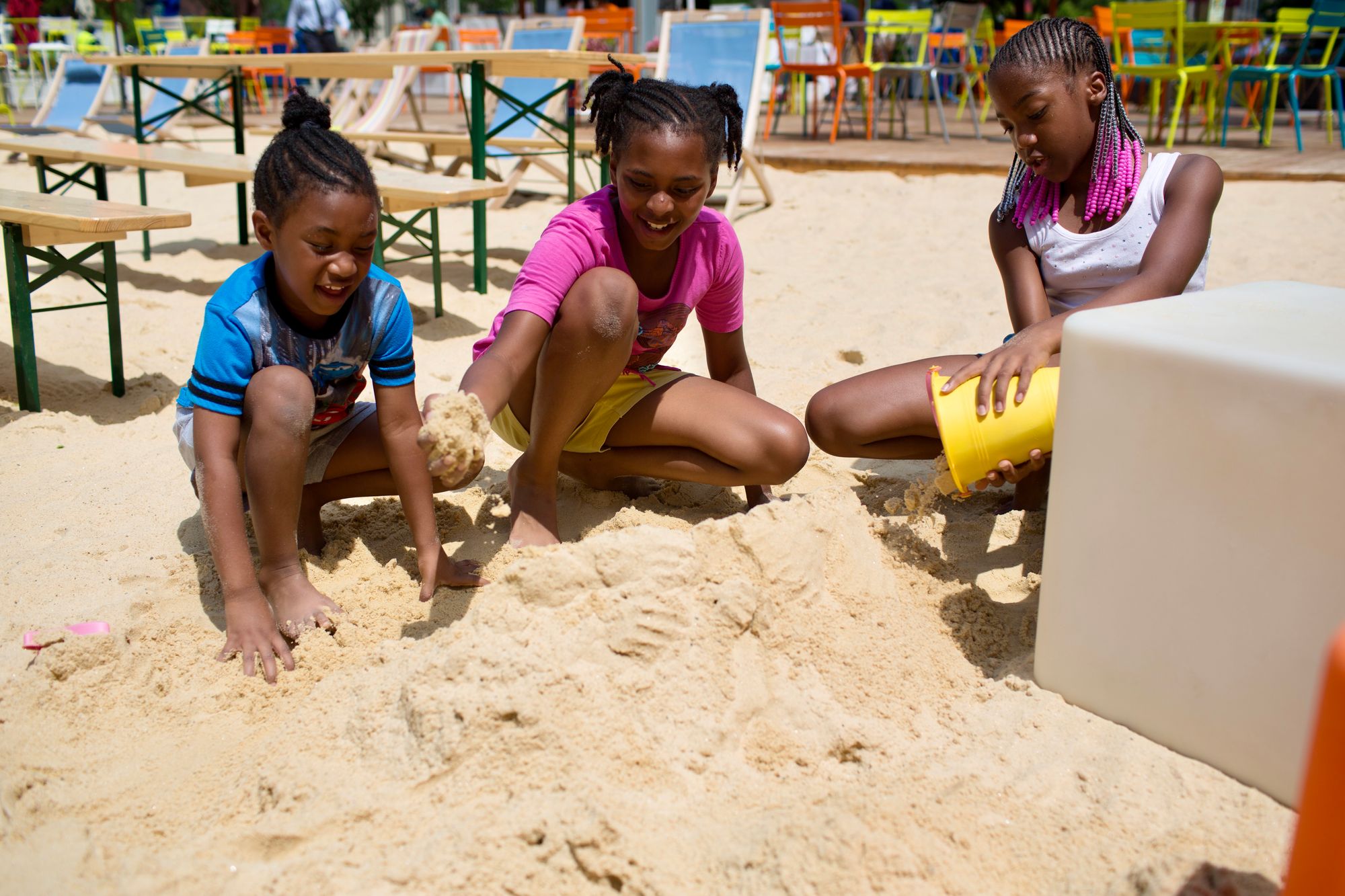 Sand and dirt always seem to attract kids. The possibilities for construction and creative play abound.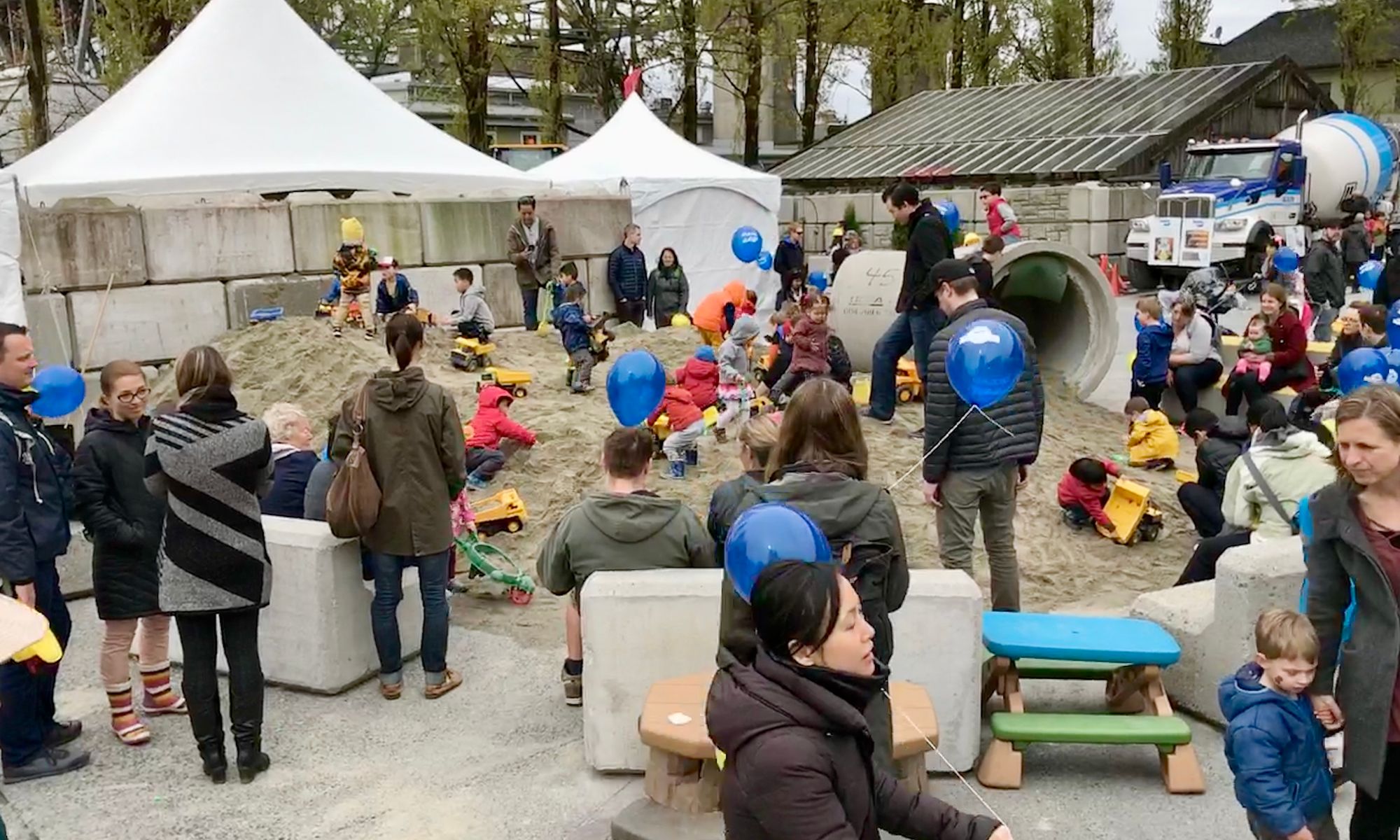 Interactive Art / Sculptures
Sculptures that invite play are more than art, they are catalysts for social life.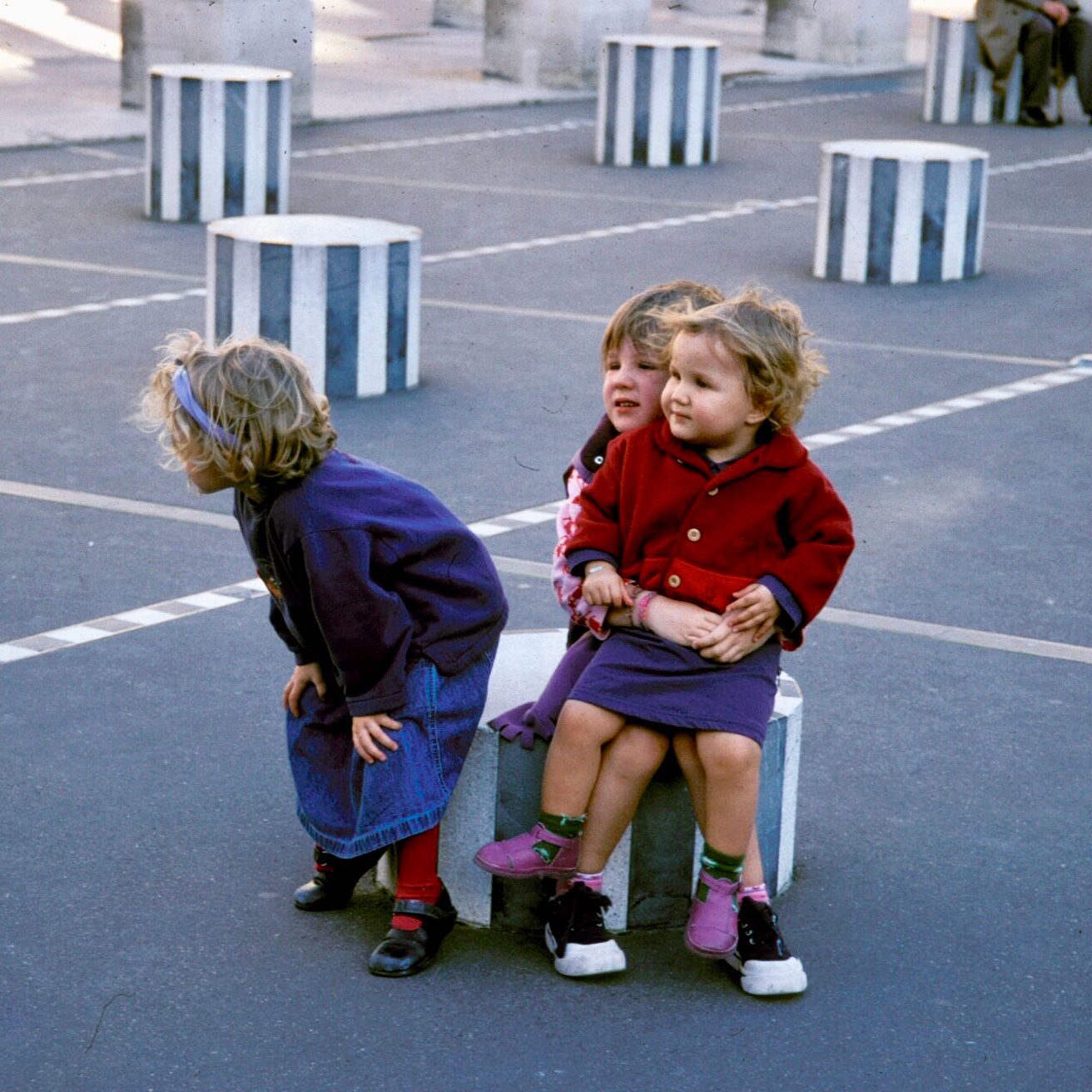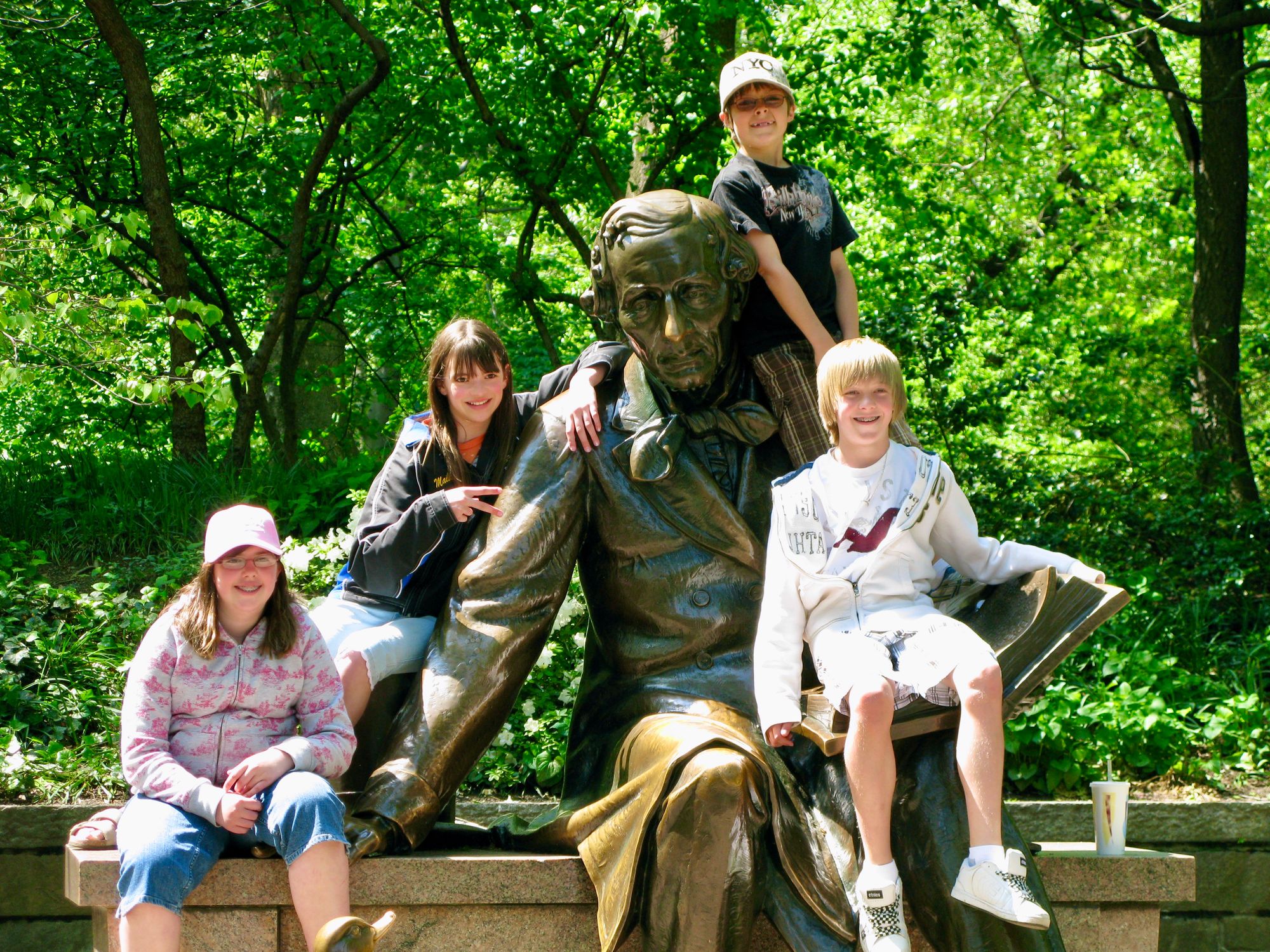 Pippa Longstocking's Museum and sculpture in Stockholm's Durgarten also invite kids to step up and pose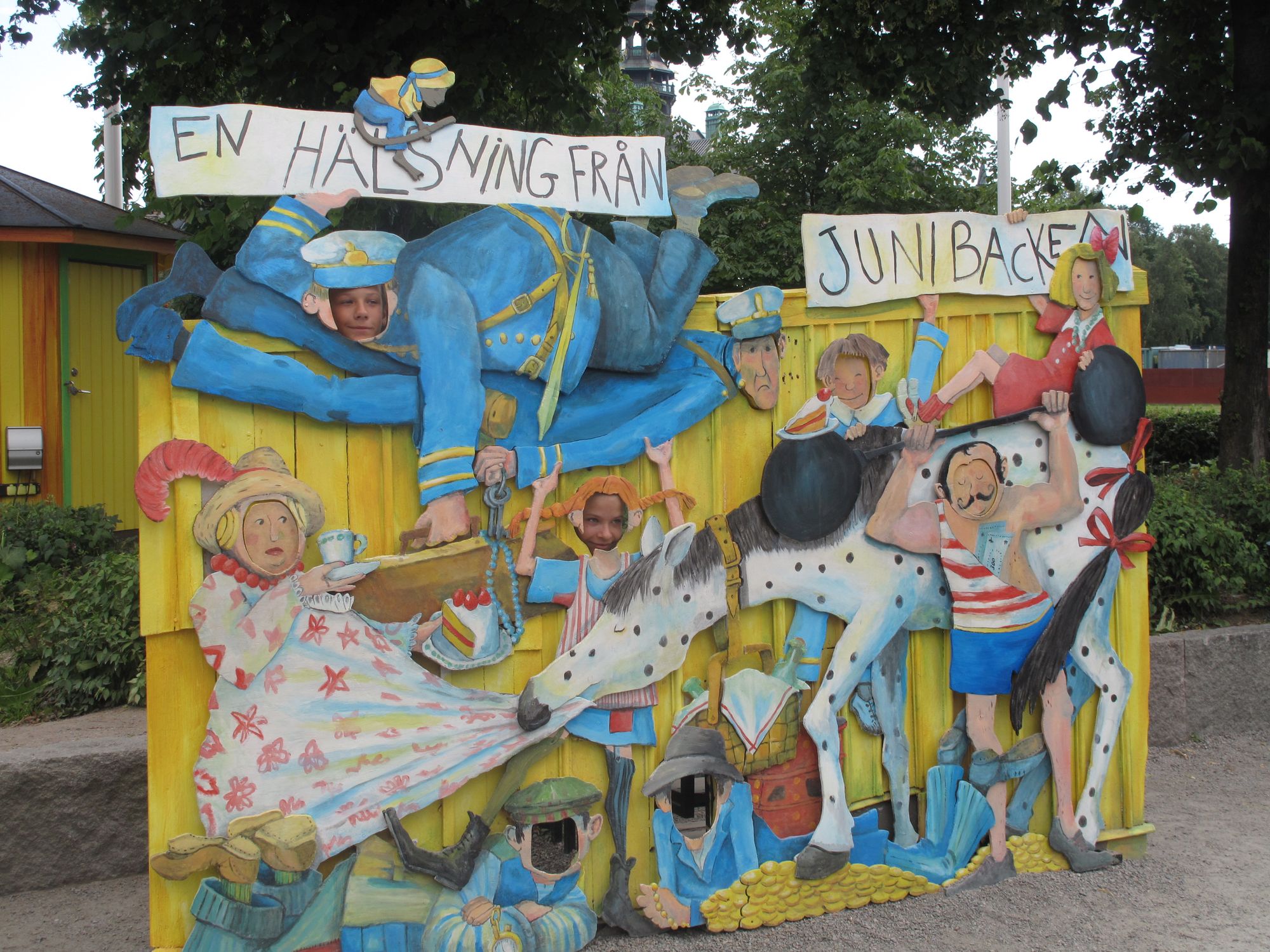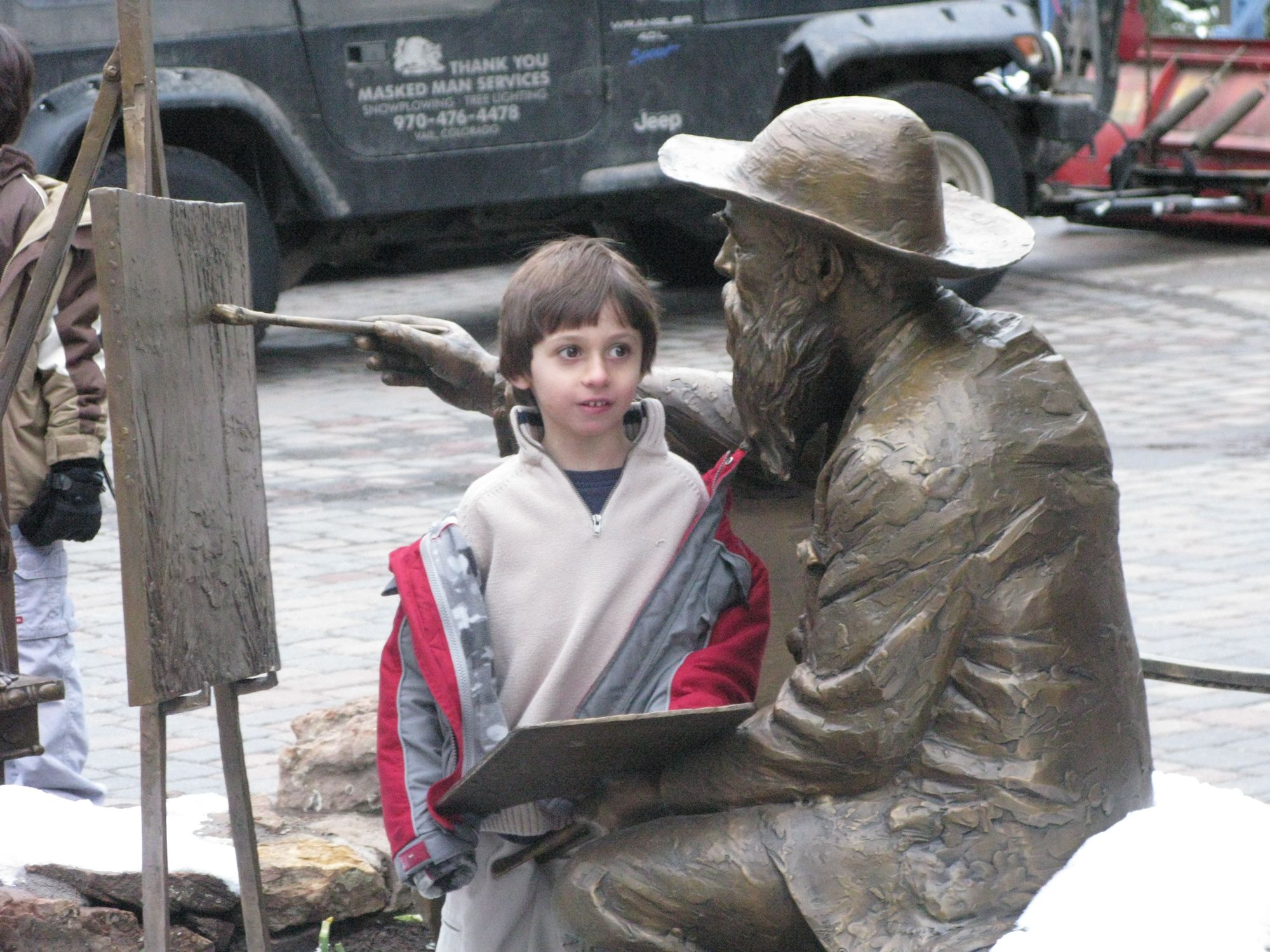 Statues that are able to be clambered over, sat next to, or otherwise interacted with are always a draw.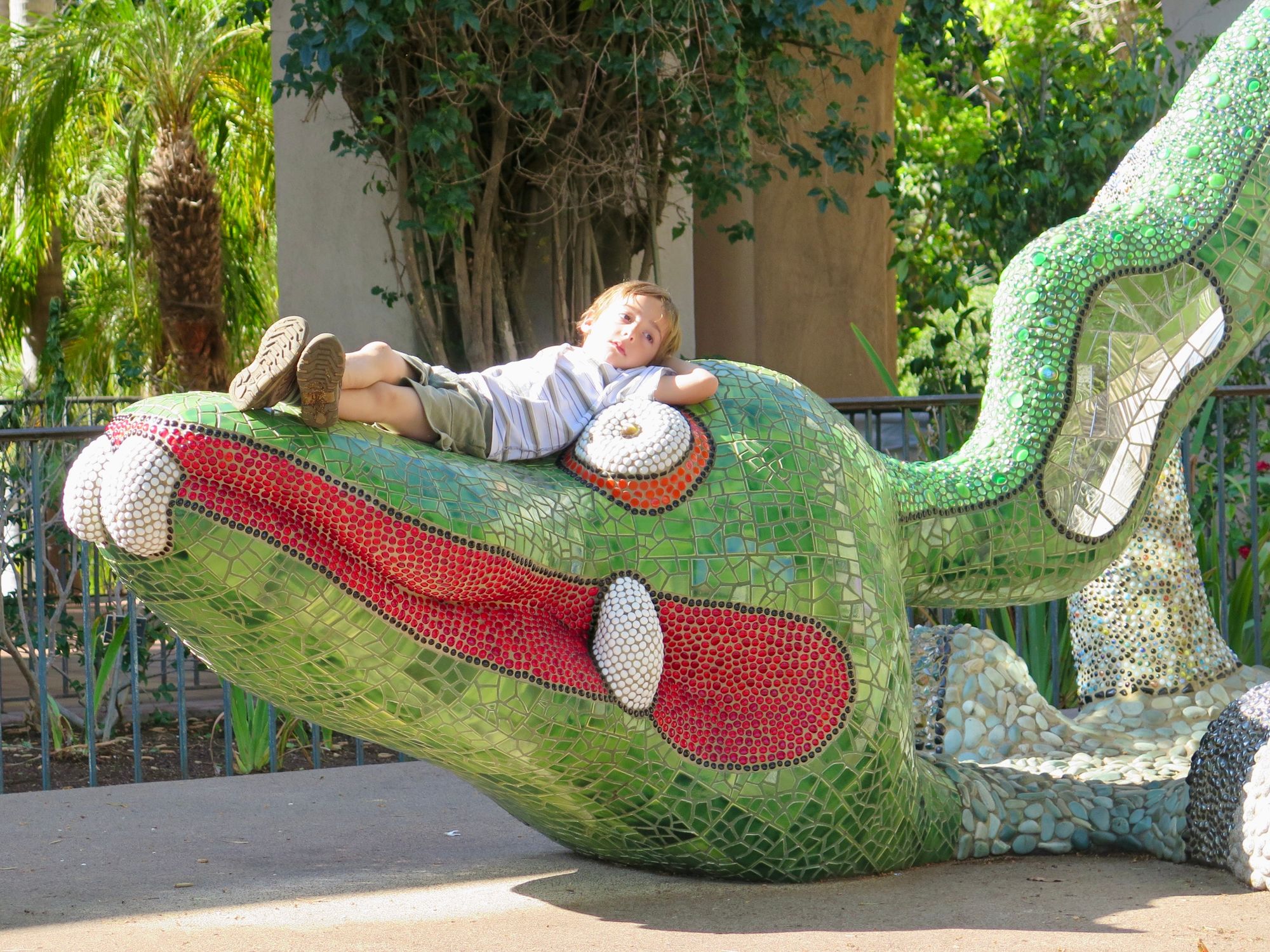 One of the most kid-friendly sculptures we have ever seen is "Make Way for Ducklings" in Boston. The artist says that she wanted her sculpture to be interactive and touched, while also teaching a lesson.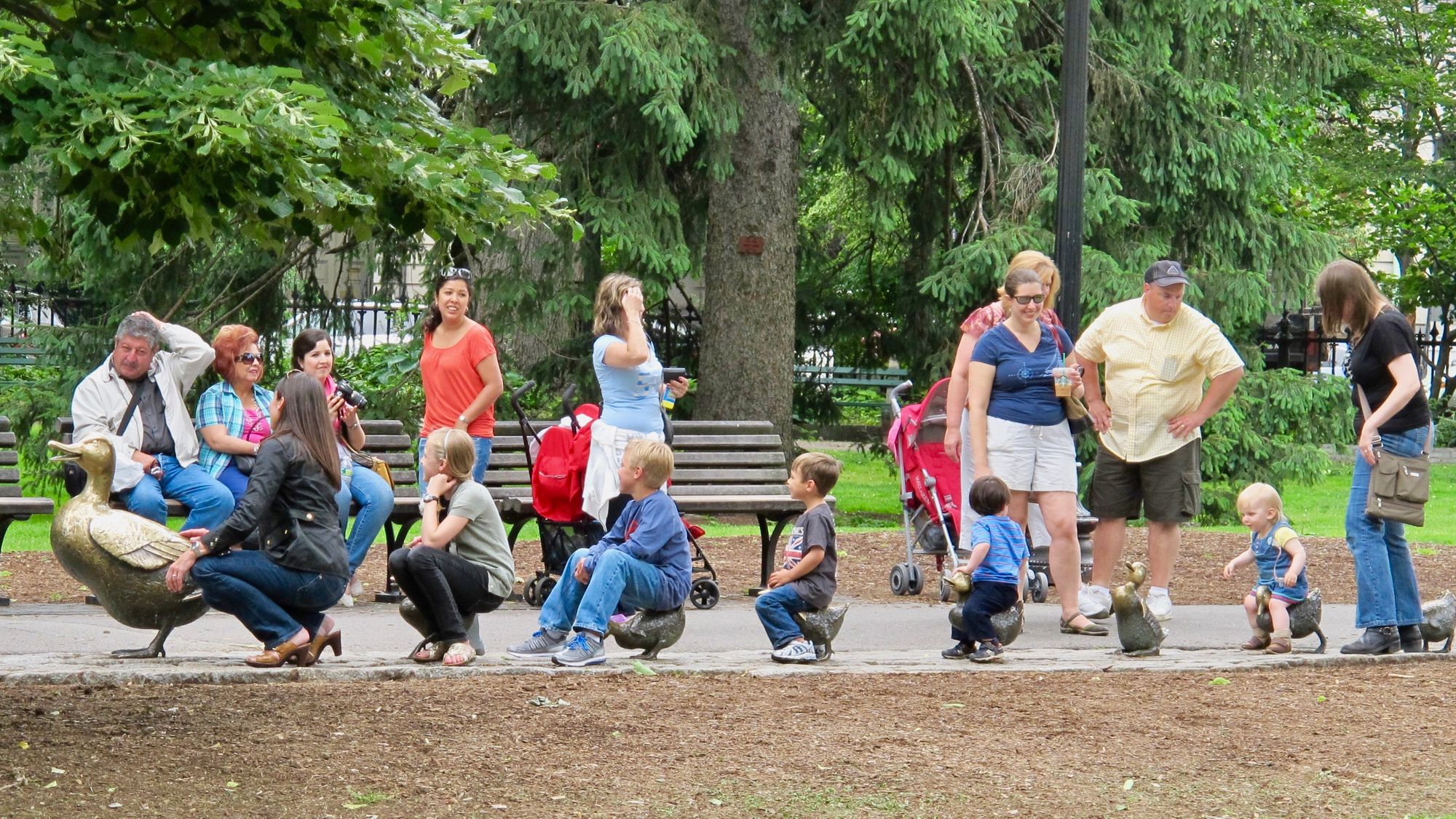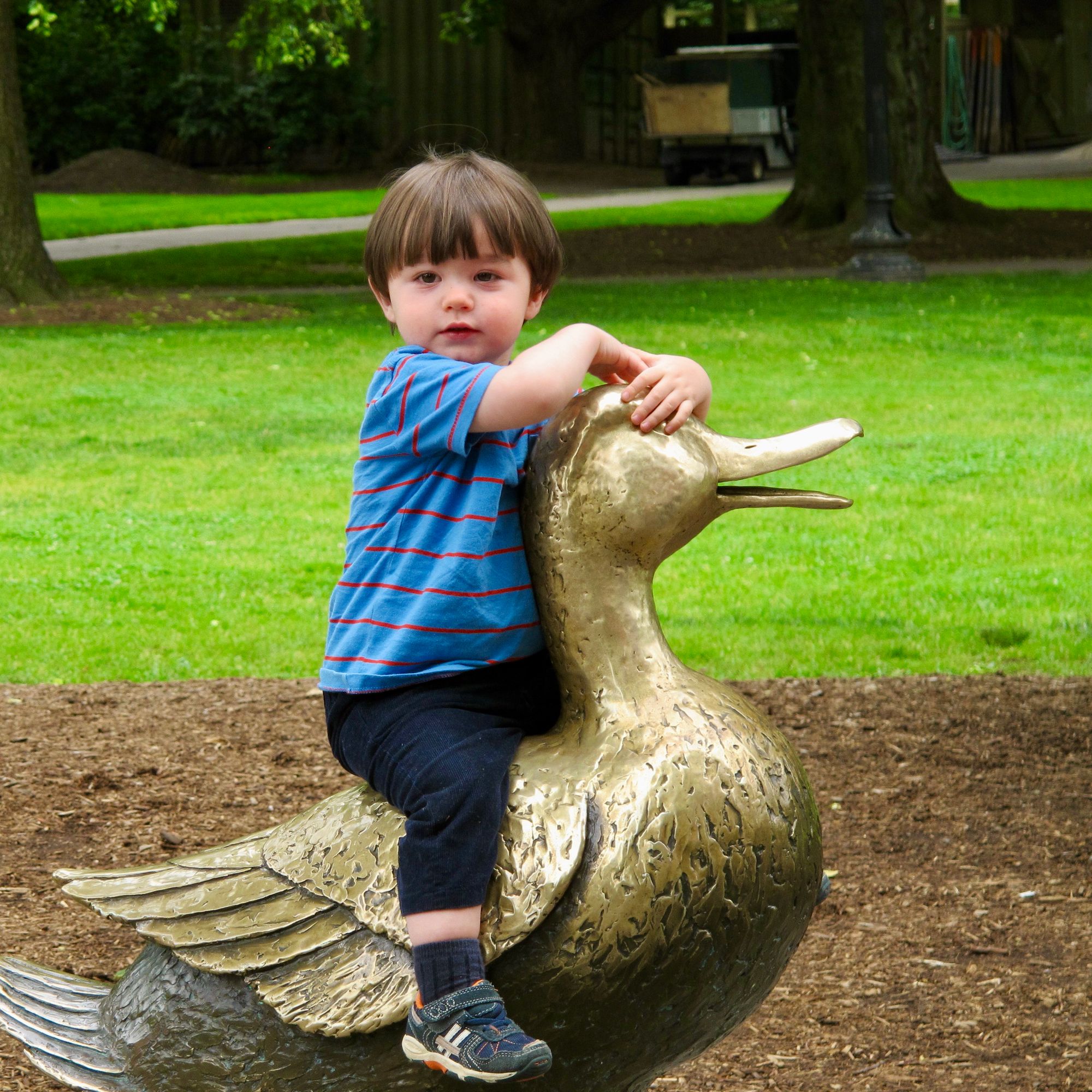 But even without sculptures, children's creativity turns everything into a play opportunity, from ledges, bollards, and feeding birds.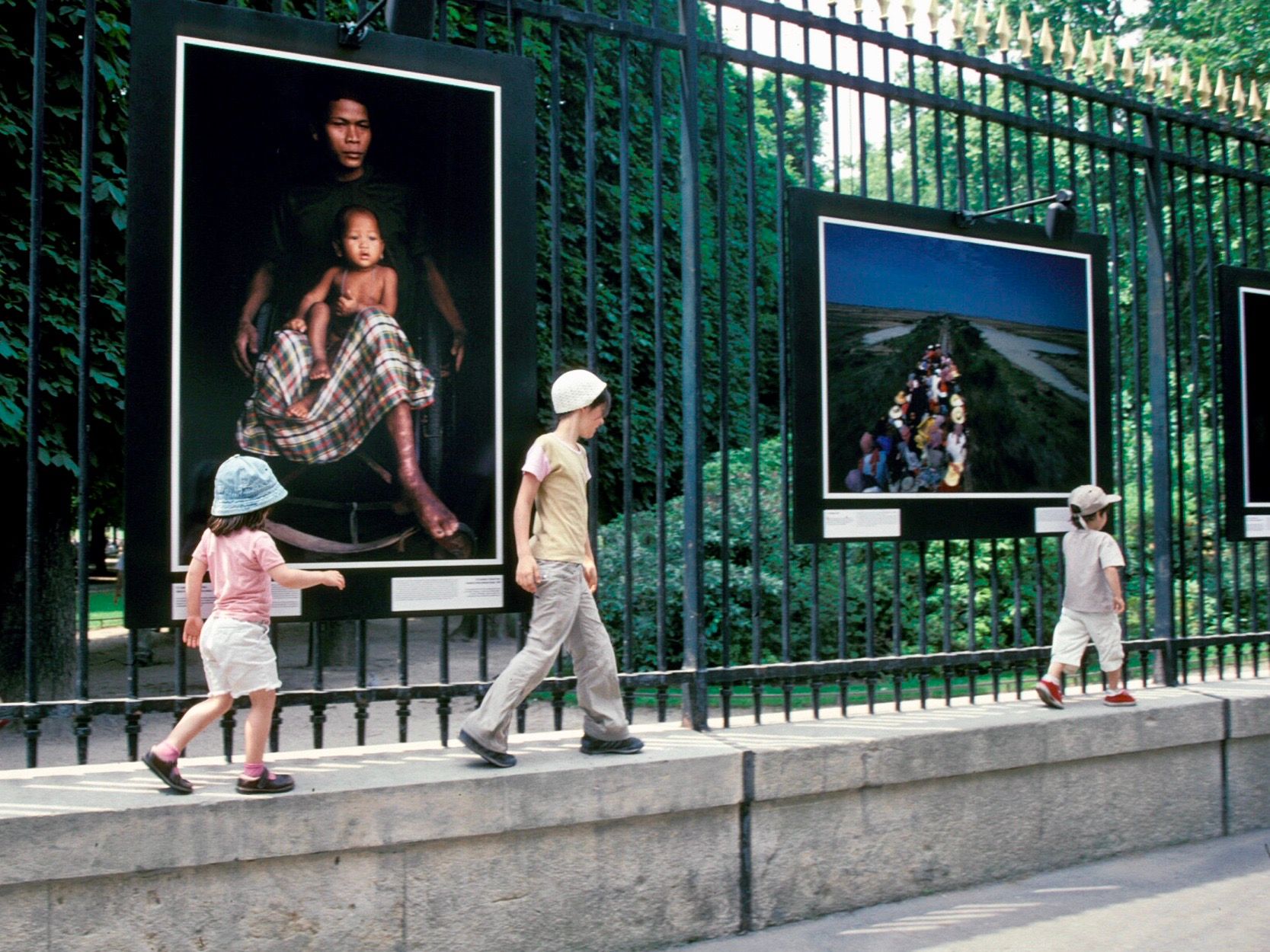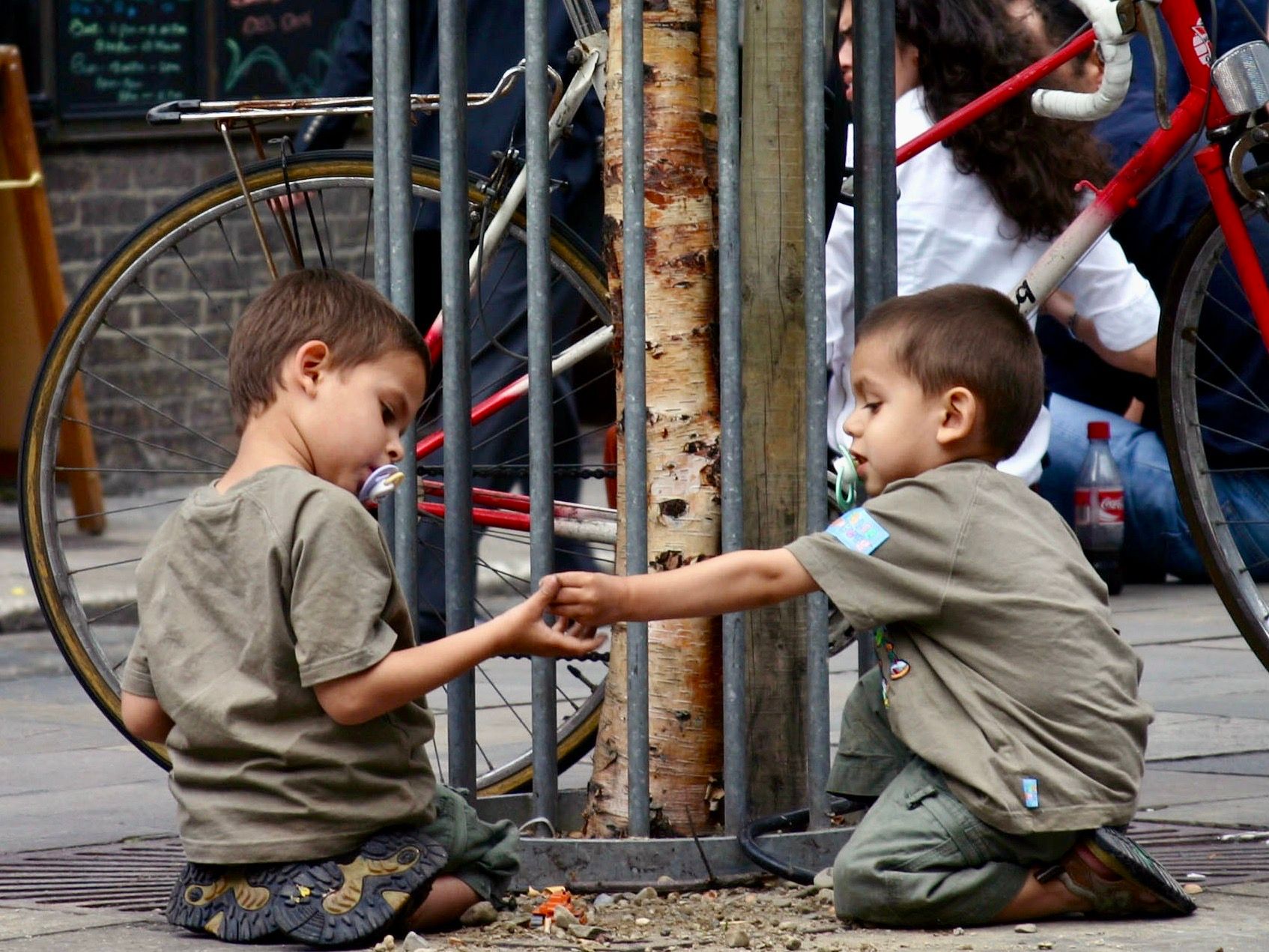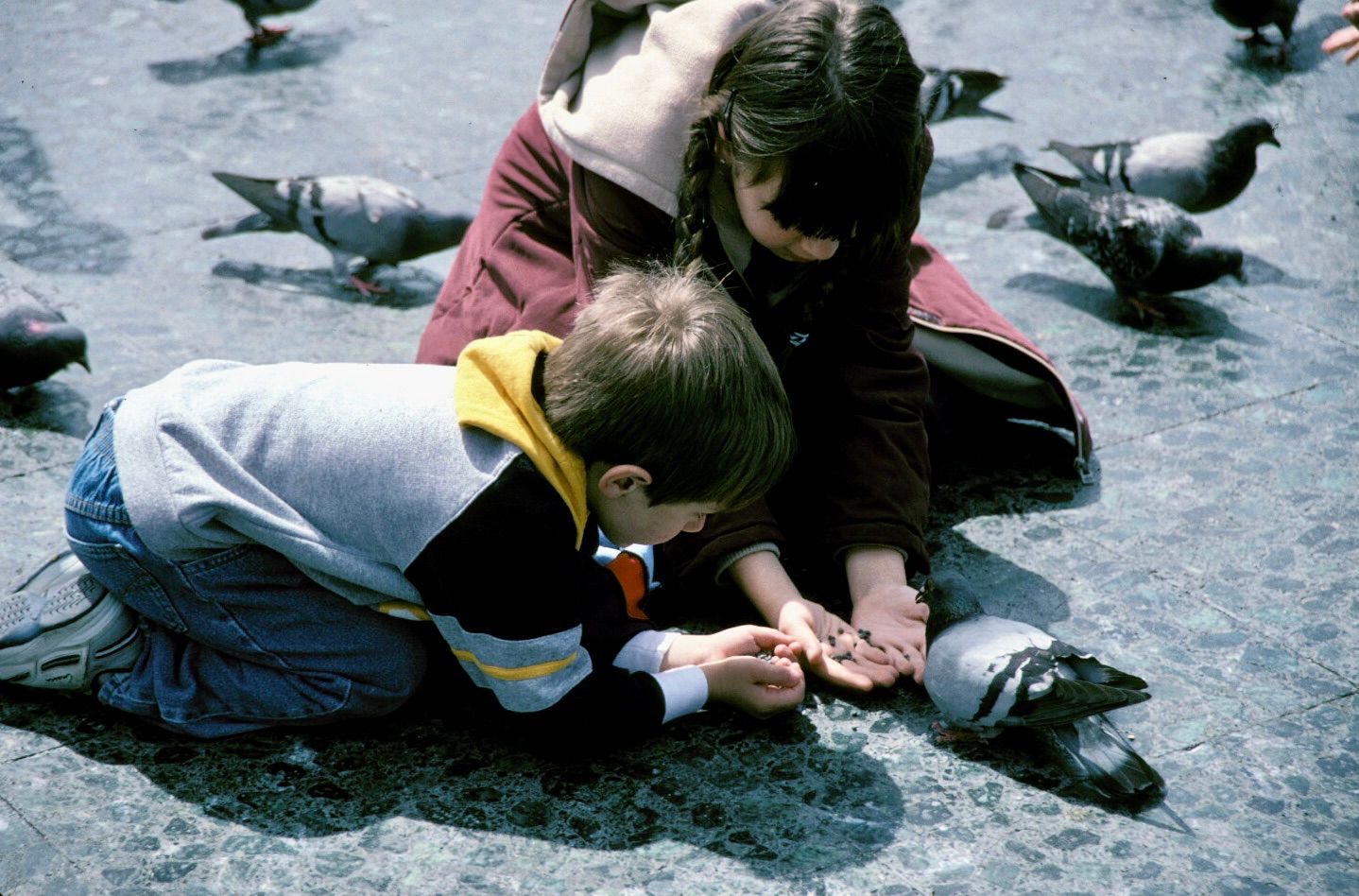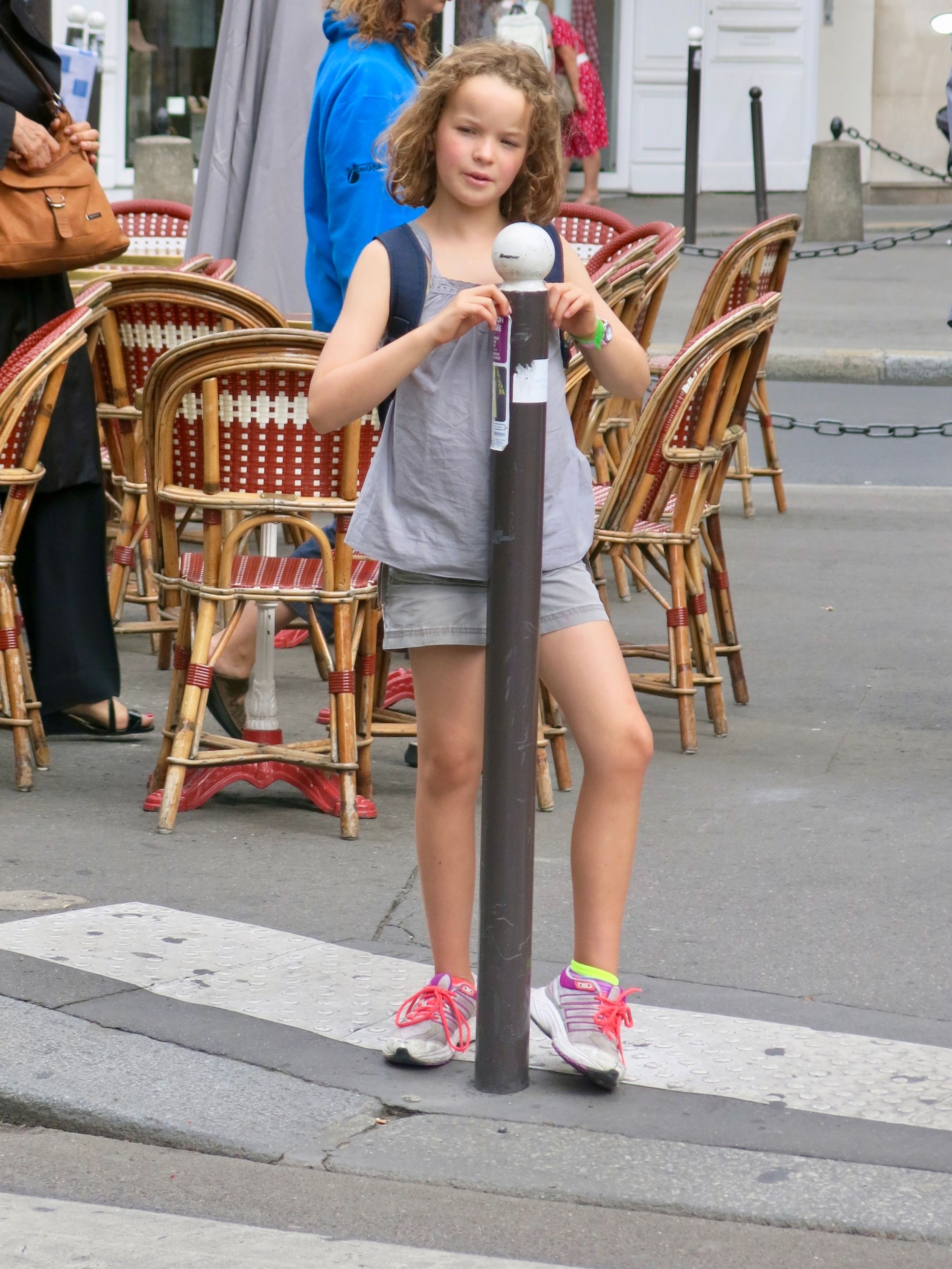 Performance
Performance of all kinds, from one-person shows to full dance ensembles, capture children's attention and imaginations.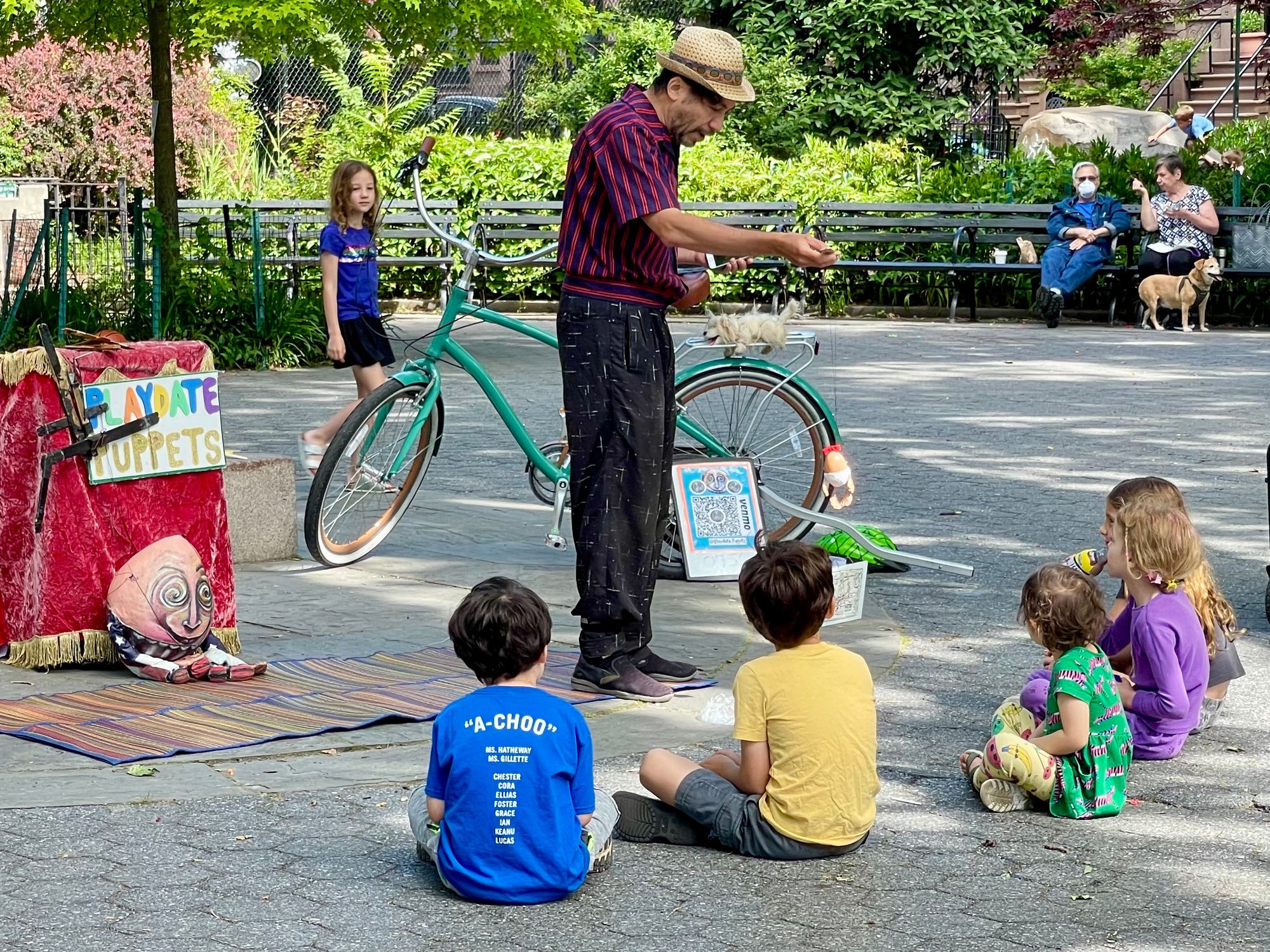 Snacks, Especially Ice Cream
A love of ice cream connects us all, which is why it is such a simple but wonderful addition to any place.
Places for children can be combined with other destinations – like an ice cream shop. Triangulation creates hubs for all ages, and one of the centerpieces that anchor it may be a ice cream shop, sculpture or water feature because of how they appeal to children.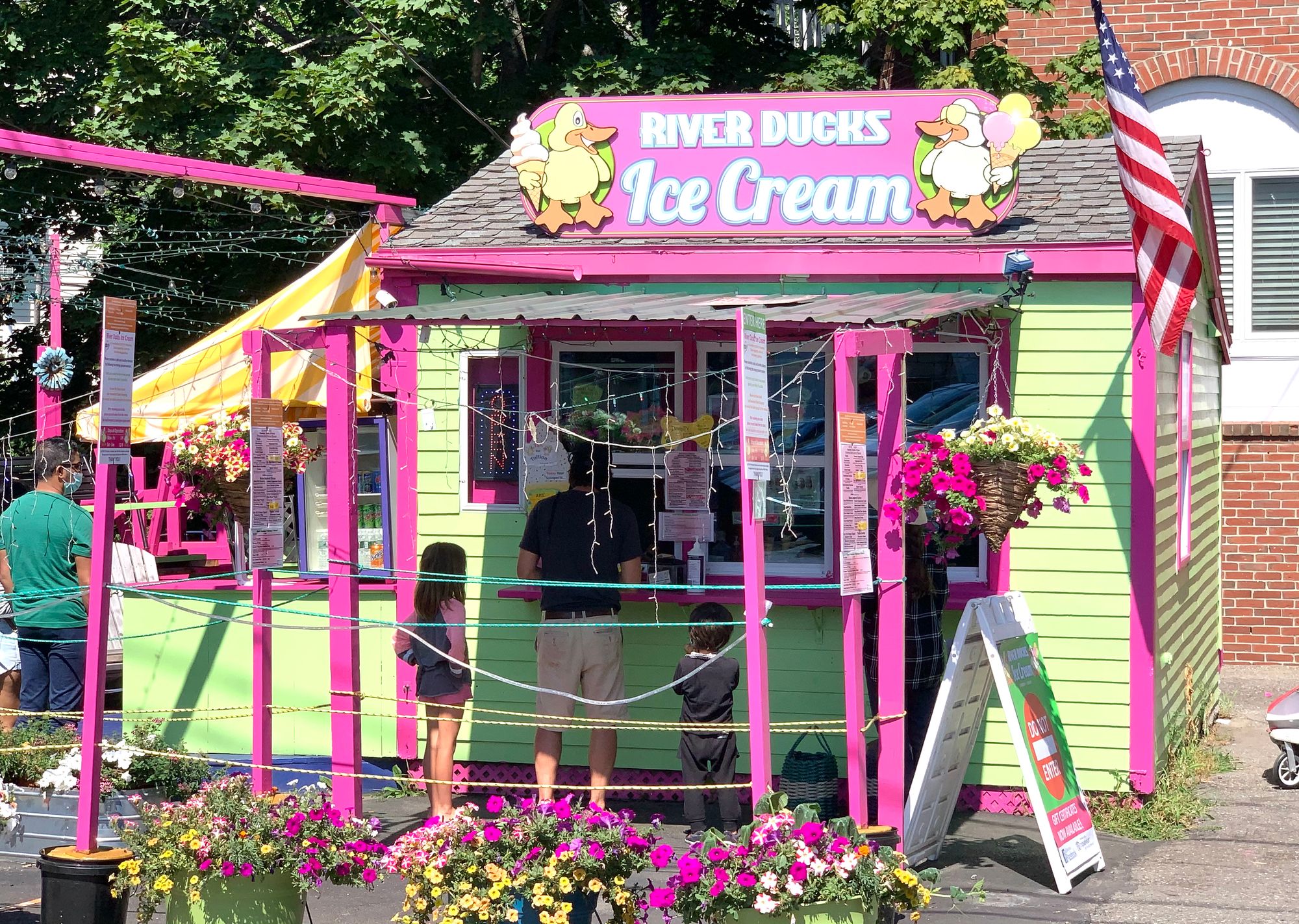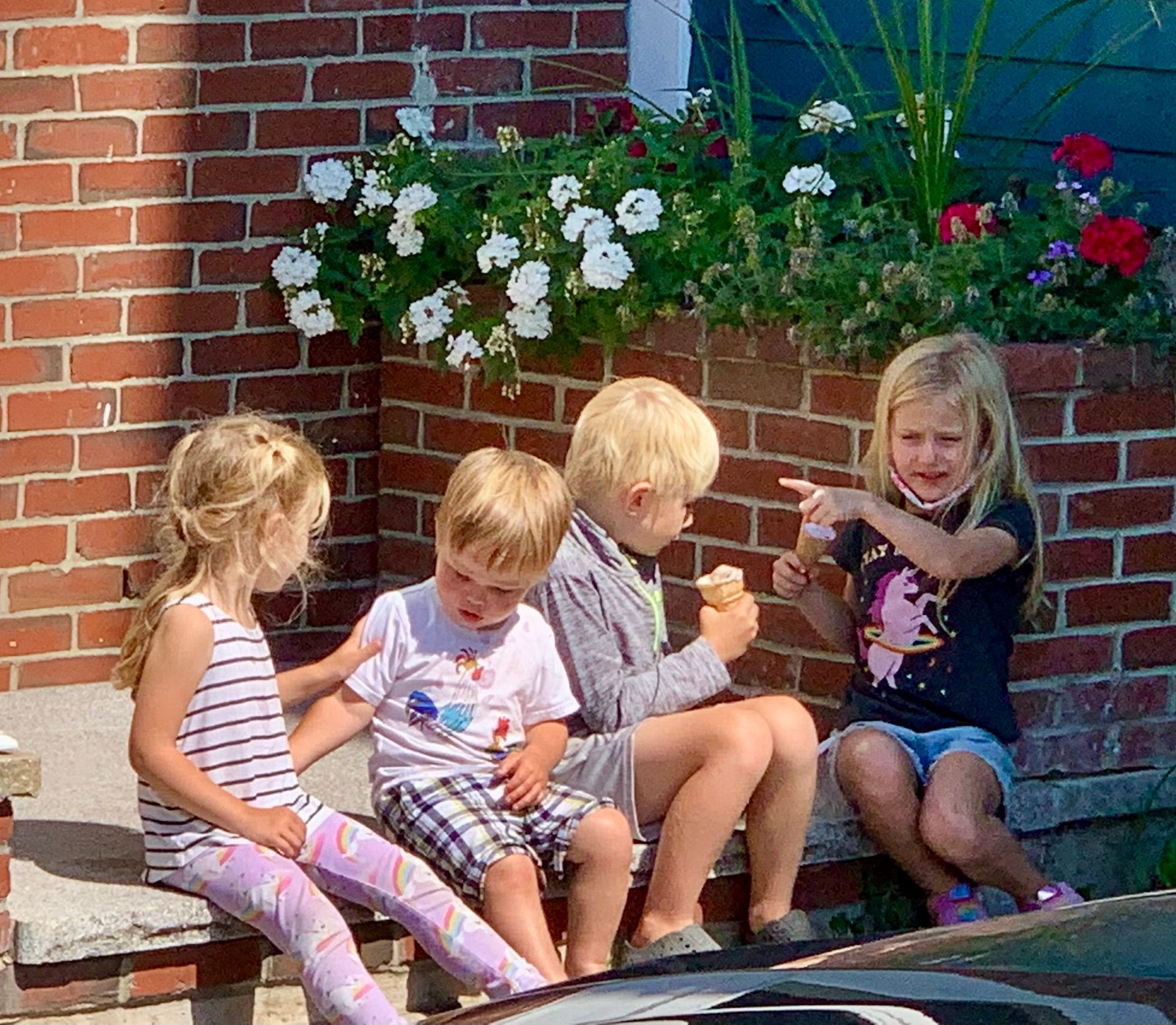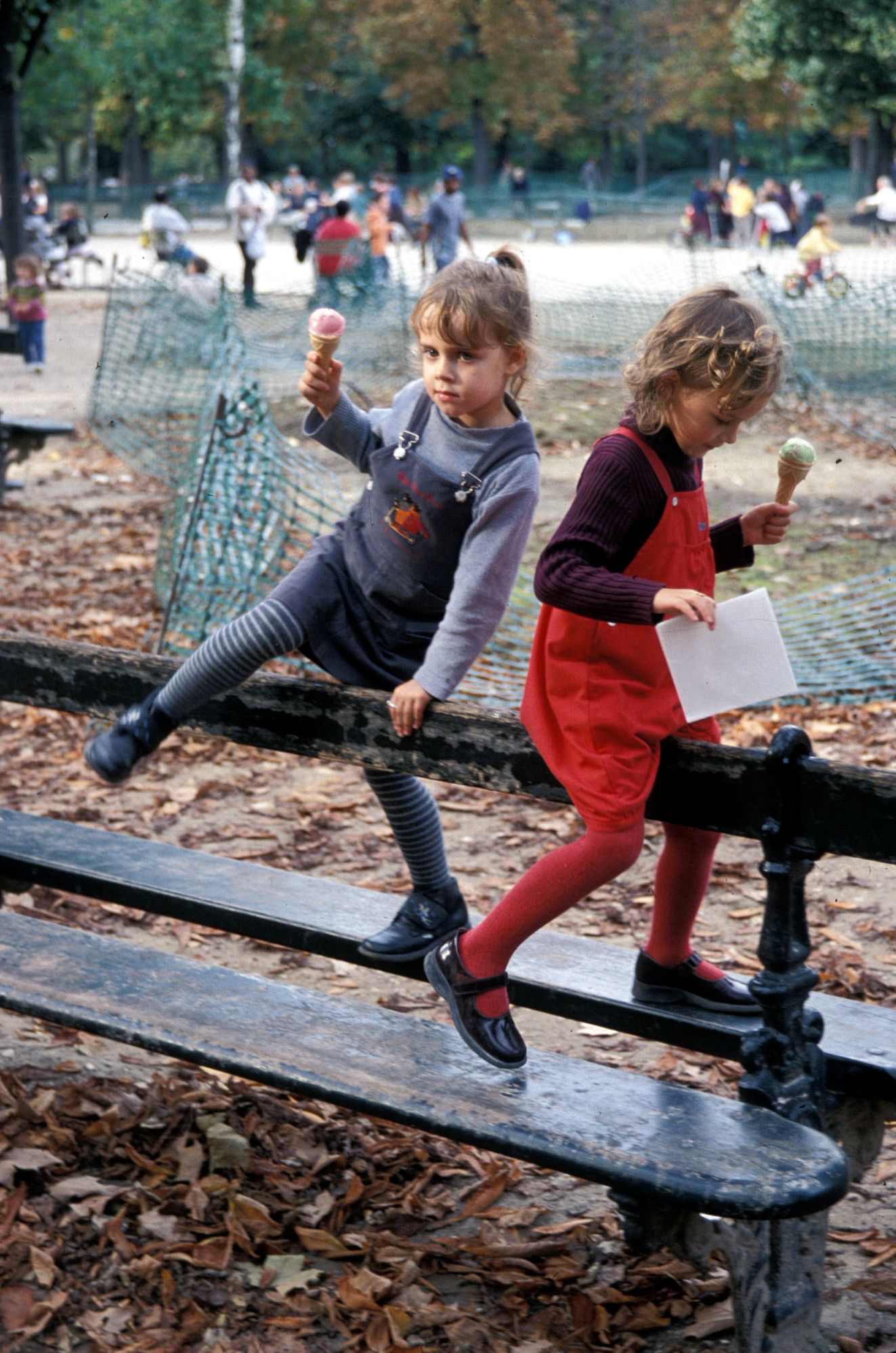 Features that Welcome Families
The best places for kids are the ones that are good for parents – where parents are happy to take their kids often and to linger there with them. That means good seating, shade, and other amenities that make a place comfortable.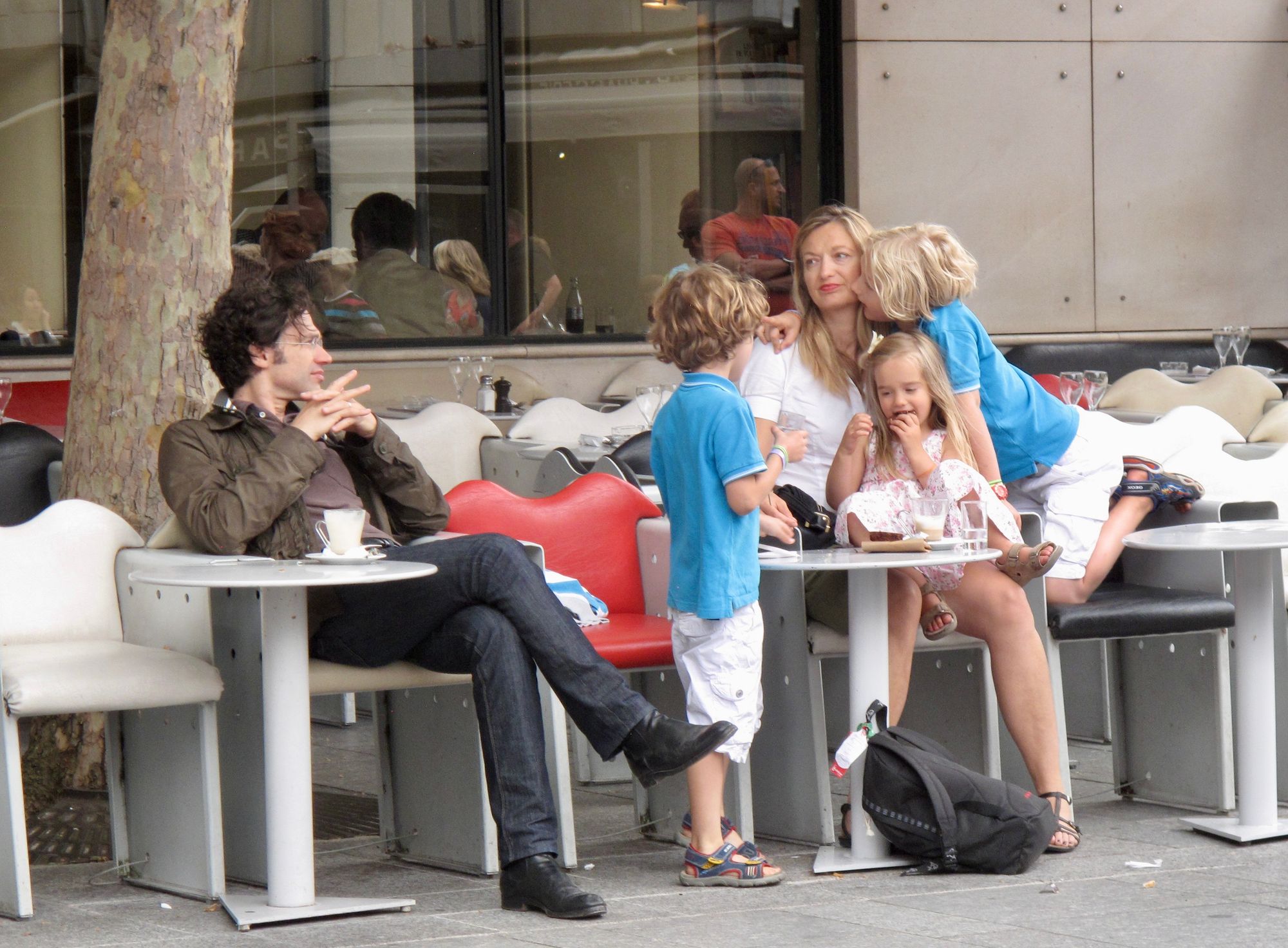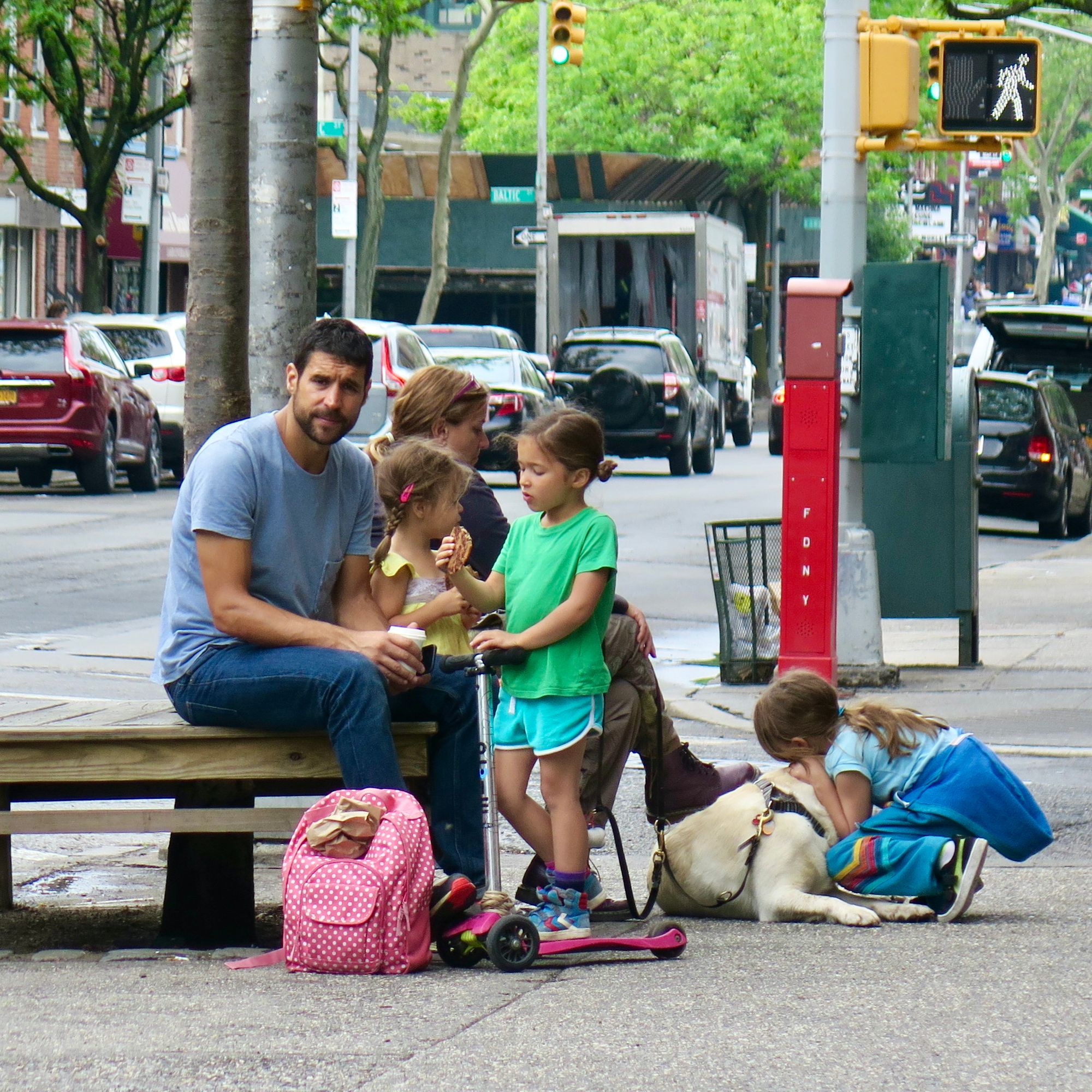 A Reading room on the Seine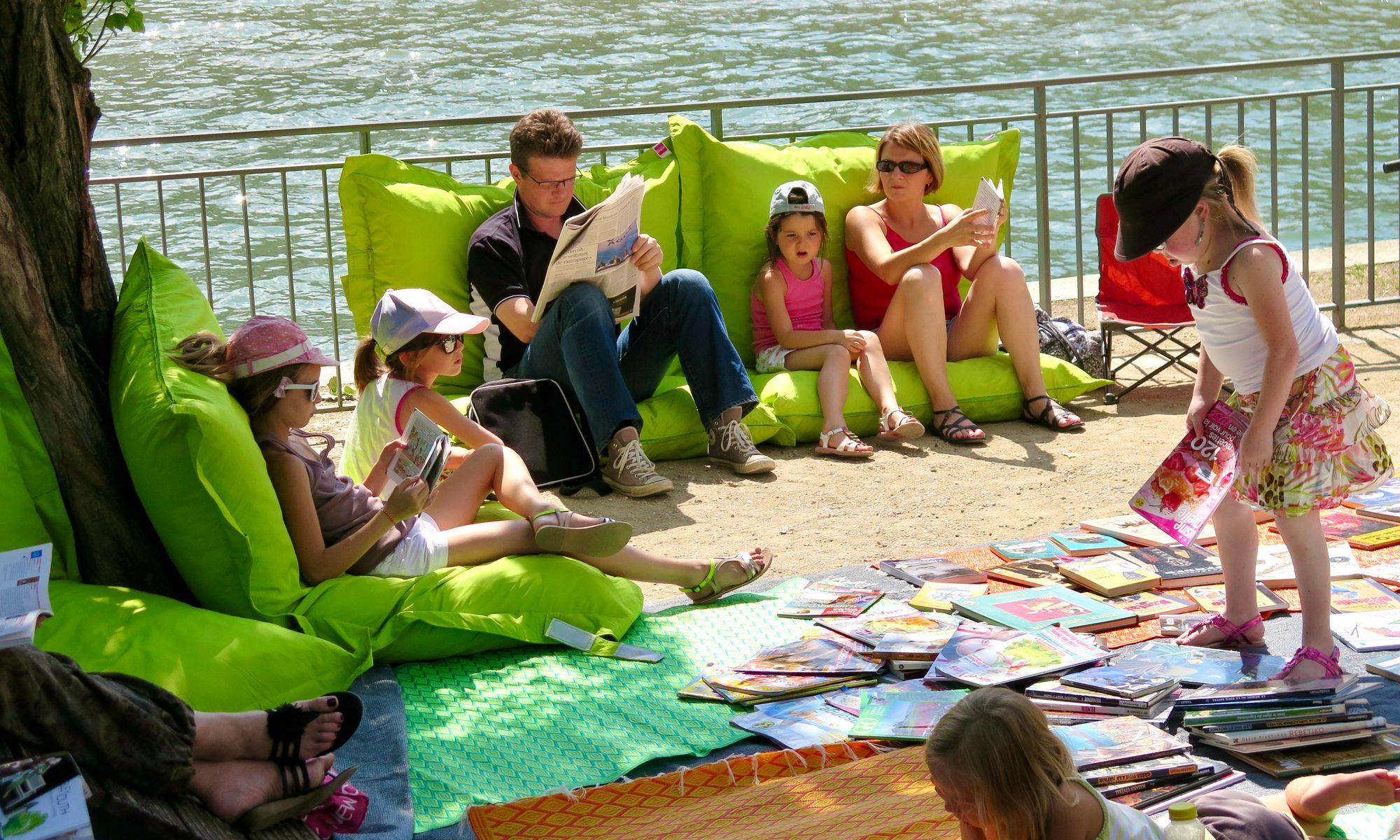 Connectivity - Getting There Safely
Great places for kids must also be safe and easy for kids to reach.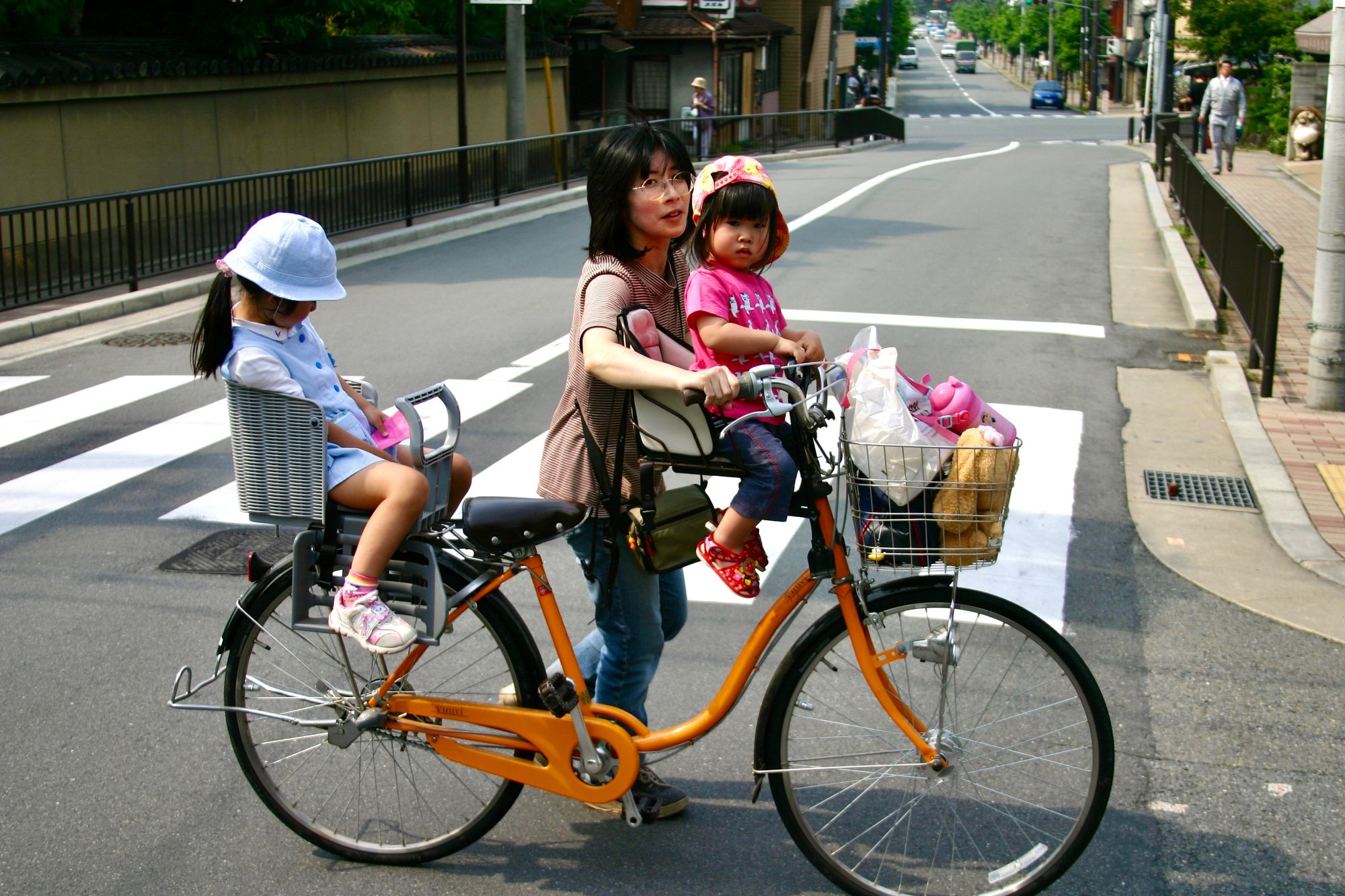 Takeaways
Where there are children playing, there is social life.
Great places are those where kids naturally come together and feel comfortable connecting with other kids, both friend and strangers.
Water attracts children to play and along with them come their parents and other members of the community, turning water features into the heart of community life.
Games and other interactive activities, as well as complementary amenities like seating, are always a plus.
Making sure that kids are safe to explore and wander freely is crucial. For example, double-loading sidewalks creates a safe space, thus bringing the sidewalk to life.
Sculptures that are climbable and interactive are powerful activators for a community because they invite children to play and explore.
Triangulation of kid-friendly spaces and other uses makes a place welcoming for all ages.
Accessibility for young visitors rounds out a great kid-friendly place by ensuring that they have a nice journey to get there.

Further Reading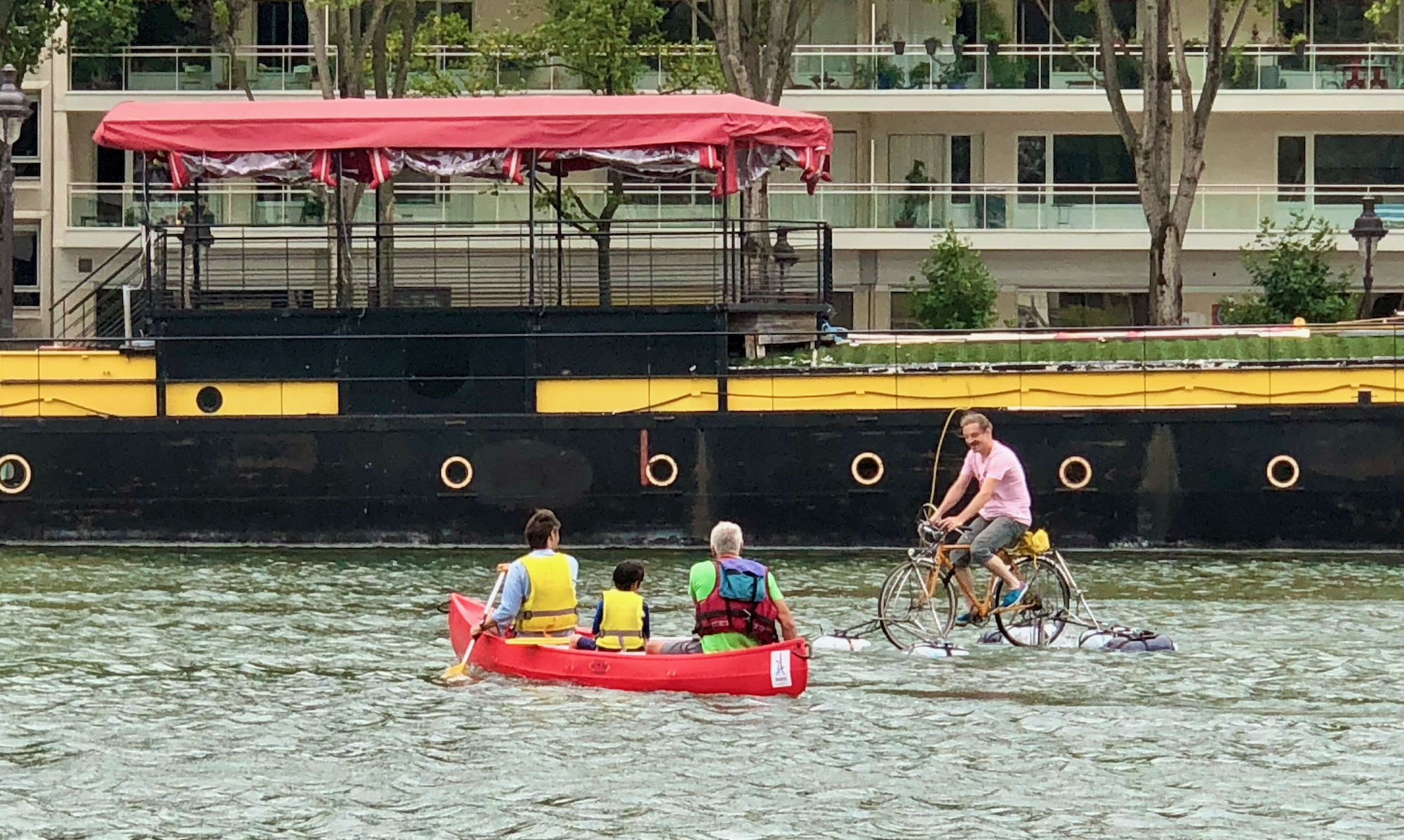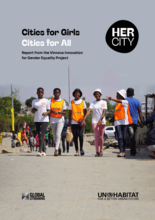 Creating Social Life for All - Other Posts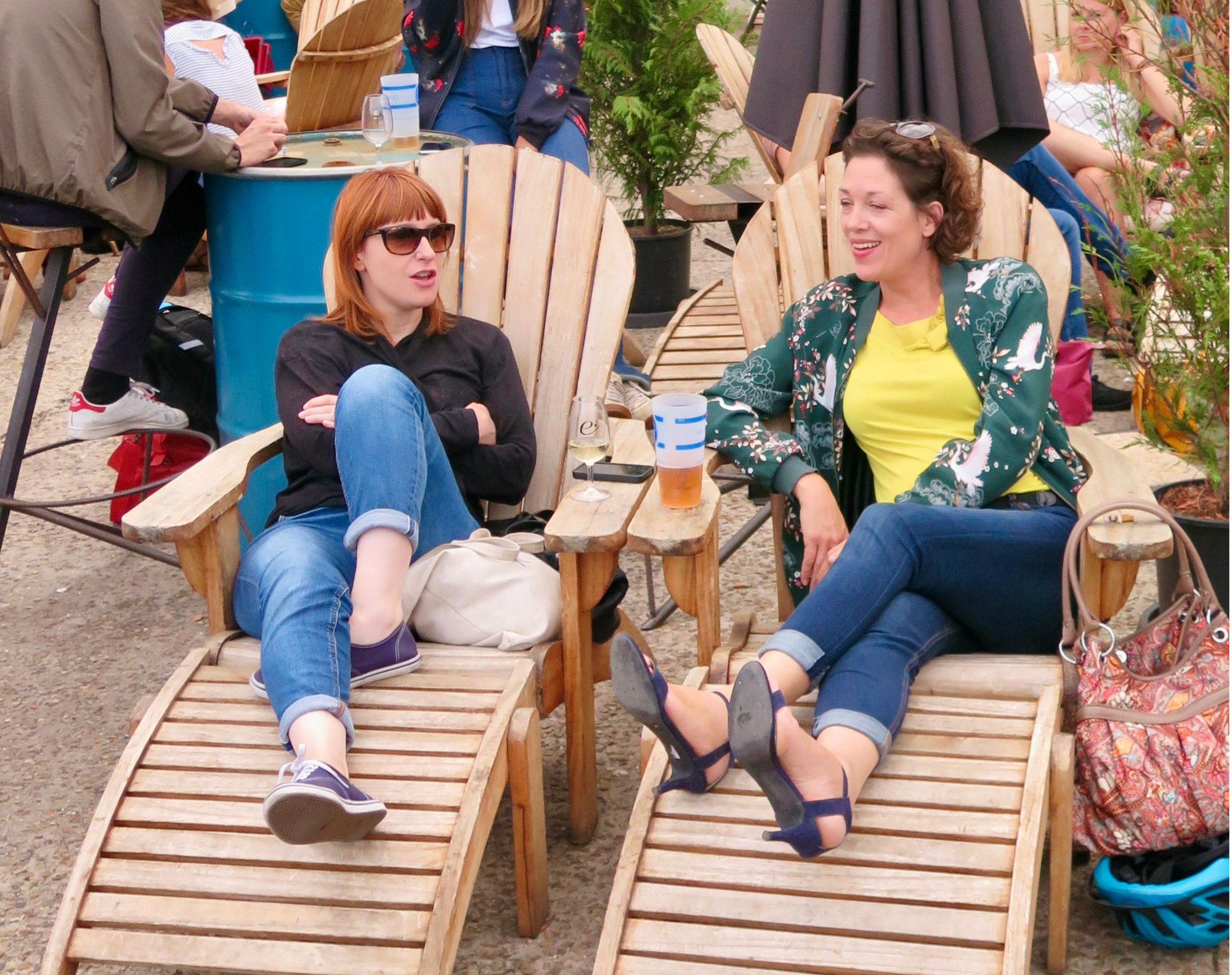 Who We Are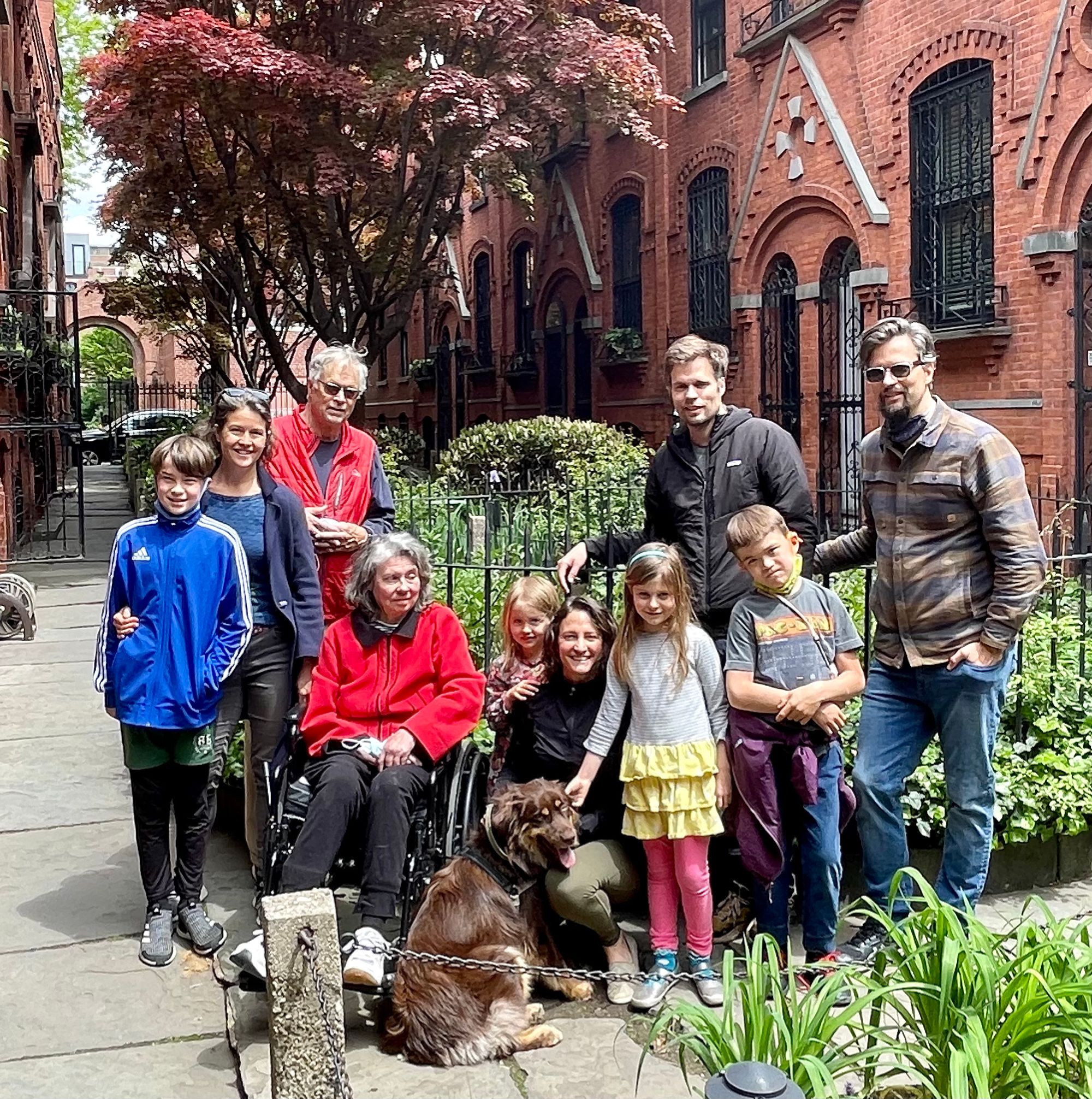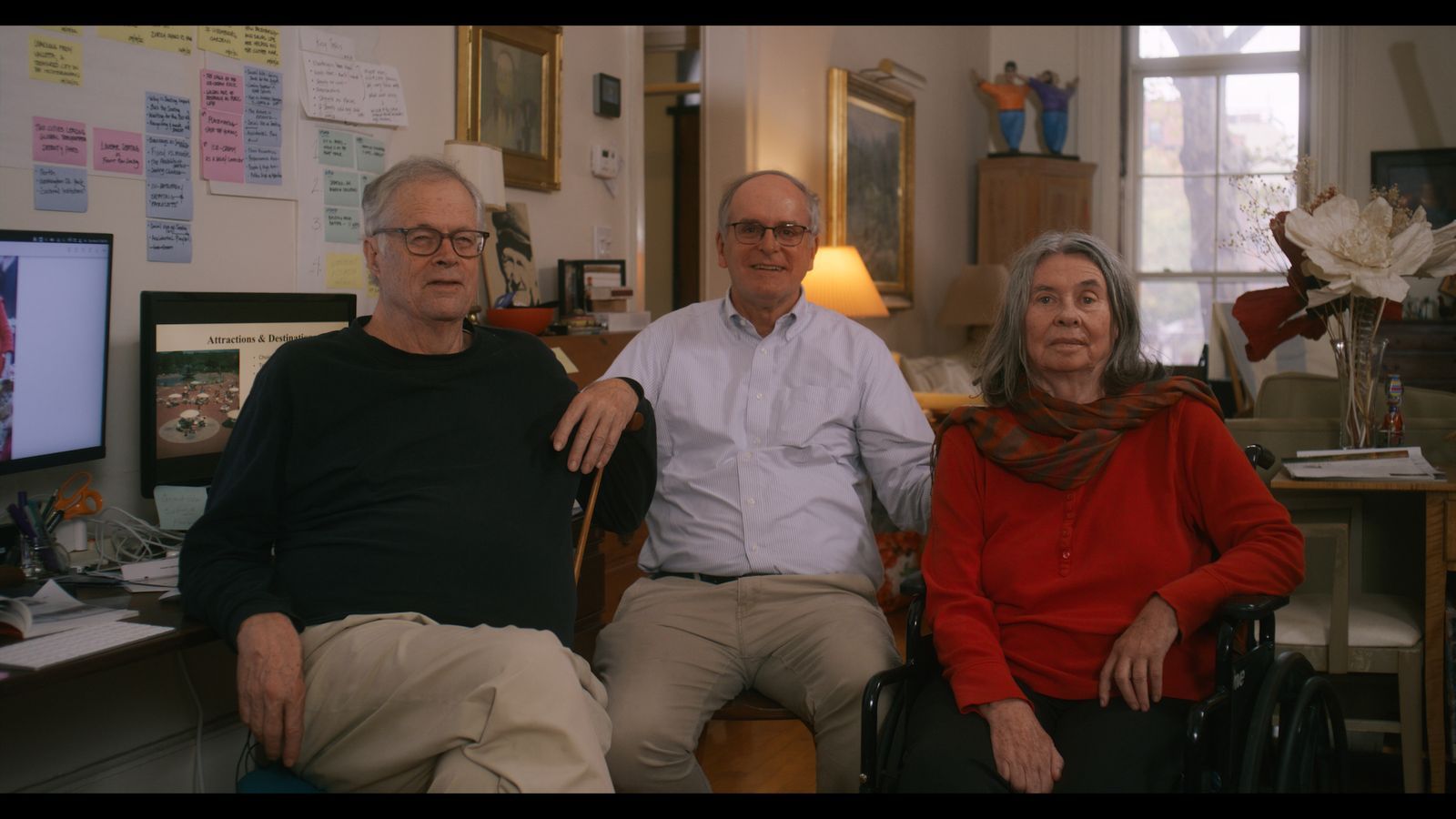 The mission of the
Social Life Project
is to incite a renaissance of community connection in public spaces around the globe. Through our online publication, presentations, campaigns, and catalytic projects, we can create transformative impact on communities everywhere. Our work grows out of more than 50 years devoted to building the global placemaking movement. It is an initiative of the
Placemaking Fund
, along with
PlacemakingX
 — a global network of leaders who together accelerate placemaking as a way to create healthy, inclusive, and beloved communities.
If you are interested in collaborating (articles, presentations, exhibits, projects, and more) or supporting the cause
contact us
.
"There are more and more of us fighting for a different vision of the world—a world that takes care of our most precious resources: the air we breathe, the water we drink and the places we share."    Mayor of Paris France