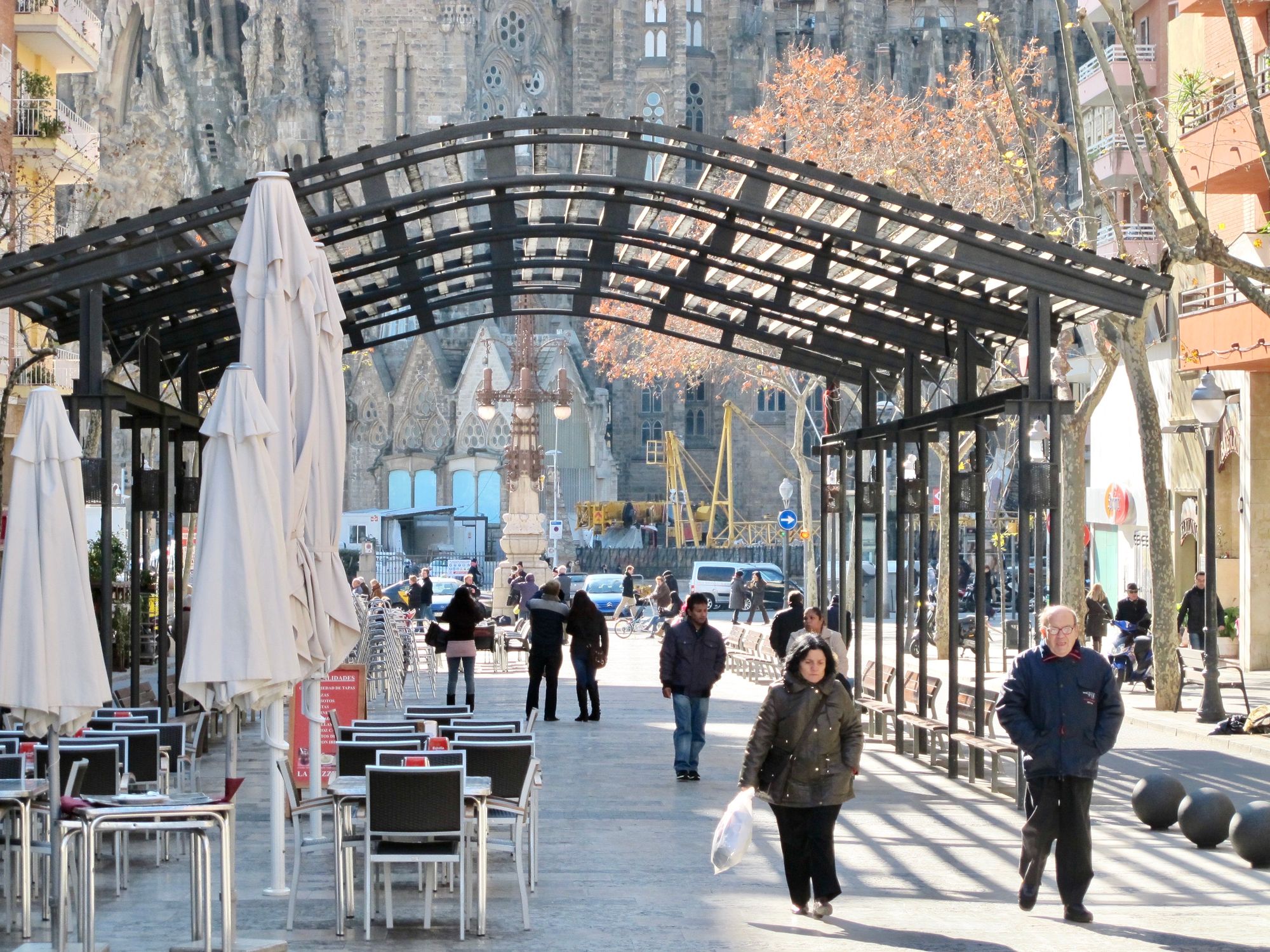 About the Author: George Semler
Growing up in New England and educated at Yale, George Semler has lived in  Barcelona since 1975. He spent four years as a Marine infantry officer with a year as a rifle company commander in Vietnam before moving to Madrid in 1970 to become a writer. In 1973 he relocated to  San Sebastián  to coach and play ice hockey, and then accepted an offer from the FC Barcelona to create an ice hockey program in the Catalan capital.  
"On my first visit to Barcelona, some sixty odd years ago, I remember being surprised at feeling preternaturally at home. Now that the city has been my home since 1975, I am beginning to understand why.
It was, I think, the trees, the leaves, and the arcaded cathedral-like spaces formed by their overhead vaults that gave me a sense of being both protected and"together"—that is, neither isolated, alienated nor alone. In turn, this intimacy and sense of connection gave me confidence to go ahead and go ahead, to be anything I wanted to be as fully and naturally as I was able to, and to keep on keeping on.
Both Antoni Gaudí's colossal Sagrada Familia, begun in 1882, and stonemason Berenguer de Montagut's Santa Maria del Mar basilica, begun 553 years earlier in 1329, deliver similar messages: From this common haven you are free to reach for the stars. "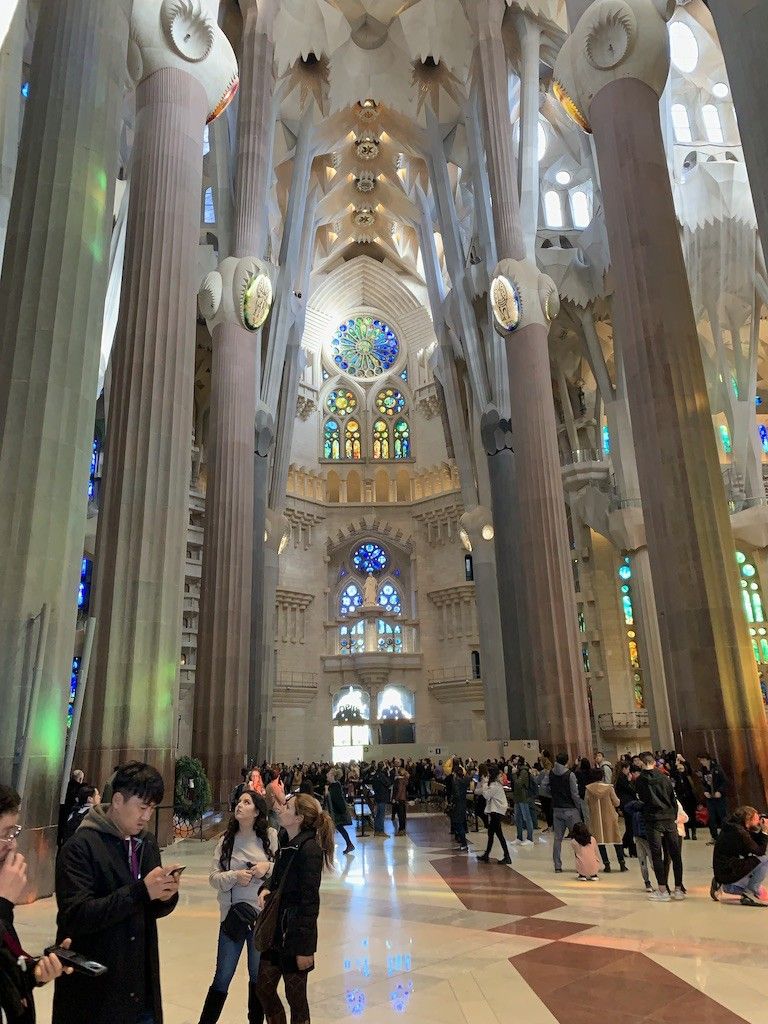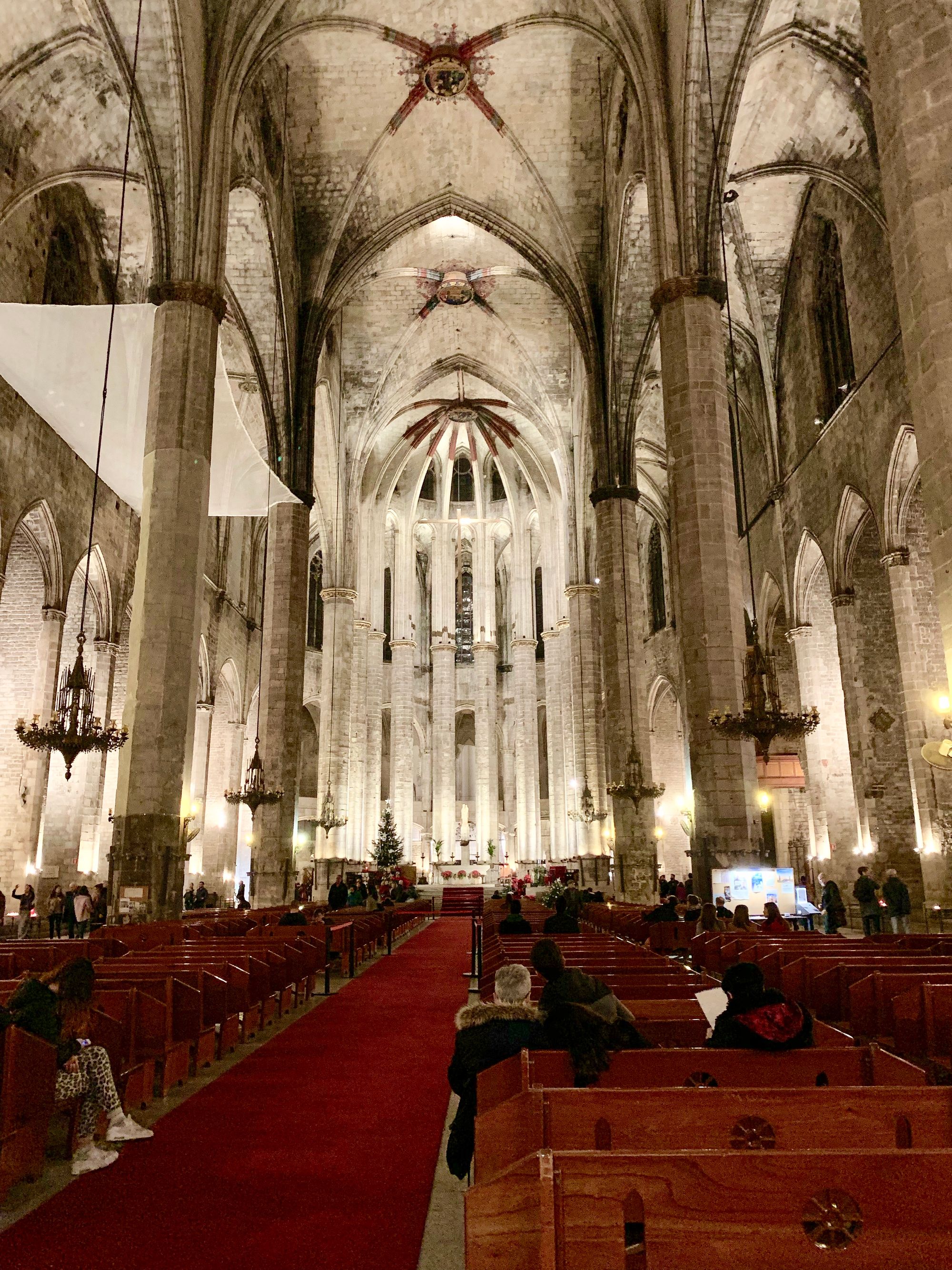 Gaudi's hyperbolic paraboloid arches (more simply: shaped like the web between your fingers) in the Sagrada Familia are copied from nature, from trees, to be exact: natural forms that are more efficient load bearers than the shapes devised by traditional architects using compasses, T-squares and protractors. Berenguer de Montagut's sixteen slender octagonal stone columns in the 14 th-century Mediterranean Gothic Santa Maria del Mar branch out into what architecture professors call "palm tree vaulting" at a height of 16 meters, curving another 16 meters to the keystone vaults overhead. The fact that the entirety of Santa Maria del Mar would fit comfortably into the nave of the Sagrada Familia only underscores the Gothic basilica's elegance and balance, which, through some trompe l'oeil magic, seems nearly as lofty as Gaudí's behemoth.
Henry David Thoreau (July 12, 1817 - May 6 1862), who saw nature as a form of prayer and mourned the loss of a tree as one mourns a friend, once asked "What would human life be without forests, those natural cities?"
Leafy Barcelona
Indeed Barcelona, with its 1.4 million trees (see "Trees for Life" - Master Plan for Barcelona's Trees - 2017-2037) covering 25.20% of the city's surface, takes good care of its plane trees, Holm oaks, Aleppo pines and 10,942 date palms. The Barcelona Town Hall plans to increase the city's tree-covered surface by 5% by 2037. At the same time,"green infrastructure" planners will seek greater biodiversity in trees so that no single species accounts for more than 15% of the total tree population.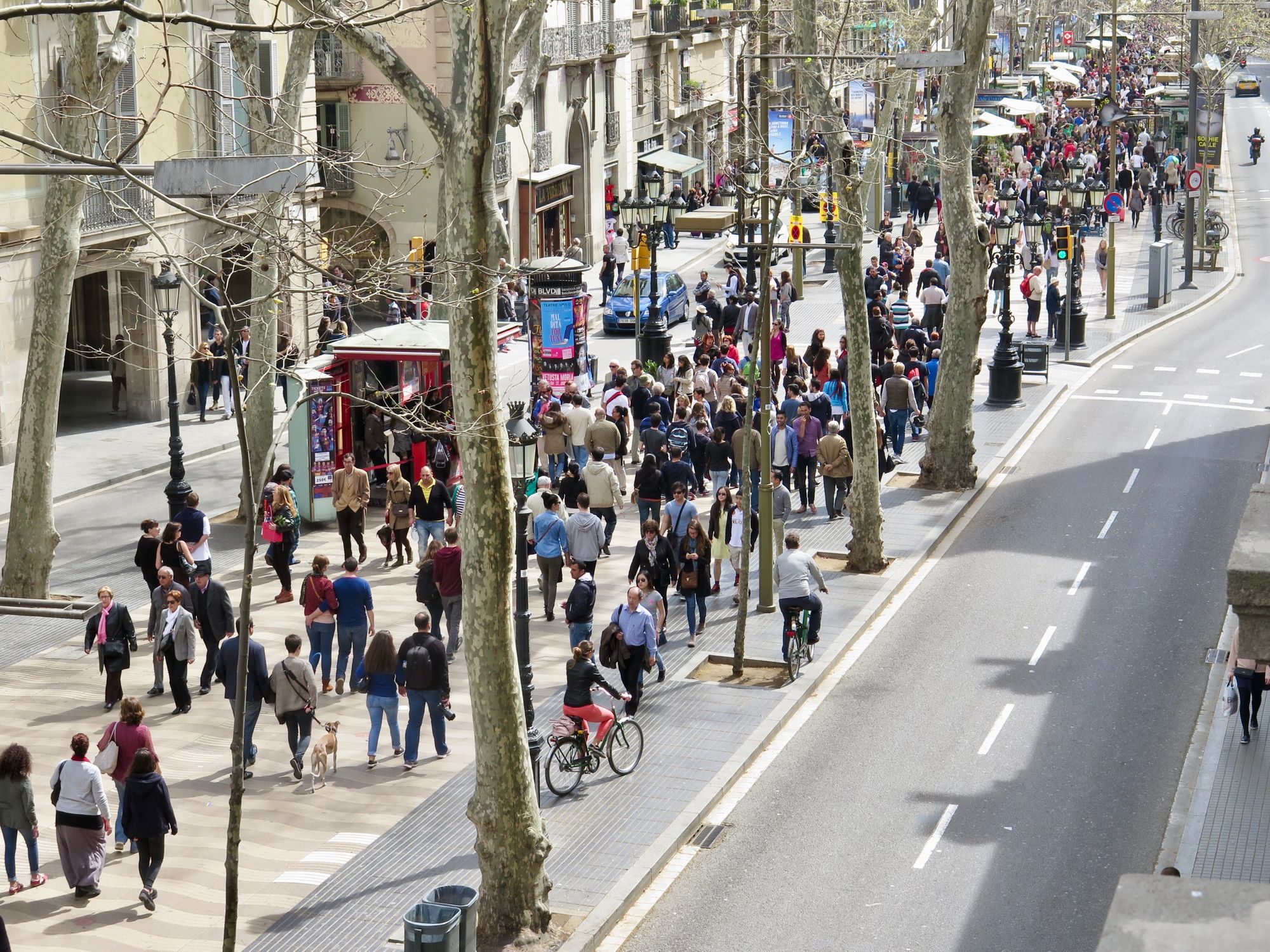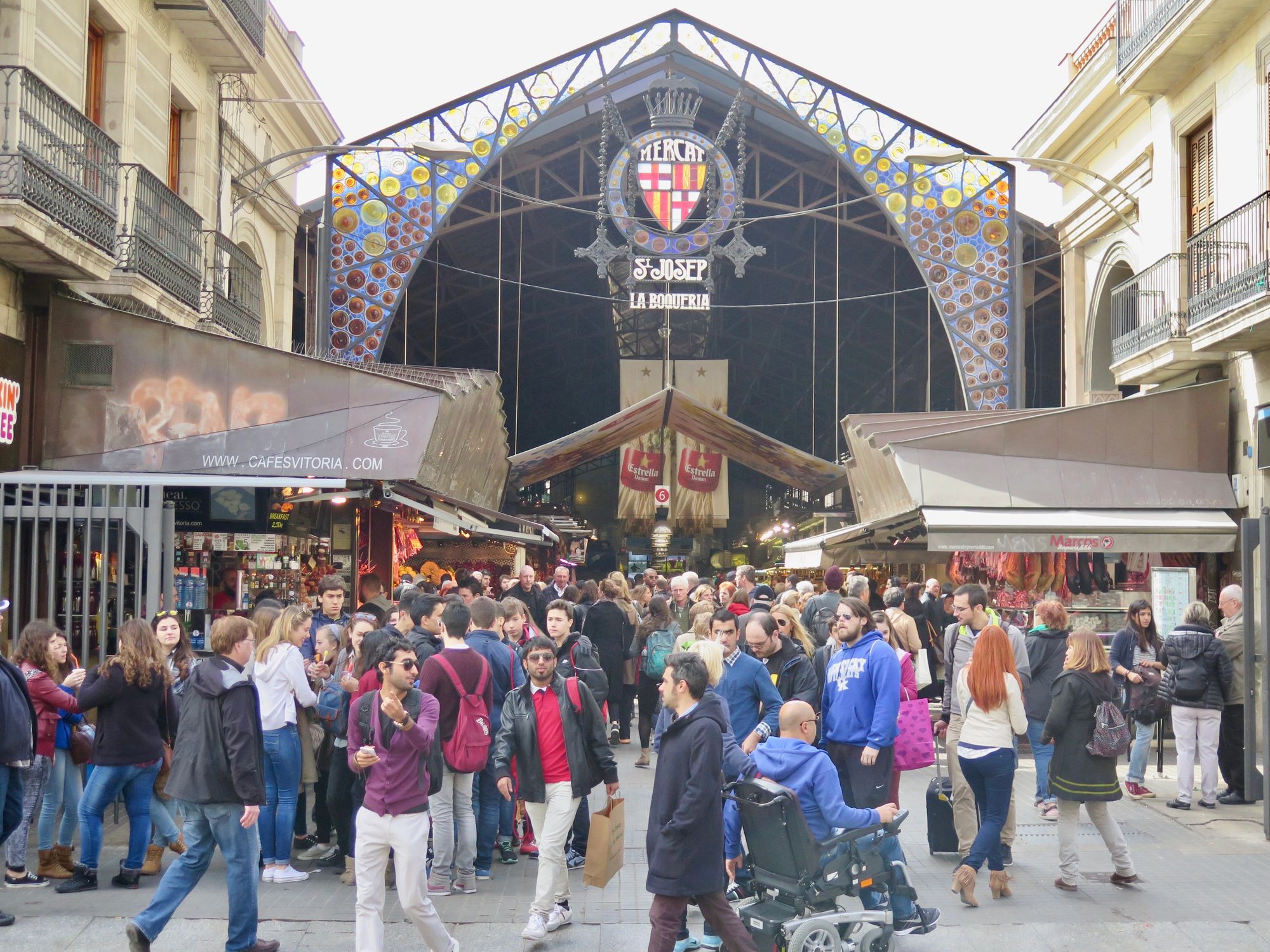 Take the iconic Rambla: a 1.2-kilometer pedestrian runway with double lanes of traffic on either side. Originally a sandy arroyo, (a usually dry water course) just outside the 13th-century city walls (the word Rambla comes from rmel, Arabic for sand), the Rambla is lined with 240 plane trees, 123 on the east side and 117 on the west. In January the plane trees are bare and leafless, but by April 23rd, (Sant Jordi, Barcelona lovers' day) the entire Rambla is covered with a fresh green canopy, the trees arching, reaching for light, over the center of the street, a perfect environment for book browsing, amorous declaration and general flirtation. Federico García Lorca famously called the Rambla "the only street in the world I wished would never end."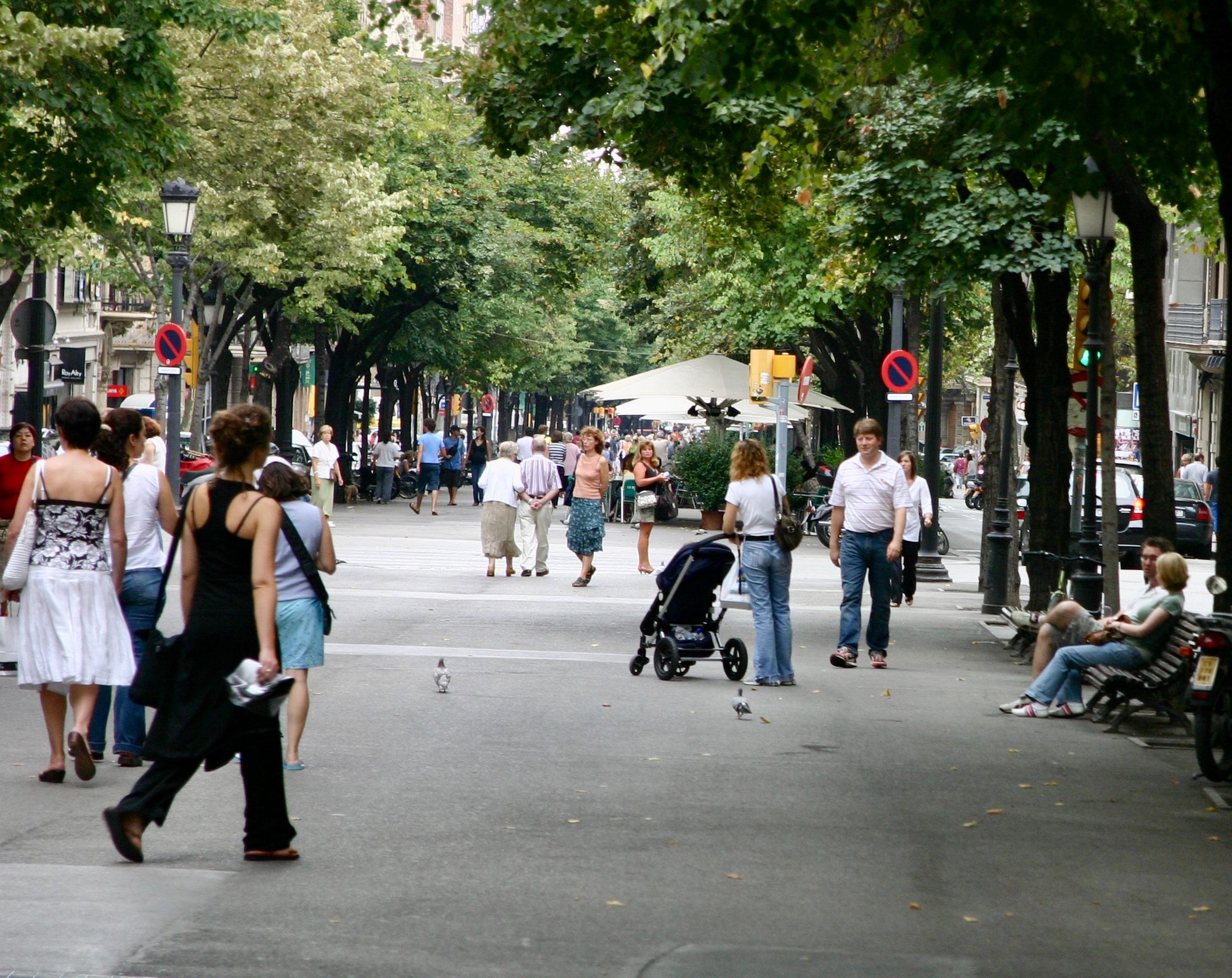 Rambla Catalunya, the extension of the Rambla above Plaça Catalunya leading all the way up to the roaring Diagonal, is even leafier, shadier and more intimate, the linden trees younger, lower, less stalky, pruned and shaped like parasols over the street. One block east, Passeig de Gràcia, a wide swathe of big boutiques and charging ranks of traffic, is elegant and exciting if you like that kind of thing; Champs-Élysées-like, it's impressive, but, for me, it's one of Barcelona's arteries-to-avoid, along with Gran Via, the Diagonal, and Carrer Aragó, all too wide, noisy and speedy for comfortable human interaction: conversation, specifically.
Barcelona, from April to November, is, above all, leafy, and this makes the city seem soft and livable, human and organic, open, gemütlich.
Barcelona's Blemishes
Why Oriol Bohigas and the city planners of the post-Franco era that began with the dictator's demise in 1975 chose to feature the infamous "places dures" or "hard squares" is a mystery to everyone but perhaps the much celebrated  "gauche divine", the so-called "divine left" in fashion at that time. Were they seduced, perchance, by Moscow's Red Square?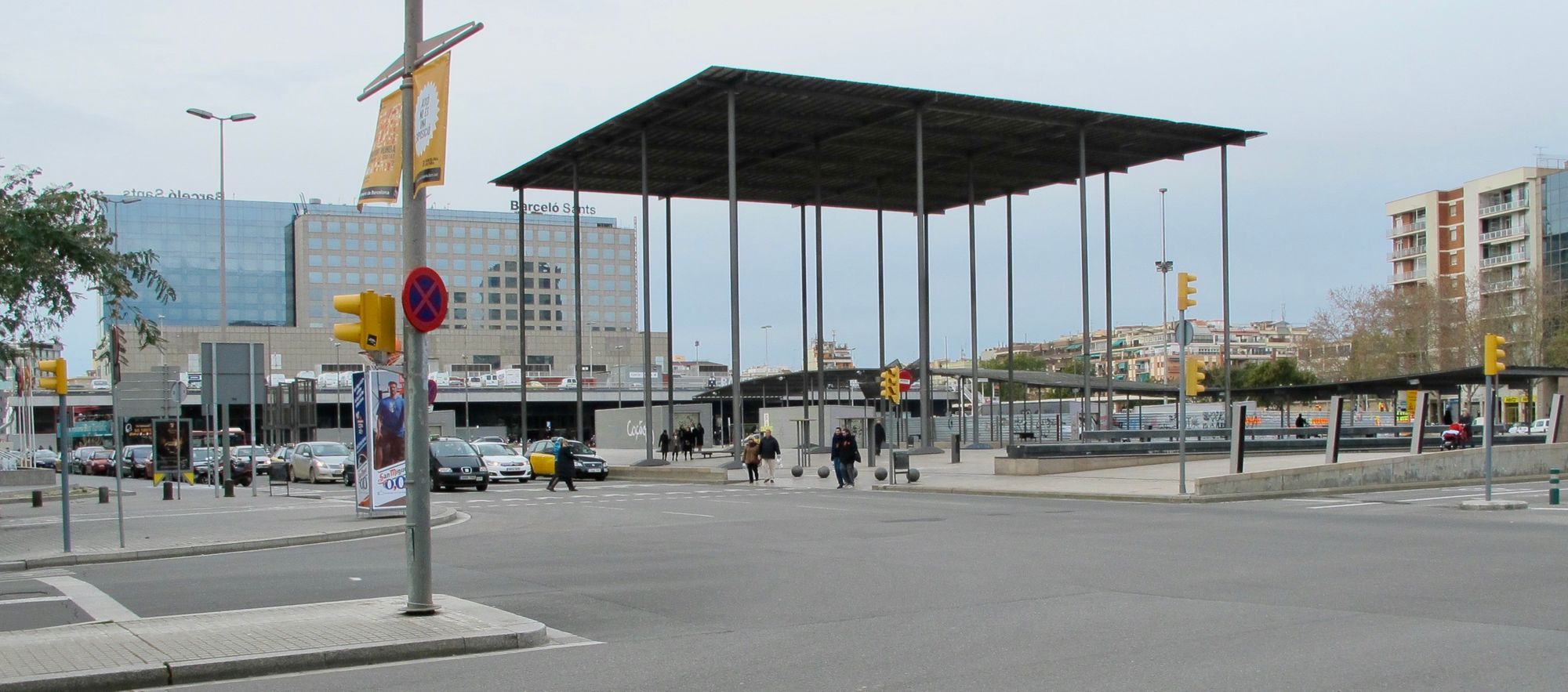 Plaça dels Països Catalans on the eastern side of the Sants train station, shown in green in the official Town Hall city guide, has nothing green in it at all and is one of the most hostile spaces in the city, a place to hurry past on the way to a train to Madrid. Parc de Joan Miró not far away is another prime example, built over the old city slaughterhouse next to the Les Arenes bull ring. Miró's 70-ft ceramic red-yellow-blue-green female form (complete with vagina and shaped like a phallus) "Dona i Ocell" (Woman and bird) erected in the reflecting pool provides some relief from the baking-pan space, but this, again is a place to hurry past.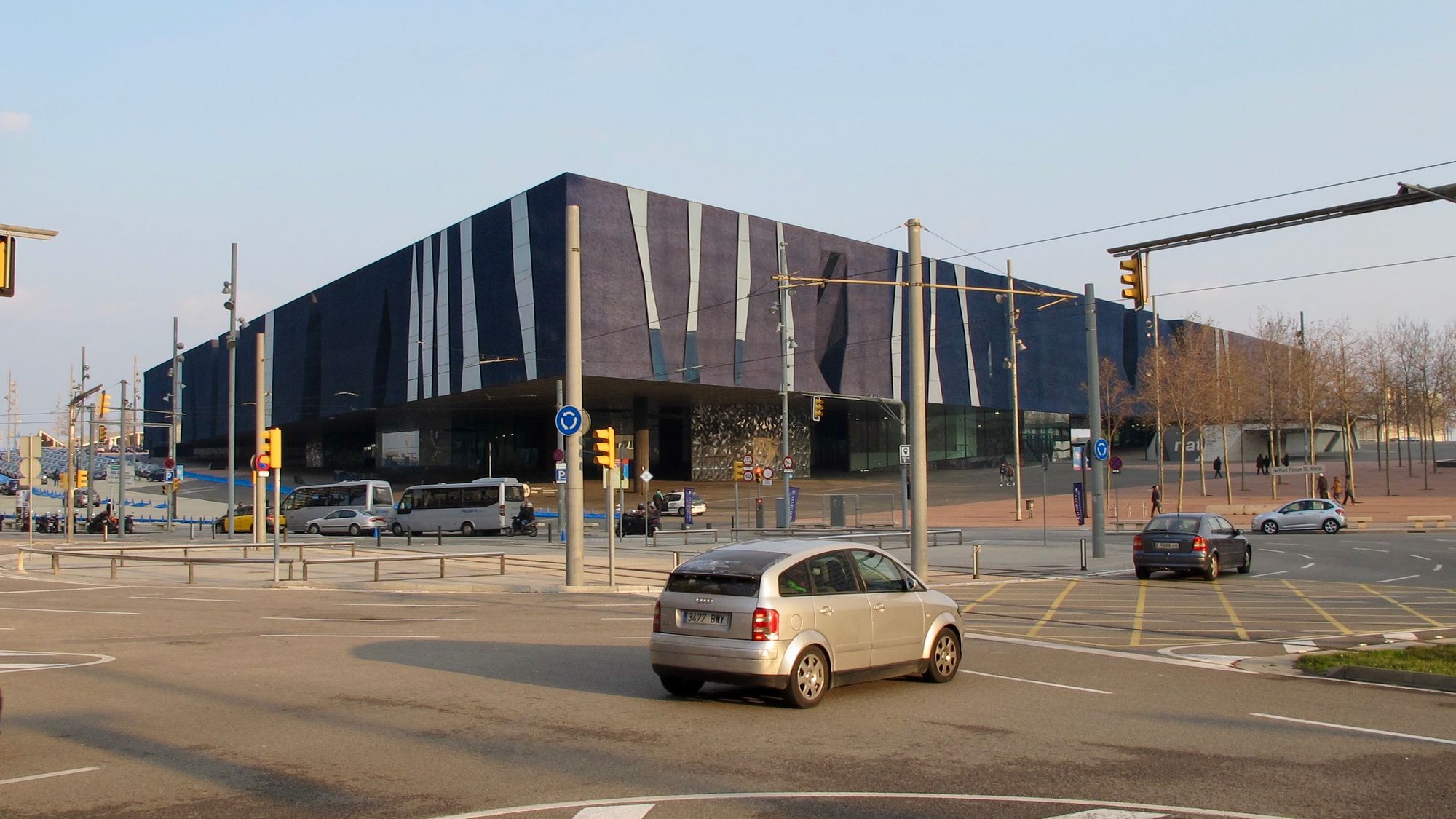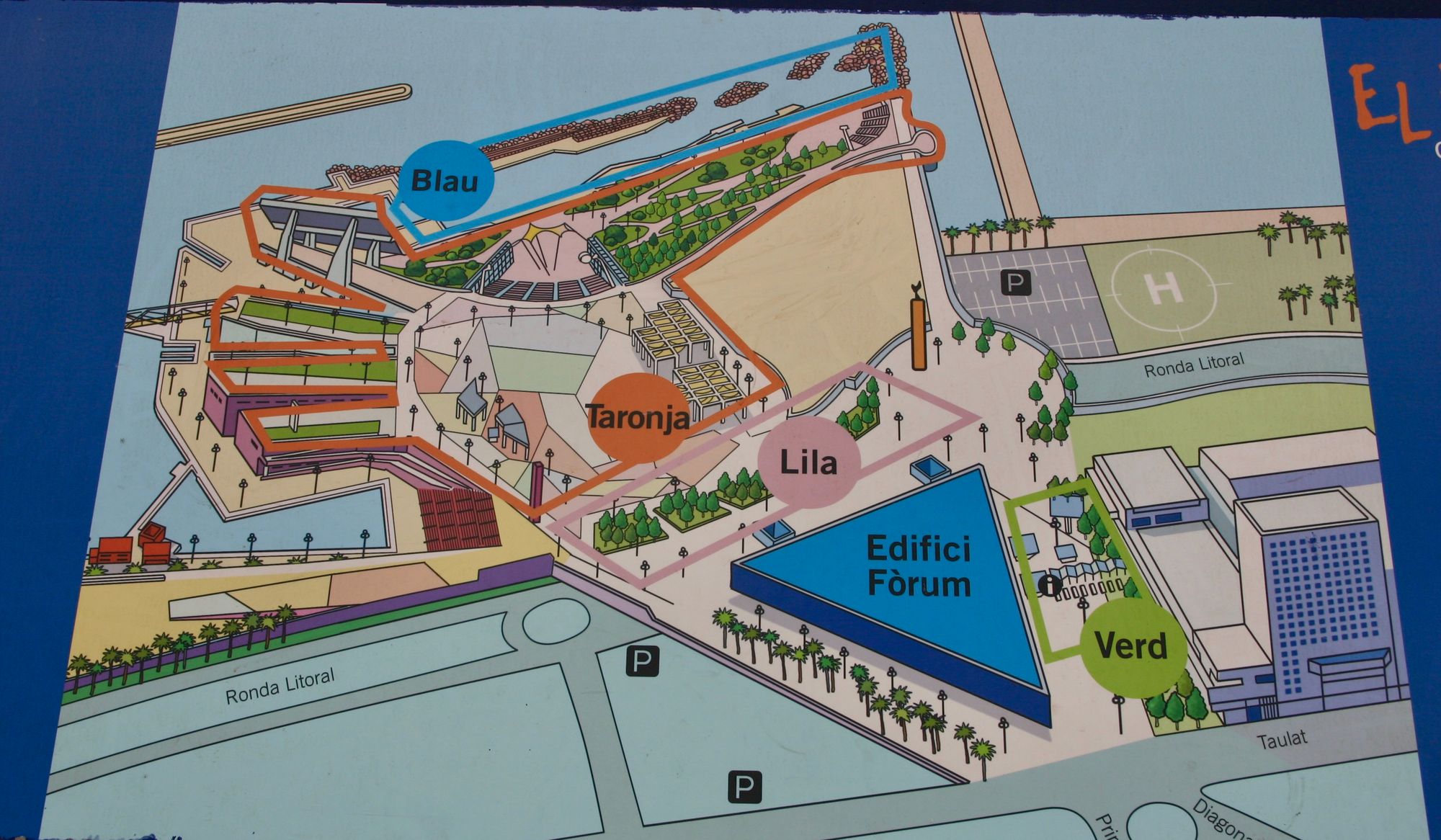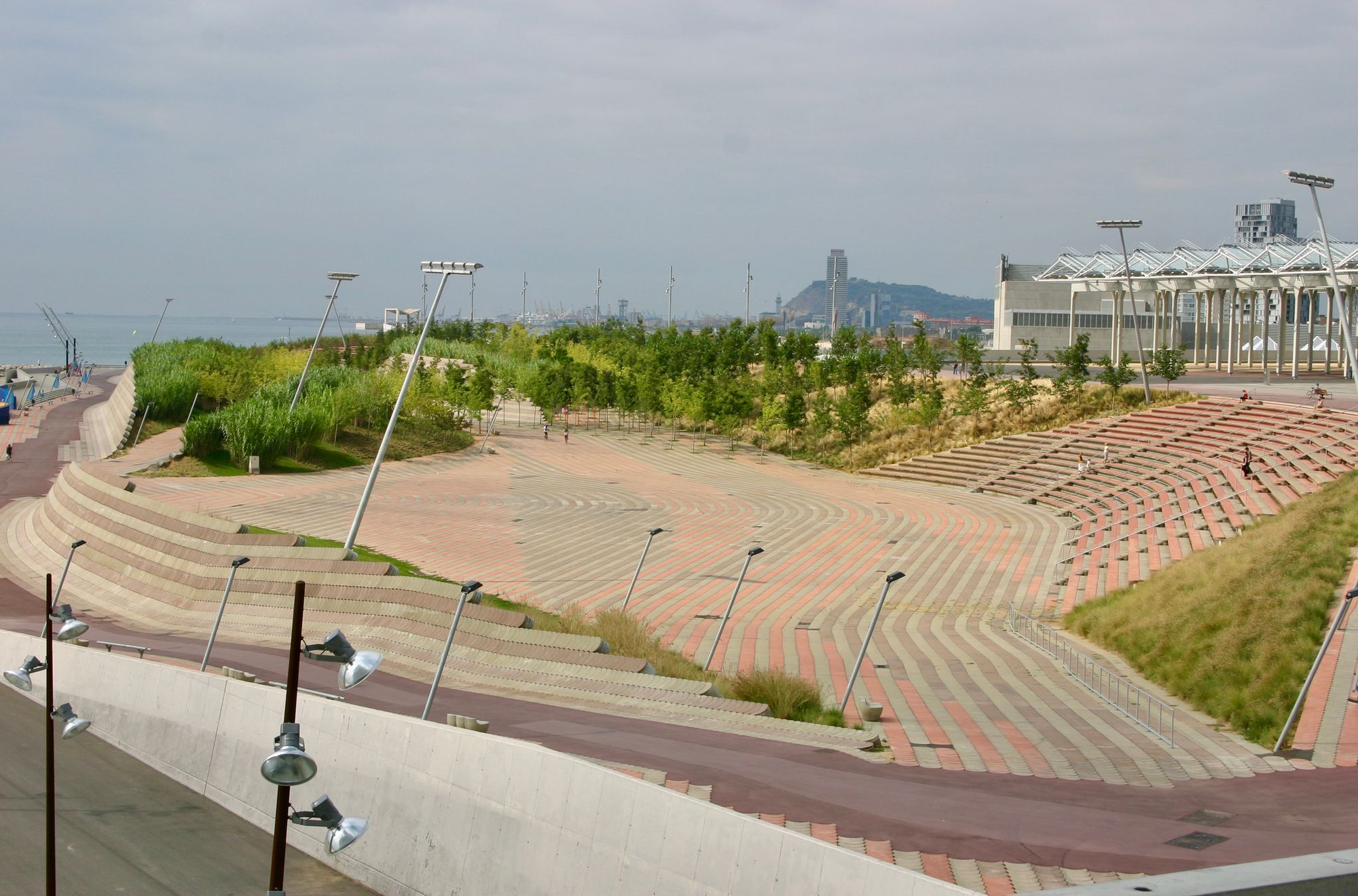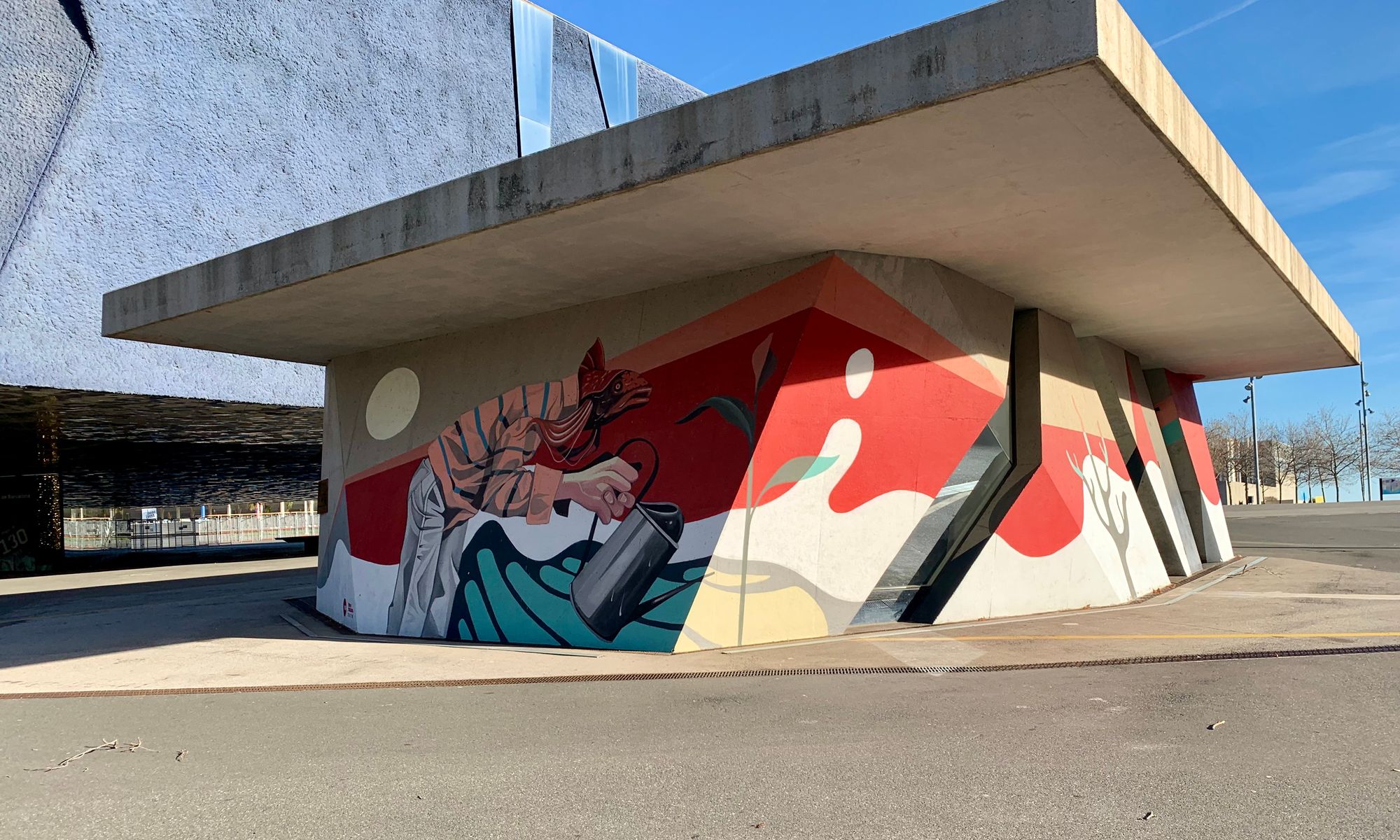 The same can be said for most of the Diagonal Mar spaces around the Fòrum building and the entire complex created for the controversial Fòrum Barcelona 2004: wide, bare, uninviting and largely uninhabited spaces. Even in the generally warm and friendly Gràcia neighborhood, five problematic squares (Gal·la Placídia, Sol, Diamant, Lesseps and Dones del 36) have been scheduled for re-greening in order to "generate new synergies and favor neighborhood life and social cohesion."
Collective Intimacy
Barcelona is most itself in smallish, protected spaces where a sense of individual and collective intimacy provides relief from urban speed and sprawl. Take Carrer de l'Anisadeta, the city's shortest street at a length of exactly 12 feet from beginning to end. At the southeast corner of Plaça de Santa María, this tiny street bordering Carrer de les Caputxes (Hoods street, for the medieval makers of monks' cowls) was allegedly named for a little old lady who sold shots of anis seed liqueur here in the 16th century. The serendipitous jumble of wooden beams, stone arches and the sense of medieval antiquity tucked in behind the adjacent Viña del Senyor ("The Lord's Vineyard") wine bar is strong here, as noted by eminent art historian Alexandre Cirici i Pellicer, author of "Barcelona pam a pam" (Barcelona Step by Step), the nonpareil Barcelona art and architecture guide.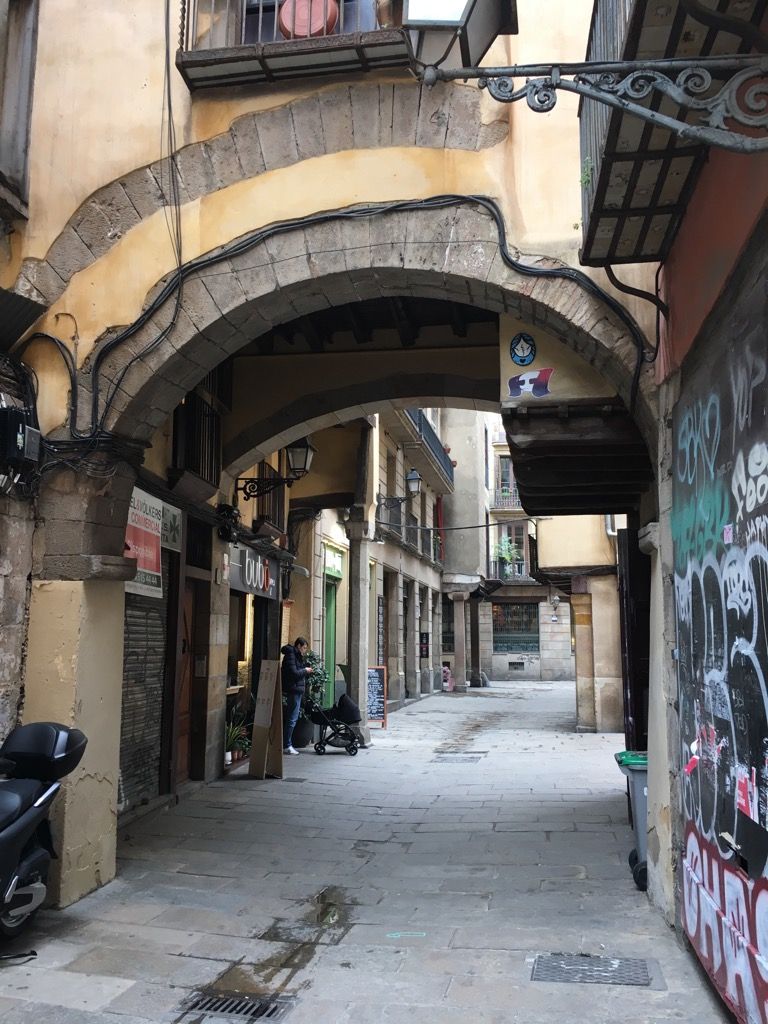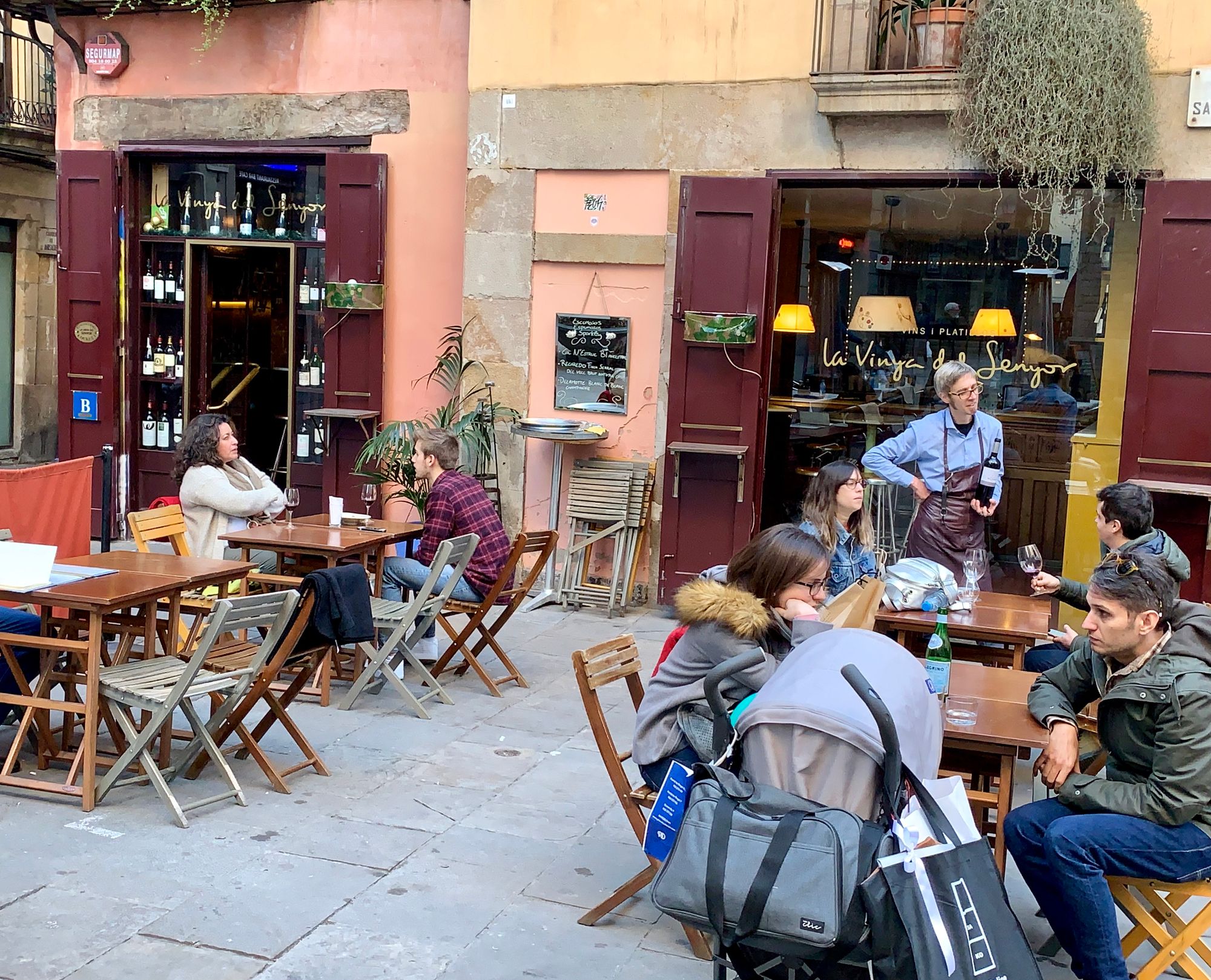 Favorite neighborhoods and nooks and crannies that transmit Barcelona's intimate charm would include Gràcia, Sarrià, Barceloneta, most of the Born-Ribera neighborhood, parts of the so-called Gothic Quarter, certain parts of the Raval and a few hidden secrets in the post-1859 checkerboard Eixample or "expansion". Even the Ciutadella park, originally constructed as a military fortress in 1714, has its protected corners and magic spots.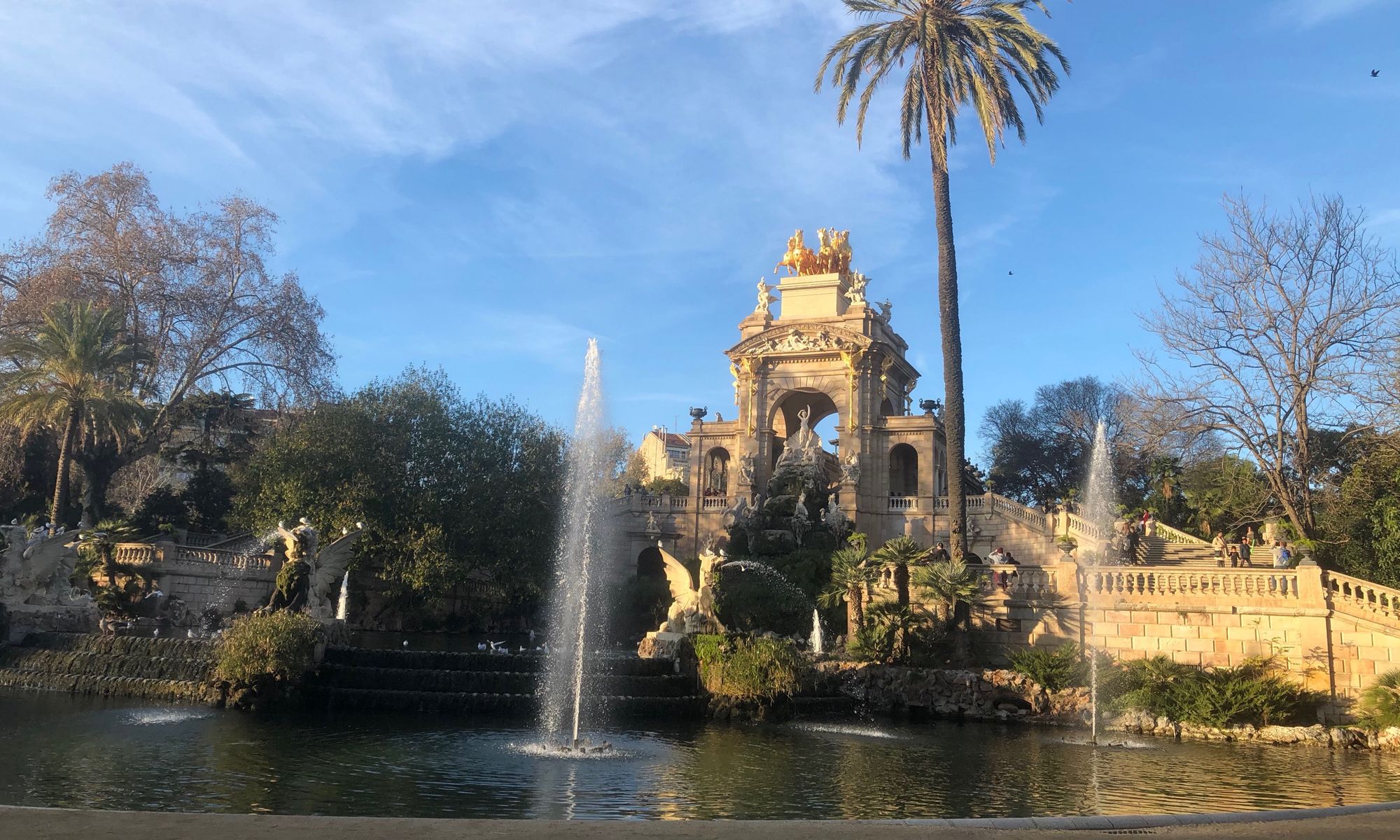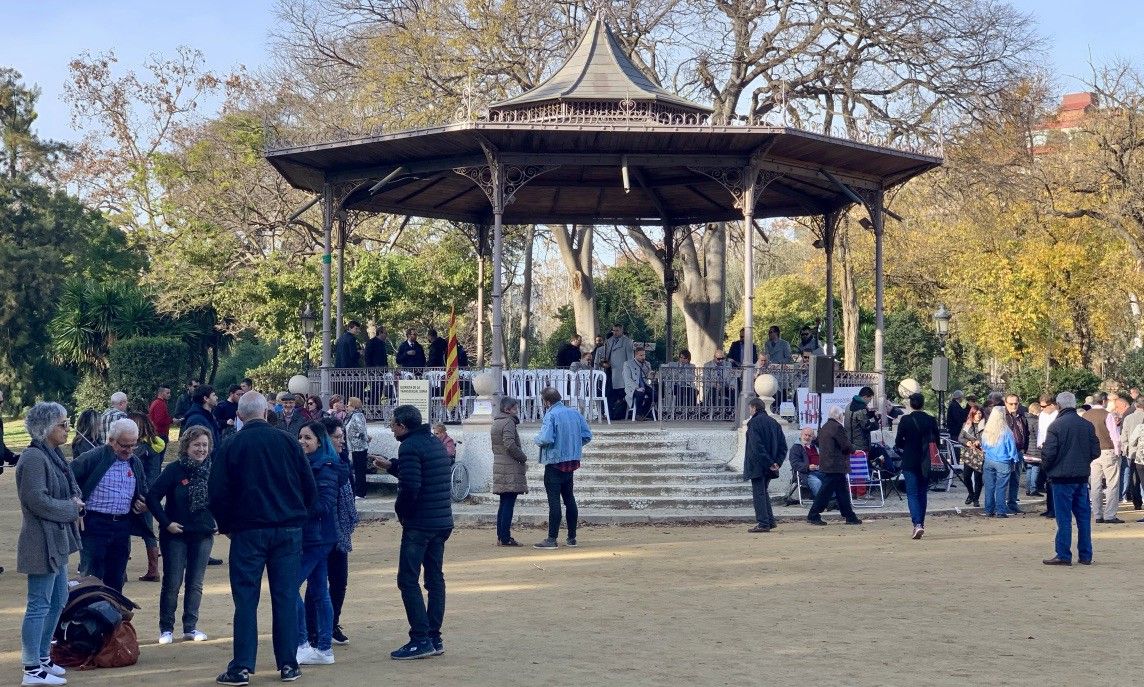 Vila de Gràcia
Gràcia, a separate town dating back to the 1600s, did not formally join the city of Barcelona until 1897. Always independence-minded and revolutionary, Gràcia, named for the Santa María de Gràcia (Our Lady of Grace) Convent founded in 1427, actually seceded not only from Barcelona and Catalonia but from the Spanish state itself in 1856, 1870, 1873 and 1909, requiring deployment of national troops, assaults and artillery bombardments to crush popular uprisings triggered by imperial troop conscriptions.
Intricately honeycombed with tiny streets and lushly flowered windows and balconies, this romantic enclave seems to bring together all of Barcelona's passion and energy in a bite-sized context, busy but intimate, fierce but friendly.
Scenes of Everyday Life in the Streets of Gràcia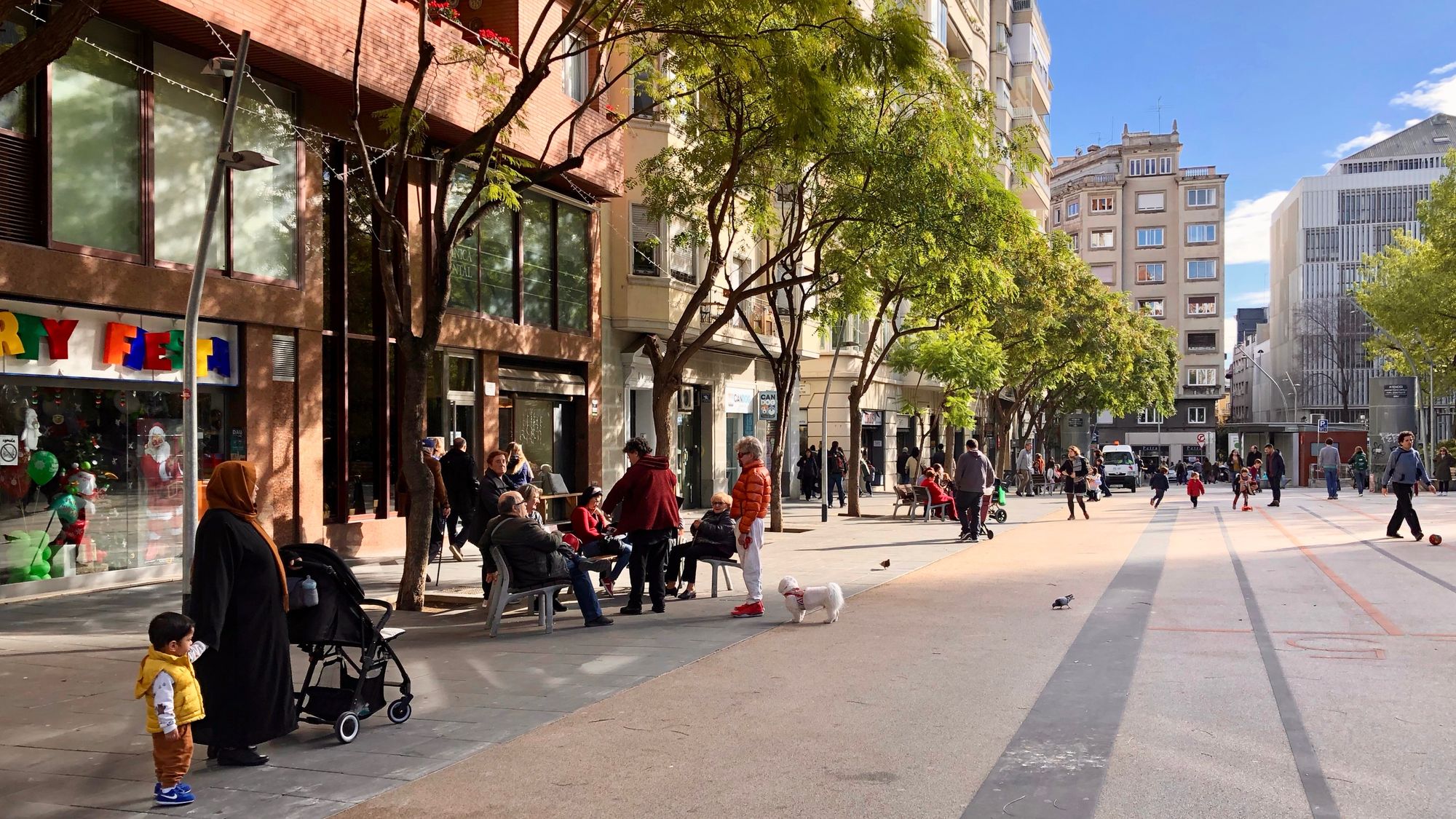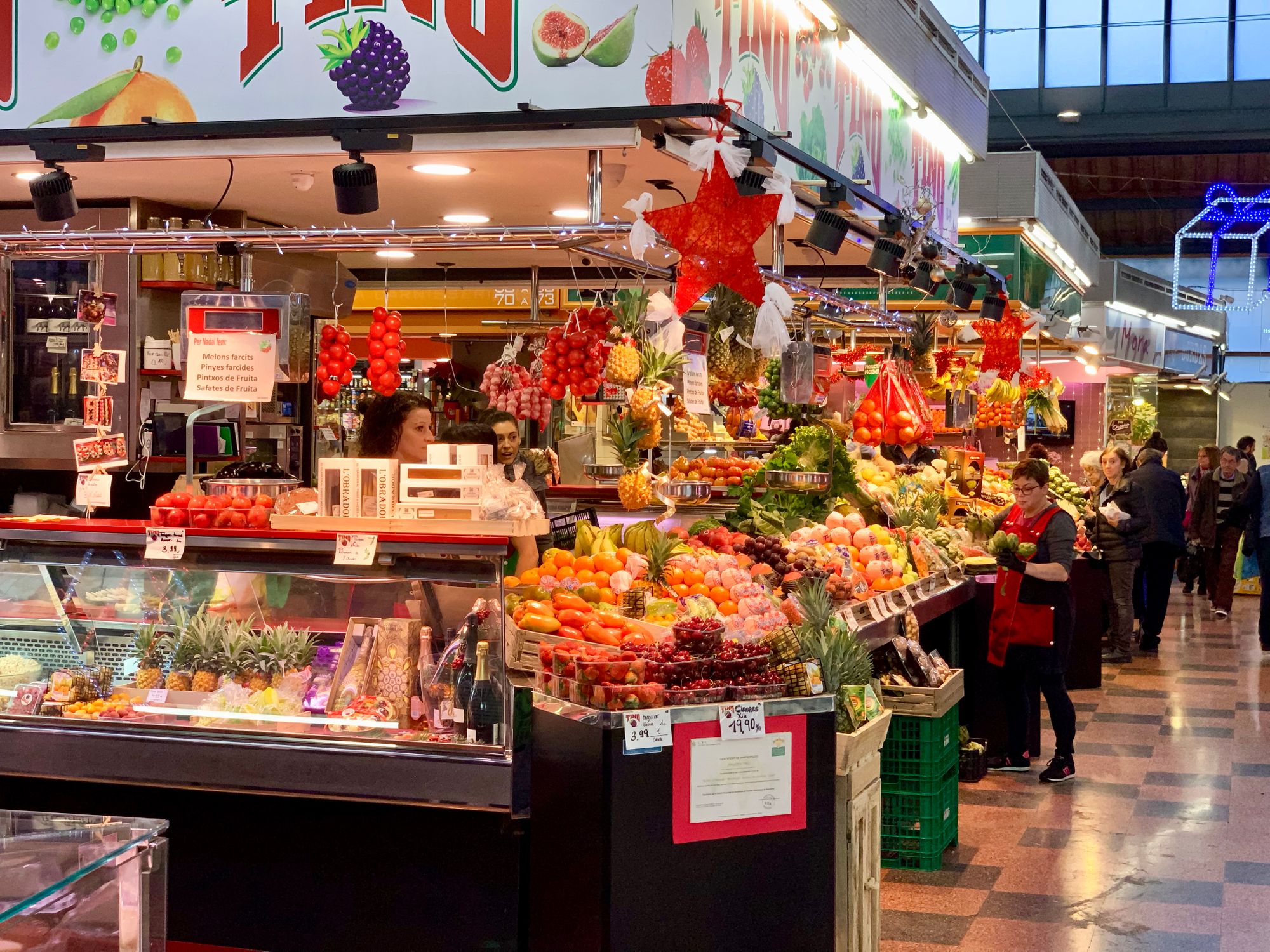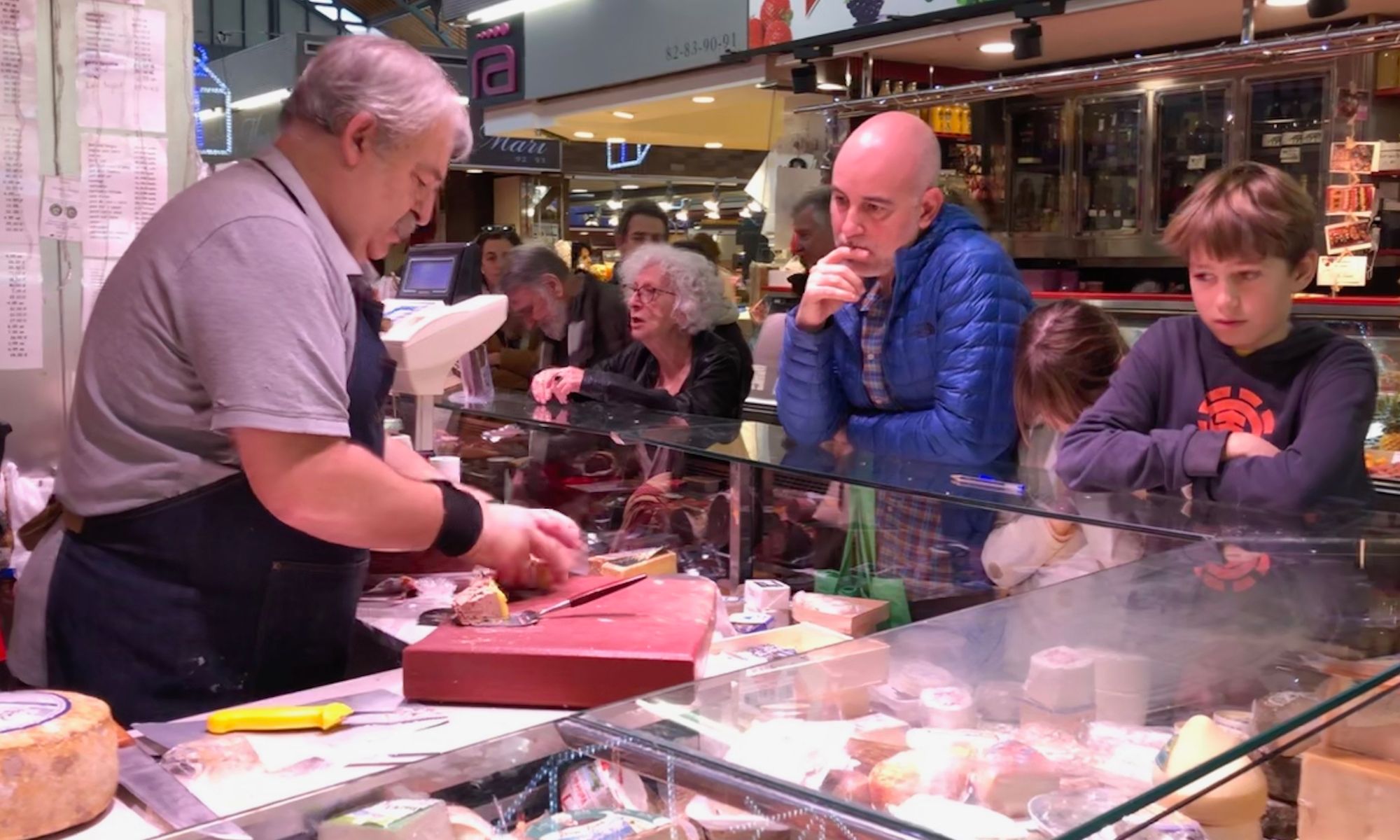 Gràcia's two produce markets, Mercat de la Llibertat and Mercat de la Revolució (now called Abaceria Central) offer a clue to the modern social history of this village-state within a city. Federalists, labor organizers, anarchists, feminists, Protestants, Theosophists and Esperantists have been among the progressive movements that have flourished in Gràcia since the middle of the 19th-century. Today Gràcia is a lively nucleus of day and night life, a youthful hub for theatergoers, jazz lovers, movie buffs, market browsers, diners and café terrace and saloon regulars.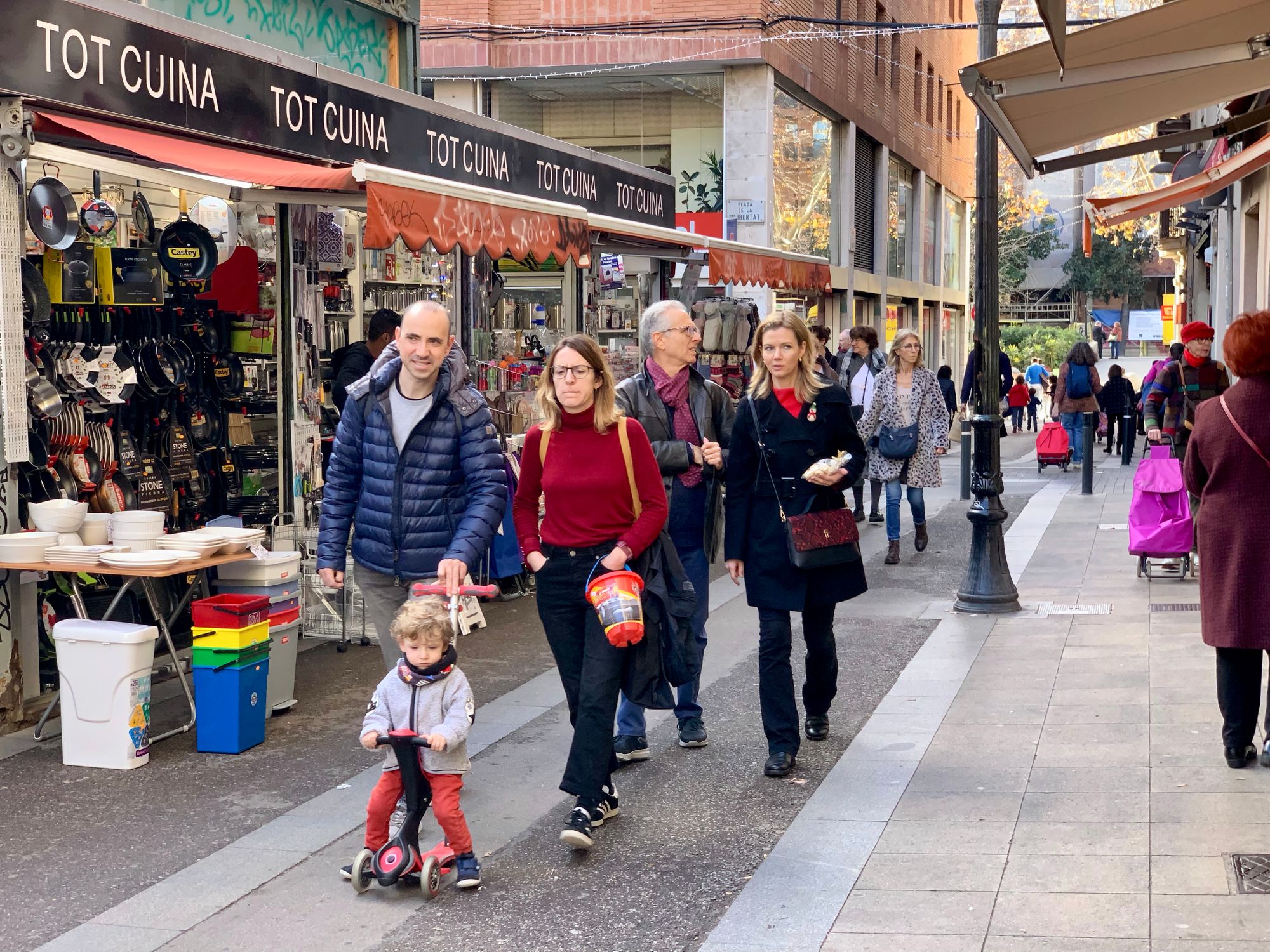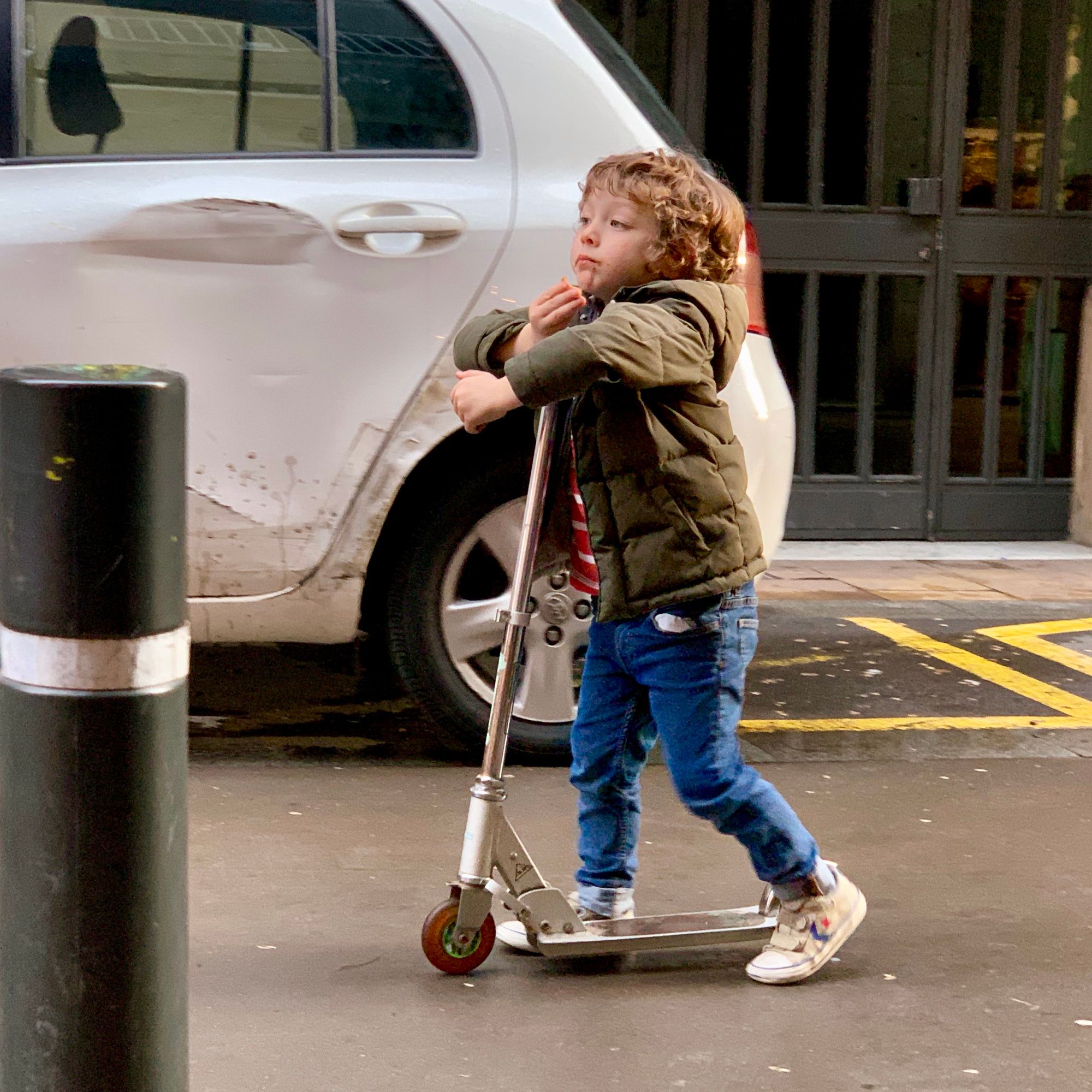 Gràcia's two food markets and the streets around them are among the most appealing places in town, while the Plaça de la Vila de Gràcia with its iconic clock tower, much bombarded and repaired over the centuries, and the outdoor café tables around the upper part of the square are optimal mixing and mingling hubs for the young and not so young. Gaudí's first house, Casa Vicens, finished in 1885, is on Carrer de les Carolines, a fascinating look at a Gaudí as yet unliberated from straight lines and right angles, while his phantasmagorical Park Güell marks Gràcia's upper edge.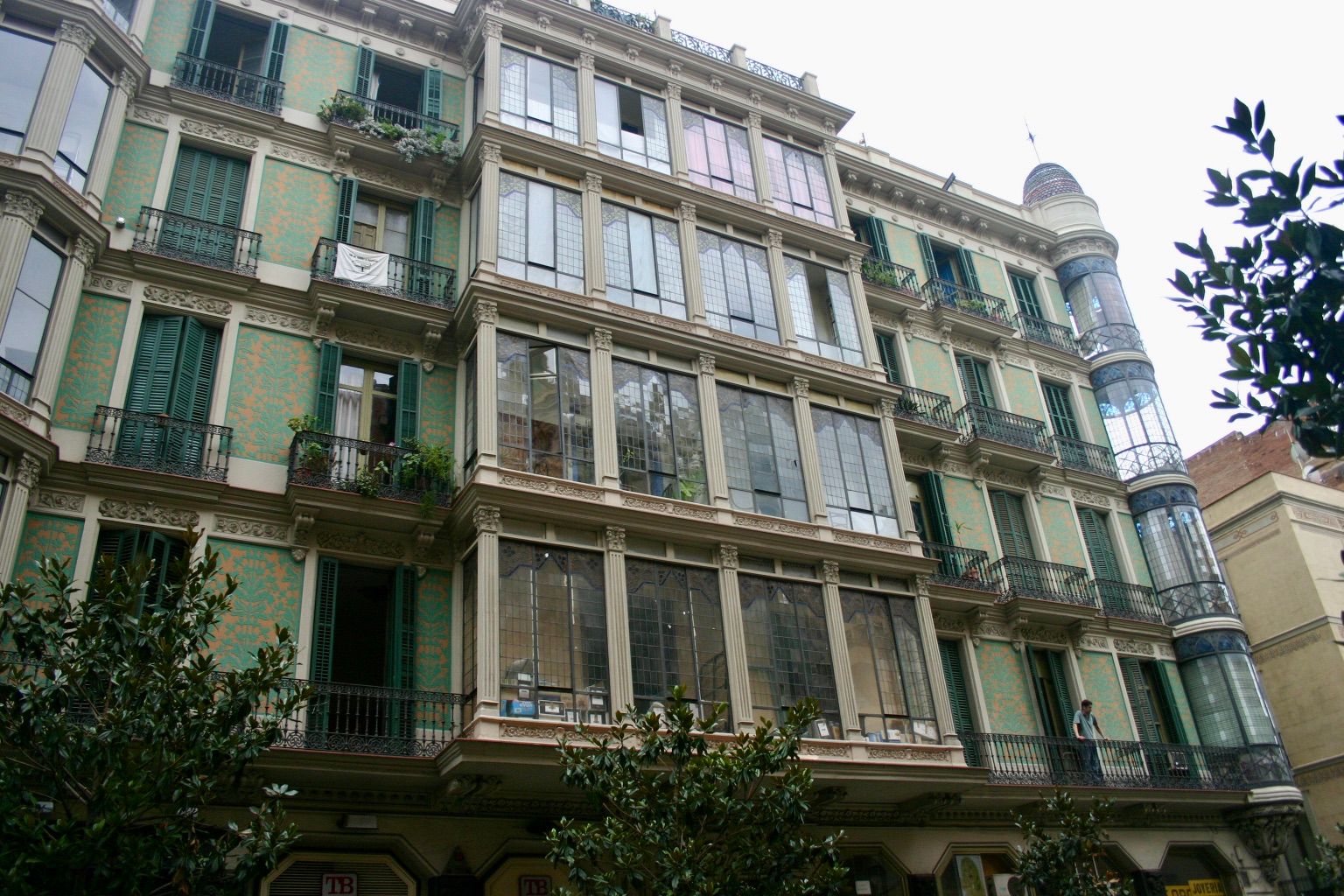 The most interesting buildings in Gràcia were built by Gaudí's righthand man, Francesc Berenguer i Mestres, who dropped out of architecture school at the age of 21 to go to work for Gaudí in order to support his rapidly growing family. Gran de Gràcia ("Gran" meaning grand, big or main street) is too narrow, noisy and fast to do much of anything but flee, but if they ever pedestrianize this picturesque thoroughfare the Berenguer houses at Nos.13,15, 50, 61,77,196 and 237 might begin to receive the acclaim they deserve. Berenguer was also the architect of the Mercat de la Llibertat, the Gràcia Town Hall in the Plaça de la Vila de Gràcia and the Centre Moral e Instructiu de Gràcia at Carrer Ros de Olano 9.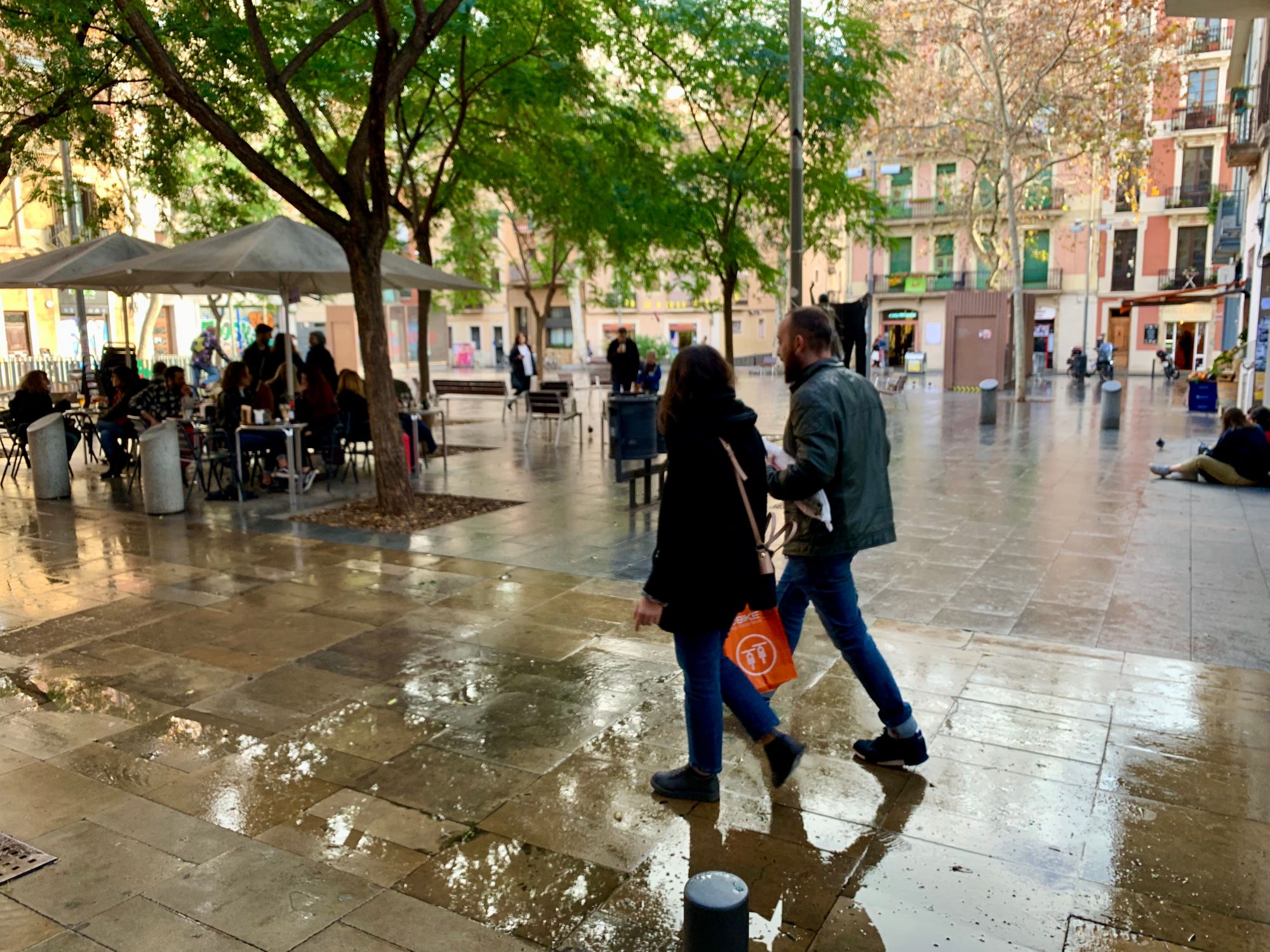 Another Gràcia landmark not to miss is the Colometa statue, a bronze Xavier Medina Campeny sculpture of the protagonist of Mercè Rodoreda's famous novel "La Plaça del Diamant" (Diamond Square). Mercè Rodoreda (1909-1983) was the leading Catalan novelist of the 20th-century, although her career was cut in half by the 1936-39 Spanish civil war that eventually cancelled all publication in the Catalan language. Between her novel Aloma (1938) and La Plaça del Diamant (1962), Rodoreda lived in exile in Switzerland.
In all, there is something both soothing and stimulating about Gràcia, a sense of all the things the streets are named for: liberty, fraternity, progress, revolution, danger, "and yes, even Venus". Gràcia is an aphrodisiac; people feel comfortable and alive here.
Village in the City
Sarrià (suh-ree-AH) is another outlying village, like Gràcia, that has been swallowed up by the metropolis. Originally an agricultural hamlet with its own town hall and government, Sarrià only officially became part of Barcelona in 1921. In front of the Sarrià town hall stands the bronze Josep Clarà sculpture of Pomona, Roman goddess of the harvest, exuberantly nude and holding an apple (poma in Catalan) in her right hand. Peppered with restaurants, taverns and markets, Sarrià is mainly residential, with many pedestrianized streets and bollards closing off Carrer Major (main street) to all but delivery traffic and residents with garages.
In 1975, many of the apartment buildings were estates with lawns and stables; Sarrià, nevertheless, still retains its leafy tranquility, the city's hustle and bustle diverted around the pedestrian village nucleus by carefully planned ring roads such as the Ronda de Dalt, Via Augusta, or the Avinguda Foix running down what thirty years ago was a deep gorge or stream bed.
Sarrià has a neo-Mudéjar (Moorish architectural style) open food market, a tiny hidden square (Plaça Sant Gaietà) behind it, a main square with weekly antique and produce markets, and many lushly vegetated corners such as Carrer Canet or Passatge Mallofré off Carrer Major de Sarrià. Favorite trees: the sixty-foot cypress in Carrer Canet, the giant Bougainvillea in Plaça Sant Gaietà, the immense wisteria on Carrer Avió Plus Ultra, the lush date palm in the (excellent) restaurant Vivanda's patio on Carrer de Graus.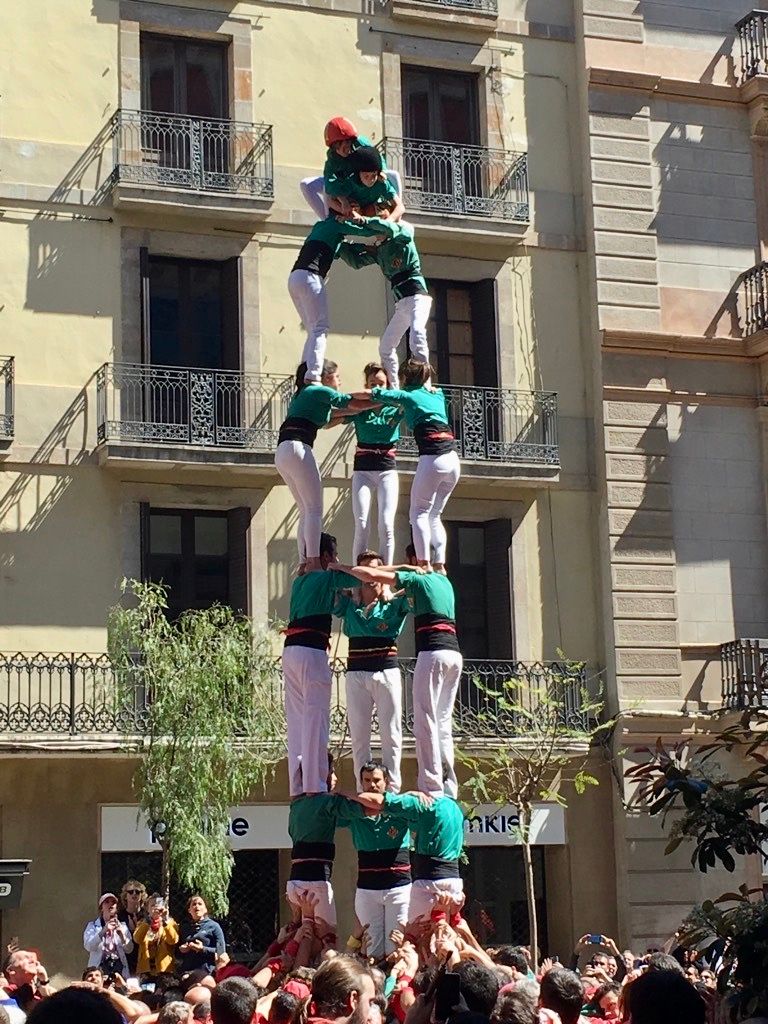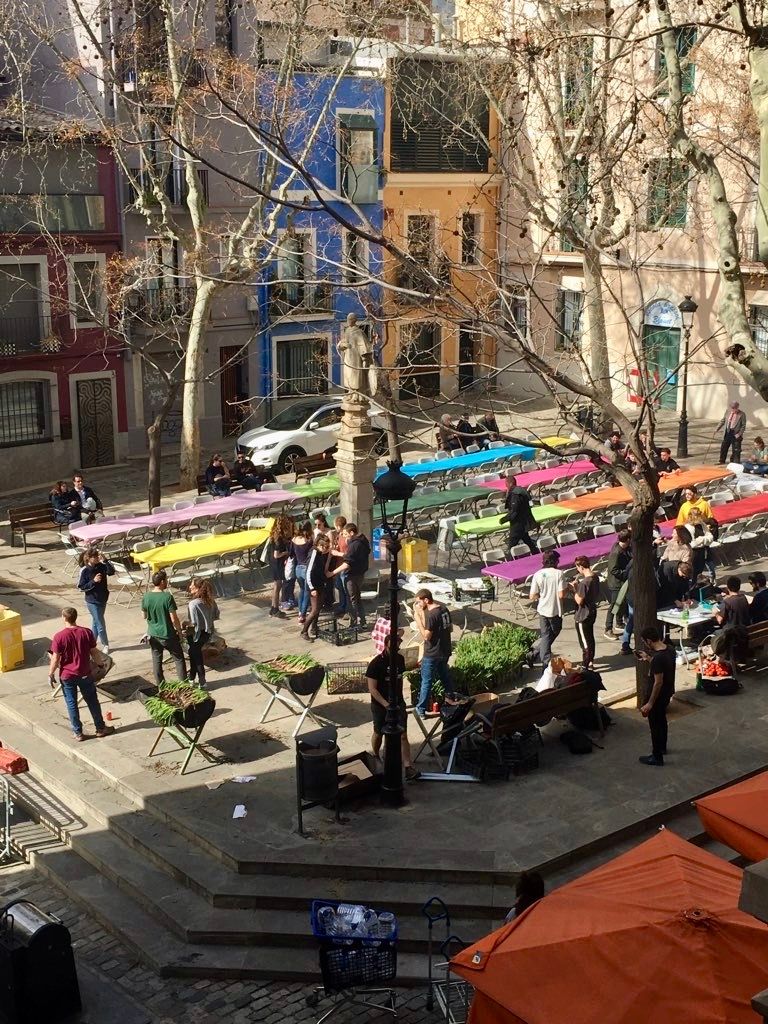 Part of what makes Barcelona's public spaces memorable is what happens in them. In my square, Plaça Sant Vicenç de Sarrià, with a sculpture of Sarrià's patron saint presiding from his pedestal, on this winter day they are celebrating a calçotada, a long-stemmed leek or green onion roast, the Calçotada Popular de Sarrià. Tables are set up for a dinar de germanor, an open-to-all-comers (for 12 Euros) brother-sisterhood lunch for about 75. Calçots arranged by the dozen on wires are cooked over coals and wrapped in newspaper to steam while botifarra sausage and lamb chops roast and nutty, garlicky romescu sauce awaits.
The square is ringed with a dozen linden and plane trees, but the tree closest to my heart is the giant three-foot-thick plane tree that several of us saved some five years ago. Parks & Gardens operatives in green jump suits swept into the square looking dangerous and, sure enough, one of them cranked up his chain saw and took a swipe at the square's most magnificent tree before we managed to stop him. Jordi Vigues, author and activist, in league with several citizens of the square, including the owner of the oyster bar whose tables count on that tree for shade, called the Sarrià town hall and spoke to the person in charge of trees and talked him into reviewing the case. Yes, the tree had a rotten center, but the peripheral wood was rock solid; in the end, our tree was indefinitely pardoned.
Up in the main square of Sarrià sardanas are performed on weekends, the Catalan national folk dance, also performed in front of the Barcelona cathedral every Saturday and Sunday at midday. This "circular dance", chronicled by Roman historian Pliny the Elder as early as the 1st-century AD, became popular in the late 19th-century as a symbol of Catalan national identity. Dainty, with carefully counted steps and a light, feline grace, the sardana has been compared to the way the local soccer club handles the ball in Barcelona's elegant Camp Nou.
In front of the Sarrià town hall and the Pomona bronze, castellers perform on fiesta days, erecting human castles nine or ten stories (50 feet) tall, with dozens of burly bruisers at the bottom forming the foundation and lighter and lighter layers of athletic youths balancing precariously up to the helmeted six-year-olds who scramble to the top. Castells are as unfailingly moving as sardanas, folk performing folklore, doing something that materializes out of their genetic and cultural history as naturally as breathing.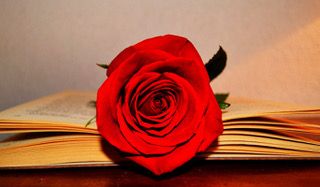 Books and Roses
And then there is Sant Jordi, Barcelona's lovers' day combined with International Book Day to commemorate the 23 April, 1616 deaths of Shakespeare and Cervantes. Men and mice alike give their beloveds roses, and damsels respond with books. In Sarrià, Flora Miserachs displays 45 different strains of roses for as many varieties of love: maternal, filial, unrequited, impossible, doomed and damned. All the streets of Barcelona become book stalls and record numbers of books and roses are sold throughout Catalunya's unofficial national day.
Yes, national day, a term never permitted under Franco, for whom regional allegiances were relegated to folklore status, for whom la patria chica, "the little fatherland" was always subordinate to the "nation" of Spain. Modern Catalan nationalists consider Spain the "state" and Catalunya the nation, and the Catalan independence movement, with its leaders presently imprisoned or in exile for holding an illegal 2017 referendum on Catalan sovereignty, shows no sign of slowing down.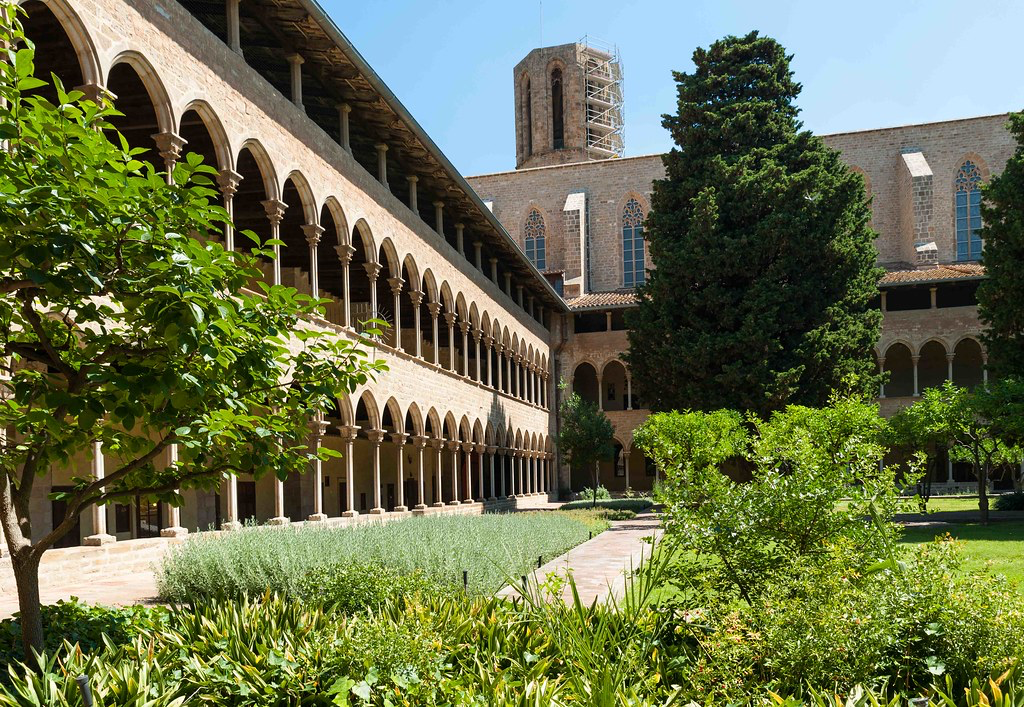 The nearby Monestir de Pedralbes, a fifteen-minute walk west of the Mercat de Sarrià, a gorgeous 14th-century three-tiered convent crammed with cypress trees and vegetation of every kind, is built of what were once white-ish stones, thus, "petra-alba": a good walk and a lovely visit; but the undisputed heart of Sarrià is Bar Tomàs, the patates braves amb allioli (spicy potatoes with aioli garlic and olive oil sauce) capital of Barcelona and the universe, a place to run into old friends and family or share a freezing caña (draft beer) with a semi-stranger you've seen around for years and always wanted to get to know better.
The Sarrià we knew in 1975 was quaint and cozy, attracting novelists such as Gabriel García Márquez and Mario Vargas Llosa, with octogenarian local poet laureate J.V. Foix still living across from his family pastry shop and giant oak trees towering over the stables and gardens along the open-air railroad tracks. Now Major de Sarrià is all pedestrianized with little children walking home from school with or without their parents; no more trolleys or much-too-big city buses squeezing through impossible spaces spewing diesel fumes and decapitating the taller citizenry with their side view mirrors (really, it happened). No more parking in Plaça Sant Vicenç de Sarrià, where schoolchildren have taken over from the 50-75 automobiles that used to squeeze in around the unhappy looking pivotal patron saint.
Two sidewalk restaurant-cafés now flourish in what was once a parking lot. Sarrià is quieter now, bird songs and faint chapel bells ringing matins from the nearby Santa Isabel convent are the first sounds of dawn; the number of restaurants, most of them excellent, has quadrupled from six or seven to two dozen. Always extremely livable and embracing, Sarrià has become even cozier and more comfortable over the last 40 years.
The Checkerboard Eixample
The Eixample (expansion) is another story. This is the big city, albeit still tree-lined and leafy, a three-square-mile checkerboard composed of 115 identical illes (blocks), with chamfered or beveled corners to let in light and air and leave space for corner markets. These octagonal blocks were the post-1859 brainchildren of architect and city planner Ildefons Cerdà, whose revolutionary urban plan included central garden areas for each block. The Eixample filled the up-to-that-point empty space between Barcelona's walled old city and the outlying villages of Gràcia, Horta, Sants and Sarrià. Years of political struggle preceded the Spanish military's reluctant permission to edify the space beyond the walls; artillery batteries in the Ciutadella and Montjuïc fortresses had the intramural city well covered and for "security reasons" opposed any such move out of range. Criss-crossed by important high-speed arteries such as the Diagonal, Carrer Aragó, the Gran Via and Passeig de Gràcia, the Eixample does have, aside from its architectural treasures such as Gaudí's Casa Milá and Casa Batlló, some quiet spaces. Rambla Catalunya, running from the Diagonal down to the Gran Via, is a leafy tunnel lined with sidewalk cafés, shops and restaurants. Carrer d'Enric Granados, named for the eminent Catalan composer, is pedestrianized and tree-lined from the Diagonal down to the jungle-like cloister of the central university complex that faces Gran Via de les Corts Catalanes.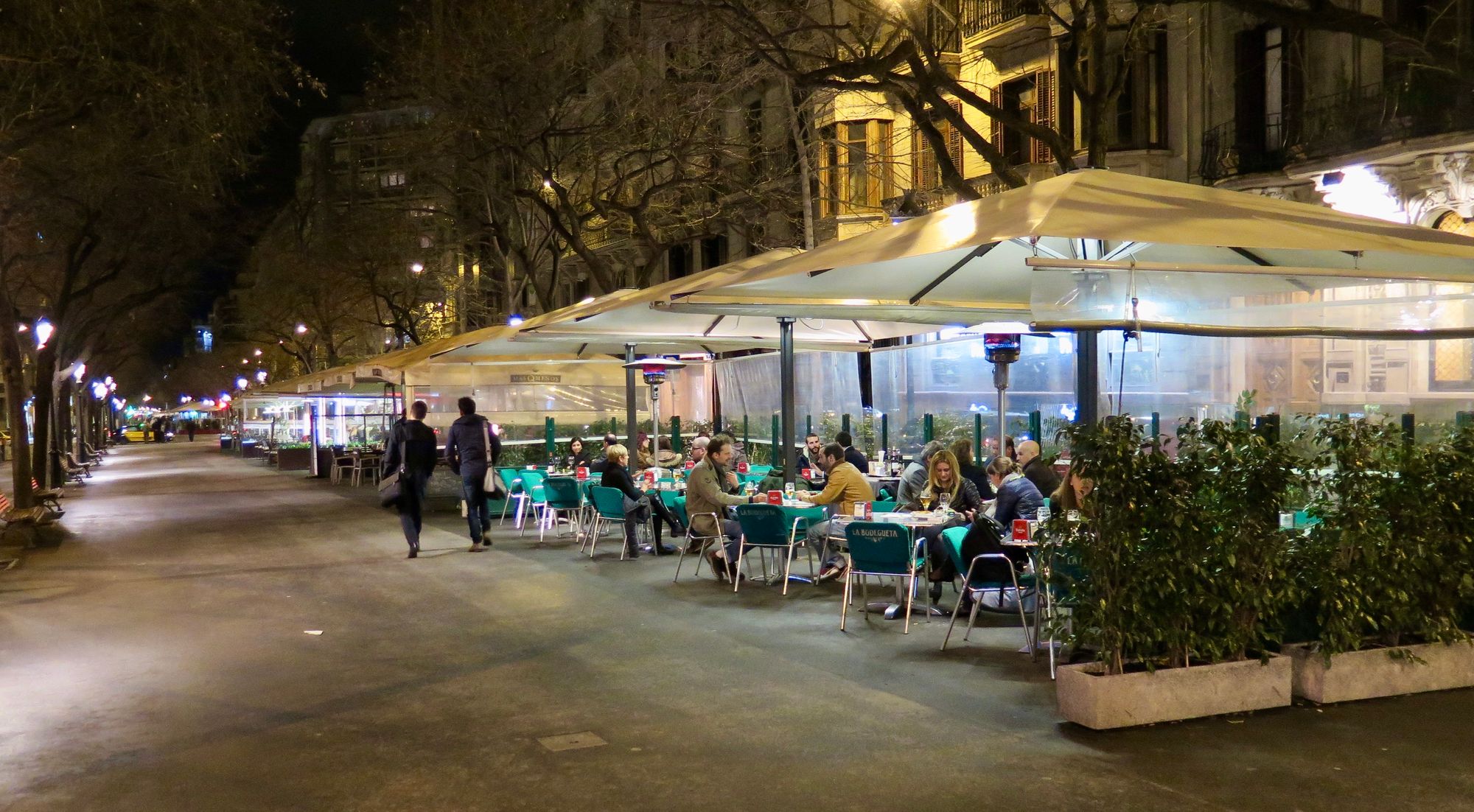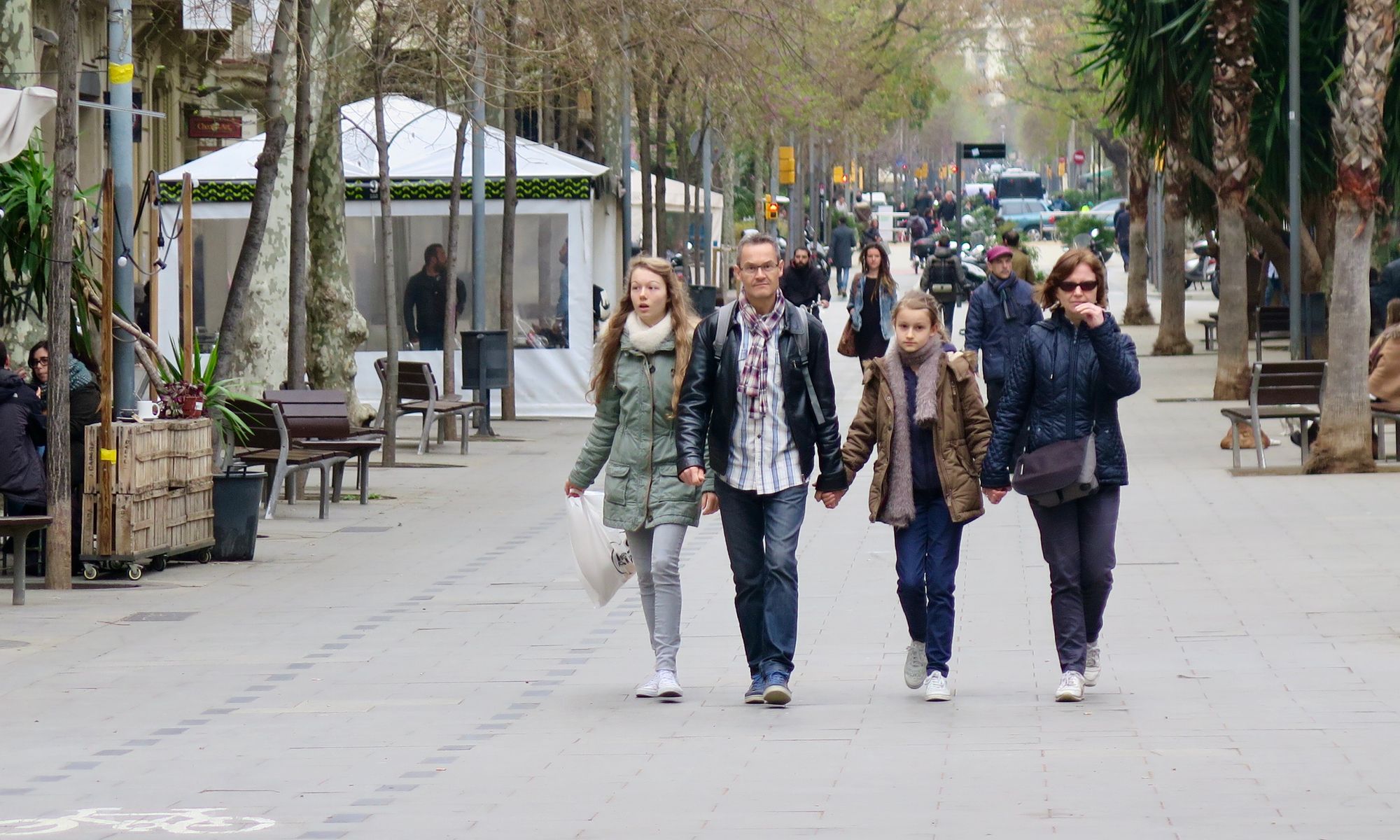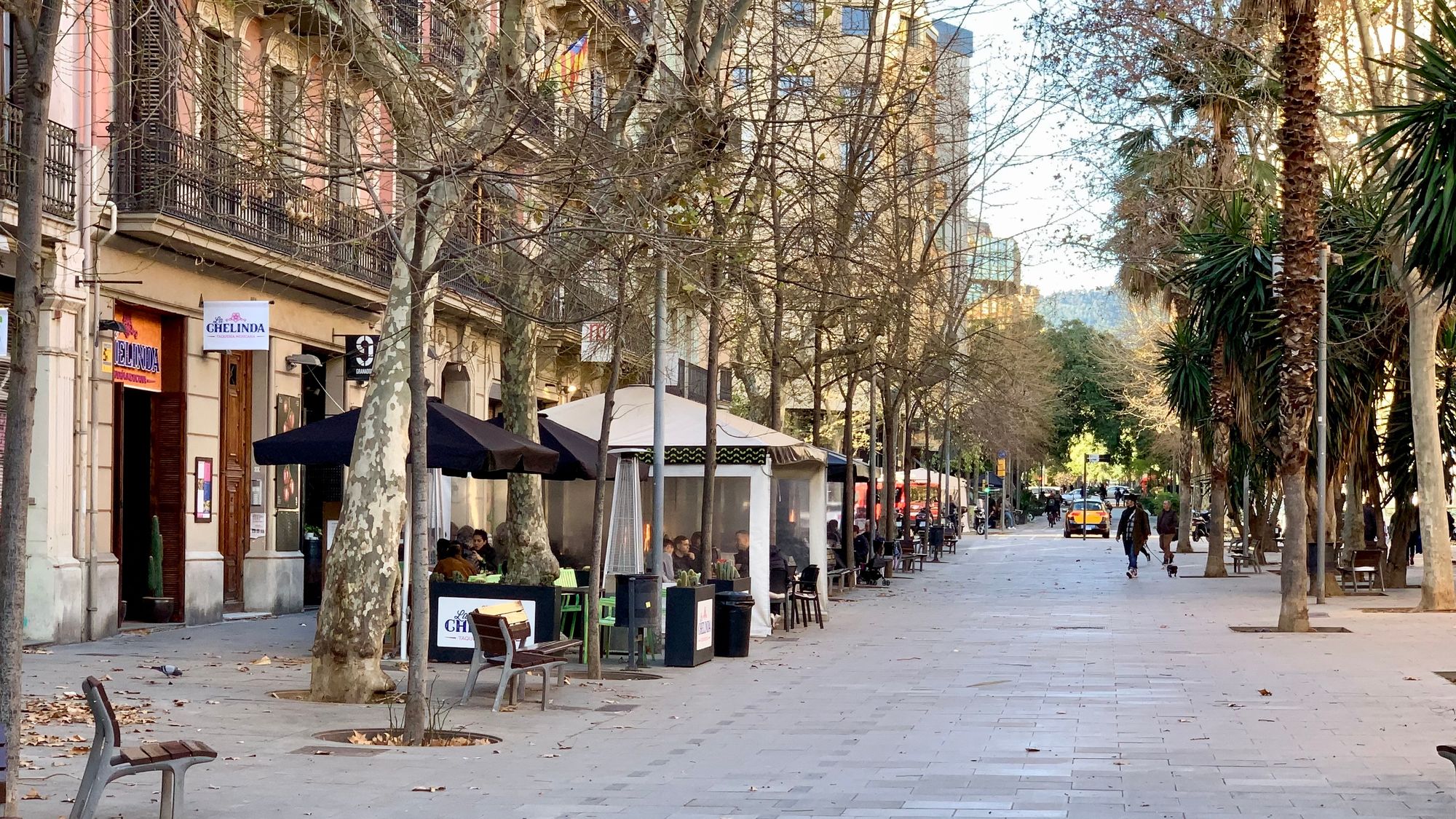 Though many of Cerdà's interior gardens have been hijacked by construction of one kind or another, there are still dozens of green patios and passatges or passageways to explore. Passatge Méndez Vigo connects Carrer Aragó with Carrer Consell de Cent, while the wonderfully floral and sylvan Passatge Permanyer cuts through from Carrer Pau Claris to Carrer de Roger de Llúria. A 40-meter uphill jag will take you into the Jardins de la Torre de les Aigües, (Water Tower Gardens) an interior patio with palm trees and a slender brick water tower once used to create water pressure for the neighborhood. The Eixample has its elegance, its sweet spots and peaceful points, but, in general, as iconic as it is to Barcelona's identity as an Art Nouveau theme park, I do not consider this wide grid square to be what I most love about the city.
The Waterfront
La Barceloneta, the traditional fishermen's quarter, was built on landfill after 1748 to compensate residents of El Born who had been required to tear down their houses to clear fields of fire for the artillery batteries in the Ciutadella fortress following the 1714 conquest of Barcelona by international troops under Bourbon King Felipe V, winner of the 1700-1714 War of the Spanish Succession. More than 1000 houses in El Born, roughly a third of the city at the time, were ordered removed by their owners in order to facilitate firing cannons at their fellow citizens, an unpopular move, to put it mildly, that still rankles barcelonins over 300 years later. Moreover, the "compensation" came many years too late for the original victims of this draconian edict and most of the lucky new waterfront property owners in La Barceloneta ended up being children and grandchildren of the families who lost their homes in 1714.
La Barceloneta was designed by Flemish military engineer George Prosper Verboom in neat rows of what were originally two-story houses, kept low in order to avoid masking the fire of those same Ciutadella cannon that were keeping a wary eye on the rebellious citizens of Barcelona. Only a few of the original two-story houses remain, but Barceloneta nevertheless retains a low-rise, open-sky feel with narrow streets and abundant and colorful laundry flapping in the breeze overhead, à la Naples, just across the "Mar Nostrum".
Carrer Sant Carles is the best street in Barceloneta, with the ancient Can Soler restaurant at 4, the original two-story fisherman's dwelling at #6, the ornate Farmacia Saim at #7, and the Art Nouveau library La Fraternitat on the corner of Carrer de Santa Clara. Around the corner on Carrer Baluard is one of the best little bars in town, La Cova Fumada, original and unchanged over the last century. La bombeta, the potato croquette with fiery sauce, is the house specialty, so-named in homage to the many bombs dropped on La Barceloneta by Franco aviation during the Spanish Civil War. Across the square on the corner of Carrer de l'Atlàntida and Carrer Sant Carles is another classic tavern, Bar Electricitat, named for the water-powered electrical generator once housed downstairs. Farther down Carrer Sant Carles is the miniscule Bar Leo, dedicated to the flamenco great El Bambino. At the end of the street is the Carmen Amaya fountain memorializing the great gypsy flamenco dancer with five bas reliefs of cherubic girls dancing around the water spigot where Carmen Amaya (1913-1963) drew water for her Romani family every morning of her life as a little girl in what was then the Somorrostro gypsy shanty town.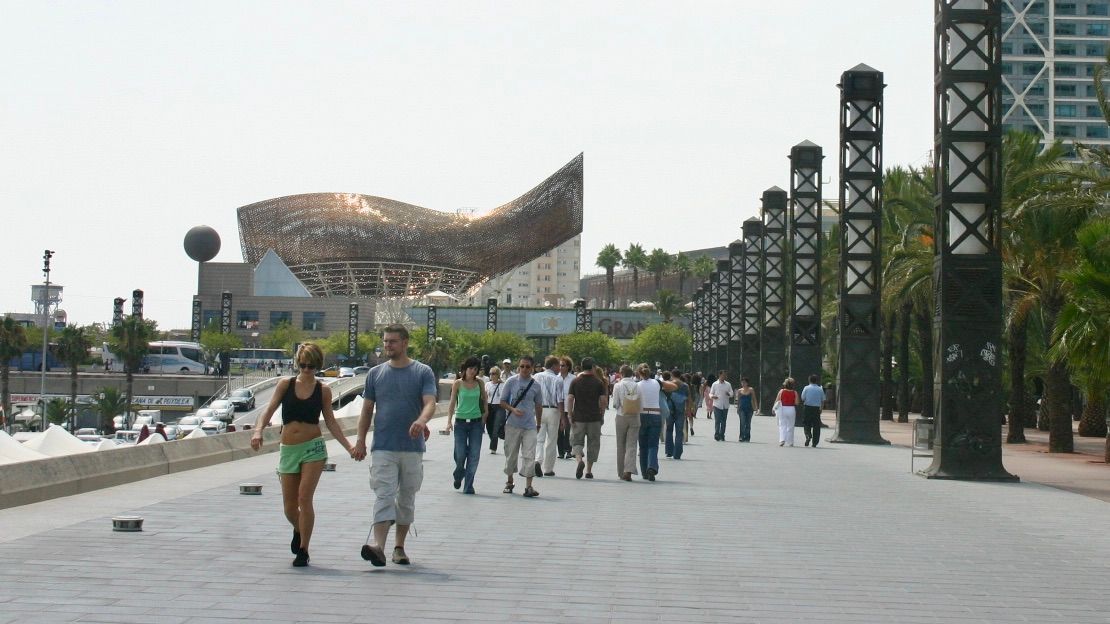 La Barceloneta has a comfortable, bohemian vibe once you get in off the main drag, Passeig Joan de Borbó. Out on the beachside boardwalk there are excellent seafood and rice restaurants, none better than Can Majó at Carrer de l'Almirall Aixada 23, while Frank Gehry's giant goldfish shimmers up the beach to the north in front of the Hotel Arts and Ricardo Bofill's immense W Hotel (aka Hotel Vela, or sail) looms in the distance off to the south.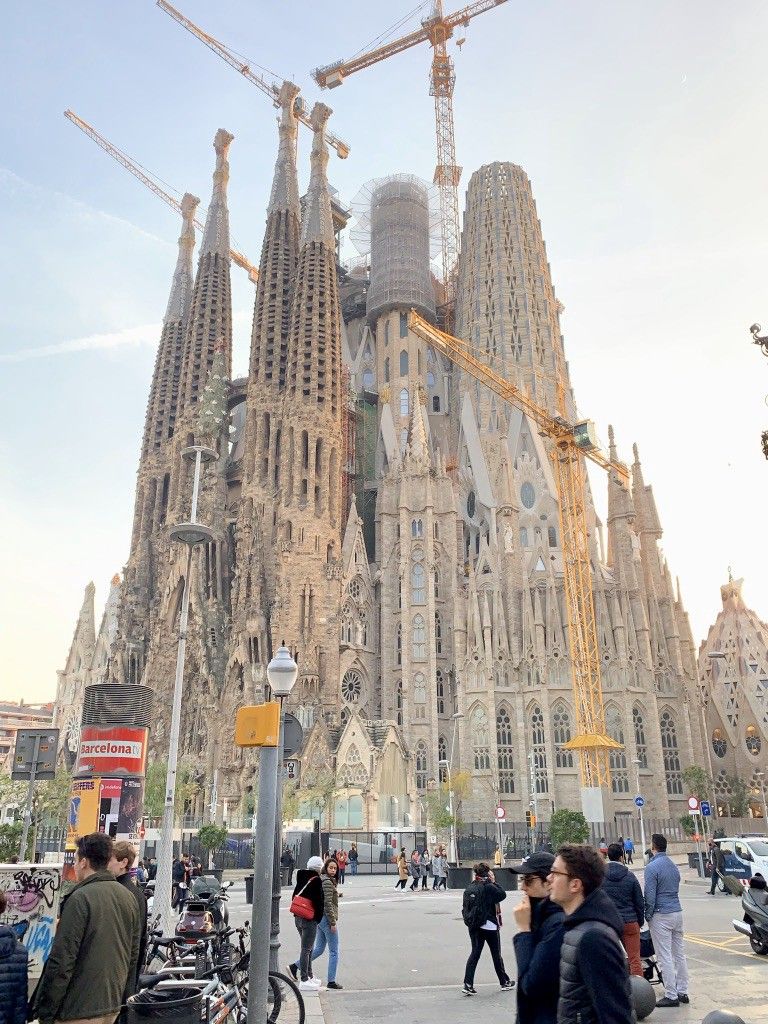 Highlights
Gaudi's still unfinished Sagrada Familia church is, without a doubt, in 2020, the fundamental Barcelona visit, easily worth an entire morning or afternoon to experience fully and amply, not a place to go with any kind of time restrictions. The scope and scale of the nave, a complex stone arboretum stretching higher and higher overhead with Klimt-like gold leaf reflecting sunlight in the cornucopia skylight at the pinnacle, is literally breathtaking. Mystical ecstasy is probably not too strong a descriptive for the emotion transmitted by this almost musical crescendo redolent, to me, of the resolution of Samuel Barber's "Adagio for Strings". The Nativity Façade is intricate and moving, while the Passion Façade is stark and foreboding, but the interior is an explosion of luminosity, with the stained-glass windows admitting a dappled, shimmering light that twinkles and glimmers around the walls and tree-like columns.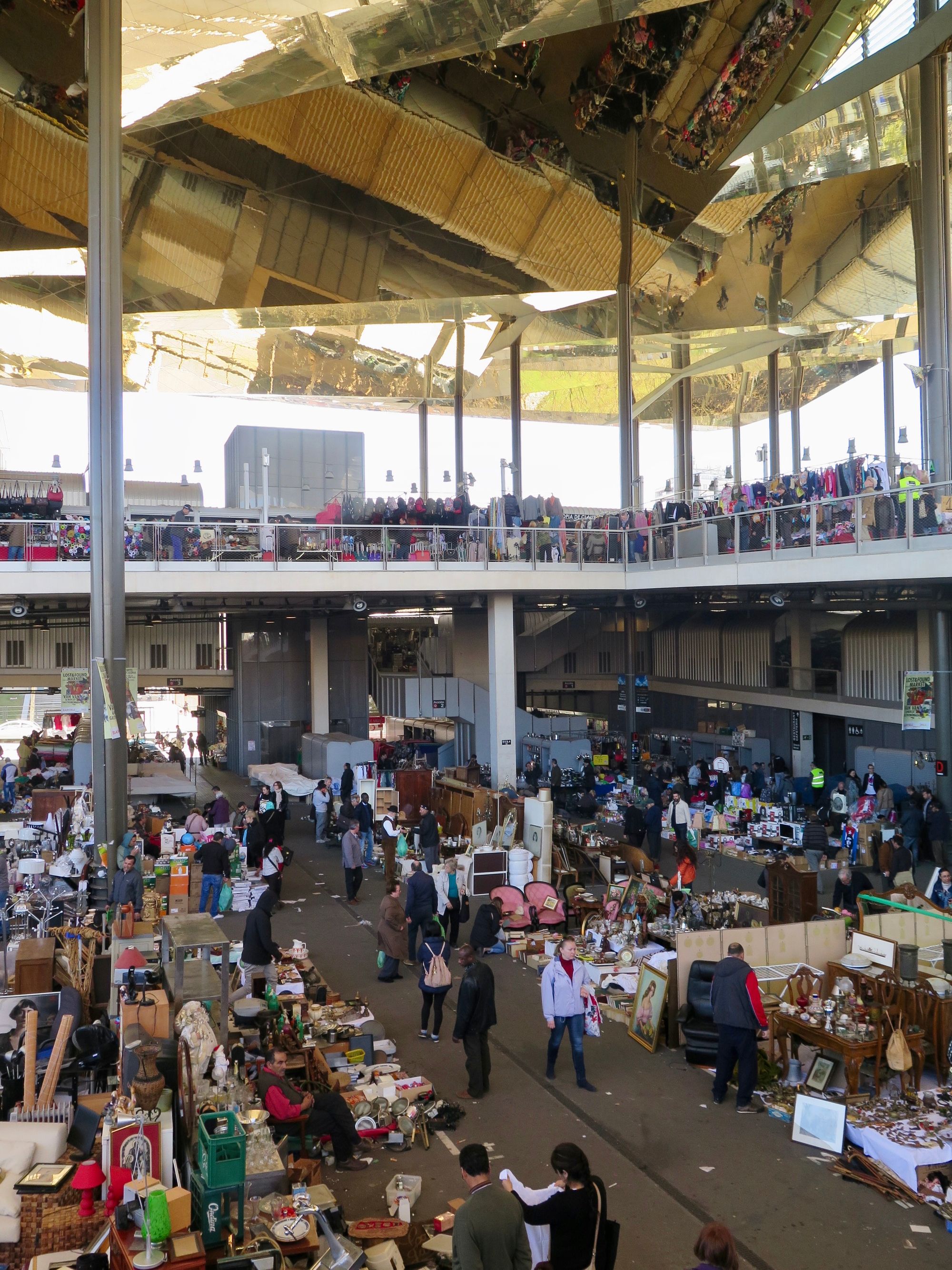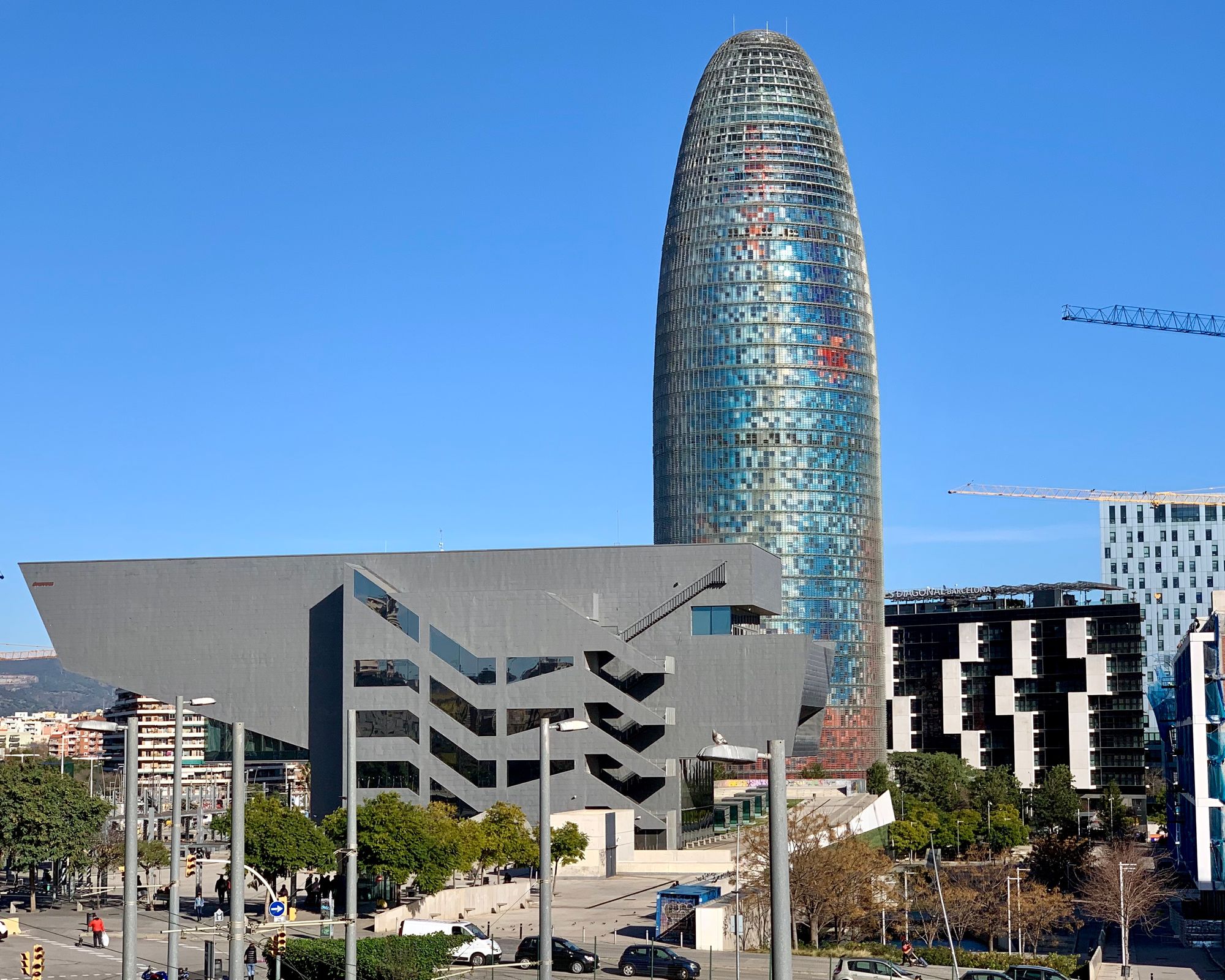 Nearby are other gems: the new Mercat dels Encants, ("charms"), the only flea market in the world with a mirror for a ceiling, a spectacular amalgam of bric-a-brac and magical paraphernalia of every imaginable kind. Just beyond is the Jean Nouvel Torre Glòries, a 38-storey Norman-Foster-gherkin-like geyser, greenish during the day but capable of producing 16 million colors with its 4,500 LED lighting devices, a New Year's Eve favorite in Barcelona.
Back in the Ciutat Vella, the old city, there is much to explore and admire: the old Born market, now a museum displaying the remains of the 17th-century Born neighborhood before it was dismantled in 1714. Barcelona's four finest Gothic gems, none of which are in the Gothic Quarter: Santa Maria del Mar, the Llotja or maritime exchange, the Drassanes or medieval shipyards, and the medieval Hospital de la Santa Creu (Holy Cross) begun in 1399. See the newly renovated Mercat de Sant Antoni on the far side of the Raval, sister ship of the steel hangar Born market; the tiny pre-Romanesque Sant Pau del Camp (St. Paul's in the Fields) church on Carrer de Sant Pau; the Palau de la Musica Catalana, a feast for the senses with glaziers, ceramicists and sculptors all vying for attention, never mind the musicians.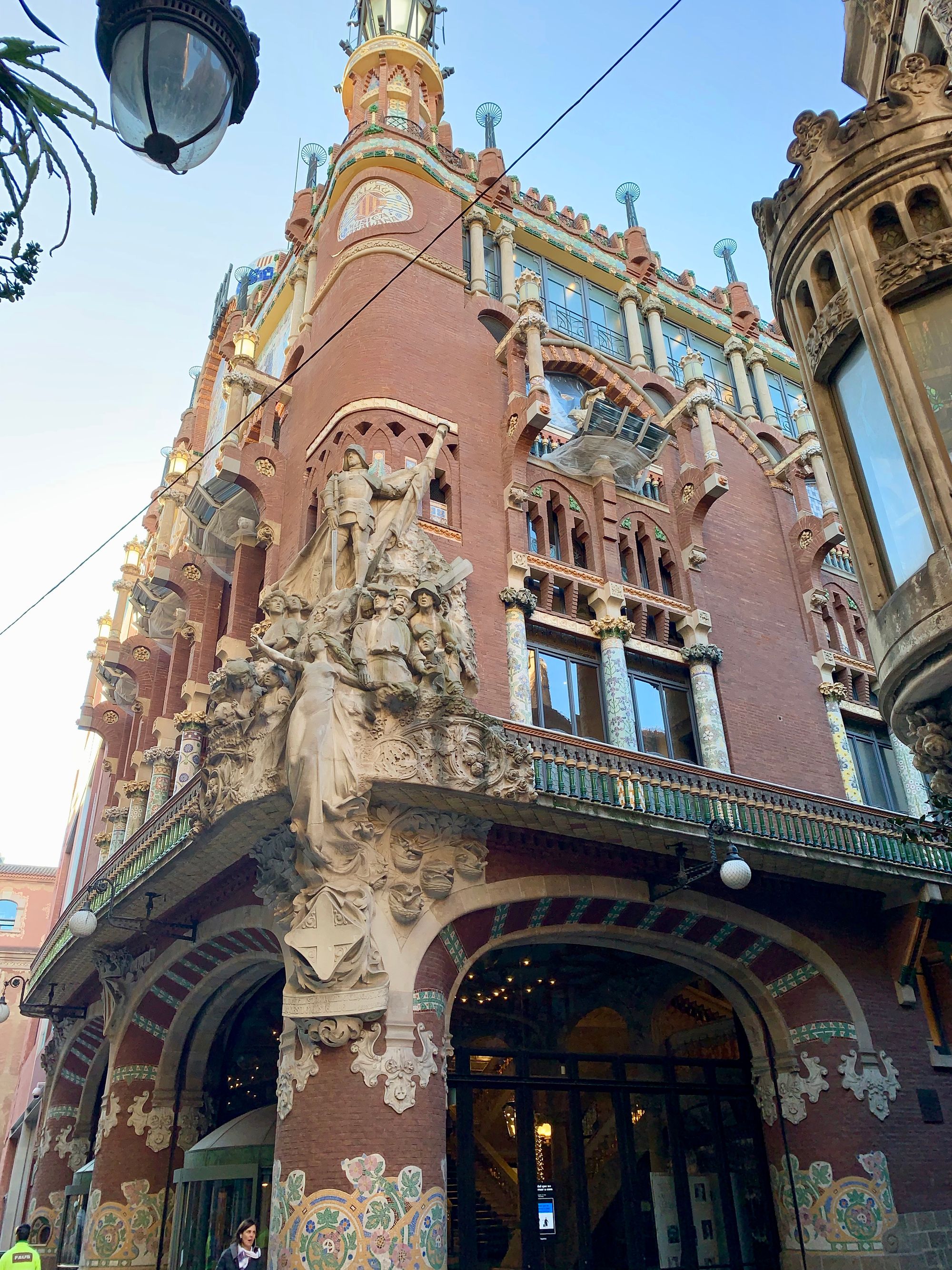 Then there is the Roman Barcelona, the 81 watchtowers surrounding the misnamed Gothic Quarter, or the AEEF, the Associació Excursionista, d'Etnográfia i Folcórica, at Carrer Avinyó 19 with its indoor archery range and its double Roman wall, the light ritual wall initially built around the 1st-century BC settlement and, six feet inside that, the 4th-century defensive wall hastily thrown up 500 years later (a mere ten generations in those times). The generous AEEF members will invariably interrupt archery practice and show you through the slender corridor between the two Roman walls.
In fact, the Gothic Quarter, whether Roman, neo-Gothic, or a potpourri of architectural effects and inventions, contains some of Barcelona's most quintessential corners. Around the cathedral are resonant points where street musicians play romantic themes for small throngs of music lovers. Plaça Sant Felip Neri hosts Early Music concerts every April in its intimate shrapnel-scarred space; El Call, the medieval Jewish Quarter, conceals slender alleyways and a 1000-year old synagogue; the hushed streets winding around and through what was the original Roman city of Barcino, sometimes referred to as the rovell d'ou, the yoke of the egg, may be the true proto-Barcelona.
The Rambla, over three dozen neighborhood food markets, the former outlying towns of Gràcia and Sarrià, the checkerboard Art Nouveau-filled Eixample, the medieval corners of the old city, the waterfront Barceloneta—Barcelona offers an almost impossibly wide variety of urban experiences, most of them accessible on pedestrian streets shaded by over a hundred species of trees. In fact, with a population currently estimated at 1,610,427 and a tree census of over 1,400,000 and more trees on the way, it's reasonable to predict that Barcelona will soon have at least a tree for every inhabitant.
Why Barcelona?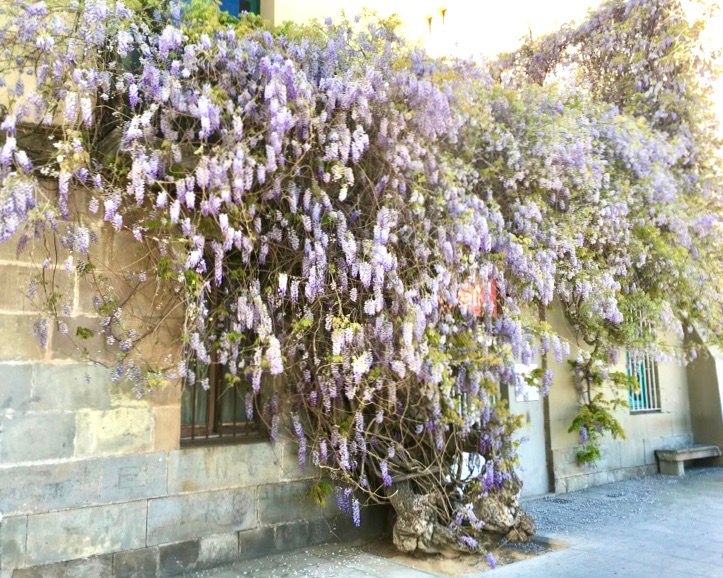 But what keeps me coming back to Barcelona? Bougainvillea in January? Affordable vino? A little nation's courageous struggle for survival? Experimental cookery? A bilingual city where, in addition, you hear French in the Catalan? Two millenniums of human history physically present every day? All these things and more, to be sure, including Robert Hughes's words in his 2006 Cross of Sant George acceptance speech: "The good men and women of Barcelona have always understood that culture, much more than the butter on the bread of life, is the bread itself!"
But in the end, I keep coming back to the trees, the overstory, the canopy, the vast and cosmopolitan arboretum of plane, palm, cypress, oak, linden, jacaranda, willow, pine and some 300 other species of what Michael Pollan called "a wager on a future the planter doesn't necessarily expect to witness" or Khalil Gibran identified as "poems the earth writes upon the sky".
(Editors' note: Images from Fred Kent and Kathy Madden unless noted)
---
Semler went on to publish six books on Barcelona and one on Madrid while authoring guidebooks for Fodor's Travel Publications on all parts of Spain, France, Morocco and Cuba. Semler has written on food, wine, travel, hunting and fishing in SAVEUR, Forbes, SKY, Gray's Sporting Journal, The Wall Street Journal, The International Herald Tribune, Attaché, Epicurious.com, The Los Angeles Times and other publications.
Other Barcelona Posts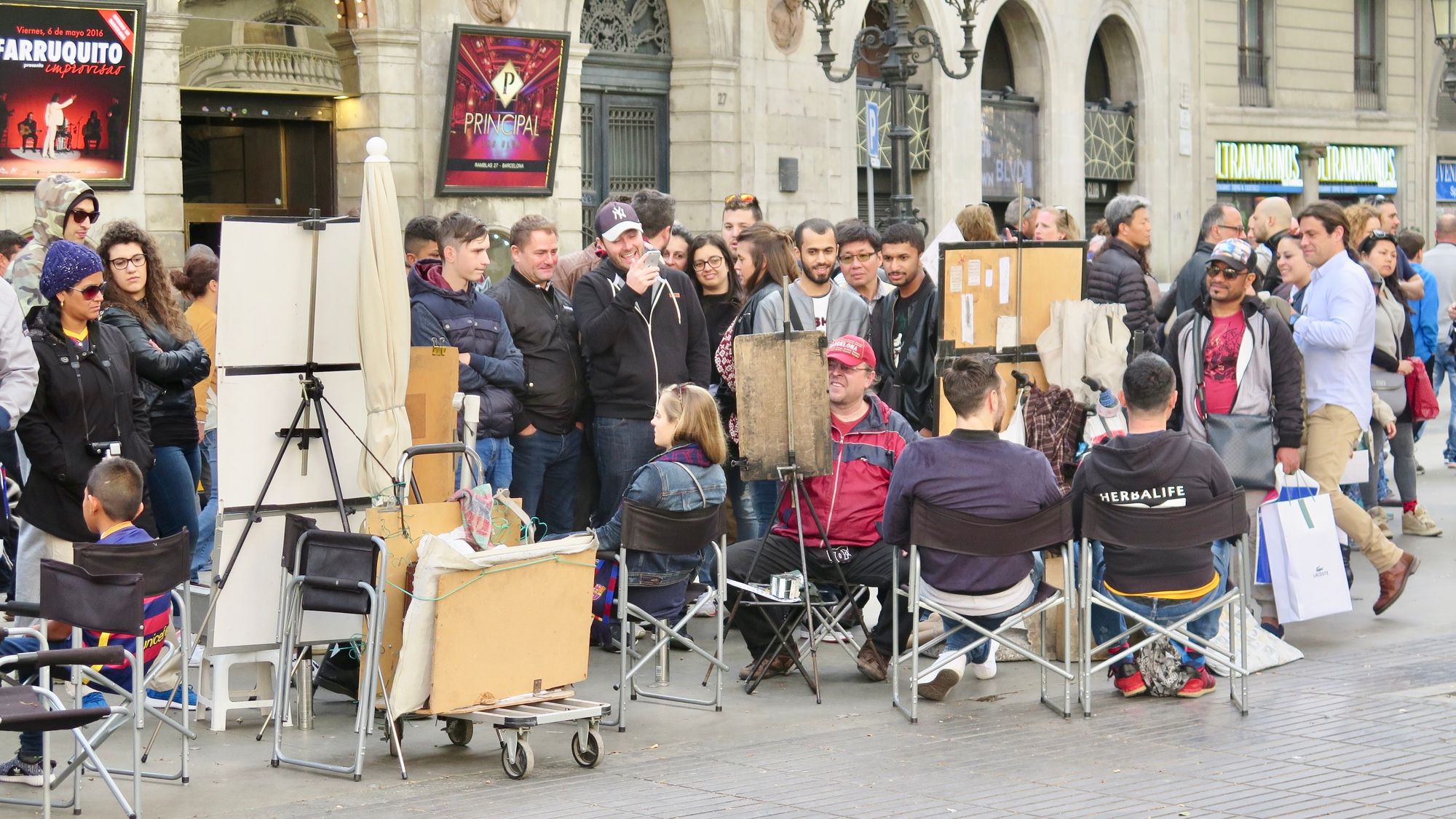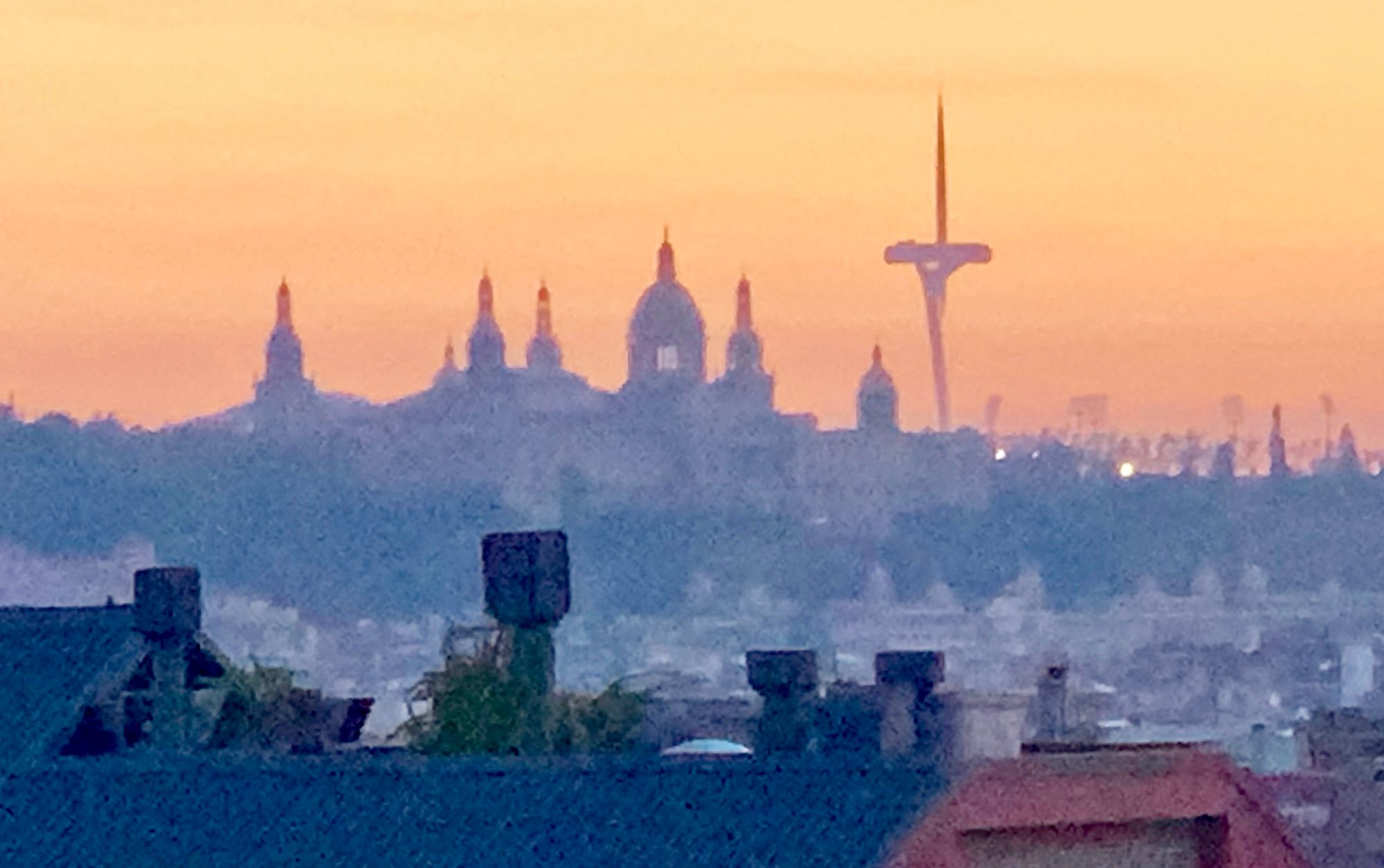 The Foundation of the Placemaking Movement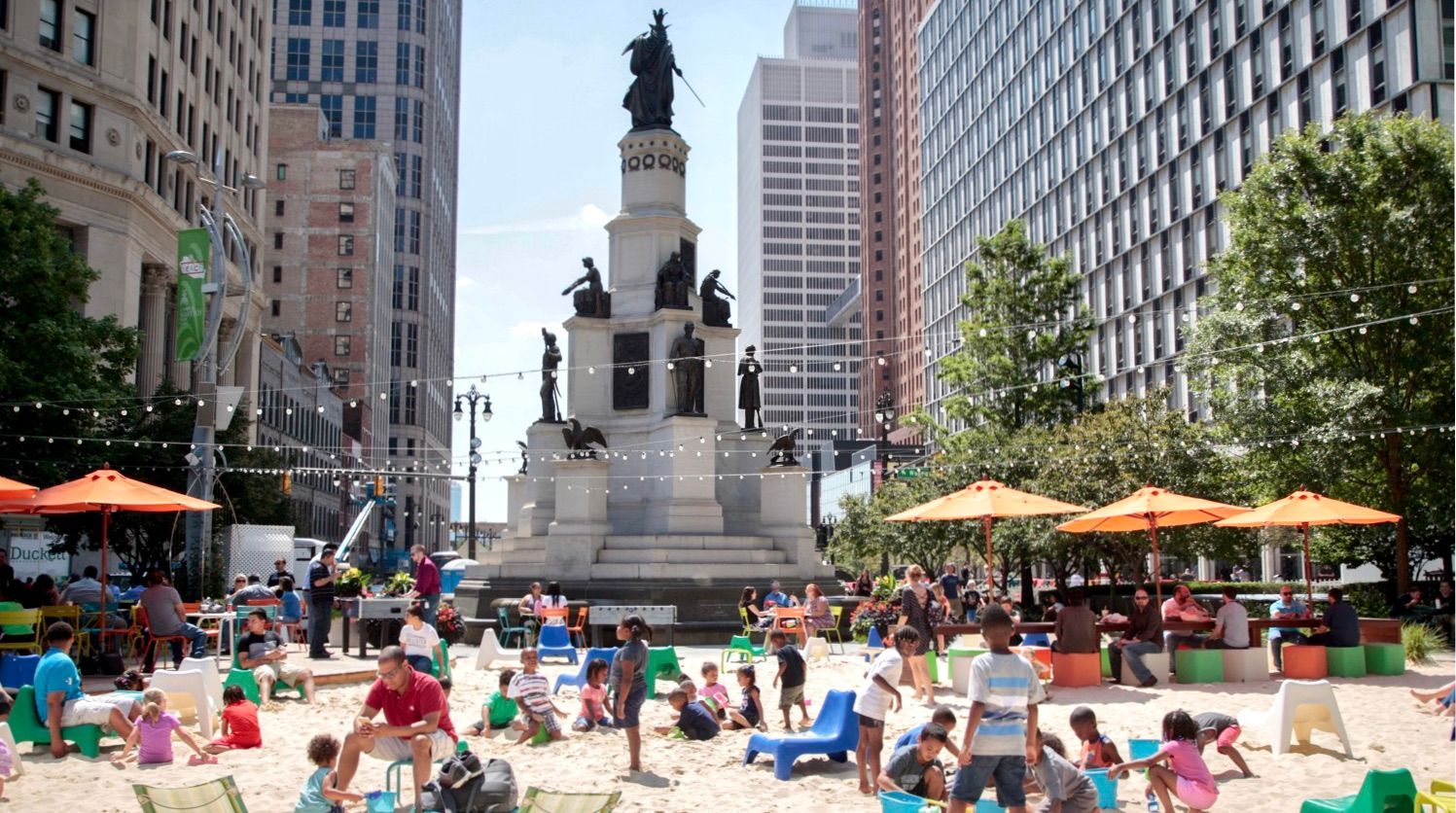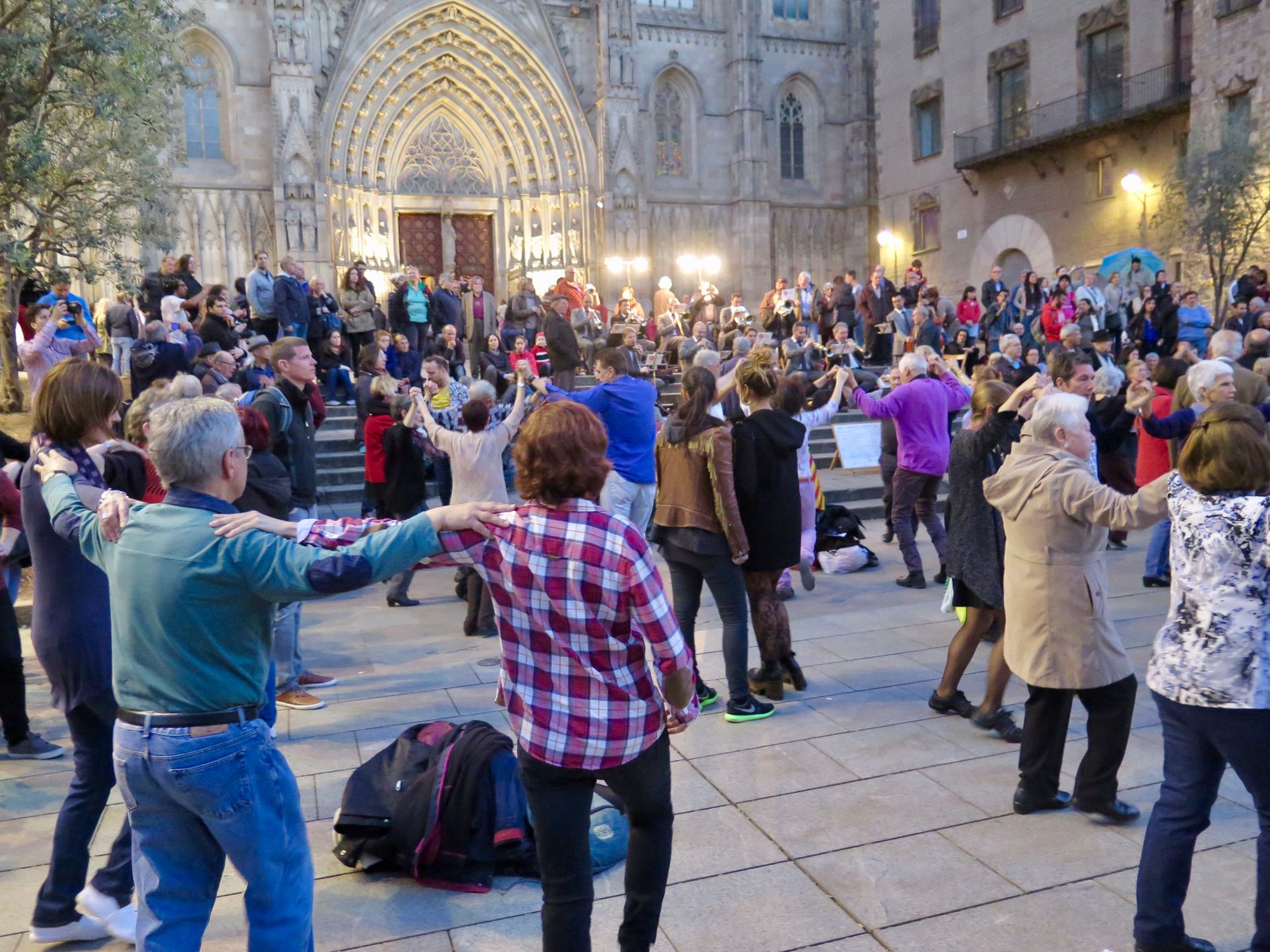 ---
The mission of the
Social Life Project
is to incite a renaissance of community connection in public spaces around the globe. Through our online publication, presentations, campaigns, and catalytic projects, we can create transformative impact on communities everywhere. Our work grows out of more than 50 years devoted to building the global placemaking movement. It is an initiative of the
Placemaking Fund
, along with
PlacemakingX
 — a global network of leaders who together accelerate placemaking as a way to create healthy, inclusive, and beloved communities.
If you are interested in collaborating (articles, presentations, exhibits, projects, and more) or supporting the cause
contact us
.