Daily Life in an Italian town

By Mark Hinshaw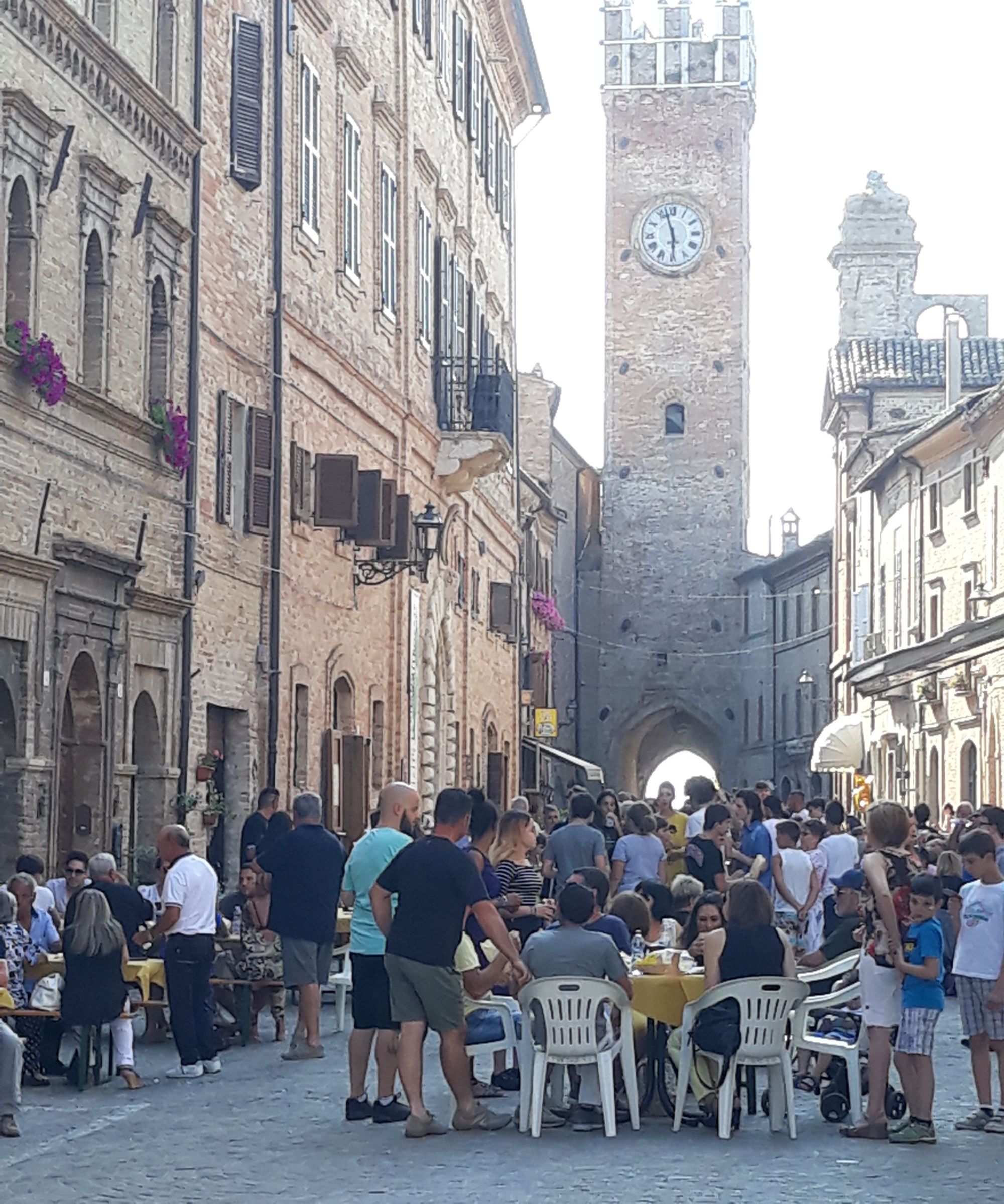 Most of my life I have viewed the act of taking out the trash as a necessary but thankless chore. It needs to be done; and someone has to do it. Even when cities started mandating separation of household waste into different cans as an environmental cause, it was hard to be enthusiastic about the task.
One of the early cultural shocks of moving to Italy was discovering a whole new level of domestic waste disposal. Upon moving into our house, we were presented with:  a) five different plastic bins with handles and covers;  b) a chart showing every conceivable item of household consumption—hundreds of items listed under five headings in 6-point type; and c) a calendar indicating which bin should be taken on which day to the local collections point. Each week day it was a different bin. The process initially seemed impossible; how could we remember what goes where and when? Three years later, we now do it every day as a matter of course and think nothing of it.
Well not quite.
As I have thought about it, there is a fascinating genius to this method:
First, every day, you literally feel how much you throw out as a household. Obviously, carrying a heavy bin a goodly distance is an incentive to reduce the amount. We used to buy bottled water, resulting in a lot of plastic trash. Now we fill reusable glass bottles every week from a community water machine.
Second, you get some exercise every day whether sun, rain or snow. The short walk often ends up being part of a longer walk.
Third, there is a good chance that you will meet a neighbor on their way to the collection point and have a pleasant conversation. I almost always run across the elderly widow who lives at the end of the street.
And  there is another reward at the end of the walking trip. From the collection point, there is a panoramic view of the countryside and the sea in the distance, with a bench if you want to take it in for a while. Taking out the garbage, it turns out, can be quite pleasant as well as socially fulfilling.
The collection point we use is located in one corner of a piazza next to city hall. On my many daily trips I've begun to understand things about that building and the adjacent public space.
The piazza is used for public events throughout the year. There are  community dances with live music. Several times a year, community dinners are held, with tents and long tables set up. Local volunteers cook pizza, pasta, polenta, sweets, and breads.  Cooked wine—a local specialty—is served. In this piazza we have watched performances of classical and rock music, magic shows, and elaborate productions of synchronized flag tossing set to music and dramatic lighting.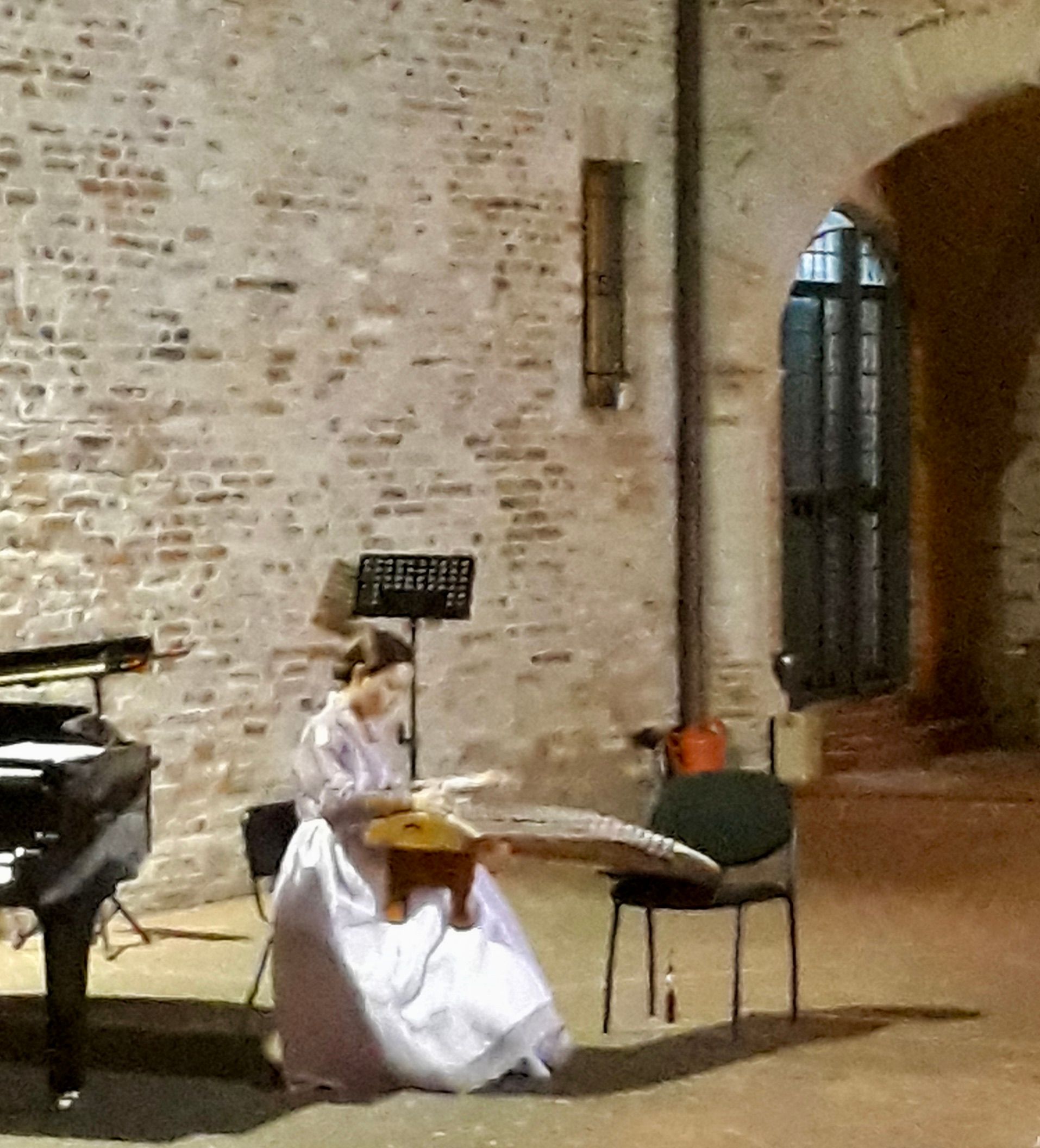 The building itself is not merely a city hall. Historically the architecture of most city halls in many countries, including the U.S. follows one of three models: The Freestanding Icon, The Secure Fortress, or the Generic Office Block. However, city halls in Italy follow a fourth model – The Center of the Community.
Like many other city halls in Italy, ours houses an organization of local people who volunteer to drive ambulances, picking up ill or hurt residents, and taking them to an emergency care center. Another section of the building is set aside for a small free clinic; each morning people wait their turn on a row of chairs. The building has rectangular wings that wrap around an enclosed courtyard open to the sky. We have been to numerous free concerts and wedding receptions in this courtyard, which has lively acoustical resonance. During hot summer days there is seating scattered about, as the courtyard with its flanking colonnade offers a cool, shady respite.
City hall also contains two important commercial tenants that face the main street. One is a barbershop, my barbershop to be precise. Until COVID prevented gatherings, each day, groups of guys would hang around inside and outside, passing gossip and shouting exclamations about political events or sports scores. I discovered that we as expats are often the subject of conversation in that place.
Located immediately to the side of the main entrance is perhaps the most important function of city hall—a coffee bar. Known as Bar Centrale (a very common name in most Italian towns) there are always at least a dozen people sitting at tables and chairs, both inside and outside on the street. Indeed, the mayor himself often occupies one of the seats, listening to kvetching from citizens. His wife, who owns the clothing shop across the street, often sits in the café with friends. When customers approach the door of her shop she rushes over to greet them.
In the Italian language, the word for city hall is comune. (The Latin root "communis" is the same for the English word "community.") Depending on the context of a sentence, comune can refer to the specific legislative and administrative functions of local government.  It also refers to the place—the combination of buildings and spaces that are shared by everyone in the town.
And shared they are. Every month, every week, and every day. For big things like organized community events. For things like sitting and having a coffee or aperitivo.  And for taking out the garbage.
Perhaps some people feel estranged from their  government because the form it often takes keeps them apart from it rather than inviting them to be part of it.
Mark Hinshaw is a retired architect and city planner who lived in Seattle for more than 40 years. For 12 years he had a regular column on architecture for The Seattle Times and later was a frequent contributor to Crosscut. He now lives in a small hill town in Italy.
---
The mission of the
Social Life Project
is to incite a renaissance of community connection in public spaces around the globe. Through our online publication, presentations, campaigns, and catalytic projects, we can create transformative impact on communities everywhere. Our work grows out of more than 50 years devoted to building the global placemaking movement. It is an initiative of the
Placemaking Fund
, along with
PlacemakingX
 — a global network of leaders who together accelerate placemaking as a way to create healthy, inclusive, and beloved communities. We gladly accept
donations
to advance our work.