Balboa Park is the best multi-use, multi-layered destination in North America.
It compares favorably with other destinations along the West Coast, including many located in major cities. But what sets Balboa Park apart is that there are more dimensions to it than all the others. Other cities have one significant place that defines their public life: Los Angeles has Venice Beach; Seattle has Pike Place Market; Vancouver has Granville Island; and San Francisco has its waterfront, including Fisherman's Wharf and Pier 39, which leads down to the new Exploratorium and the Ferry Terminal market. Though these are all incredible places, Balboa Park stands out.
With 1200 acres, Balboa Park is large enough to attract and host visitors from around the world. It is anchored by a multitude of world-renowned destinations, like the San Diego Zoo, the Comic-Con Museum, the Air and Space Museum, and the Automotive Museum. But the unique value of Balboa Park goes far beyond these major destinations.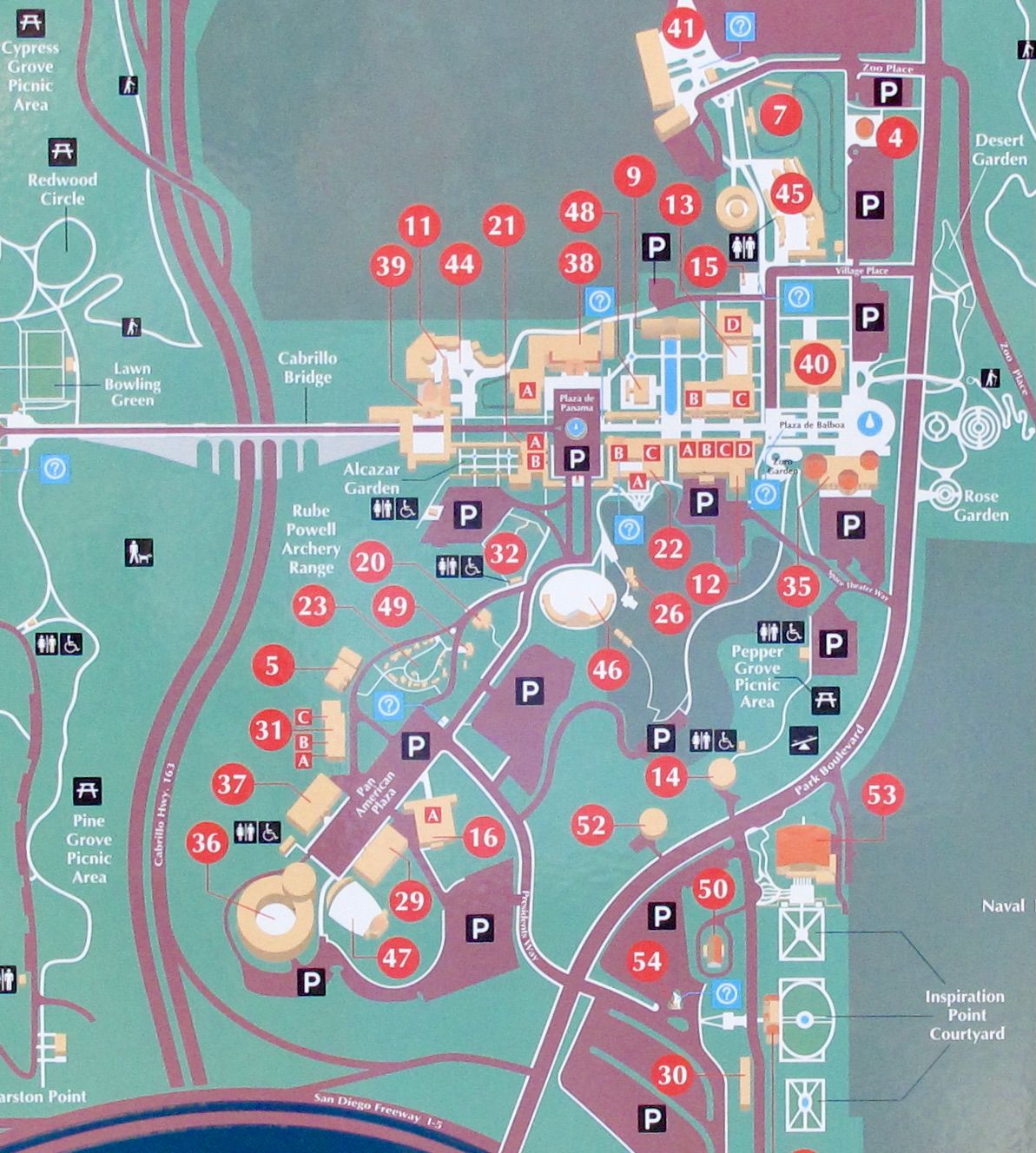 "Ever changing. Always amazing.  Where culture, science, and nature collide, Balboa Park is home to more than 16 museums, multiple performing arts venues, lovely gardens, trails, and many other creative and recreational attractions, including the San Diego Zoo. With a variety of cultural institutions among its 1,200 beautiful and lushly planted acres, there is something for everyone."
This quote from Balboa Park's website is no exaggeration. The variety in the park is a key part of its draw. But when one starts to look into why Balboa Park is so outstanding, it becomes clear that there is one aspect of the park that connects all of these places; the main promenade of Balboa Park, El Prado.
El Prado
El Prado is a central promenade that runs east to west, creating the central thoroughfare of Balboa Park. It is a long, wide boulevard that connects with various plazas and leads visitors to countless cultural institutions. To add to its unique character, most of the buildings lining the Prado are in the Spanish Colonial Revival architecture style, a richly ornamented mixture of European Spanish architecture and the Spanish Colonial architecture of New Spain-Mexico.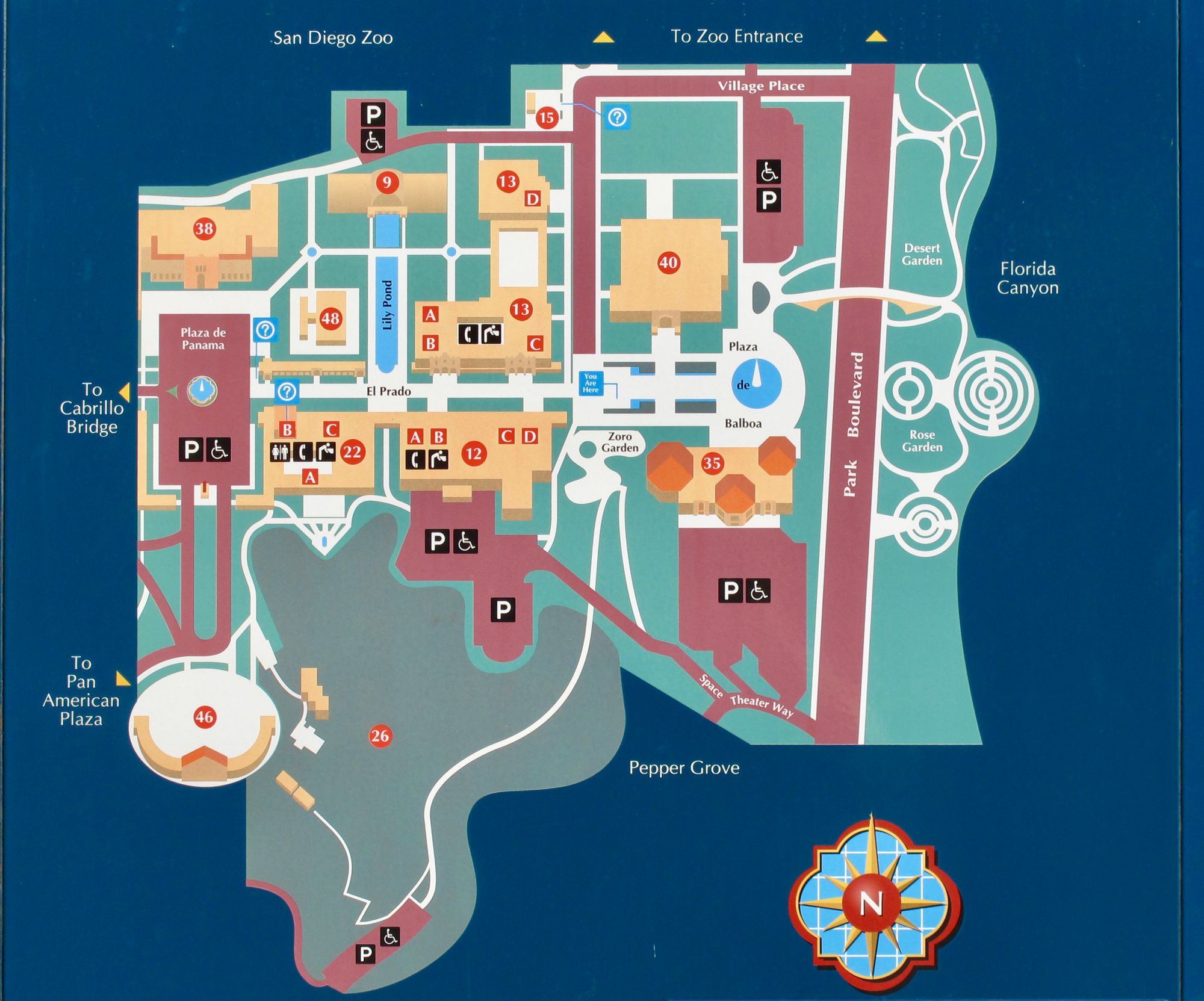 Along this boulevard and its main plazas are many of the park's museums and cultural attractions, including the aforementioned institutions, along with the Museum of Us, the San Diego Museum of Art, the Mingei Museum, the Museum of Photographic Arts, and many others that center on natural history, art, and science. Other features along El Prado include the Reflection Pond, the latticed Botanical Building, and the Bea Evenson Fountain. Separate from these (but still within Balboa Park) are other attractions like the Pan American Plaza and the Spanish Village Arts Center.
This is all to say that it would be quite difficult to have a boring moment along the Prado – it is the ultimate people place, attracting visitors of all ages and walks of life...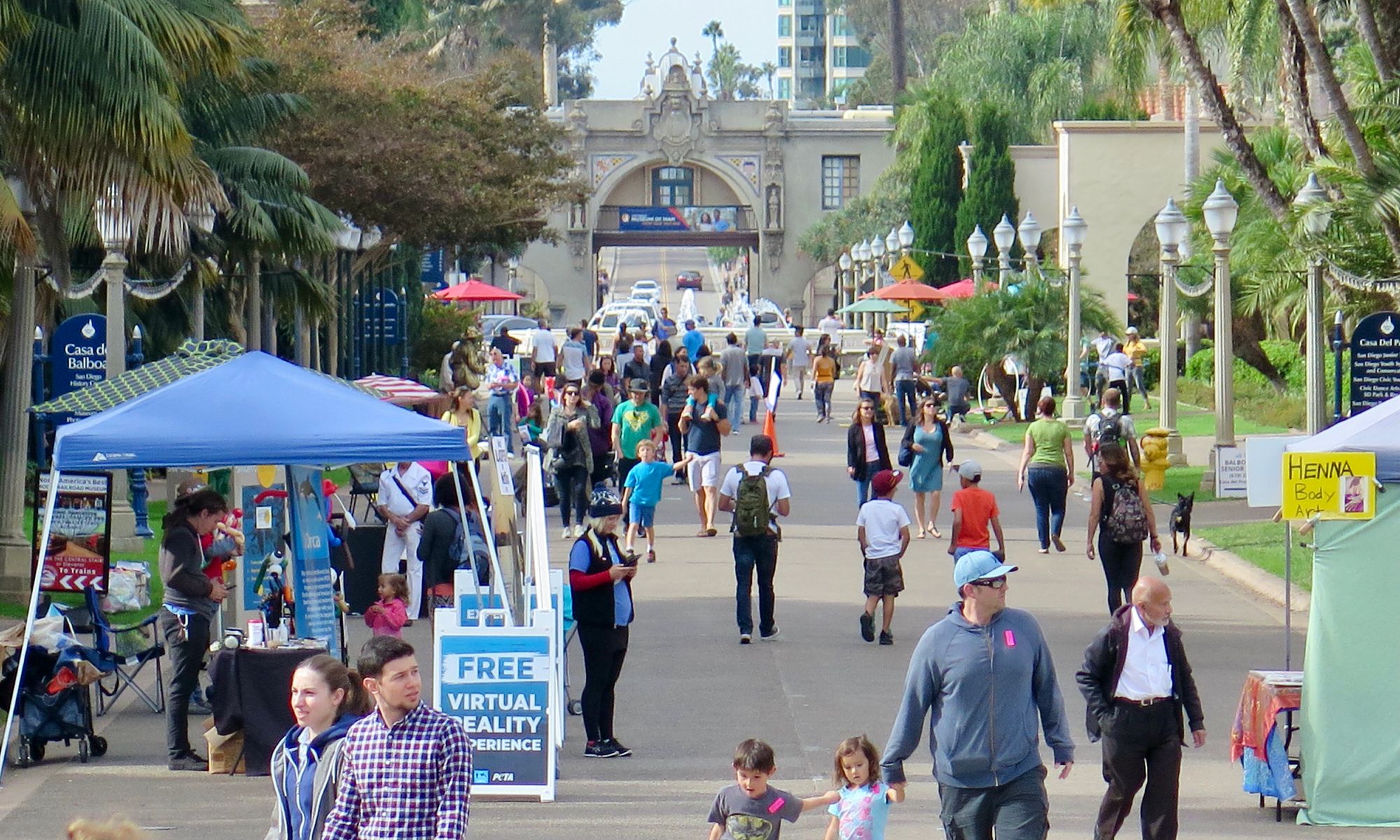 El Prado also connects many of the park's best-loved gathering places:
Plaza de Panama
The Plaza de Panama is located in the heart of Balboa Park, anchoring the west end. This central focal point was once a traffic circle, and since then has gradually become the main feature within the core of Balboa Park. While this is a big improvement, the fountain and the edges of the Plaza are still not at the level they could be. Some improvements could ensure that it is the main gathering point in all of Balboa Park.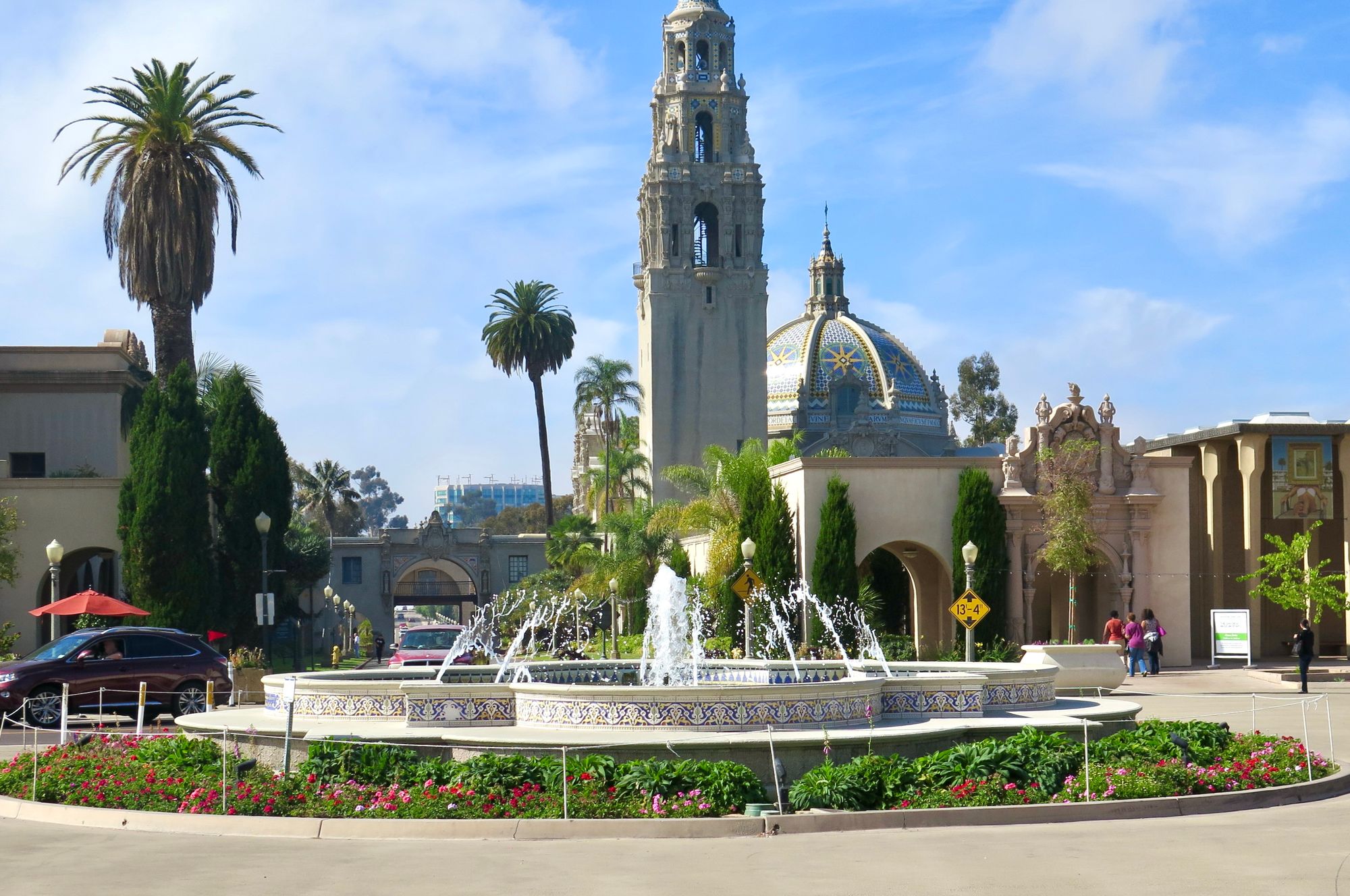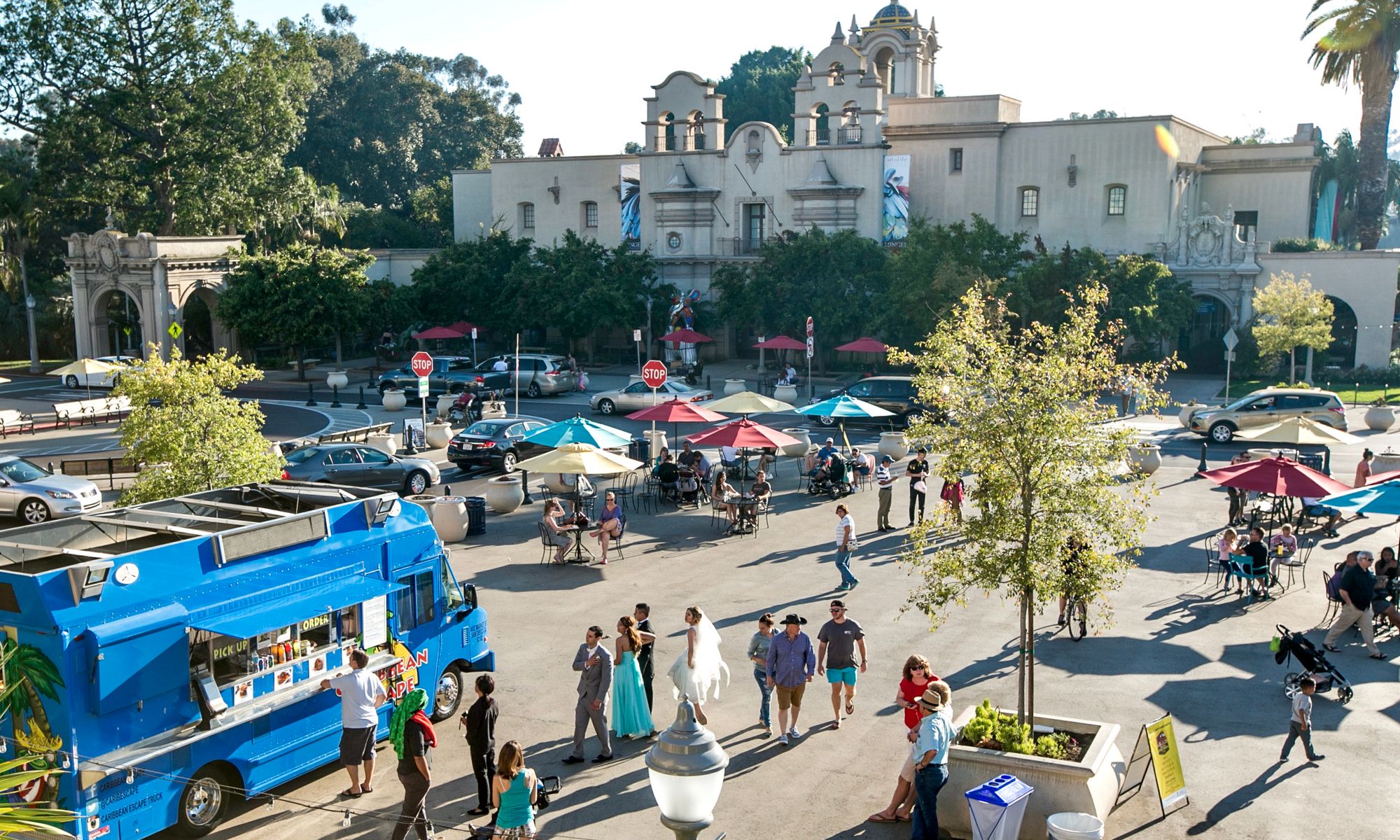 Sculptures by Niki de Saint Phalle
There are also some special and very prominent features that draw children and families to Balboa Park. The two Niki de Saint Phalle sculptures outside the Mingei Museum and in the corner of the Plaza de Panama are unique, climb-able art installations that add a playful element to the space for young and old.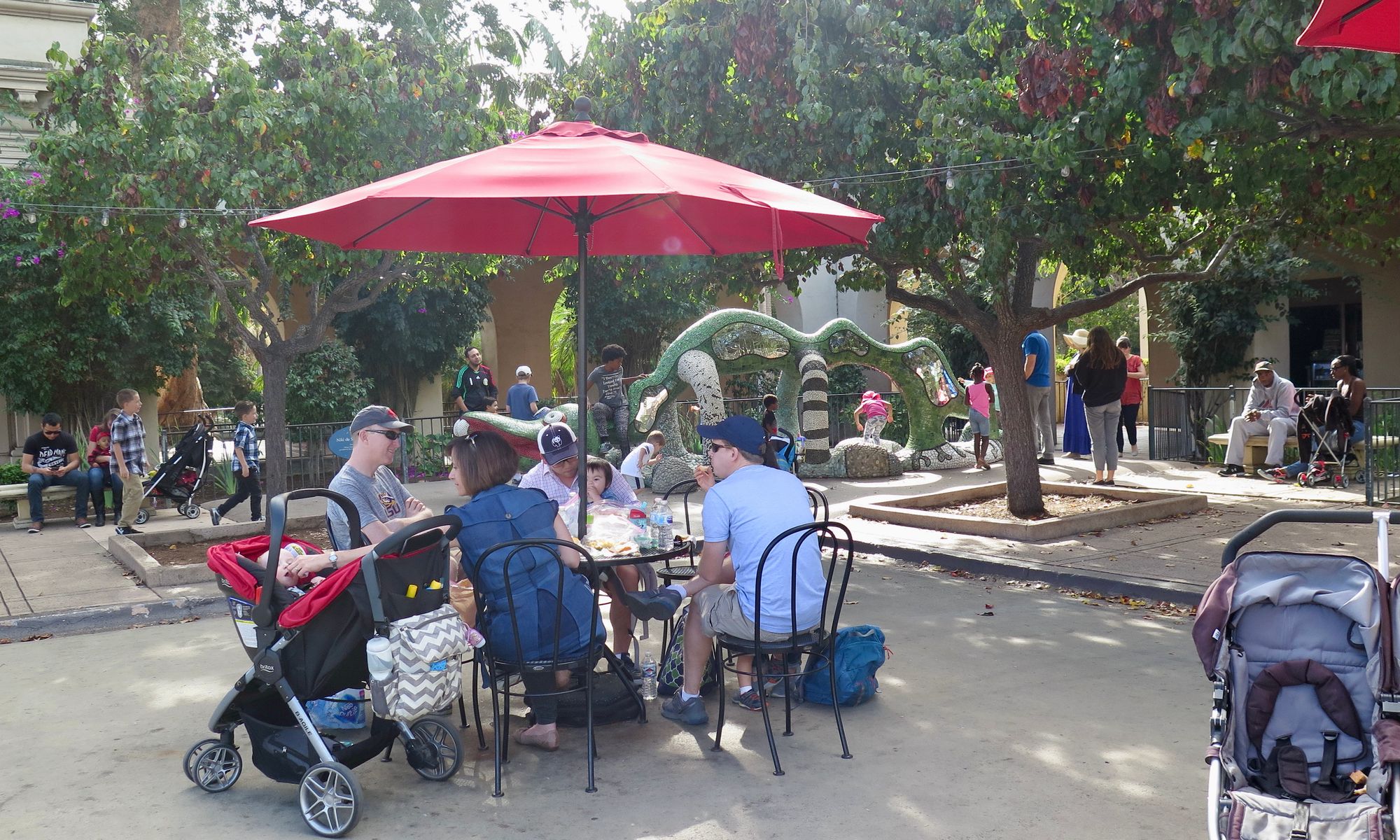 Plaza de Balboa
This plaza anchors the east end of Balboa Park, and centers on a water feature and some (limited) places to sit. It could really benefit from some small changes that would help it to be a main anchor for the park and the Prado: The Plaza's large pond draws people in, but it still needs a focal point and better seating to become a more energetic space.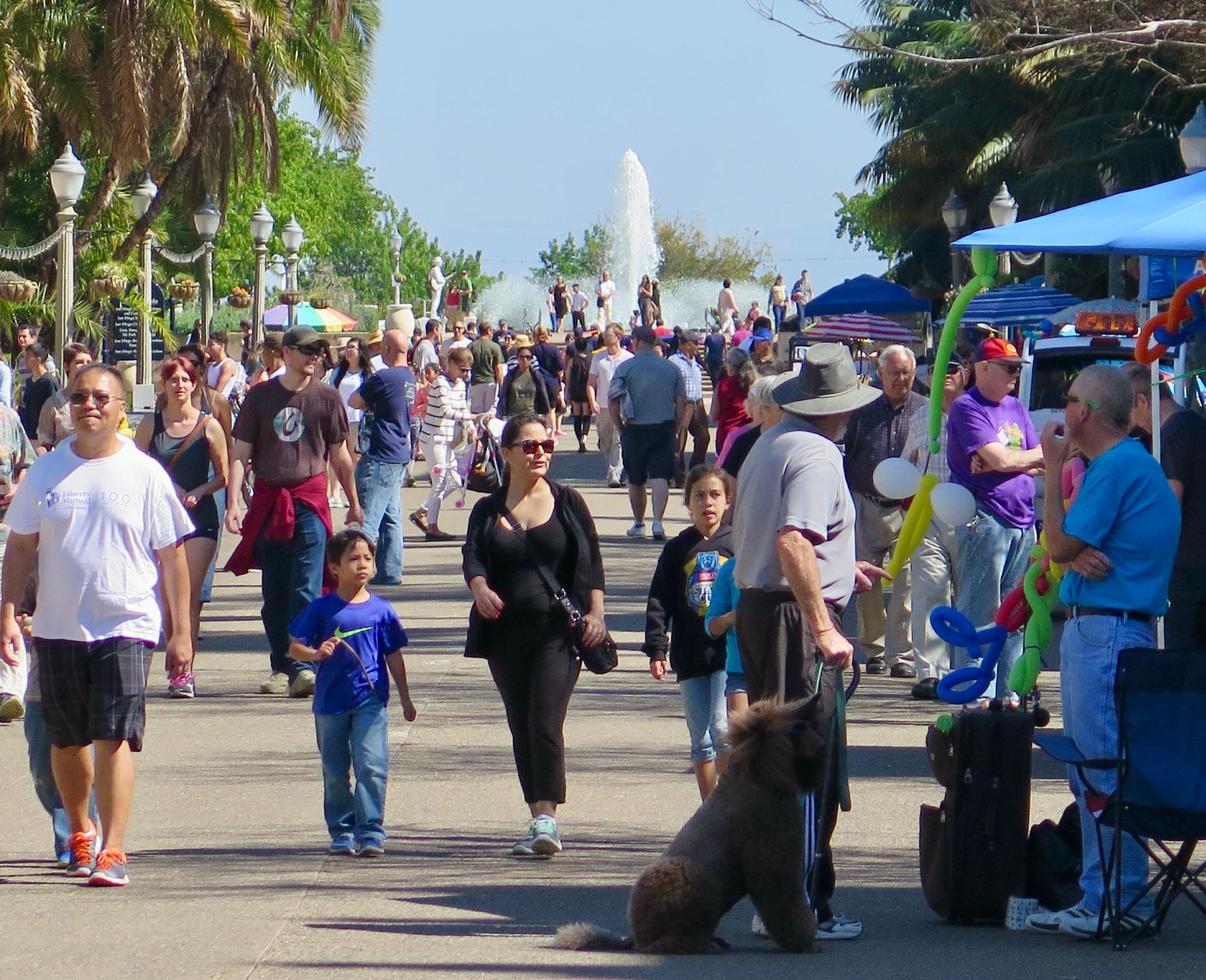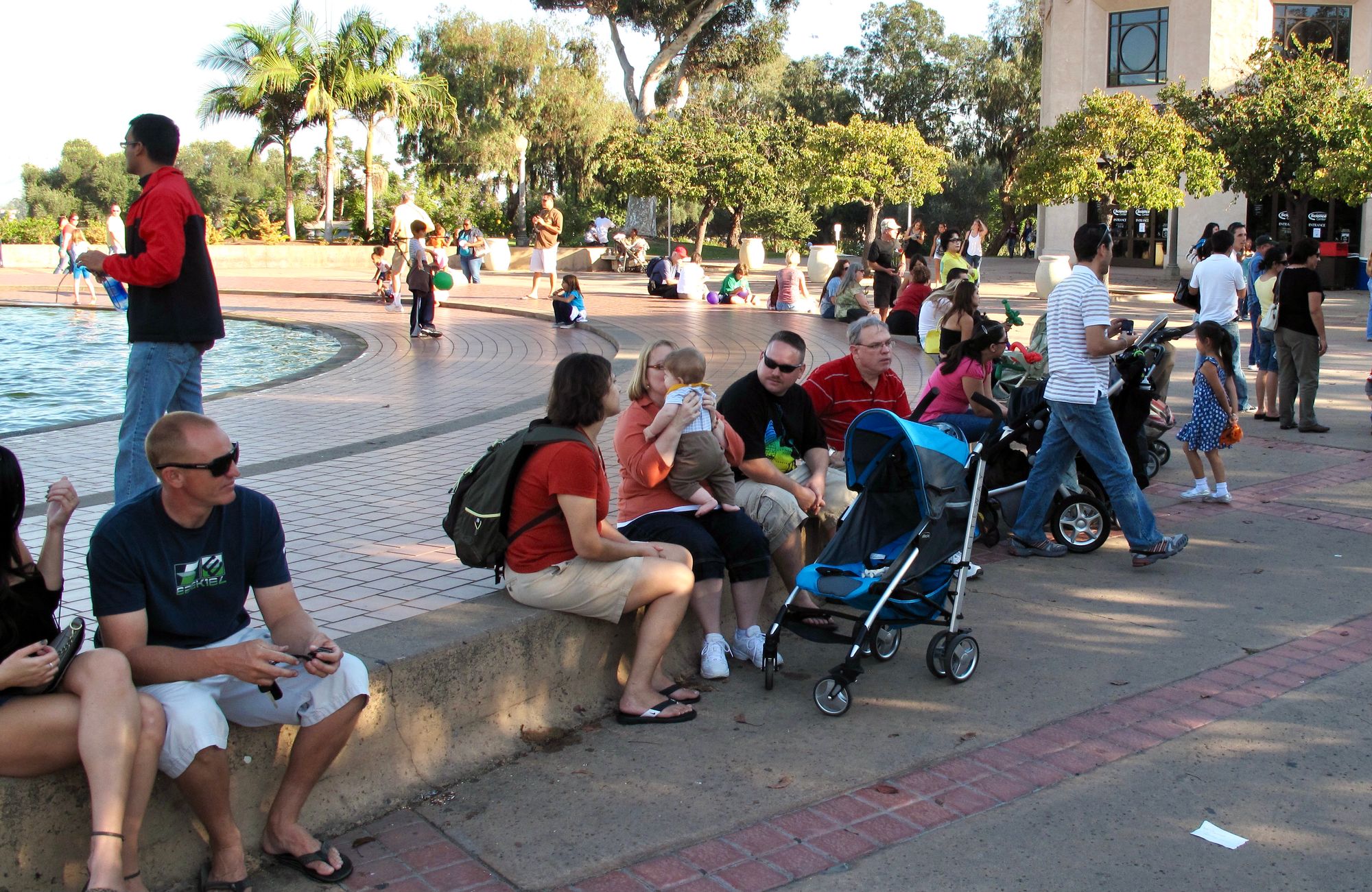 Social Life in Balboa Park
Between those plazas, the rest of this part of Balboa Park park is full of life, too. People feel welcome to come and share their passions and personalities. Not only are performances abundant all along the promenade, but other areas like the Botanical Gardens and Arts Village also show off the full spectrum of social activity. It's a joy to be part of the show, and people come prepared to participate.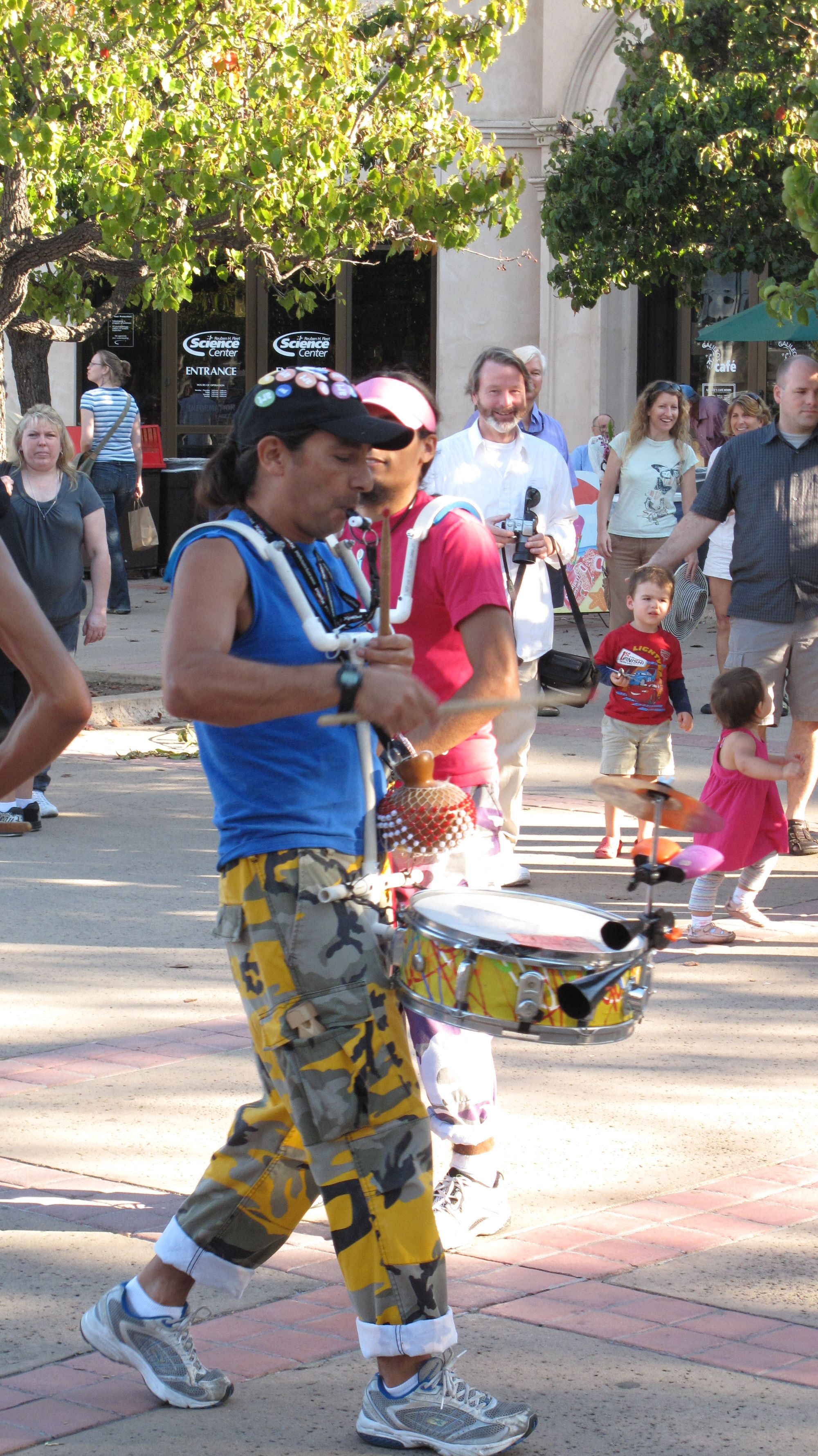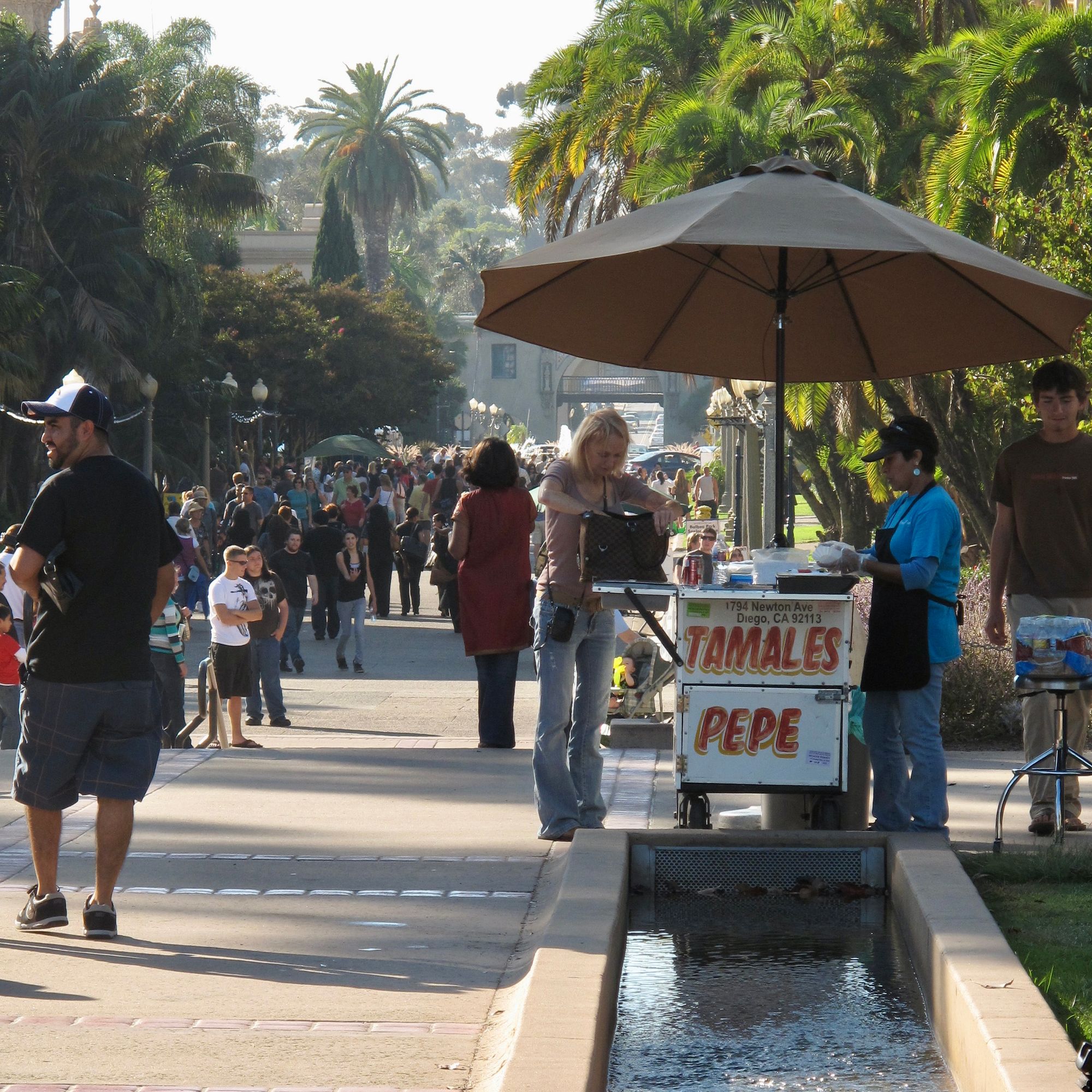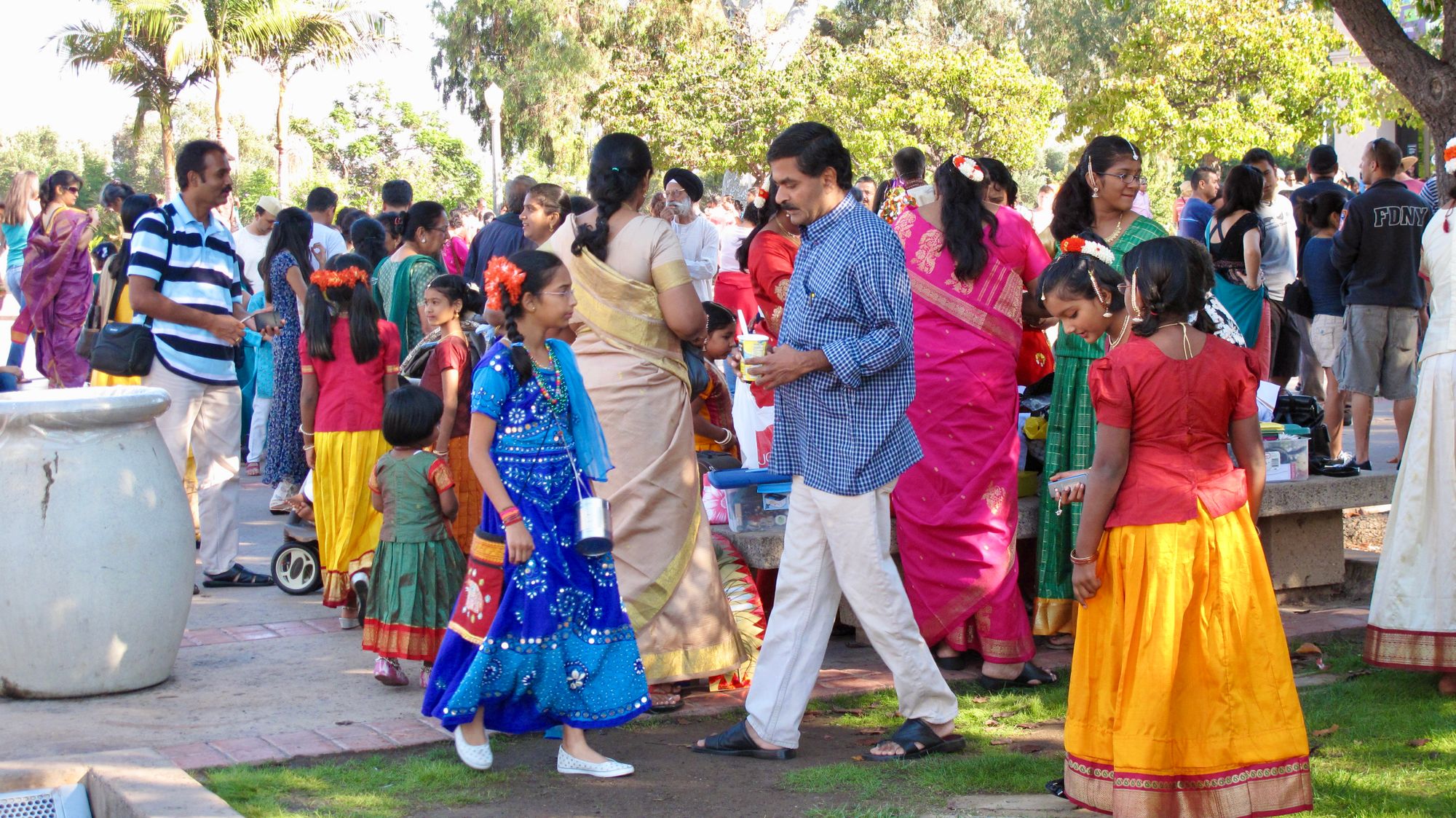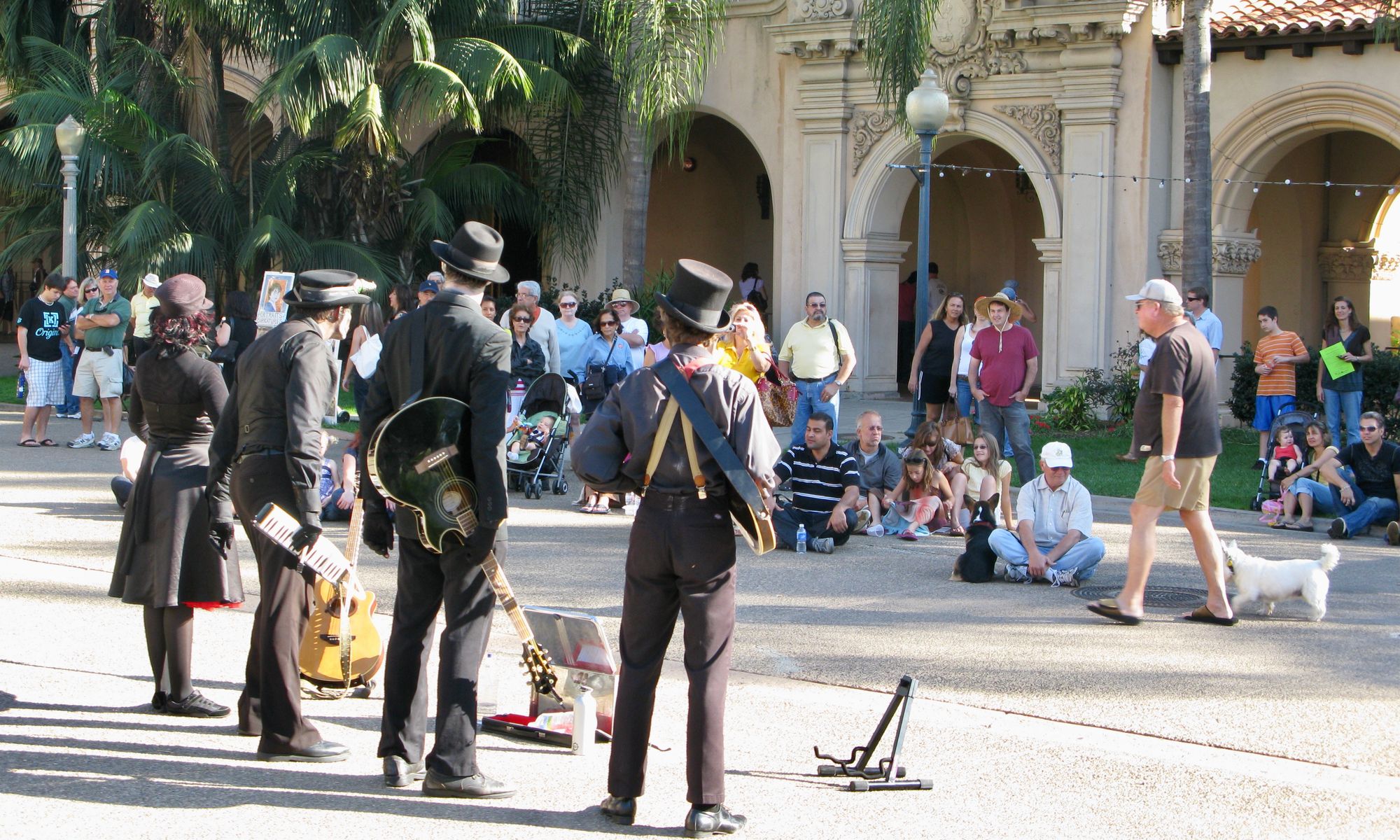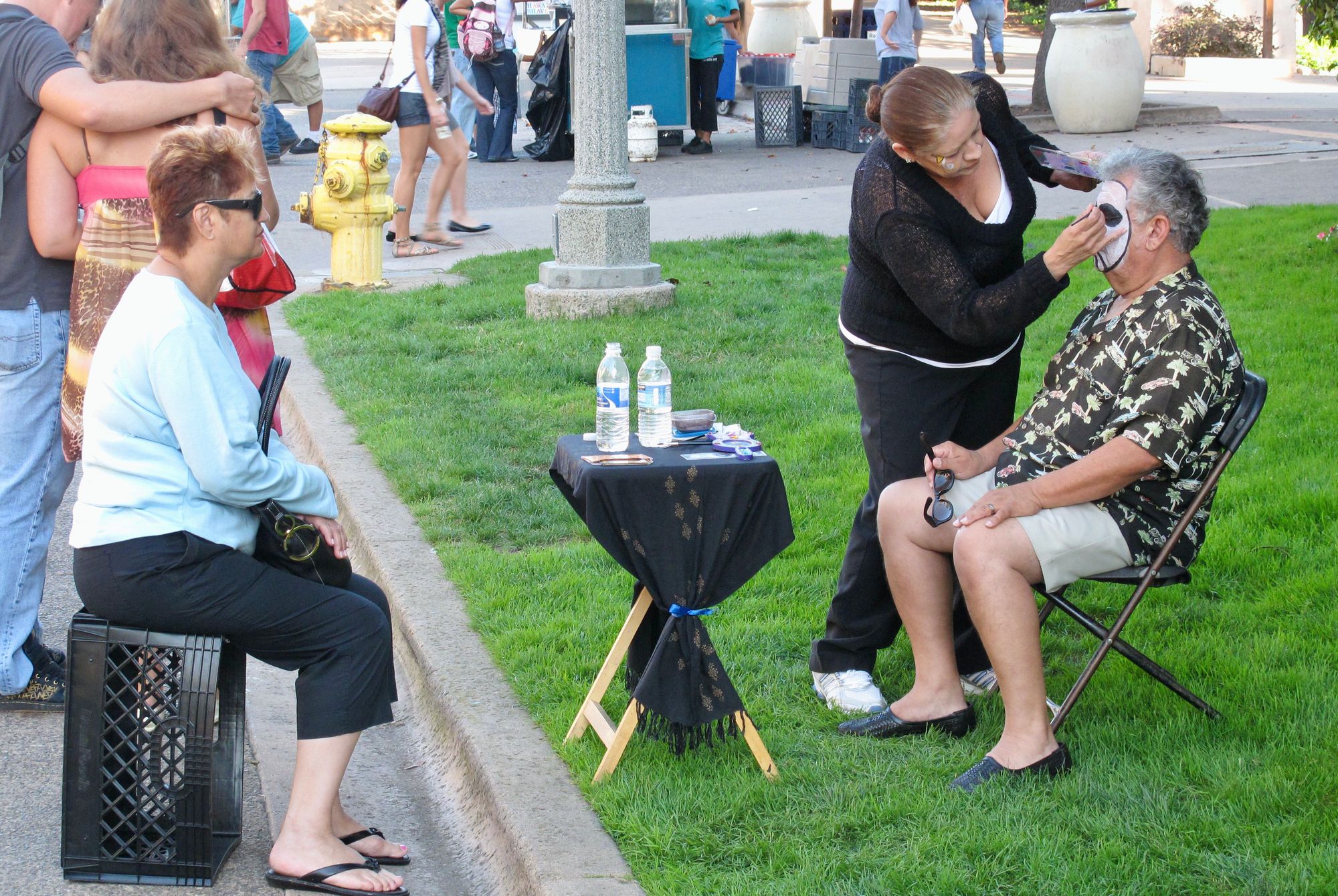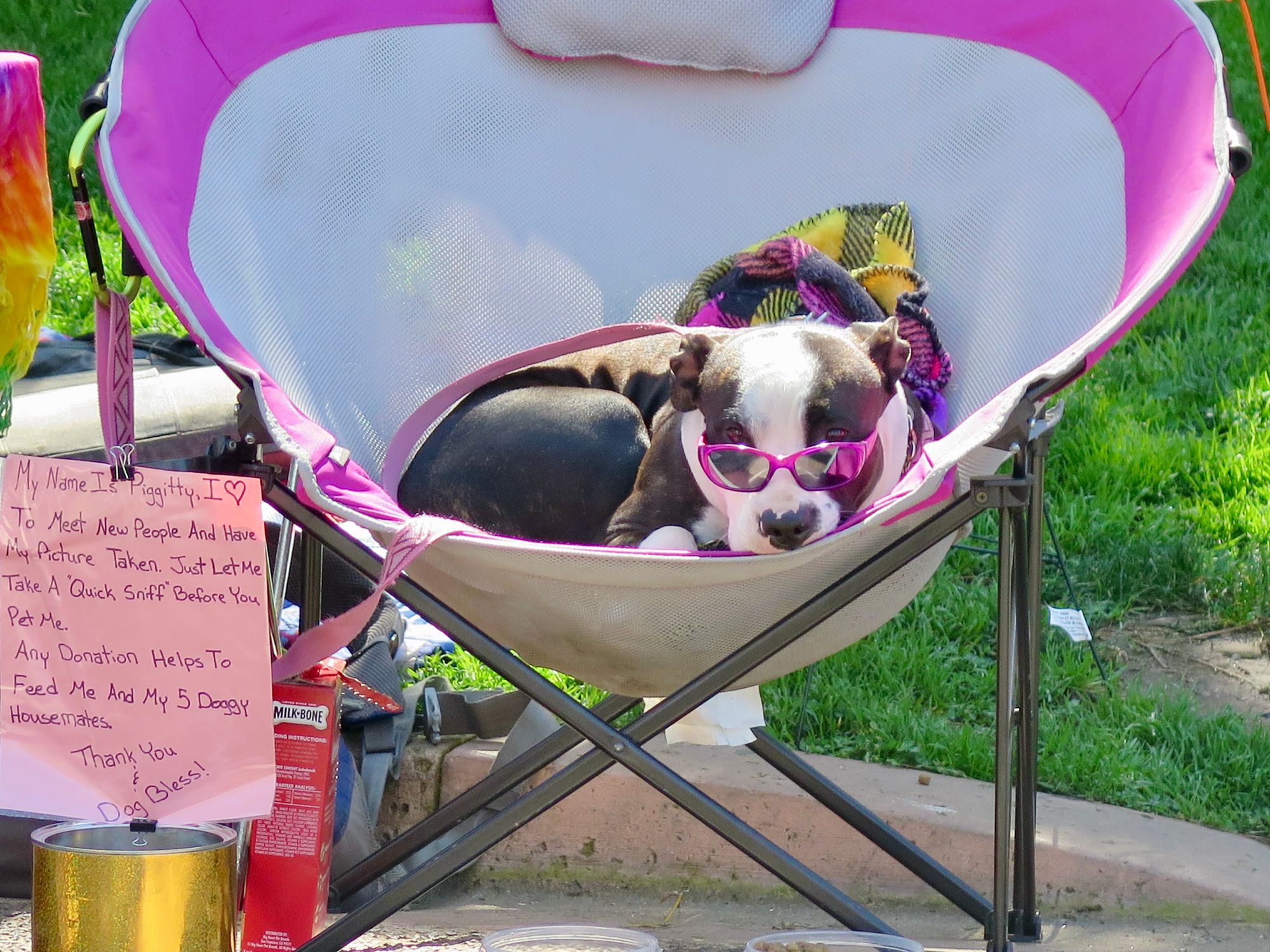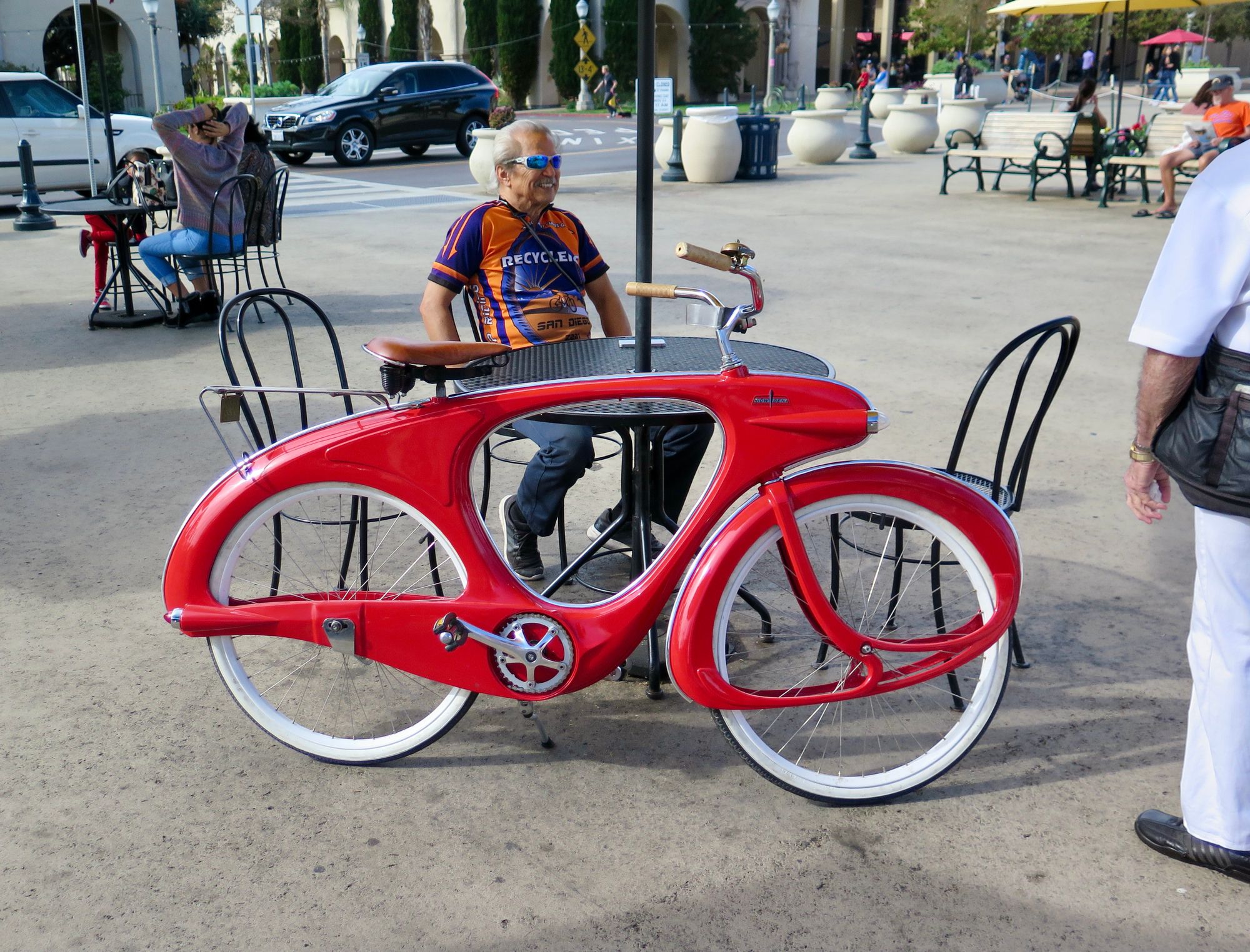 The Botanical Gardens
Parallel to the main promenade is the Botanical Garden, which has a more park-like atmosphere that complements the Prado. Greenery, water features, and fountains make for a relaxing environment. It is more connected to nature and calmer than other parts of Balboa Park.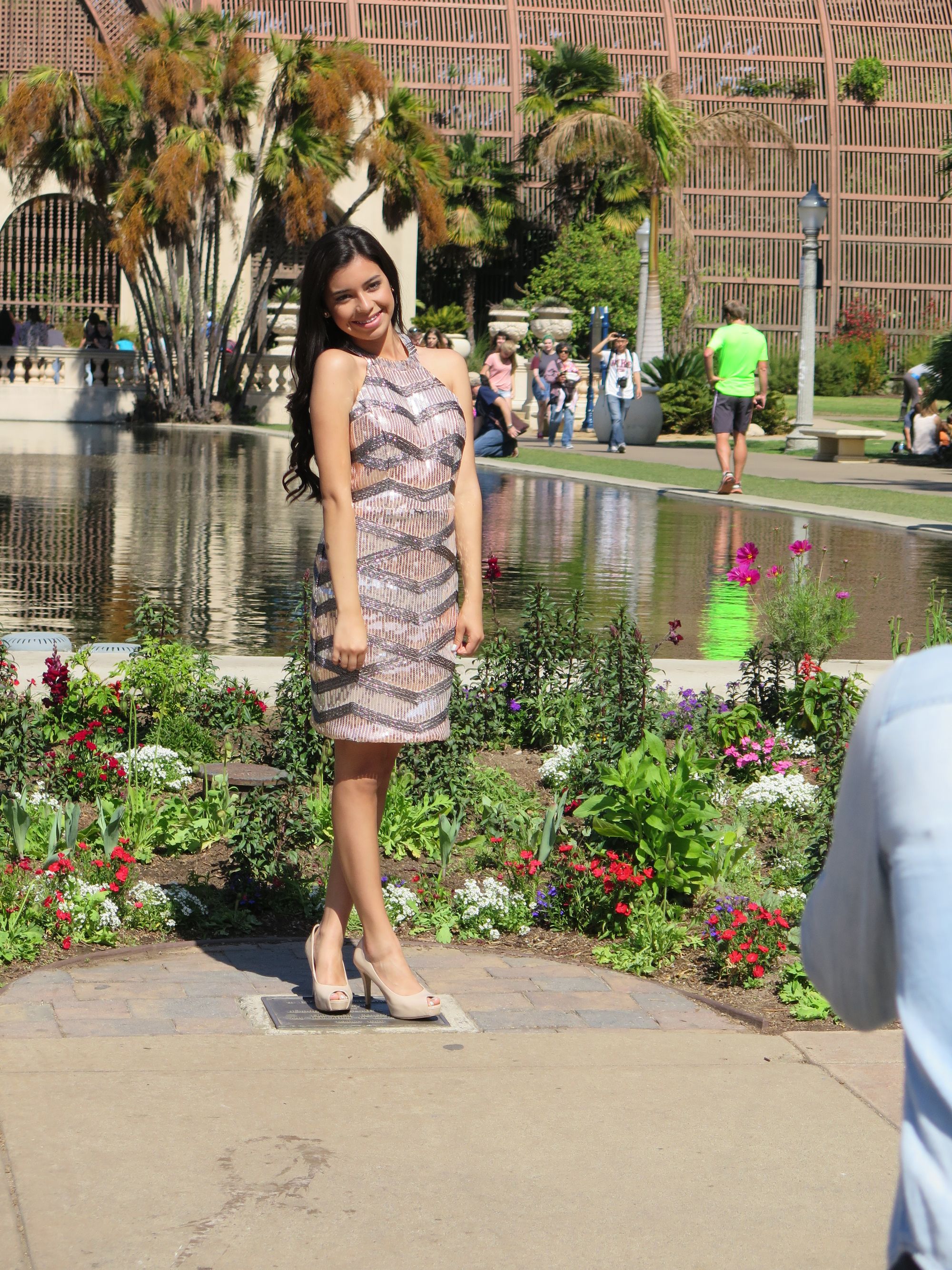 Arts Village and San Diego Zoo
These two destinations, along with other well-loved museums and institutions in other parts of the park, add another layer that invites many more visits. Thanks to places like these, one truly has to visit multiple times before understanding the full offerings of Balboa Park.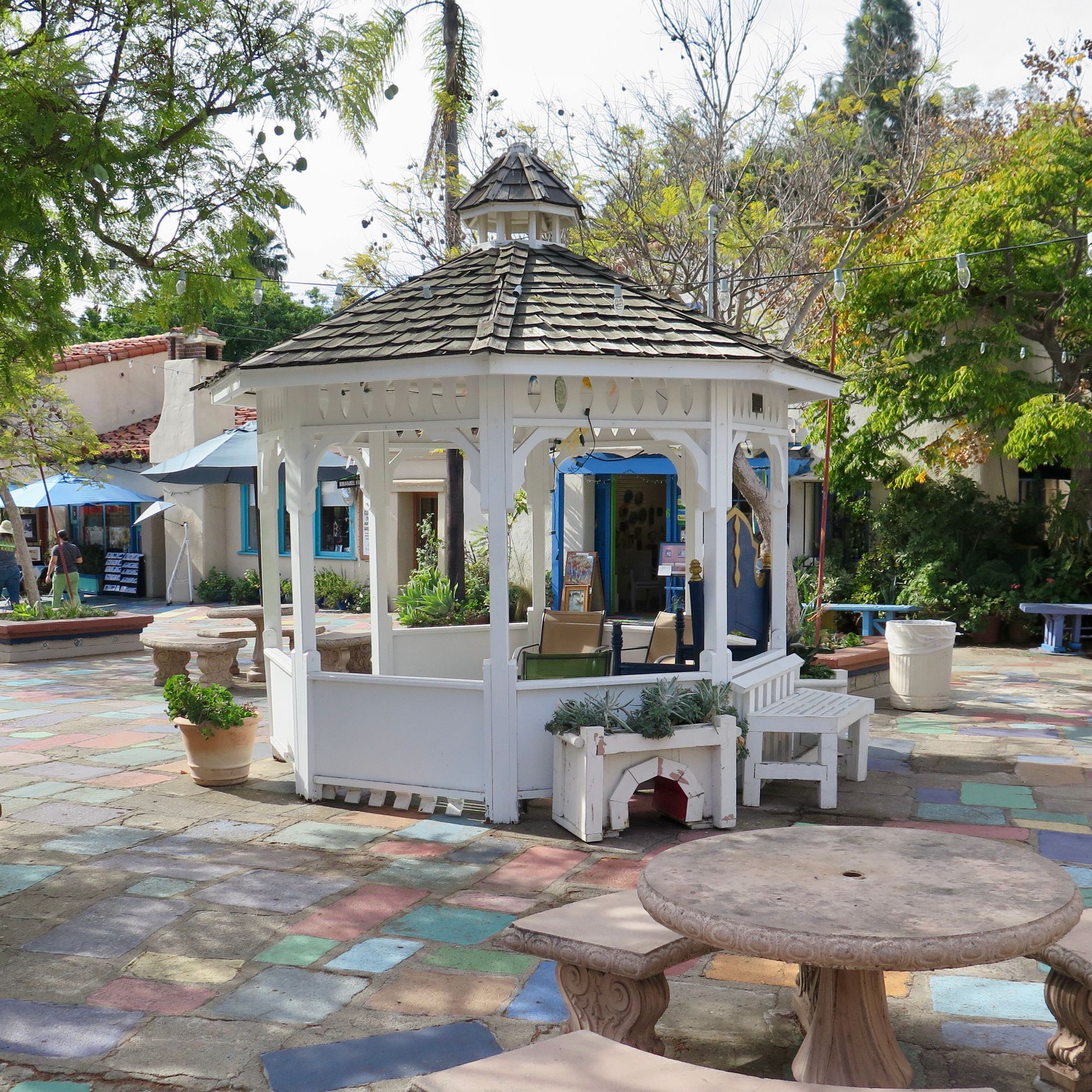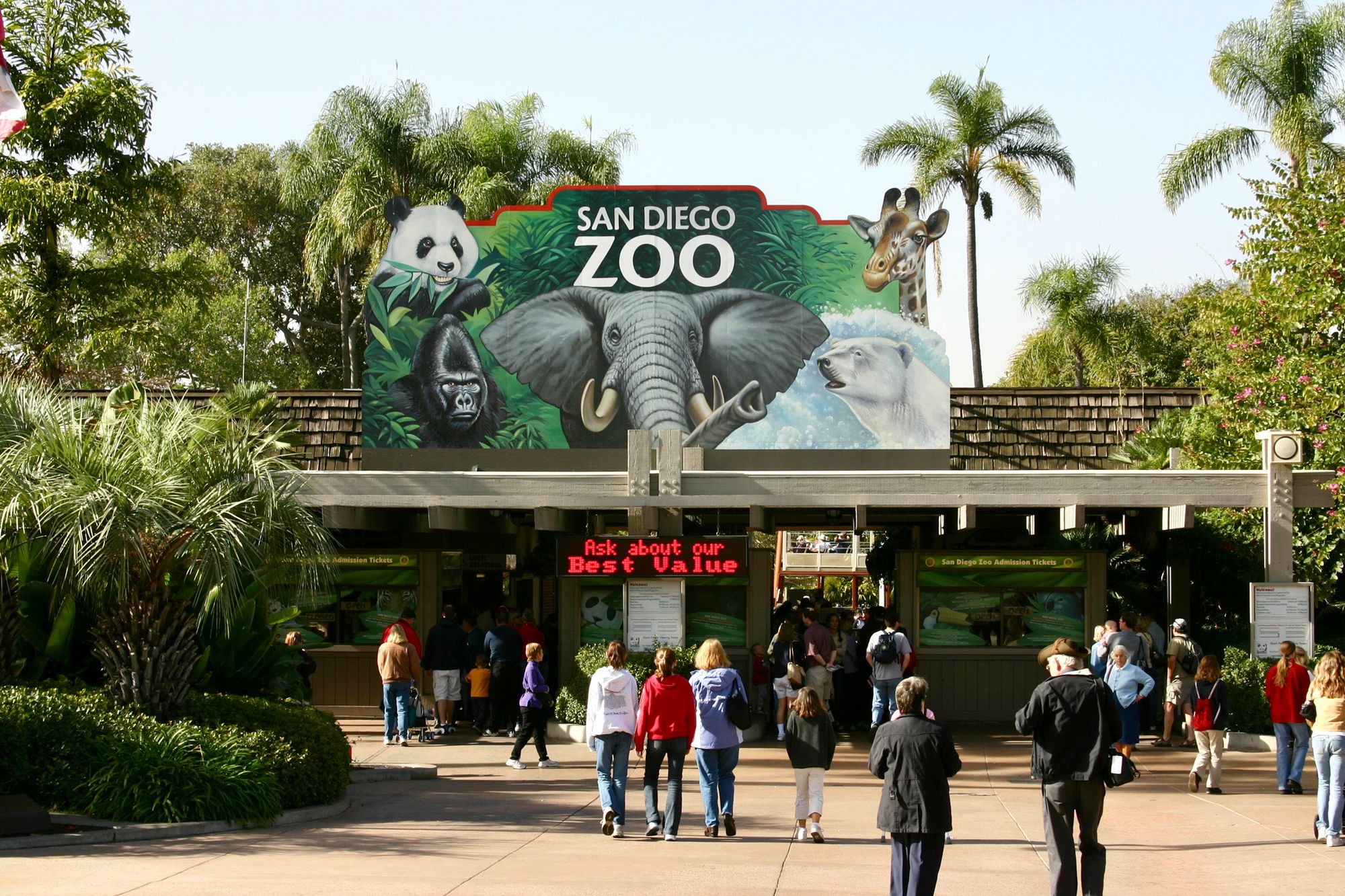 Creating an Even Brighter Future for a Precious Resource
No place is perfect.
As wonderful as Balboa Park is, there are significant opportunities to take it to a higher level. This might even be part of its charm and why people love it so much. Being imperfect draws lots of energy and ideas from area residents, especially from those who love and care for the place: There are strong community groups dedicated to the preservation and improvement of the entire park. The result is that it is constantly changing and evolving, as the best public spaces do.
We feel that the two main plazas in Balboa Park, Plaza de Panama and Plaza de Balboa, are substantially underperforming in their role as the main squares within Balboa Park. Activating these two main squares would be a huge boost. Five improvements could make a big difference:
Adding more food vendors and pop-up restaurants;
Strengthening the landmarks and "focal points" throughout the park;
"Bringing the inside out" of museum buildings along the Prado;
Creating a central or weekly market with local vendors, and
Supporting street performers.
Meanwhile, the Botanical Gardens could benefit from an added layer of seating, small gathering areas and other amenities like shade – and, as in other parts of the park, a place to grab a bite to eat.
As a whole, Balboa Park could benefit from having more hubs – taking the form of additional small plazas or squares throughout the space. This would be a powerful step towards harnessing the Power of 10, and adding even more layers to the multitude of places and activities throughout the park.
Getting Inspired: Two Other World-Class Streets
The two best benchmarks we can think of, as Balboa Park continues to improve, are Buenos Aires' Calle La Defensa and Barcelona's  La Rambla.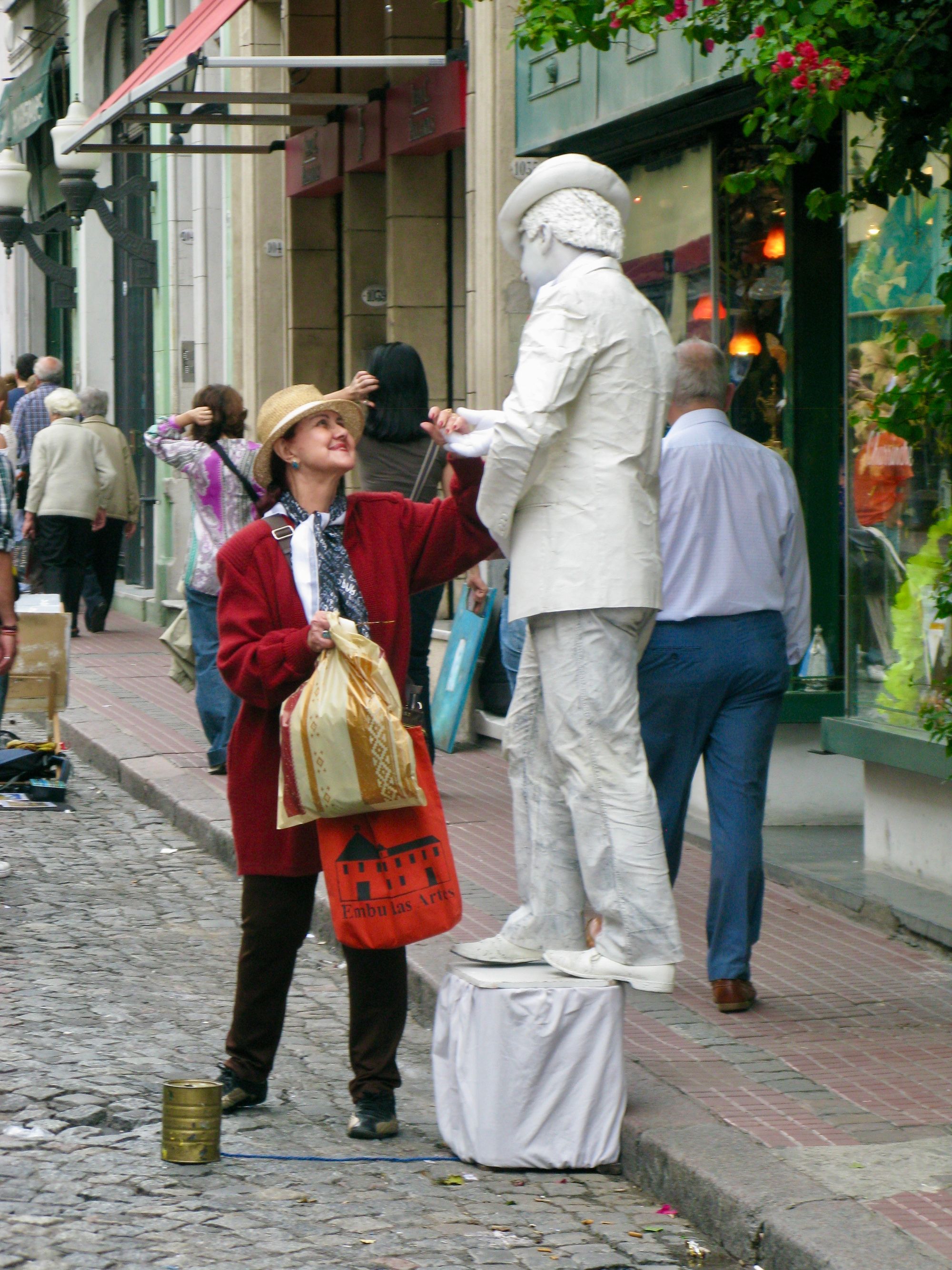 One takeaway would be curating a street market with vendors along the Prado, taking notes from Buenos Aires' Calle La Defensa. In Buenos Aires, the market offers a focus on local artisans, and dedicates Sundays to antiques. Crowds gather there to walk, shop, dance, eat and have fun interacting with the street performers.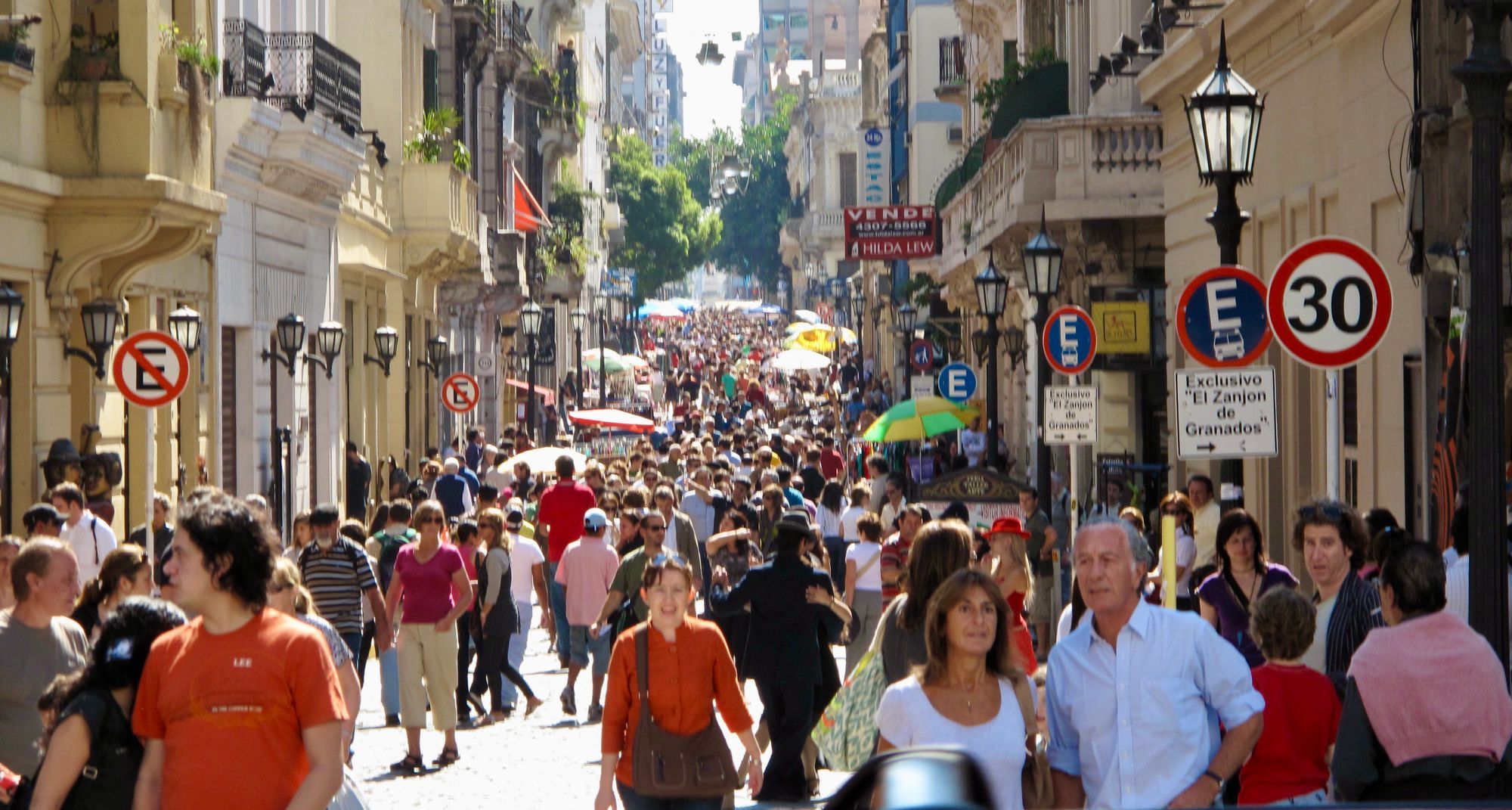 Barcelona's La Rambla
Barcelona's La Rambla is another great street to examine for possible ideas. It has many sections, from the narrower, quieter Rambla de les Flors, which holds many flower vendors and leads to the famous Mercat de Sant Josep, to the Rambla de Canaletes, which attracts crowds with its storied fountains. But one thing that is true all along the Rambla is plentiful seating and places to engage with street performances and artists.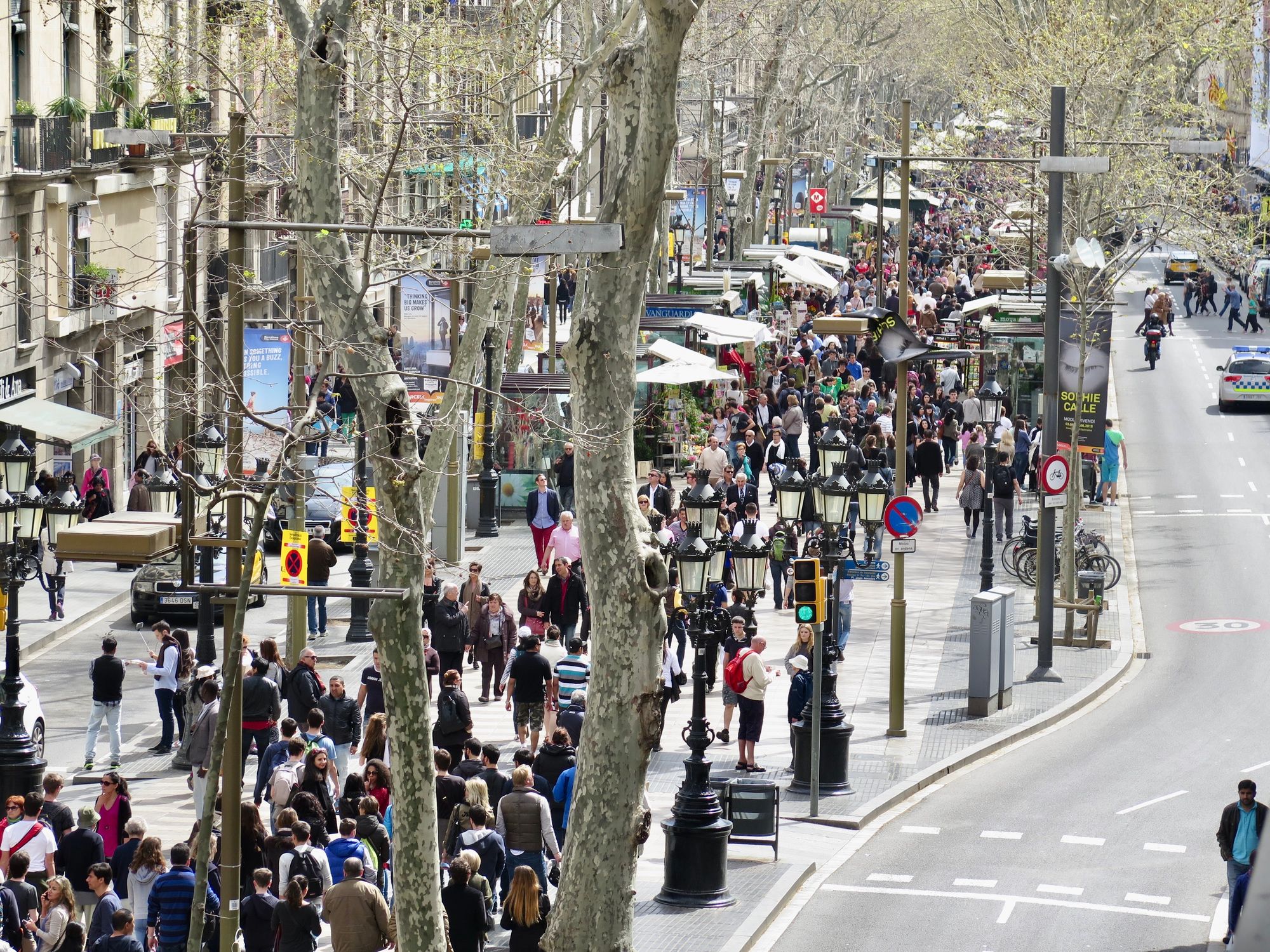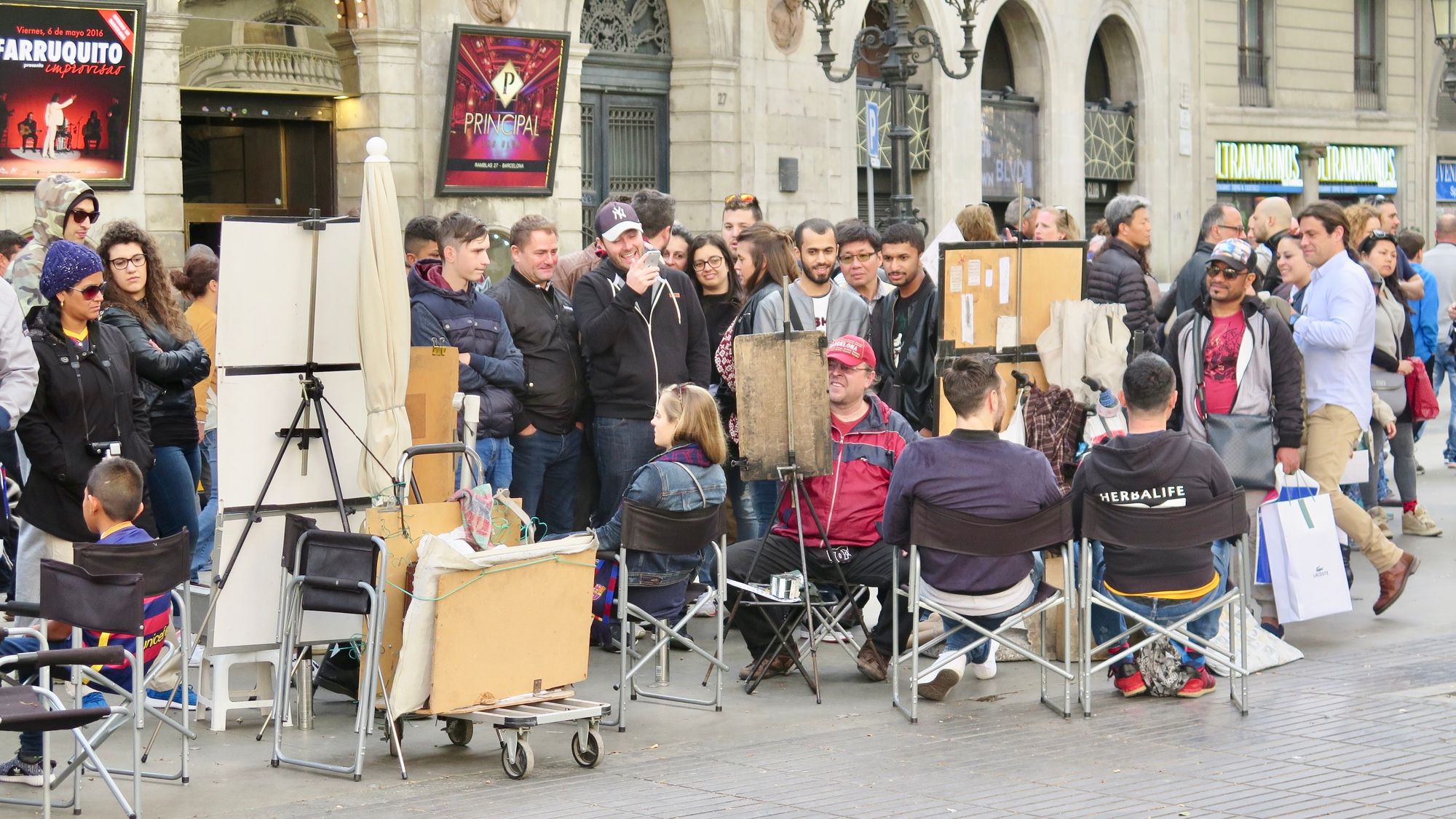 Focal Points
Something we have learned is the deep importance of having focal points in public spaces; not just as an identifying landmarks, but also as a gathering and meeting place for visitors. Other cities across Europe present a wide showcase of sit-able statues and fountains that can act as a center point for a square or plaza. We think Balboa Park could benefit from adding more focal points like these: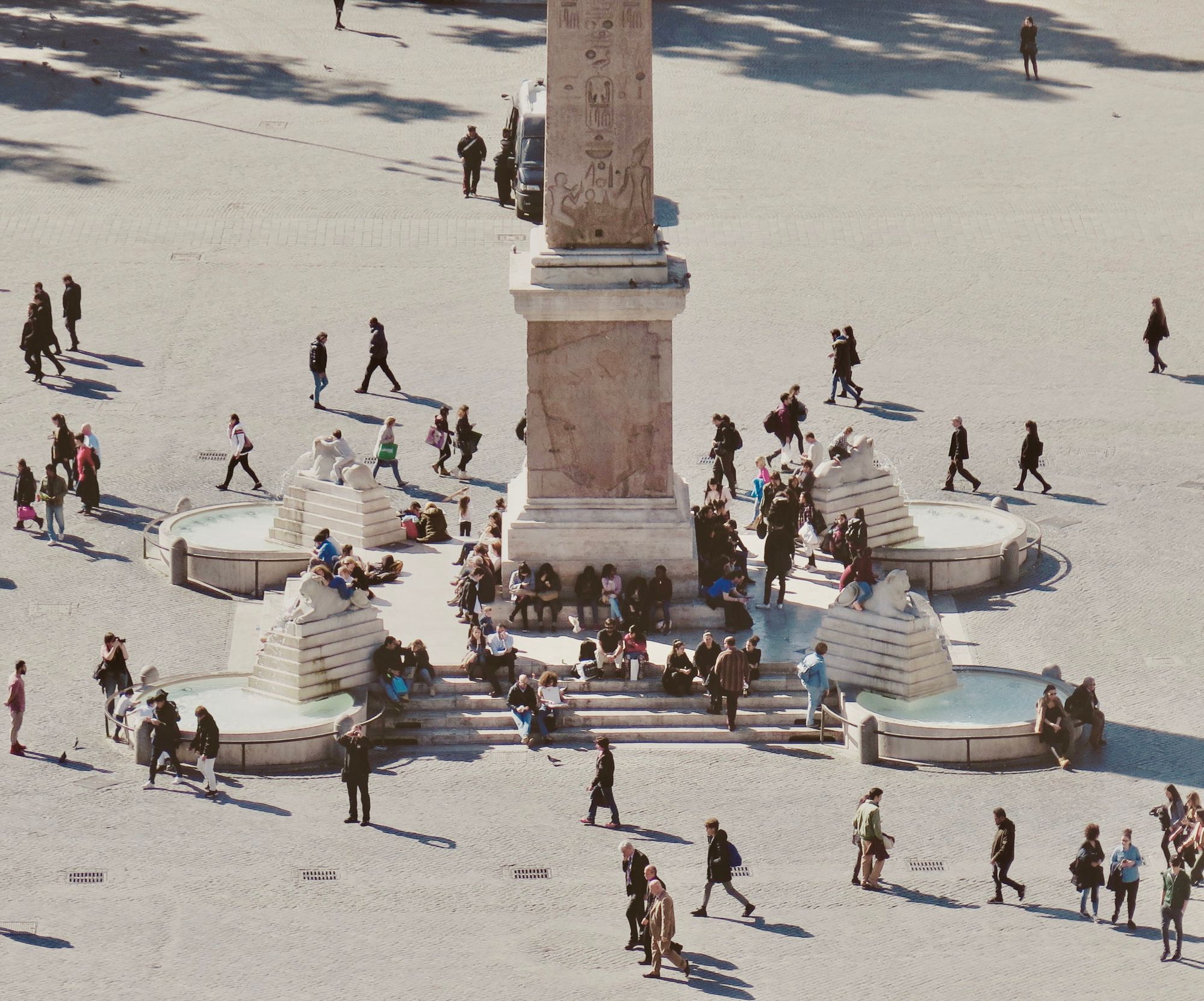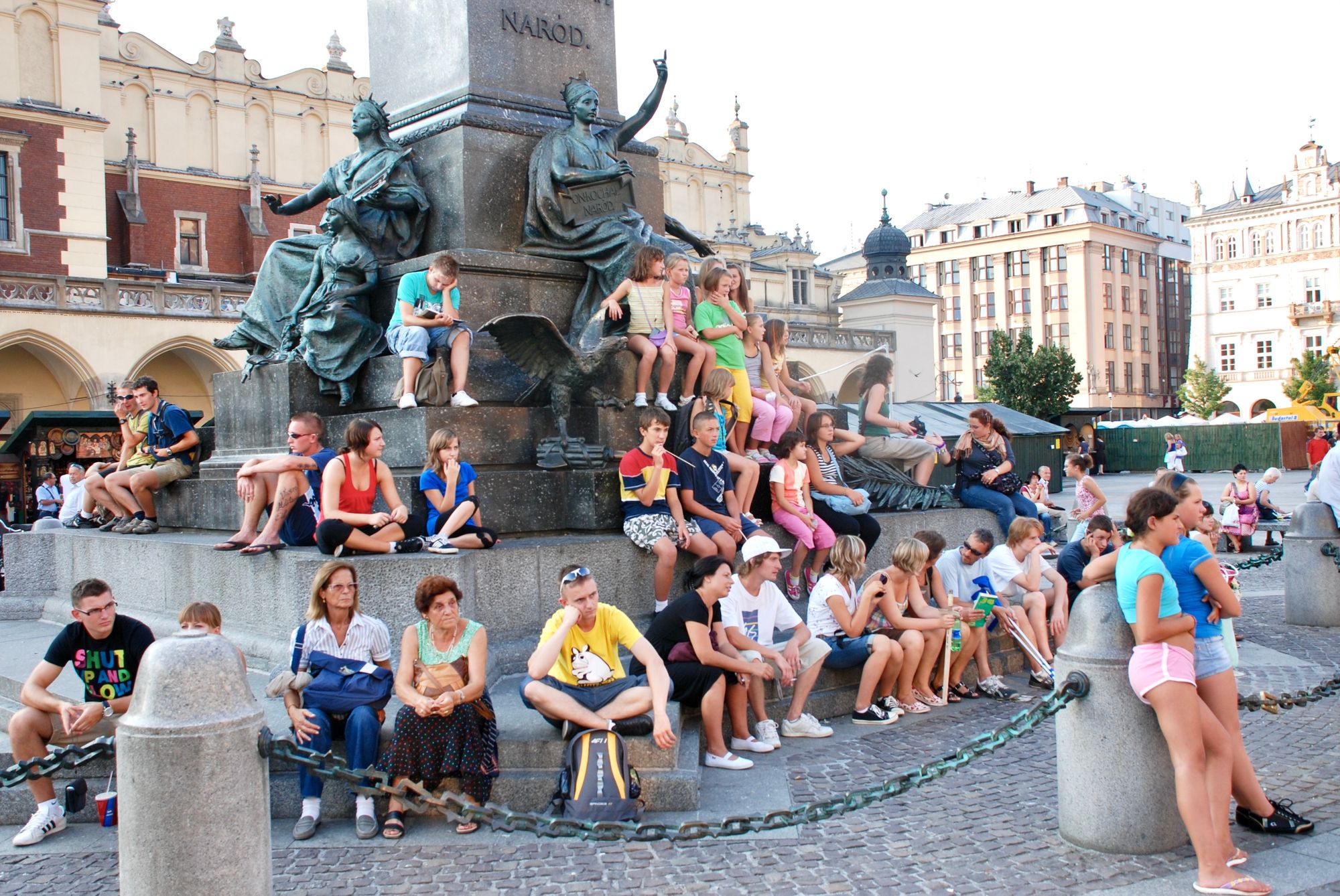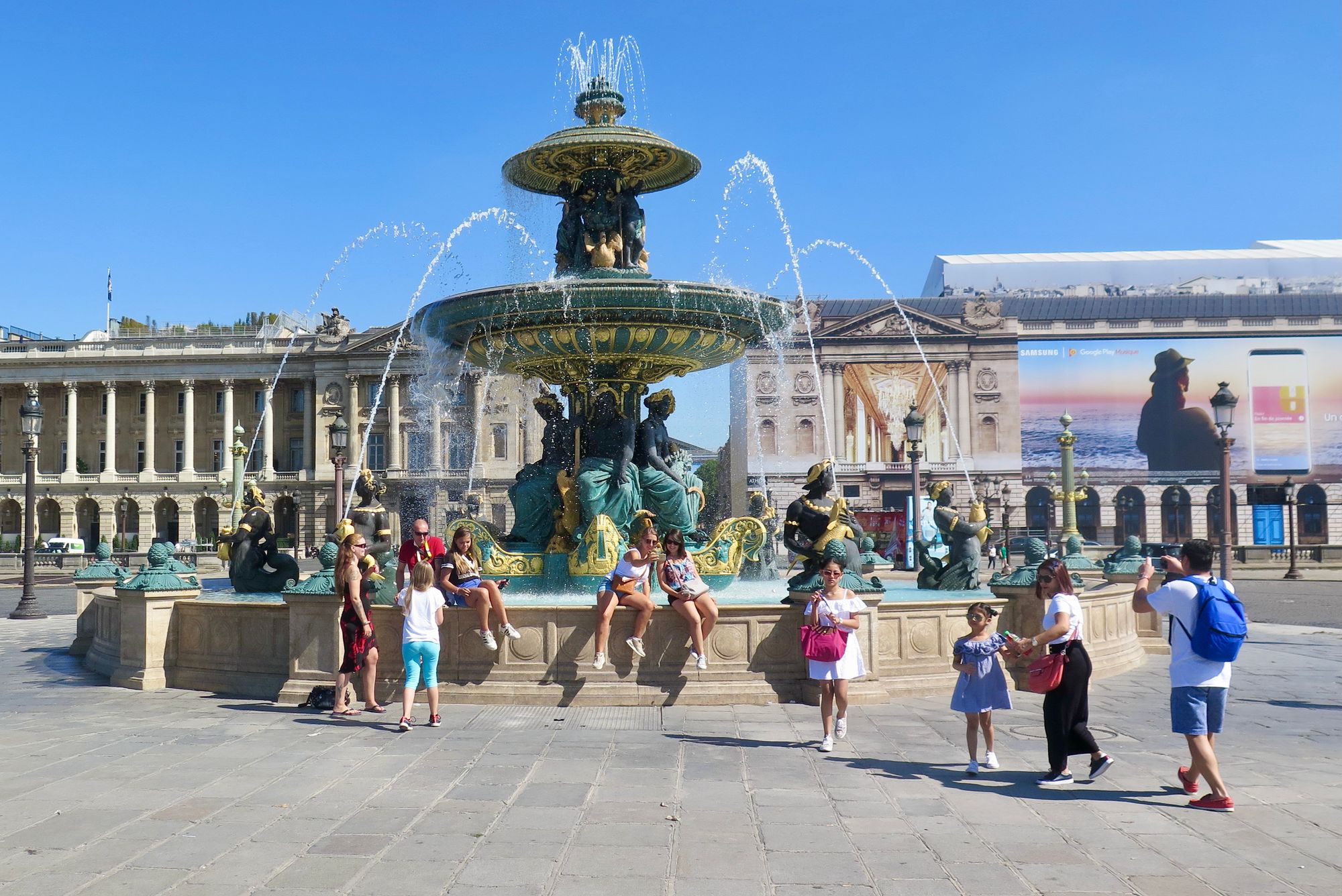 Takeaways
The depth of what Balboa Park offers to visitors is immense. One gets a taste of so many cultures and forms of artistic expression, and gets the feeling of the enormous creativity coming from across the globe – far more than anyone would otherwise be able to experience in their lifetime. It compels visitors to come back again and again, because there is so much more to take in. Every visit is a journey full of surprises, from the quieter refuge of the Botanical Gardens to the perfect people-watching along the promenade.
The beauty of this park is that it is not one single destination. The magic is in its various layers of activity. Just to walk the Prado in Balboa Park is a long, connected experience, all held together by the institutions and people who make it such a wonderfully interesting place to visit.
Writing this post has revealed our passion for Balboa Park. We could picture ourselves spending a month just observing and talking with the many groups of local residents and institutions passionate about all aspects of the park.
Check out our post on the San Diego Waterfront. For many years we have seen almost no progress toward making it one of the best waterfronts in the world. Here is a wat to make it great quickly...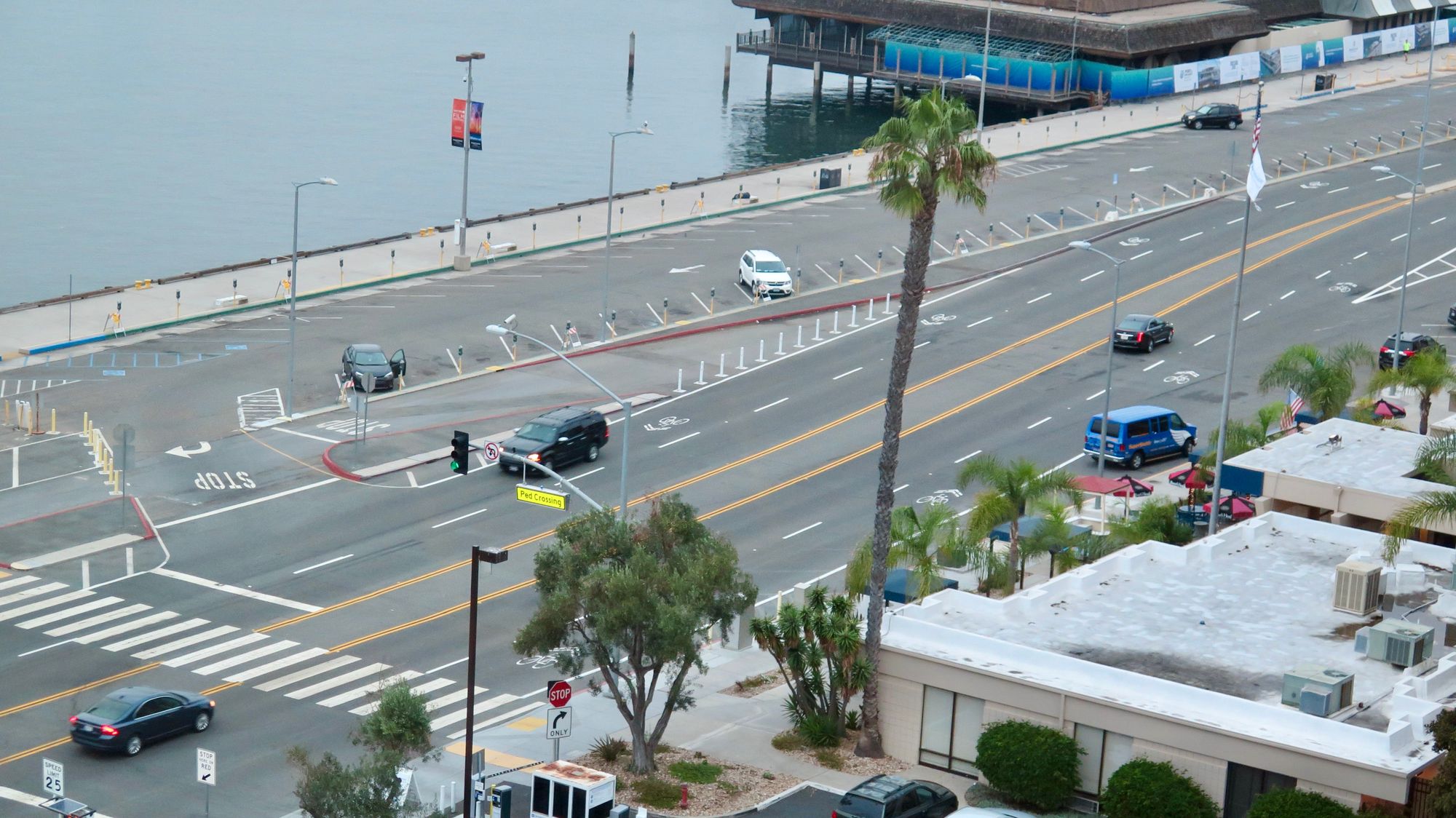 Other Posts that speak to the importance of the impact where Social Life is the foundation on people's lives that also were created around the same time and still thrive today.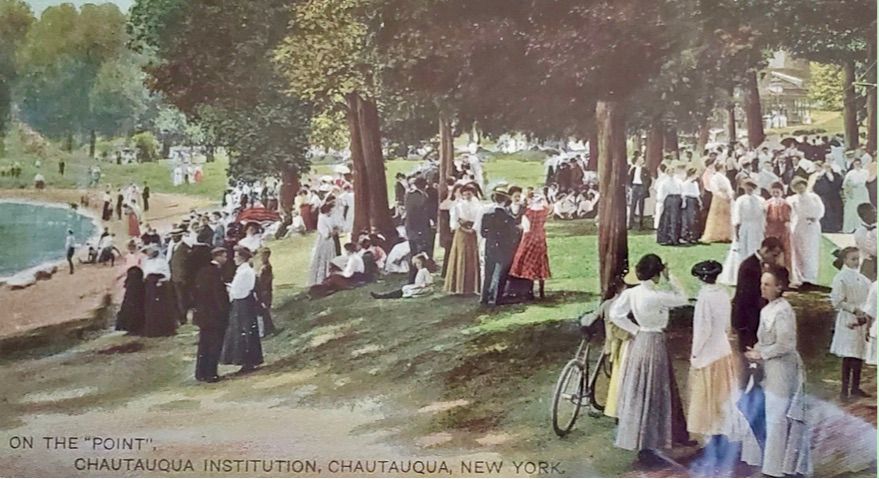 ---
On The Placemaking Movement: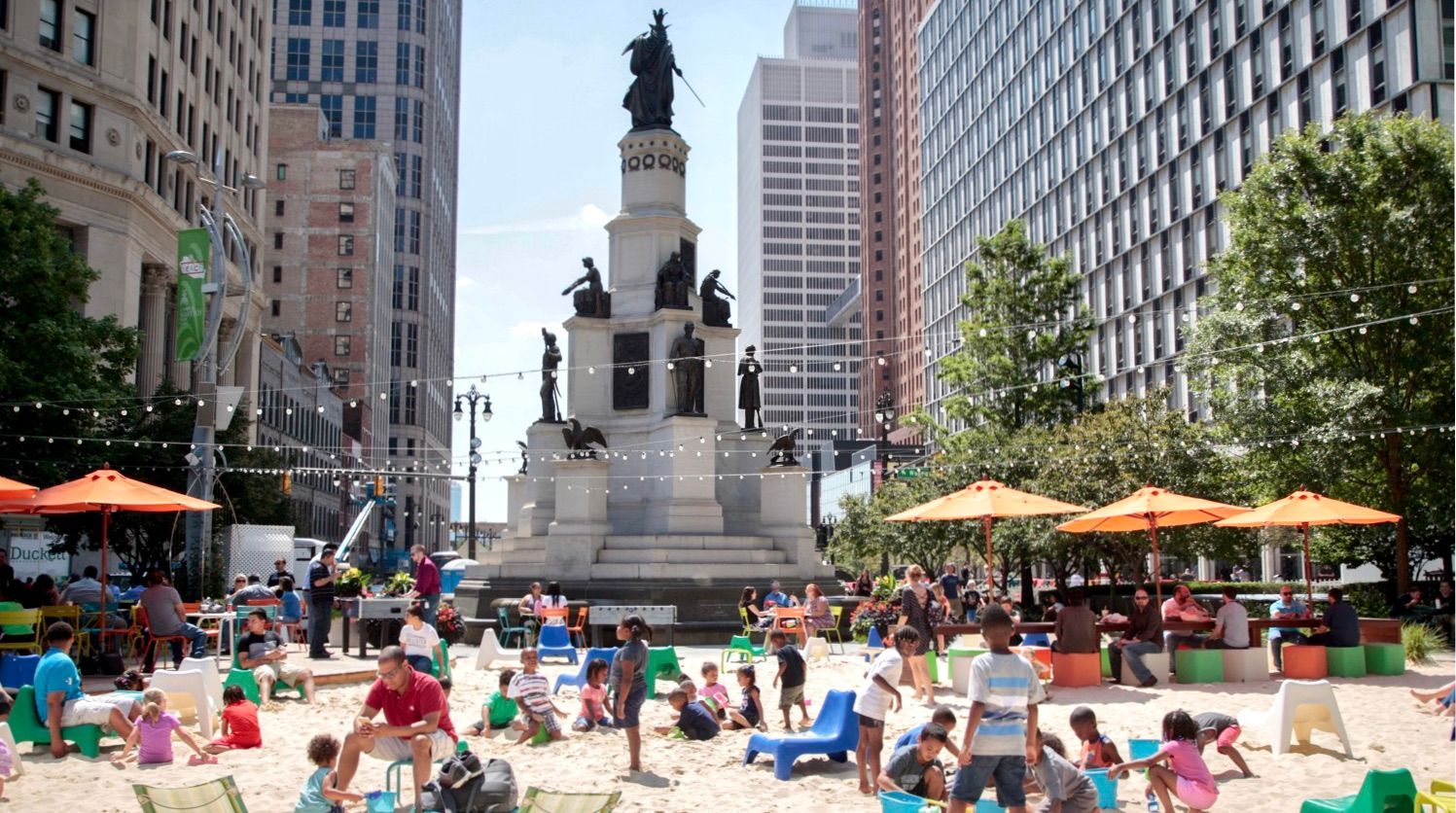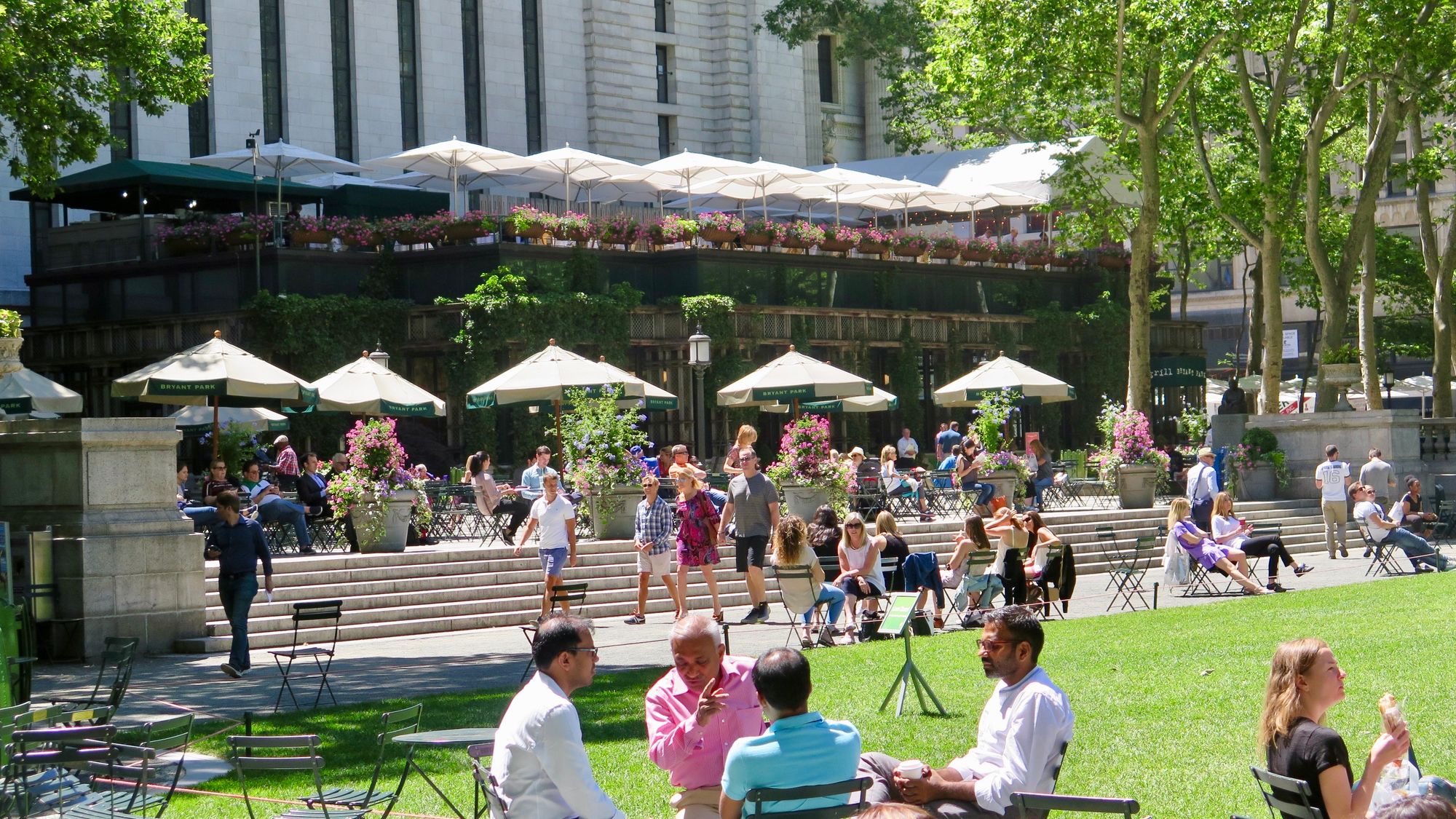 Who We Are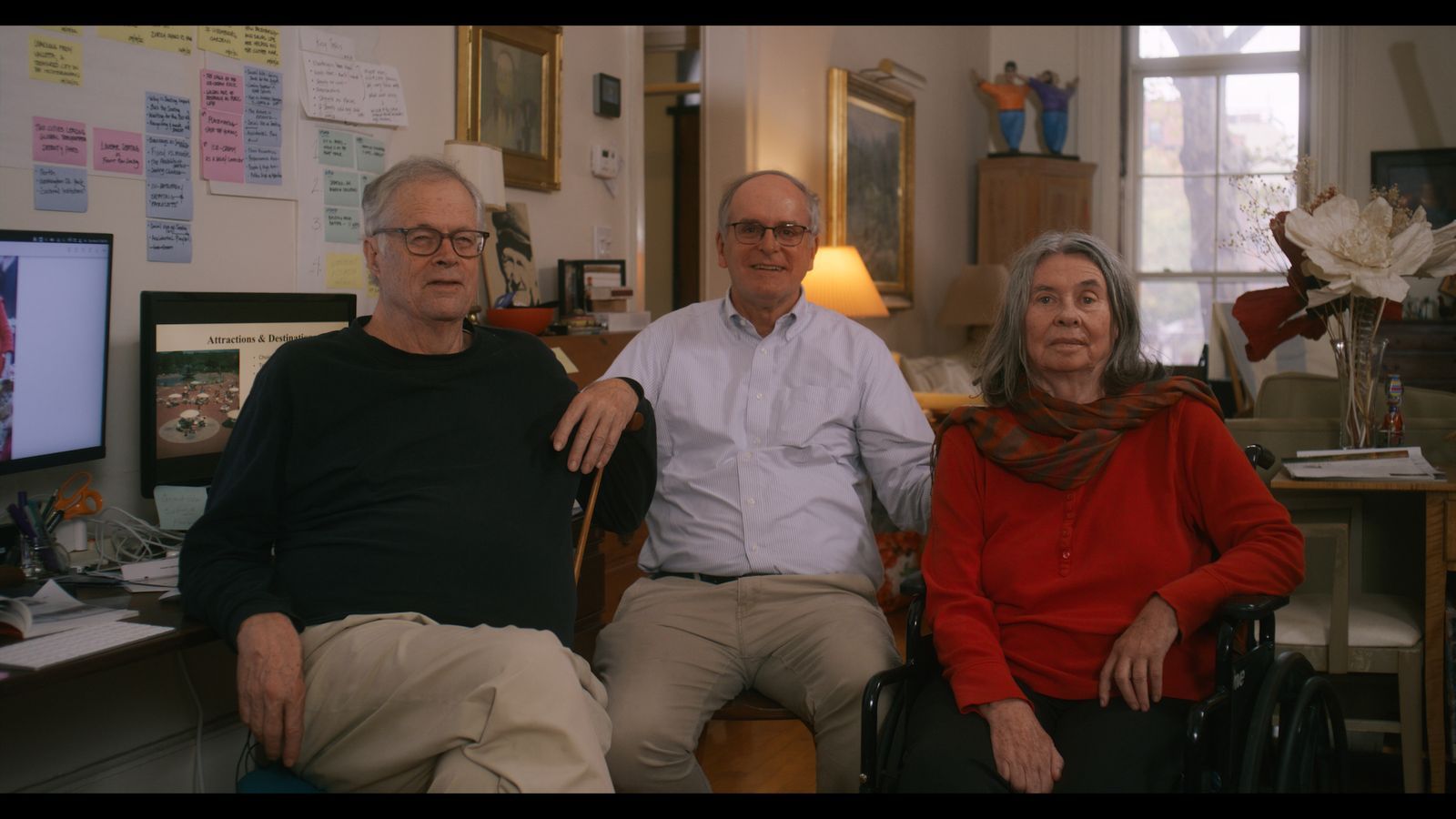 The mission of the
Social Life Project
is to incite a renaissance of community connection in public spaces around the globe. Our work grows out of more than 50 years devoted to building the global placemaking movement. It is an initiative of the
Placemaking Fund
, along with
PlacemakingX
 — a global network of leaders who together accelerate placemaking as a way to create healthy, inclusive, and beloved communities. Through our online publication, presentations, campaigns, and catalytic projects, we can create transformative impact on communities everywhere.
If you are interested in our helping to build a community-wide campaign or catalytic interventions, presentations, exhibits, and more or supporting the cause
contact us
.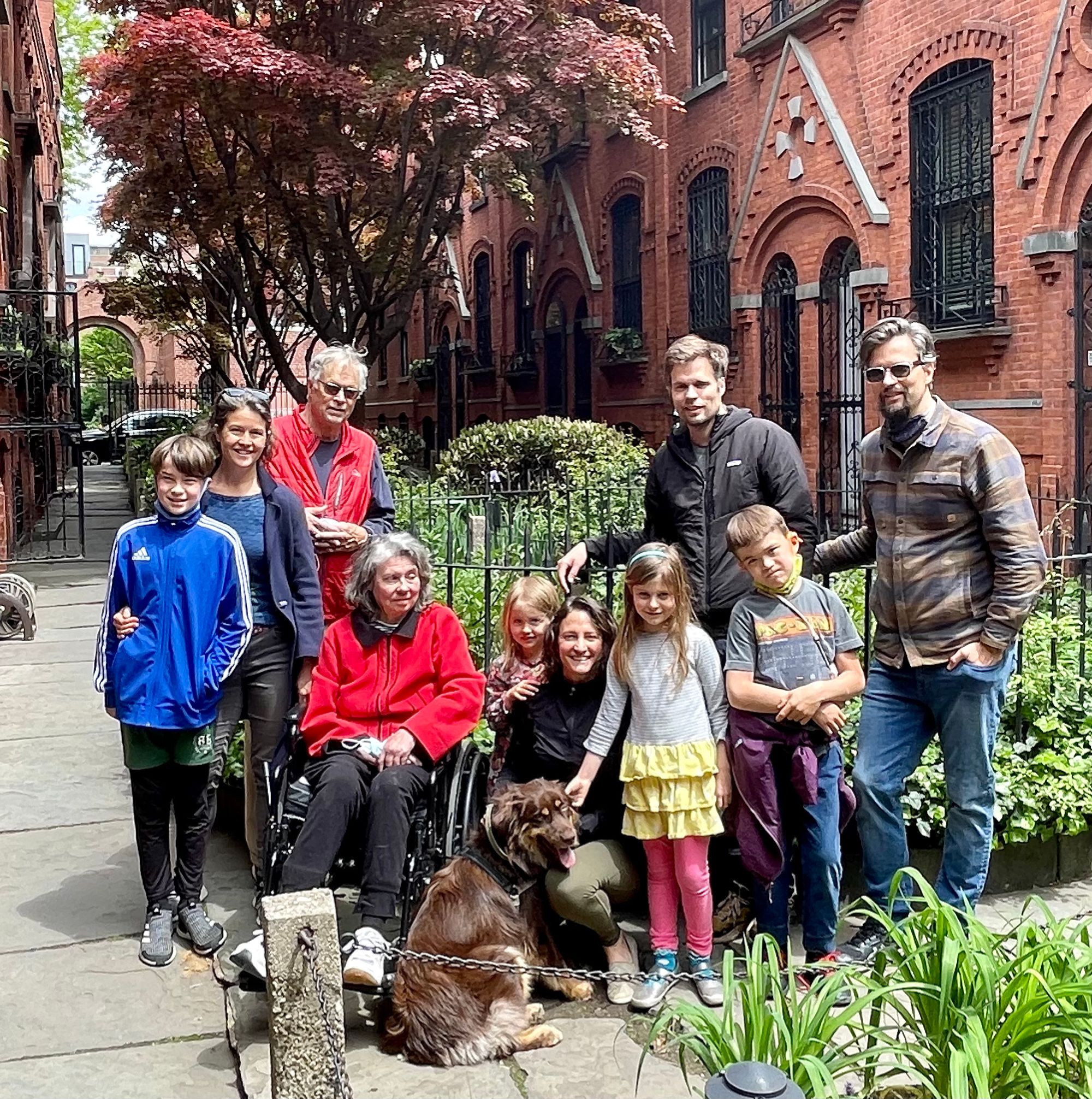 "There are more and more of us fighting for a different vision of the world—a world that takes care of our most precious resources: the air we breathe, the water we drink and the places we share."    Mayor of Paris France