Reshaping our communities through catalytic placemaking campaigns naturally addresses the root causes of the global environmental crisis
Updated October 12th
"There are more and more of us fighting for a different vision of the world—a world that takes care of our most precious resources: the air we breathe, the water we drink and the places we share."

— Anne Hidalgo, Mayor of Paris

When it comes to addressing climate change in a way that actually moves the needle, the creativity and community-orientation that always defined the global Placemaking movement can be the foundation for the future of communities everywhere--and for our planet. Placemaking merges the science and human poles of the climate conversation through community-based action, formed around each community's unique needs, values, and culture. It's time to recognize and build on this powerful legacy of people and place to create more resilient cities and towns with thriving, inclusive, sustainable public spaces.
Placemaking emphasizes social life as the backbone of society. By adopting this approach, neighborhoods, villages, towns, and cities are gaining spaces where people can exchange ideas and take action, empowering them to take back control of their lives. Cities especially need to step up and reshape themselves in a dramatic way that results in a healthy, sustainable environment. This shift heralds a new era for Placemaking and Social Life.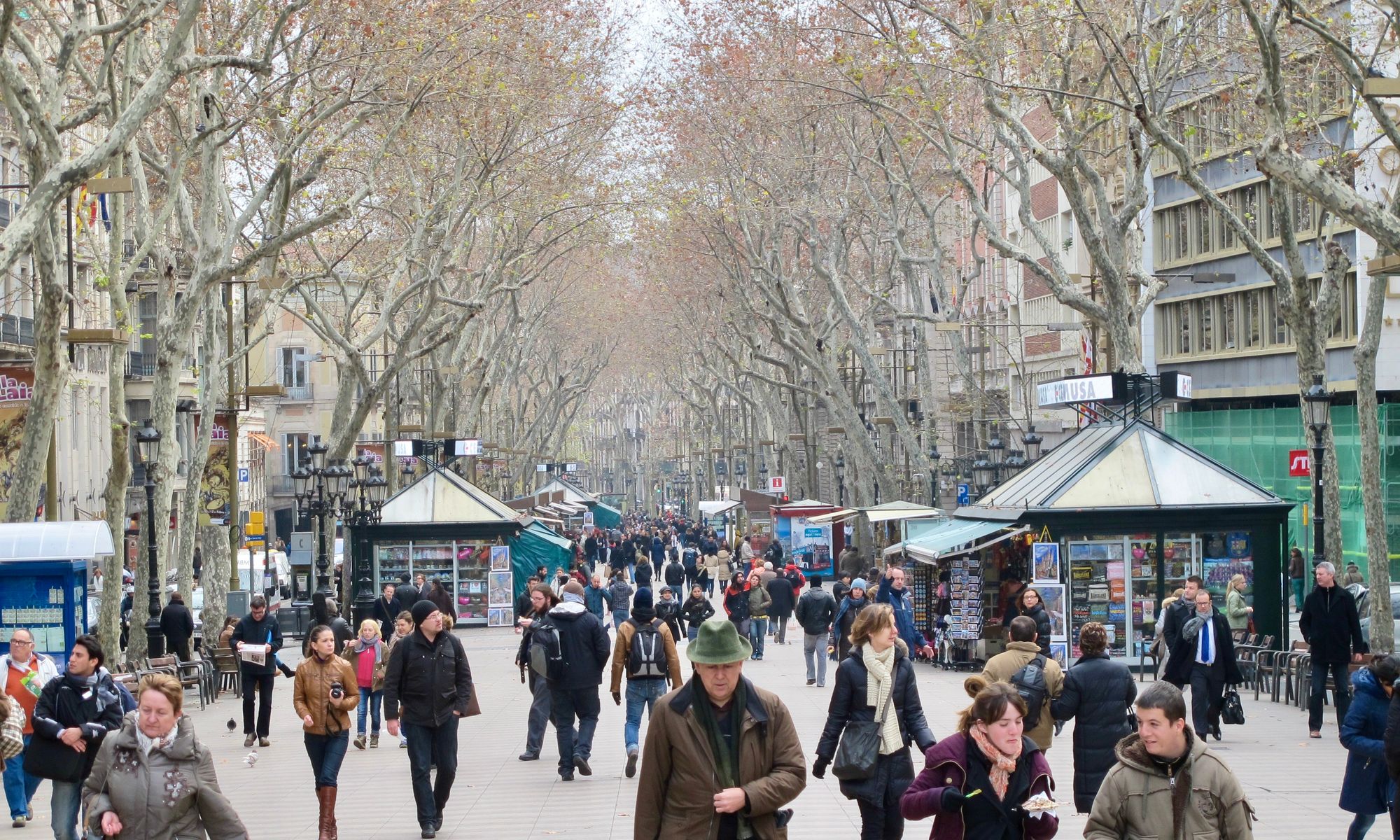 Significantly, Placemaking is providing optimism in a time when many people, especially young people, are suffering from climate anxiety induced by ever-worsening weather events (hurricanes, fires, droughts), rising temperatures, and dismal predictions that can seem biblical and solutionless. Community-led placemaking gives everyone a chance to take power back through a collective shift in how lives are lived. Because communities are the foundation for creating a different way of living, these efforts are as individual as they are collective. In turn, engaging people close to home will galvanize them to treat their public and green spaces, and other contact points with nature, like home, learning to live in respectful concert with the earth.
The list of bad decisions that got us here is long and well-known by now: over-reliance on fossil fuels, centralization of food and energy supplies, profit over personalization, auto-centric lifestyles, big box retail, and dissolution of Main Street are but a few ongoing trends that keep people isolated in their comfy cars and homes, with the whole world one click away. Meanwhile the most precious resources--other people--stay hidden behind computer screens and steering wheels while the world burns up precipitously close to the brink.
The global Placemaking movement teaches us that what makes life exciting and purposeful comes through simple necessities like walkable communities, shared gathering spaces, and opportunities to celebrate the ingenuity of the human spirit. The next step of this movement is working together for widespread change around a unified and community-driven social life agenda that naturally addresses climate change.
Related Articles: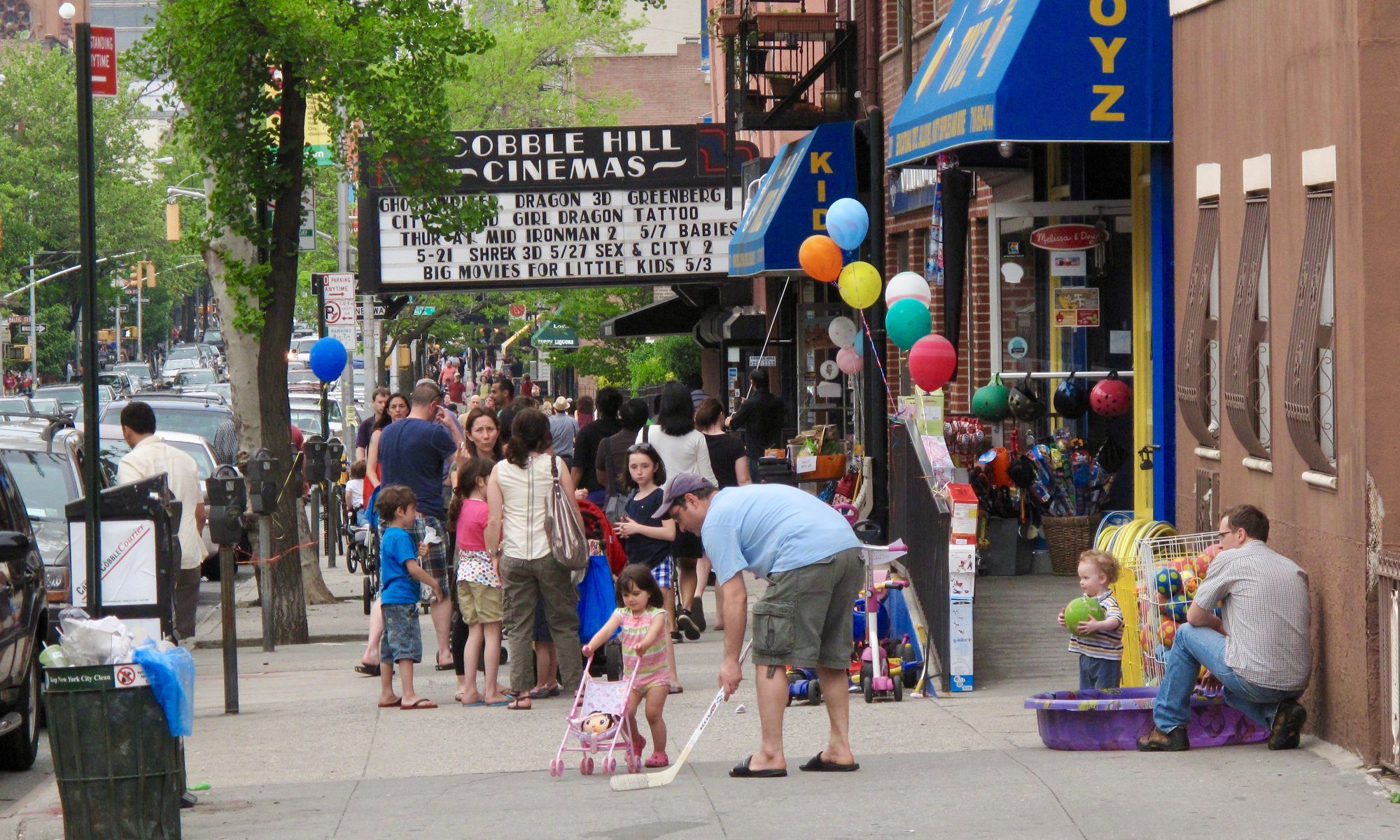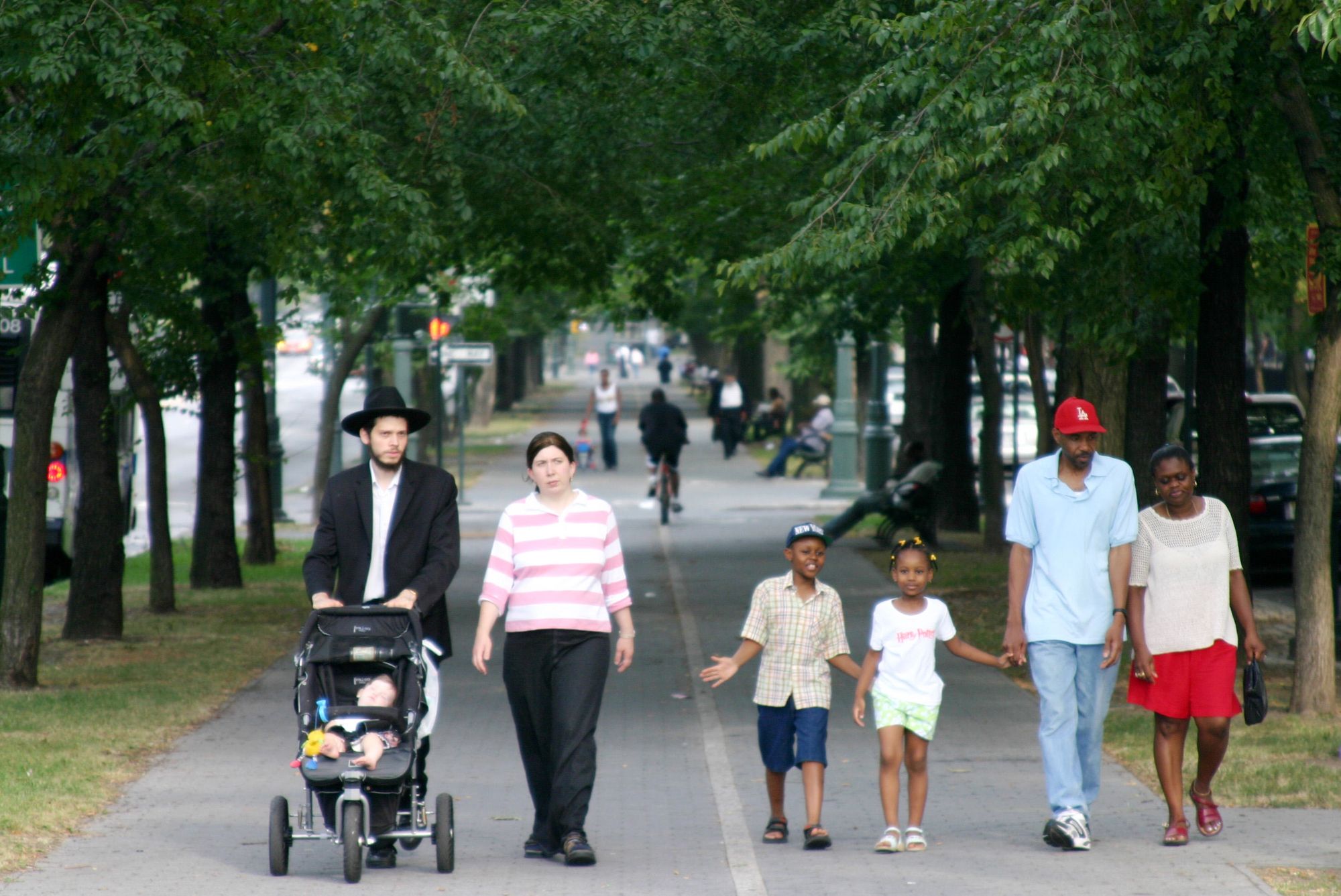 How our 11 Agendas Restore Social Life to Support a Healthy Planet
That's where our 11 Agendas to Restore Social Life come in. Together, they demonstrate that placemaking enlivens cities and communities and enhances their identities in a way that results in true sustainability.  Principles of green building can merge with social needs, cultural values, environmental education and community desires to create a plethora of amenities and focal points that minimize waste, maximize shared use, and build community to boot.
One idea that is really gaining traction is the 15-minute city or town, which couples daily needs and activities within a localized radius.  A 15-minute city can bring all of the 11 ways together in one place. These hubs decrease congestion and reliance on centralized systems while increasing local walkability and healthy opportunities for socialization, commerce, and recreation--a concept has been at the core of the Placemaking movement for decades and can become a catalytic project with significant environmental benefits for many cities. Instead of driving between disconnected, single-use destinations, multi-layered nodes encourage people to get off the screen and stay awhile, supporting their local communities and keeping their carbon footprints small.
11 Ways:
1. Bring Back the Public Square
In communities around the world, public squares are coming back, and this trend can also help the environment. Historically, public squares were the common ground where people connected as friends, neighbors, and spontaneous acquaintances--and they should be once again. Reinventing these community anchors is already happening around the world. The best squares—which can take the form of parks, markets, even shopping streets and plazas, or even intersections—are becoming sources of civic pride, sites of protest and conversation, and social hubs. They reduce or even eliminate driving, automatically putting a focus on people and walking. Public squares breed healthy, inclusive, democratic and equitable actions, and encourage citizens can take responsibility into their own hands.
There are many examples where squares have restored local civic, cultural and economic life. The four below are just a few examples that we have worked on over the years: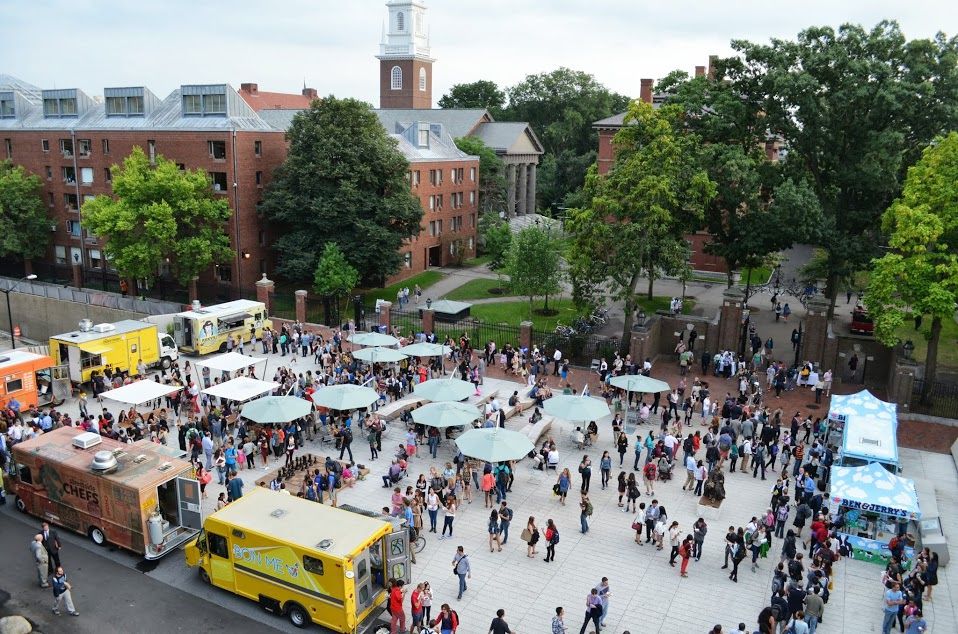 Related Articles: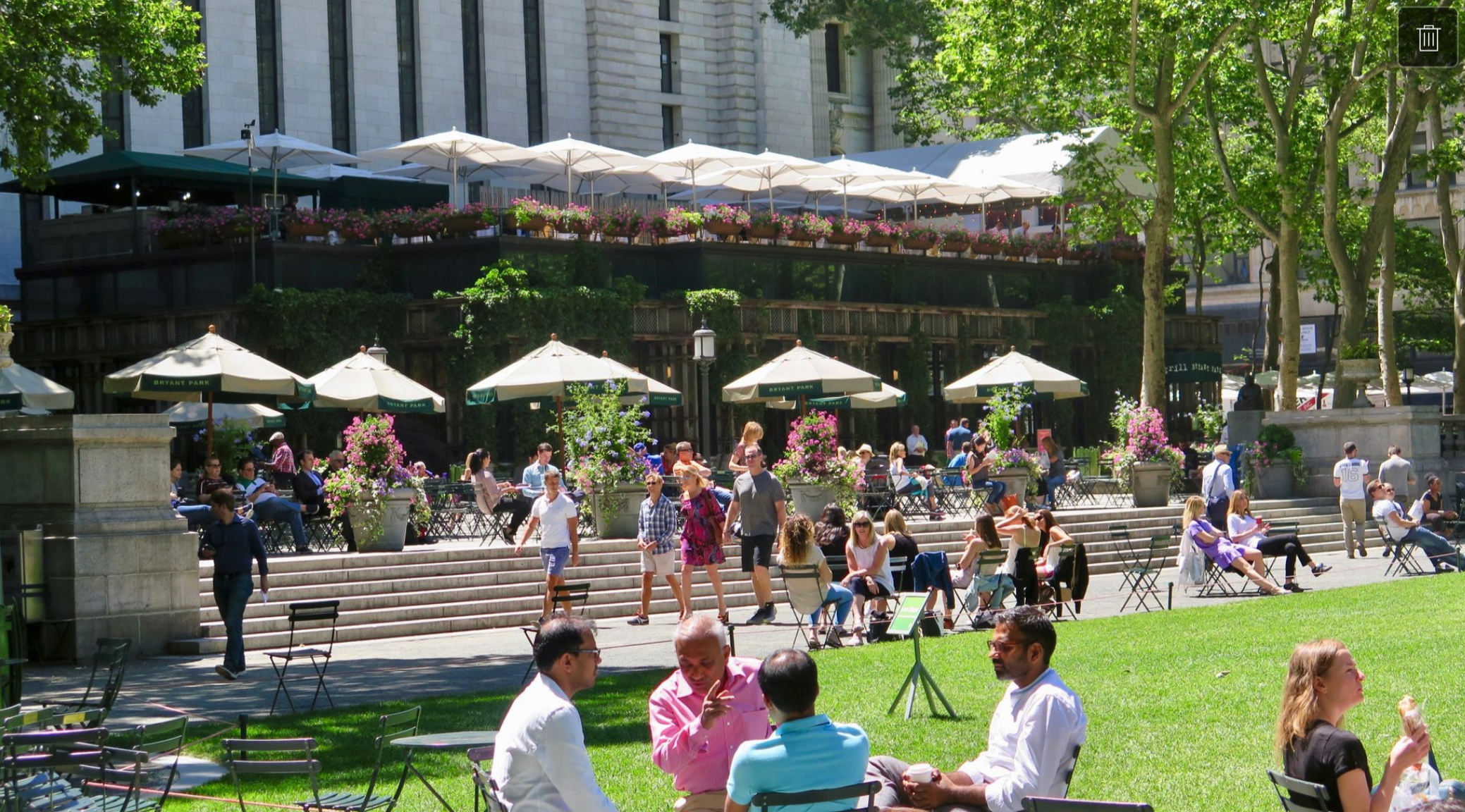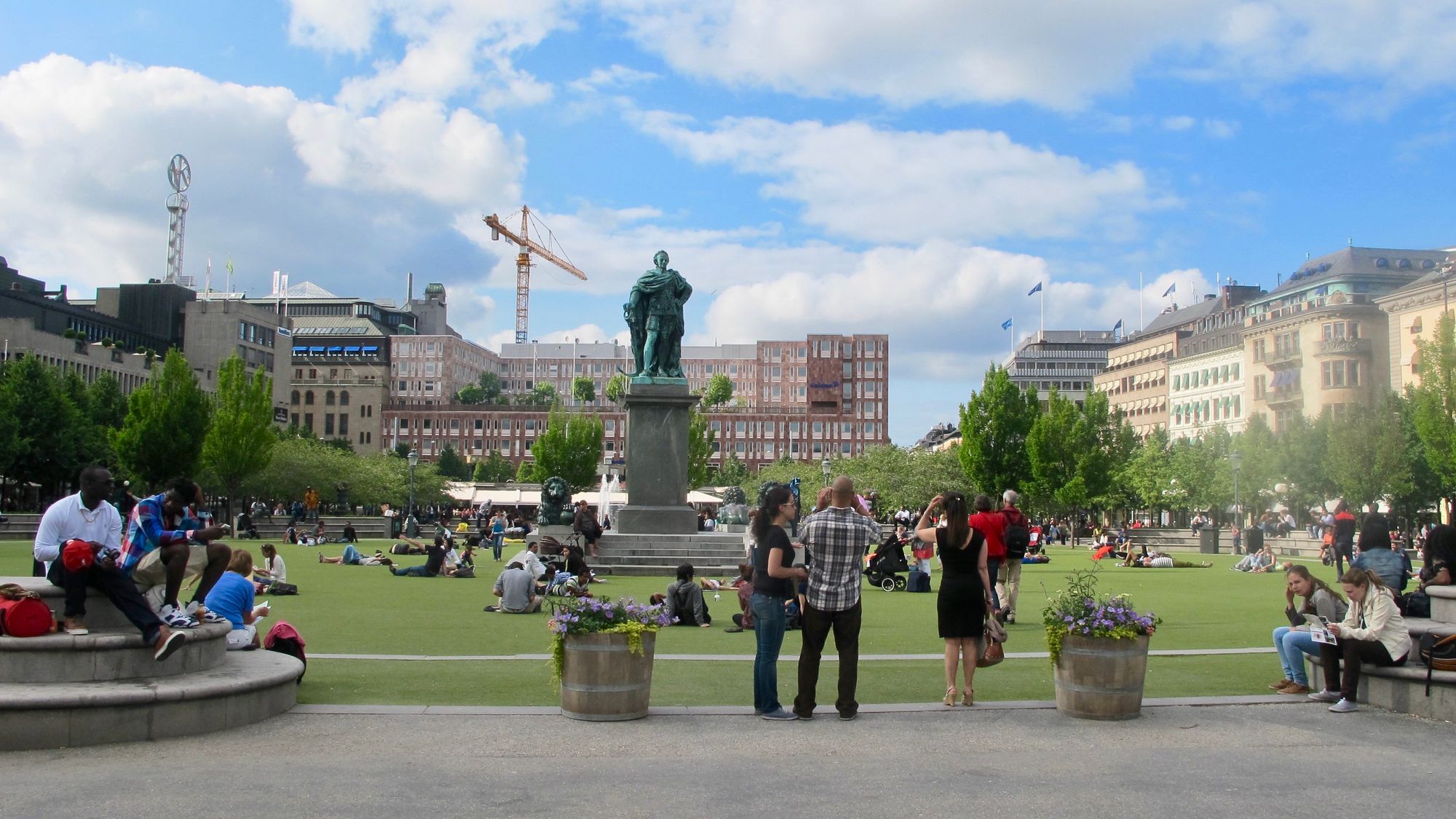 2. Markets Serve as the Center of Social Life of Neighborhoods
Markets are naturally walkable, human-scaled, and supportive of local connections and economies--which is why they are a natural boon for a healthier world. They are the epitome of robust, unified supply chains that have the power to create a strong local food-shed, support small farmers who often deploy organic and regenerative agriculture practices, keep money in the local economy, reduce fossil fuels needed to transport goods to grocery stores (which often travel massive distances), and give power back to small-scale producers, artisans, and makers. Increasingly, markets can become another version of the community squares that are blossoming around the world, creating centers of social life and restoring a sense of community and local responsibility--which then translates to greater care for the earth.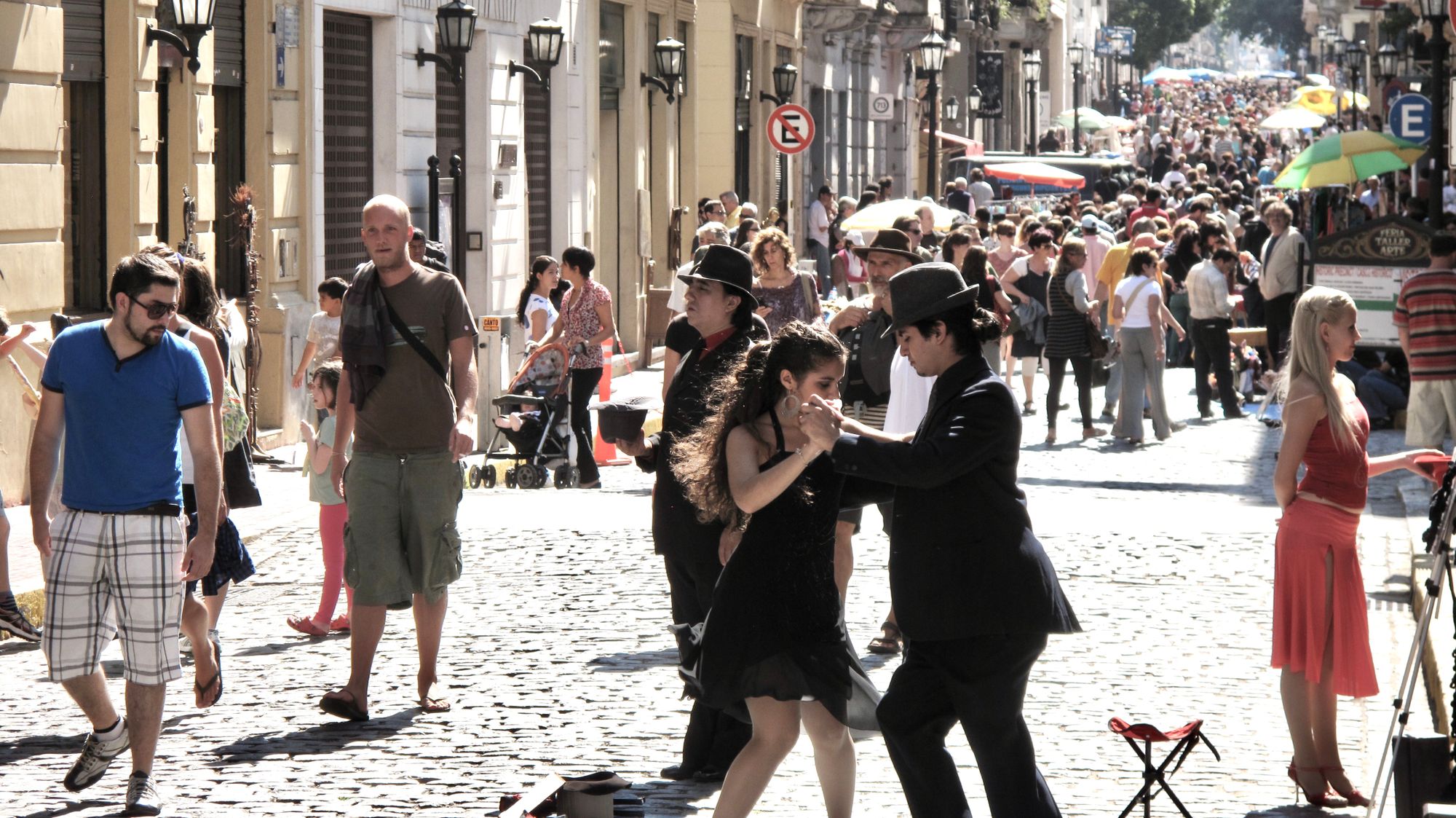 Related Articles: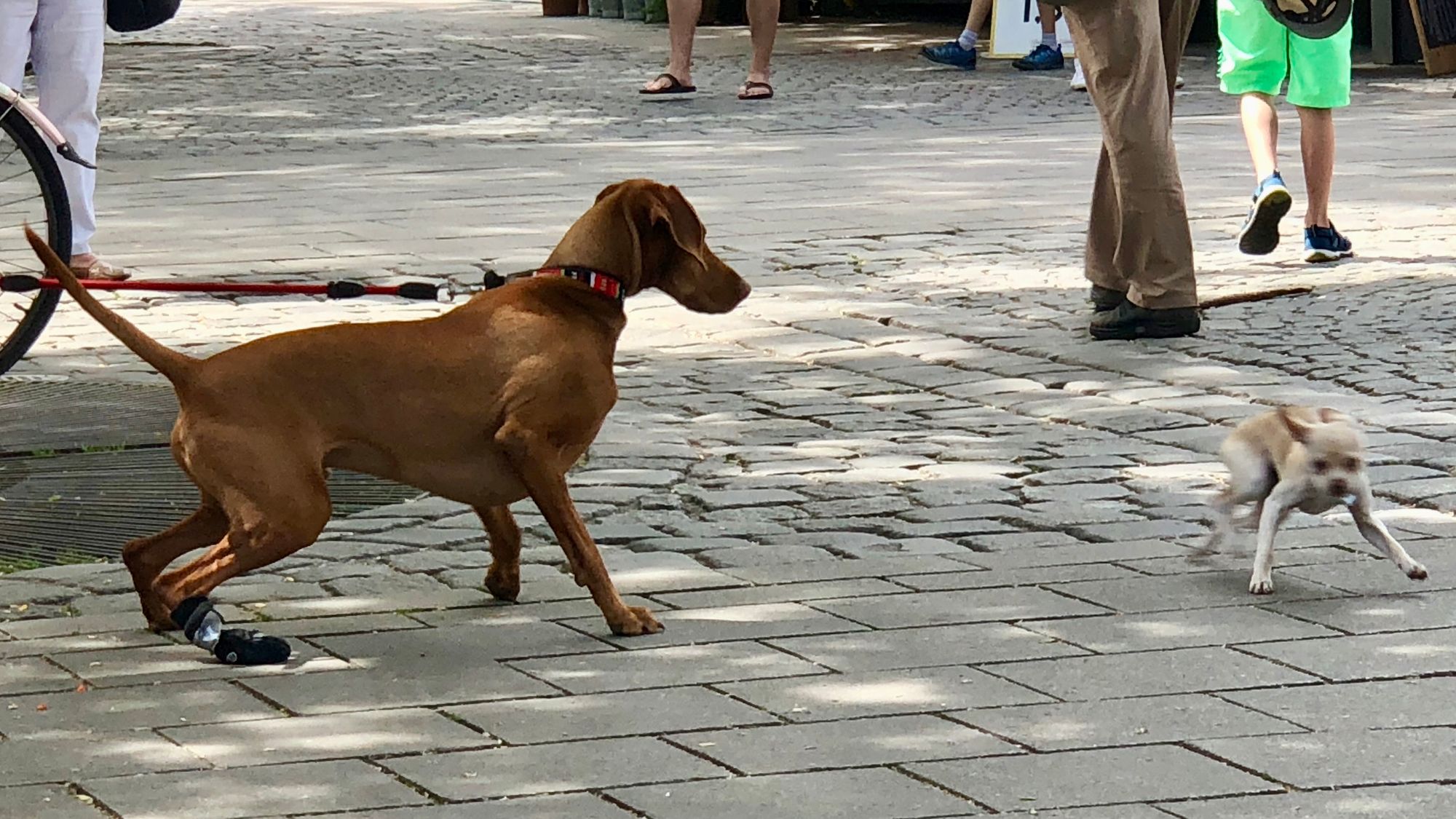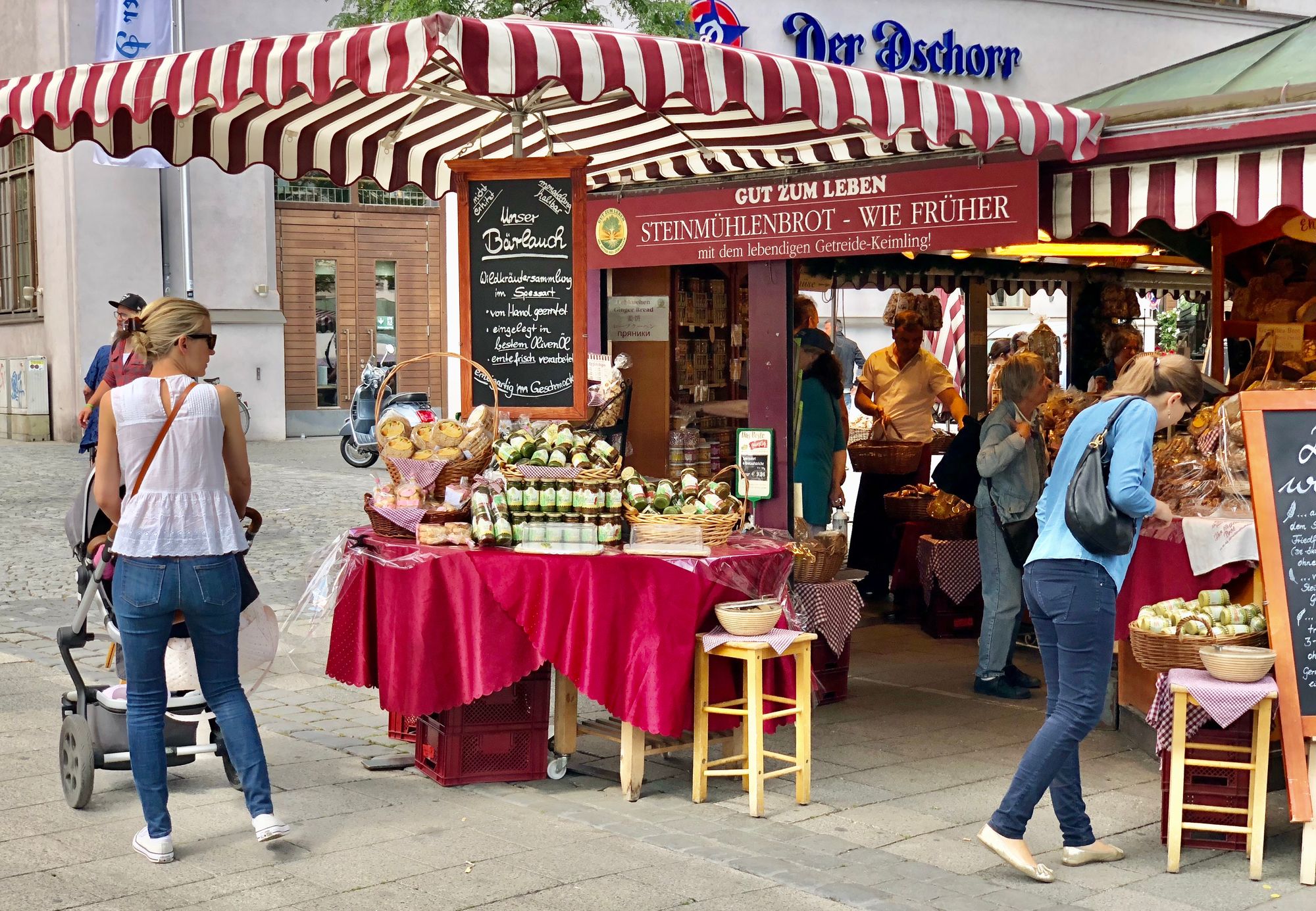 3. Starting with Sidewalks is the Key to Creating the Streets We Want
"If you plan your community around cars and traffic, you will get more cars and traffic...It you plan your communities around people and places, you will get more people and places."
The new emphasis on social life, starting with the sidewalks and streets as lively places that promote connection, commerce, and conviviality, is one of the most impactful actions we can take for greater environmental good. Focusing on sidewalks means flipping the transportation agenda: the result is the realization that every road can be redesigned to create a more safe, socially connected, and sustainable environment. At a global level, the ripple effect of starting with sidewalks and social life is a paradigm shift of epic proportions. Repurposing space for people in intersections, street corners, and entire city blocks brings more social and local economic life to communities, which in turn significantly reduces city-wide emissions and the urban heat island effect, encourages alternate means of transportation including biking, and makes space for outdoor seating, a streetside cafe presence, handicap-accessible intersections, and green space.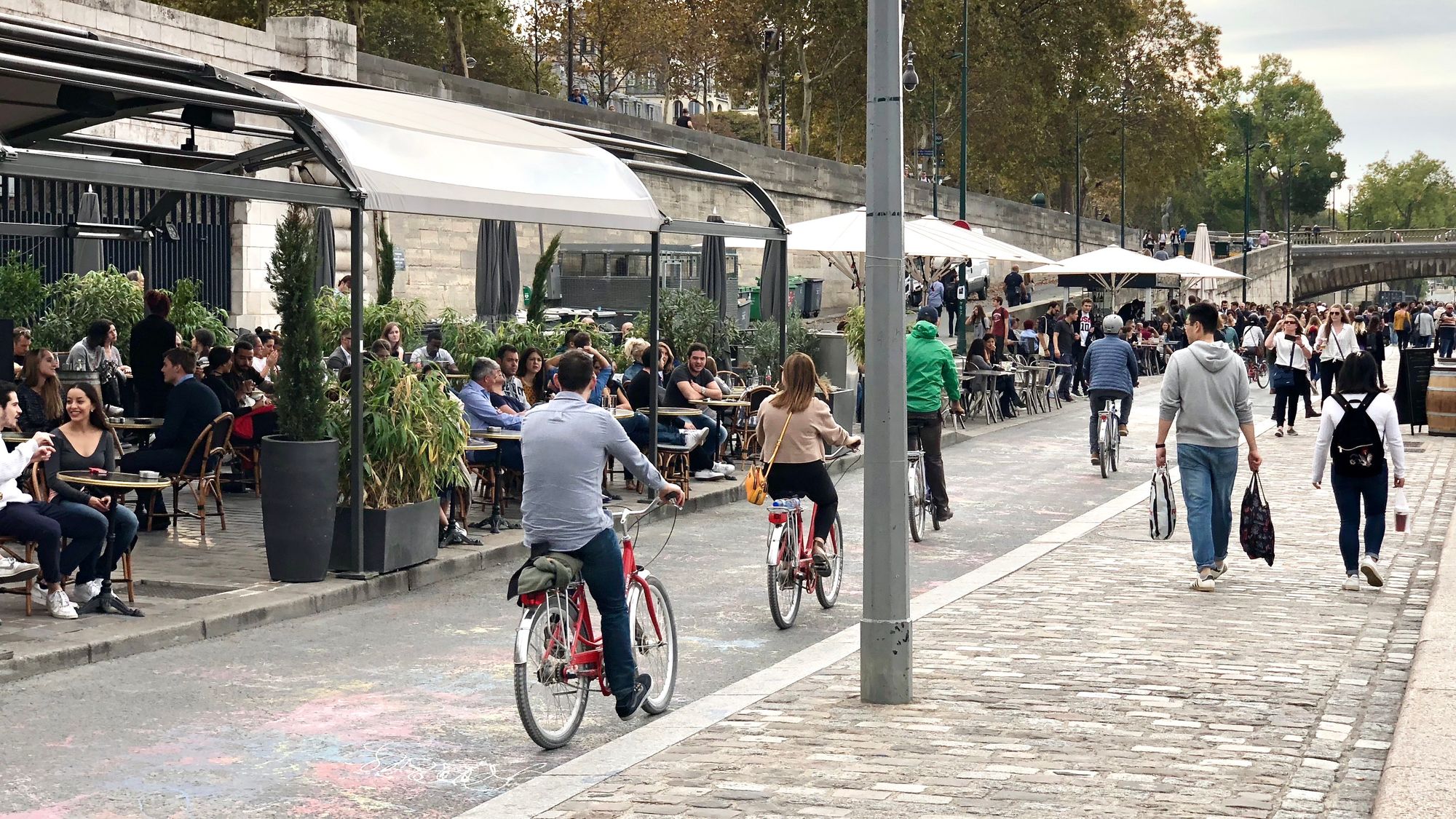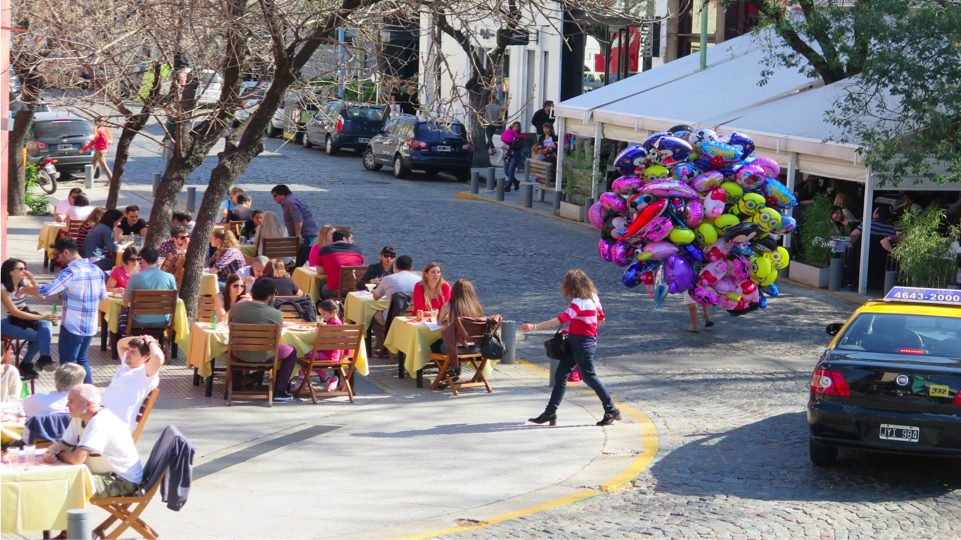 Related Articles: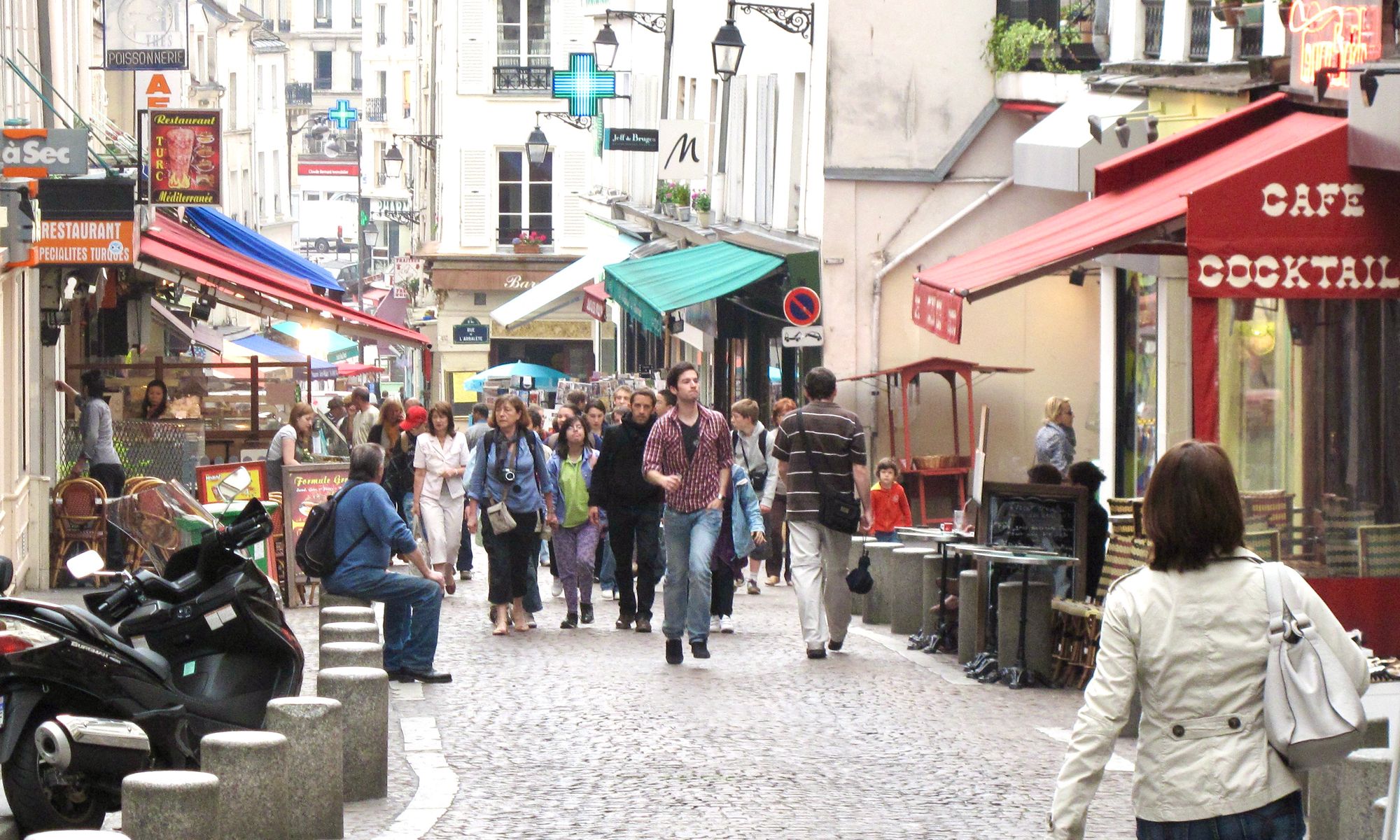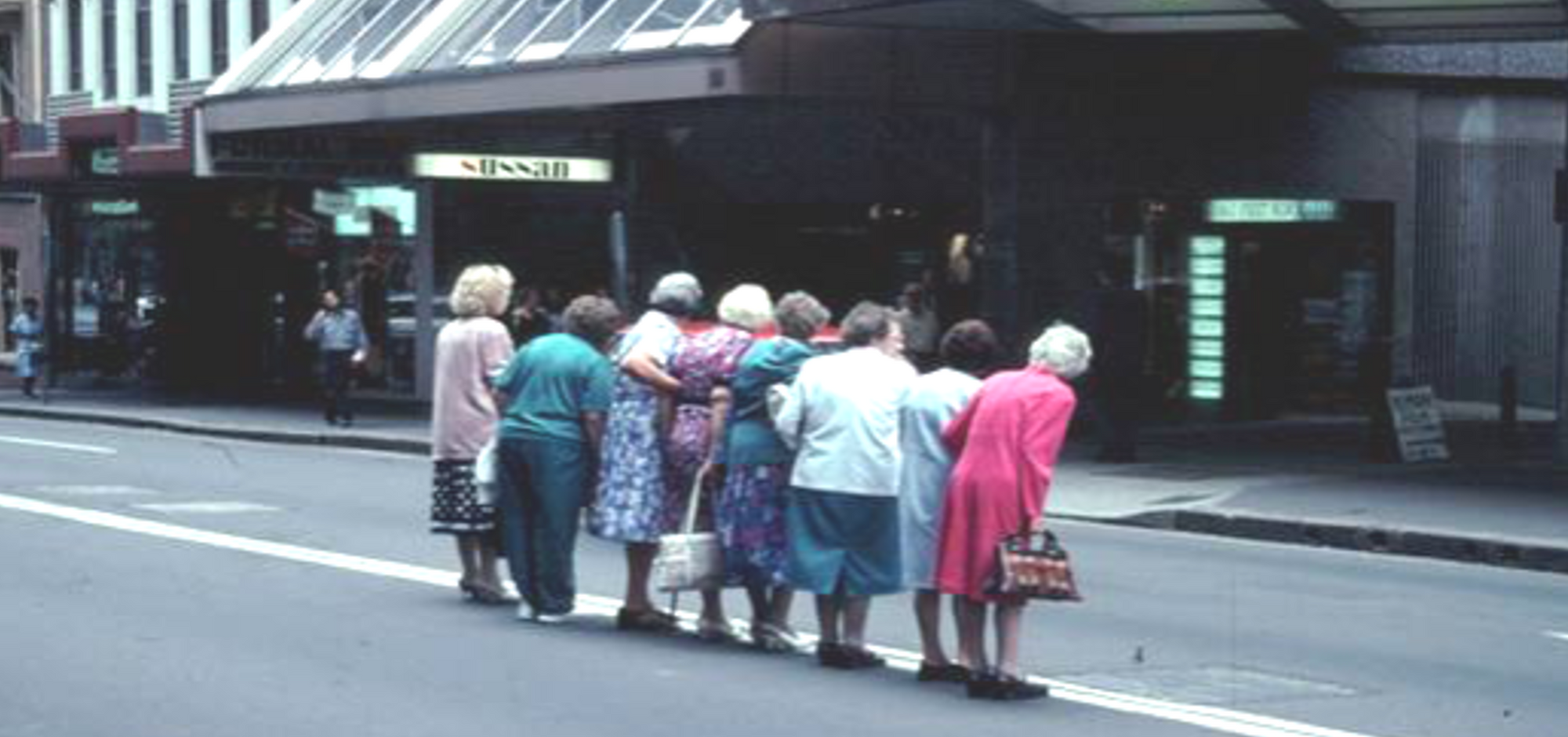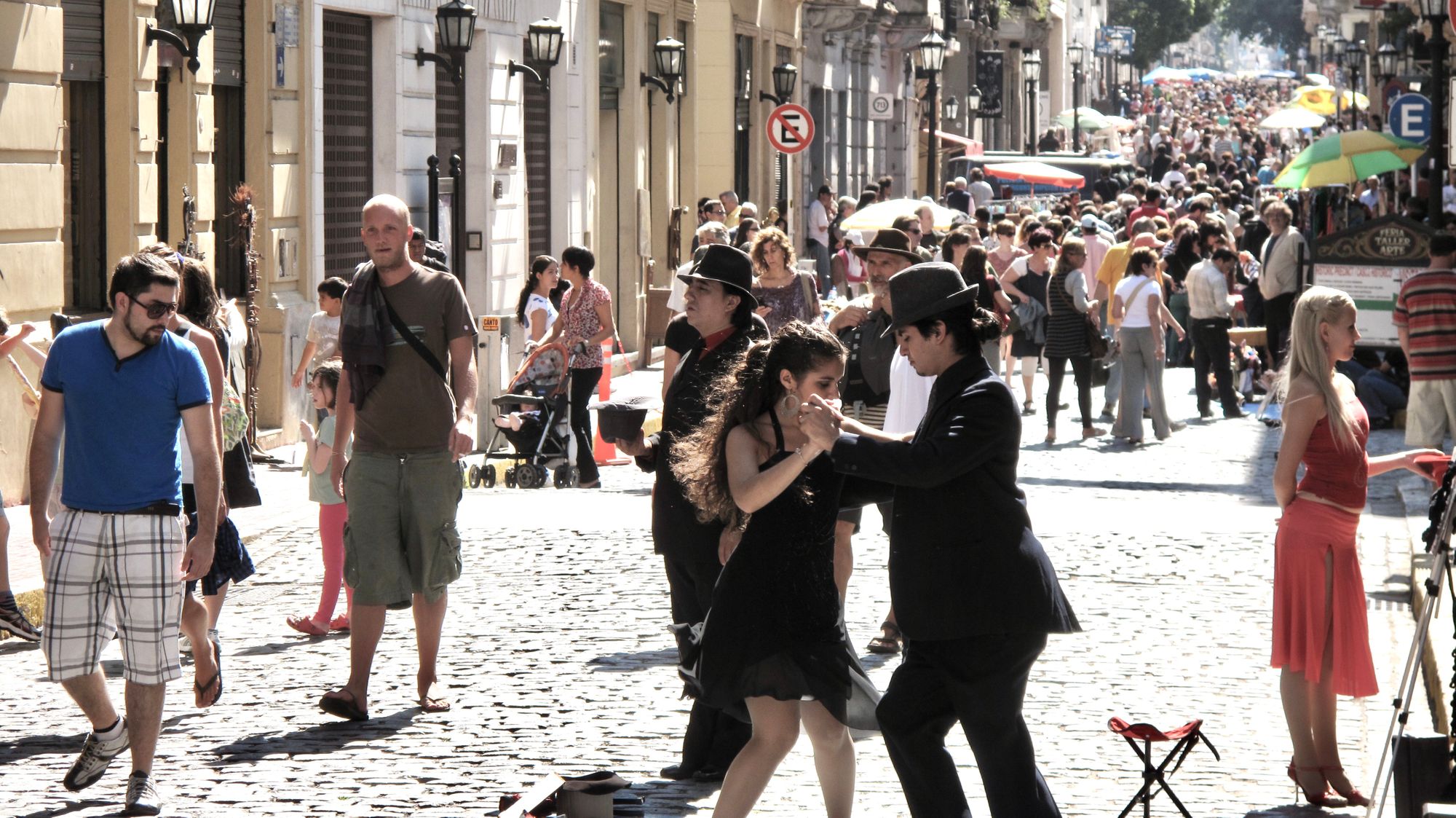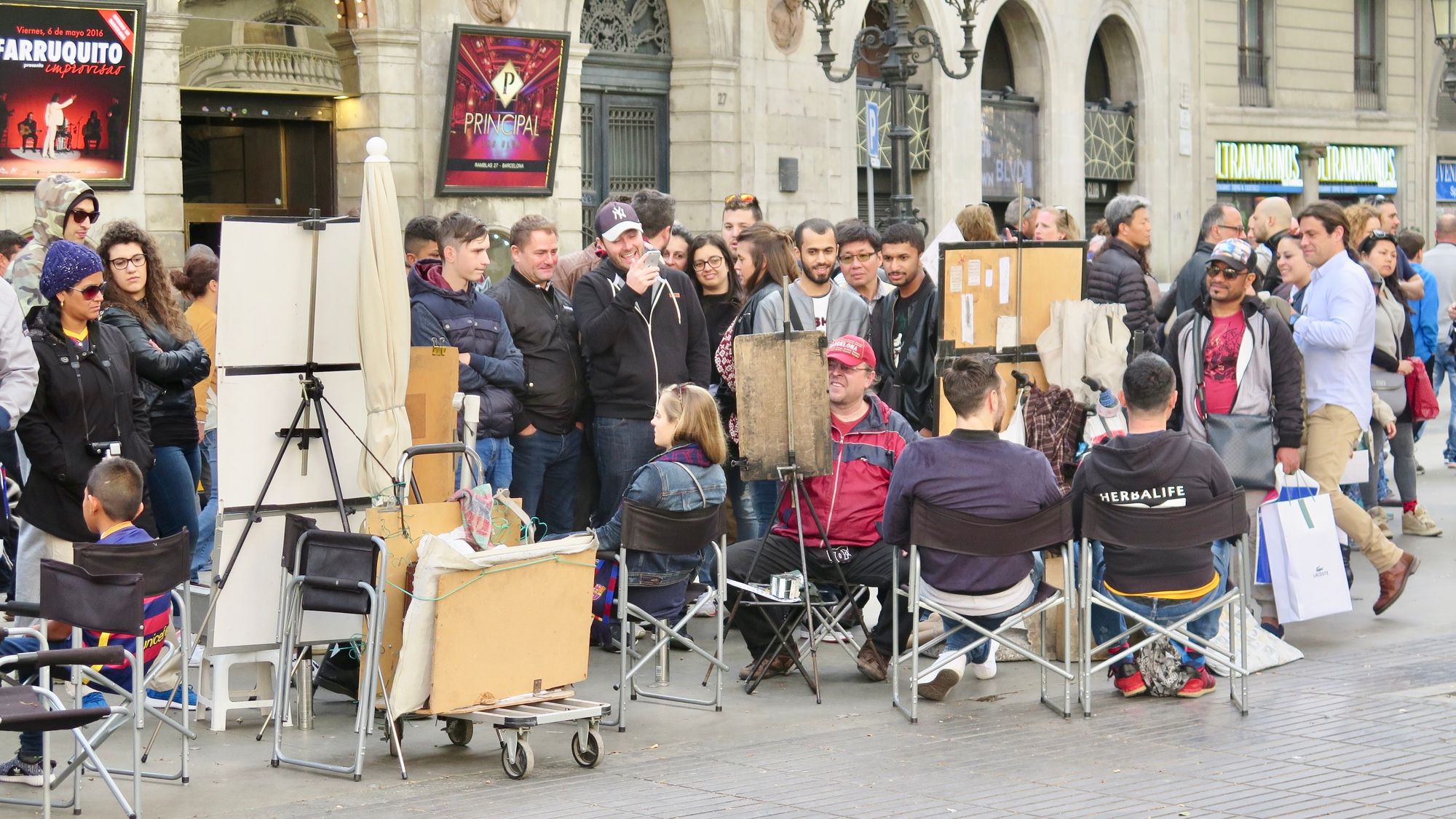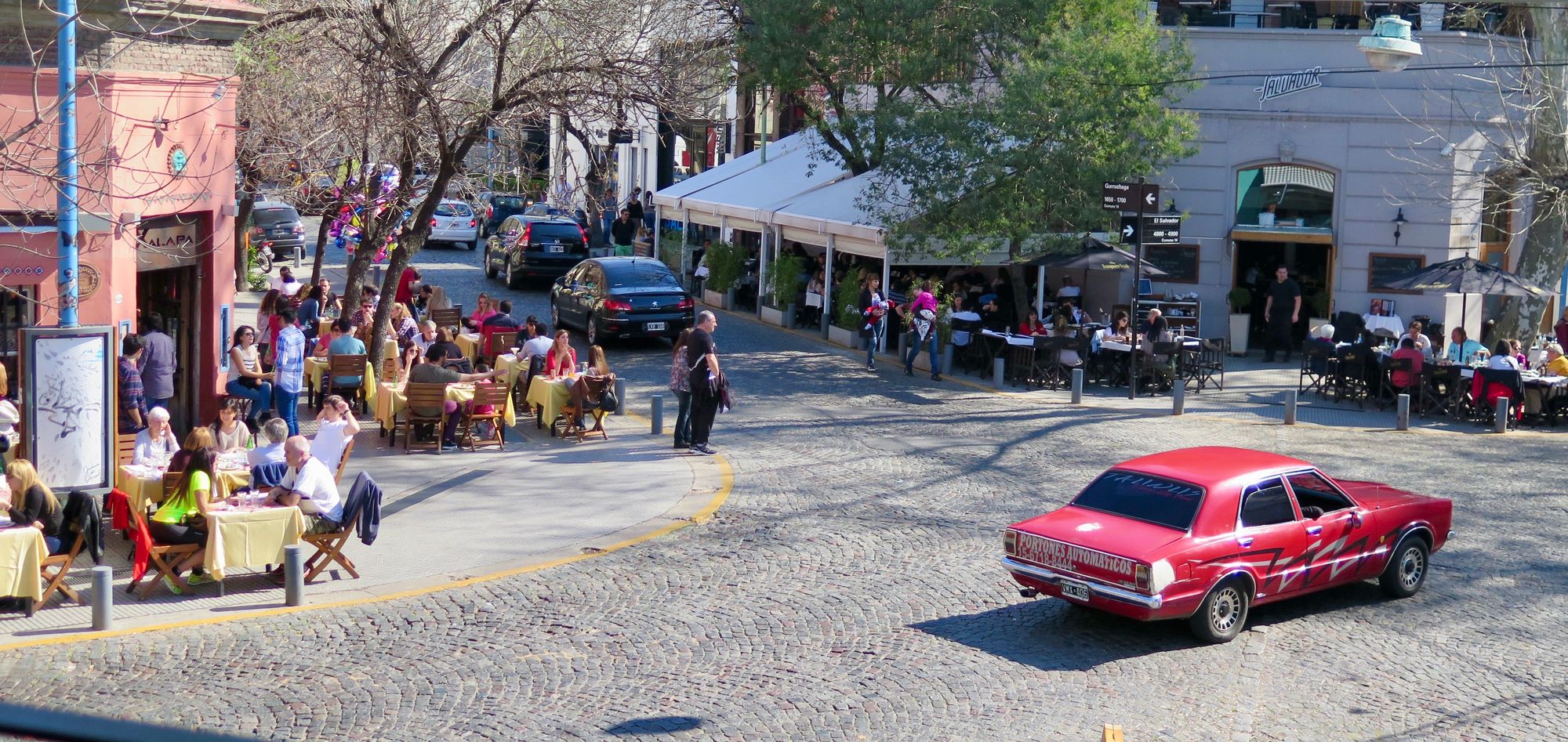 4. Turning Buildings Inside Out: Architecture of Place
Rather than creating settings that look good in a skyline photo but are inhospitable, energy-inefficient, and impractical in real life, the talents of designers can be better used to design places where communities come together to be more inclusive, equitable, healthy, and sustainable. The 15-minute city is a perfect example of how this can be done, fostering a vivid social life in the spaces between and around buildings through placemaking and programming--bonus points if the buildings themselves adhere to green building standards. Coupling climate issues with the post-pandemic era in which we are rethinking work-live-play places, good architecture of place can blur the lines between indoor and outdoor life, encouraging more walkable, beautiful destinations with minimal environmental impact.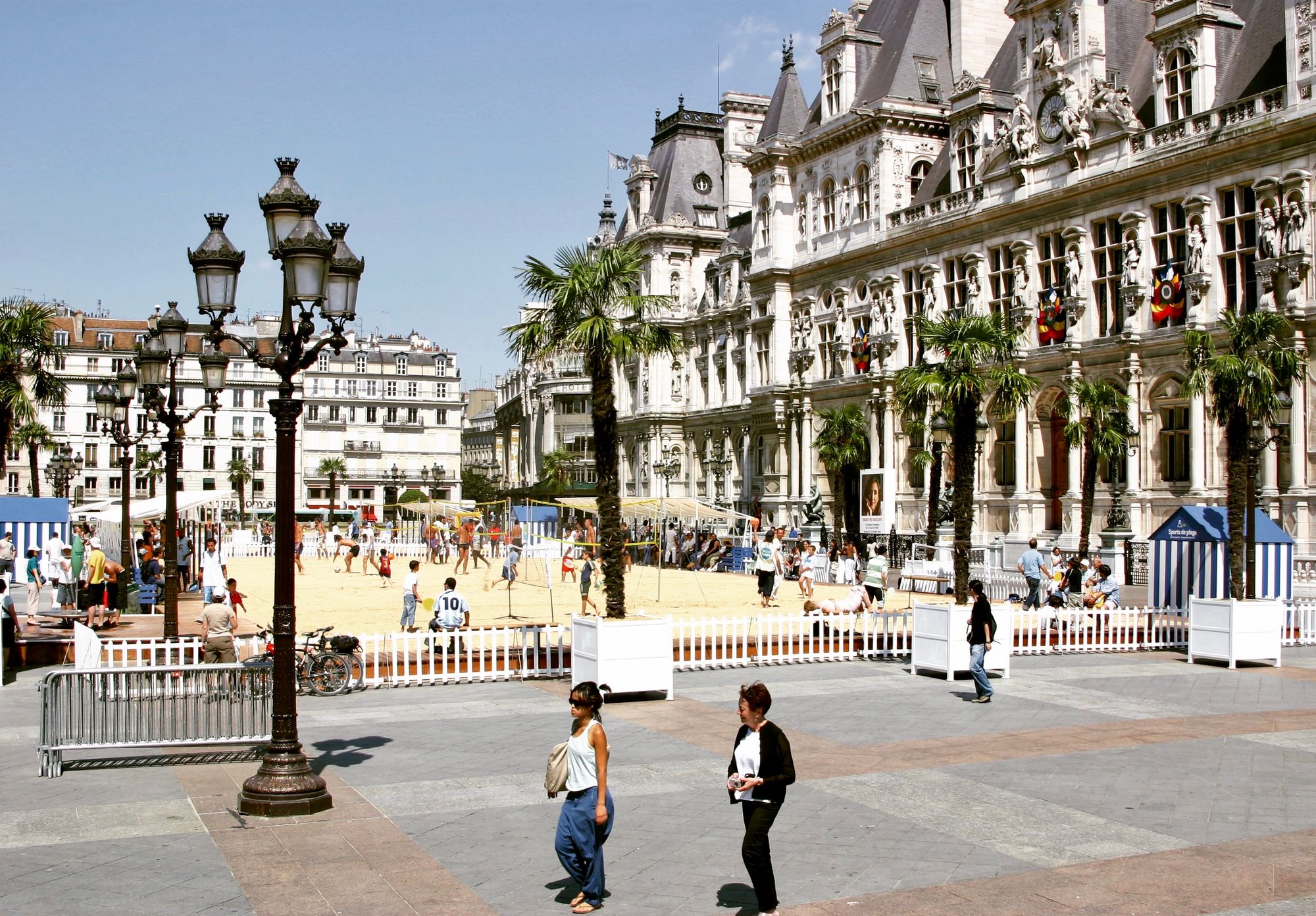 Inside Out: Sidewalk uses bring the streets alive
Throughout the world, outdoor cafes and displays draw more people walking, watching, socializing, supporting local community life, and adding to the financial well-being of local businesses, all of which place power back in the hands of local residents. Retail, restaurants and cafes are migrating outside, creating an architecture of  "outdoor rooms" to engage passerby to stop and stay awhile. Note how in the examples below these streets exclusively accommodate pedestrians, which as we've described is the number one way to connect placemaking to positive climate action.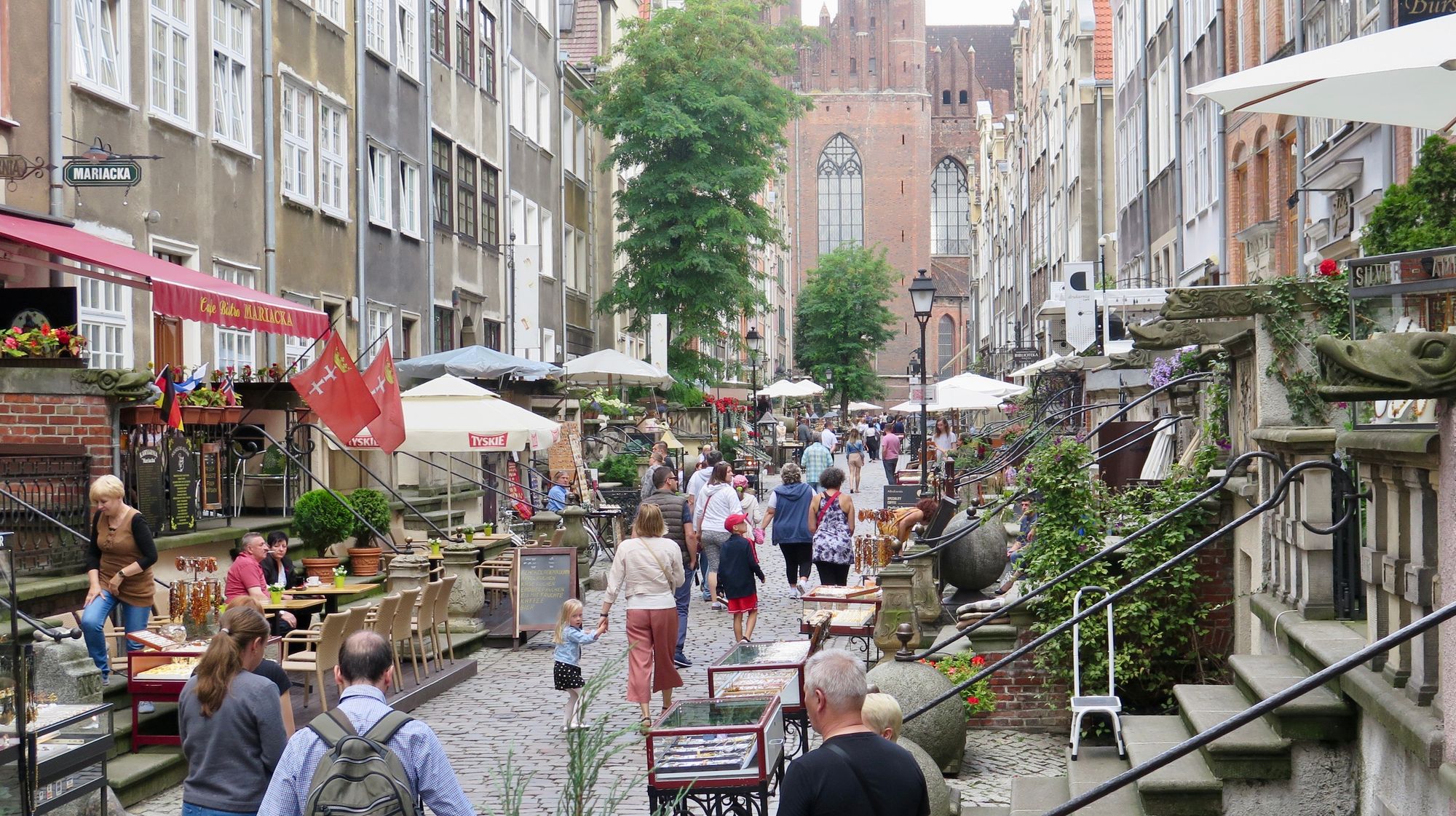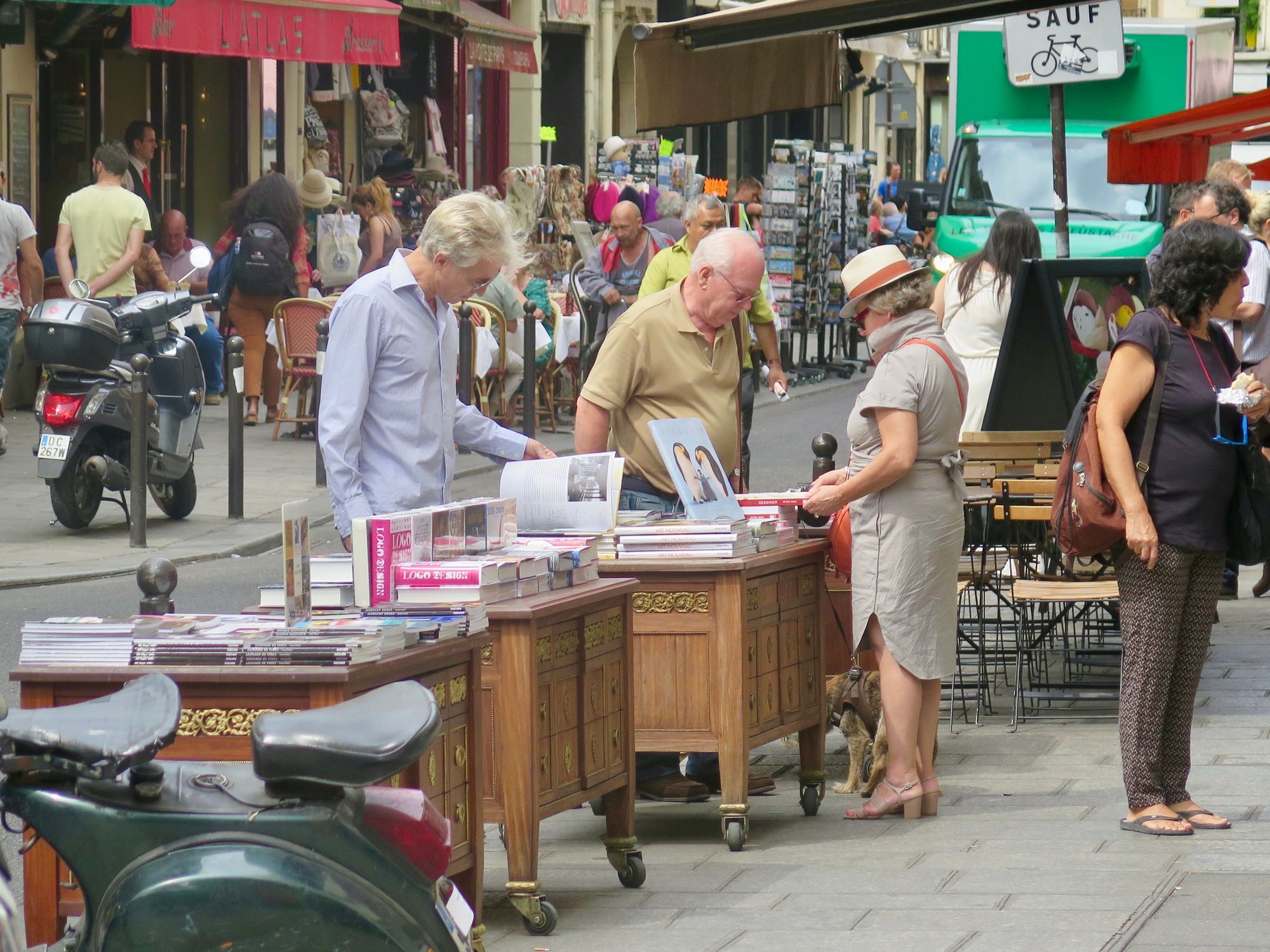 Related Article: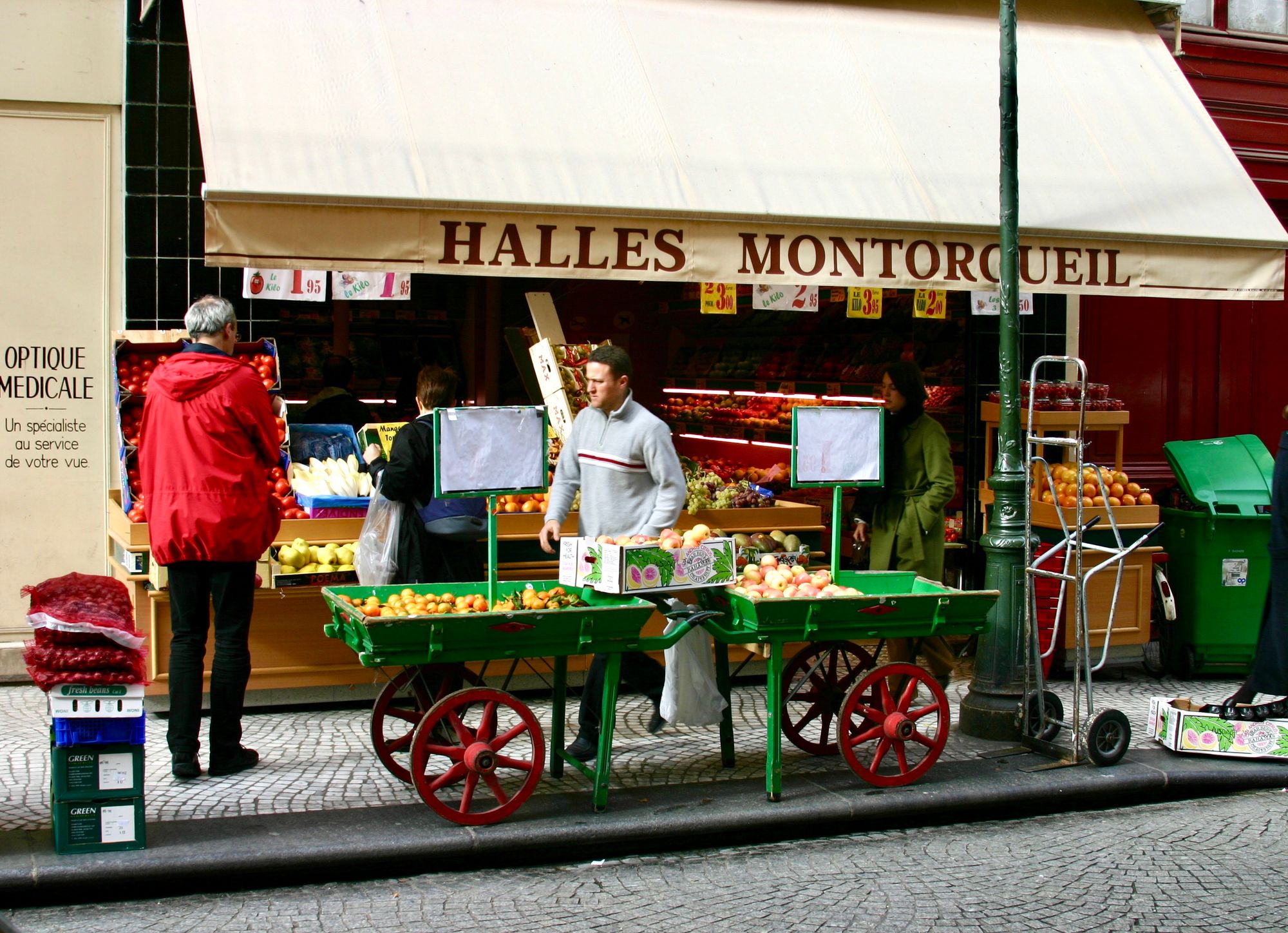 5. The Resurgence of  Urban Districts
Placemaking has always promoted the Power of 10, the idea that places thrive when users have a range of reasons (10+) to be there. Urban districts and community hubs are emblematic of just how powerful the Power of 10 can be, both for reinvigorated social life and for environmental benefits. Multimodal hubs exemplify a walkable concentration of destinations brought to life with thoughtful, community-driven placemaking that is attractive and fun for people. We propose that the community that best mitigates climate change is a community of hubs: college campuses, entertainment zones, hospital complexes, neighborhood commercial centers and large-scale developments such as innovation districts that complement rather than compete with traditional city centers by providing an alternative to auto-centric, impersonal downtowns.
Granville Island: An example of an Urban Hub focusing on Social Life. It is a Global Benchmark
Granville Island offers one of the best destinations in the world. A city needs multiple destinations to support and draw visitors both local and beyond. Instead of Power of 10, one could say that Granville Island has the Power of 50. Crucially, it's all walkable and human-scaled.  There is something to do for everyone, showing how this scale of development can be desirable and fun for all, while minimizing environmental impact at the same time.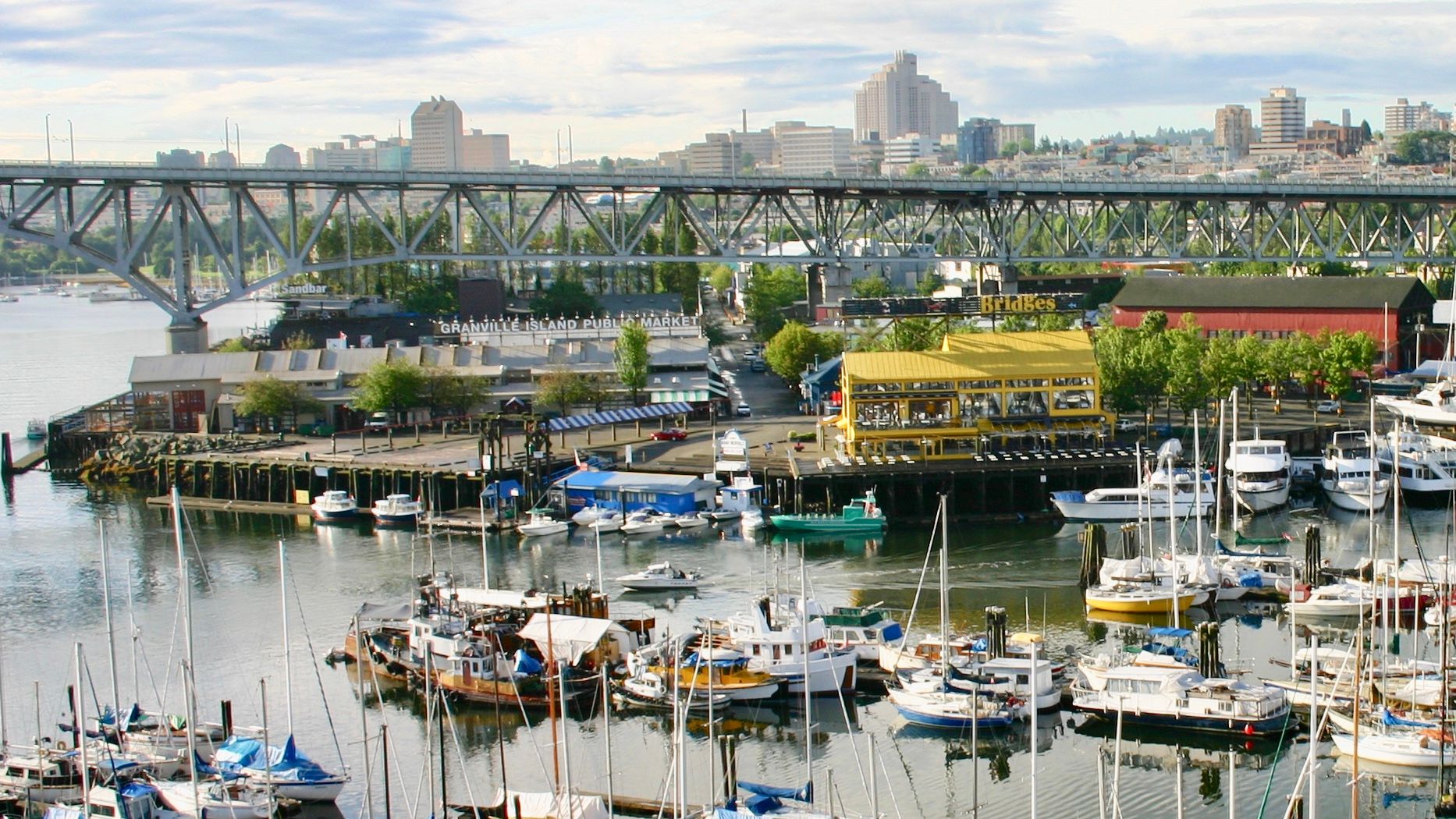 Other Global Hubs
Pike Place market in Seattle, Balboa Park in San Diego, Tivoli Gardens in Copenhagen are other world class multi-use destinations.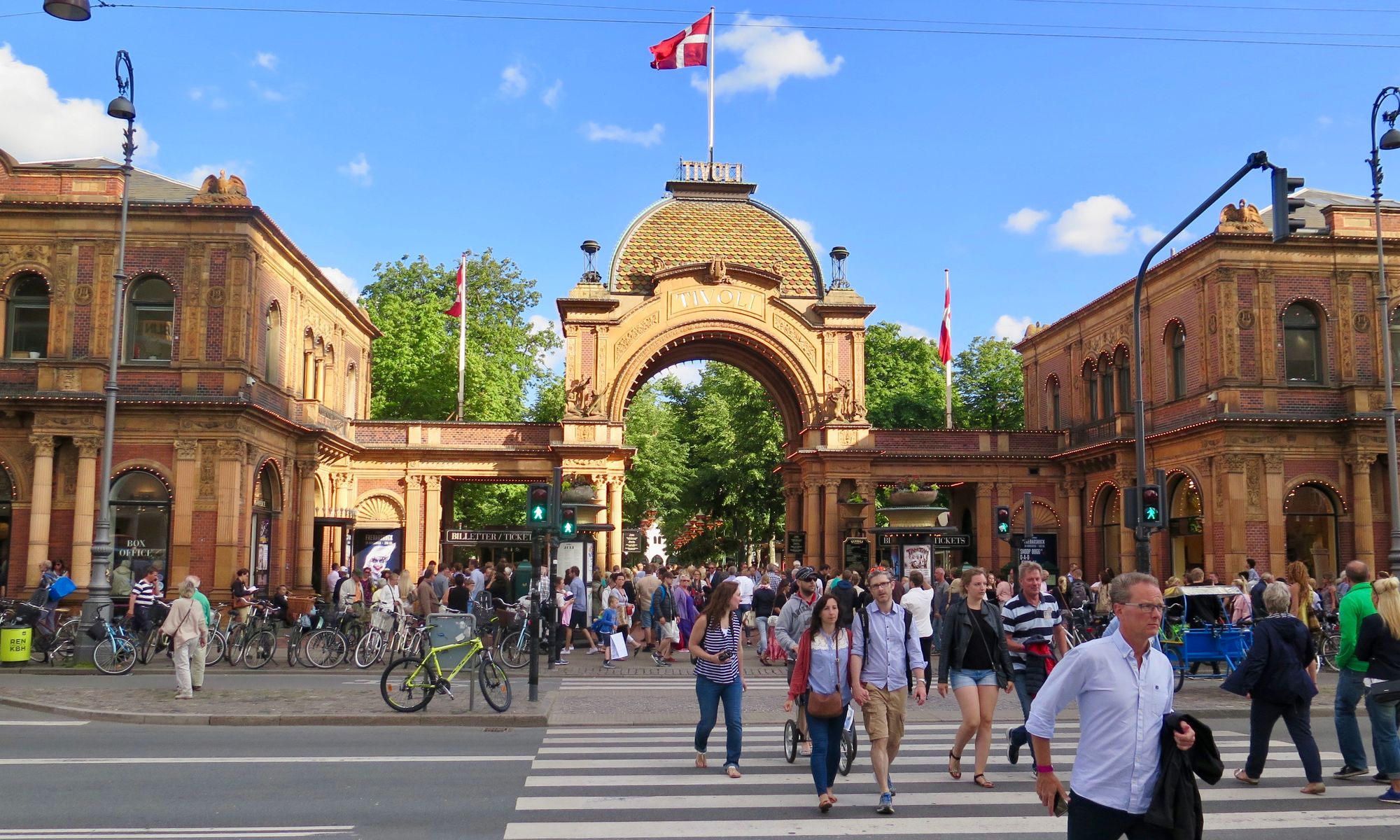 6. Capitalizing on the Appeal of Waterfronts
Waterfronts have huge potential to support strong social life and sound connection to the environment as well. By instilling a sense of place and pride in the treasure that is a thriving waterfront, communities can unite around the central cause of protecting and programming these spaces while opening up opportunities to support active uses and environmental education. Highlighting the social and cultural life of waterfronts creates a natural connection between people, place, and environment; understanding and celebrating the ecological value of waterfronts then becomes a natural byproduct of placemaking.
Paris's New Waterfront Transformations:
Paris is a perfect example for how to begin the needed transition toward a future all waterfronts can consider: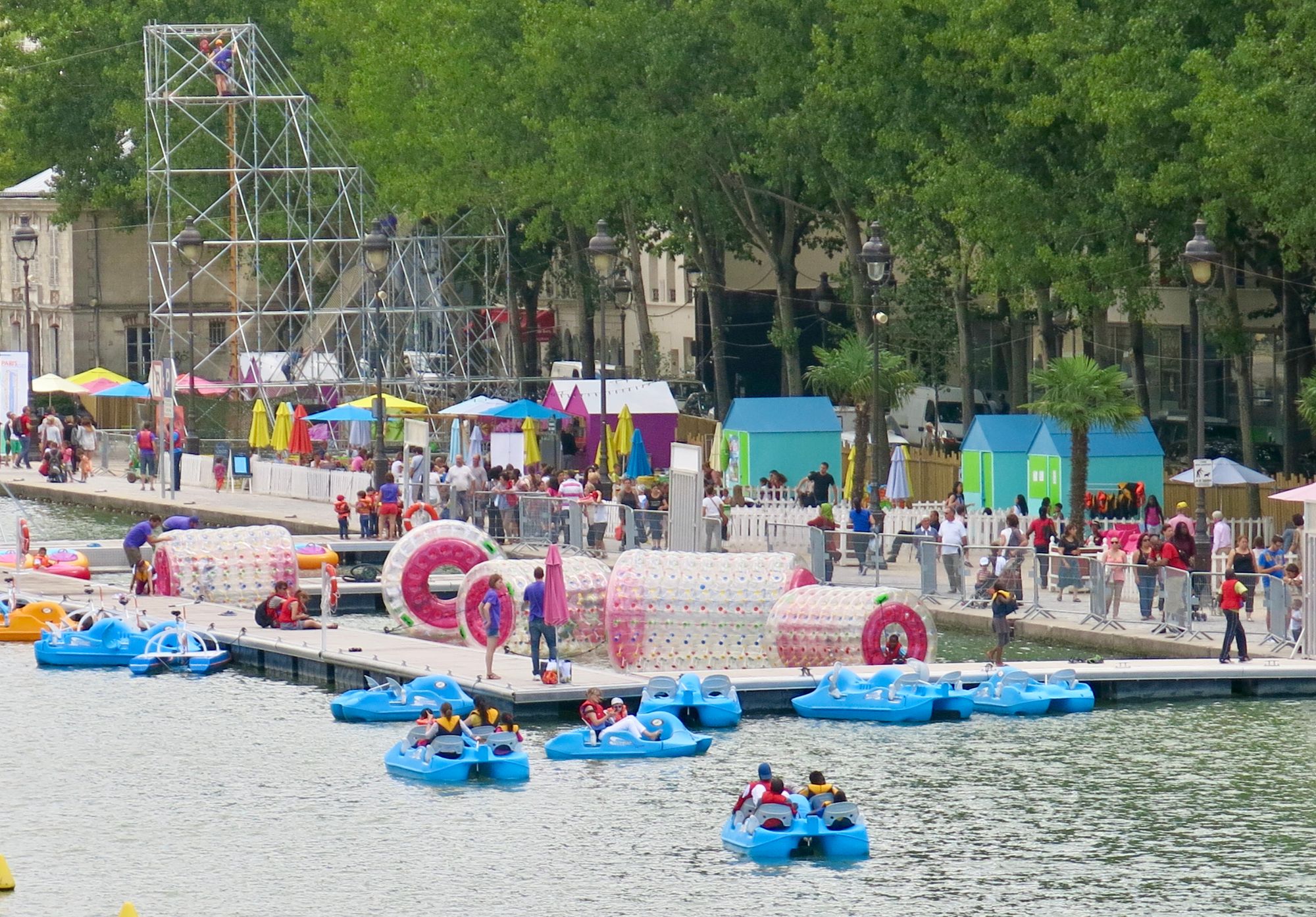 Pop-Up Waterside Restaurants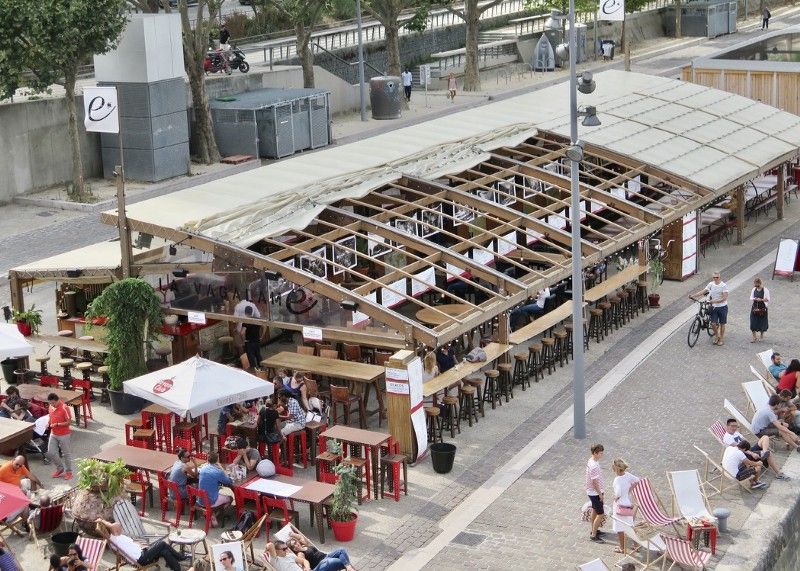 Takeaway: Seating for People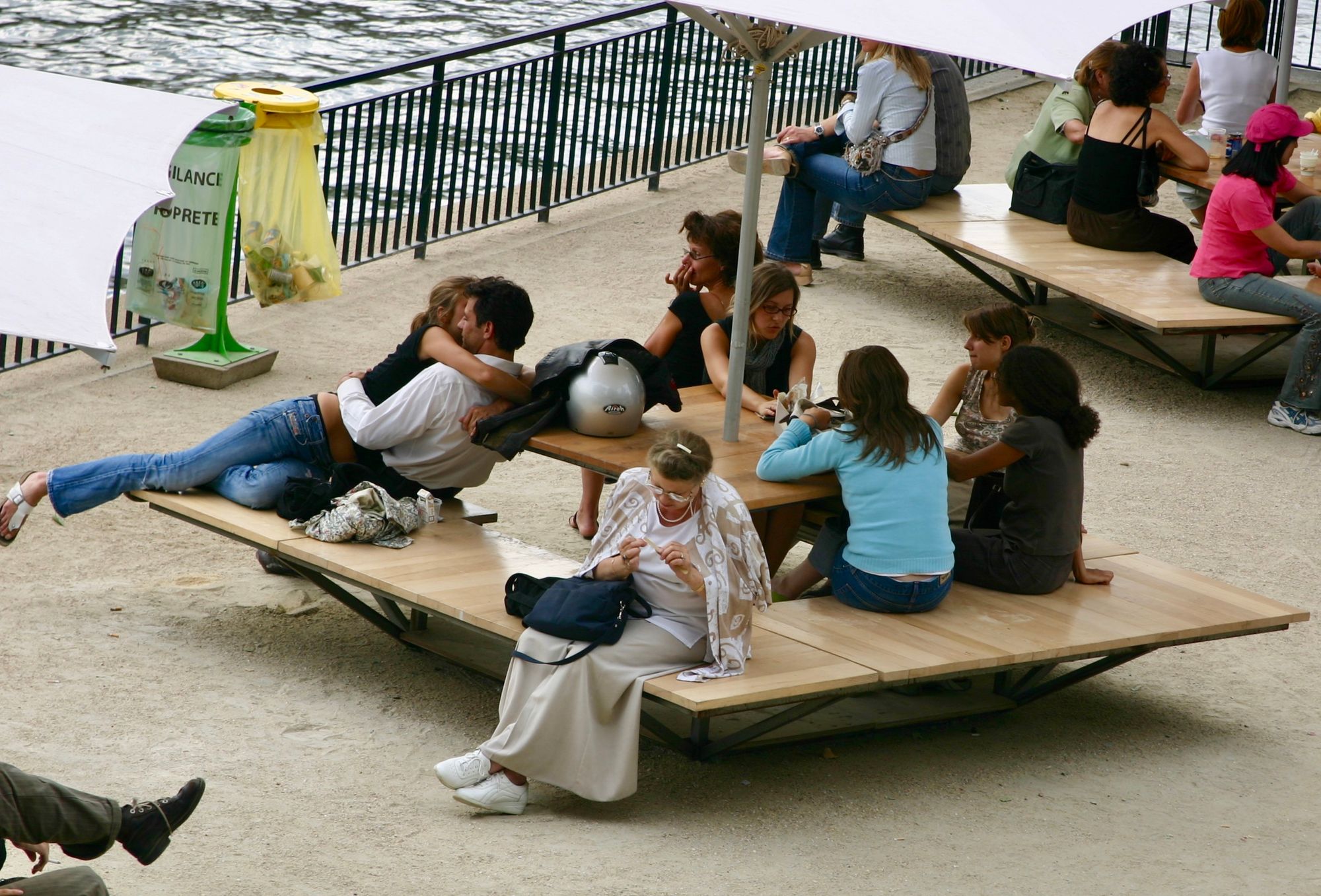 Other waterfront cities
Related Articles: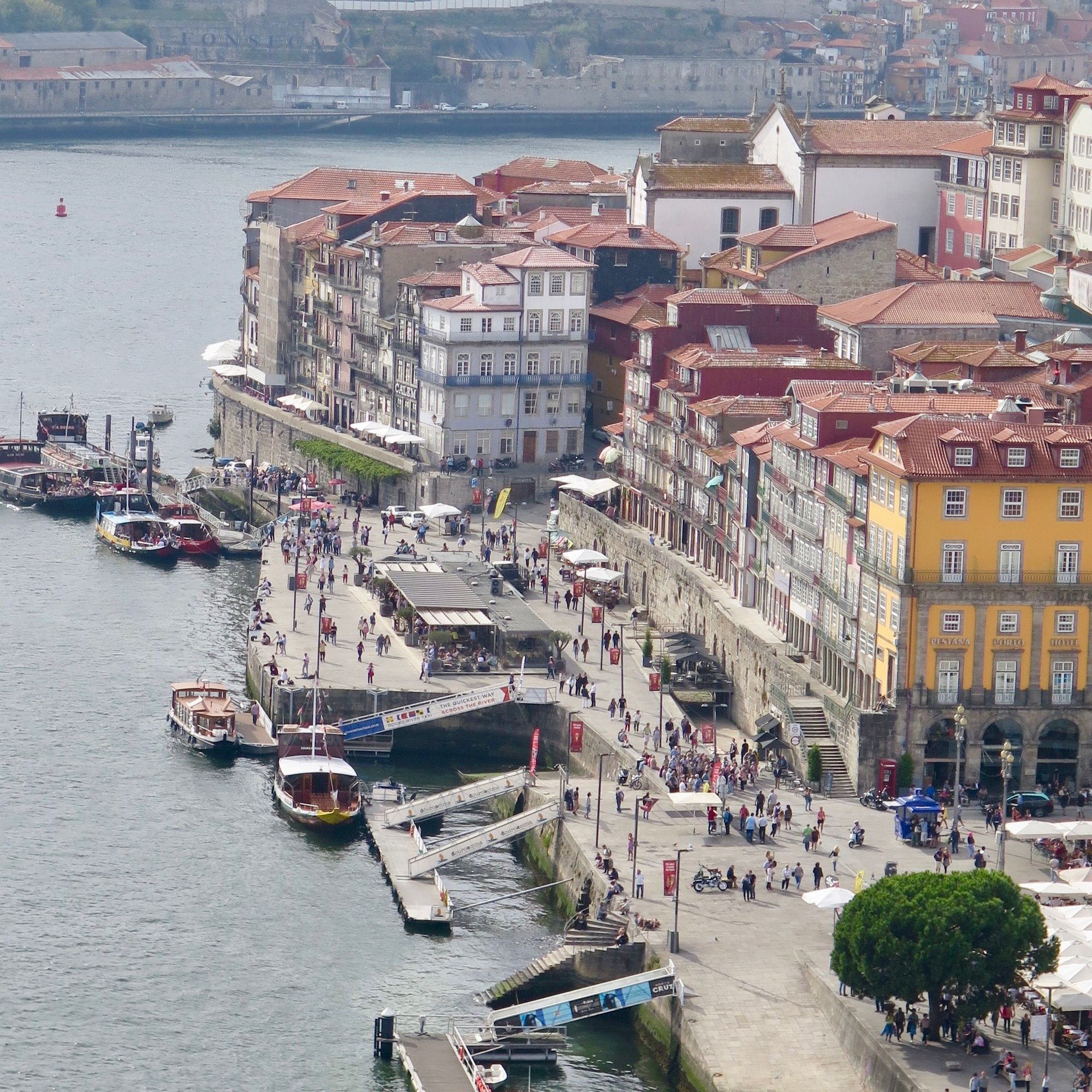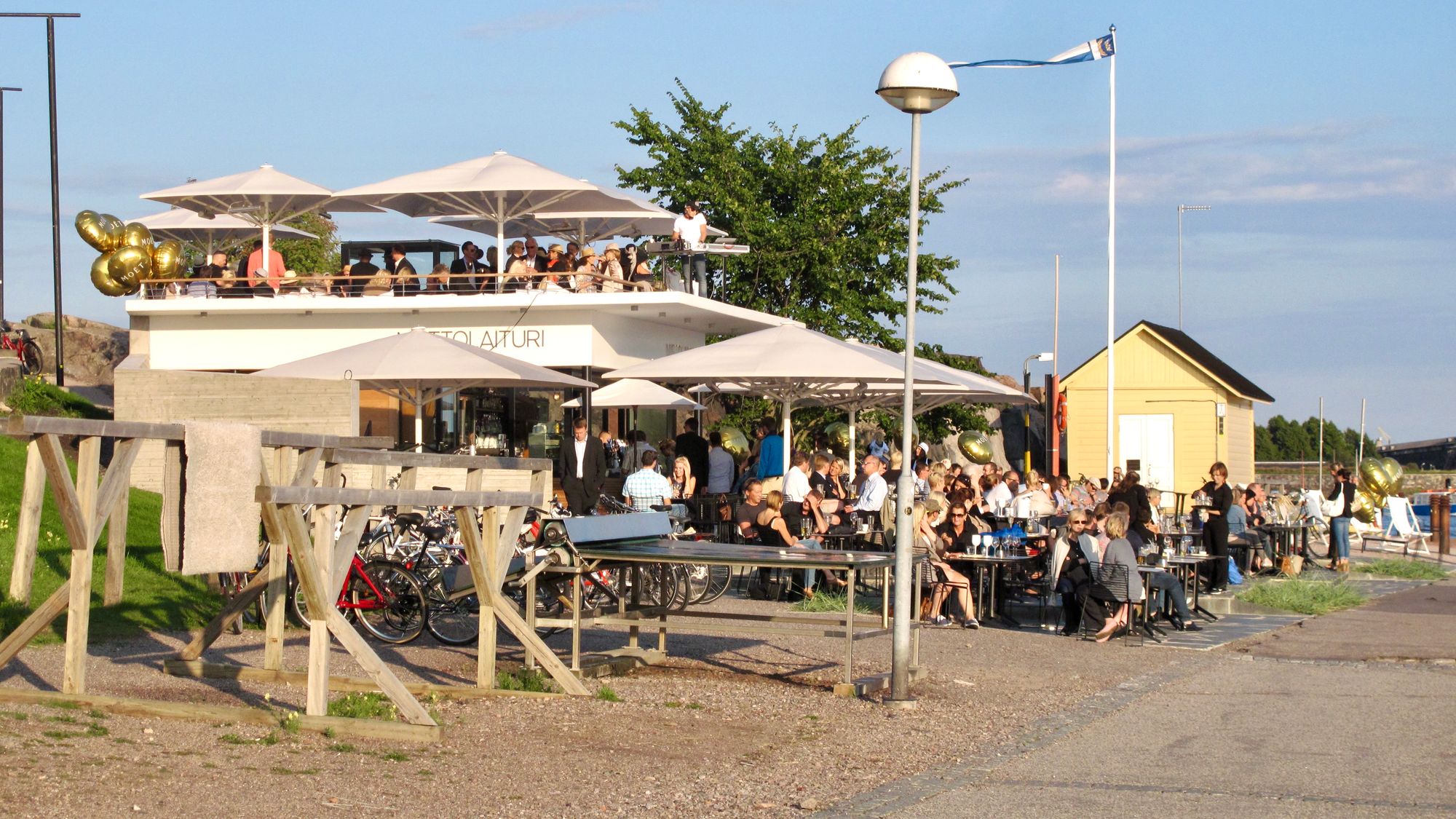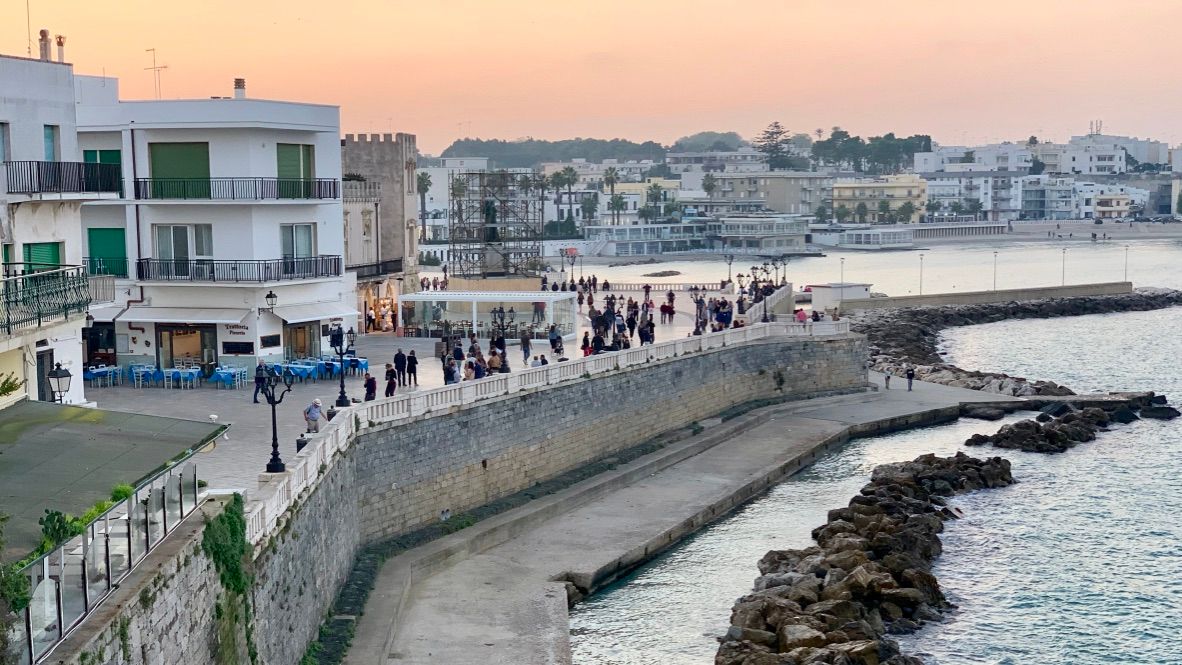 7. Strengthening Assets that Express a City's Character
While reducing driving and emissions through shared streets is the most obvious placemaking climate mitigation strategy, we can also look to small but essential community elements for a positive environmental impact. Features like murals, water fountains, sculptures, play structures, games, kiosks, community-organized parklets, bike shares, gardens, and bus stops may seem like "nice-to-haves," but together they add up to give a place a real and vital sense of character and comfort, and can speak to a broader message about a community's values around environmental awareness. Not only that, but they are inherently Lighter, Quicker, Cheaper, and naturally integrate participatory planning and activation. These assets can be a dynamic part of mitigating climate change and protecting the environment at the place-based level.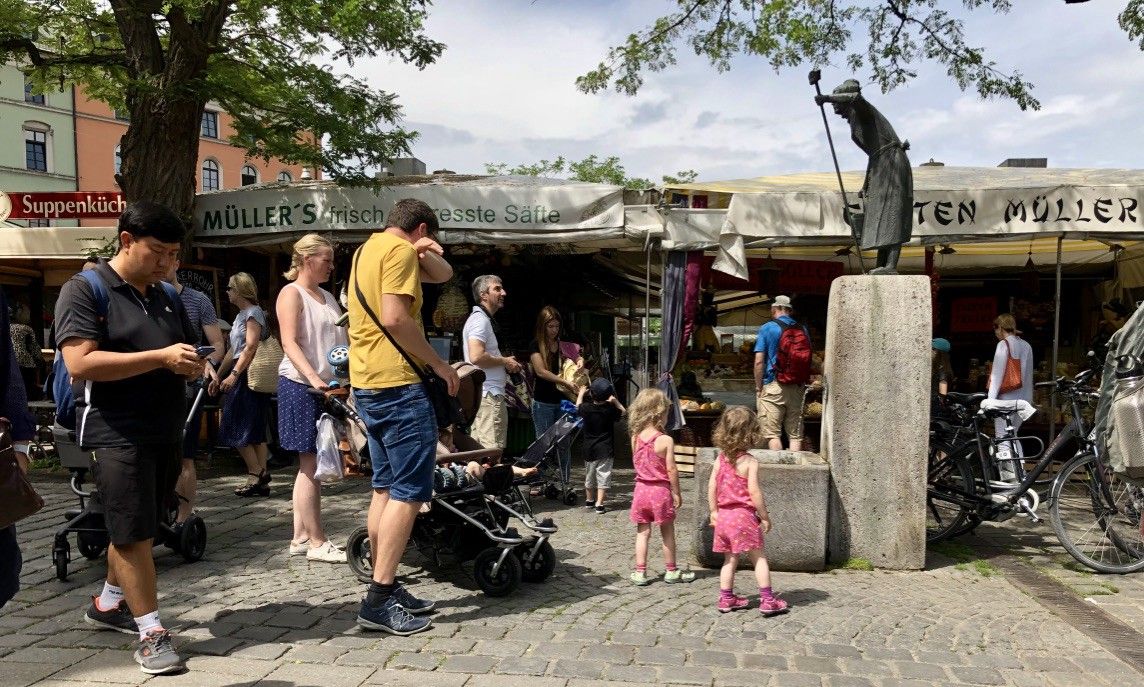 Tivoli Gardens, Copenhagen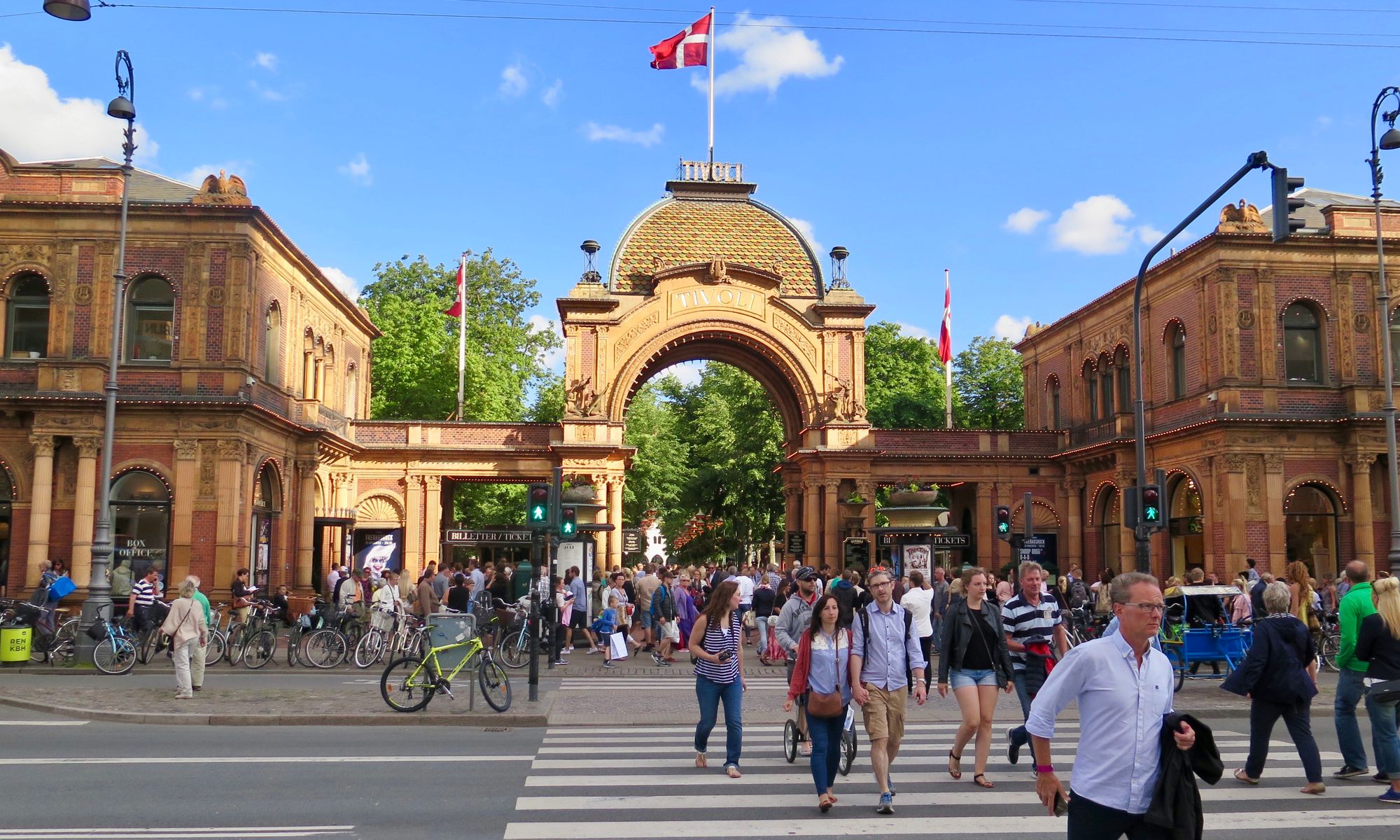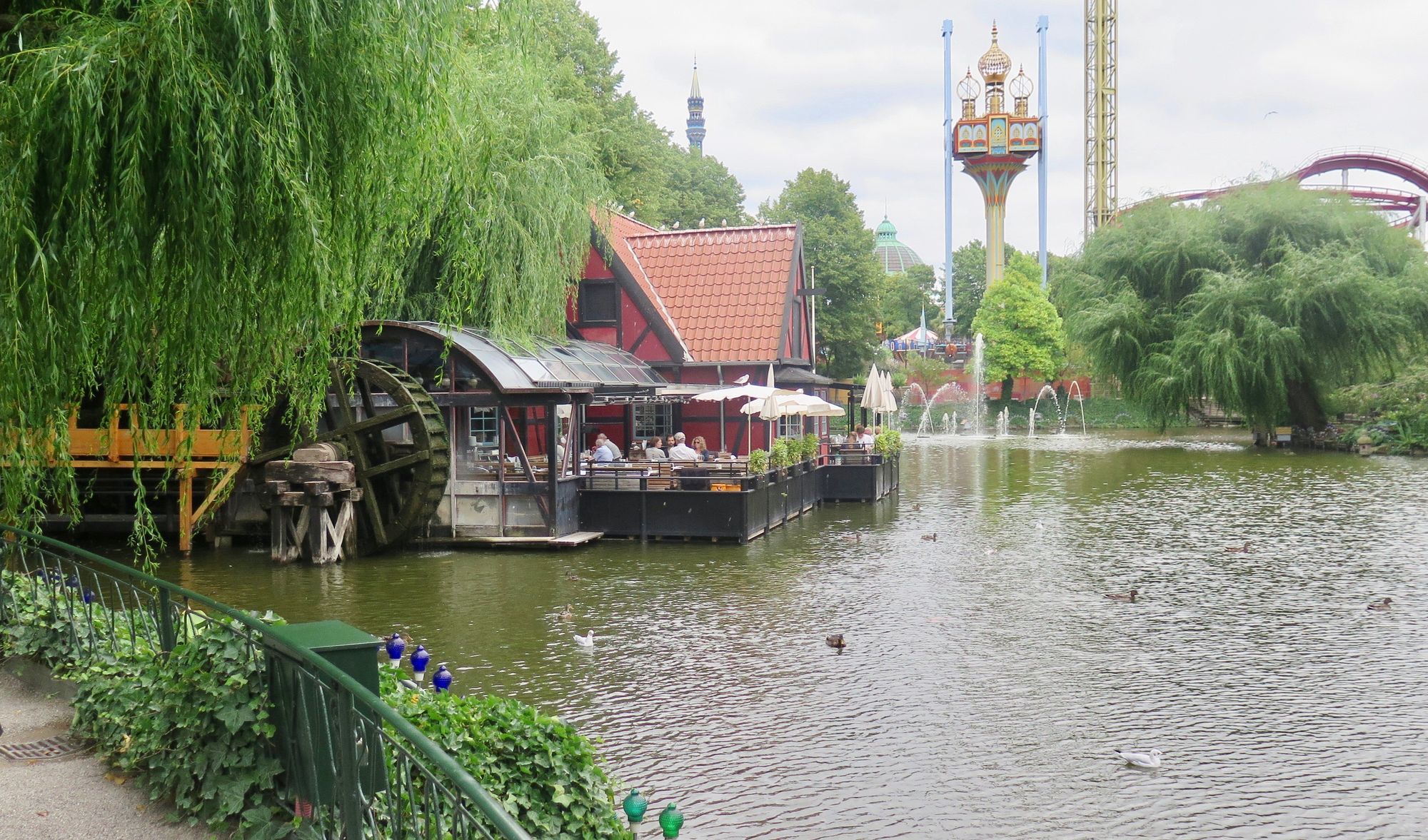 Related Articles: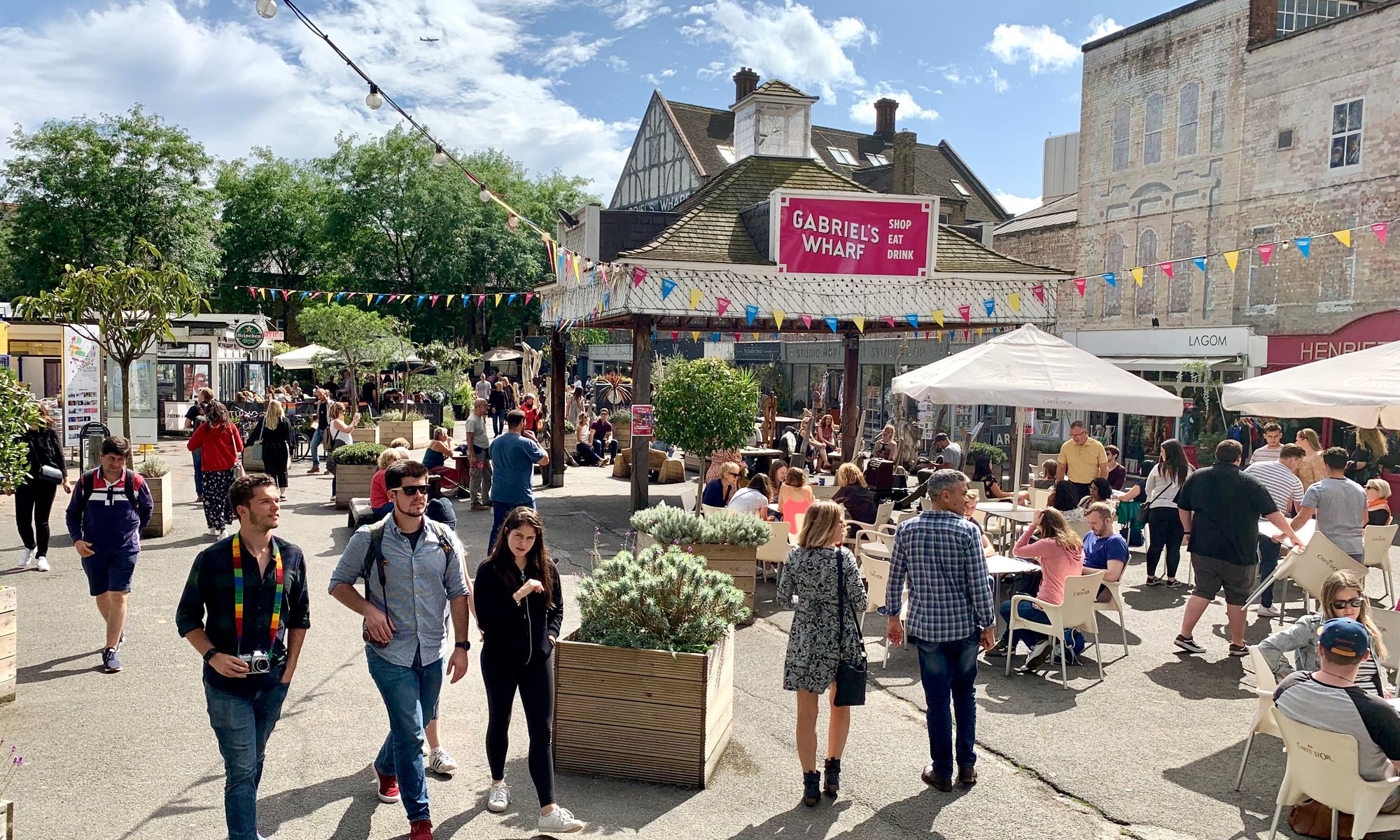 8. Highlighting a Community's Identity by Creating Great Amenities
Great places require practical, user-friendly features that serve residents and visitors alike. Communities can enhance their existing amenities and create new ones that also help tackle the climate crisis as a creative challenge. Seating, shade cover, and thriving sidewalks are a good place to start. Or take bollards, which go beyond their safety-related purposes to become something to lean on while chatting with a friend, or stand on for a photo opportunity, while also slowing down traffic and helping reclaim streets for people--one of the key tenets of the sustainable city. It's clear that amenities can serve dual functions of promoting social life while also ensuring climate relief, and communities should welcome this opportunity for out-of-the-box thinking.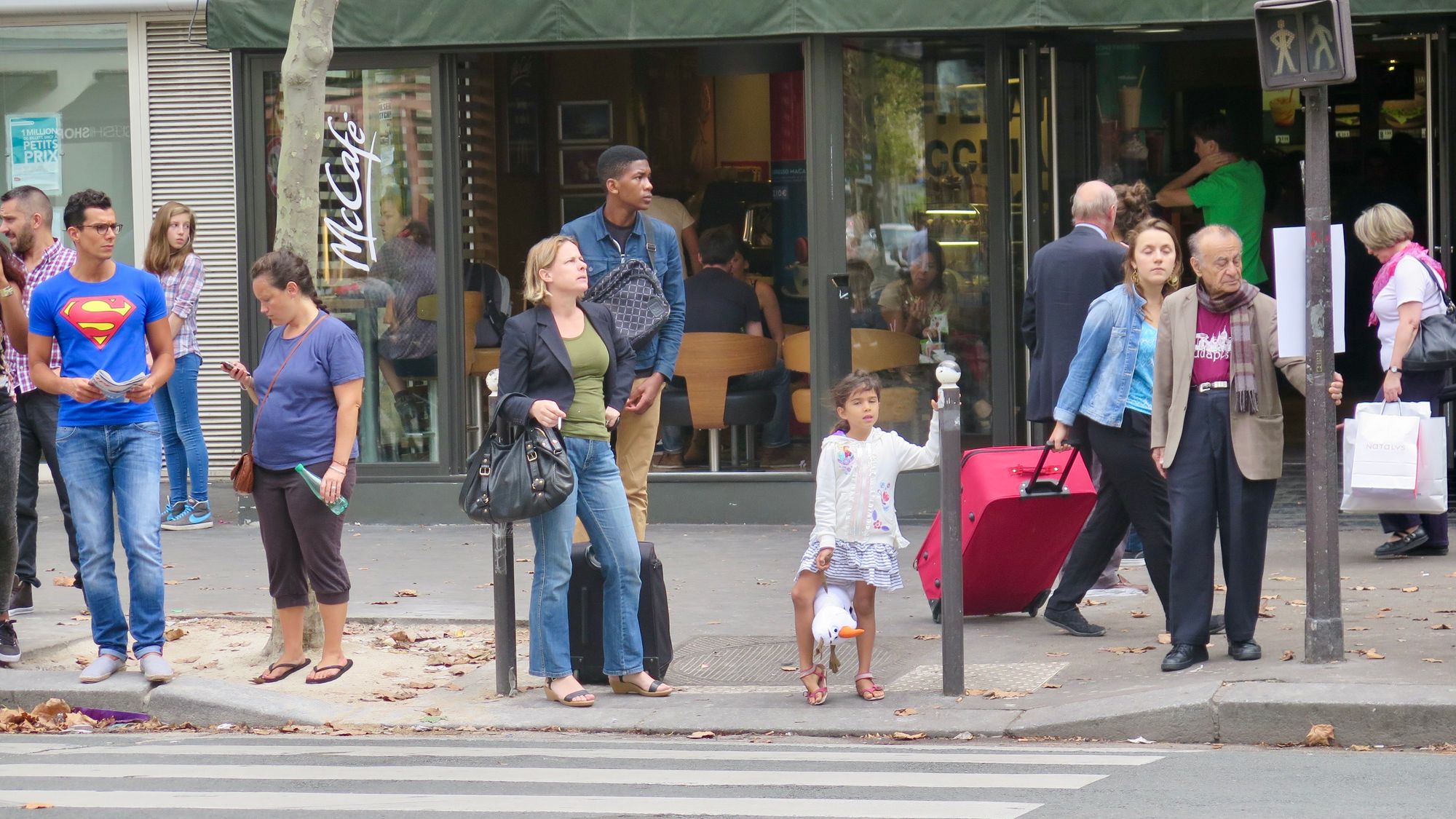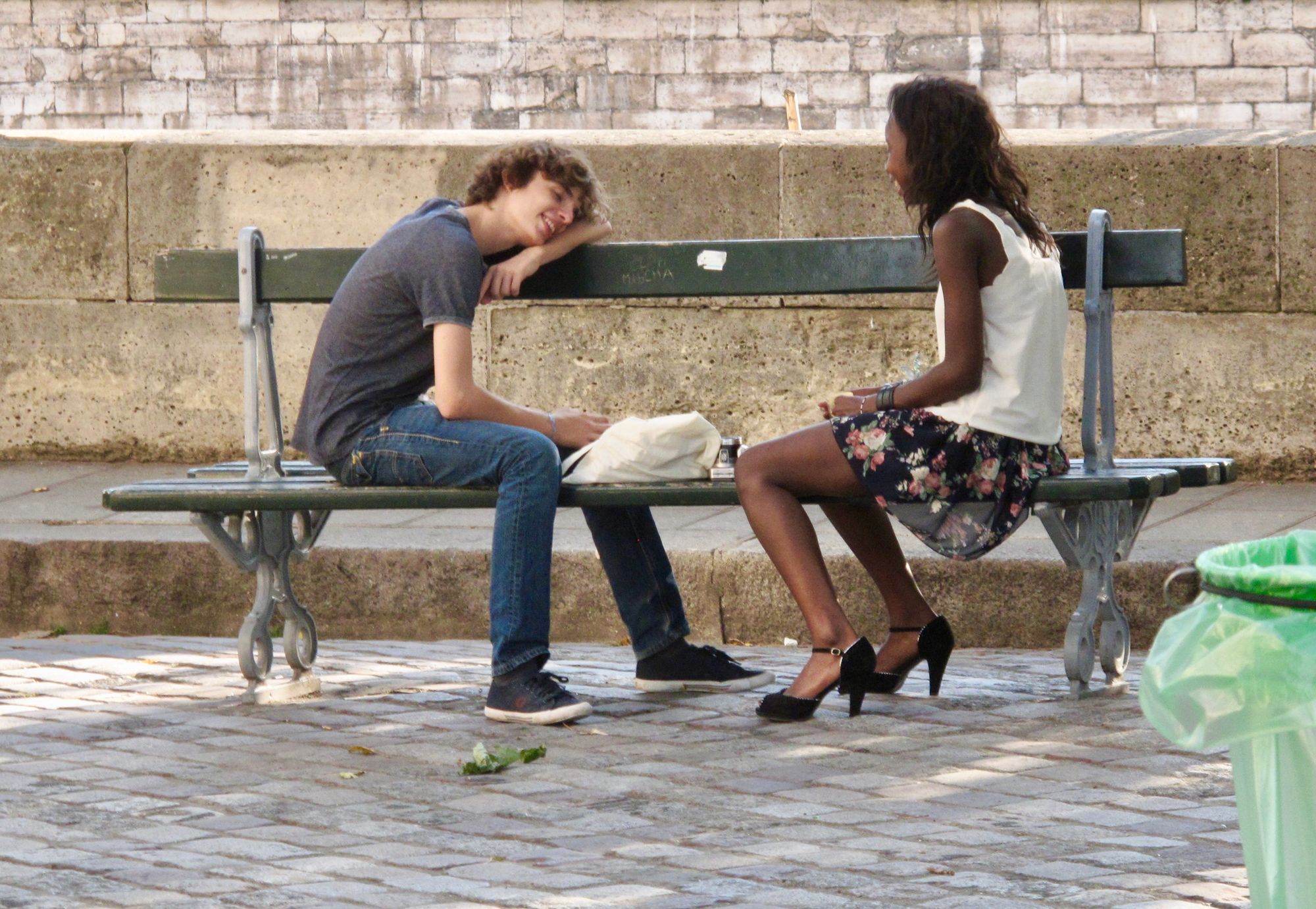 Related Articles: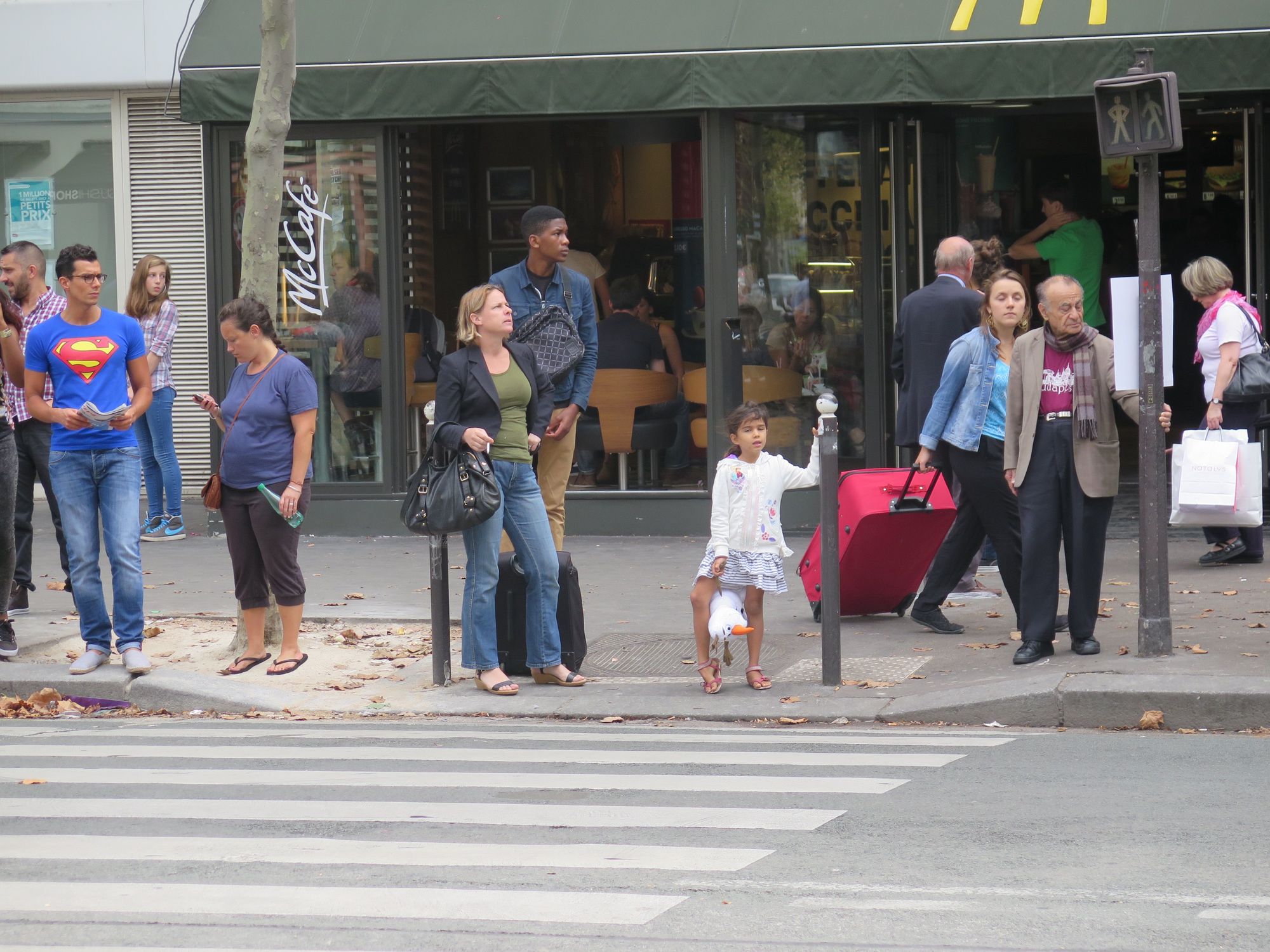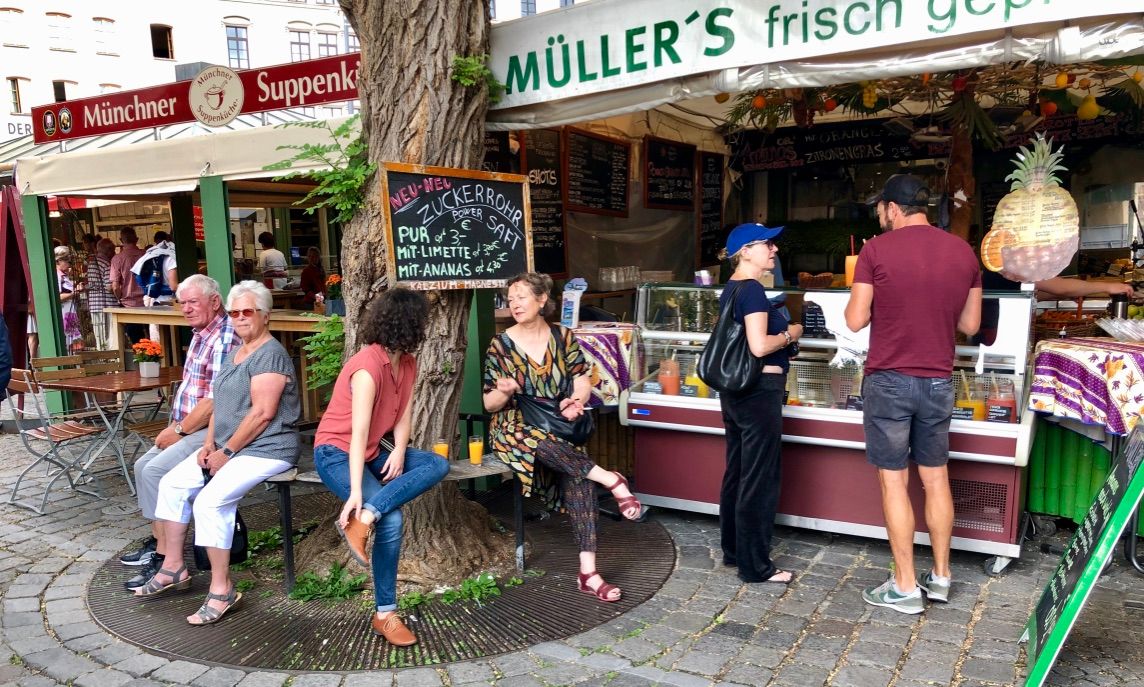 9. Creating Social Life for All
Public space provides us with not only the imperative to do better on issues of social and environmental justice, but also the platform to make it happen. We can make our cities more just, accessible, equitable--and sustainable--places through the lens of public spaces. This is where the deep value of meaningful inclusion and accessibility comes into play: for people of all ages, races, abilities, gender expressions, nationalities, and migration backgrounds. A placemaking strategy beginning with healthy public spaces that puts a community's needs back in its hands and creates a meaningful connection to the environment is the first step in addressing some of these systemic issues. It's important to remember that climate change disproportionately affects the most marginalized populations, so initiating a climate resilient placemaking strategy--such as this park in Thailand--is a must-have, not a would-be-nice.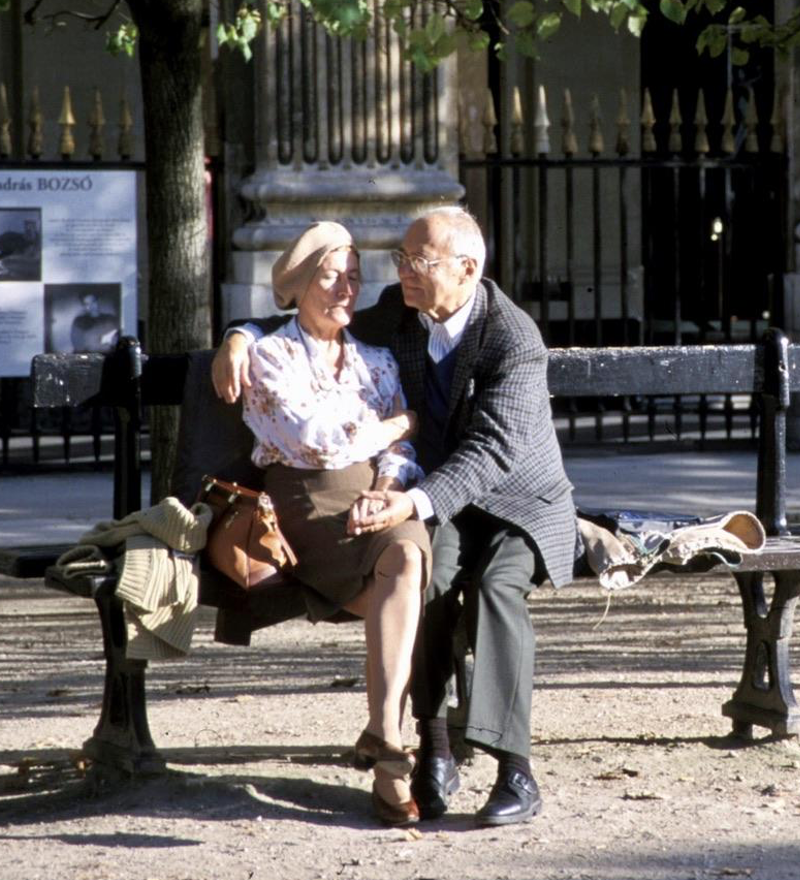 Related Articles: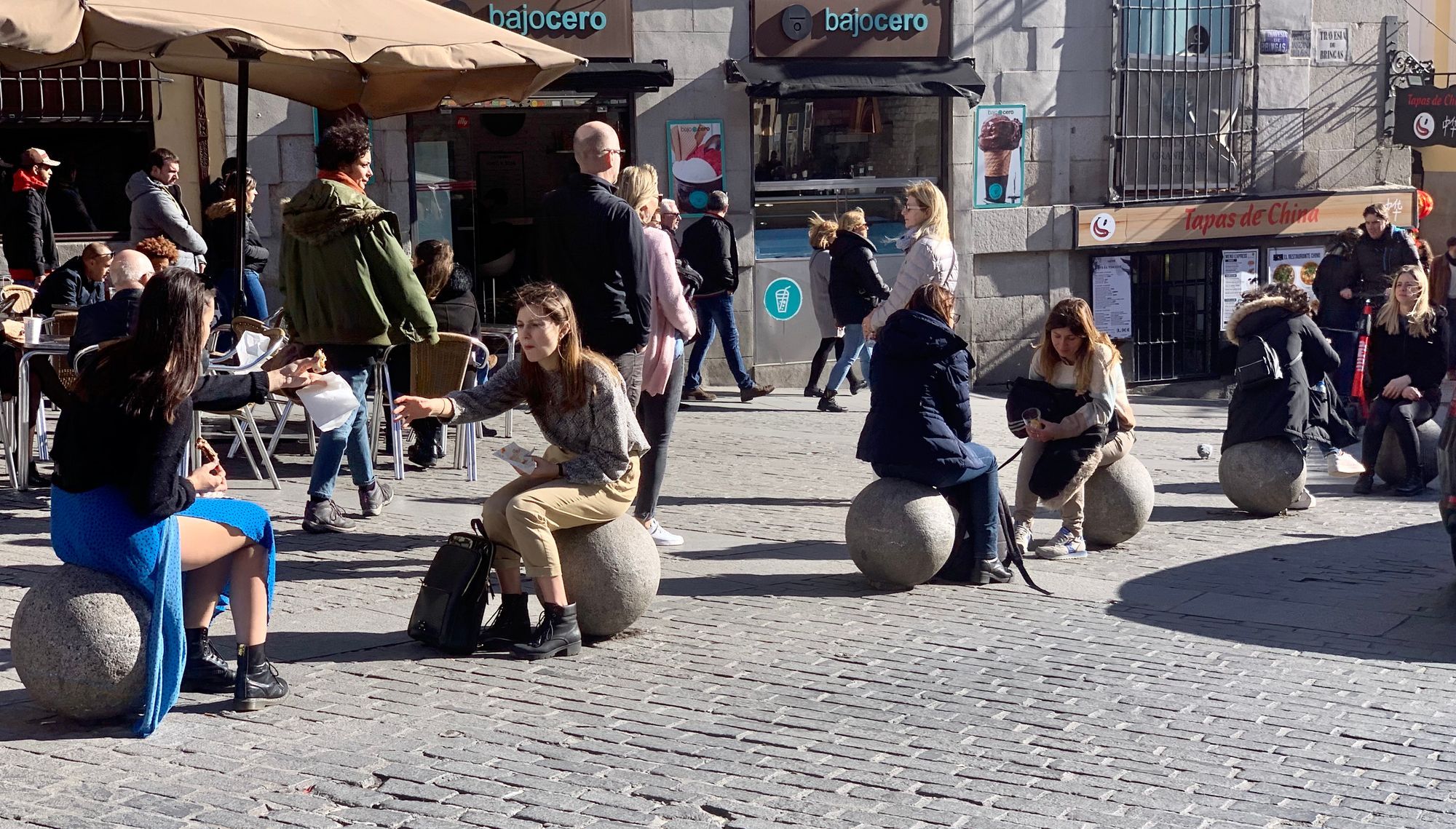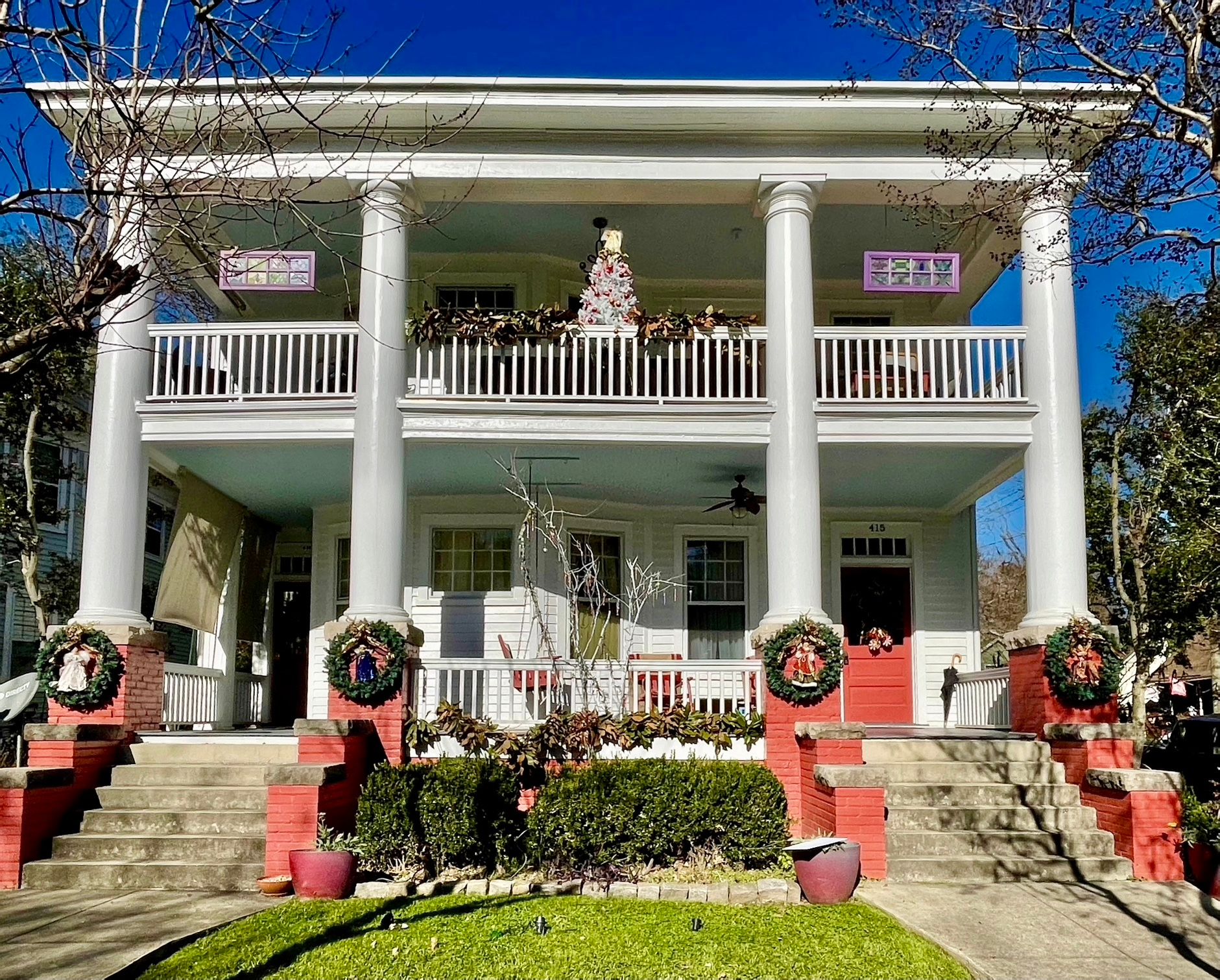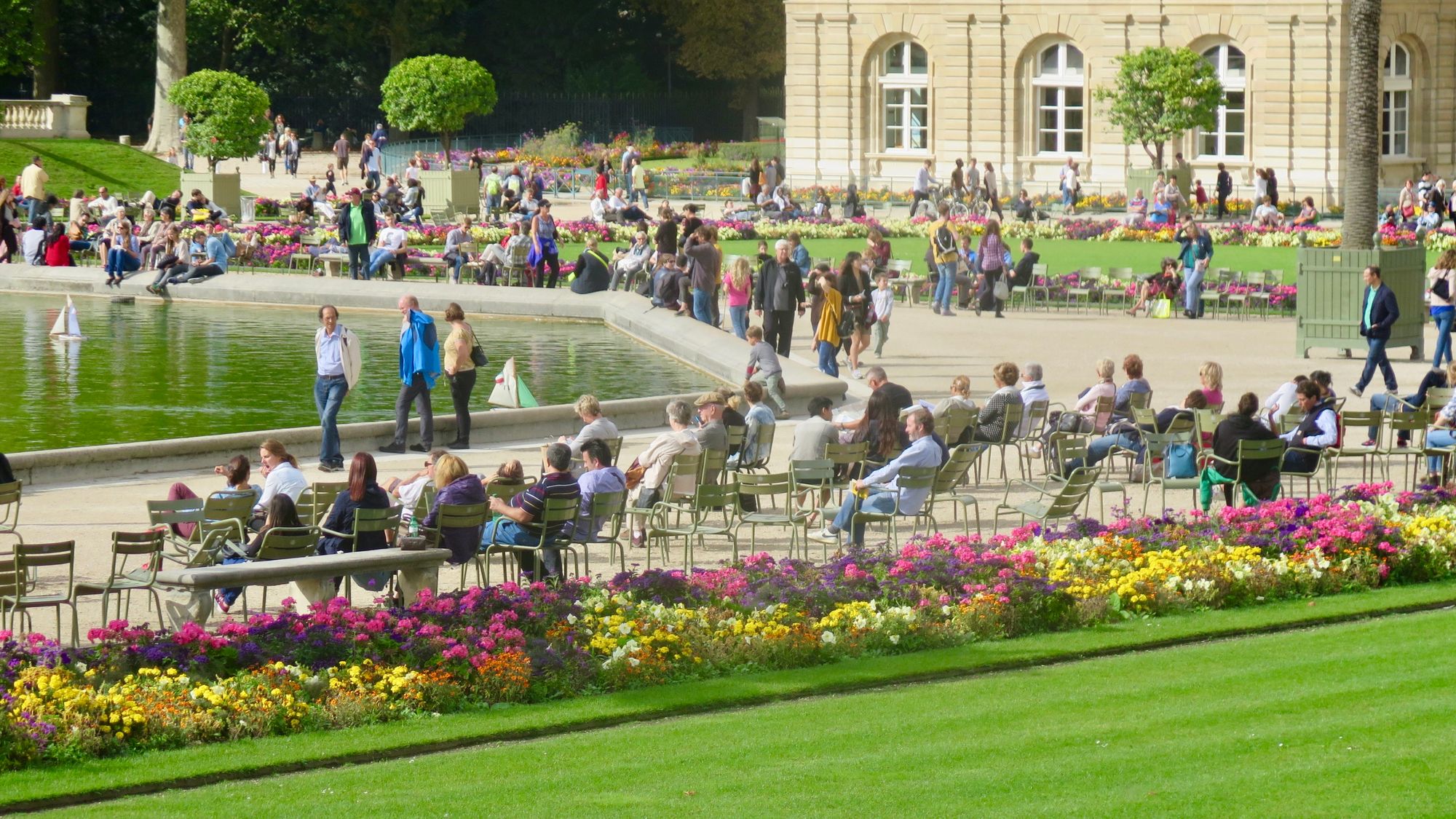 10. Having Fun
Placemaking is meaningless without the idea of fun at its center. Why put in all this work to making public spaces better, unless the definition of  "Building it Better" also means that these spaces bring joy to our lives and security to our world, especially at a time when climate anxiety and other systemic issues are at an all-time high? After all, what could be better than re-imagining the ways that our public realm can enhance our lives, our connections to one another, and our healthy relationship with the planet? Let's take the climate crisis and the pandemic as an impetus to come together to reshape behaviors and lifestyles around the changes that matter most: keeping it local, community-oriented, decentralized, low-waste, and participatory. In other words, at human scale: made by and for human health, longevity, and happiness. Everyone wins...humanity and the planet.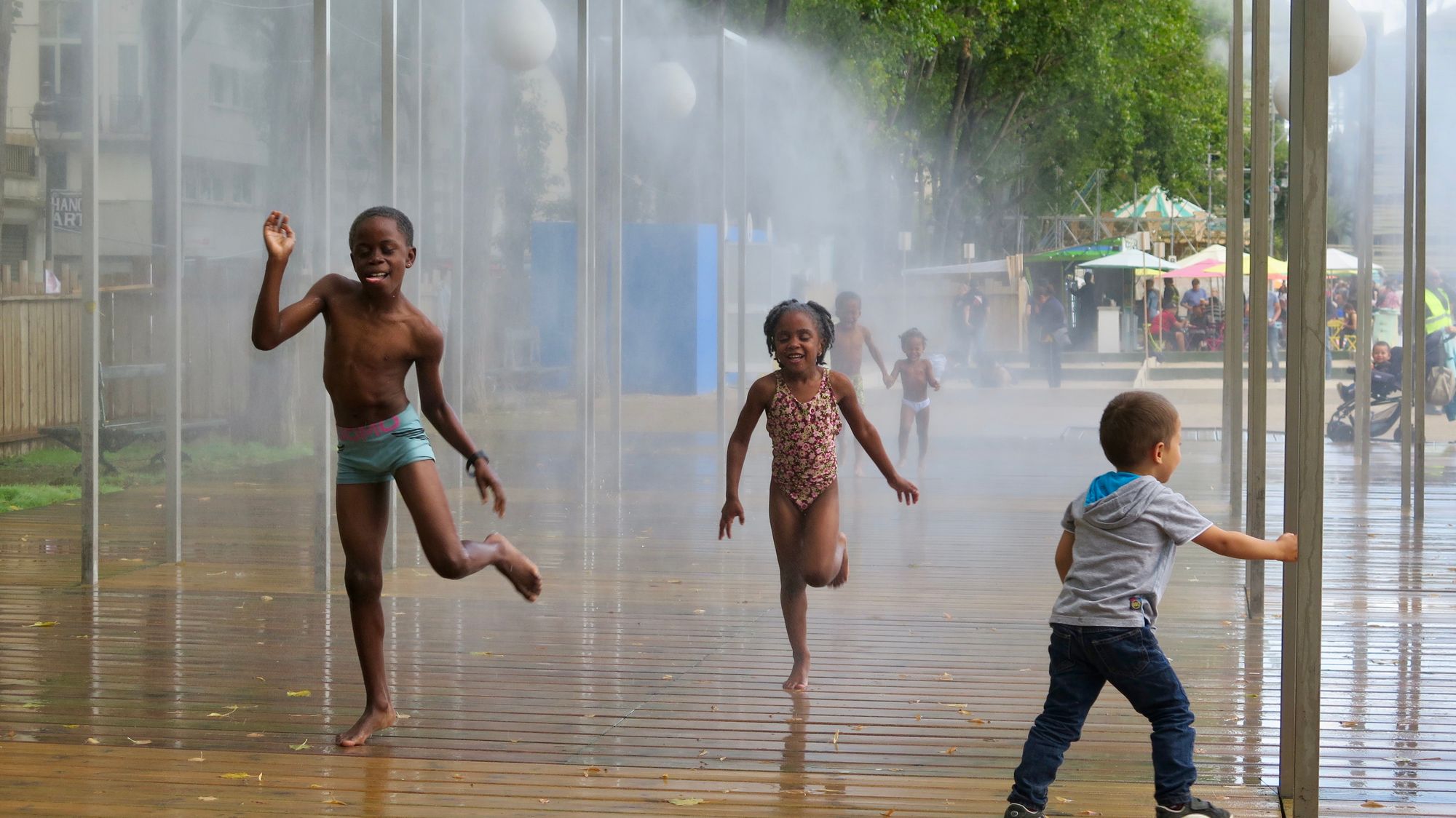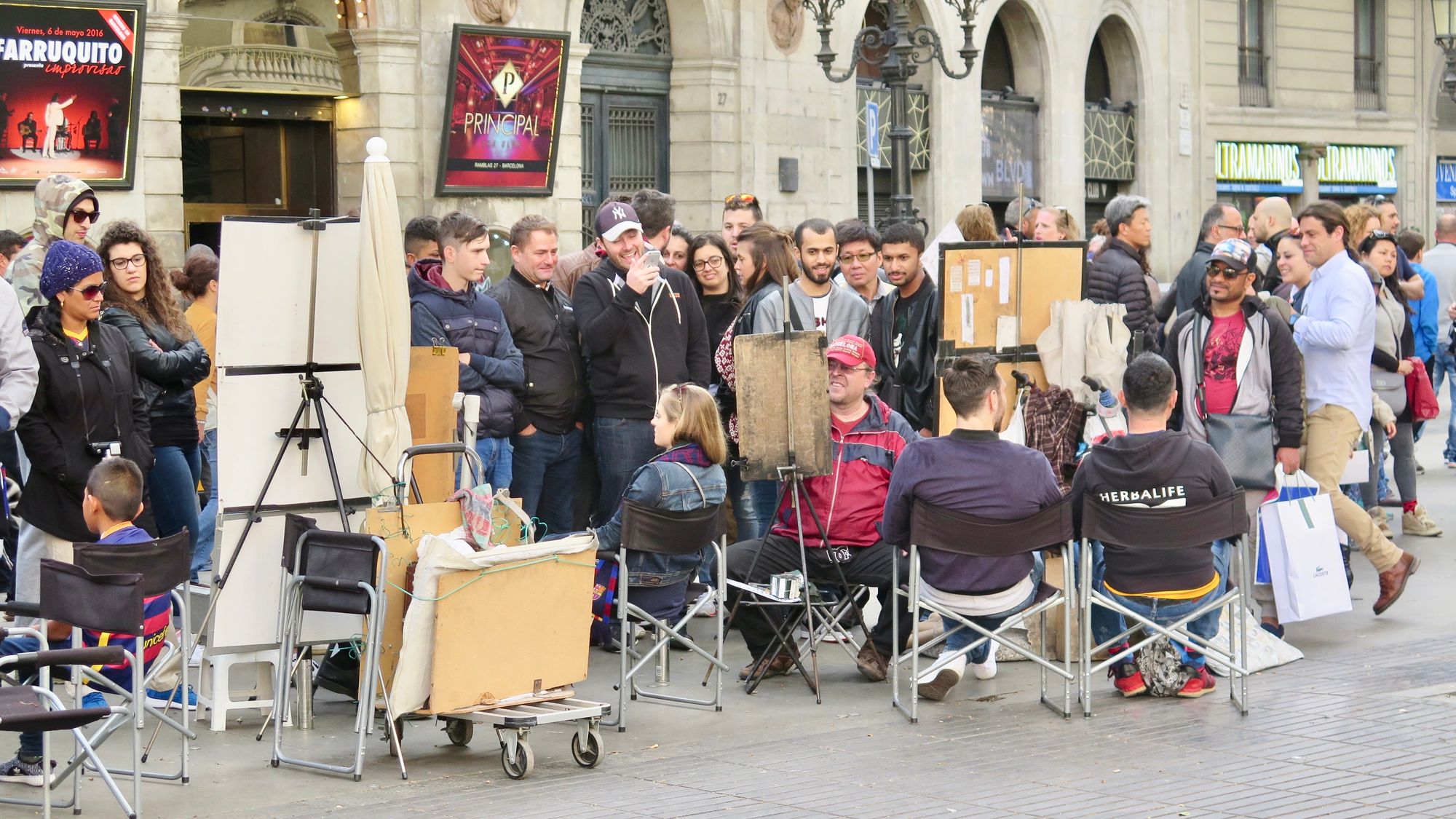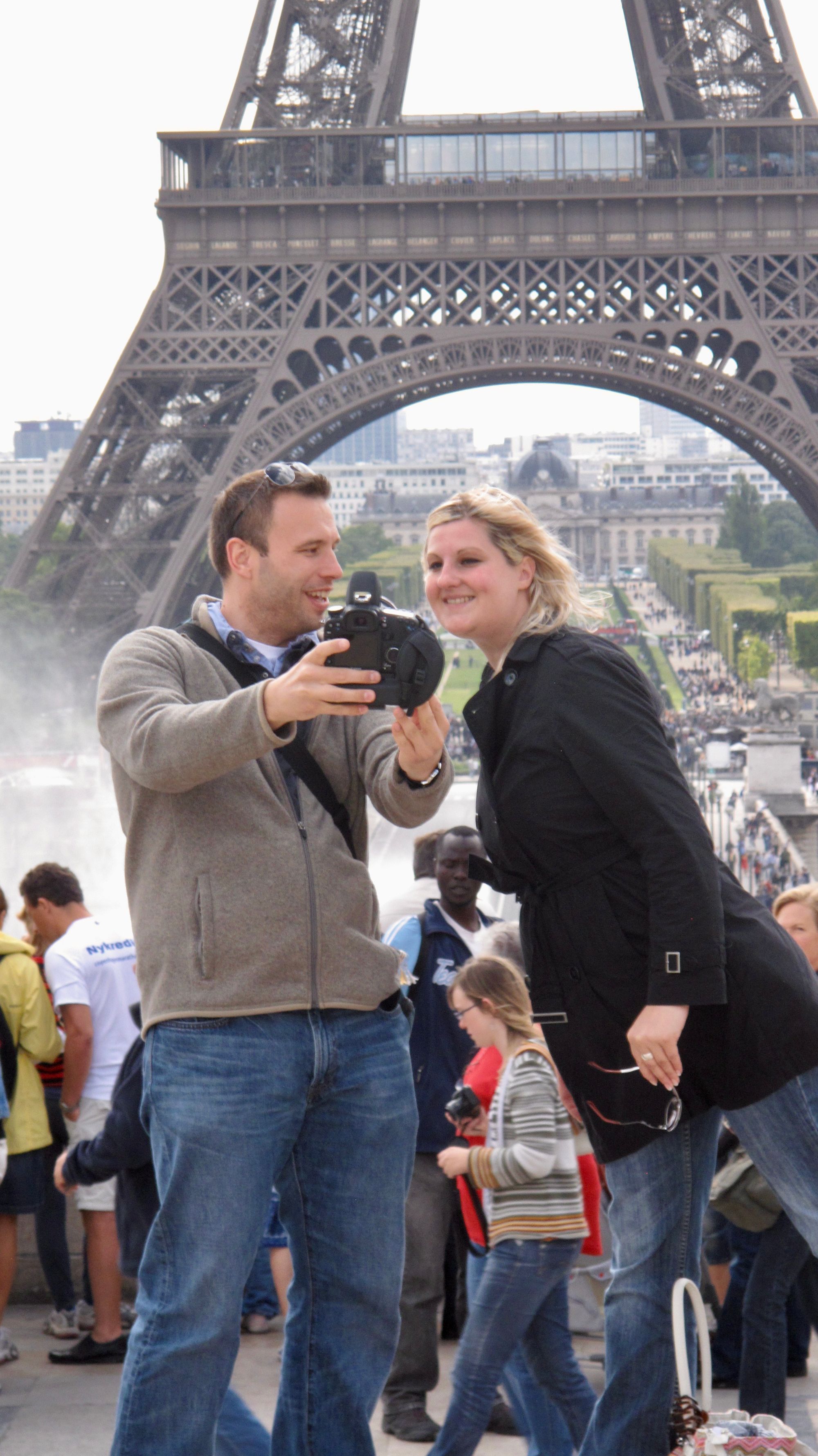 11. Public Institutions Create Natural Forums for the Community-Led Discussions that Spark Our Imaginations
Making it Happen: How to Reposition Cultural Institutions at the Intersection of Social Life, Climate, Place, Inclusion, Equity & Health
Cultural and public institutions can help define and model future culture while also helping understand the past and its contributions to community and environmental degradation. In the continued fight to rebuild our communities, schools, city halls, musuems, historical associations, religious entities, and even banks can unite in reigniting the community spirit needed to rally collective action through collaborative and inspiring, change-making art exhibits and demonstrations. These institutions can rethink their traditional role and form by galvanizing citizens towards community-led placemaking that puts a focus on social life and positive lifestyle change, while also supporting broader global topics such as sustainability, resilience and climate issues.
Public Institutions & Placemaking Resource Centers
One exciting new idea for the future of public (and private) institutions is to house and support Placemaking Resource Centers. Any place the public uses on a frequent basis is a natural setting for discussion, community engagement, and fun: schools, city halls, religious institutions, community centers , even banks. These Centers would be hubs of activity for making design more open to all, living laboratories for co-creating the public spaces every town deserves, and experimentation zones where citizens could workshop catalytic projects with positive environmental impacts. Have an ideal location for a future resource center in mind? Get in touch and help launch this new phase of collaborative placemaking!
Related Articles: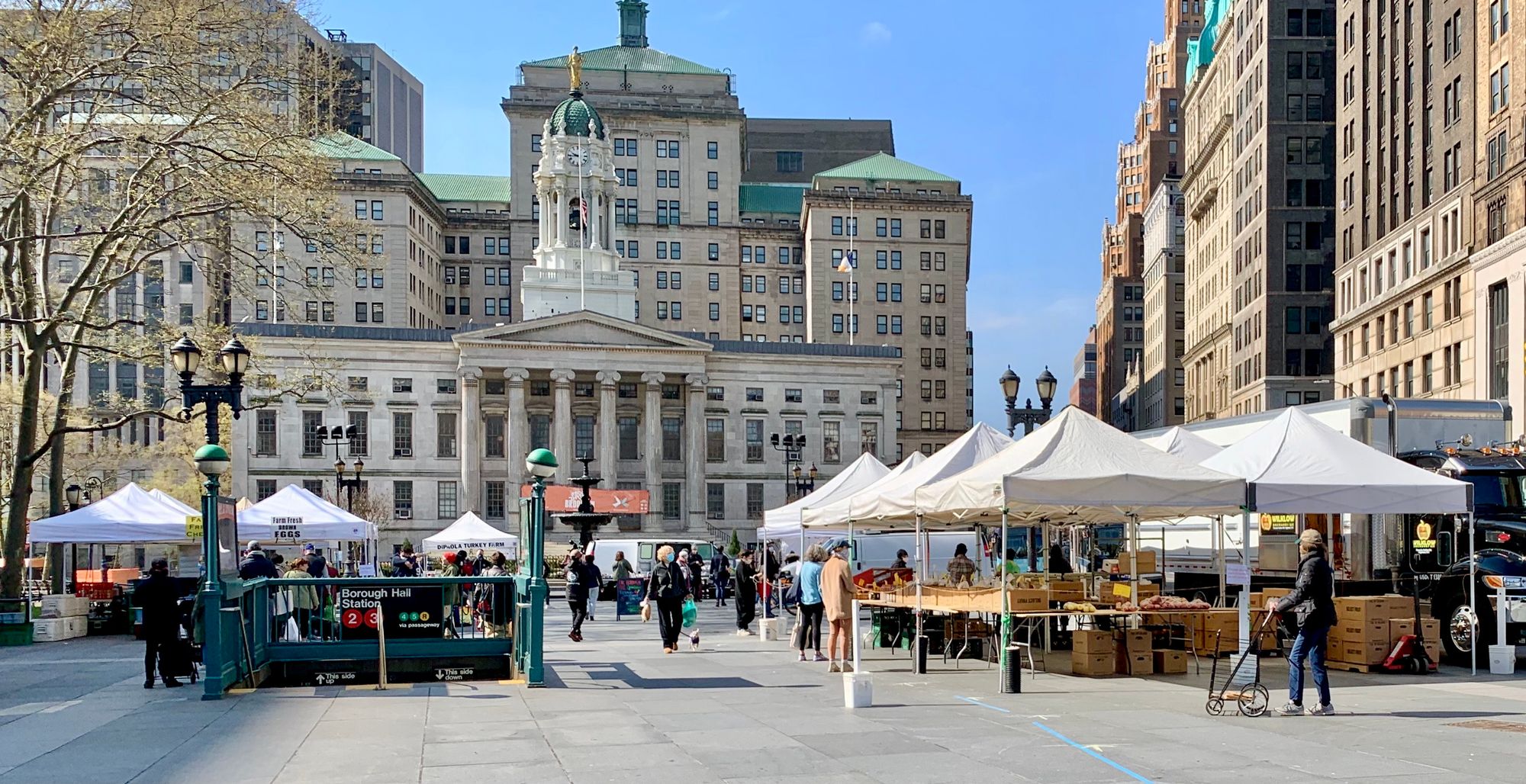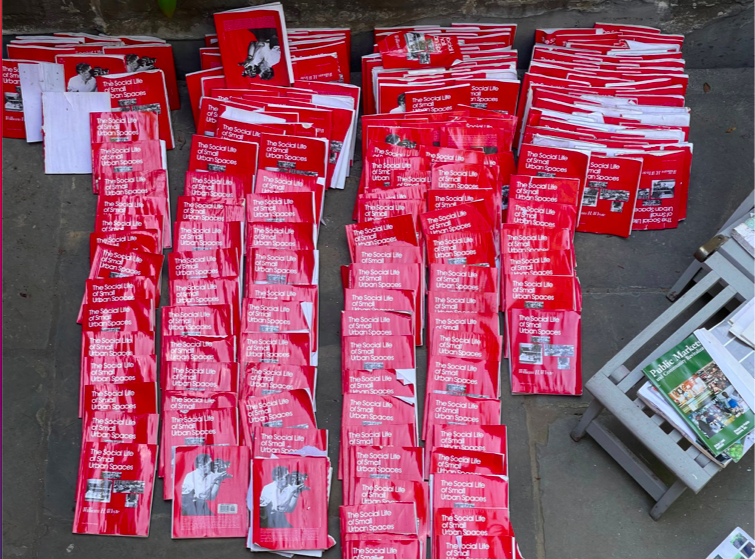 How to go deeper with our work
The Placemaking Fund was started in 2020 with two programs: PlacemakingX and Social Life Project. PlacemakingX is a global network of thought leaders, public space activists, regional network leaders, and professionals who together to accelerate placemaking as a way to create healthy, inclusive, and beloved communities. Currently PlacemakingX is formed by 100+ leaders and 1,300+ advocates from 80+ countries around the world.
The second program, The Social Life Project, has a twofold approach: telling the stories of communities that have done outstanding Placemaking work, and creating agendas for catalytic change driven by these success stories. Drawing on our over 40 years' experience with Placemaking and based on our early work with William "Holly" Whyte, we are inciting a renaissance of community connections. They are centered around our lead concept, "Build Back Better, Together: 11 Transformative Agendas to Restore Social Life in Your Community." We are starting a global dialogue from small towns up around the 11 agendas, through which we will launch city and regional campaigns for catalytic Placemaking projects. This is the ambitious and vital mission of the Social Life Project.
The Global Placemaking Movement: Next Steps
Imagine if the places where we live were walkable and shaped by our social lives, re-imagined to make it easy for us to gather, shop, have fun, eat together, and meet new people. With this mindset, we would fundamentally change our communities, and collectively have an impact on the health of our planet.
Together, we can restore public spaces to their essential role: providing social gathering spots that enrich local life by connecting people, and empowering them to create stronger communities.
Join our campaign by sharing your stories of successful public spaces with Social Life Project, offering up ideas or resources for a Placemaking Center in your community, joining the PlacemakingX network, or identifying key areas in your town that could be a fit for transformative change along with the 11 agendas. Help us start conversations at the local and regional levels about the vital need for community-led placemaking. We invite you to join our ongoing dialogue--for the future of all our public spaces!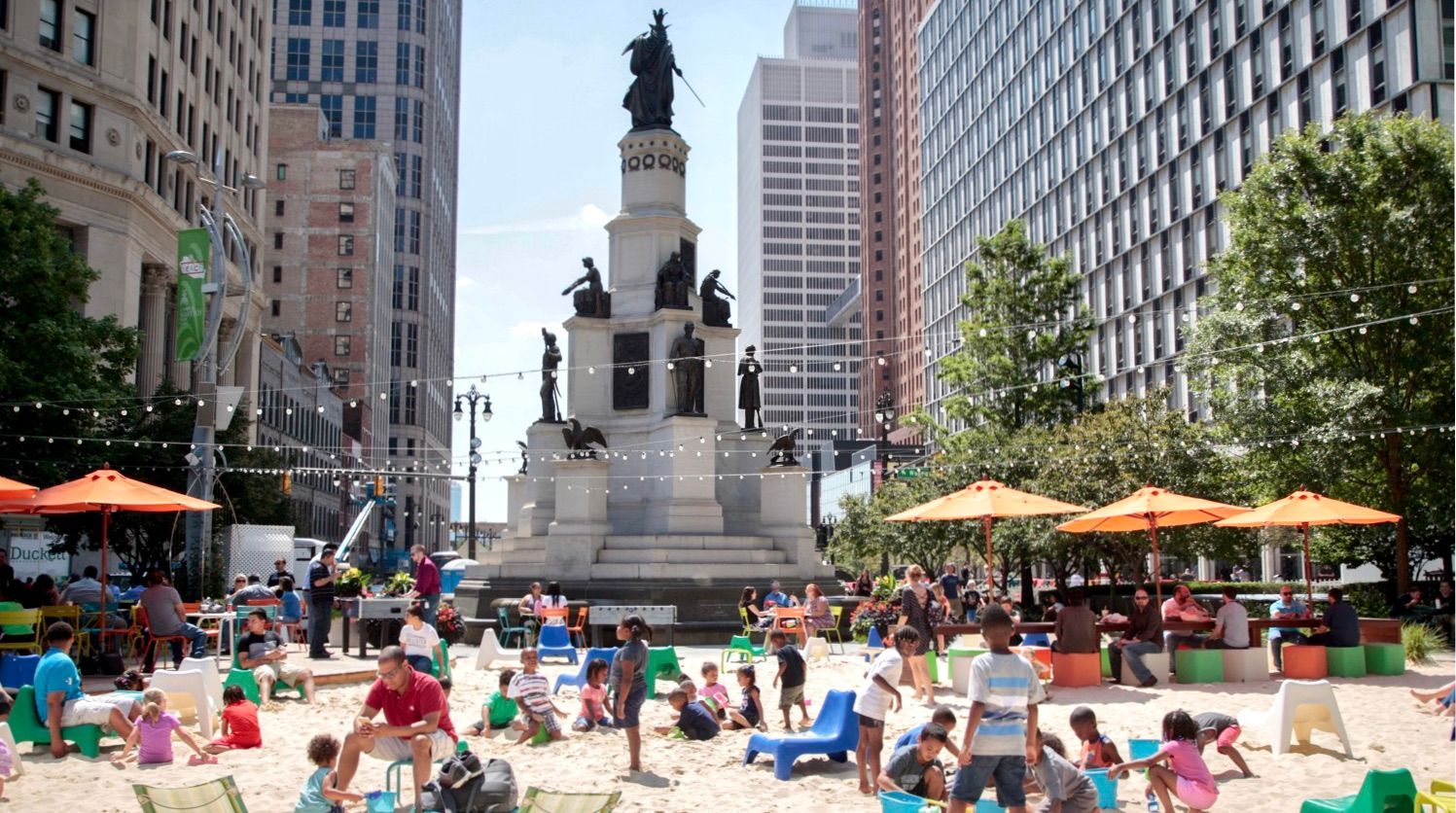 ---
The mission of the
Social Life Project
is to incite a renaissance of community connection in public spaces around the globe. Through our online publication, presentations, campaigns, and catalytic projects, we can create transformative impact on communities everywhere. Our work grows out of more than 50 years devoted to building the global placemaking movement. It is an initiative of the
Placemaking Fund
, along with
PlacemakingX
 — a global network of leaders who together accelerate placemaking as a way to create healthy, inclusive, and beloved communities. We gladly accept
donations
to advance our work.